Summer soups are usually lighter, less hearty and filling than soups served during other times of the year. Use up those summer veggies and get your soup on!
More Collections: Winter Soups, Italian Soups, Green Salad Recipes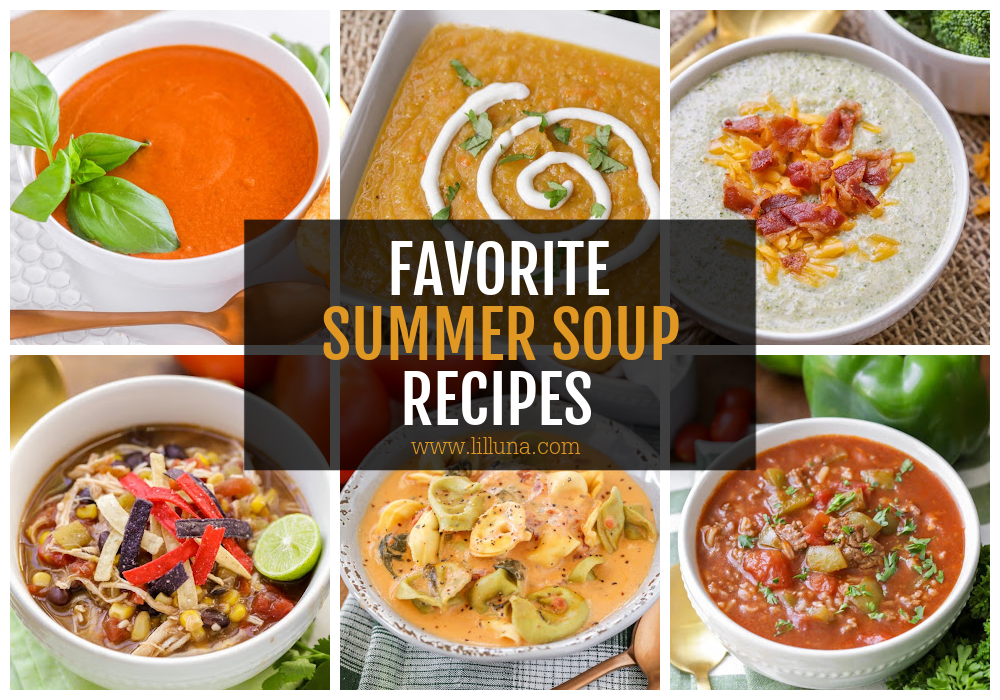 Soup Isn't Just for Winter!
When you think soup, you most likely think winter, but these chunky or smooth summer soups are just the thing to hit the spot. Not too heavy, and perfect served with a side of bread or fresh green salad.
Summer soups can stand alone but also pair well with a side of green salad like Wedge Salad or sandwiches such as a Veggie Panini or this Flatout Wrap.
Check out this collection full of Soup Recipes that will help you use up all of your summer produce!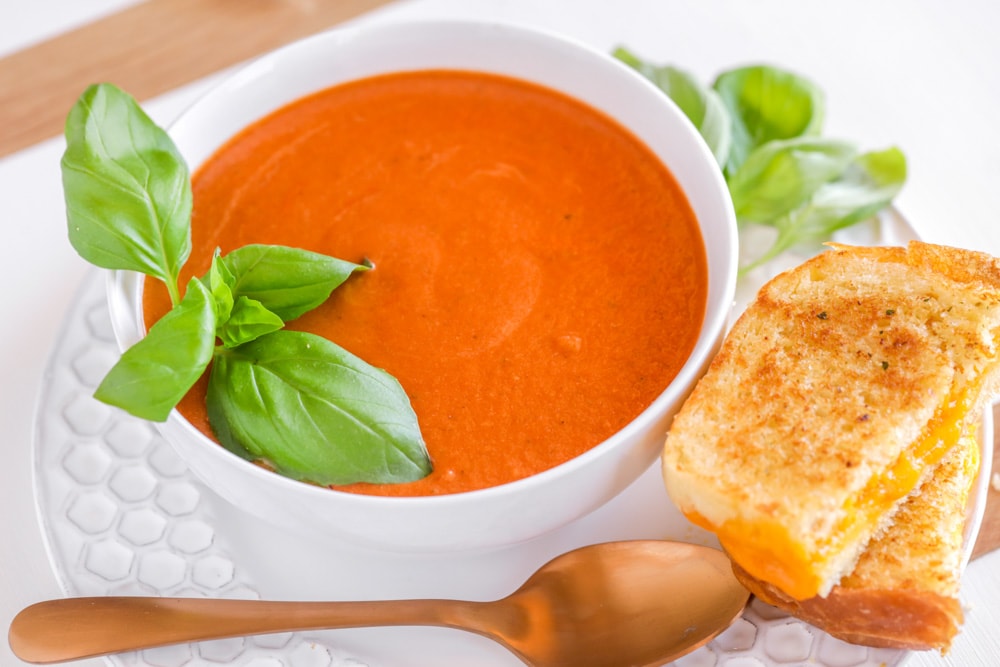 seasonal Veggies
If you are lucky enough to have a vegetable garden growing in your own backyard you can simply use the produce that you have to make a delicious soup.
Another way to find delicious produce for summer soups is to stop by a local farmer's market. Not only will the vegetables be in season, but they are usually less expensive.
Some favorite vegetables perfect for summer soup include tomatoes, red peppers, squash, beans, greens, cucumbers, sweet potatoes, southern peas, corn, green onions, or herbs like dill, basil, oregano, rosemary, and thyme.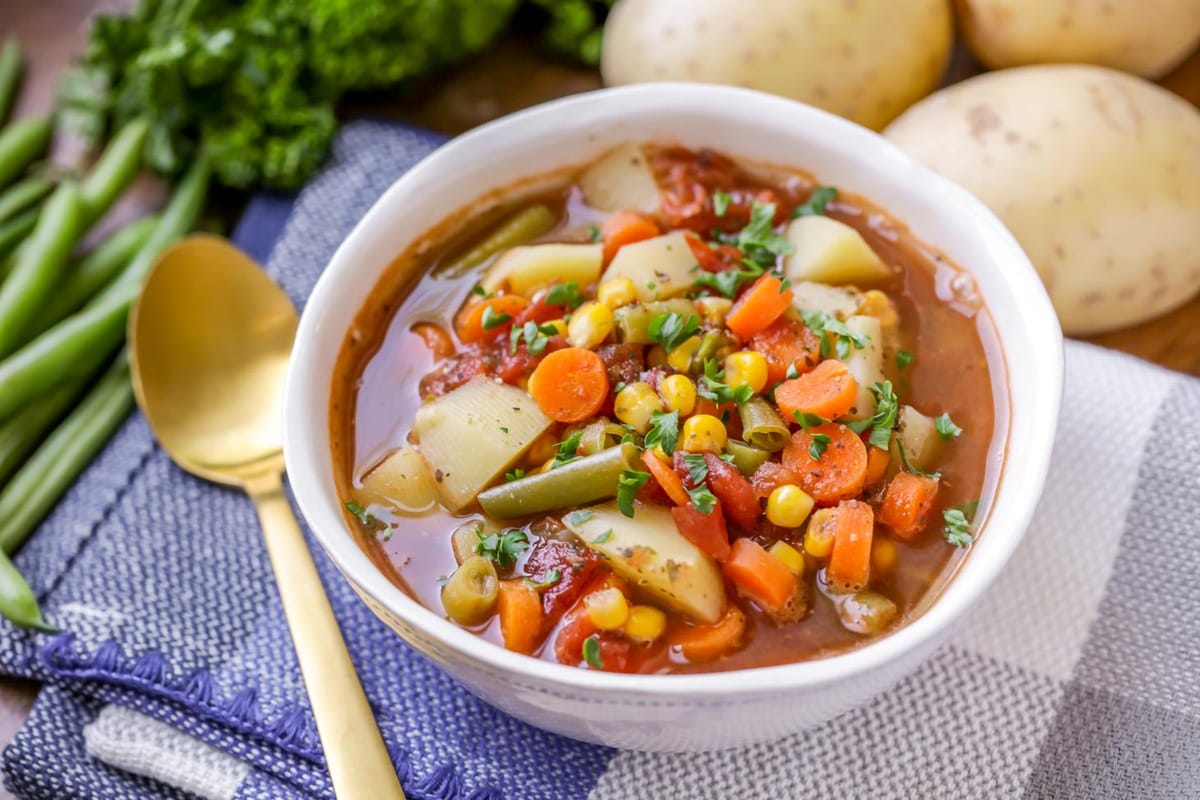 summer Soup Tips
Using a crock pot on a hot summer day is ideal. No need to sweat over a stove or heat up the kitchen and you can still place a warm delicious meal on the table at the end of the day.
Here are a few tips to keep in mind when using a crock pot:
HIGH on a crock pot is about 300°F. LOW is about 200°F. One hour on high equals about two hours on low.
When converting a standard soup recipe to be cooked in a crock pot, reduce the amount of liquid called for.
Add dairy, cooked rice, small pasta, and tender vegetables at the end of the cooking time.
Don't put frozen meat in the crock pot. Also, ground beef, sausage, or chicken are typically browned before being added to the crock pot.
Avoid removing the lid. It takes 20 minutes for the pot to return to the set temperature.
Ways to make the flavors in your best summer soups shine:
Sauté the aromatic veggies first. These include ingredients like celery, bell peppers, and garlic.
Season to taste. Allow the soup to simmer a bit before tasting and adding any other seasonings.
Opt for using the more flavorful chicken or beef stock instead of broth.
Add a squeeze of lemon for a bright flavor.
If a soup recipe calls for cooked meat, using seasoned cooked meat really lifts the entire soup.
What soup can be served cold: There are definitely recipes designed to be served cold such as cold cucumber soup, watermelon gazpacho, or sweet corn gazpacho, but did you know some of your favorite warm soups can easily be turned into a cold soup?
Some of the easiest soups to serve hot or cold are creamy vegetable-based soups such as Tomato Soup, Carrot Soup, or Squash Soup. Cold soups are typically served in smaller portions and alongside sandwiches or salads.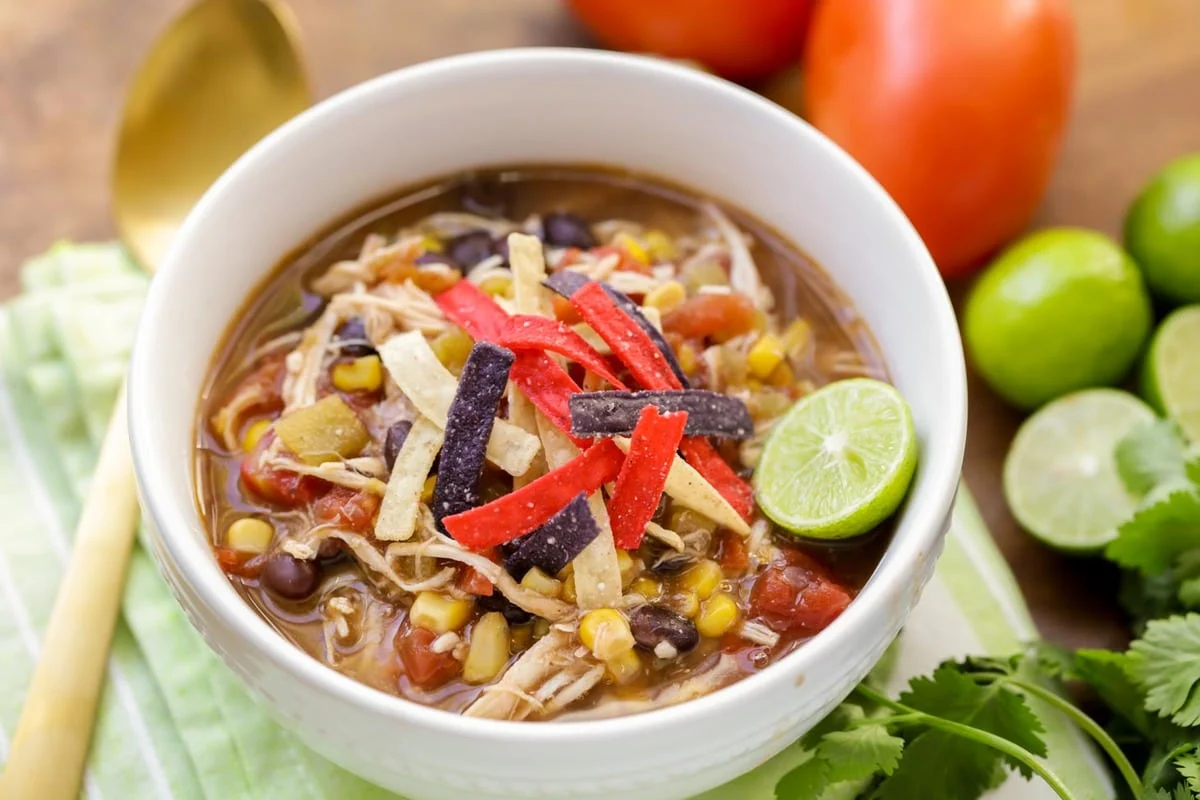 Texture + Toppings
Texture. One of the great things about soup is you can easily adjust the texture of the soup. If it's too thick add more liquid like chicken broth or water. If it's too thin you can make it creamier in a number of ways.
Add greek yogurt or heavy cream to increase the soup's creaminess.
If your soup has potatoes in it, mash a few and stir.
Cornstarch slurry: In a separate bowl, add 1 tablespoon cold water and 1 tablespoon cornstarch. Mix and then pour into the soup. Stir and repeat if needed.
Flour roux: Scoop 2 tablespoons of soup into a separate bowl and add an equal amount of flour. Stir and return to the soup. Mix the soup and repeat if necessary.
Soup Toppings. If the soup isn't amazing enough, adding some favorite toppings really takes it over the top. Some favorite toppings include:
Sprinkle on fresh basil, cilantro, mint, ginger, or other herbs
Spritz on lemon juice or lime juice to give a bright flavor
Add a dollop of sour cream
Extra salt, pepper, garlic salt, or red pepper flakes to taste
Crushed crackers or croutons
Chopped nuts or seeds
Parmesan cheese
Tortilla Strips
Bacon Bits
---
Best Summer soups
These summer soup recipes are perfect for a hot summer day. Soup isn't just for fall and winter!! Many of these won't even heat up your kitchen.
Minestrone Soup
Not only is this minestrone soup delicious and comforting, but also really nutritious! Perfect for lunch or dinner on a cool autumn day.
Chicken Corn Chowder
A hearty and delicious chicken corn chowder filled with all the best ingredients – chicken, potatoes, corn, carrots, cheese and more! The whole family loves this thick and creamy chowder.
Cabbage Soup
Cabbage soup is an easy healthy soup loaded with fresh veggies. Warm up with a cup of this low calorie and low carb delicious soup!
Lentil Soup
Homemade lentil soup that is light, hearty and healthy. Loaded with chunks of carrots, celery, lentils and spices, you can also add your favorite protein to this already delicious recipe.
Tomato Soup
The Jolly Holiday Combo is a favorite meal at the Happiest Place on Earth. It's a tasty, grilled cheese sandwich served with creamy tomato basil soup – comfort food at it's finest at Disneyland!
Vegetable Soup
Loaded with potatoes, carrots, corn, green beans, and tomatoes, this vegetable soup is healthy, hearty, and super good.
Creamy Tomato Basil Soup
With garlic, basil, and other delicious seasonings, this creamy tomato basil soup has a bold flavor that you'll quickly fall in love with.
Butternut Squash Soup
Buttery smooth butternut squash soup with just a hint of cinnamon and nutmeg makes for one delicious cozy bowl of soup!
Creamy Tortellini Soup
Deliciously hearty tomato tortellini soup is cheesy, hearty and SO warm and delicious. Everyone loves this soup!
Carrot Soup
Flavorful and filling roasted carrot soup is perfect for a cold day! This hearty soup is cozy and delicious.
Cream of Broccoli Soup
Velvety homemade cream of broccoli soup is healthy, rich and so simple. It's filled with flavor creamy goodness and so much flavor!!
Sweet Potato Soup
Velvety smooth sweet potato soup has a bit of nip and is the perfect soup recipe for anyone who loves sweet potatoes.
Crock Pot Spinach Tortellini Soup
Easy crock pot tortellini and spinach soup is a hearty soup filled with cheese tortellini, spinach, tomatoes, and lots of spices!!
Homemade Chicken Noodle Soup
This recipe for homemade chicken noodle soup is one of the easiest, tastiest recipes full of chicken breast chunks, celery, carrots, and home-style egg noodles.
Healthy Chicken Tortilla Soup
Nothing like a warm bowl of tortilla soup on a chilly winter day! This lighter version of chicken tortilla soup is healthy, flavorful, and packed with delicious ingredients.
Chicken Florentine Soup
With a combination of chicken, potato, white beans, carrots, spinach and more, this chicken florentine soup is hearty and absolutely delicious. It tastes similar to Olive Garden's recipe, but it's made in the slow cooker!
Buffalo Chicken Soup
All the flavors of your favorite appetizer are contained in this delicious buffalo chicken soup. It's so hearty and tastes just like buffalo wings!
Mexican Chicken Corn Soup
This delicious Mexican soup is filled with chicken, corn, tomatoes, cheese, & lots of seasonings! It's full of flavor and made in 20 minutes!
Beef & Tomato Macaroni Soup
Hearty and savory beef & tomato macaroni soup is filling and full of flavor. It only requires a handful of pantry staples.
Lemon Chicken Orzo Soup
Bright and hearty homemade lemon chicken orzo soup is swimming in a flavorful broth. This lemon chicken orzo soup can't be beat.
Meatball Soup
Veggie loaded meatball soup is filling and delicious. Your entire family will love and devour this kid-friendly dish!
Stuffed Pepper Soup
All the best ingredients and flavors from stuffed peppers all combined into a delicious soup! If you like classic stuffed peppers, you're going to LOVE this soup.
Chicken Gnocchi Soup
This chicken gnocchi soup is so hearty and so flavorful. It is filled with chicken, carrots, spinach, broccoli and gnocchi! It's perfect all year long and is bound to be a new favorite.
---
favorite summertime soups
We hope you'll enjoy this list of some of our favorite summer soups. It is so nice to be able to put together an easy and satisfying meal in the summertime – and these soups all fit the bill! We'd love to know which ones you've tried!
More Collections: Summer Dinner Ideas, Summer Slow Cooker Recipes, Summer Appetizers