Maybe I should have warned you yesterday, but I'm going to be sharing several delicious soup recipes over the next week or two. I hope you don't mind. I'm in Soup Mode right now and taking advantage of this cool weather to try out even more soups. I mean, how can you NOT love them? They are so warm and filling and just taste so yummy! Today's recipe is so good and was modified a bit from a Chicken Tortilla Soup Recipe found HERE by my mom.
Being Hispanic, our family loves anything with tortillas, so this recipe was right up our alley. We ended up topping it off with some homemade tortilla strips and cubed avocado, which made it even that much better! If I'm going to be honest, if a recipe calls for Chicken and Avocados, I pretty much know I'll love it. 😉 Put it in a soup form, and I love it even more! This Chicken Tortilla Soup is simple and perfect to enjoy all year long, but especially during the cooler weather.
As always, you can modify the ingredients based on what you like. Change the beans to pinto, add peppers or omit an ingredient you aren't as fond of. I love this recipe so much because it's easy to modify, is quick and seriously so delicious.
MY OTHER RECIPES
Check out all those ingredients – makes this recipe so FLAVORFUL!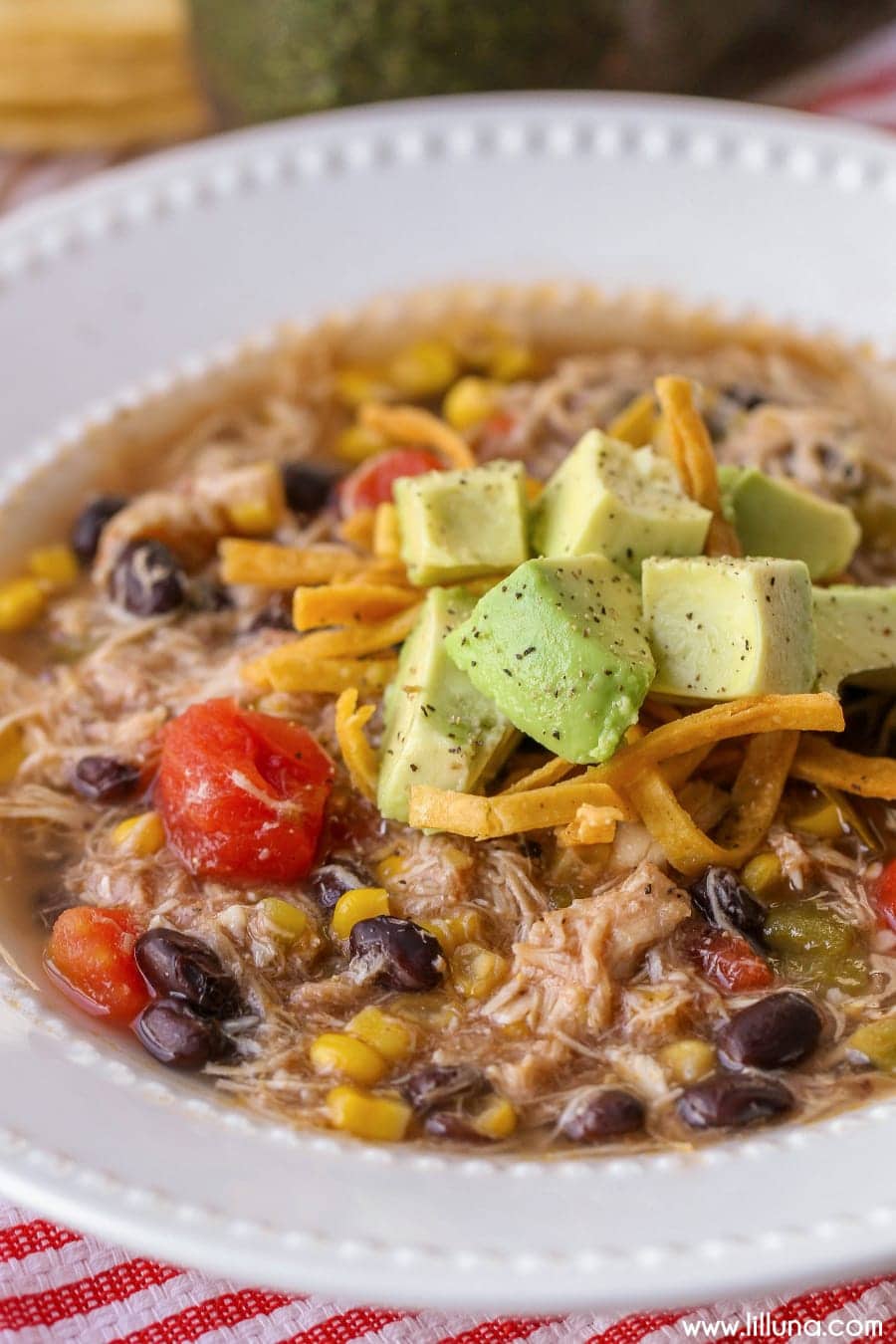 There is so much flavor in this recipe, it's hard for it to disappoint. More flavors can even be added with the topping. We added the avocados and tortilla strips, but you can also add sour cream, cilantro and any other toppings you adore. No matter how you like it, this recipe is sure to be a hit.
For more chicken soup recipes, check out:
Tortilla Soup Recipe Video:
Here is what you'll need to make this recipe too:

Chicken Tortilla Soup Recipe
The BEST Chicken Tortilla Soup recipe that is easy and delicious. Ingredients include chicken, avocados, tomatoes, corn, beans, green chilis, & lots of seasonings!
Ingredients
1 lb chicken breast cooked and shredded
6 cups chicken stock
1 - 15 oz can corn
1½ - 15 oz cans diced tomatoes drained
½ tsp. cumin
½ cup onion chopped (optional)
1 can black beans, drained
1 small can diced green chilis
2 tsp. minced garlic
¼ tsp. chili powder
1½ tsp. salt
¾ tsp. pepper
monterey jack cheese, shredded
corn tortillas for chip topping we cut and fried corn tortillas
avocados cubed
Instructions
Cook and shred (or cube) chicken.
Add all the ingredients, except the cheese, corn tortilla strips and avocados to your crock pot. Cook on low for 8 hours (or high for 3-4 hours).
Add cheese just before serving.
To make this soup extra delicious, add some crunchy tortilla strips. Slice up corn tortillas with a pizza cutter. Flash Fry in hot oil and sprinkle on top of your soup. Add cubed avocados too!