There's a valid reason they say chicken soup is good for the soul! We have a handful of our best chicken soups (stovetop & slow cooker) that we love, all compiled into this one-stop collection.
More Collections: Crock Pot Soups, Easy Soups, Healthy Soups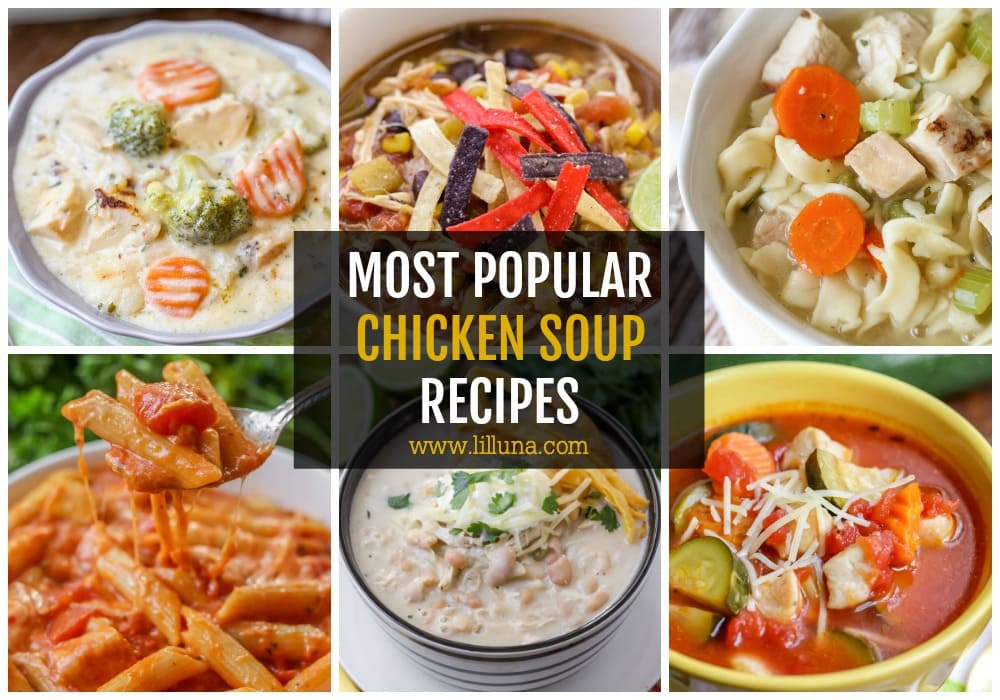 Chicken Soup is Good for the Soul
Cream-based, broth-based, vegetables, pasta, or rice—no matter the ingredients, soup is definitely an easy go-to meal, especially on a chilly winter day.
Doesn't it warm you up just thinking about it? There's a reason chicken soup is always the first thing people think of to cure a cold; not only is it nutritious, but it's comforting as well!
Whether you're in a hurry and need a quick dinner ready in 30 minutes, or you need to throw everything in a slow cooker so it's ready in a few hours, we have all of the best chicken soups you could dream of!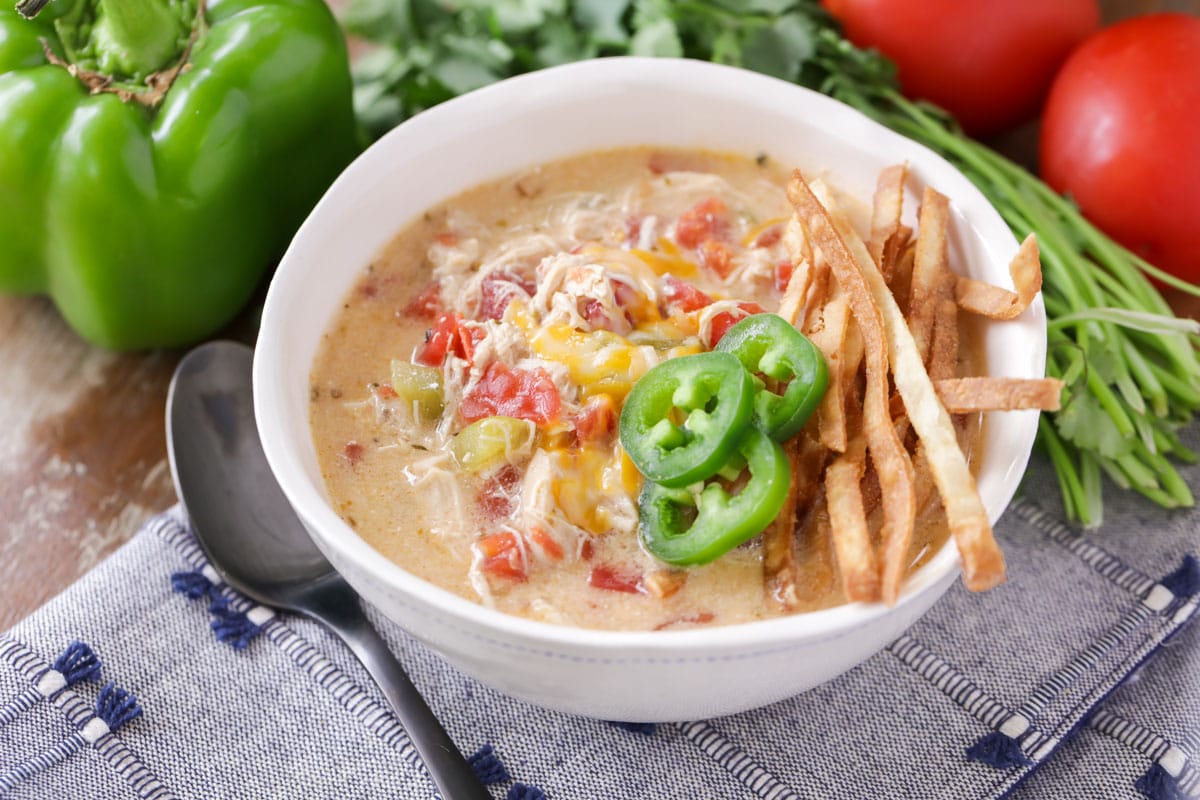 Tips for Chicken Soup
Serving sizes. If you are planning to serve the soup as a meal, plan for 1½ cups per person. When serving soup as an appetizer, you should plan 1 cup per person.
Chicken broth vs stock. Chicken broth is made from simmering water with chicken and vegetables. Homemade chicken stock also uses chicken and vegetables, but includes the bone in the simmer. That is why chicken stock is also called bone broth.
Stock requires a longer cooking time and is typically thicker in texture than broth. They can be used interchangeably.
Precooked shredded chicken. Many of the chicken soups call for precooked chicken. I have a great recipe that can be found HERE. You can also use canned chicken, leftover chicken, or rotisserie chicken for an easy protein option.
Some recipes call for adding raw chicken and other recipes call for cooked chicken. It's important to follow what the recipe asks for so that the chicken cooks properly and the overall soup turns out well.
Boneless skinless chicken thighs can be used in place of boneless skinless chicken breasts.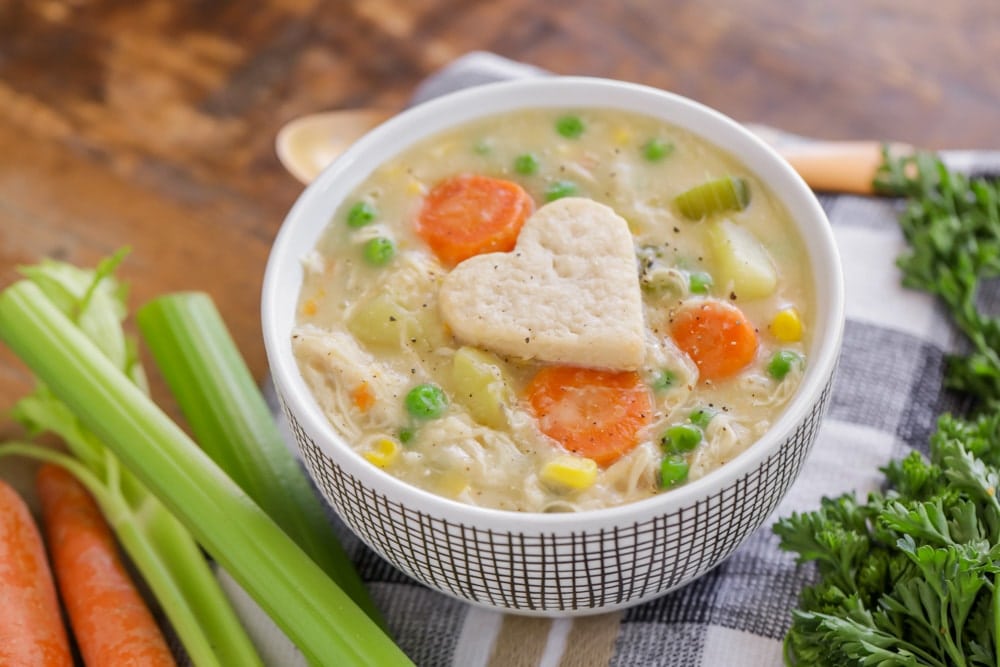 Additional Ingredient tips
Aromatics are used to flavor soups. Ignite the flavors of onions, bell peppers, garlic, and celery by sautéing them on medium-high heat with a bit of oil and butter before adding to the soup.
Veggies. Be mindful that different veggies cook at different rates. Add thicker vegetables, like carrots and potatoes first and wait to add smaller tender vegetables, like peas, until later in the cooking time.
Chopping. Make sure when chopping that you make all the ingredients spoon/bite-sized.
Adding cream. Avoid adding cold cream to the hot soup as it may curdle. Warm the cream first before adding it to the soup.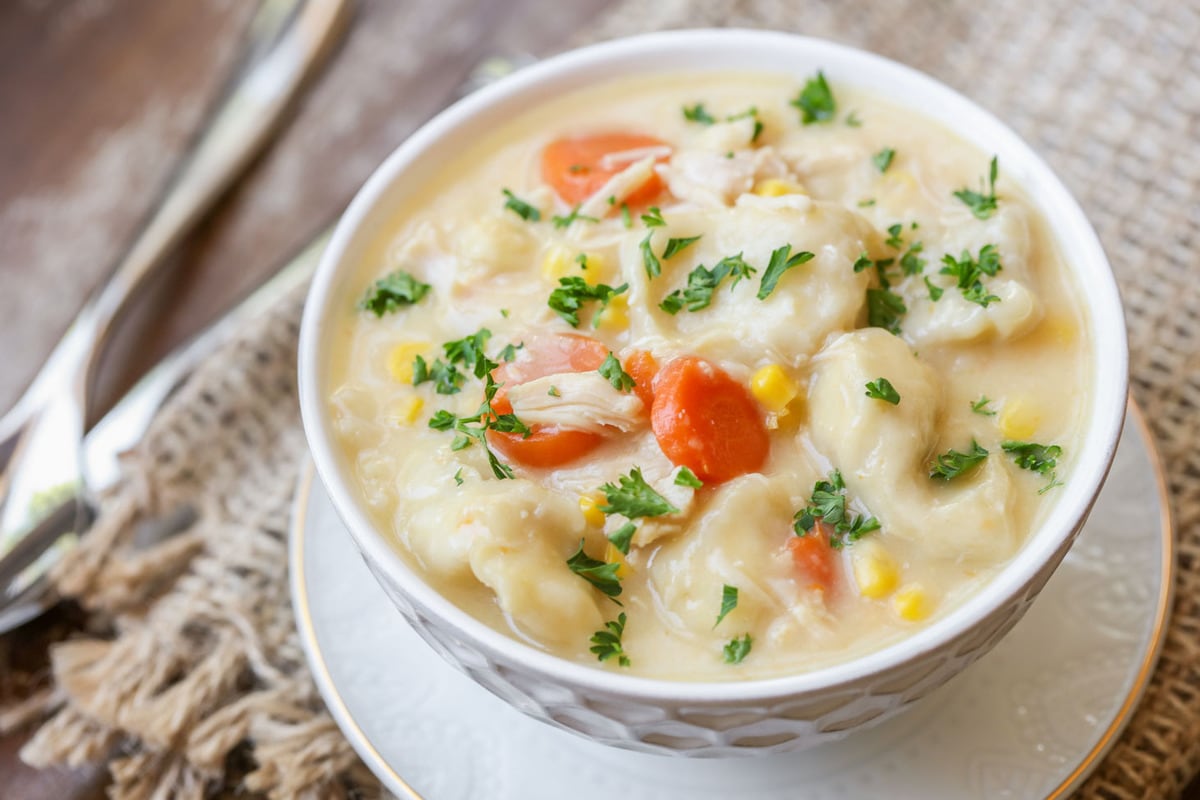 Change the Texture
One of the most common questions when it comes to soup is how to thicken it up, or thin it out.
Both are actually quite easy:
To thin. Simply add a little more liquid like water or broth until you get your desired texture.
To thicken.
Add more cream.
Add more cheese.
Make a roux with flour. In a separate bowl add 1-2 tablespoons of soup and an equal amount of flour. Stir and then add back to the soup. Repeat if necessary.
Add cornstarch. In a separate bowl add 1 tablespoon cold water and 1 tablespoon cornstarch. Mix until smooth and then add to the soup. Repeat if necessary.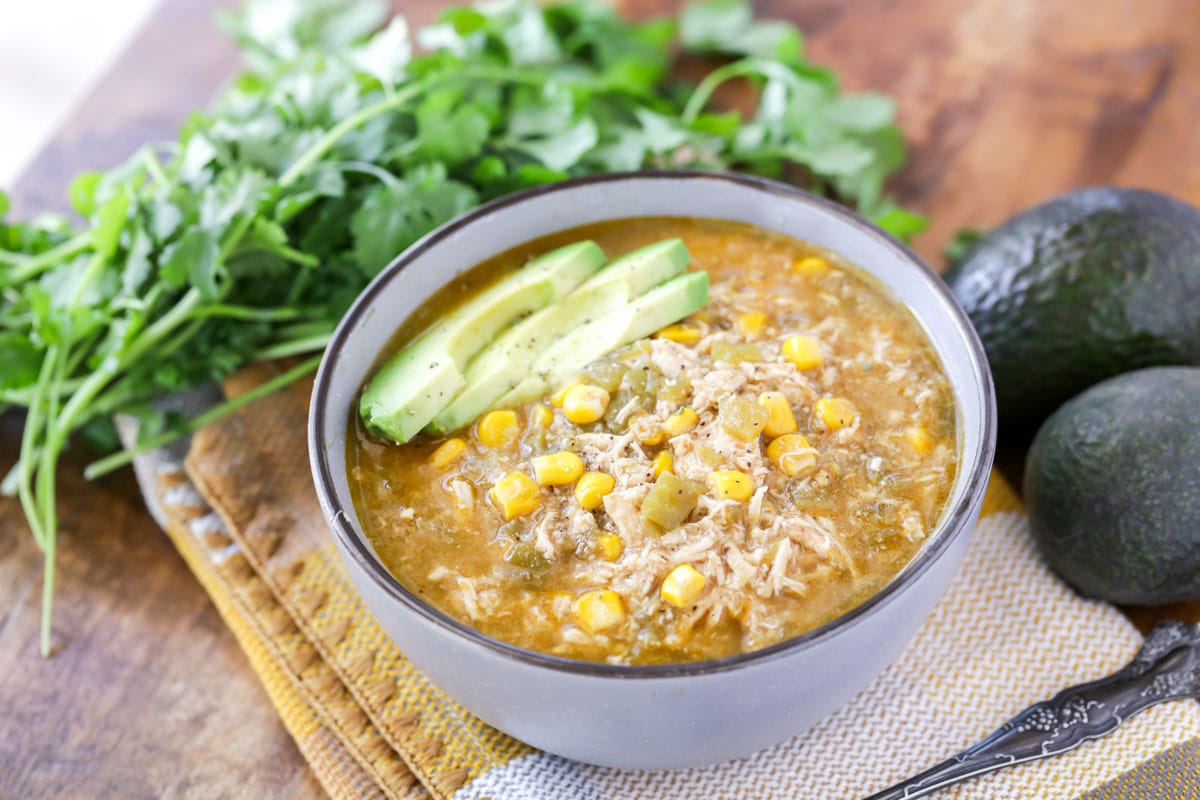 Bland to Flavorful
Spices. Homemade chicken soup recipes tend to go well with basil, bay leaf, curry powder, dill, garlic, mace, marjoram, onions, paprika, parsley, rosemary, saffron, sage, thyme, allspice, cinnamon, ginger, or nutmeg.
Using fresh herbs. If a recipe calls for dried herbs and you are lucky enough to be growing fresh parsley, fresh dill, or any other fresh herb in a kitchen garden you can substitute 1 teaspoon of dried herbs with 1 tablespoon of fresh herbs.
Acidity. Add lemon juice or lime juice to brighten up the flavor.
Spice. If your soup gets too spicy or acidic add brown sugar or coconut cream to help cut through the harsh flavor and add a hint of sweetness.
Salt. Add the amount of salt a recipe calls for. At first, the soup may not taste salty enough, but some of the liquid will evaporate while simmering and the flavors will become more pronounced. Taste the soup as it finished.

If it needs more salt, then go ahead and add a bit more.
If your soup is too salty, add a bit more liquid such as water or broth. You can also add potatoes, rice, or pasta which will help absorb the salt.
---
Best Chicken Soup Recipes
These best chicken soups are all relatively quick since they are made on the stovetop. Some of them do require a few more ingredients or longer simmer time than the "30-minute" soups. Some are cream based and some have a broth base, but all are delicious!
Homemade Chicken Noodle Soup
This recipe for homemade chicken noodle soup is one of the easiest, tastiest recipes full of chicken breast chunks, celery, carrots, and home-style egg noodles.
Chicken Tortilla Soup
The BEST slow cooker chicken tortilla soup is filled with chunks of chicken, beans & corn. It is easy to make and full of flavor!
Caldo de Pollo
Hearty and delicious Caldo De Pollo is a homey chicken soup filled with Mexican spices and flavors. It is warm, comforting, and SO yummy!!
Chicken Gnocchi Soup
This chicken gnocchi soup is so hearty and so flavorful. It is filled with chicken, carrots, spinach, broccoli and gnocchi! It's perfect all year long and is bound to be a new favorite.
Chicken Pot Pie Soup
This creamy, delicious chicken pot pie soup can be made on the stovetop or in a crock pot! It has all your favorite vegetables, big chunks of chicken, and even a delicious heart-shaped pie piece on top.
Chicken And Rice Soup
Creamy homemade chicken and rice soup is hearty & flavorful. Best of all, it's on the table in just 30 minutes!
Chicken Dumpling Soup
Our all-time favorite version of one of the most classic soup recipes – Chicken and dumplings! This simple, delicious soup is filled with chunks of chicken and pieces of biscuit, along with your favorite veggies!
Chicken Alfredo Soup
Chicken alfredo tortellini soup takes a best-loved pasta dish and turns it into a soup! It's still creamy and delicious!!
King Ranch Chicken Soup
King ranch chicken soup is savory and delicious. This twist on a classic brings all the flavor to the table in under 30 minutes.
White Chicken Chili
If you're looking for a hearty soup recipe, look no further than this delicious white chicken chili recipe! Loaded with chicken, beans, cheese, and lots of spices, this white chili has become a new favorite!! Best of all, it's ready in 30 minutes or less!
---
Easy Chicken Soup Recipes
All of these soups are made on the stovetop, but they can be ready in 30 minutes or less!
I rely heavily on recipes like this during the busiest times of the year. Not only are they great for busy school days, but also for holidays, church gatherings, and even baby and wedding showers.
Mexican Chicken Corn Soup
Delicious Mexican chicken and corn soup filled with chicken, corn, tomatoes, cheese, & lots of seasonings! This chicken corn soup recipe is so simple and can be made in 20 minutes!
Chicken Corn Chowder
A hearty and delicious chicken corn chowder filled with all the best ingredients – chicken, potatoes, corn, carrots, cheese and more! The whole family loves this thick and creamy chowder.
Chicken Wild Rice Soup
Such a tasty and simple recipe – this chicken wild rice soup is filled with long grain and wild rice, chicken, carrots, almonds and more!
Cheesy Chicken Parmesan Soup
One of your favorite Italian dishes turned into a delicious soup! This cheesy chicken parmesan soup is a creamy tomato-base soup filled with chicken, penne pasta, and of course cheese. The best part – it comes together in less than 30 minutes!
Buffalo Chicken Soup
All the flavors of your favorite appetizer are contained in this delicious buffalo chicken soup. It's so hearty and tastes just like buffalo wings!
Chili's Chicken Enchilada Soup
This Copycat Chili's Chicken Enchilada Soup tastes just like the restaurant's version. It is filled with chicken, tomatoes, cheese and red enchilada sauce and is so flavorful and delicious!
---
Crockpot Chicken Soup Recipes
These might not be quick, but they sure are convenient when you need to prep a yummy dinner in advance. Most of these call for precooked chicken, as I mentioned earlier, so you just have to dump the remaining ingredients and go!
CrockPot Chicken Stew
A simple, convenient, and TASTY stew recipe made in the crock pot! Made with chicken, potatoes, carrots, cream of chicken soup, sour cream, ranch dressing mix and more, this creamy slow cooker chicken stew recipe is BURSTING with flavor!!
Chicken Florentine Soup
With a combination of chicken, potato, white beans, carrots, spinach and more, this Chicken Florentine Soup is hearty and absolutely delicious. It tastes similar to Olive Garden's recipe, but it's made in the slow cooker!
Chicken Taco Soup
A warm tasty soup full of chicken, beans, corn, spices, and of course – tortilla strips on top! You're going to love this hearty, delicious chicken taco soup that can be enjoyed all year long – especially in the fall!
Green Chili Chicken Soup
Perfectly spiced green chili chicken soup is like an enchilada in soup form! It's hearty, delicious, and is always a crowd pleaser.
Crock Pot Chicken Enchilada Soup
Crock pot green chile enchilada soup is a new favorite soup packed with chicken, green chiles, corn, rice, and mixed with lots of spices and cheeses. 
---
Healthy Chicken Soup Recipes
Hearty, delicious chicken soups can also be good for you. These recipes are tasty, easy to make, and healthy too!
Healthy Chicken Tortilla Soup
Nothing like a warm bowl of tortilla soup on a chilly winter day! This lighter version of chicken tortilla soup is healthy, flavorful, and packed with delicious ingredients.
Lemon Chicken Orzo Soup
Bright and hearty homemade lemon chicken orzo soup is swimming in a flavorful broth. This lemon chicken orzo soup can't be beat.
Italian Chicken Vegetable Soup
Hearty Italian chicken vegetable soup is packed full of flavor. It's is a great lightweight soup option perfect for any day of the year!
Chicken Corn Soup
Homey chicken corn soup is savory & delicious. It is hearty, filling and only takes 10 minutes of prep time!!
Mexican Soup
Filling and flavorful Mexican soup is packed with chicken, beans, and veggies with just a little bit of heat!!
---
dELICIOUS CHICKEN SOUPS
Whether you are looking for a delicious chicken soup to make in your slow cooker or on your stovetop, you're sure to find the perfect quick and easy Soup recipe on this list!
More Collections: Winter Soups, Mexican Chicken Recipes, Summer Soups