There's a valid reason they say chicken soup is good for the soul! We have a handful of chicken soup recipes (stovetop & slow cooker) that we love, and they have all been compiled into this collection!
Whether you're in a hurry and need a quick dinner ready in 30 minutes, or you need to throw everything in a slow cooker so it's ready in a few hours, we have all the chicken soup recipes you could dream of!
MORE COLLECTIONS: Soups, Crock Pot Soups, Easy Soups, Healthy Soups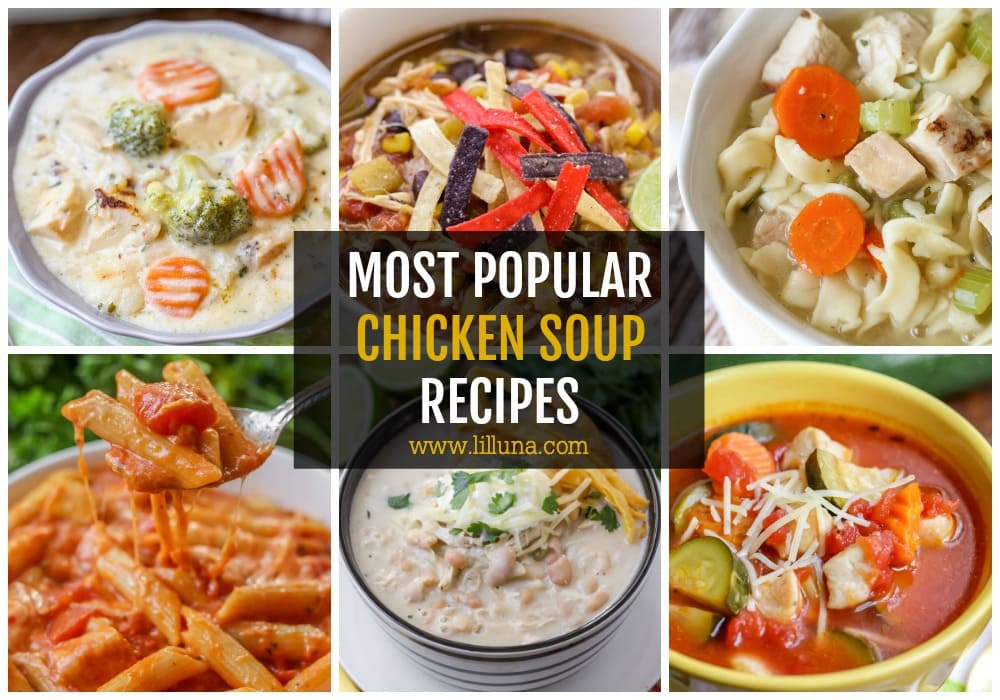 Chicken soup is good for the soul
Cream based, broth base, vegetables, pasta, or rice—no matter the ingredients, soup is definitely an easy go to meal especially on a chilly winter day. Doesn't it warm you up just thinking about it? There's a reason chicken soup is always the first thing people think of to cure a cold!
There are several Chicken soup recipes here at Lil Luna that we love, but before I get to sharing them I wanted to share a few soup tips for you all:
Many of the soup recipes call for precooked chicken. I have a great recipe that can be found HERE. You can also use canned chicken or a rotisserie chicken.
Serving Sizes: If you are planning to serve the soup as a meal, plan for 1 ½ cup per person. When serving soup as an appetizer, you should plan 1 cup per person.
Other tips:
Ignite the flavors of onions, garlic and celery by sautéing them with a bit of oil and butter before adding to the soup.
Be mindful that different veggies cook at different rates. Add thicker vegetables, like carrots and potatoes, first and wait to add smaller veggies, like peas, until later in the cook time.
Make sure when chopping that you make all the ingredients spoon/bite sized.
Avoid adding cold cream to hot soup as it may curdle. Warm the cream first before adding it to the the soup.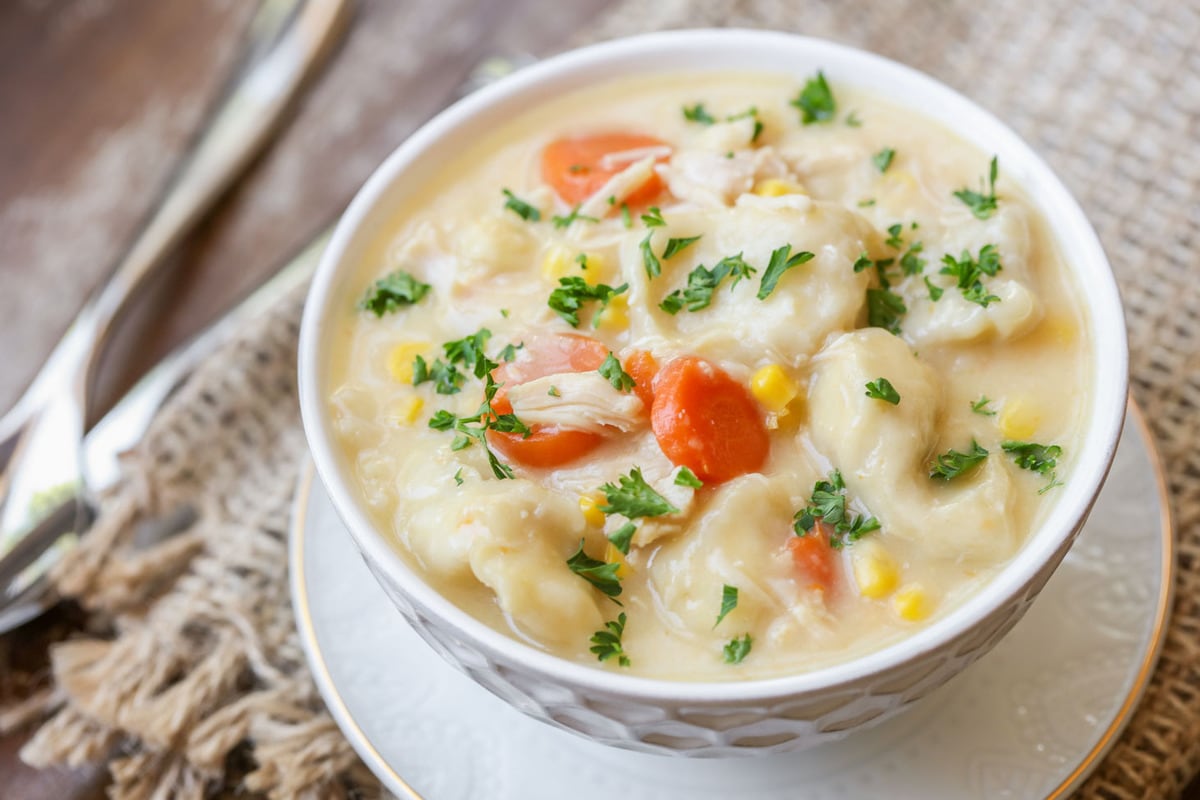 Chicken Soup Troubleshooting
One of the most common questions when it comes to soup is how to thicken it up, or thin it out. Both are actually quite easy:
How to thin out soup is the easier of the two- simply add a little more liquid like water or broth until you get your desired texture.
There are a few ways to thicken your soup:
Add more cream
Add more cheese
Make a roux with flour: In a separate bowl add 1-2 tablespoons of soup and and equal amount of flour. Stir and then add back to the soup. repeat if necessary
Add cornstarch: In a separate bowl add 1 tablespoon cold water and 1 tablespoon cornstarch. Mix until smooth and then add to the soup. Repeat if necessary.
Salty soup… Add the amount of salt a recipe calls for. At first the soup may not taste salty enough, but some of the liquid will evaporate while simmering and the flavors will become more pronounced. Taste the soup as it finished. If it needs more salt, then go ahead and add a bit more.
If you find your soup is too salty you can always add a bit more liquid such as water or broth. You can also add potatoes, rice or pasta which will help absorb the salt.
Stovetop Chicken Soups
These soups are all relatively quick since they are made on the stovetop. Some of them do require a few more ingredients or simmer time than the "30 minute" soups. Some are cream based, some have a broth base, but all are delicious!
30 minutes or less
All of these soups are made on the stovetop, but they can be ready in 30 minutes or less!
I rely heavily on recipes like this during the busiest times of year. Not only are they great for busy school days, but also for holidays, church gatherings and even baby and wedding showers.
Slow Cooker Chicken Soups
These might not be quick, but they sure are convenient when you need to prep a yummy dinner in advance. Most all of these call for precooked chicken, as I mentioned earlier, so you just have to dump the remaining ingredients and go!
MORE COLLECTIONS: Soups, Crock Pot Soups, Easy Soups, Healthy Soups