This collection of easy soup recipes has everything you could possibly need. All of these soups have few ingredients or simple instructions.
More Collections: Crock Pot Soups, Healthy Soups, Chicken Soups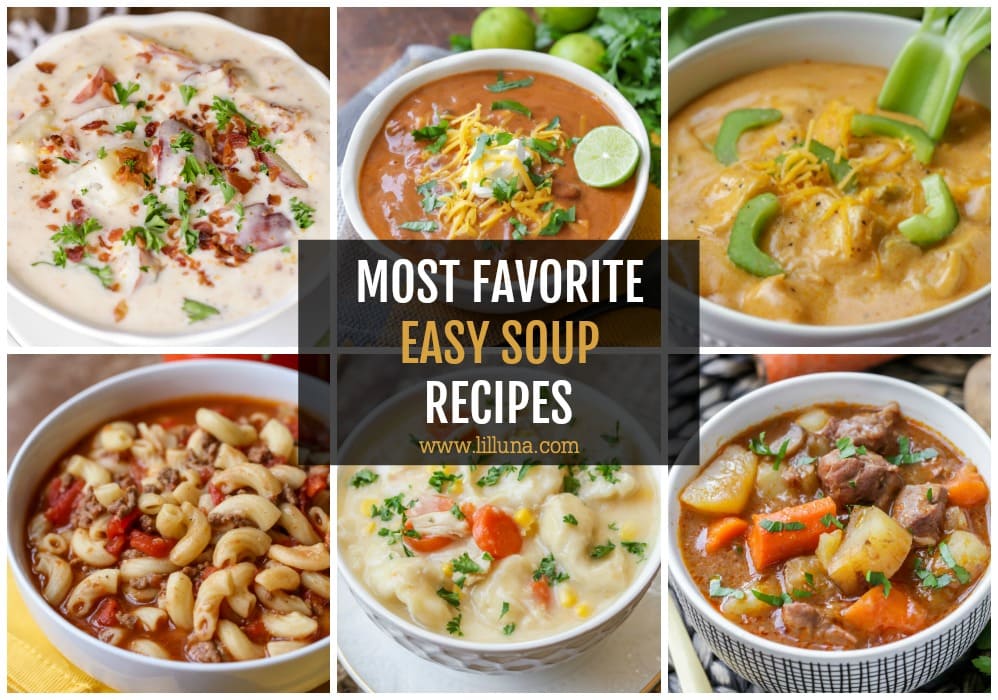 Few Ingredients, Simple Instructions
I've shared my favorite soup recipes, as well as Crock Pot Soup Recipes. This collection has a little of both and more!
All of these soups are super EASY to put together, whether that's in the crock pot or on the stove. Most of them don't require a lot of ingredients or steps to prepare!
This collection includes soups with chicken, veggies, beef, pasta, rice, and more. Basically, something for everyone! I know you'll be able to find some easy recipes your family will love on a chilly day.
Tips for making them even MORE easy:
Shredded chicken. To make soup as easy as possible I like to have shredded cooked chicken and cooked beef in the freezer. You can also use canned chicken or shredded rotisserie chicken.
Make ahead of time. Another way to make these soup recipes even easier is pre-making the soup and keeping it in the freezer. If a soup can be pre-frozen, you can find more information on the individual recipes pages.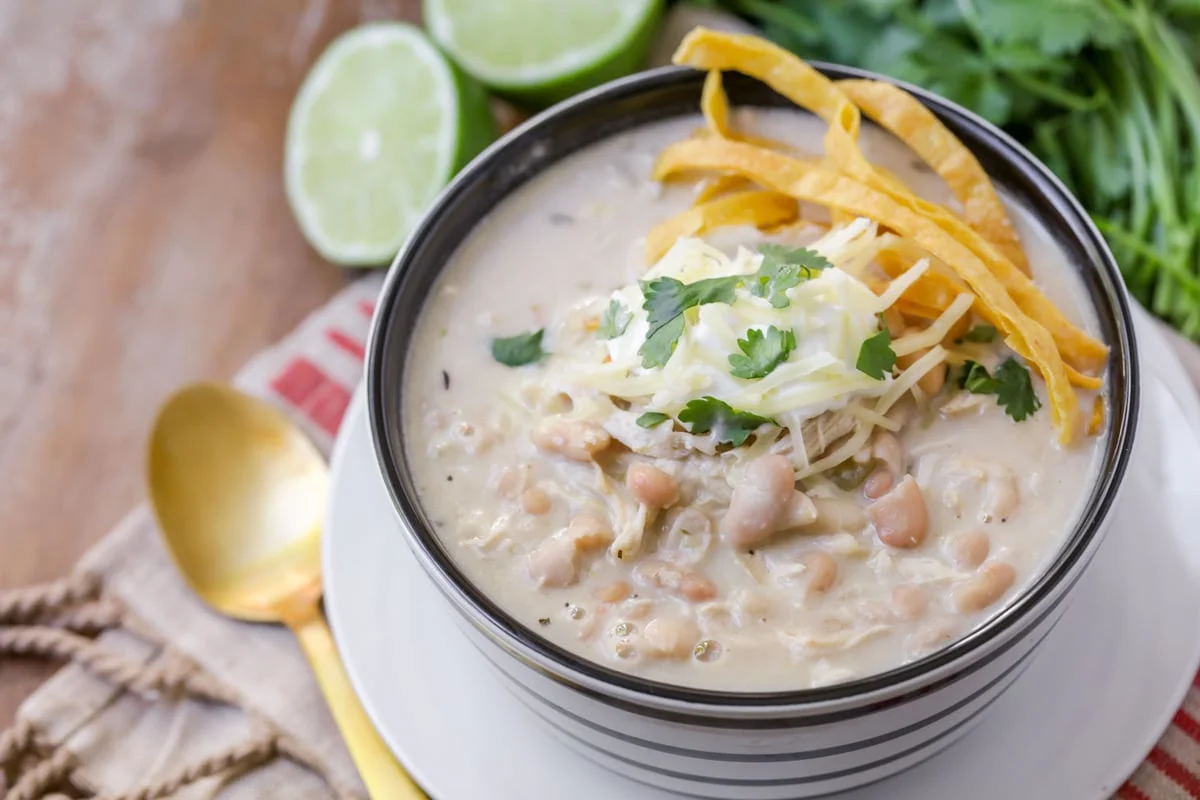 Soup Texture Tips
Easily adjust the texture to make it your perfect dish.
To thin out a soup, simply add more water or broth to the soup until you reach your desired texture.
To thicken a soup. There are more ways to thicken a soup, but all are really easy:
Mash up some ingredients that are already in the soup for a more creamy texture. If your soup has potatoes or beans use a fork to mash them up and stir them around.
Add in a handful of uncooked rice, any type. Simmer the rice in the soup and the starch released will act as a thickening agent.
Cornstarch slurry. In a separate bowl add 1 tablespoon of cold water and 1 tablespoon of cornstarch. Mix until smooth then pour it into the soup. Stir and simmer.
Flour roux. Scoop out ½ cup of the hot soup and place it into a bowl. Add 2-3 tablespoons of flour and stir until smooth. Pour it into the soup and simmer.
Creamy. A creamy soup can be made creamier by adding more cream, cheese, pureed vegetables, a scoop of nut butter, cream cheese, or sour cream.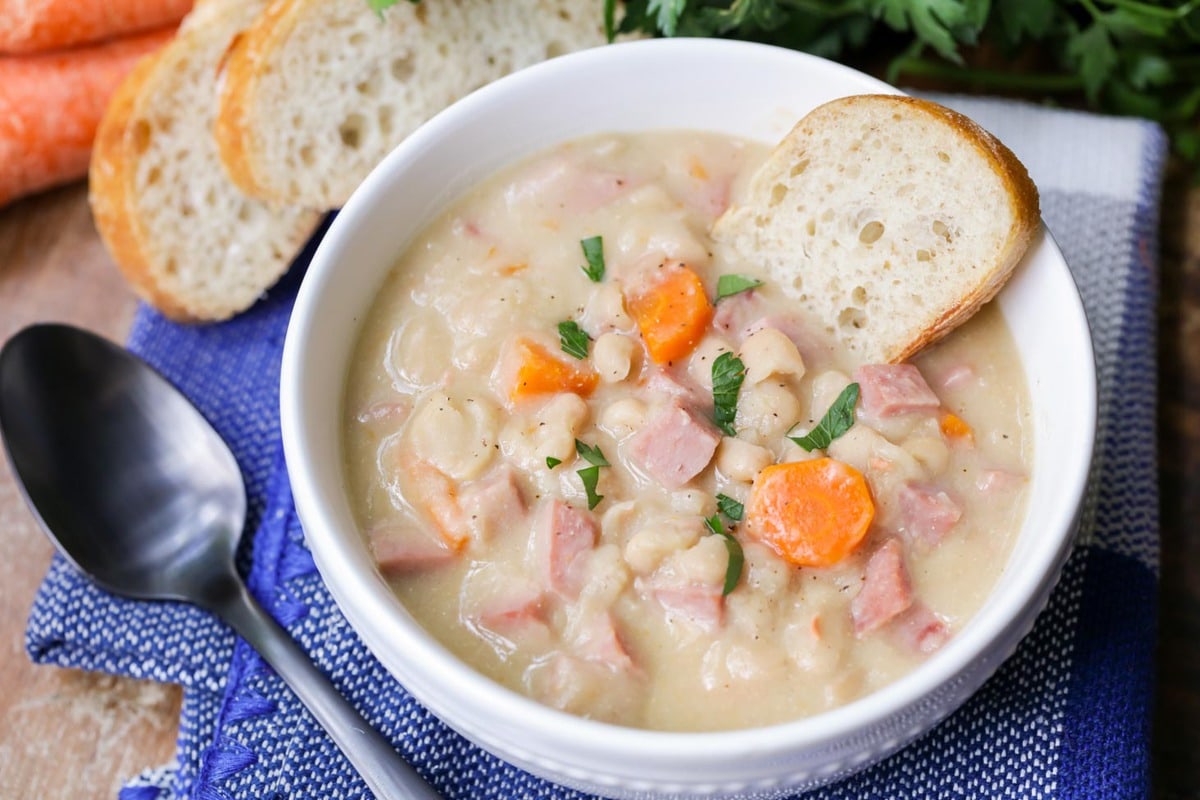 Bland to Flavorful
Sitting down to a warm bowl of comforting soup only to find it bland can be quite disappointing. So whether you're fixing a bland soup or just getting one started use the following tips to help spice it up.
Broth vs stock. The foundation of a good soup starts with a great-tasting broth or stock.
Aromatics. Onion, bell pepper, celery, and garlic are some commonly used aromatics. They are typically sautéed in a pan to get their flavor going and then added to the pot of soup.
Browning your meat on the stove top or in the oven can help pull out the savory ingredients' natural flavors that won't be present when you simply simmer them.
Season everything and taste as you go. Be sure that each element (broth, aromatics, etc.) taste great on its own before being added to the soup. Then taste the soup each time an ingredient is added.
Adding acid. Brighten a soup with a bit of vinegar or citrus such as lemon juice.
If the soup is too spicy or sour, add coconut cream or a bit of brown sugar. It will cut through the harsh flavor and add a bit of sweetness to the soup.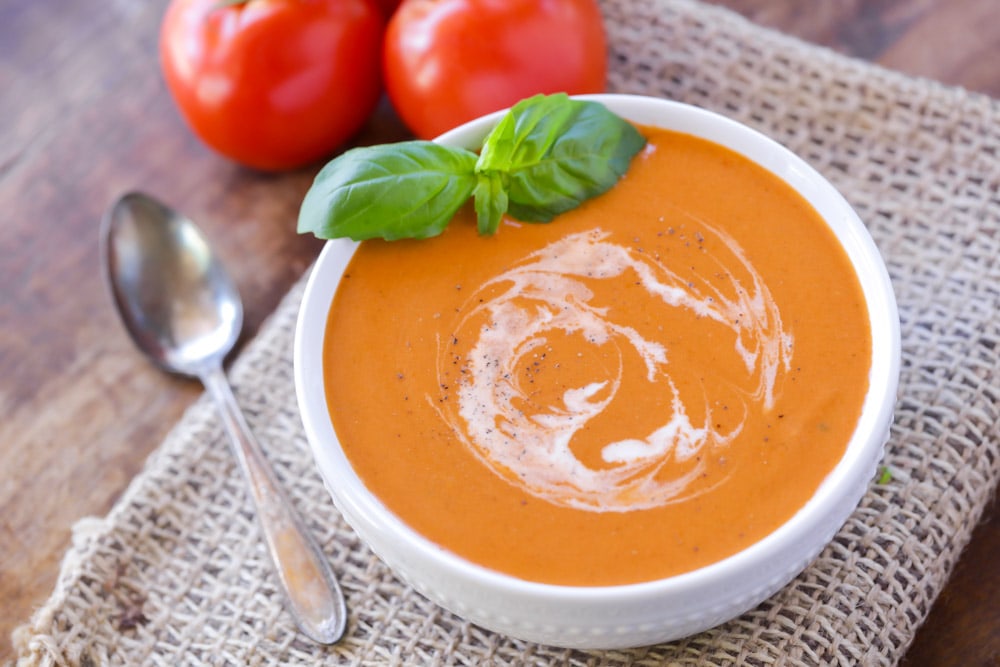 Soup Spices
Different soups pair well with different spices. Which seasonings to use and the amount used is completely up to you and your preference. If you are one to stray from the recipe and like to add your own twist, use the following to help get you started.
I also wanted to note that 1 teaspoon of dried herbs can be replaced with 1 tablespoon of fresh herbs.
Soups using beef and poultry tend to go well with basil, bay leaf, curry powder, dill, garlic, mace, marjoram, onions, paprika, parsley, rosemary, saffron, sage, thyme, allspice, cinnamon, ginger, or nutmeg.
Seafood soups tend to pair well with parsley, garlic, oregano, sage, basil, chives, curry, dill, ginger, marjoram, tarragon, or thyme.
Creamy fruit soups tend to go well with "sweeter" spices like cinnamon, cloves, ginger, mint, nutmeg, rosemary, anise, or mace.
Tomato soups tend to pair well with parsley, garlic, oregano, basil, bay leaf, chives, rosemary, tarragon, or thyme.
Vegetable soups tend to go well with basil, oregano, garlic, thyme, caraway, cayenne, chives, dill, marjoram, nutmeg, or tarragon.
---
Best Easy Soup Recipes
These are some of my favorite simple soup recipes that have few ingredients, few steps, or are made in less than an hour!
Keep scrolling for easy chicken and easy crockpot soups.
Creamy Ham And Bean Soup
If you like ham and beans, then you're going to LOVE this soup. The flavor of this ham and bean soup is super creamy and tasty and is the epitome of comfort food at it's finest.
Hamburger Macaroni Soup
Hamburger macaroni soup is packed with flavor and it only requires a handful of pantry staples. It's hearty and delicious!
Broccoli Cheese Soup
Loaded with broccoli and two different cheeses, this creamy and delicious soup is the ultimate comfort food, especially when served in a bread bowl!
Meatball Soup
Veggie loaded meatball soup is filling and delicious. Your entire family will love and devour this kid-friendly dish!
Zuppa Toscana
Bring the taste of Italy home with this creamy and delicious Copycat Olive Garden Zuppa Toscana soup. The whole family loves this soup!
Lasagna Soup
Everything you love about lasagna (noodles, meat, and cheese), minus all the things you don't (layering, and tons of time)! This lasagna soup is easy, filling, and beyond delicious!!
Cheesy Cauliflower Soup
Cheesy and delicious cauliflower soup. One of our favorite soup recipes to enjoy all year long! Ingredients include cauliflower, potato flakes, cream cheese, cheddar cheese, and bacon!
Stuffed Pepper Soup
All the best ingredients and flavors from stuffed peppers all combined into a delicious soup! If you like classic stuffed peppers, you're going to LOVE this soup.
Panera Broccoli Cheddar Soup
Panera broccoli cheddar soup tastes just like the original, and is AMAZING! Filled with hearty (and yummy) ingredients, it's sure to be a hit!
Egg Drop Soup
This delicious and easy egg drop soup recipe tastes just like the restaurant version. Now you can make and enjoy one of your favorite Asian recipes at home with this tasty soup.
Lentil Soup
Homemade lentil soup that is light, hearty and healthy. Loaded with chunks of carrots, celery, lentils and spices, you can also add your favorite protein to this already delicious recipe.
French Onion Soup
Caramelized French Onion Soup is sure to impress your dinner guests, but won't break the bank! Dare I Say, It's The BEST French Onion Soup.
Black Bean Soup
This hearty, flavorful black bean soup is simple and perfect to make during soup season. It's on the table in under an hour!
Butternut Squash Soup
Buttery smooth butternut squash soup with just a hint of cinnamon and nutmeg makes for one delicious cozy bowl of soup!
Tomato Soup
The Jolly Holiday Combo is a favorite meal at the Happiest Place on Earth. It's a tasty, grilled cheese sandwich served with creamy tomato basil soup – comfort food at it's finest at Disneyland!
Turkey Noodle Soup
This hearty turkey soup recipe is flavorful and filled with rotini pasta, celery, carrots and turkey. It's perfect for fall!
Potato Corn Chowder
This thick and creamy chowder is filled with bacon, corn, potatoes, and big flavor! The whole family will love hearty chowder with bacon.
Sopa de Fideo
This quick, simple and delicious Sopa (soup) de Fideo is a family favorite. It's also cheesy and flavorful! Just 5 Ingredients and you'll have dinner in no time.
Easy Tomato Bisque
Thick, creamy and delicious tomato bisque is a family favorite! This recipe is also beyond simple which makes it even more appealing.
Tortellini Soup
Tortellini, sausage, tomatoes, spinach, basil and more! This Italian tortellini soup recipe is so hearty and delicious, and full of healthy, tasty ingredients!! Best of all, it's ready in less than 20 minutes!
---
Easy Chicken Soup Recipes
Again, you can use precooked chicken, rotisserie chicken, or canned chicken in most of these soup recipes to make them extra easy!
Mexican Chicken Corn Soup
This delicious Mexican soup is filled with chicken, corn, tomatoes, cheese, & lots of seasonings! It's full of flavor and made in 20 minutes!
Chicken Dumpling Soup
Our all-time favorite version of one of the most classic soup recipes – chicken and dumplings! This simple, delicious soup is filled with chunks of chicken and pieces of biscuit, along with your favorite veggies!
Chicken Alfredo Soup
Chicken alfredo tortellini soup takes a best-loved pasta dish and turns it into a soup! It's still creamy and delicious!!
Buffalo Chicken Soup
All the flavors of your favorite appetizer are contained in this delicious buffalo chicken soup. It's so hearty and tastes just like buffalo wings!
Homemade Chicken Noodle Soup
This recipe for homemade chicken noodle soup is one of the easiest, tastiest recipes full of chicken breast chunks, celery, carrots, and home-style egg noodles.
Italian Chicken Vegetable Soup
Hearty Italian chicken vegetable soup is packed full of flavor. It's is a great lightweight soup option perfect for any day of the year!
Chicken Wild Rice Soup
Such a tasty and simple recipe – this chicken wild rice soup is filled with long grain and wild rice, chicken, carrots, almonds and more!
Chicken Corn Chowder
A hearty and delicious chicken corn chowder filled with all the best ingredients – chicken, potatoes, corn, carrots, cheese and more! The whole family loves this thick and creamy chowder.
King Ranch Chicken Soup
King ranch chicken soup is savory and delicious. This twist on a classic brings all the flavor to the table in under 30 minutes.
White Chicken Chili
White chicken chili is hearty, creamy, and has become a new favorite!! Best of all, it's ready in 30 minutes or less!
---
easy crock pot soups
All of these soups are what I like to call "dump and go" recipes. None of them have more than 3 steps on the recipe card (that's my kind of recipe), which means minimal effort on your part.
They all turn out amazing, and no one will know that you hardly had to lift a finger to create them.
Crock Pot Spinach Tortellini Soup
Easy crock pot tortellini and spinach soup is a hearty soup filled with cheese tortellini, spinach, tomatoes, and lots of spices!!
Crockpot Chicken Enchilada Soup
Crock pot green chile enchilada soup is a new favorite soup packed with chicken, green chiles, corn, rice, and mixed with lots of spices and cheeses. 
Crockpot Taco Soup
Creamy & delicious crockpot taco soup is SO easy to make! It's packed with flavor and takes just 5 minutes of prep time!
Healthy Chicken Tortilla Soup
Nothing like a warm bowl of tortilla soup on a chilly winter day! This lighter version of chicken tortilla soup is healthy, flavorful, and packed with delicious ingredients.
Crockpot Hamburger Soup
Hearty and delicious hamburger soup is filled with corn, carrots, potatoes, cheese and more! Best of all, it's made in the slow cooker with minimal effort.
Crock pot Cheeseburger Soup
Filled with hamburger meat, carrots, potatoes, Velveeta, delicious spices, and BACON, this crockpot cheeseburger soup is the perfect recipe for a cold day!
Chicken Florentine Soup
With a combination of chicken, potato, white beans, carrots, spinach and more, this Chicken Florentine Soup is hearty and absolutely delicious. It tastes similar to Olive Garden's recipe, but it's made in the slow cooker!
Cheesy Potato Soup
Creamy cheesy potato soup is the easiest soup you'll ever make. You only need a handful of ingredients and a crockpot!!
Crock Pot Baked Potato Soup
Creamy and delicious crockpot baked potato soup is so full of flavor and EASY too! This crockpot potato soup recipe is a real winner!
Chicken Tortilla Soup
The BEST slow cooker chicken tortilla soup is filled with chunks of chicken, beans & corn. It is easy to make and full of flavor!
---
Favorite Hearty Soups
Nothing is more satisfying than a delicious hearty Soup – and when the recipe comes together so easily that's a big bonus! We're sure you'll find some new family favorites on this list!
More Collections: Winter Soups, Summer Soups, Italian Soups