Loaded with broccoli and two different cheeses, this creamy and delicious soup is the ultimate comfort food, especially when served in a bread bowl!
Soup Season is our favorite! Whether it's Cheesy Potato Soup or Cheesy Cauliflower Soup, we love to enjoy these recipes all fall and winter long – especially when cheesy is involved!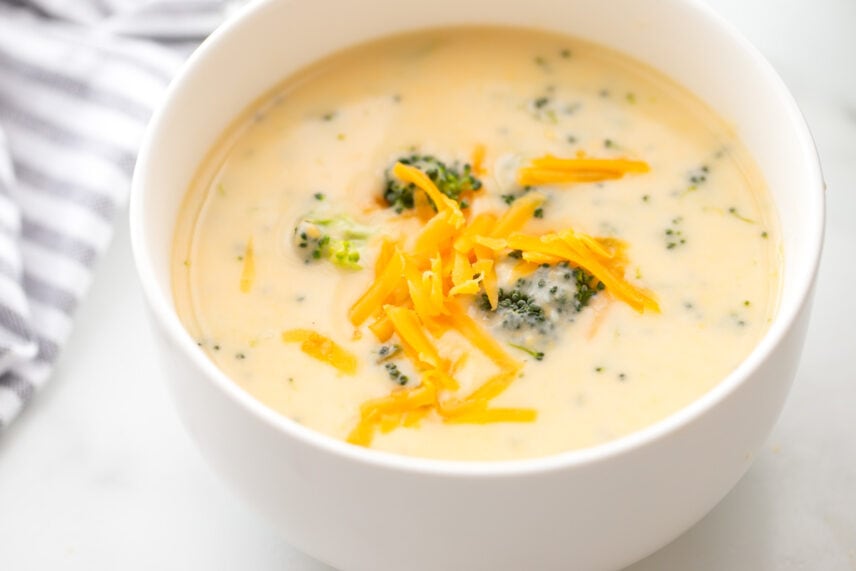 Just like pacific wharf cafe!
Is it possible to NOT love soup?!
We count down the days until the weather is cool enough to enjoy delicious soups, and a favorite of ours (since childhood) is Broccoli Cheese Soup.
We know it's a popular one, and not only is this recipe super delicious, but it's beyond simple too.
If you've ever been to the Pacific Wharf Cafe at California Adventure in Anaheim, you may have tried their Broccoli Cheese Soup in a Bread bowl. If not, you must try it – it's practically HEAVEN!
Well, we recently went to Disneyland and California Adventure, and I have been dying to find a recipe that compares to this little piece of heaven. I'm happy to report that my mom was able to do just that. She made a few changes to an original recipe she had, and I have to admit it was one of the best recipes I've ever tried!
It tasted just like Disney's Broccoli Cheddar Soup – and it's beyond easy!
We're big fans of the food at Disneyland, and have made several copycat recipes, including Dole Whips and Bacon Wrapped Asparagus Skewers. This Broccoli Cheddar Soup recipe tastes JUST like the broccoli cheese soup from Pacific Wharf Cafe at California Adventure!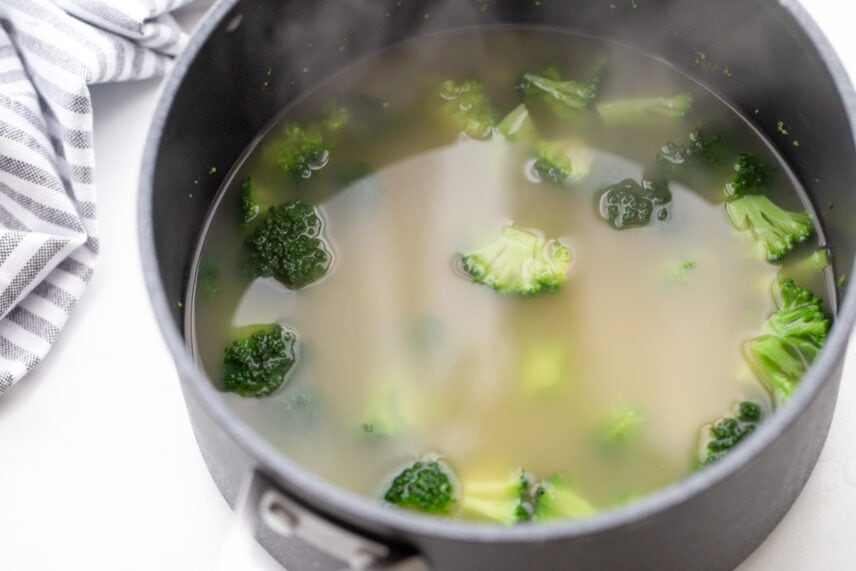 how to make Broccoli Cheese Soup
Believe it or not, this recipe is as simple as it is delicious. It only takes about 30 minutes to come together, and the ingredients are super simple. In fact, you probably have most of them on hand already. In no time at all, you can have a little taste from the Happiest Place on Earth right in your own kitchen. 😉
I don't know what it is about the combination of broccoli and cheddar, but this soup makes for the ultimate comfort food – especially on cold days.
Thickening. Add flour or cornstarch to the soup to thicken it. To do that, just whisk a few tablespoons of cornstarch into a little broth in a separate bowl before whisking it into the main pot. This will help thicken up the entire soup.
Other cheeses to use? Our recipe calls for cheddar cheese and swiss cheese. You could easily swap those out for white cheddar cheese, parmesan cheese, jack cheese, or american cheese. All of these options would taste delicious!
Crockpot instructions
Place butter and flour in your crock pot and let melt. Add milk and let set for 30 minutes. Add remaining ingredients but cheese. Cover and cook on high for 2 hour or on low for 4-6 hours, adding cheese 30 minutes before done.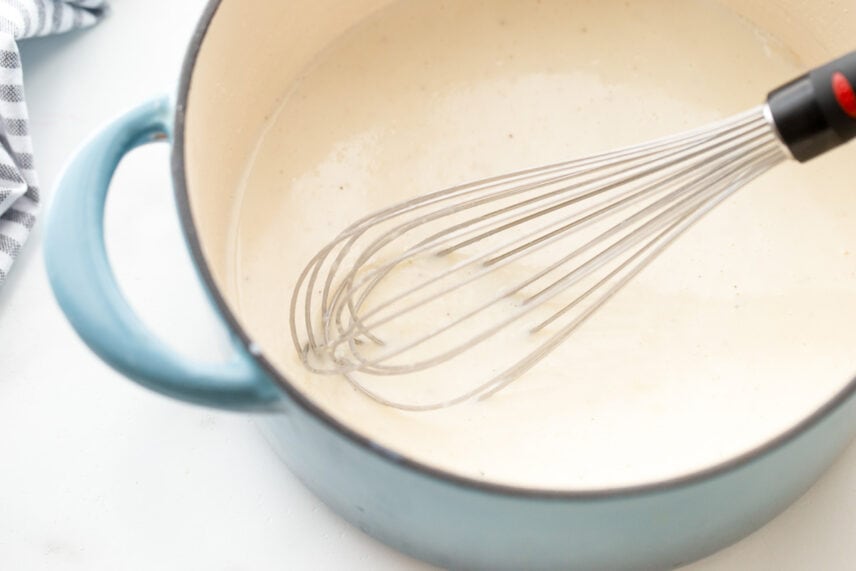 Tips for storing
Regardless of whether you're putting it in the fridge or freezing, let the soup cool to room temperature before storing.
Fridge. Pour into an airtight container and keep it in the fridge for 3-4 days! Reheat in the microwave or on the stove and serve with some crusty bread. Yum!!
Freezer. Broccoli cheese soup is actually perfect for freezing! Once it has cooled, pour into a freezer safe bag/container. Keep the soup in the freezer for up to 6 months!
You could even make individual servings by pouring into paper/plastic cups, freezing, and removing from the cup after it has frozen. Store the frozen individual servings in a freezer safe bag.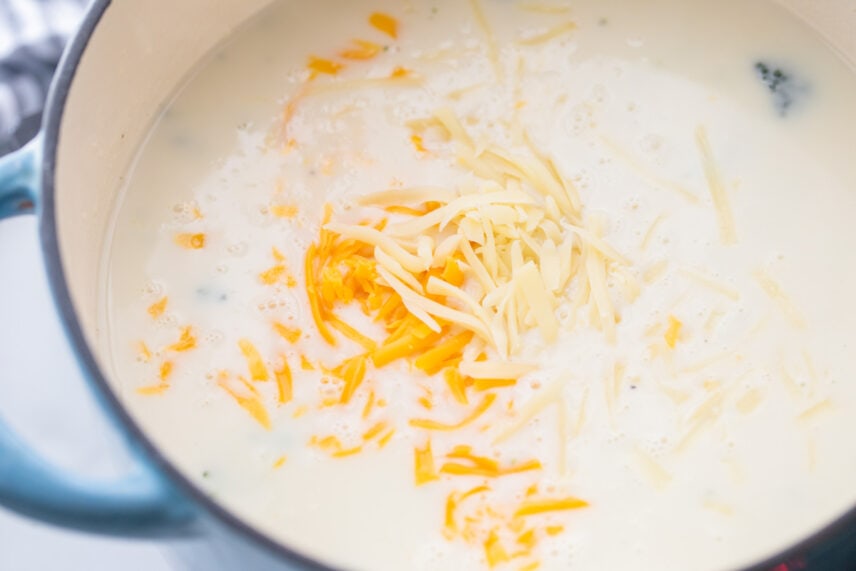 Our Favorite!
This is definitely the best homemade Broccoli Cheddar Soup I have tried!! Now, I just need to find some super yummy Sourdough Bread bowls and eat this soup with them, and perhaps I'll feel a little bit like I'm back at California Adventure!
If you love Broccoli & Cheese soup, be sure to check out our Copycat Panera version too!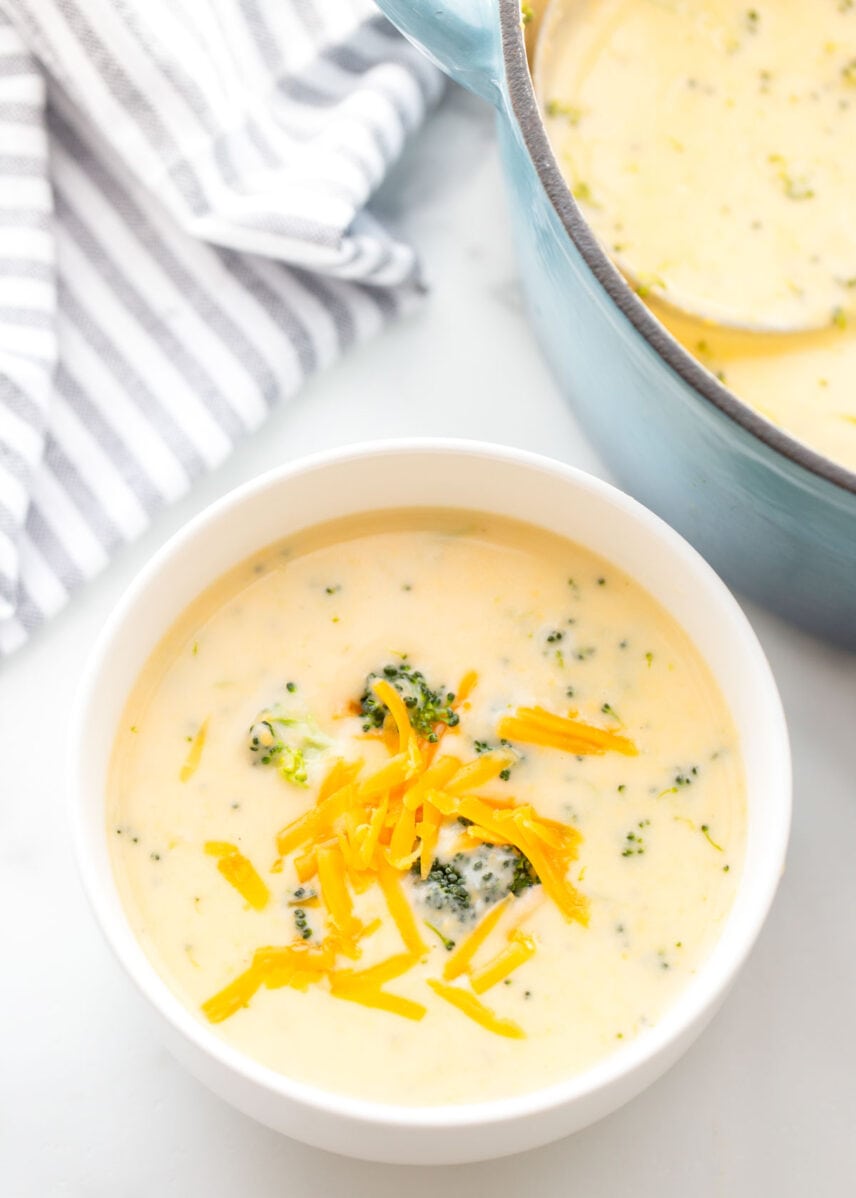 For more soup recipes, check out:
Broccoli Cheese Soup Recipe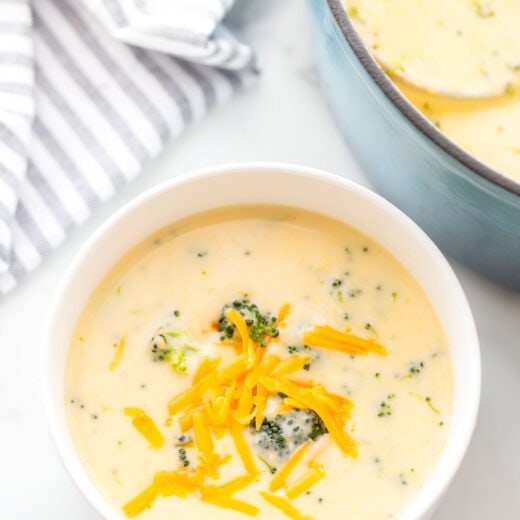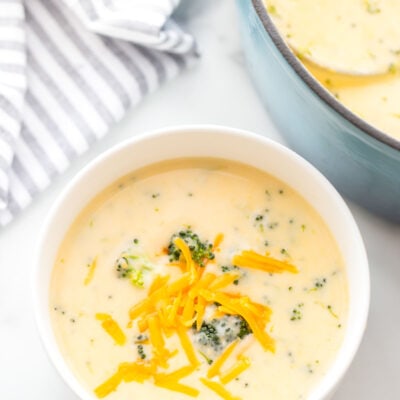 Loaded with broccoli and two different cheeses, this creamy and delicious soup is the ultimate comfort food.
Ingredients
Instructions
Add your chicken broth to a large pot and bring to a simmer. Add chopped broccoli, cover and simmer for 15-20 minutes.

While chicken broth is cooking, heat milk in microwave for 1-2 minutes. Set aside.

In a separate pot, melt butter then add flour, salt and pepper. Cook for about 2 minutes on medium heat. Whisk in warmed milk. Cook for another 6-8 minutes until soup starts to thicken.

Add warmed chicken broth and broccoli to soup mixture and stir until well blended.

Add cheeses and stir until cheese is completely melted. Serve warm and ENJOY!