I'm on a soup kick! Thanks to my mom who has been making a ton of soups, I have some awesome new recipes to share with you. I've never had this next recipe before, but everyone in the fam loved it! It's perfect for a cold day, and if you're a fan of spaghetti (yes, spaghetti!!), I think you'll especially like this next soup.
It comes from my friend's family and is super tasty. Honestly, I have never seen noodles in chili before but it was the perfect ingredient for this soup. It just made it that much better, and I already cannot wait to have it again!
MY OTHER RECIPES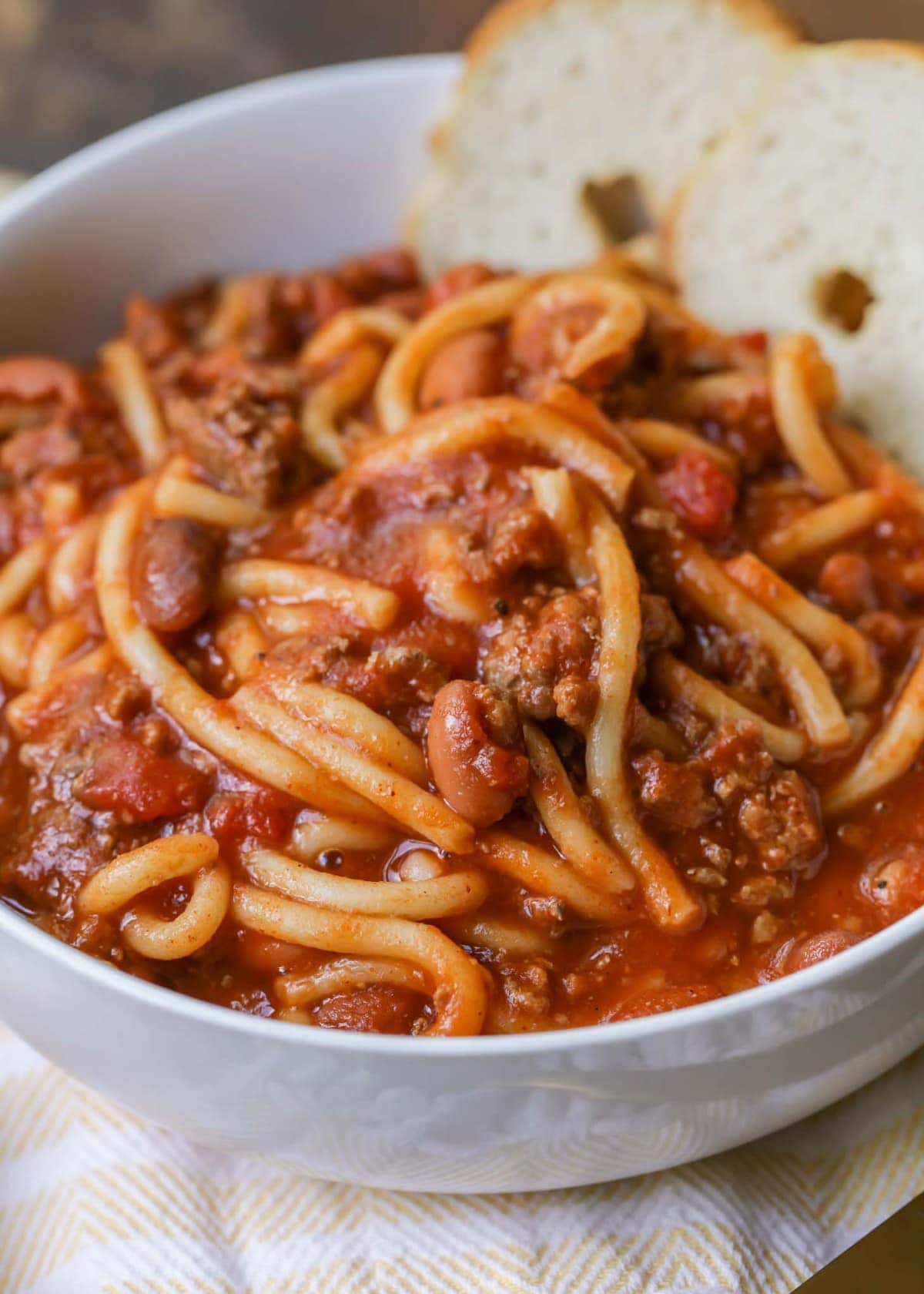 My mom and dad's church always has a fall fair and chili cook off, and I'm determined to make this for it! Some chilis just have so many ingredients and my kids tend to favor the simpler versions. This one is VERY simple – doesn't have any crazy ingredients and is so easy to make. WIN-WIN!
Chili Spaghetti:
Chili Spaghetti
Yummy Spaghetti Chili!! This flavorful chili recipe is filled with spaghetti noodles, is delicious and is made in the crock pot!
Ingredients
1 pound ground beef
3 8 oz cans tomato sauce
1 can stewed or diced tomatoes
2 TB Worcestershire sauce
1 TB sugar
1 TB chili powder
2 cans Mexican style chili beans
2 cups water
spaghetti noodles
Instructions
Brown ground beef with season salt and garlic on the stove.
In crockpot add the browned beef, tomato sauce, stewed tomatoes, 2 cups water, Worcestershire sauce, sugar, chili powder and chili beans. Mix. Cook on low for 2 hours.
Next, cook ¼ of 16 oz. box of spaghetti as directed. When done add to chili.