Believe it or not, but I'm freezing here in Arizona! I know, I must be a wimp because our weather is considered warm to other places through out the U.S. and world. Because it's so cold you can often find me in a hoodie, sweat pants and slippers around the house. I have a feeling things will start warming up in no time so I'm trying to enjoy as many "winter recipes" as possible. This next recipe was perfect and warmed me right up.
I know everyone has a version of Homemade Chicken Noodle Soup, but the recipe we used for this was from HERE. We only made a few minor changes, but the recipe was so good it didn't really need any at all. It's super yummy and will definitely be saved as our go-to Chicken Noodle Soup recipe.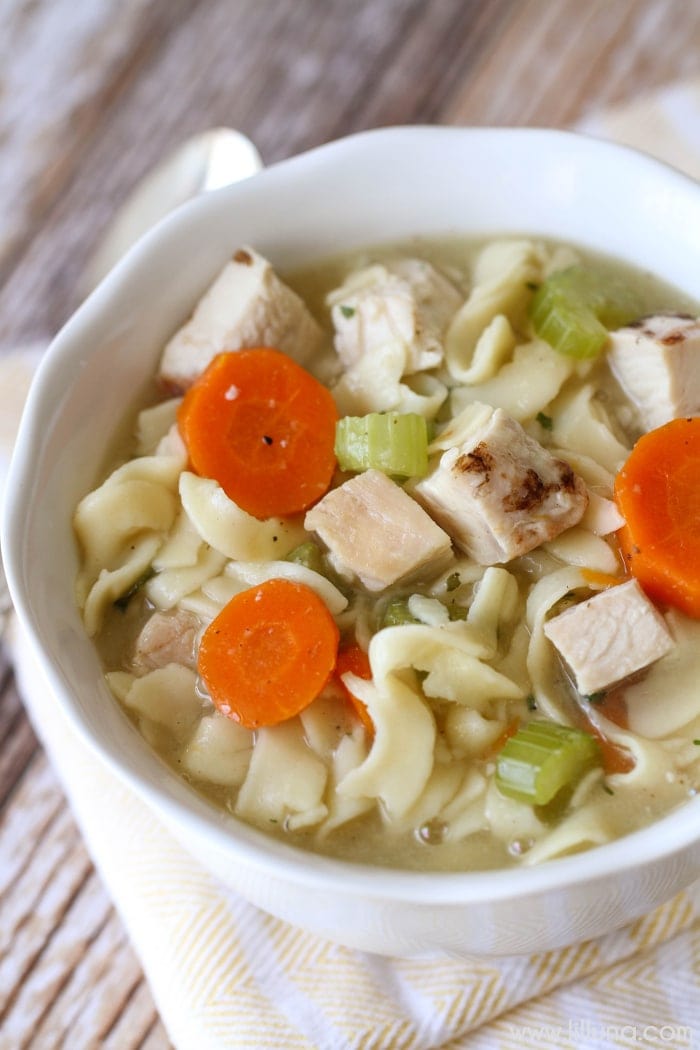 MY OTHER RECIPES
So good!! This will definitely warm you up on a cold winter night. 🙂
Homemade Chicken Noodle Soup:
Homemade Chicken Noodle Soup
Delicious Homemade Chicken Noodle Soup - A quick, easy and delicious version of the classic Chicken Noodle Soup Recipe.
Ingredients
6 cups water
1 tsp. salt
4 boneless, skinless chicken breast
½ cup water
1 cup sliced carrots
2 chicken bouillon cubes crushed
½ cup celery diced
⅔ bag homemade-style egg pasta
pepper to taste
Instructions
In a large pot combine 6 cups water, chicken breasts and salt. Boil until the chicken is cooked completely.
Remove your chicken from the water and let cool. Cover with Saran Wrap and place in fridge.
Strain the broth from the cooked chicken so that broth is clear. Return broth to your pot.
Add carrots, celery and crushed chicken bouillon cubes to your broth. Bring to a boil.
Add your noodles once soup is boiling. Simmer for approximately 15-20 minutes.
Dice your chicken into cubes while your soup is simmering. Add chicken to the soup and simmer for 5-10 more minutes. Add pepper to taste.
Here is another chicken soup recipe we love:
Chicken and Potato Florentine Soup
And for more great soups, check out:
ENJOY!