Talk about the ultimate comfort food! This recipe for Homemade Chicken Noodle soup is one of the easiest, tastiest recipes full of Hearty chicken breast cubes, celery, carrots, and home-style egg noodles.
Chicken noodle is one of those classic soups that always sounds good, especially during cold weather and sick days—just like tomato basil, or broccoli cheese soup! They're the perfect comforting meal.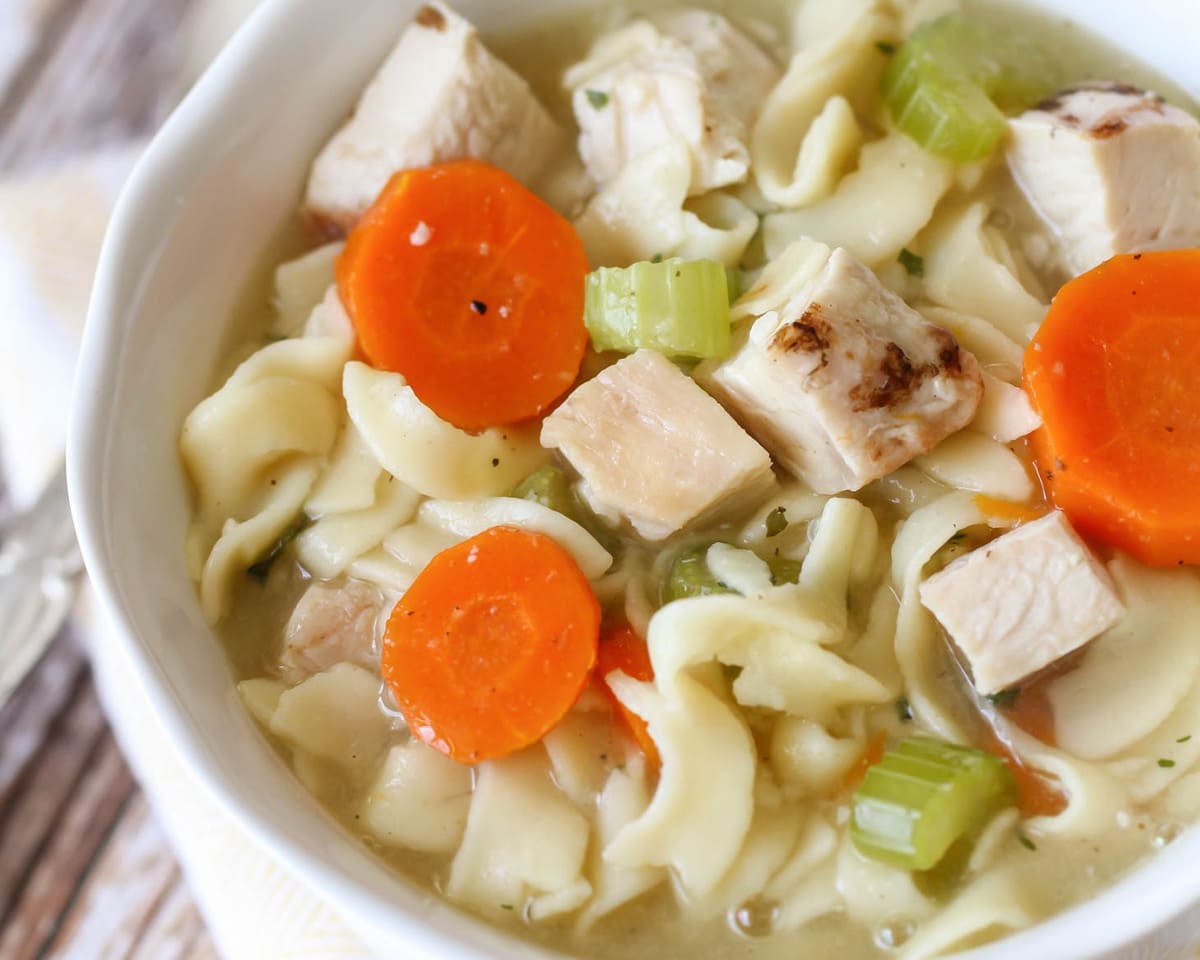 Soup for sick season
When it's cold, and I'm wrapped up in my hoodie, sweat pants and slippers – you know it's soup season at. Once recipe I'm constantly craving (and especially when I'm under the weather) is this easy Chicken Noodle Soup.
I know everyone has their own version of this recipe, but today's soup is simple and delicious. There are only 8 ingredients and it comes together in about an hour or less!! Talk about easy! This will definitely be saved as our go-to Chicken Noodle Soup recipe (we love it so much we even made a chicken noodle casserole!)
How does chicken noodle soup help a cold?
Remember when your mom would make you chicken noodle soup as a kid when you were feeling sick? It really can help you feel better!
The warm soup can help clear nasal congestion! It also has an anti-inflammatory effect that is proven to help ease your cold symptoms. So go ahead and eat all the chicken soup you want when you're feeling under the weather!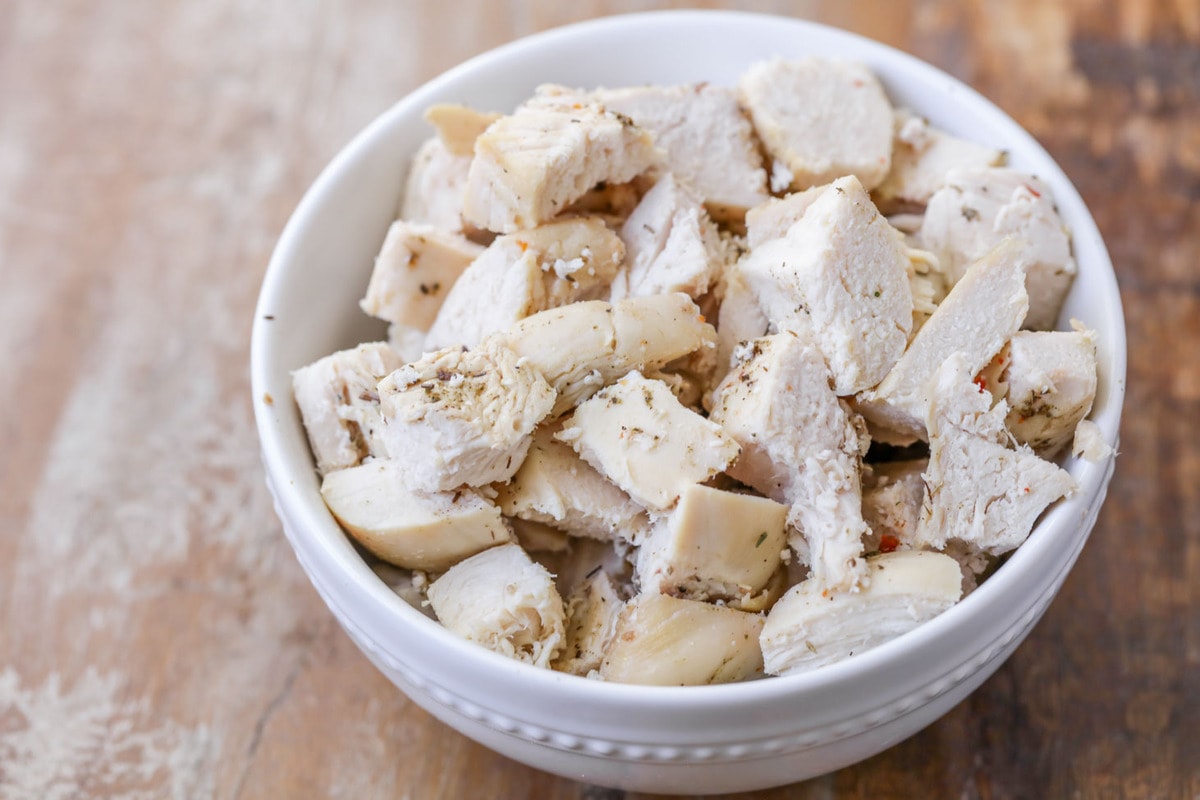 How to Make Chicken Noodle Soup
Not too many ingredients are needed for this soup. You'll just need:
water
salt
chicken
carrots
chicken bouillon cubes
celery
egg pasta
salt & pepper
Making this recipe is a cinch!
CHICKEN. You begin by boiling the chicken in six cups of water until it is completely cooked. Remove the chicken and then strain the broth of any chunks.
VEGGIES & NOODLES. Add veggies to the broth along with some crushed chicken bouillon cubes. Bring that to a boil, add the noodles and then bring down to a simmer for 15-20 minutes.
ADD THE REST. Dice the chicken and add it back to the soup for another 5 minutes or so, and you're set! Just add the seasonings you want, and enjoy a nice, warm bowl of homemade chicken noodle soup. 😀
What spices are good in chicken noodle soup? You can season chicken noodle soup with thyme, basil, peppercorns, bay leaves, and parsley. Don't forget the salt and pepper!
Crockpot version
You can easily make this chicken noodle soup in a crock pot! Just add all the ingredients into the crock pot, except the noodles. Cook on low for 6-7 hours. Take the chicken out and cut into bite sized pieces. Add the chicken back in and the noodles. Cook for 5-10 minutes until the noodles are tender.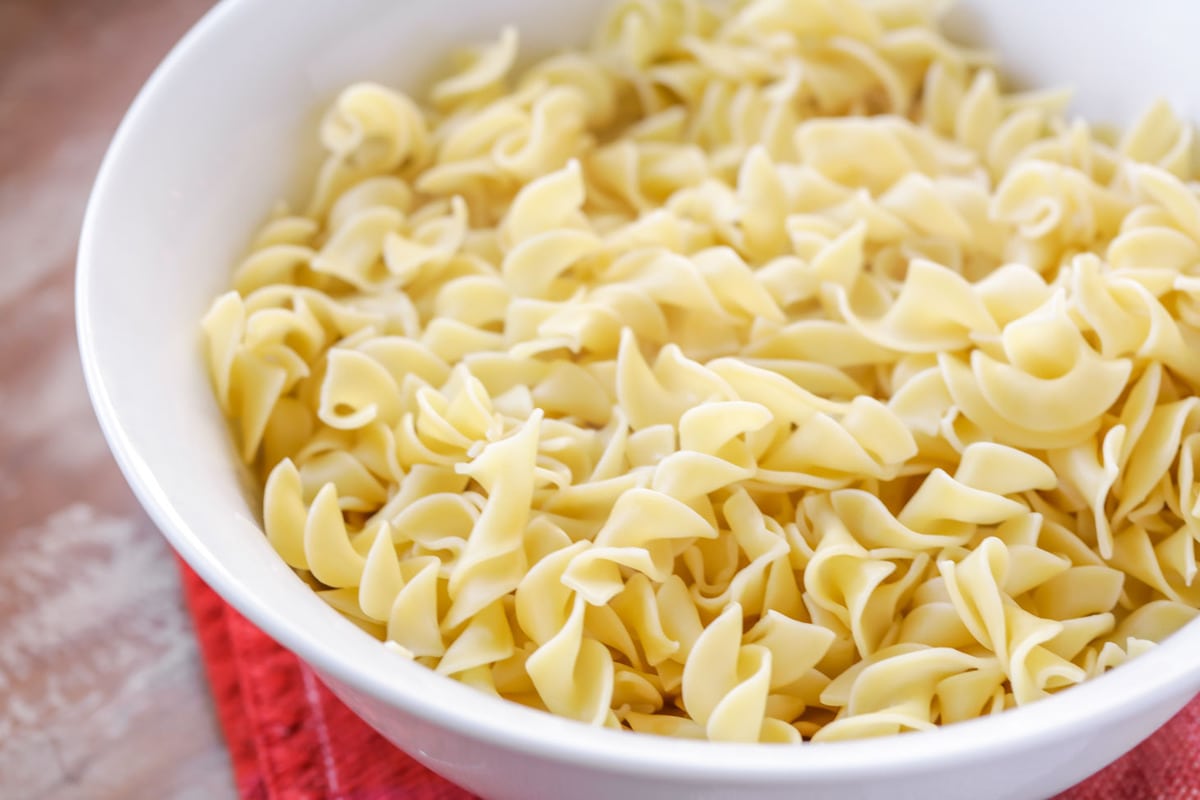 Flavor and freezing
What can I add for more flavor? You can add different spices to bring out the flavors in the soup. Depending on what kind of flavor you want, you could try one of the following…
MILD:

black pepper, white pepper, garlic powder, onion powder and cumin.

MORE OF A KICK: add other spices like red pepper, cayenne pepper and paprika.

SMOKY: Try smoked chipotle powder, smoked paprika, or smoked salt.

VEGETABLES: Veggies add more flavor and color to soup! Try adding a few diced tomatoes or sun-dried tomatoes. You can also add potatoes or kidney beans to the soup for a starchy flavor. Throw in some sweet peas or diced green beans to bring a vegetable sweetness to the soup. And don't forget you can add any kind of onion to add a sharp taste to the broth.
Freezing. If you have any leftover chicken noodle soup, you can definitely freeze it! Just store in a freezer safe plastic bag or container. It can last anywhere from 4-6 months in the freezer. When you're ready to reheat, just heat it back up with a little broth in a soup pot over medium heat.
I don't know about you, but anytime I'm in the mood for comfort food, Chicken Noodle Soup always sounds good! Whether it's cold outside, you're feeling under the weather, or you just need a good bowl of soup this recipe should do the trick!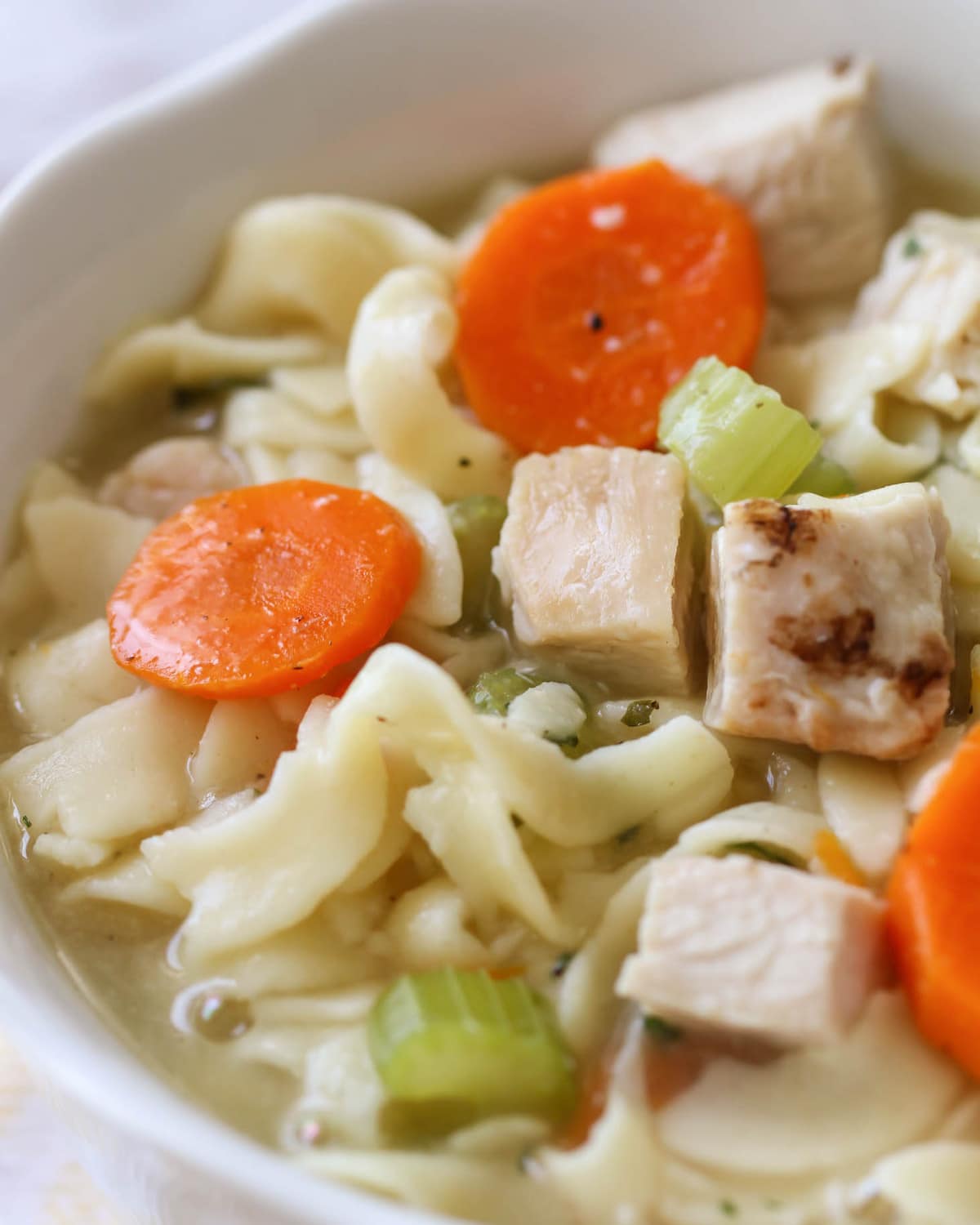 what to serve with chicken noodle soUP?
For more chicken soups, check out:
Chicken Noodle Soup Recipe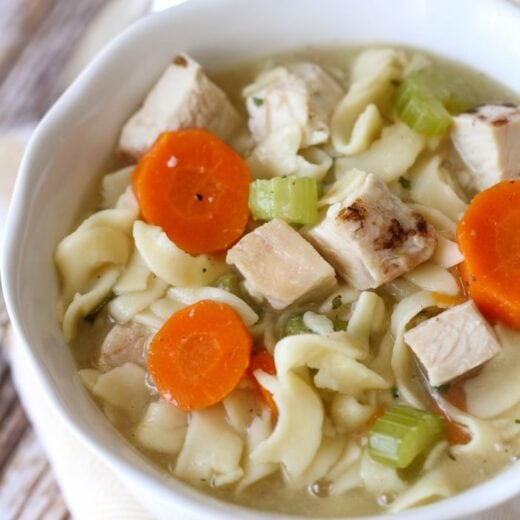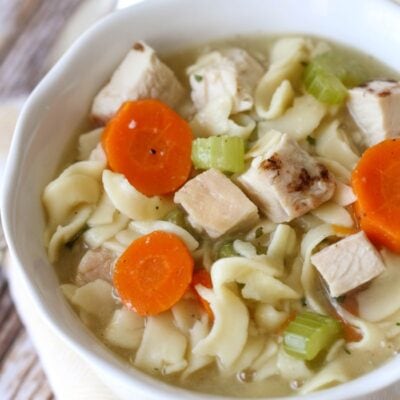 This recipe for Homemade Chicken Noodle soup is one of the easiest, tastiest recipes full of chicken breast chunks, celery, carrots, and home-style egg noodles.

Ingredients
6

c

water

1

tsp

salt

4

boneless, skinless chicken breasts

1/2

c

water

1

c

sliced carrots

2

chicken bouillon cubes

crushed

1/2

c

celery

diced

2/3

bag

homemade-style egg pasta

pepper to taste
Instructions
In a large pot combine 6 cups water, chicken breasts and salt. Boil until the chicken is cooked completely.

Remove your chicken from the water and let cool. Cover with Saran Wrap and place in fridge.


Strain the broth from the cooked chicken so that broth is clear. Return broth to your pot.


Add carrots, celery and crushed chicken bouillon cubes to your broth. Bring to a boil.


Add your noodles once soup is boiling. Simmer for approximately 15-20 minutes.


Dice your chicken into cubes while your soup is simmering. Add chicken to the soup and simmer for 5-10 more minutes. Add pepper to taste.