This creamy, delicious Chicken Pot Pie Soup can be made on the stovetop or in a crock pot! It has all your favorite vegetables, big chunks of chicken, and even a delicious heart-shaped pie piece on top.
If you love Chicken Pot Pie, you will definitely enjoy all the flavors contained in a bowl of this creamy soup! Soup recipes like this one make for the best comfort food during cold months.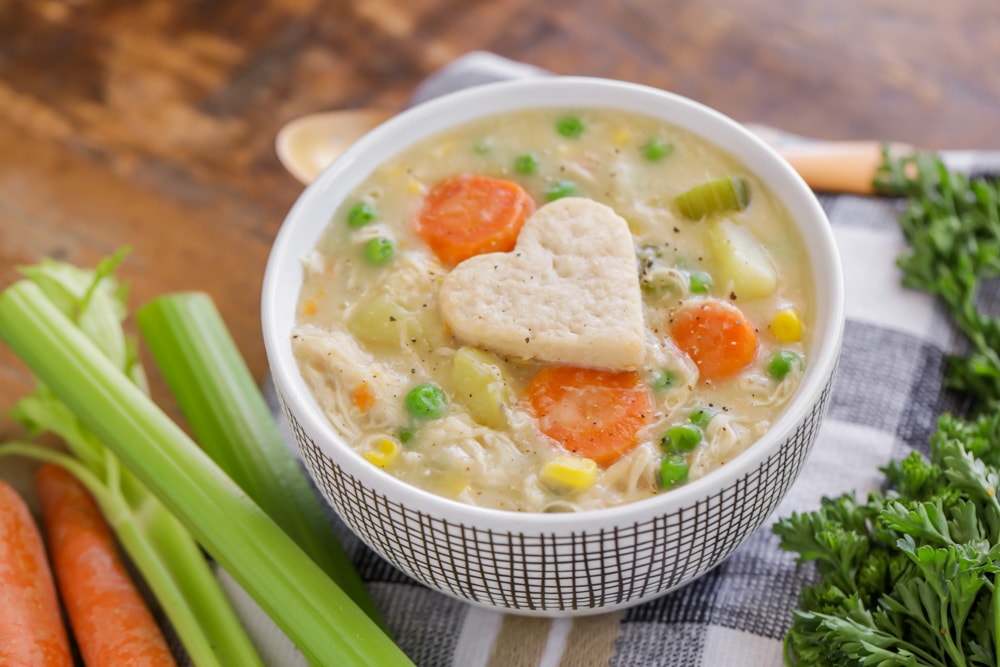 The Best Comfort Food
Soup is comfort food to us – especially in the fall and winter!
I think we can all agree you can't beat warming up with a delicious bowl of soup when it's cold outside. And it's even better when it's one of your favorite dishes (like chicken pot pie) in soup form!
This recipe is delicious, hearty and full of some of our favorite veggies like carrots, potatoes, celery, peas and corn. There are even delicious, little heart-shaped pie pieces to add to the top that are the perfect addition to this soup. It can also be prepared on the stove or in the slow cooker. Both ways end with the perfect soup!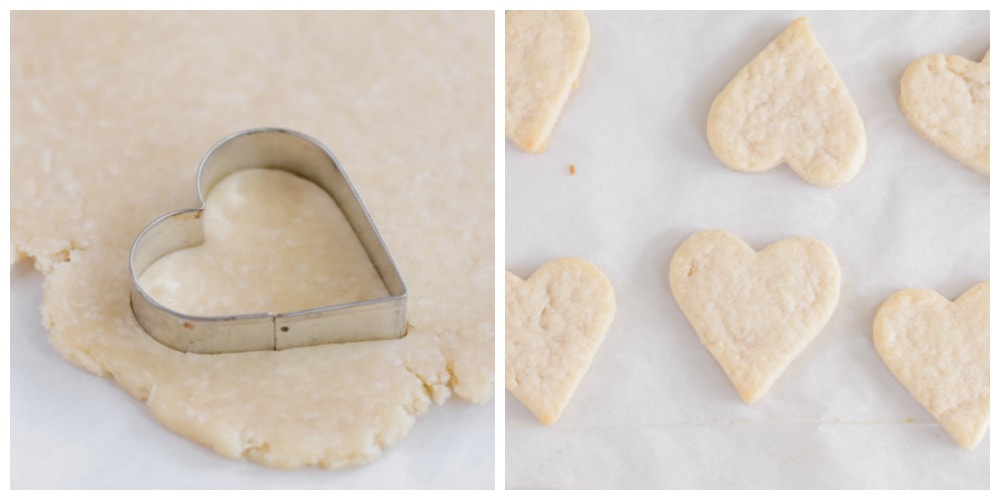 How to make chicken pot pie soup
Using the stovetop is the quickest method for making chicken pot pie soup.
HEART-SHAPED PIE PIECES. Begin by making your pie pieces. To do this, mix flour and salt in a large bowl. Cut in shortening until crumbly, and gradually add milk mixing with your hands and forming the dough into a ball. Shape into a ball or disk, wrap in plastic and refrigerate for at least 30 minutes.
Roll the dough out on to a lightly floured surface to about ⅛ inch thickness and use heart cookie cutter, or any shape, to cut out about 16-18 little pastries. Bake on ungreased baking sheet for 8-11 minutes at 425°F.
SAUTÉ. In a large stock pot, heat the butter over medium heat. Add potatoes, celery and carrots. Sautee for about 5-7 minutes.
BOIL & SIMMER. Stir in the flour, garlic salt and pepper until blended and whisk in broth. Bring to a boil, then reduce heat to low and simmer for 10-15 minutes. Add remaining ingredients and cook on LOW for another 10 minutes or so or until all ingredients are heated through.
SERVE. Ladle into bowls and top with the heart pie crust pieces. Enjoy!
Crock Pot Instructions
Sometimes I prefer to make this Chicken Pot Pie Soup in the crockpot because it seems like less effort, the only down side is that it takes longer. Although, if you're planning ahead and starting earlier in the day, it's not a big deal! Here are the directions for the crock pot:
Add all ingredients to the slow cooker (minus the chicken, corn and peas).
Stir together and cook on LOW for 6-8 hours or on HIGH for 4 hours.
For the last hour, add chicken, corn and peas. ENJOY!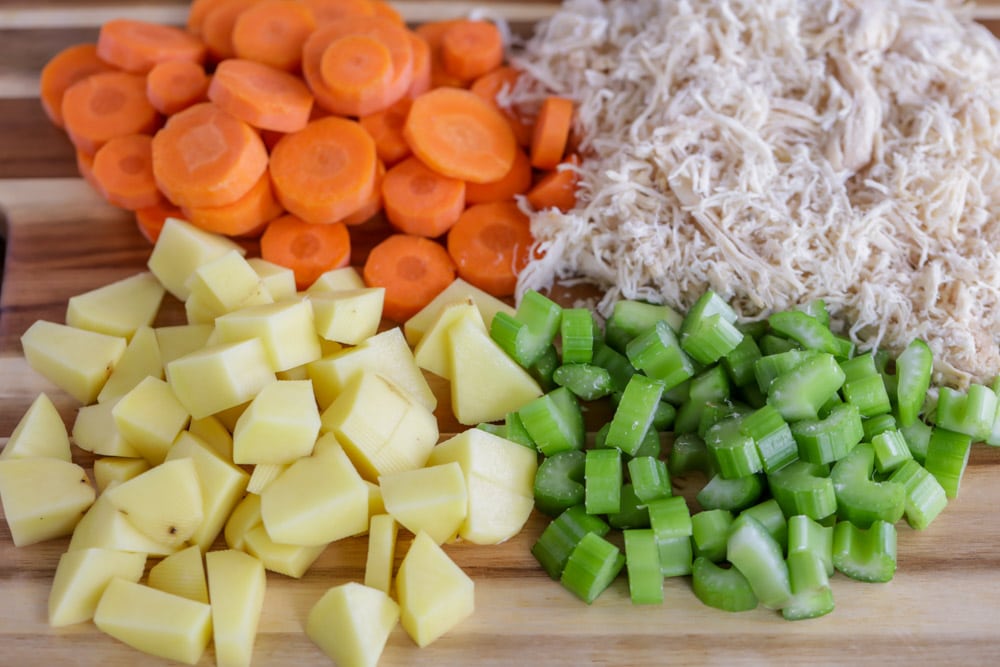 Tips, Additions, and Storage
Vegetables: We used carrots, potatoes and peas for the soup, but you can easily add other ingredients
Green beans, corn, mushrooms, celery, spinach are all yummy additions

You can also replace the potatoes with cauliflower florets or even noodles.

Great way to use leftover turkey in place of the chicken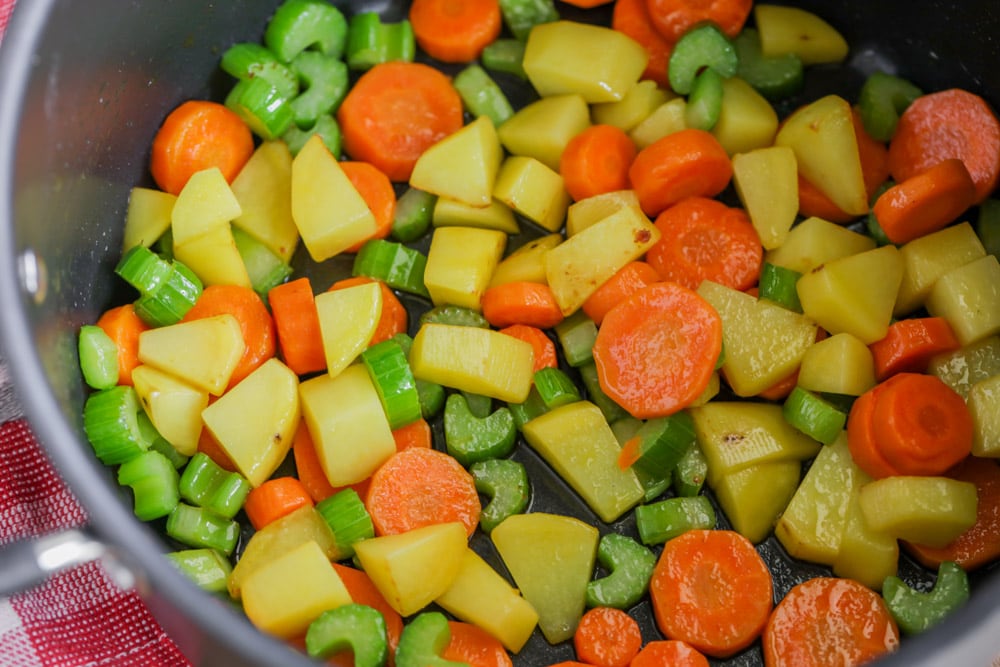 Recipe FAQ
Texture: Can I make this soup thicker?
Flour: Place 1 cup of hot soup in a separate bowl. Add 1-2 tbsp of flour. Mix until smooth and then stir it into the pot of soup.

Cornstarch: add 1 tbsp cold water to a separate bowl. Mix in 1 tbsp cornstarch until smooth. Add it to the pot of soup and stir.
Thinner? If you wish for the soup to be a little thinner add water or broth.
Have leftovers? Store the soup in an airtight container in the refrigerator for up to 5 days. You can easily reheat this soup in the microwave or on the stovetop. Store the pie crust topping separately in an airtight container at room temperature.
How to freeze? Due to the potatoes and cream freezing this soup is definitely trickier as the texture will be altered. If that doesn't bother you can freeze this soup for 1-2 months. I would mash up larger chunks of potatoes first to help reduce the mealy texture.
Thaw in the fridge before reheating. When reheating it is important to reheat SLOWLY over LOW heat and stir consistently. Add more milk or cream to help smooth out the texture.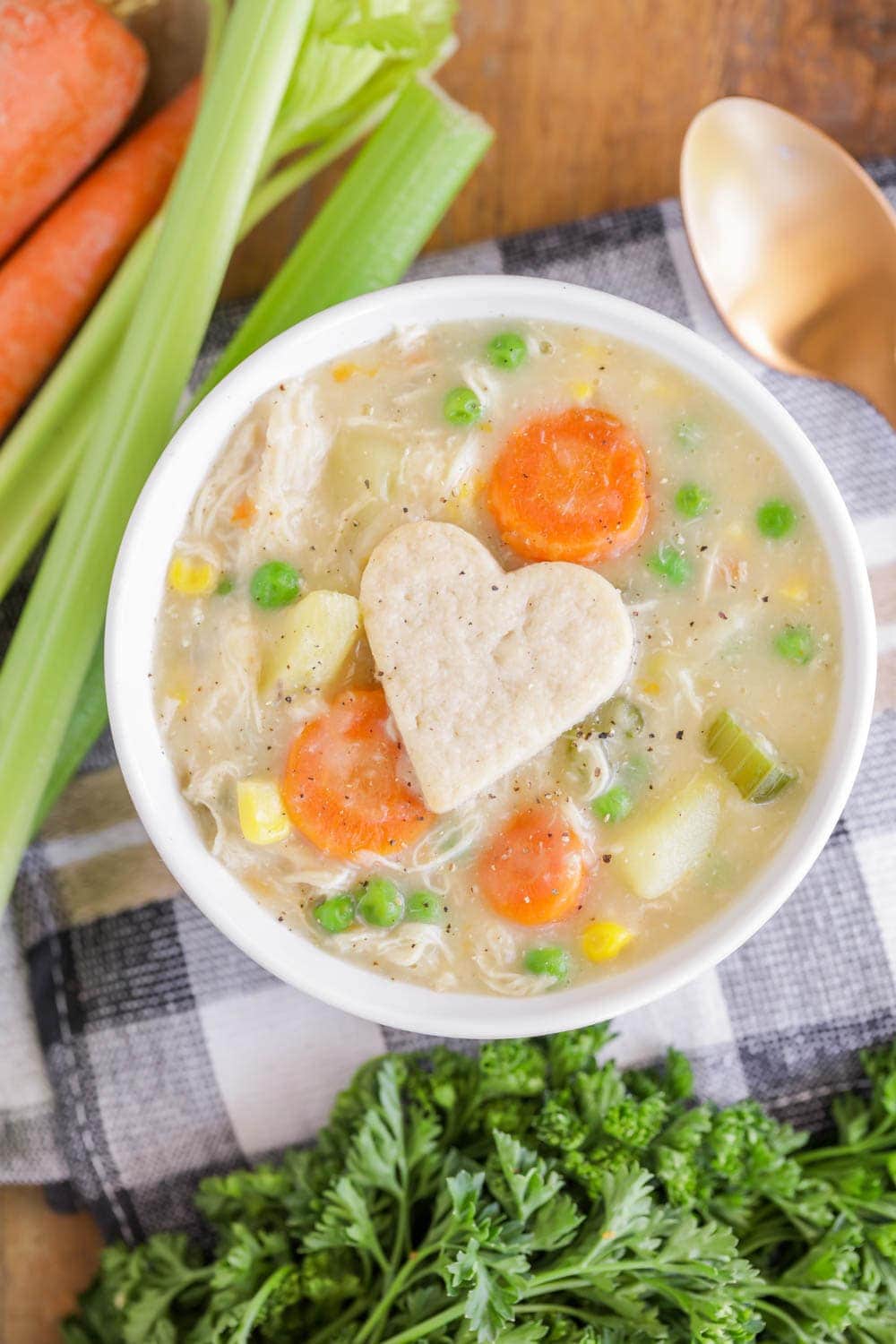 Serving Suggestions
CRUST. If you want to take short cut you can use a store bought pie crust. Cut out shape and bake. If you cant make the pie crust you can also top the soup with oyster crackers or crushed Ritz crackers, or you may decide to serve the soup with a side of bread. A flaky biscuit or a piece of crusty bread would taste great.
Serve it with any of these sides:
For more yummy chicken soup recipes, check out:
More Collections: Winter Soups,
Chicken Pot Pie Soup Recipe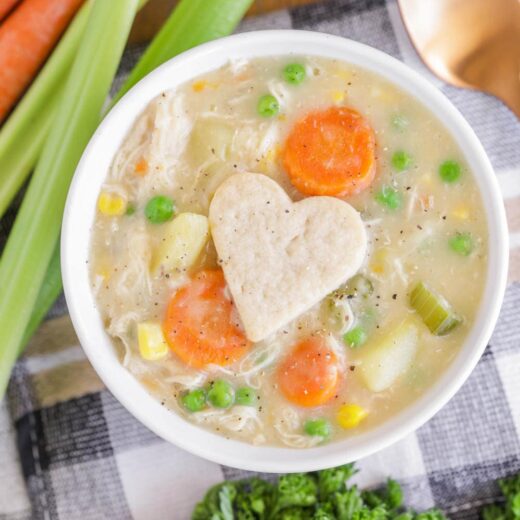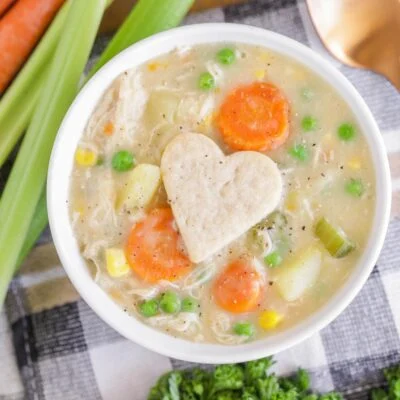 This creamy, delicious Chicken Pot Pie Soup can be made on the stovetop or in a crock pot! It has all your favorite vegetables, big chunks of chicken, and even seasoned pie crust crumbled on top. This is the ultimate comfort food right here!!
Ingredients
Pot Pie Soup
2

tbsp

butter

1

cup

cubed golden potatoes

about 2 medium peeled potatoes

2

ribs

celery

chopped

2

medium

carrots

peeled and chopped

1/2

cup

all purpose flour

1

tsp

garlic salt (with parsley flakes)

1/4

tsp

ground pepper

3

14.5 oz cans

chicken broth

2

cups

shredded chicken

(rotisserie chicken works well)

1

cup

frozen peas

1

cup

frozen corn
Instructions
Heart Pastry
In a mixing bowl, add the flour and salt and mix. Then add the shortening and use a pastry cutter, or fork, to cut the shortening into the flour until it resembles a meal type texture.

Add 3 tbsp milk and mix with a fork. Add remaining milk, 1 tbsp at a time, mixing until you get a dough that holds together when pressed. Shape into a ball and wrap tightly with plastic wrap. Refrigerate for 30 minutes or overnight. (While the dough is chilling start your soup.)

Finishing the pastry: Preheat the oven to 425° F. Remove the plastic wrap and press the dough down onto a lightly floured surface. Roll the dough to 1/8-in. thickness. Use a 2 ½ in. heart-shaped or round cutter cookie cutter to stamp out 18 shapes. Place the cut out shapes 1 in. apart on a baking sheet. The sheet does not need to be greased but adding parchment paper helps to keep them from sticking. Bake for 8-11 minutes or until golden brown. Cool on a wire rack.
Pot Pie Soup
Heat the butter in a large pot over medium-high heat. Add the potatoes, celery and carrots. Cook and stir for 5-7 minutes.

Add the flour, salt and pepper to the pot and stir until blended. Gradually stir in the chicken broth. Bring it to a boil, stirring occasionally. Once boiling reduce the heat and simmer, uncovered, for 8-10 minutes or until potatoes are tender. You will notice that the broth will begin to thicken. Stir in the chicken, peas and corn. Cook until heated through.

Spoon soup into bowls and add a heart pastry to the top.
Recipe from Taste of Home.