Perfect any time of the year, healthy soup recipes will fill your tummy and keep you on track with your well-being goals. They're hearty, filling, and packed with healthy ingredients like veggies and lean protein!
MORE COLLECTIONS: Soups, Crock Pot Soups, Easy Soups, Chicken Soups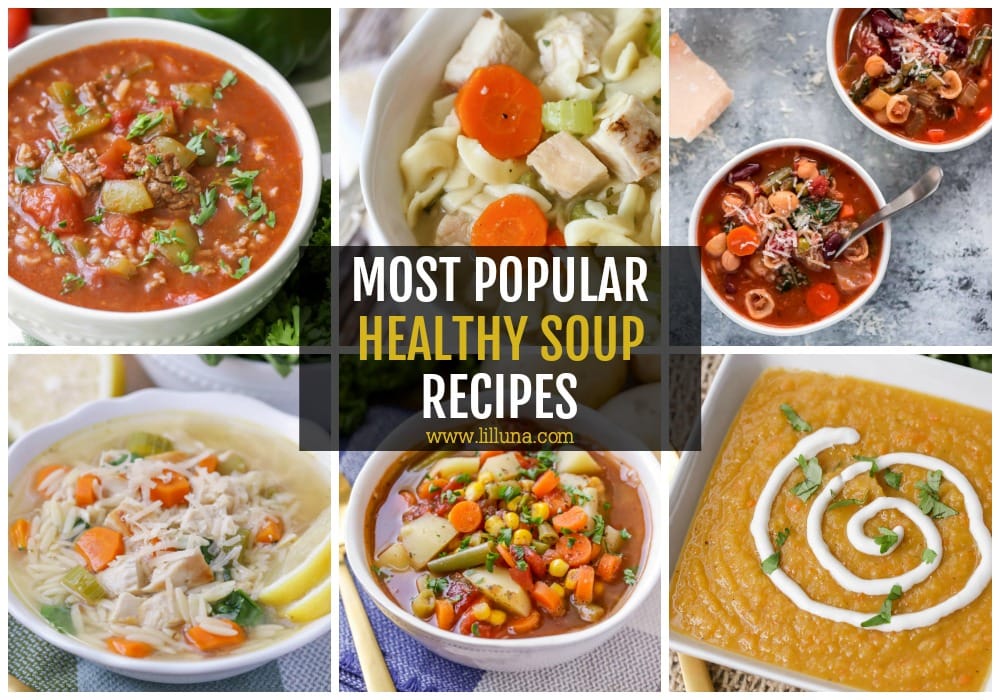 Why is Soup Healthy?
I have lots of favorite soup recipes. I've shared all the best crockpot soup recipes, as well as all of my most popular Chicken Soup recipes.
Today I want to share all of my favorite Healthy Soup Recipes! One of the best things about these soups is that they can be doubled to make a big batch. Soup freezes well and is perfect to save any leftovers to have on hand for later.
Soup actually has several health benefits. A few health benefits:
It keeps you hydrated.
Soups contain a blend of several vitamins and cover many food groups.
It's hearty, fills you up faster, and keeps you full longer.
This last one isn't necessarily a scientifically nutritious fact, but a warm bowl of soup often gives comfort and increases your sense of well-being. Who doesn't want that?!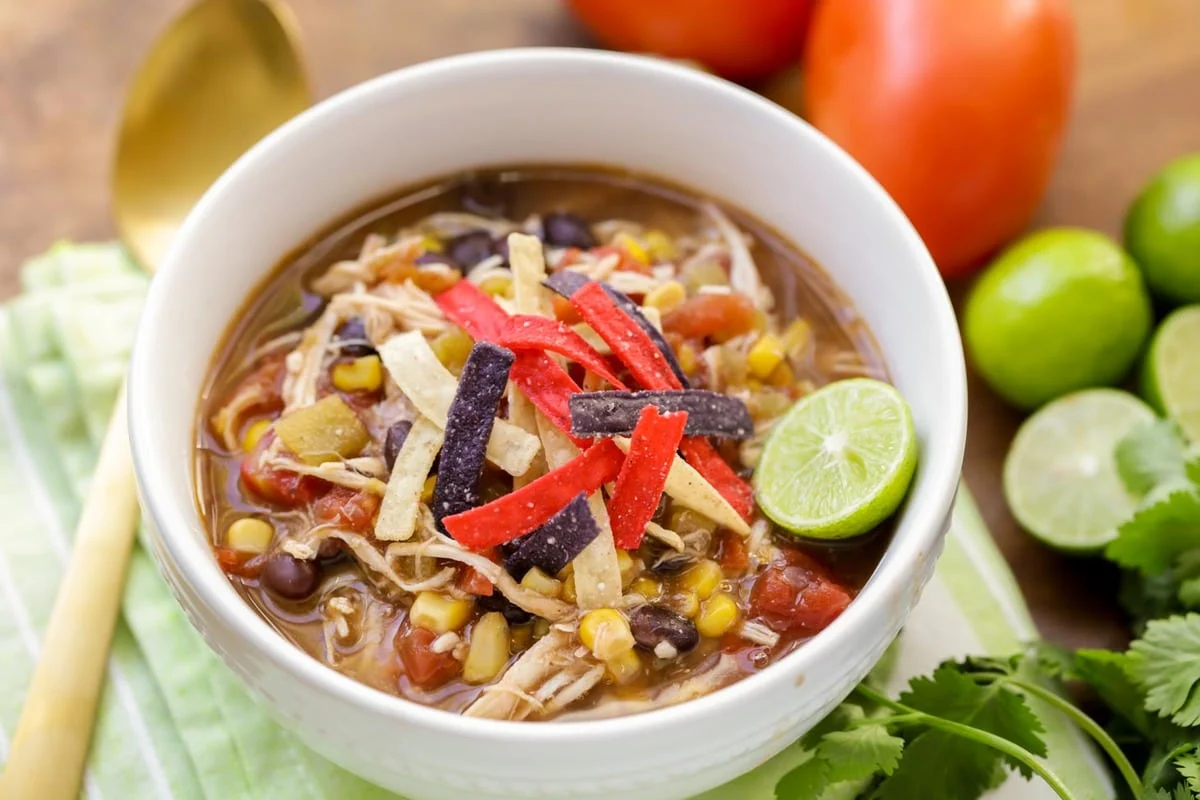 Healthy Soup FAQ
The 5 most popular soups. Some of the most popular soups include variations of potato soup, rice soup, chilis, chicken and vegetable soups, tortilla or taco soup, chowders, and gumbo.
These may or may not be the healthiest soups. There are a few ingredients to watch out for when looking for healthy soups. Some ingredients are a must, while others you may not want to use or use carefully.
The healthiest soup. The healthiest soups are packed full of essential nutrients. From protein to vegetables and even good fats, there are many soups that have the ingredients your body needs to run at its best.
Some healthy soups include Vegetable Soup, Tomato Soup, Minestrone, Black Bean Soup, and Chicken Noodle Soup.
No matter which one you choose to make I believe the healthiest soup is one you make yourself because you can control exactly what does and does not go into your soup so that it best fits your personal dietary needs.
The healthiest soup to eat when you are sick. When you are sick, soups that are dairy-free and contain a broth are usually the most recommended. They are the easiest to eat and have been trusted for generations.
Chicken Soup or Chicken Noodle Soup is usually our go-to when we aren't feeling well and for good reason. It gives your body the necessary fluids to recover and contains essential vitamins, minerals, electrolytes, and protein.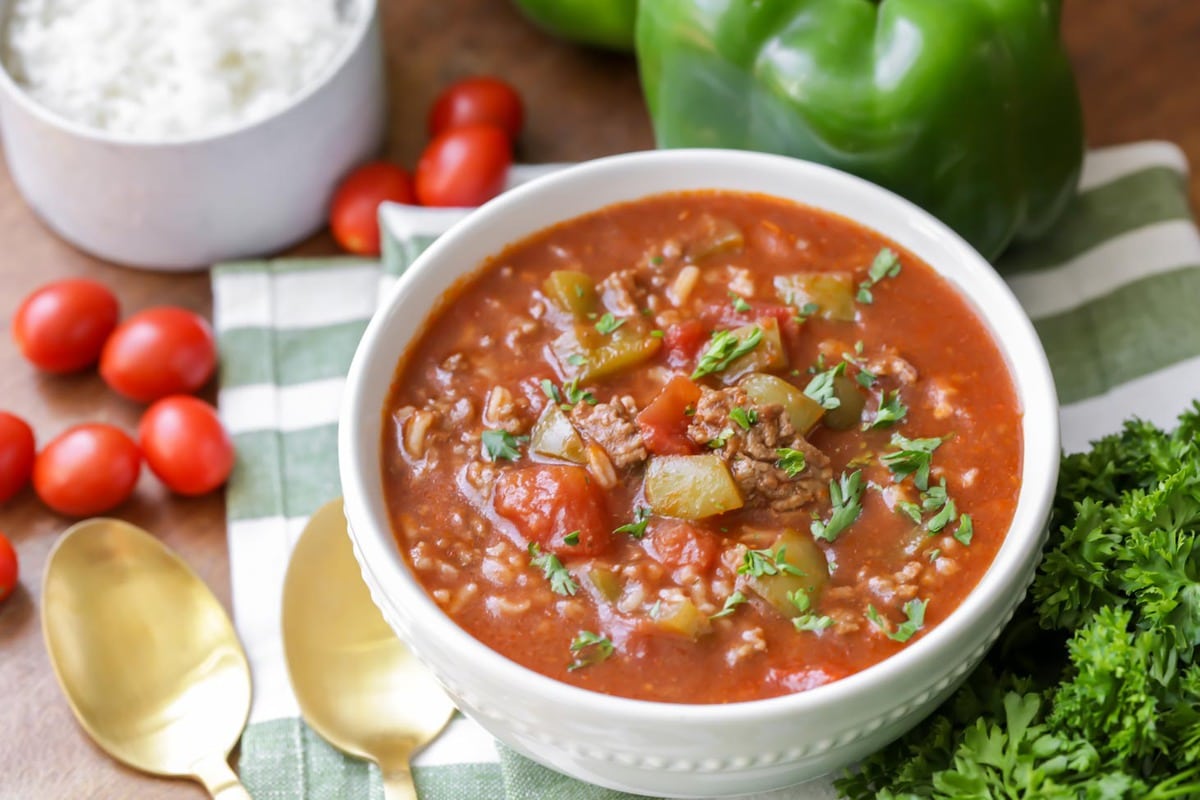 Tips for making Healthy Soup
Not all soup is created equal. Though soup does have many health benefits, you do have to be careful because some soups aren't as healthy as others.
Cream-based soups have higher calorie and fat content. Canned soups, though convenient, contain extra ingredients that don't exactly scream healthy.
Keeping it healthy. Quickly turn your healthy bowl of soup into an unhealthy meal by consuming calorie-laden bread or indulging in sugar and fat-filled desserts.
Here are a few of my favorite dishes that will help keep your meal healthy:
This collection of Healthy Soup Recipes features soups that are low in calories and fat and packed with healthy proteins and vegetables. Not only do these soups taste good, but they make you feel good too!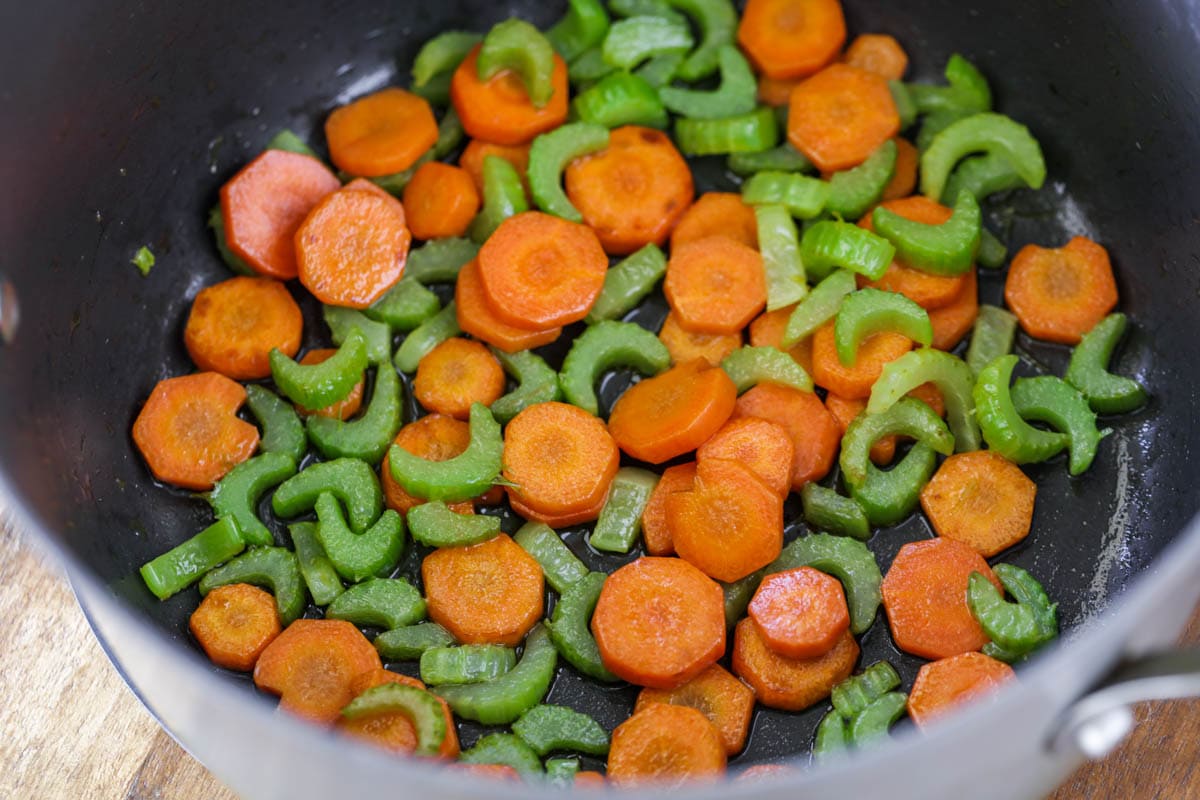 Start with healthy ingredients
Ingredients NOT to use:
Cheese. Instead of making a high-calorie cheesy soup, opt to sprinkle cheese on top of a healthier soup. Using a sprinkle of cheese will save the calories and still add a bit of extra flavoring.
Some of my favorite cheeses to use are parmesan cheese, cheddar cheese, mozzarella cheese, or Mexican blend cheese.
Cream. Generally, stay away from heavy cream and cream-based soups. This is especially true if you are following certain diet plans such as a paleo diet.
Creamy soups are tasty, but they have higher calorie and fat content compared to broth-based soups. The exception would be if you are on a high-fat diet such as a keto diet. In this case, keep in mind that the carb and sugar count needs to be low.
Sugar can naturally be found in the ingredients that make up your soup, so be careful not to add it unnecessarily. Naturally sweeten soup using caramelized onions, carrots, beets, squash, or parsnips.
Salt is used for flavor. It's not necessarily one that you should not use but should use it carefully. Adding too much not only increases the amount of sodium but overwhelms the dish. In my opinion, sea salt is best.
Wait to add salt to the soup until the end for two reasons:
First, a lot of evaporation occurs concentrating the soup and naturally increasing the flavors.
Second, give all the flavors a chance to blend.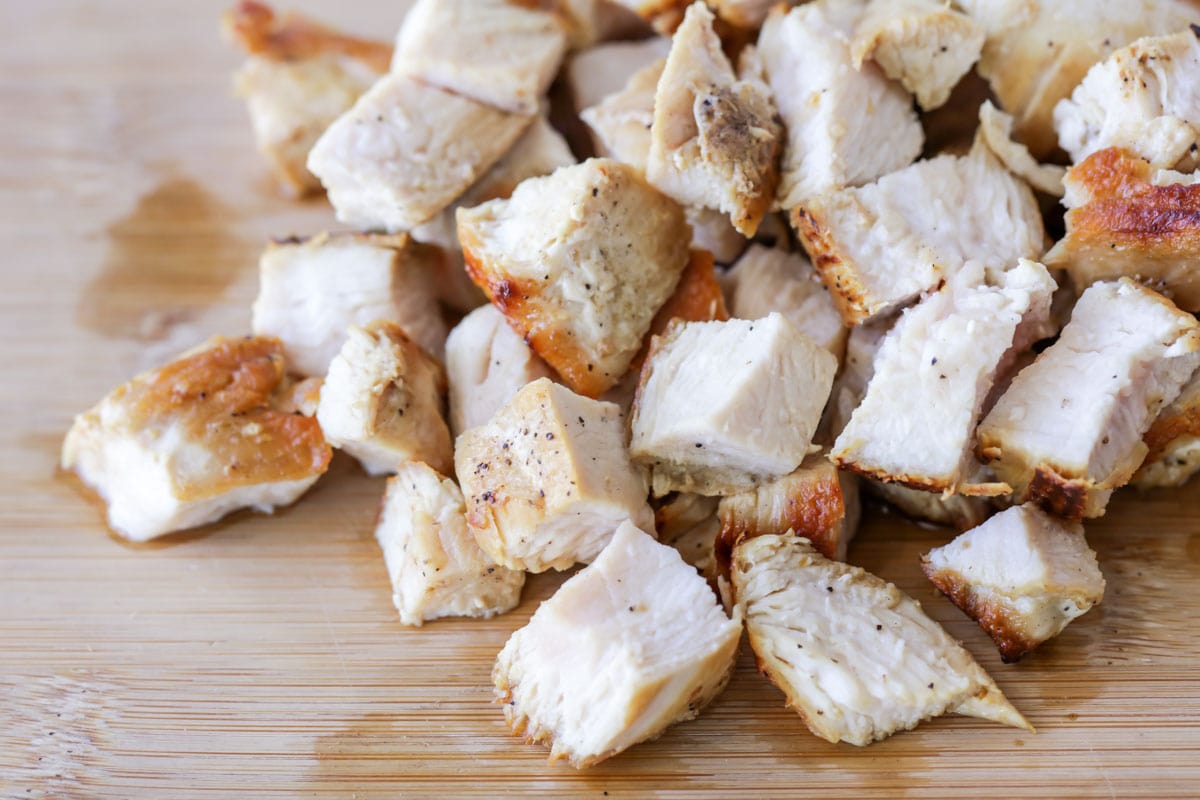 ingredients to make soup healthier
Protein. When using ground beef and Italian sausage, choose packages with a low fat count and low sodium. Also, most recipes ask you to brown the meat before adding it to the soup. Drain the excess fat before transferring the meat to the pot of soup.
Other sources of protein include chicken, turkey, black, pinto & white beans, and quinoa.
Vegetables are not only tasty but pack a nutritious punch. Some favorite vegetables I like to use include broccoli, lentils, squash, potatoes, leeks, cabbage, spinach, kale, onions, carrots, cauliflower, split peas, and celery. Though not a vegetable, I have to say mushrooms also make the list.
Using herbs and spices is a great way to add flavor without adding to the calorie count. Spices such as ginger, curry, and red pepper flakes can especially add some additional kick. Only add a little bit, allow it to simmer, taste, then add more if needed.
Keep in mind that 1 tablespoon of fresh herbs = 1 teaspoon of dried herbs. Squeeze some fresh lemon or lime juice onto your soups for some added flavor.
Broth vs stock. Broth and stock are considered to be a basic building block for soup. They both come with a base of beef, chicken, or vegetable. You can also find versions to be organic, gluten-free, and vegan.
Broth is thinner, has few calories, and has less fat than stock.
Stock (aka bone broth) has slightly more calories, fat, and protein, but also has significantly higher vitamins and minerals.
They can be used interchangeably so pick the one that best fits your dietary needs.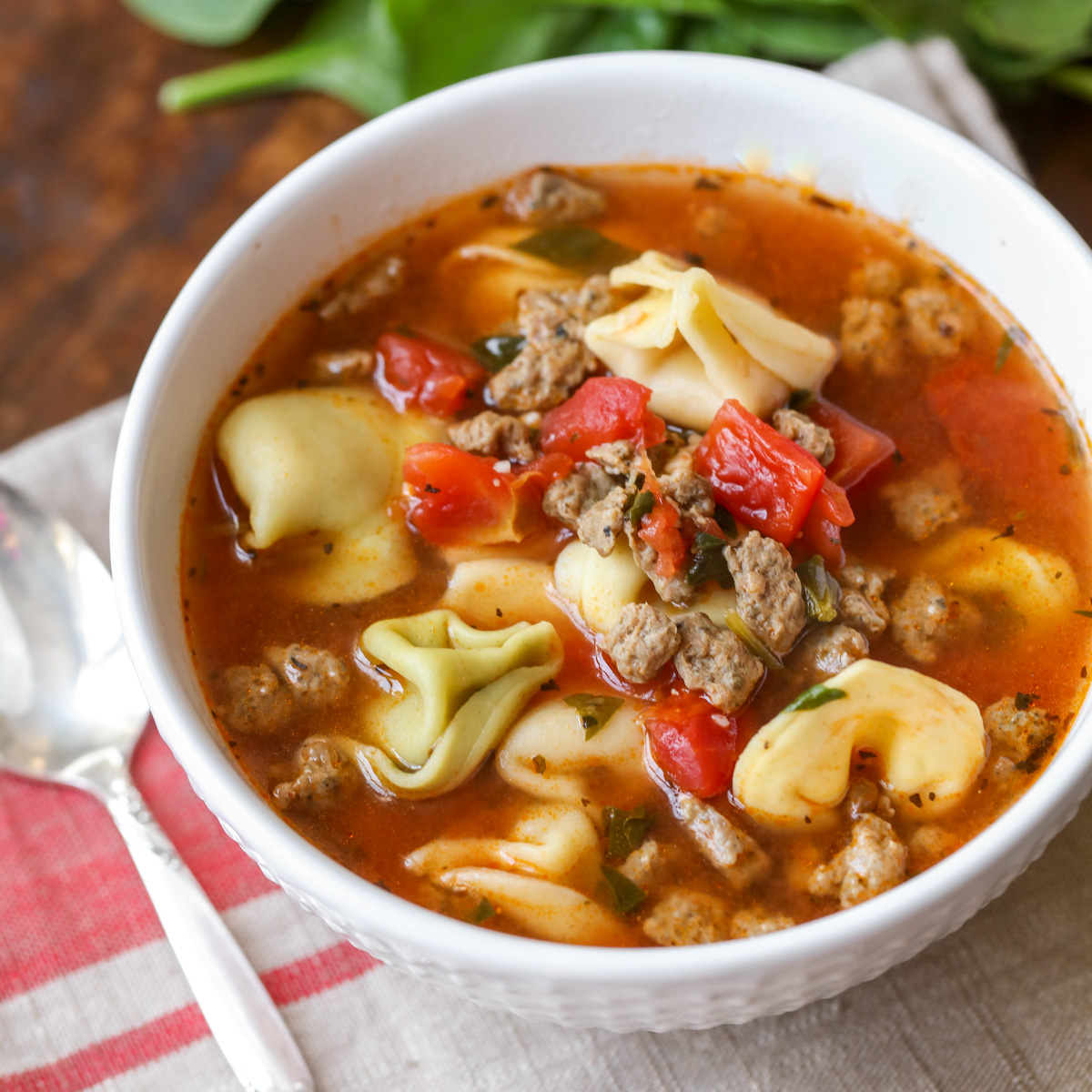 best healthy soup recipes
All of these soups are either tomato or broth-based, without cream, and include healthy proteins like chicken or beef.
Chicken is always fairly low in fat, as long as you use chicken breasts. If you are using beef, make sure it is either 80% or 90% lean to keep the fat content low.
Tortellini Soup – Italian Tortellini Soup – a delicious recipe filled with tortellini, sausage, tomatoes, spinach, basil and more! So hearty and delicious!
Creamy Tomato Basil Soup -With garlic, basil, and other delicious seasonings, this creamy tomato basil soup has a bold flavor that you'll quickly fall in love with.
Minestrone Soup – Not only is this Minestrone soup delicious and comforting, but also really nutritious! Perfect for lunch or dinner on a cool autumn day.
Hamburger Soup – Hearty and delicious Hamburger Soup is filled with corn, carrots, potatoes, cheese and more! Best of all, it's made in the slow cooker with minimal effort.
Stuffed Pepper Soup – All the best ingredients and flavors from stuffed peppers all combined into a delicious soup! If you like classic stuffed peppers, you're going to LOVE this soup.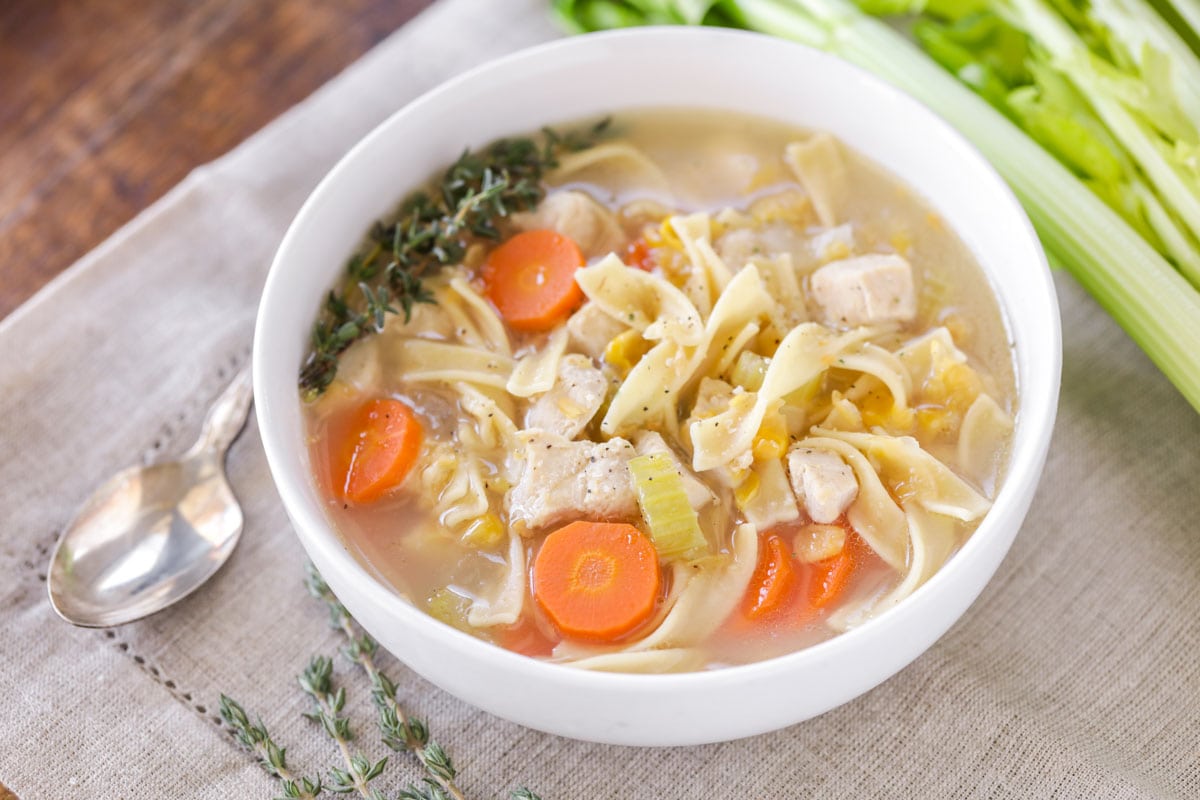 Healthy Chicken Soup Recipes
These tasty Chicken Soup Recipes are perfect for warming the soul!
Chicken Corn Soup – Homey chicken corn soup is savory & delicious. It is hearty, filling and only takes 10 minutes of prep time!!
Chicken Wild Rice Soup – Such a tasty and simple recipe – this Chicken Wild Rice Soup is filled with long grain and wild rice, chicken, carrots, almonds and more!
Italian Chicken And Vegetable Soup – Hearty Italian Chicken Vegetable Soup is packed full of flavor. It's is a great lightweight soup option perfect for any day of the year!
Chicken Noodle Soup – This recipe for Homemade Chicken Noodle soup is one of the easiest, tastiest recipes full of chicken breast chunks, celery, carrots, and home-style egg noodles.
Healthy Chicken Tortilla Soup – Nothing like a warm bowl of tortilla soup on a chilly winter day! This lighter version of chicken tortilla soup is healthy, flavorful, and packed with delicious ingredients.
Chicken Gnocchi Soup – This Chicken Gnocchi Soup is so hearty and so flavorful. It is filled with chicken, carrots, spinach, broccoli and gnocchi! It's perfect all year long and is bound to be a new favorite.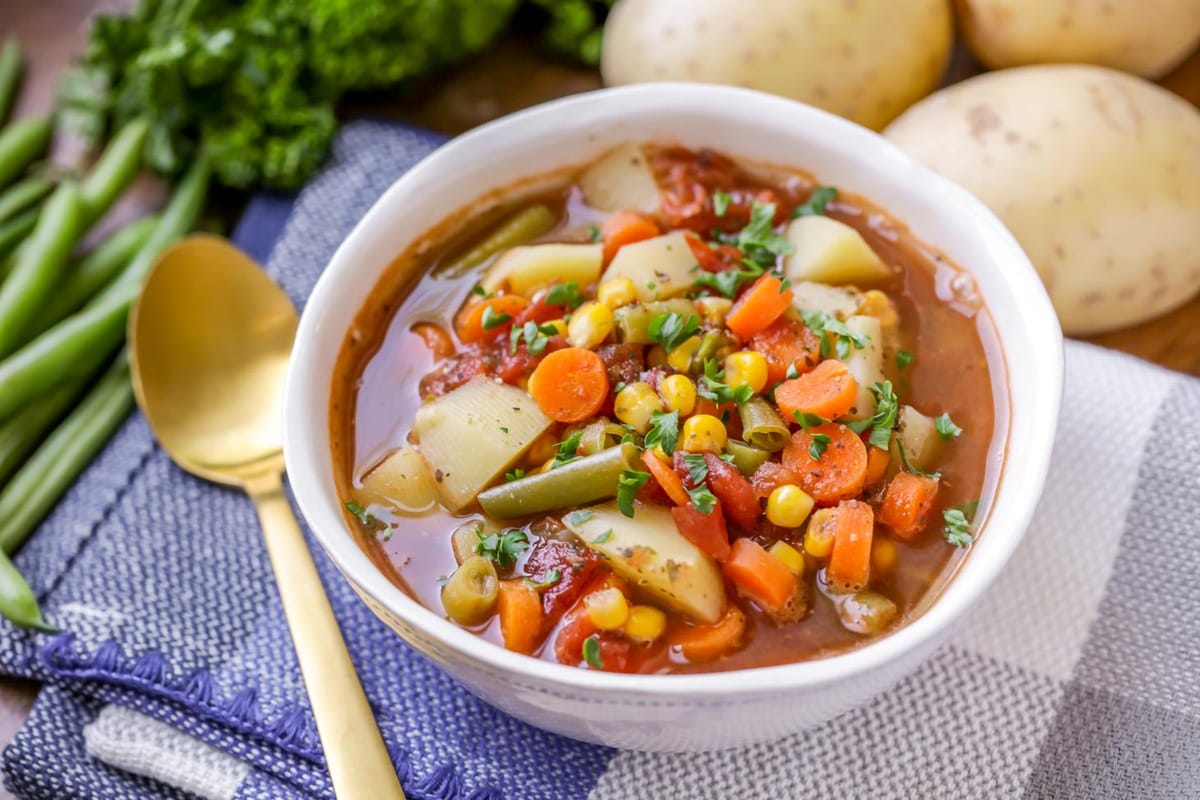 other healthy soups
Vegetables are the main ingredient in all of these soups, which is a great way to make sure you're getting your daily dose of veggies.
Of course, protein may be added, but if you (or anyone you are feeding) have dietary restrictions, these meatless options will work perfectly.
Vegetable Soup – Loaded with potatoes, carrots, corn, green beans, and tomatoes, this vegetable soup is healthy, hearty, and super good.
Butternut Squash Soup – Buttery smooth butternut squash soup with just a hint of cinnamon and nutmeg makes for one delicious cozy bowl of soup!
Lentil Soup – Homemade Lentil Soup that is light, hearty and healthy. Loaded with chunks of carrots, celery, lentils and spices, you can also add your favorite protein to this already delicious recipe.
Egg Drop Soup – This delicious and easy Egg Drop Soup recipe tastes just like the restaurant version. Now you can make and enjoy one of your favorite Asian recipes at home with this tasty soup.
Cabbage Soup – Cabbage Soup is an easy healthy soup loaded with fresh veggies. Warm up with a cup of this low calorie and low carb delicious soup!
Carrot Soup – Flavorful and filling roasted carrot soup is perfect for a cold day! This hearty soup is cozy and delicious.
---
A FAV!
We love all soups, but we definitely have some favorites.
One of those is our Orzo Soup. It's just like our Lemon Chicken Orzo Soup but with a few healthier ingredients (low-sodium broth, extra veggies like zucchini).
Here is what you'll need to make it:
---
THE COMPLETE LIST
Here are the picture cards of ALL the healthy and delicious soups listed above. They are sure to warm you up on a cold day and leave you feeling satisfied!
MORE COLLECTIONS: Soups, Crock Pot Soups, Easy Soups, Chicken Soups