Buttery smooth butternut squash soup with just a hint of cinnamon and nutmeg makes for one delicious cozy bowl of soup!
We love soups in sourdough bread bowls and usually keep it at that, but also love to make grilled cheese sandwiches or even rolls. Any of these compliment this earthy butternut squash soup perfectly!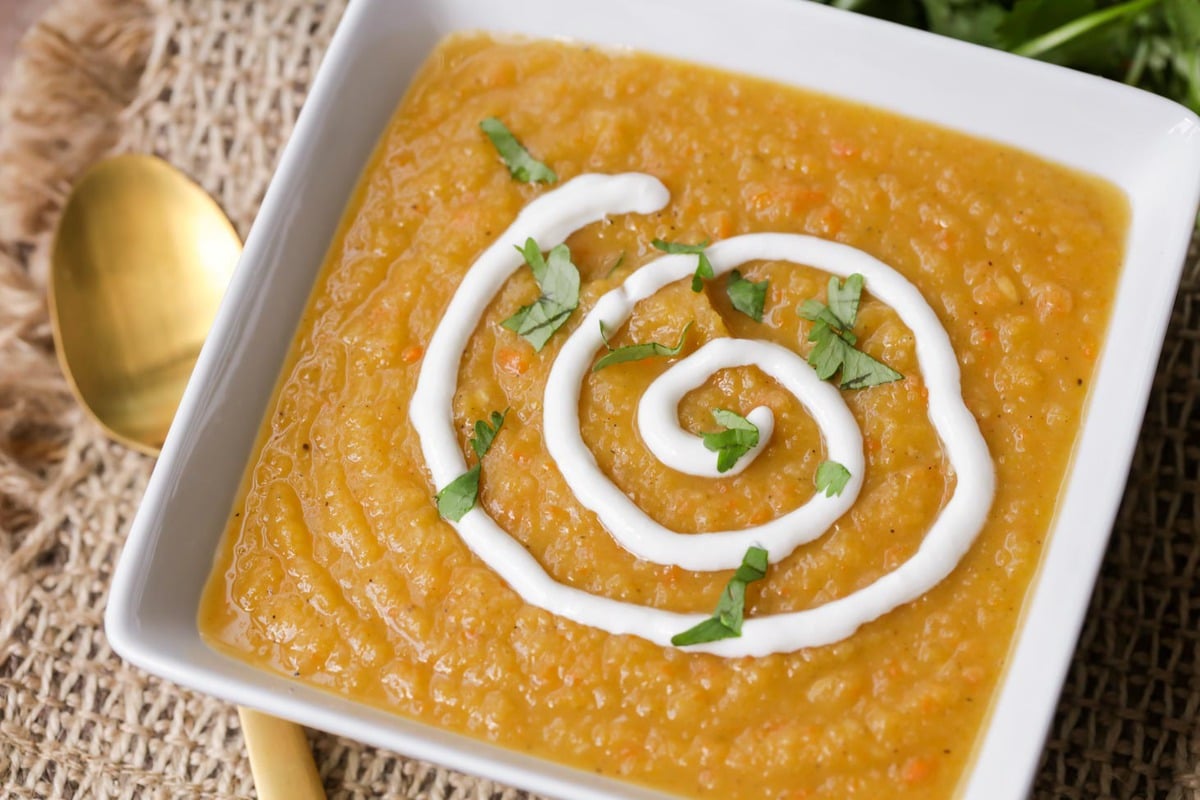 Roasted Butternut Squash Soup
Can we talk about the color of butternut squash soup? I think it's so gorgeous. It's the perfect combination of yellow and orange. It's like the mascot for fall recipes. Butternut squash soup is one of my all-time favorite dishes to make and eat. It's healthy and hearty and has the most scrumptious flavor.
Butternut squash soup is basically comfort in a bowl. It has a bit of sweet and a bit of savory and the ingredients in this recipe come together so well that it makes the squash soup creamy and delicious. It's one of our favorite soups to make.
We love this soup garnished with a bit of chopped cilantro and sour cream. It truly is like having a bit of fall in your mouth. We can tell you right now that this is the best butternut squash soup you will ever make. The flavors are incredible and it's so simple to put together.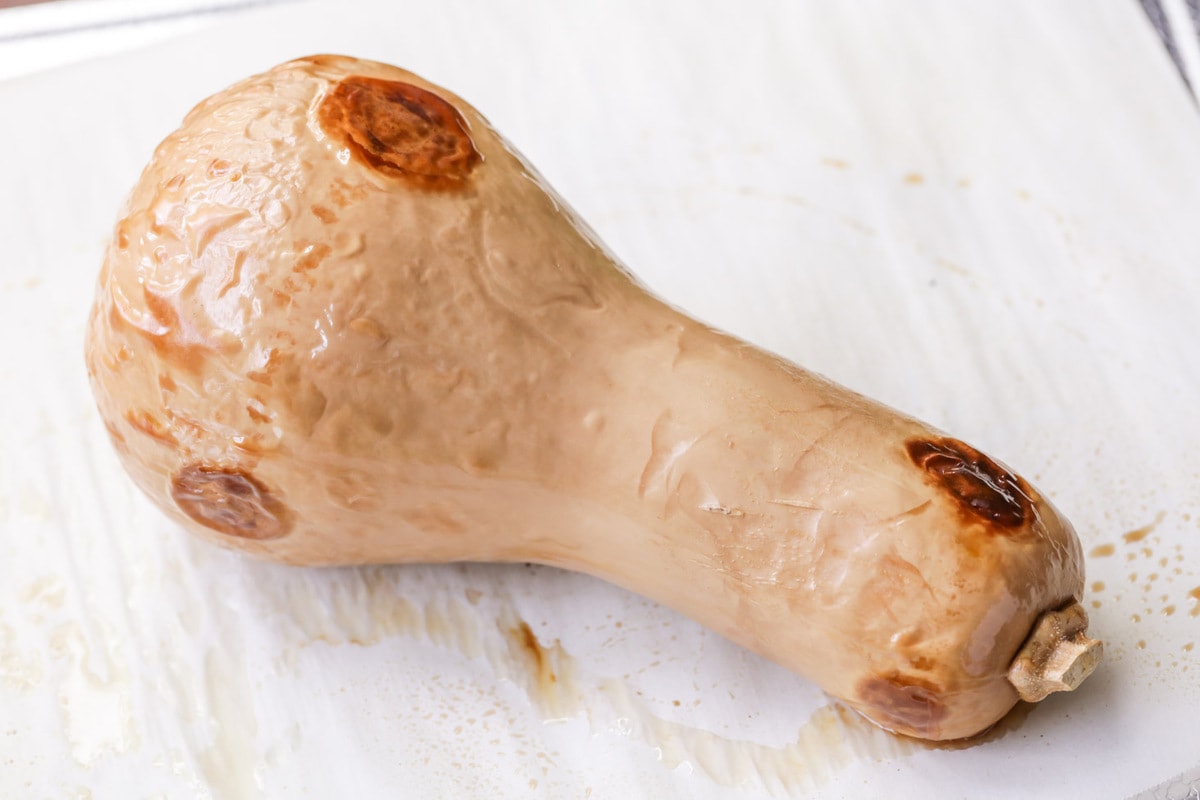 How to Roast Butternut Squash
Don't be intimated by roasting the squash. It's super simple and takes almost no effort.
PREP. Place your squash onto a baking sheet lined with parchment paper. Preheat the oven to 400 degrees.
ROAST. Once the oven has preheated, roast the squash for 1 hour. Every 15 minutes turn it so that it gets roasted on all sides. That's it! You've just roasted a squash.
Best Butternut Squash Soup
Once you've roasted the squash, you'll make the recipe by following a few simple steps.
PREP. After it's roasted, be sure to peel and take all the seeds out of the squash. Then cut it up into cubes. Now it's ready to be made into soup with the rest of the ingredients.
SIMMER. In a large pot, melt the butter. Cook the carrots, potatoes, garlic, cinnamon, nutmeg, and cubed roasted squash for 5 minutes. Pour in the chicken stock to cover the vegetables. Bring the mixture to a boil. Simmer for 40 minutes or until all the veggies are tender.
BLEND + SERVE. Transfer the soup mixture to a blender and blend until smooth. Return the soup back to the pot. Add more chicken stock until it reaches desired consistency. Season with salt and pepper and serve warm!
Tips, Variations + Storing Info
How to tell if the squash is ripe: You shouldn't be able to easily pierce your fingernail through the skin of the squash. The squash's skin should be full and rich in color, and the stem of the squash should firm and dry.
Using a pre-cut squash should be fine, just make sure to coat the squash cubes in oil and seasonings. Roast at 400 degrees for 30 minutes, tossing them ½ way through to make sure that they don't burn on one side.
Use an immersion blender: If you want to blend the soup while it was still in the crockpot then you could totally use an immersion blender instead of dirtying the blender.
Make is healthy: Make sure the chicken stock/broth is low sodium and you could omit the sour cream.
To make this in an instant pot: place everything in the pot (except the sour cream) and cook it on high pressure for 8 minutes. Then let the pressure naturally release before using an immersion blender to blend until smooth.
To make this in a crock pot: Place all of your ingredients(except the sour cream) in the crockpot and cook it on low for 6-8 hours or until the squash is tender. Then use an immersion blender and blend it until it's smooth.
In both cases stir in the sour cream before serving.
To thicken this soup:
add in a cornstarch slurry (1 TB cold water to a separate  bowl and stir in 1 telson cornstarch. Once smooth, stir it into the soup. Repeat until you've reached the desired thickness)
let it simmer on the stove uncovered for 10-20 minutes
add in more sour cream or Greek yogurt
Variations:
Add in coconut milk: A lot of recipes use coconut milk or cream to make it a bit sweeter or thicker. This is an alternative for sour cream.
Add in apples: Some people like to add in apples because it adds some tartness to this sweet and savory soup.
FREEZE this soup for up to 3 months in airtight containers or freezer safe bags. Let it cool completely before placing it in your containers.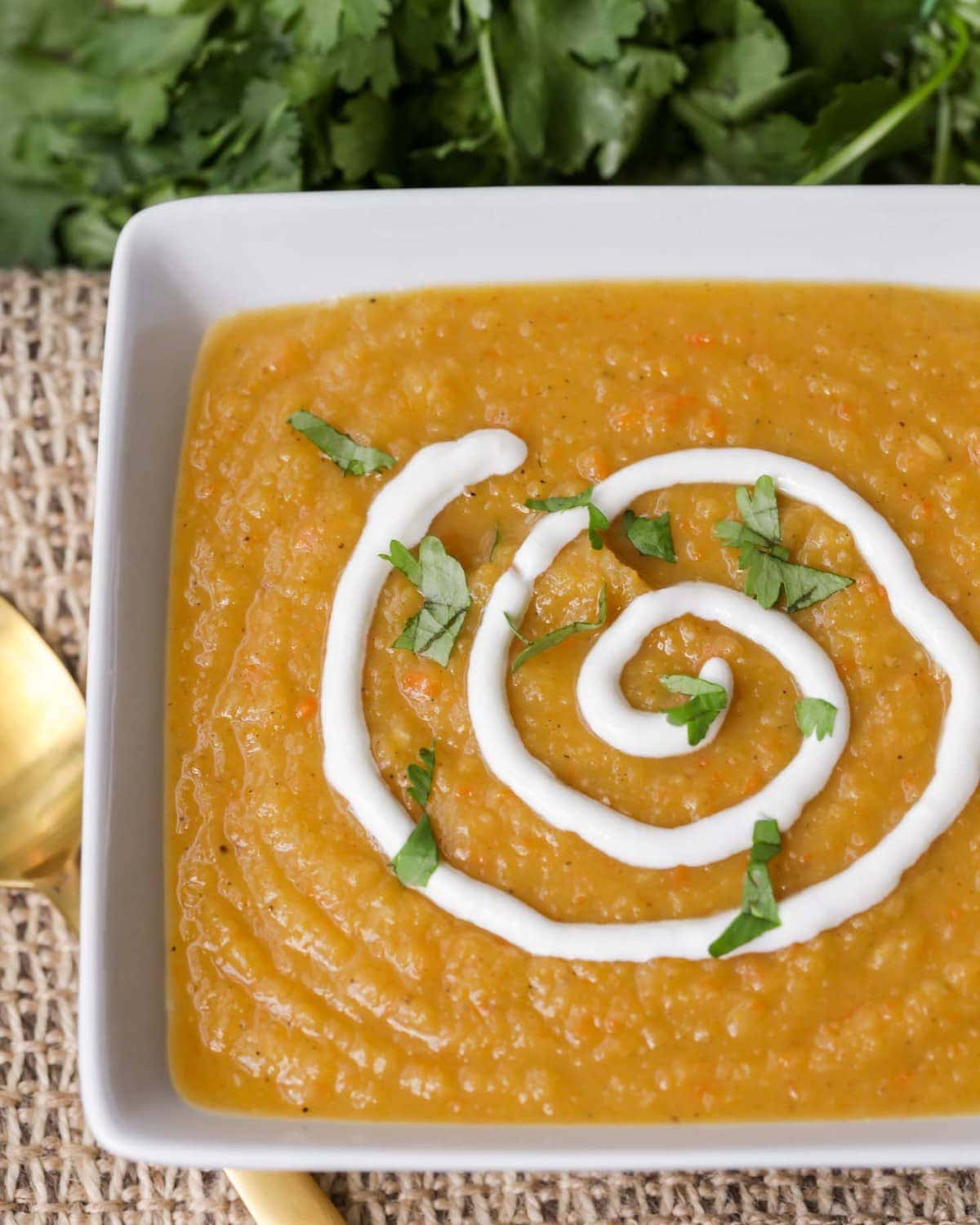 For more veggie soups, check out:
Butternut Squash Soup Recipe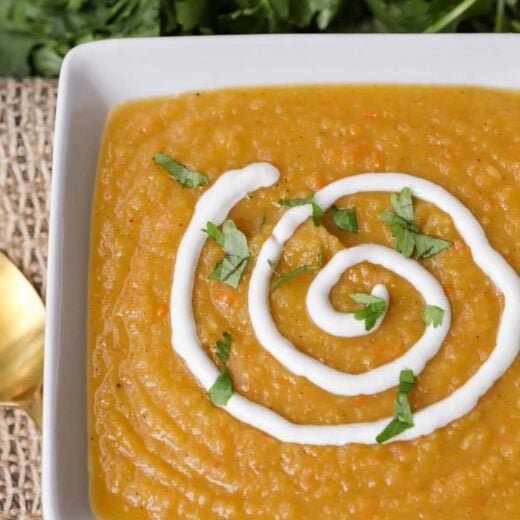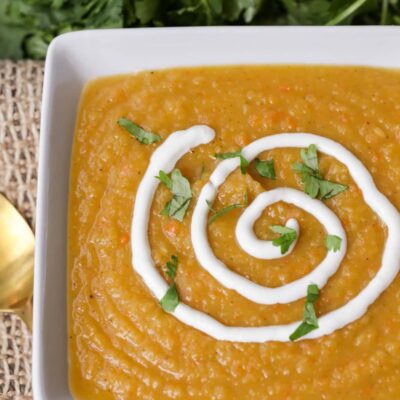 Buttery smooth butternut squash soup with just a hint of cinnamon and nutmeg makes for one delicious cozy bowl of soup!
Ingredients
2

TB

butter

1

medium

carrot

chopped

1

potato

cubed

1

tsp

minced garlic

1/4

tsp

cinnamon

Dash of nutmeg

1

medium

butternut squash

peeled, seeded, and cubed

32

oz

chicken stock

sour cream for garnish
Instructions
Roast squash at 400 degrees for 1 hour, turning ever 15 minutes.

Melt the butter in a large pot, and cook the carrots, potatoes, garlic, cinnamon, nutmeg and squash for 5 minutes, or until lightly browned. Pour in chicken stock to cover vegetables. Bring to a boil. Reduce heat to low and simmer, covered, for 40 minutes, or until all vegetables are tender.

Transfer to a blender, and blend until smooth. Return to pot, and add any remaining stock to reach your desired consistency. Season with salt and pepper. Serve warm.
Notes
TRIED & TRUE FINDINGS:
DIFFICULTY: easy
HOW MANY DOES IT FEED: 4 servings
ANY CHANGES MADE:  no onion, no celery, added minced garlic, cinnamon, and nutmeg.
ANY SUGGESTIONS FOR NEXT TIME: keep our changes
Adapted from Allrecipes.com