Velvety smooth sweet potato soup has a bit of nip and is the perfect soup recipe for anyone who loves sweet potatoes.
Soups are tasty all year long, but especially in the fall. This sweet potato soup is among my favorite soups, along with Butternut Squash Soup and Creamy Tomato Basil Soup.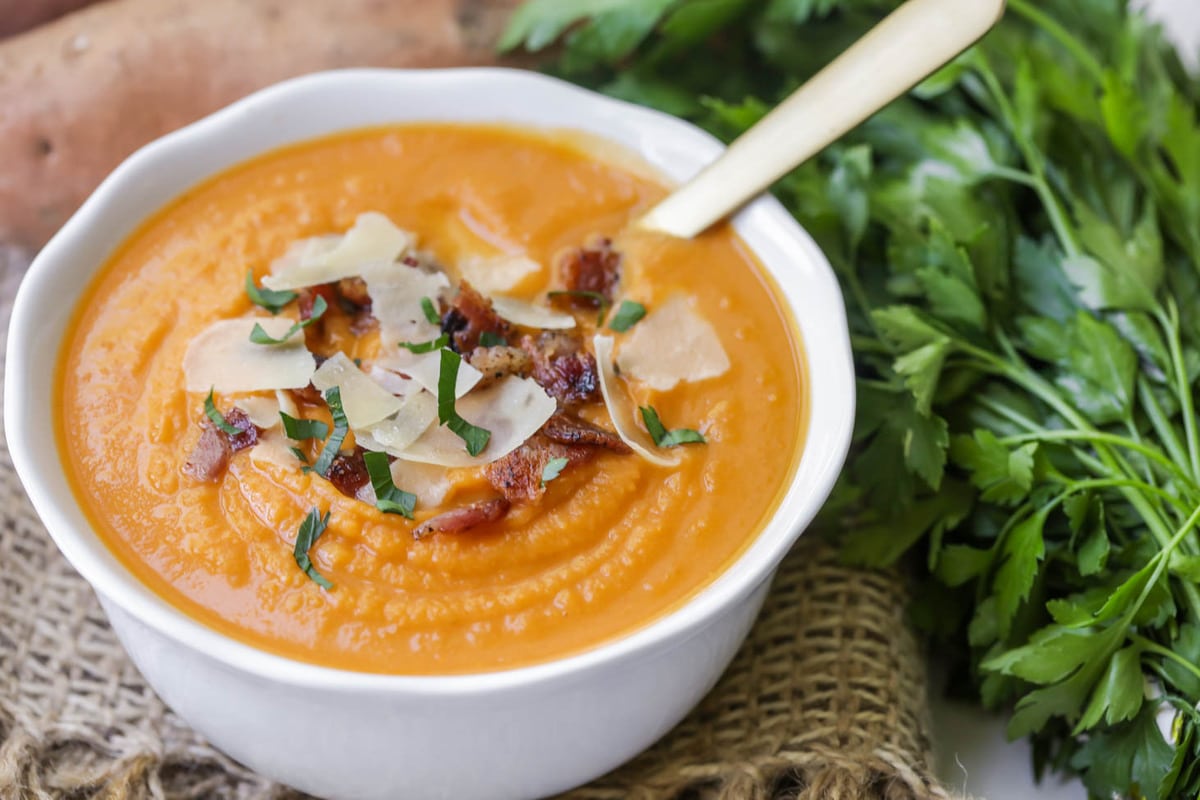 Creamy Sweet Potato Soup
You're going to love the creamy texture of this sweet potato soup. It's so delicious that you'll want to eat this weekly. I love a good soup recipe. It's always so easy and so filling. My family loves soup so this recipe is a hit with everyone who tries it! You can serve it alongside a sandwich or some crusty bread for a full meal. But it's also super yummy on it's own.
The flavor of this soup is incredible. The pureed sweet potatoes mixed with the herbs are divine. There is a pinch of crushed red pepper that gives it just a hint of spice. If you love the combo of sweet and a little spicy then this will become your new favorite soup.
This sweet potato soup is perfect for a rainy day! It's the best comfort food. Fall is just around the corner (next month!) so definitely put this recipe in your rotation when those leaves start to fall.
How to Make Sweet Potato Soup
SWEET POTATOES. Start by cutting up the potatoes and putting them in the microwave on high for 15 minutes. Check occasionally to see if they are tender. Take them out and let them cool a little bit. Then remove the potato skins.
BOIL. In a pot over the stove, boil the chicken stock, onion powder, cumin, and red pepper.
PUREE. Using a blender, blend half of the stock mixture and half of the potatoes. Make sure to remove the middle part of the blender top to let the steam escape. Puree until the mixture is smooth. Pour this into a large bowl and then repeat with the remaining other half of the stock mixture and sweet potatoes. Don't forget to add some salt.
SERVE. Pour the soup into warm soup bowls. I love the pretty orange/yellow color of this soup. It's gorgeous. Top the soup with parmesan shavings and bits of crunchy bacon. You can add a little parsley garnish to give it some color.
Tips + SToring Info
Healthy: Sweet potatoes are full of nutrients and have a high level of beta carotene. They are a great vegetable to have during the fall. This soup is also quite healthy because there is very little fat involved in the recipe. The only substitute that you could make to make it healthier would be to use turkey bacon.
Crockpot: To make it in the crock pot you need to peel and cube the sweet potatoes before putting them in the slow cooker, then add in the rest of the ingredients and cook on low for 5-6 hours. After that time mark puree it using an immersion blender, or let it cool a little bit before doing small batches in a blender. 
Coconut milk: Some people like to add in coconut milk or coconut cream to make the soup creamier. This is a great dairy free option to create a smoother consistency. 
Blending:  We used a typical stand blender for this recipe, but if all you have is an immersion blender you can make it work. You need to find a large bowl or pot to mix all your ingredients together. Use your immersion blender to make the mixture nice and smooth.
STORE this soup in an airtight container in the fridge for about a week. Reheat individual servings in the microwave or larger servings on the stove. 
Make this ahead of time or FREEZE leftovers. When freezing sweet potato soup make sure that you cool it completely before placing it in an airtight container or freezer safe bag. It will last 4-6 months. Thaw it in the fridge overnight and then reheat on the stove.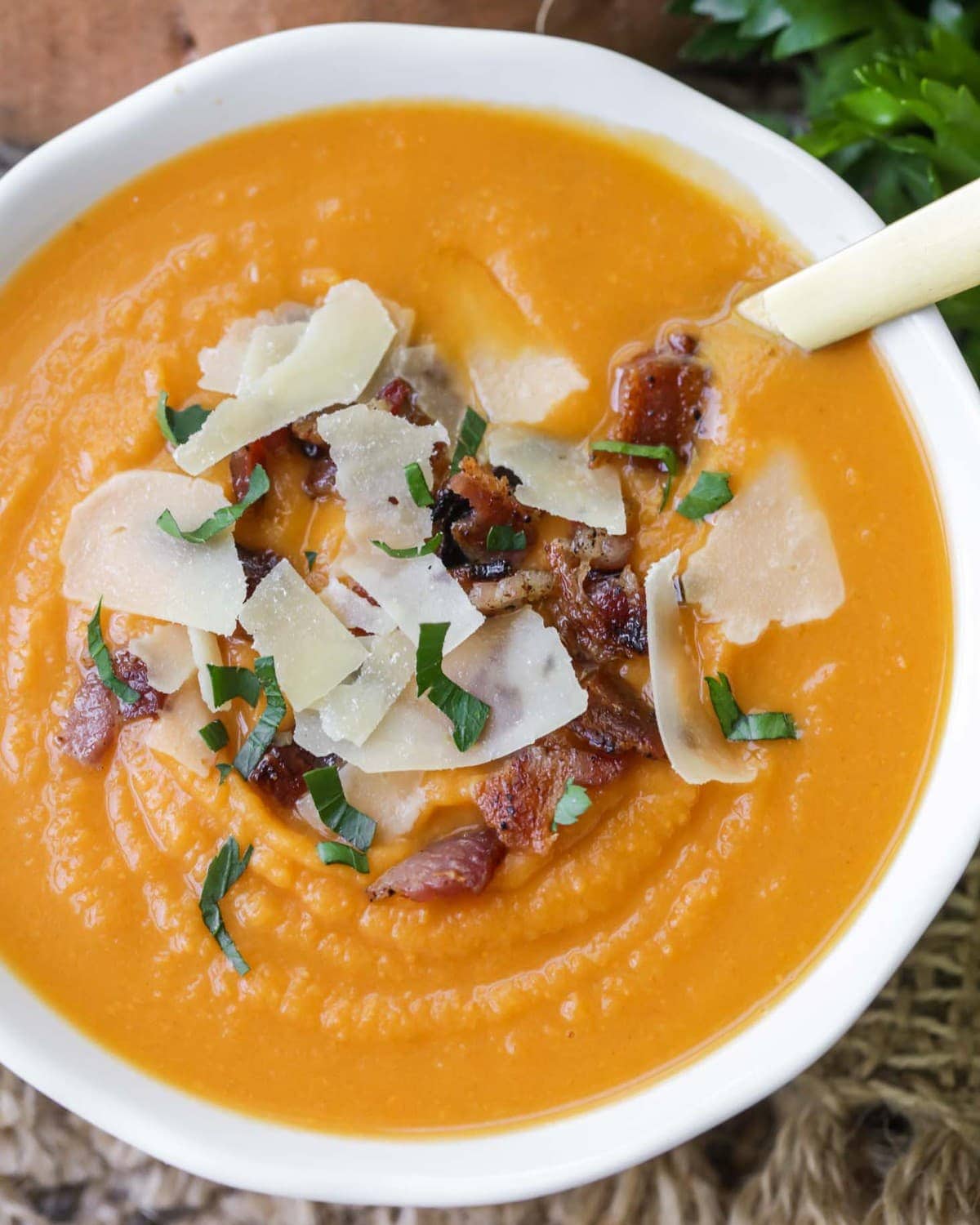 How do you like your soup? On it's own or on the side of a sandwich or some crusty bread? You could even dip pieces of grilled cheese into it. Soups on!
For more sweet potato recipes, check out:
Sweet Potato Soup Recipe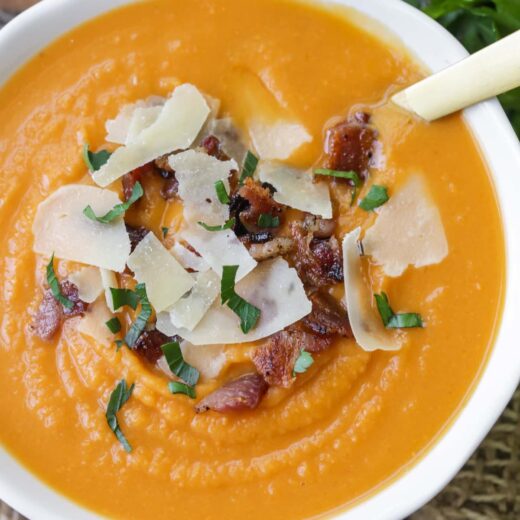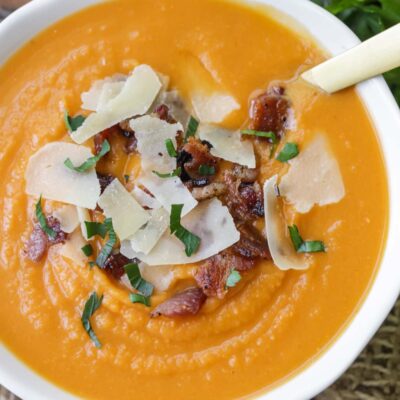 Velvety smooth sweet potato soup has a bit of nip and is the perfect soup recipe for anyone who loves sweet potatoes.
Ingredients
2

lbs

sweet potatoes

1/4

cup

water

2

tsp

olive oil

1

tsp

onion powder

1/2

tsp

ground cumin

1/4

tsp

crushed red pepper

4

cups

chicken stock

unsalted

1

tsp

salt

6

bacon slices

cooked and crumbled

1/4

cup

fresh parmesan cheese

shaved

2

TB

flat leaf parsley leaves
Instructions
Cut potatoes in half length wise and place, cut sides down, in microwave-safe baking dish. Add ¼ cup water and cover with plastic wrap. Microwave on high for 15 minutes or until tender. Let the potatoes cool slightly and remove skins.

Boil chicken stock, onion powder, cumin, and red pepper in a pot. Place half of stock mixture and half of your potatoes in a blender. Remove center piece of blender lid (to allow steam to escape). Then puree until smooth.

Pour into a large bowl and repeat with remaining. potato and stock mixture. Add salt and divide among soup bowls. Sprinkle cooked bacon and Parmesan cheese evenly over top. Garnish with parsley.

Adapted from myrecipes.com