This Chicken Caesar Salad is jam packed with grilled chicken, croutons, tomatoes, bacon, hard-boiled eggs, Parmesan cheese and tomatoes. It's so flavorful, you won't believe how simple it is to make!
If you like how hearty and filling this salad recipe is with all the extra fixings, you'll love this lemon poppyseed salad, waldorf salad, or southwest salad!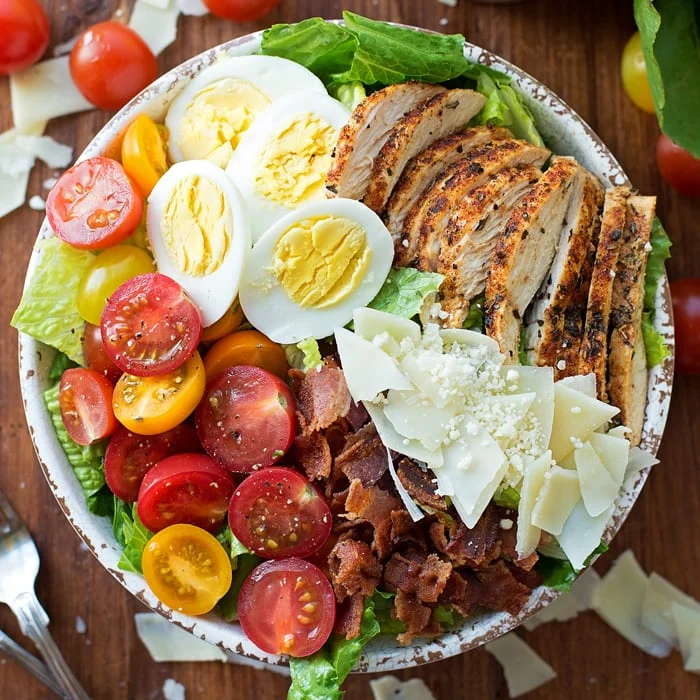 Current Salad Obsession
We're pretty obsessed with Chicken Caesar salad around here – it truly is one of my favorite salads!
We wanted to share a simple version of this recipe and we LOVE how it turned out. It's loaded with bacon, chicken, boiled egg, cherry tomatoes, croutons, Parmesan cheese and of course, Caesar dressing. This definitely isn't your classic Caesar salad – it's the ultimate!! Easy and delish!
The real star of this salad is the dressing. It definitely wouldn't be a Caesar salad without Caesar dressing. I used Marzetti® Simply Dressed® Caesar Salad Dressing. It's made with a few simple ingredients and no preservatives or artificial flavors to enhance the fresh, natural goodness of salad.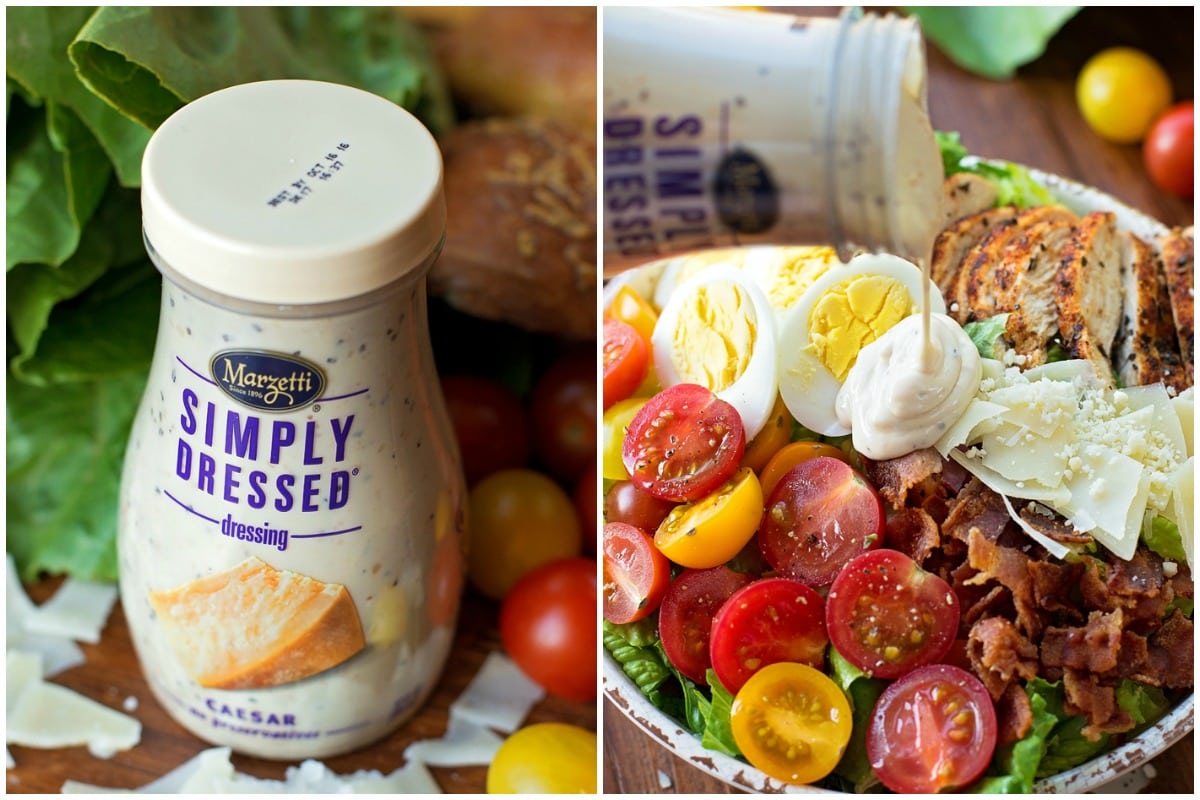 How to Make Chicken Caesar Salad
The salad itself was pretty easy to make. The ingredients you use are easy to change up, but in ours we included:
cherry tomatoes
Parmesan cheese
Caesar dressing
CHICKEN. To make it, we used a lined sheet pan to bake the chicken and the bacon in the oven at the same time, which made clean-up a lot easier. You can also grill the chicken if you prefer that. I keep the seasoning simple and usually just add some salt, garlic pepper, and  some olive oil to the chicken breasts. Grill over medium heat for 4-5 minutes on each side.
You can make this recipe even easier by using leftover chicken from a previous dinner.
OTHER FIXINGS. I already had a few boiled eggs in the fridge, so while things were baking I sliced them up along with the cherry tomatoes. For the greens I stuck with romaine, but you could definitely add in some mixed greens or kale too.
DRESSING. Once everything was prepped and ready to go, I tossed it with some Marzetti® Simply Dressed® Caesar Salad Dressing and served it with a sprinkle of freshly ground black pepper. It was so delicious. Our family devoured it in seconds. You can also try our our homemade caesar dressing too!
We will definitely be making this version again & again because it's beyond simple!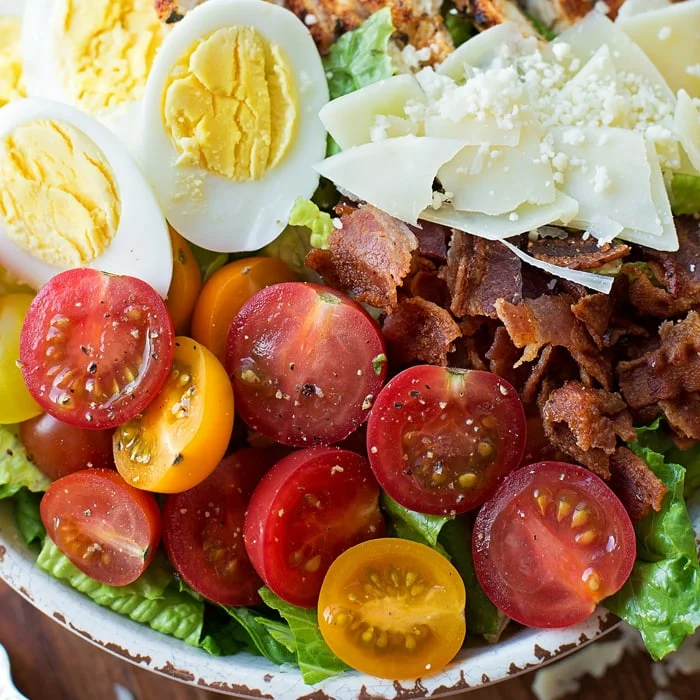 Making ahead and storing
Can you make caesar salad in advance? Yes – you can! If making it ahead of time, we recommend cutting up the chicken, tomatoes and bacon and storing separately before serving. Cut eggs right before serving and add dressing and croutons right before serving.
How to store leftover salad? If your salad has been sitting at room temperature for 2 hours or longer it may no longer be safe to eat so go ahead and toss it. If the leftovers are still safe to eat store in an airtight container for up to 3 days.
Keep in mind the croutons will not stay crisp and the greens will gradually become wilted and soggy so don't wait too long to finish eating this delicious salad.
more Caesar recipes
We love the caesar taste so much, we have several related recipes on the site. Be sure to check them out because if you love chicken caesar salad, we think you'll love these!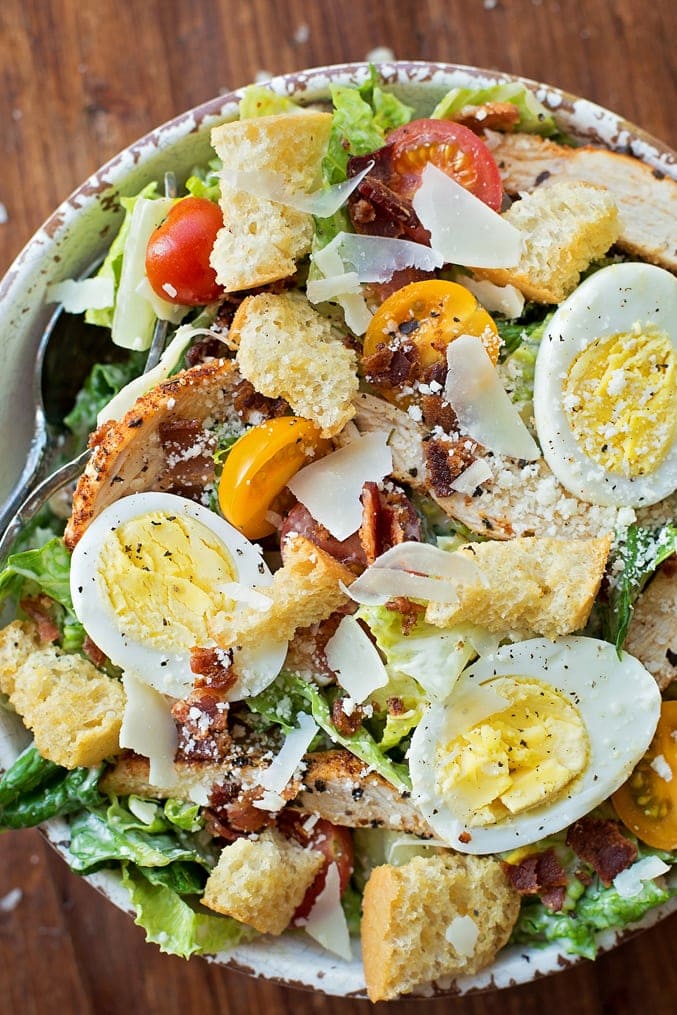 We love simple salads and love that this store-bought dressing is delicious! You can also try our homemade caesar dressing too which is also super easy to make.
For more salad recipes, check out:
Chicken Caesar Salad Recipe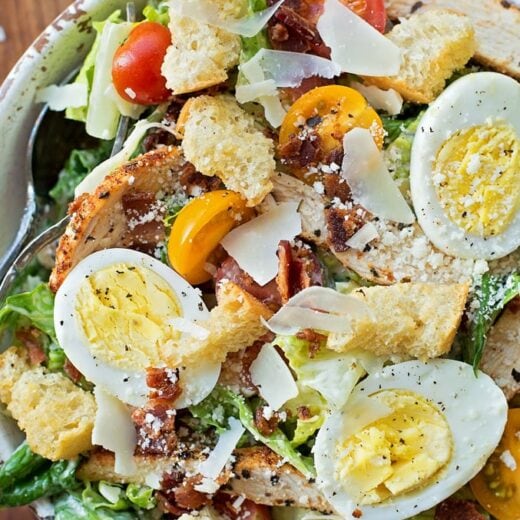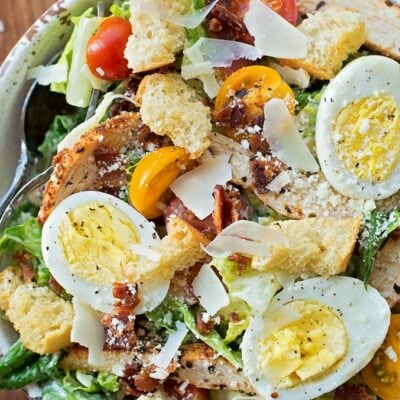 Ultimate Caesar Salad with grilled chicken, croutons, tomatoes, bacon, hard-boiled eggs, Parmesan cheese and tomatoes.
Ingredients
6

cups

romaine or salad greens

washed, dried and chopped

3

slices

bacon

cooked and cumbled

3

boiled eggs

sliced or chopped

1

large

chicken breasts

seasoned and cooked

1

cup

cherry tomatoes

1

cup

croutons

1

tbsp

grated parmesan cheese

2

tbsp

shaved parmesan cheese

Marzetti® Simply Dressed® Caesar Salad Dressing
Instructions
Add the greens to the salad bowl, then layer the bacon, eggs, chicken, tomatoes and half of the cheese on top. Add croutons and toss along with the remaining cheese and desired amount of dressing, or serve undressed and dress individual servings, garnishing each with remaining cheese.

Serving size: 2 large dinner salads or 4 side salads
Next time you're strolling down the refrigerated produce section, make sure to grab a bottle or two of Marzetti® Simply Dressed® Dressings. They come in four delicious varieties: Balsamic, Ranch, Caesar and Blue Cheese.
Not only are they a quick and easy way to dress a salad, but taste pretty darn good too! They'd make a great addition to just about any kind of salad, I can't wait to whip up a Caprese salad with their balsamic dressing. YUM! Which dressing would you try first?
For more delicious recipes check out What's for Dinner and be sure to follow Marzetti® on Facebook, Pinterest, YouTube!
ENJOY!