Delicious Homemade Caesar Salad dressing with crispy Homemade Croutons. This simple salad dressing will become your new go-to for salads!
Sometimes, you can't beat homemade—and this easy Caesar dressing recipe will be perfect for your next salad. It's just as good as our homemade Ranch dressing recipe and is sure to become a family favorite.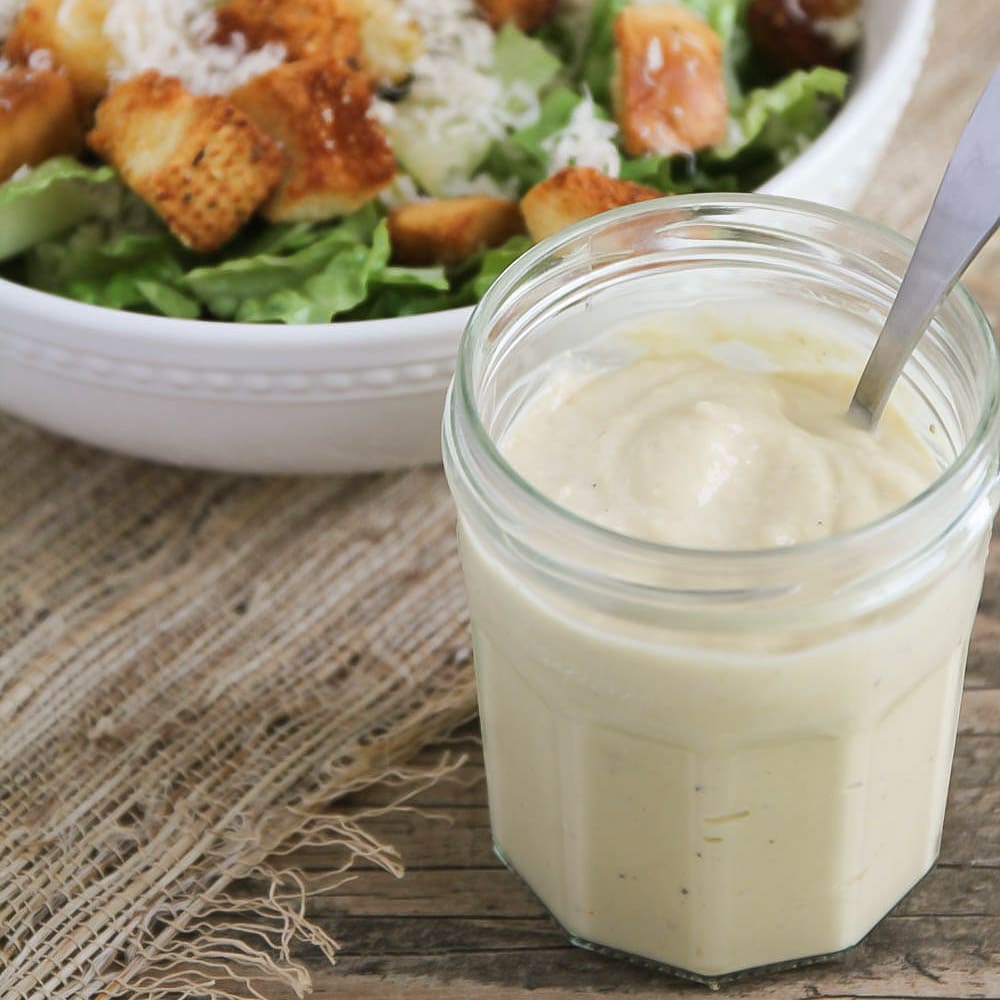 Homemade Dressing for the win
Who here loves salad? We do, and we especially love the dressings that come with it!
I especially crave yummy salads in the Spring, and one of my all-time favorites is Caesar Salad. We have a simple Chicken Caesar Salad here on the site, but today we are sharing a homemade version.
This homemade dressing is simple and so good. To make the salad, all you have to do is mix the dressing and homemade croutons with some chopped romaine and shredded parmesan cheese, and you have a full on Caesar salad. It seriously tastes like it's from a restaurant, and it's unbelievably easy to make.
If you are craving salads right now just like I am, then you'll definitely want to try out this Homemade Caesar Salad Dressing with Homemade Croutons. 🙂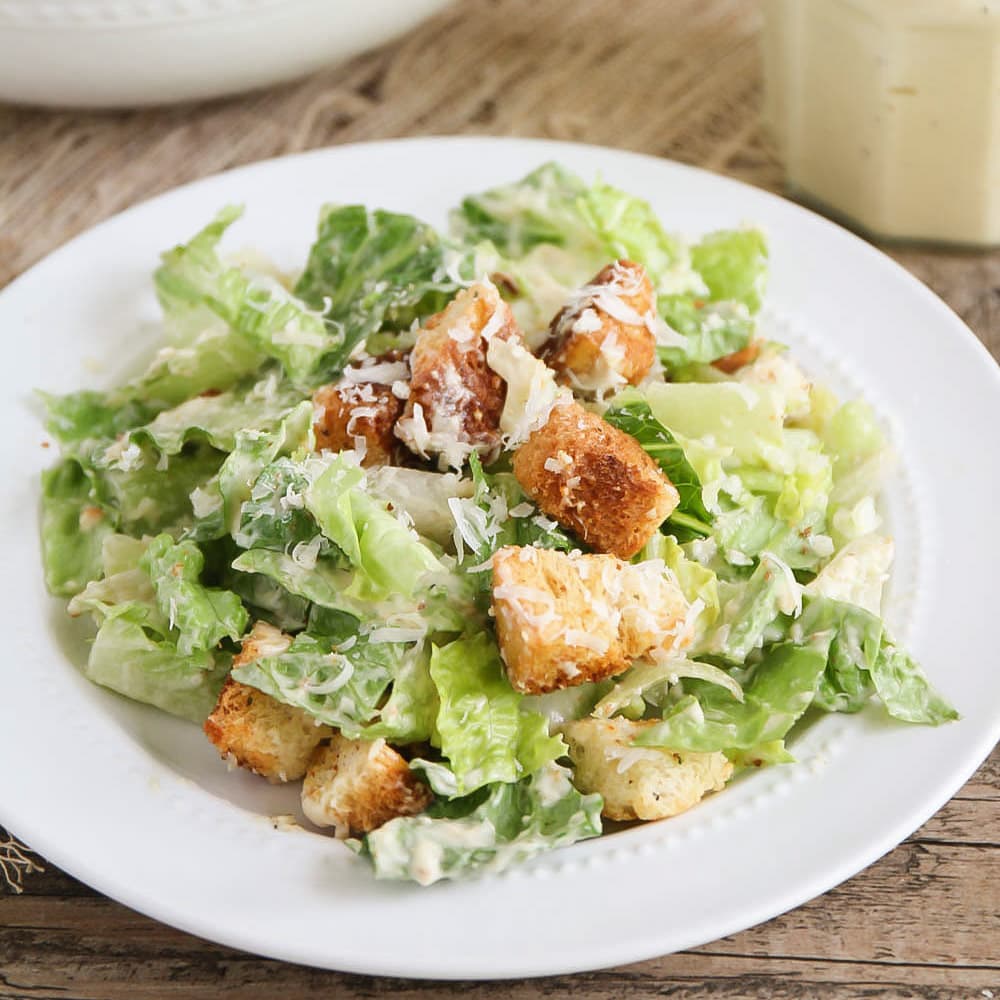 How to make caesar salad dressing
I already told you this dressing is beyond easy to make! Most of the ingredients are ones you probably already have sitting around in your kitchen, minus the anchovy paste. 😉
I know anchovy paste sounds gross, but trust me, when you mix it all together, it helps give the dressing that distinct flavor you know and love.
I suggest you freshly squeeze the lemon juice, but if you have the bottled kind, that works too.
JUST MIX! To make the dressing, just mix all the ingredients together (a blender is probably the quickest and easiest way), and store in the fridge until you're ready to use on your salad!
DRESSING FAQ
Can you make caesar dressing without the anchovy paste? Feel free to omit the anchovy paste. It will have a slightly different flavor, but it will still taste great.
Truth be told, most restaurants use actual anchovies in the dressing! And most of the time we don't even notice it. And this is coming from someone who HATES seafood! Once it's all blended into a tasty dressing, it's better for me to just not think about the anchovies. 😉
Does homemade caesar dressing need to be refrigerated? Yes. Because of the mayo, the dressing will need to be kept in the fridge. It will keep well for up to 1 week.
Can homemade caesar salad dressing be frozen? The dairy products in the dressing, specifically the mayo, will freeze well but it probably won't thaw well. I wouldn't recommend freezing the dressing, because the thawing results might not be ideal. But you can always try at your own risk!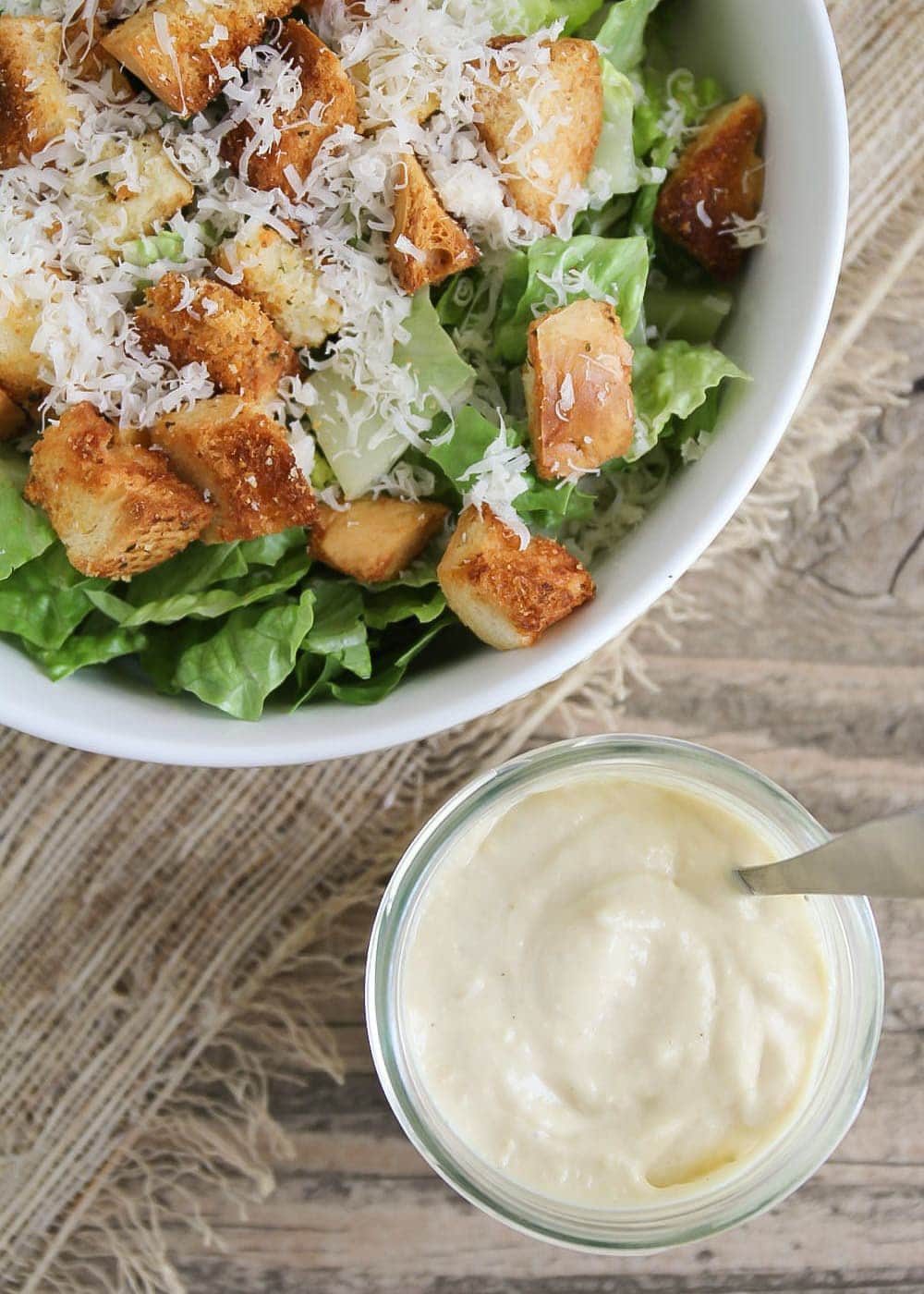 Make it Into a Salad!
The dressing and croutons are really the star of a Caesar salad. Am I right?!
For a basic Caesar Salad recipe, use a bed of Romaine Lettuce add parmesan cheese, then top with your homemade dressing and some croutons. For more information about croutons, check out our Homemade Croutons recipe.
If you're looking for a more filling and hearty salad, try this recipe for Chicken Caesar Salad.
This caesar salad dressing pairs so perfectly with the homemade croutons! And both are 100% than store bought! It's worth the extra bit of effort in my opinion to just make them homemade.
For more great salad recipes, check out:
Caesar Salad Dressing Recipe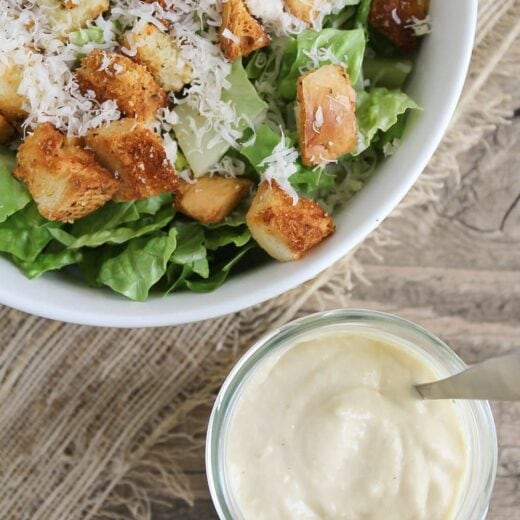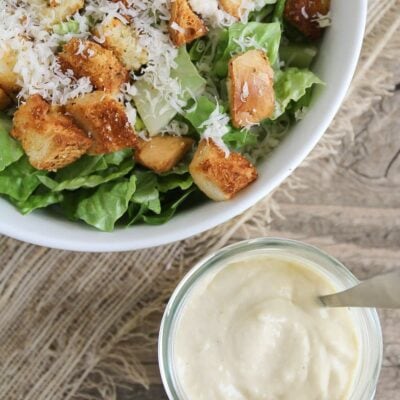 Delicious Homemade Caesar Salad dressing with crispy Homemade Croutons. This simple salad dressing will become your new go-to for salads!
Ingredients
Dressing
1

cup

mayo

2

tsp

garlic

2

tsp

Worcestershire sauce

1

tsp

pepper

1/2

tsp

anchovy paste

2

tbsp

olive oil

3-5

tbsp

lemon juice

freshly squeezed

3

tbsp

parmesan cheese

shredded (for topping your salad)
Croutons
3

tbsp

butter

melted

1/4

cup

olive oil

1/2

cup

parmesan cheese

grated

1

tbsp

parsley

1/2

loaf

french bread

cubed (white or wheat)
Instructions
For dressing, Blend all ingredients together until smooth. Store in refrigerator until you're ready to toss with your salad.

For croutons, Mix first 4 ingredients together with a fork. Add your cubed bread and toss well

Spread on a baking stone or cookie sheet.

Cook at 350 for 18-20 minutes. When 20 minutes is up, turn broil on hi and broil for 1-2 minutes, being careful to check after 1 minute. Enjoy with any salad of your choice.