Fresh Chicken Caesar Wraps are a simple, delicious variation of a Caesar Salad. It's perfect for a lunch or picnic.
This is a great variation Caesar Salad, and the perfect way to use up leftover chicken from dinner the night before. If you like this variation, you might also like Caesar Salad Cups.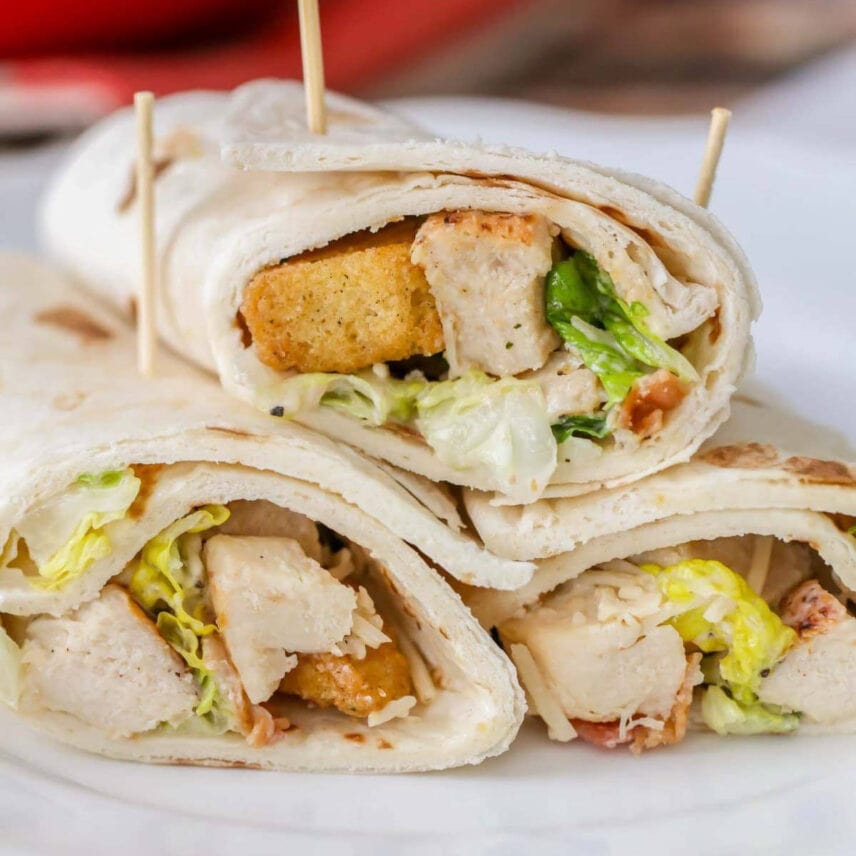 Chicken Caesar Salad In Wrap Form
Chicken Caesar recipes have always been my favorite! The combo of chicken, caesar dressing, croutons and Parmesan cheese is so delicious!! That is why today I am sharing a recipe for Chicken Caesar Wraps!
Have you had them before? I first tried them at Burger King. Yes, of all places, that is where I had them first. I was sick of chicken nuggets and french fries and saw they had some wraps, so I tried the Caesar wrap and loved it.
I love that these little guys would be great for a picnic, brunch, shower or simply for lunch. Plus, I usually have most ingredients on hand too, which helps. 😉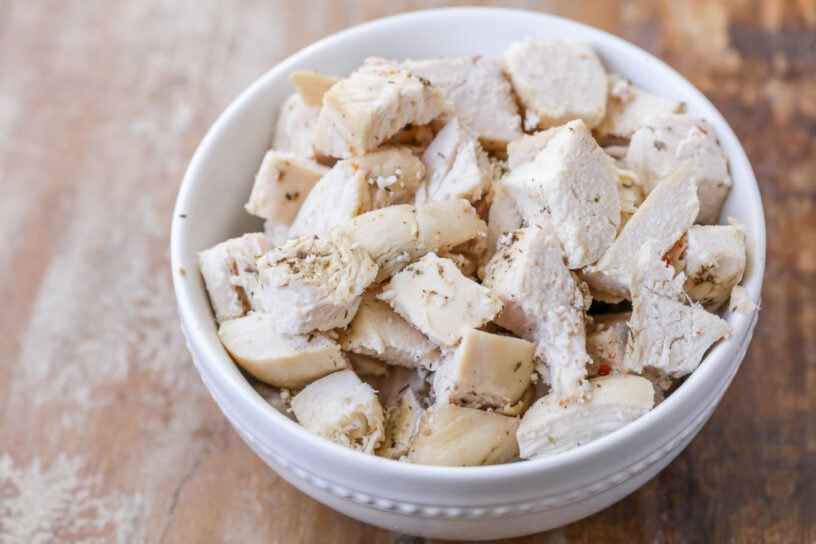 How to Make a Chicken Caesar Wrap
All of these ingredients can be bought pre-made at your local grocery store, but if you really want to be Queen, or King, of the Kitchen we have more recipe posts that you can use to make your own Caesar dressing & croutons, Homemade Tortillas and even a quick way to cook your bacon.
TOSS. After preparing your lettuce, chicken, and bacon, add them to a bowl with the rest of the filling ingredients and toss with Caesar salad dressing.
WRAP. Spoon mixture into tortillas and wrap.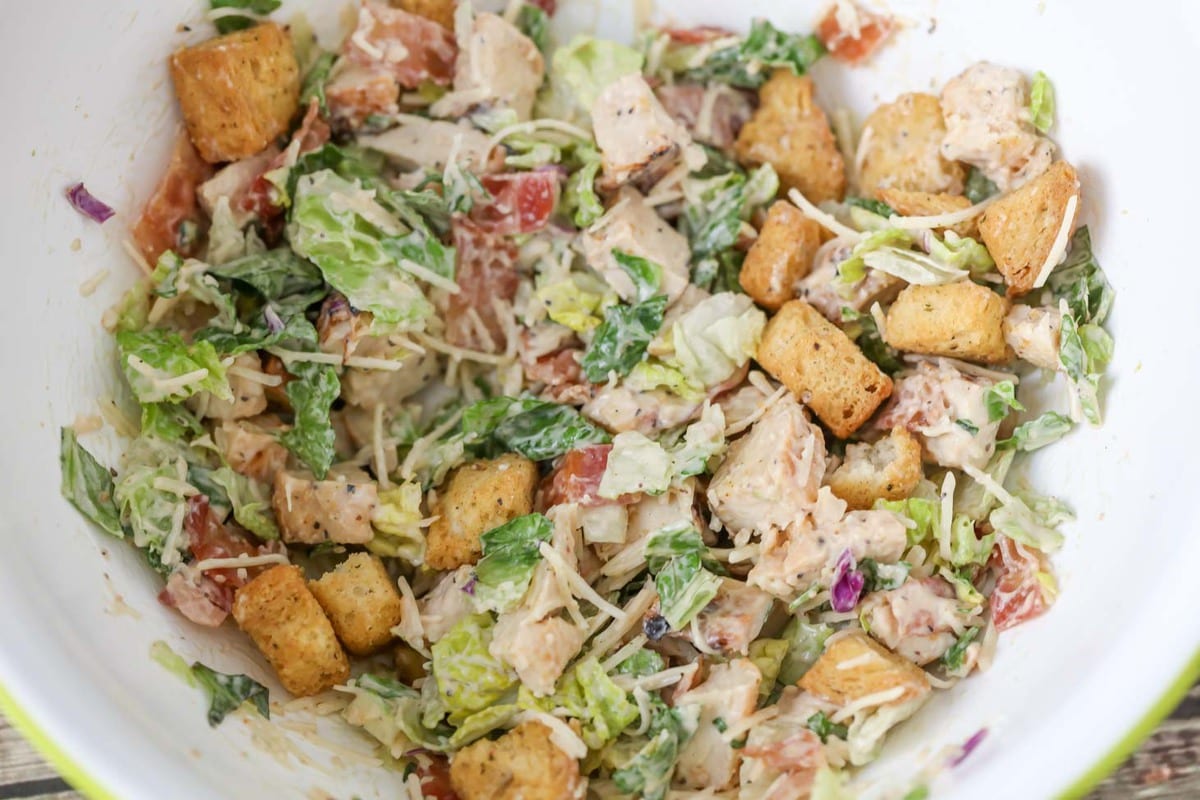 Tips, Variations & Storing Info
Make Them Healthy:
Wraps are an easy, quick and healthy lunch or dinner idea. Being able to customize these wraps makes them even more appealing, but you can make them even more healthy by changing a few of the ingredients:
We love the Bolthouse Farm dressings (the Creamy Caesar would be great for today's recipe) that are made from yogurt and usually have only a few grams of fat for every few tablespoons.
Changing out a standard tortilla for a whole grain, gluten free, or low calorie option can make it healthier depending on what your dietary needs are.
Omit the croutons to make the wrap more "low carb".
Use turkey bacon instead of regular bacon.
Tips for folding your wraps just right:
I would suggest using warm tortillas so they're more flexible. Just warm them up in the microwave for a few seconds.
Other than that little trick it's pretty straight forward. Place the salad down the middle of the tortilla and fold the two ends. Then, fold one of the sides over the salad and roll.
Variations:  
Use leftover rotisserie chicken or leftover grilled chicken.
Add diced tomatoes or even cubed boiled eggs. Whatever you like in a ceasar salad!
Use a toothpick to secure the wraps.
Ahead of time: Prep the salad ingredients the day before, but store them in separate airtight containers and refrigerate where necessary. Mix the ingredients together right before serving.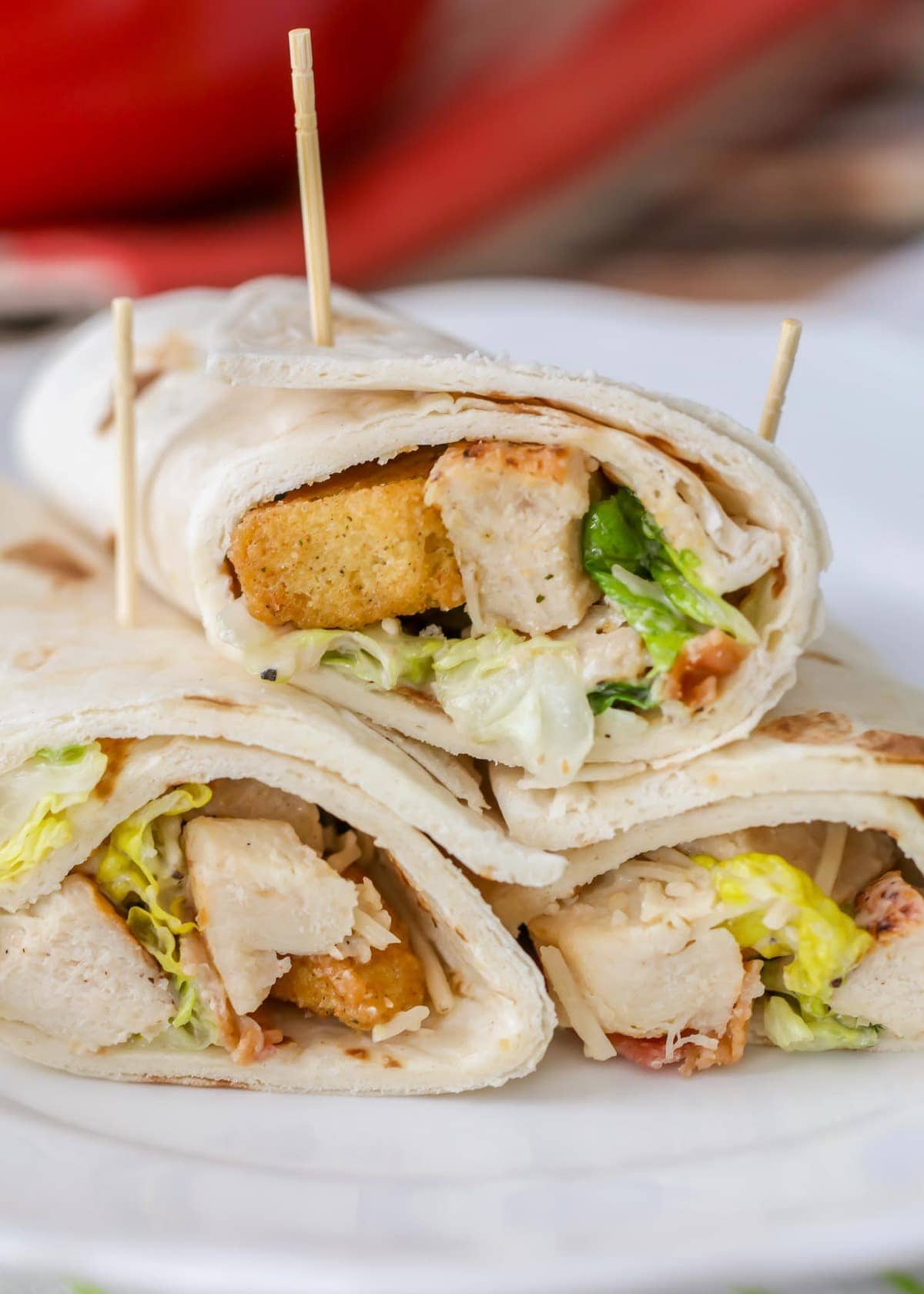 For more wrap recipes, be sure to check out:
Chicken Caesar Wrap Recipe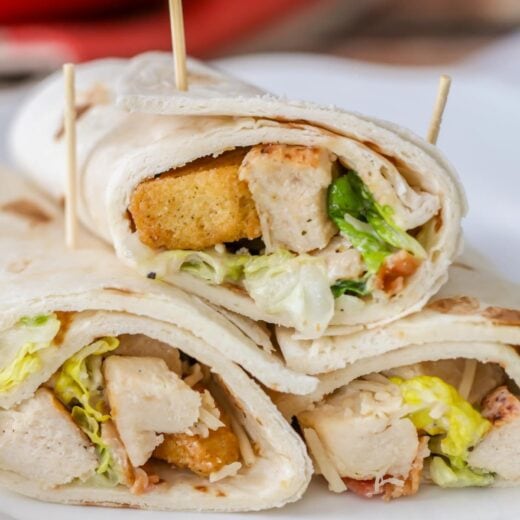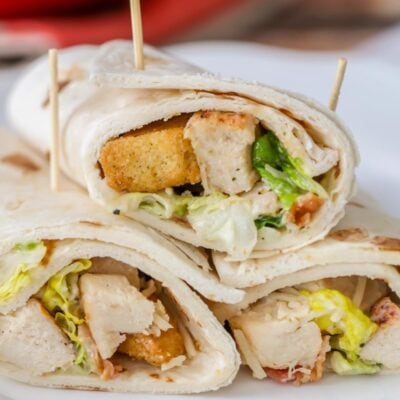 Fresh Chicken Caesar Wraps are a simple, delicious variation of a Caesar Salad. It's perfect for a lunch or picnic.
Ingredients
3

cups

romaine lettuce

shredded

2

cups

chicken

cooked, chopped

6

slices

bacon

cooked, chopped

1/4

cup

parmesan cheese

grated

1/4

cup

croutons

1/2

cup

Caesar dressing

5-6

8-inch

flour tortillas
Instructions
Add the first 5 ingredients to a medium bowl.

Mix in caesar dressing until evenly coated.

Spoon into tortillas and enjoy!