I have a new found love for Sweet Potatoes. Growing up I thought they were so gross. Now, I can't get enough of them!! 😀 I think my husband was the one who converted me. I remember when we were dating and we went to Texas Roadhouse. He ordered a Sweet Potato as a side dish. He got it topped with all sorts of stuff and I remember thinking it looked pretty gross but he made me give it a try. To my astonishment, I loved the dish and have enjoyed the veggie every since. Now the hubby knows that if a restaurant has sweet potato fries, I want them too!! 😀
With this new love in mind, I thought it would be fun to make some Baked Parmesan Sweet Potatoes inspired by the Baked Parmesan Potatoes that we've made for years. The result was AMAZING!! I even had some friends from church try them out and they loved them as well. You can obviously change up this dish to your liking, but we loved how these turned out!!
The best part about this recipe is that it's super simple. It took just about 5 minutes to throw together and then we had to bake them for about 20 minutes. They were so good and were literally gone in a minute! I think we found a new side dish recipe that we'll be making loads more. 😉
You'll coat the sweet potato cubes in garlic, butter, oil, salt, Parmesan Cheese and Italian seasoning. 
Baked to perfection!!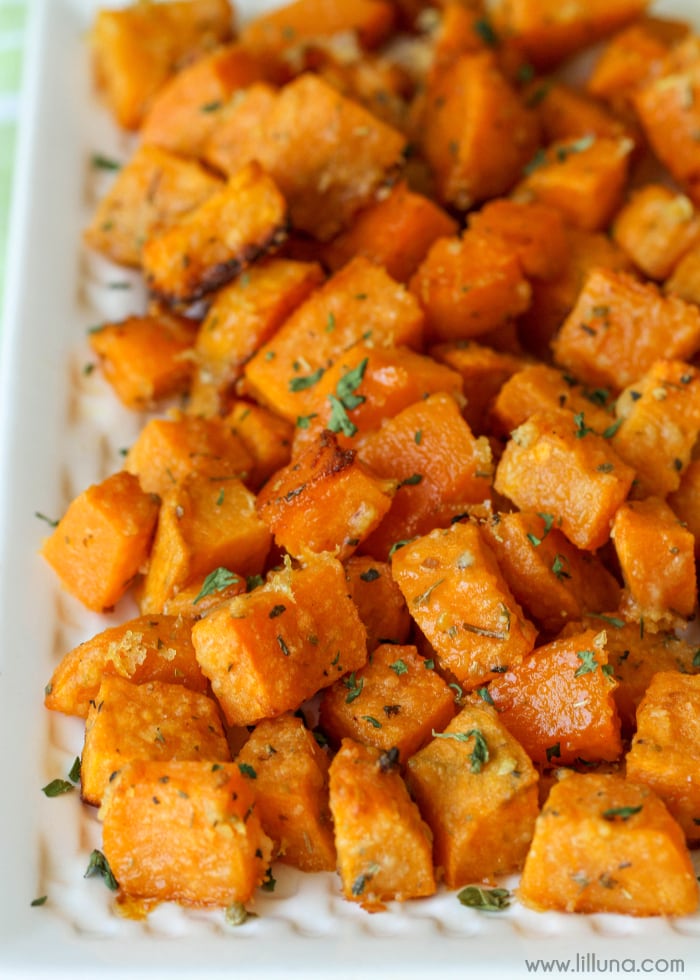 For video instructions on how to make these delicious potatoes, watch the video below:
Sweet Potato Recipe:
Baked Parmesan Sweet Potatoes
Baked Parmesan Sweet Potatoes- soft sweet potatoes coated with parmesan cheese and all kinds of spices!! It's a new favorite side dish that is quick and delicious.
Ingredients
2 sweet potatoes (peeled and cubed)
2 tsp. minced garlic
1 TB olive oil
2 TB butter (melted)
4 TB grated Parmesan Cheese
½ tsp. garlic salt
½ tsp. Italian Seasoning
dried parsley
Instructions
Preheat oven to 400 degrees.
Peel and cube sweet potatoes into 1 inch cubes.
Place garlic, oil, butter, salt, Parmesan cheese and Italian seasoning in a ziploc bag and mix well.
Throw in sweet potatoes and shake until well coated.
Place aluminum foil on cookie sheet and lightly spray.
Place coated sweet potatoes onto cookie sheet and spread out evenly.
Bake for 18-22 minutes.
Serve warm and sprinkle with dried parsley if desired.
NOTE:
This recipe calls for 2 potatoes, but can easily be doubled, tripled or even quadrupled for more friends and family members. The sweet potatoes I bought were a pretty good size, so you just have to think about that size and how many people it would feed. Because the hubby and I love sweet potatoes so much we'd probably use this recipe just for us 2. 😉
Hopefully, you'll enjoy this recipe. If you love potatoes like we do, you may also like this recipes…
Brown Sugar Glazed Red Potatoes
If you love potatoes, check out even more recipes:
ENJOY!