Grilled Cheese Sandwiches are a classic in our family. Not only are they easy to make and loved by everyone but are easily changed up by the bread, cheese, fillings and spices used to make them! This version is our go-to!
One of the kids favorite!! They're also huge fans of Pigs in a Blanket, Chicken Tenders, and Pizza Casserole.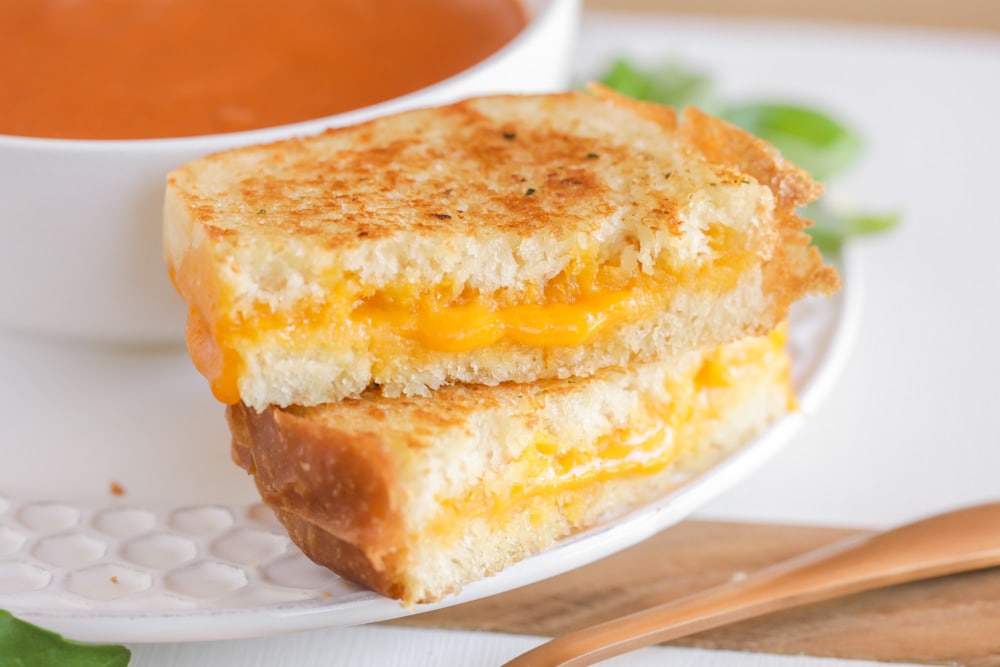 A Family Classic: Grilled Cheese Sandwich
Can we all agree that Grilled Cheese sandwiches are THE BEST?!
It's become tradition in our home to make them every Sunday for lunch after getting home from church. We sometimes have homemade bread handy and make it with that, but usually change it up based on the kid and if they like it with just cheese or maybe a little ham.
No matter how you make it, I think it's safe to say that this recipe is an American classic – definitely a family classic for us. Sometimes you just cant beat buttered bread, grilled and stuffed with cheese!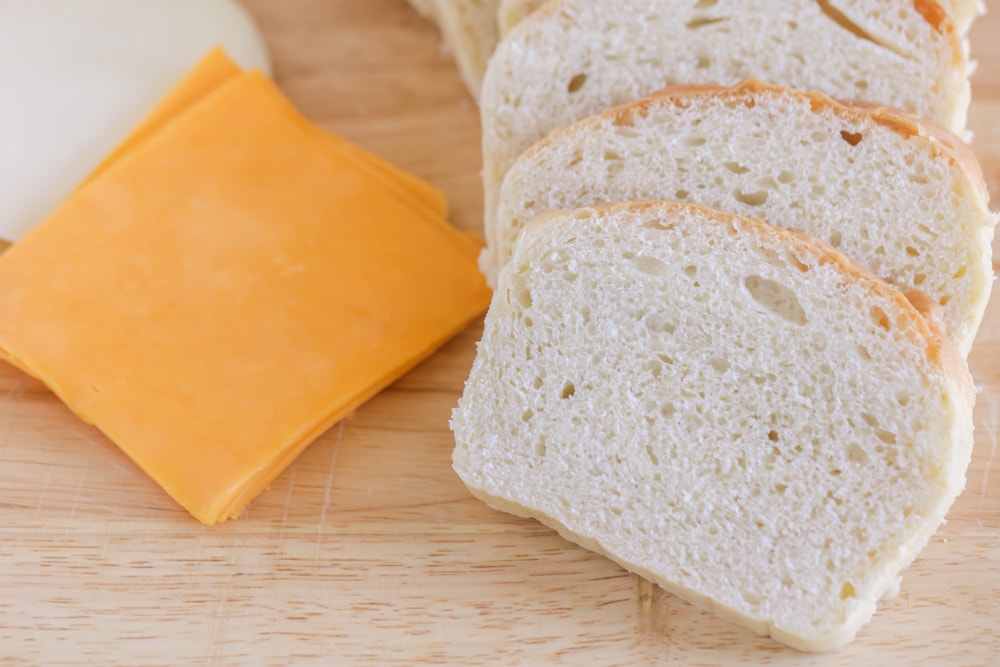 Best Bread, Cheese + more
BREAD: You can use anything from sandwich bread to tight crumb artisan bread. I do suggest that whatever type of bread you use is a couple days old. The drier bread lends to a better browned crust. To speed along the process briefly place the slices in a toaster, just long enough to get them dry, but not long enough to toast. We actually used a few slices of our easy homemade bread recipe – so good!
What is artisan bread? Artisan bread covers a lot different types of bread, but in general is used to identify rustic looking homemade bread with a crusty exterior. Often you can find packages of bread labeled "Artisan Bread". Sourdough, challah, ciabatta, hearth, Italian, bagettes, rye, broche are just a few more of the many types of artisan bread.
CHEESE: AMERICAN and CHEDDAR CHEESE are pretty classic choices, but you can use pretty much any cheese that you love as long as they are within the "melting family". Some ideas include:
Mozzarella

Gruyere

Provolone

Fontina

Taleggio

Raclette

Muenster

Colby

Monterey Jack
Extra flavor and other tips:
Add a spread onto the inside of the bread. Mayo or softened cream cheese are both yummy choices.

Add garlic: Sprinkle the butter coated bread with garlic sat. You can also mix the softened butter with finely minced garlic before spreading it on the outside of the bread.

Be sure to do wall to wall coverage with any spreads that you use.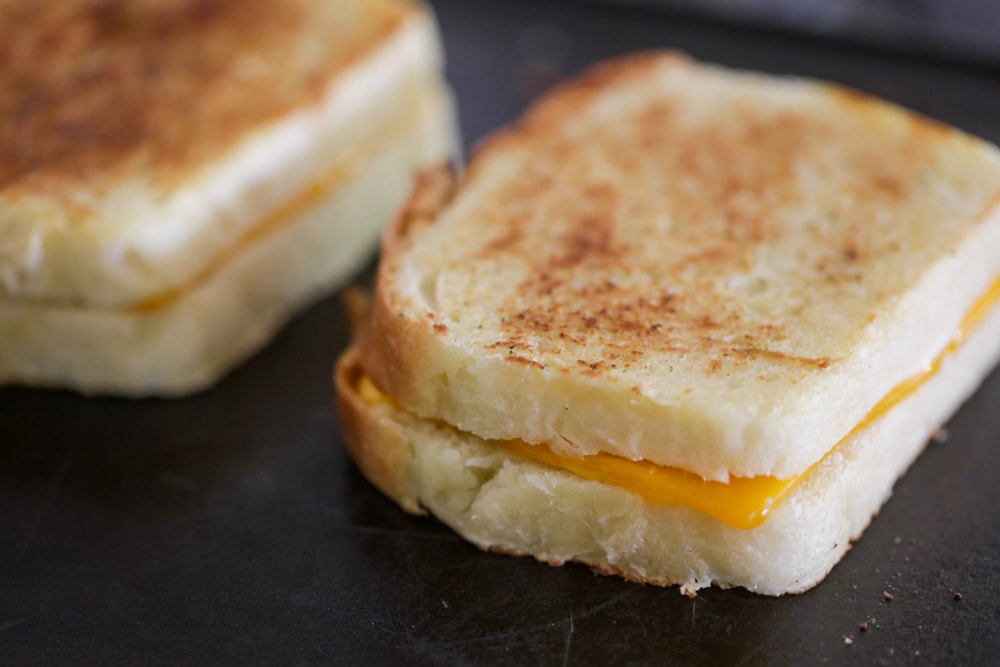 How to Make Grilled Cheese
Making this is beyond simple!
Just butter up one side of bread (you could use mayo instead too) and lay it on the skillet or in a heated pan, add the cheese and then add the other piece of buttered bread. Sometimes we will add a thin layer of cream cheese between the bread before cooking which makes it even better AND/OR do a combo of cheeses.
Cook until golden brown on bot sides and until the cheese is melted. Easy peasy.
Make 'em mini: Large slices are nice to be able to cut diagonally in half. But smaller slices are fun to use to create mini sandwiches. Mini bread slices are perfect to pair with various types of cheese to give guests a chance to sample them all.
Grilling tips:
Using a heavy bottomed pan or an electric griddle really helps the sandwich cook and brown evenly.

Using a panini press is also a great option. Just be sure that the ingredients inside the sandwich don't get squished out under the weight of the press.

Because the bread has a coating of butter you don't need to worry about the pan having a nonstick coating.

Start with a cold pan: This allows for the bread to create a delicious crust while the cheese melts. If you are making several sandwiches then reduce the pan heat between batches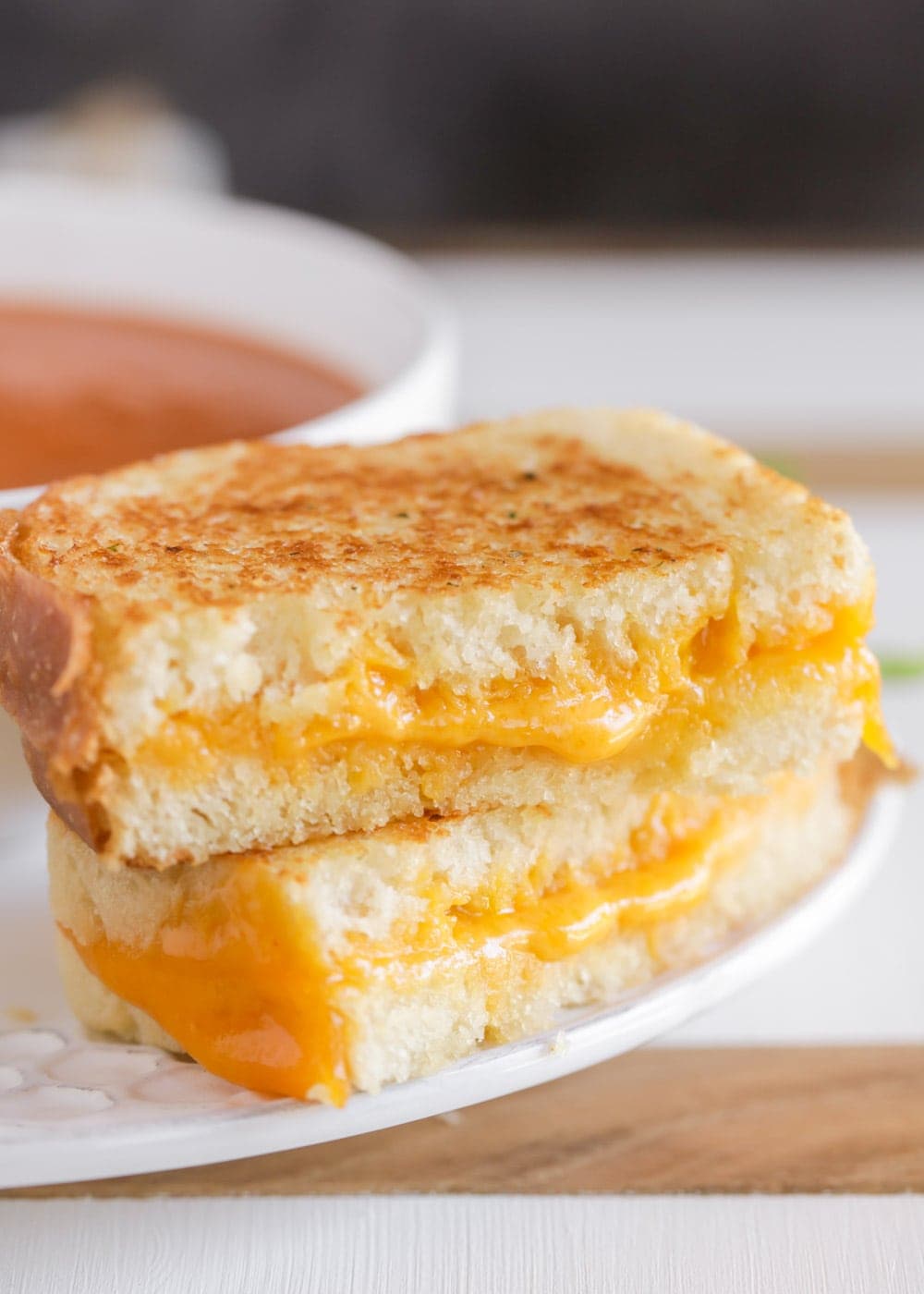 Storing + Reheating
Leftovers: Wrap the cooled leftover sandwiches in aluminum foil. They can be stored in the fridge for 2-3 days. You can also freeze leftover sandwiches. Wrap each sandwich with plastic wrap then again with foil. Freeze for 1-2 months.
To reheat: Reheating leftover grilled cheese on the stove top works the best. You can also use a toaster oven, or a microwave if you're in a hurry.
Stove top: Heat up a heavy bottomed pan. If the sandwich is frozen then only use low heat, otherwise use medium heat. Place the sandwich in the pan. Cover the pan with the lid, but be sure to place it on there crooked so that the steam doesn't build up. Heat both sides of the sandwich until warm and the cheese is melty

.
Soups to serve with grilled cheese:
More Sandwiches
Best Grilled Cheese Recipe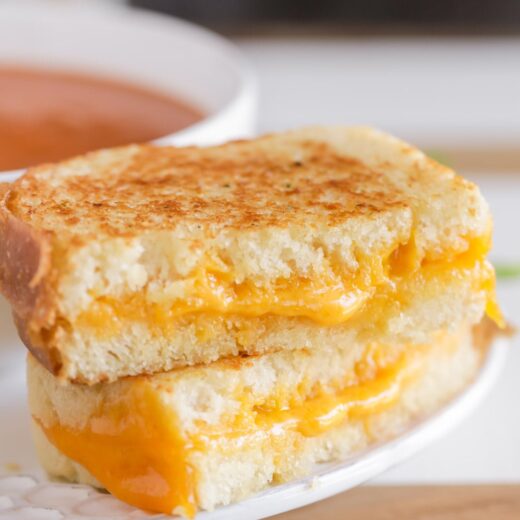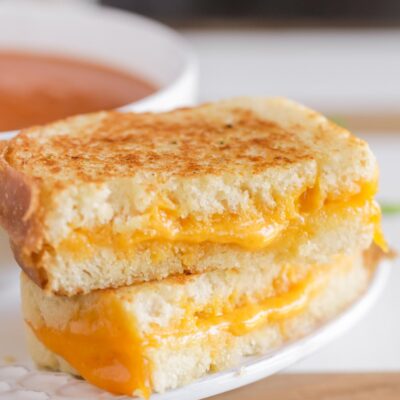 This Best Grilled Cheese is easy to make and loved by everyone. It's easily changed up, but this version is our go-to!
Ingredients
8

bread slices

artisan, sourdough, homemade

4

slices

cheddar cheese

4

slices

provolone cheese

garlic salt (with parsley flakes)
Instructions
Butter up one side of bread (you could use mayo instead) and lay it on the skillet or in a heated pan, add the cheese, and then add the other piece of buttered bread.

Cook until golden brown on both sides and the cheese is melted.