It's no surprise that my family LOVES soup. It's just something us Lunas have always enjoyed which means, we LOVE trying out and find new soup recipes that we love. For the longest time, we've been making this Crock pot Cheesy Potato Soup, because it's easy and ALWAYS a hit!! I wanted to try another Potato Soup recipe but thought I'd try one for Ham and Potato Soup which I knew would be just as good. I'm happy to report that this soup really is delicious! It takes a little more time than our other Potato soup, but it tastes PHENOMENAL. I asked the hubby which one he liked better and he couldn't decide since they are both so good! I feel like this one was a little more cheesy and hearty with the ham chunks, so if you love hearty, warm soups, I suggest trying this one.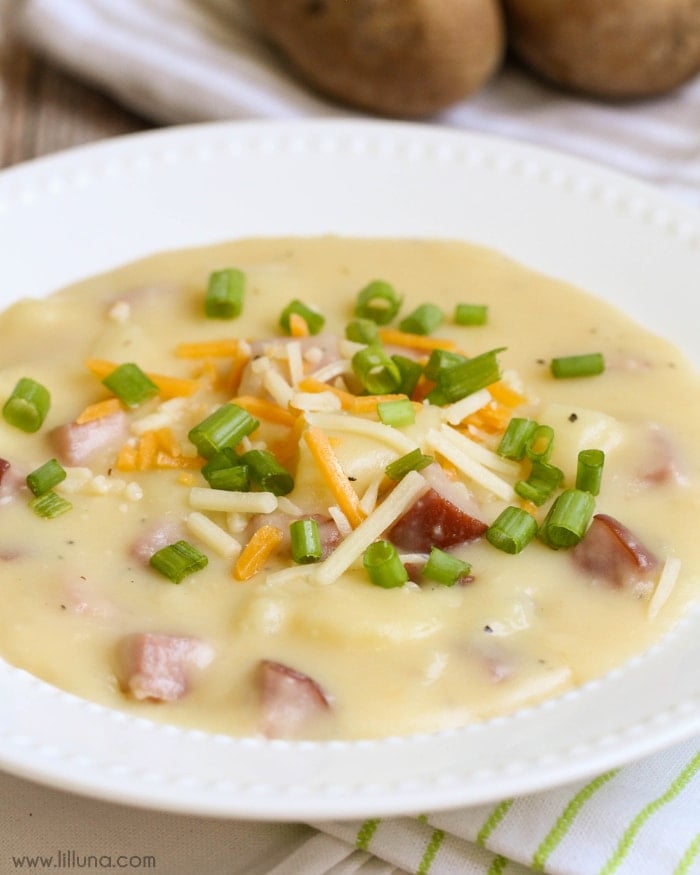 This is one of those recipes we are making a LOT after Thanksgiving. It's perfect to make with all the leftover ham from Turkey Day and is perfect for the cold weather. 🙂
MY OTHER RECIPES
For all those ham and potato lovers – I REALLY think you'll enjoy this recipe!!
For more potato soup recipes, check out:
Cheesy Ham and Potato Soup:
Cheesy Ham and Potato Soup
This Cheesy Ham and Potato Soup is simple and DELICIOUS!! It's super easy to make and full of flavor - potatoes, ham, cheese, scallions, and yummy spices!
Ingredients
4 medium potatoes (peeled and diced)
12 oz. ham, cooked and cubed
4 cups water
2 chicken bouillon cubes
½ tsp. salt
1 tsp. garlic pepper
5 TB butter
5 TB flour
2½ cups milk
1 cup cheddar cheese
scallions
Instructions
Combine potatoes, ham and water in a large pot.
Bring to a boil, then cook on medium heat for 10-15 minutes (or when potatoes are tender).
Add chicken bouillon cubes, salt and pepper. Mix.
In another pan, melt butter on medium heat. Whisk in flour and stir constantly for about 1 minute. Slowly add milk and continue whisking until sauce thickens (about 3-4 minutes).
Add the milk mixture to your pot and cook soup until heated through.
Add cheese right before serving. Top with scallions. Serve immediately.
Recipe adapted from All Recipes.