Even though I don't plan my menu around what my children will or will not eat, over the years I have noticed little things that help make any meal more kid friendly. Que my go-to list of dinner ideas for kids!!
More Collections: Sunday Dinner Ideas, Quick Dinner Ideas, Family Dinner Ideas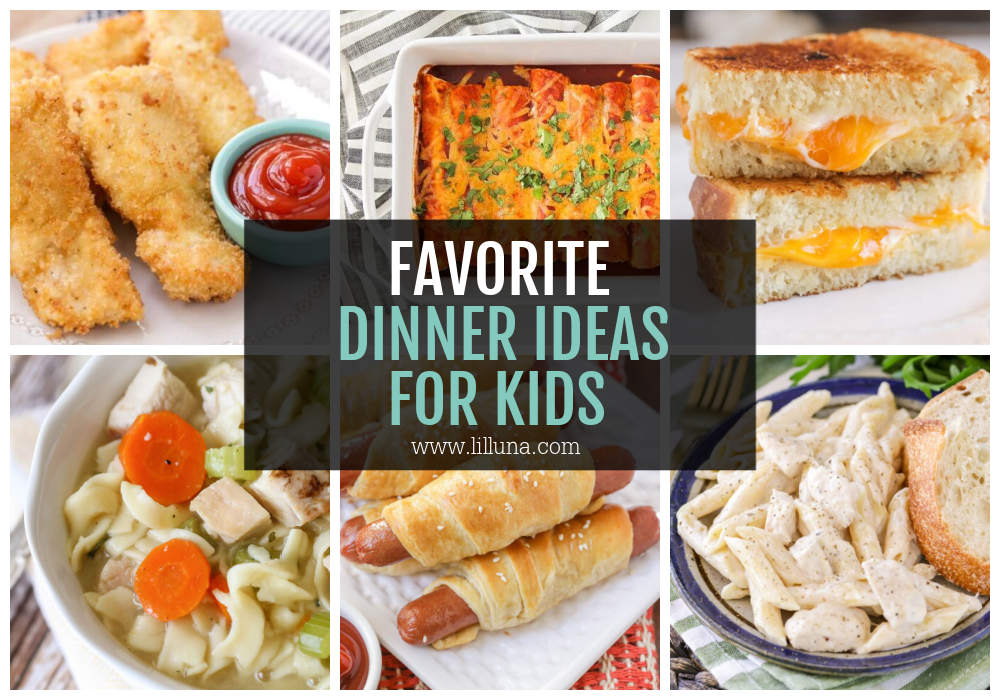 Kids can be picky!
There's not really a hard fast thing that makes things kid friendly, and the more children I have, the more I realize how incredibly different they all are. Including what they will eat.
I have some who will try anything put in front of them and others who turn their noses up at just about everything.
Even then, what they love one day could be hated the next. They are picky eaters who are reluctant to try new foods or even snub certain colors of foods (I'm talking to you, "green" food.)
One thing I decided long ago is that I will not be a short order cook and my family will eat what I serve. Fortunately, we have plenty of yummy dinner ideas that even the pickiest kids will love!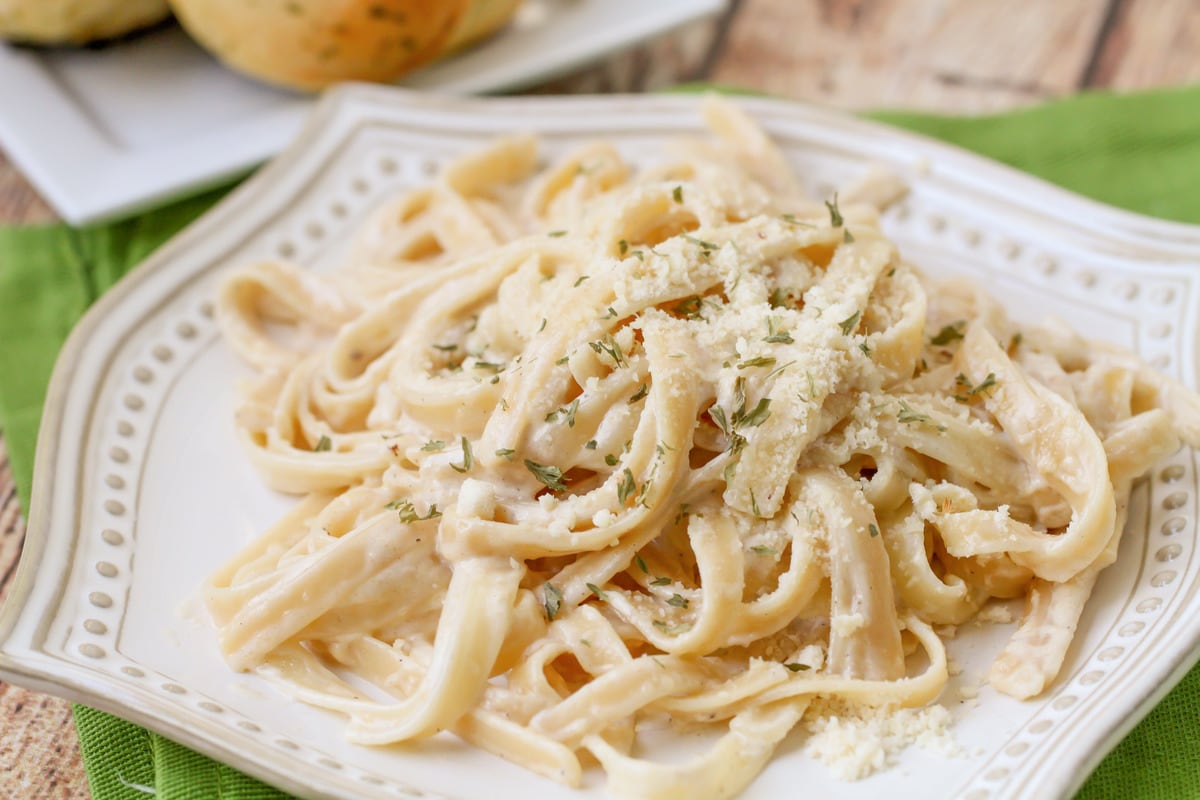 Some of our Family Favorites
Aside from my own children, I have over 30 nieces and nephews and friends of all ages coming through my door and I have found that any one of them will generally eat the following:
Chicken is usually liked by most children. It doesn't have a strong flavor and pairs well with different ingredients. It can be grilled, baked, pan fried and served as a stand alone ingredient or added to soups, salads or casseroles.
Pasta dishes tend to be kid friendly. They are often cheesy or have a flavorful sauce.
Pizza is easy to make, easy to customize to the preference of your family and easy to eat.
Rice is another ingredient that most children will eat. Neither white or brown rice has much flavor on their own and both pair well with all kinds of other ingredients.
Fruit is often the preferred produce. I typically always have some type of fruit available at meal times.
Vegetables that can be dipped in dressing, typically Ranch Dressing. They also tend to prefer roasted vegetables with a bit of cheese over other ways to prepare it.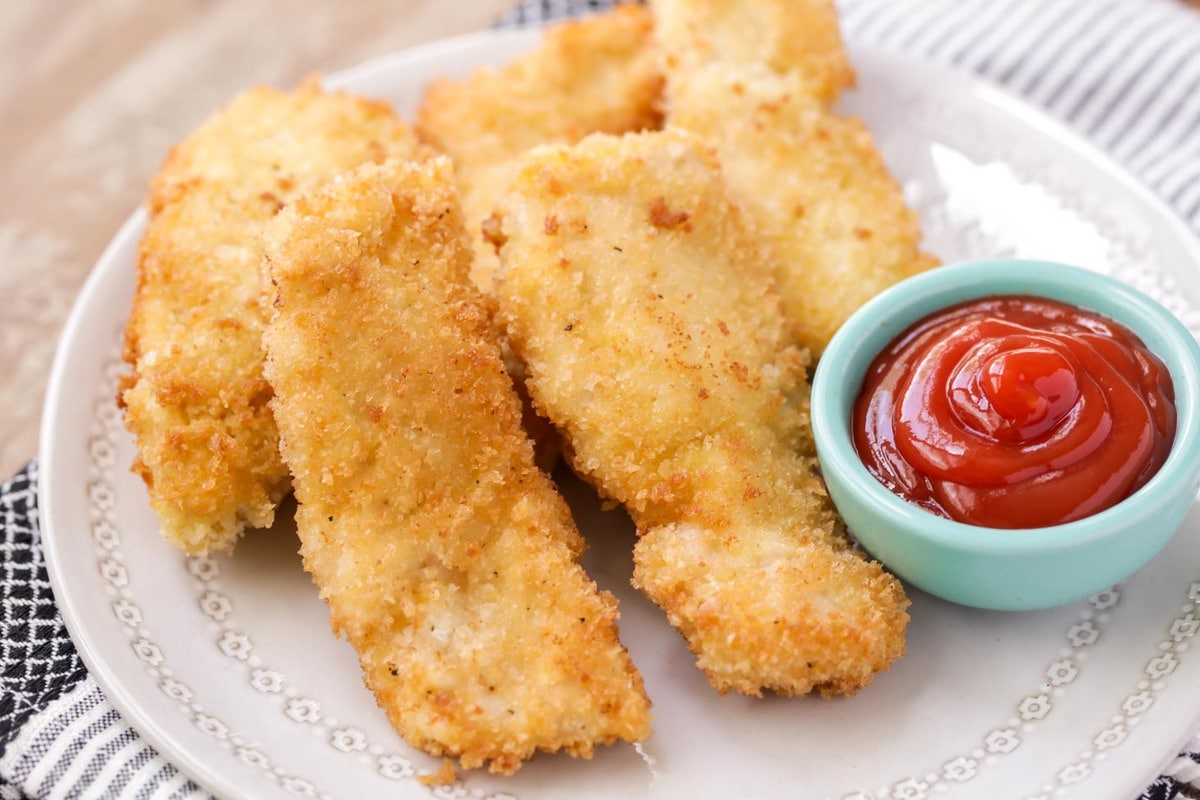 Tips for dinner with littles
Eat together: Have you ever heard the phrase "All your children want for dinner is you?" I wholeheartedly believe this.
I know that everyone's schedules are different and it might be really hard to do this on a regular basis, but even if you make time once a week to sit down together to eat I think you will find it will nurture their souls as well as their bodies.
Have them help: Having my kids help usually means more work for me. It's definitely easier to just do it myself, BUT I have noticed that when they help make a meal they appreciate the effort put into making it. As a result they are more apt to eat it.
Serving dishes: I have some fun plastic baskets that I'll pull out when we're having a BBQ or Picnic. I'll line them with napkins and all of a sudden that same lunch they always eat is new and fun.
There are all sorts of fun dishes, bowls, cups, utensils, straws etc… that you can use to spice up a meal.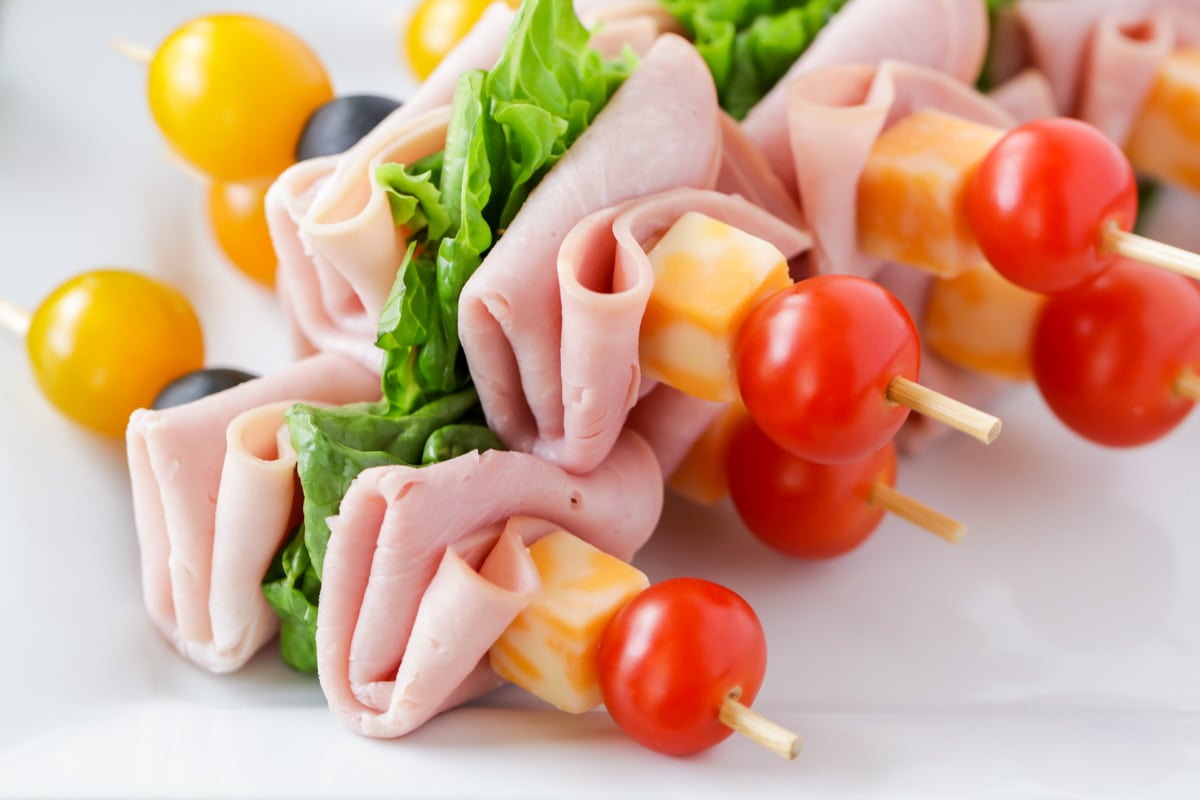 More tips
Be creative: You've probably seen Pinterest pictures of a fruit plate with fruit cut into stars and hearts, or perhaps you've seen the elements of a ham sandwich cut and put on kabobs instead of in between bread slices.
Being creative with a dish takes effort and time that many of just don't have on a regular basis, but every once in a while it's fun to be a little creative.
Little Fingers: A kid friendly meal often involves foods that are easy for kids to eat. Sometimes that means with their fingers, other times it means making it easier for them to use their utensils. For example:
Instead of frying a large chicken breast, cut it up and make chicken strips.
Spaghetti noodles are tricky for little kids to eat with a fork so I'll substitute the spaghetti pasta with penne or wagon wheels.
Make it Mini: Even I find mini versions of a dish irresistible, so it's not surprising that children love mini versions of things. You can easily make mini pancakes, mini muffins, mini cookies, mini quiche, mini corn dogs, mini pizzas and so forth.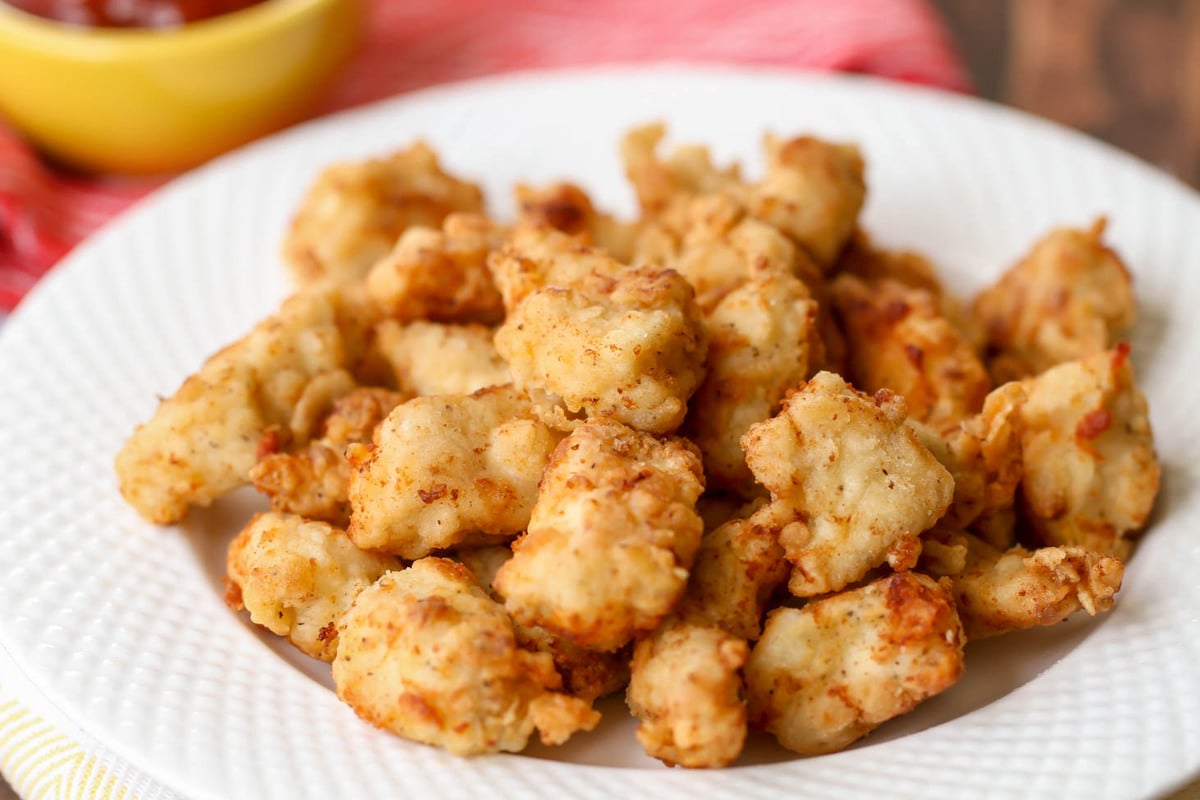 Family Favorite Dinners for kids
Copycat Chick Fil A Nuggets – This recipe allows you to have the crispy, delicious chicken nuggets you love from Chick-fil-A without even leaving your house! These Copycat Chick Fil A Nuggets taste just like the real thing. Best of all, they're ready in less than 30 minutes!
Ham And Cheese Sliders – Everyone loves these Hot Ham and Cheese Sliders because they're easy, cheesy and addicting! They don't take long to make, and are perfect for any get together—always a crowd pleaser!
Corn Dogs – Hand-Dipped Corn Dogs recipe – copycat Disneyland's! Hot dogs dipped in a honey cornmeal batter and fried until crispy!! So good!!
Pepperoni Pizza – This homemade pepperoni pizza is wonderfully crispy every time. Achieve the perfect slice right at home!
Easy Spaghetti – This easy spaghetti recipe is kid-friendly and is made with a delicious homemade spaghetti sauce making it the perfect family dinner recipe!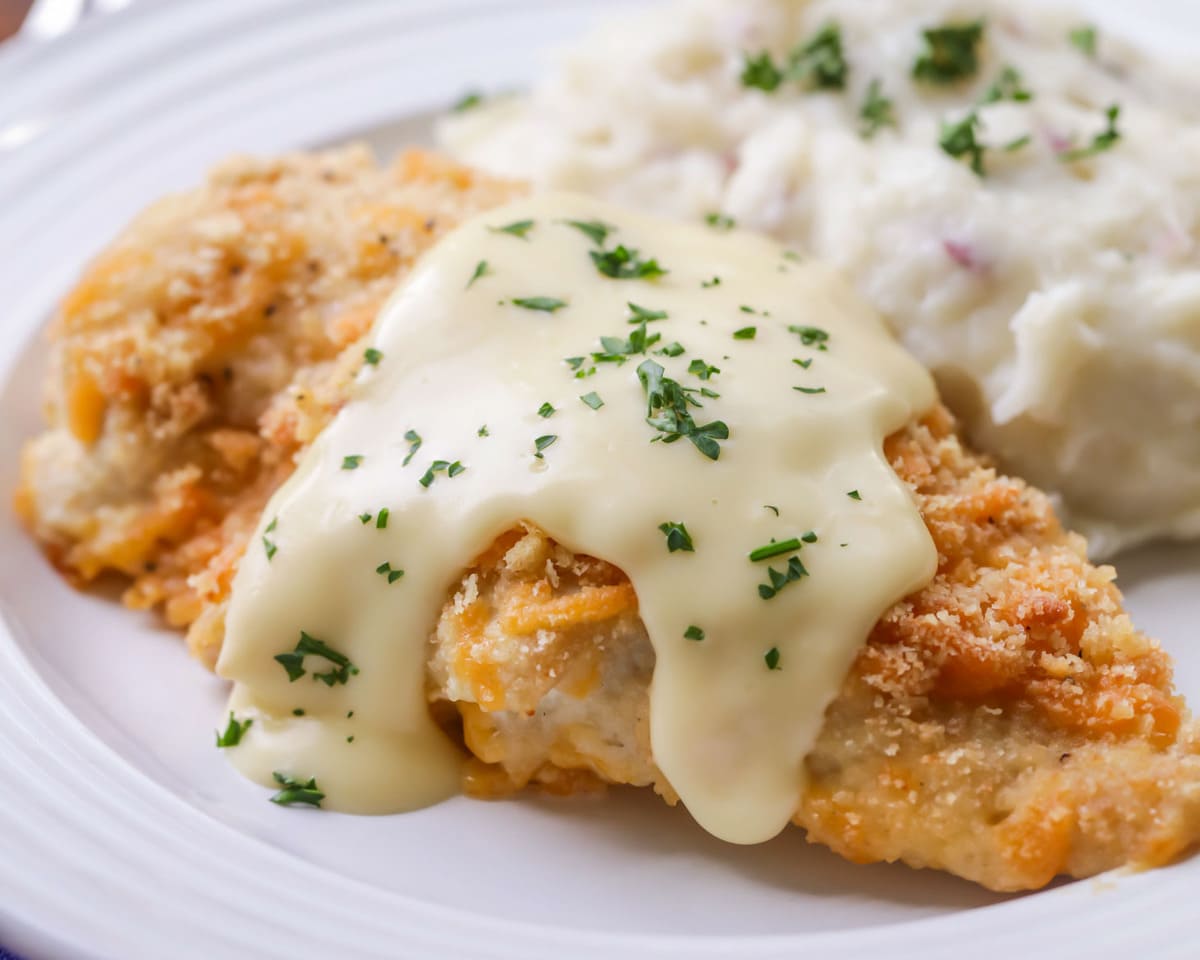 Ritz Cracker Chicken – Crispy Cheddar Chicken is coated in sour cream, cheddar cheese, and ritz cracker crumbs and baked to crispy perfection. Top it with a creamy sauce, and it's to die for!
Chicken Quesadillas – These easy, cheesy Chicken Quesadillas are a crowd favorite. They are not only filled with cheese and chicken, but a delicious homemade sauce that makes these hand-held goodies irresistible!
Homemade Mac and Cheese – The cheesiest, CREAMIEST homemade mac n cheese you'll ever make! Macaroni pasta covered in sharp cheddar cheese, melted into a warm cream sauce, and topped with a perfect panko crust.
Homemade Hamburger Helper – Hamburger Helper is filling and hearty. A perfect dish for the family that comes together in under 30 minutes!
Crispy Chicken Tenders – Chicken tenders are one of our go-to weeknight meals around here. They are simple, always tasty, and my kids love 'em!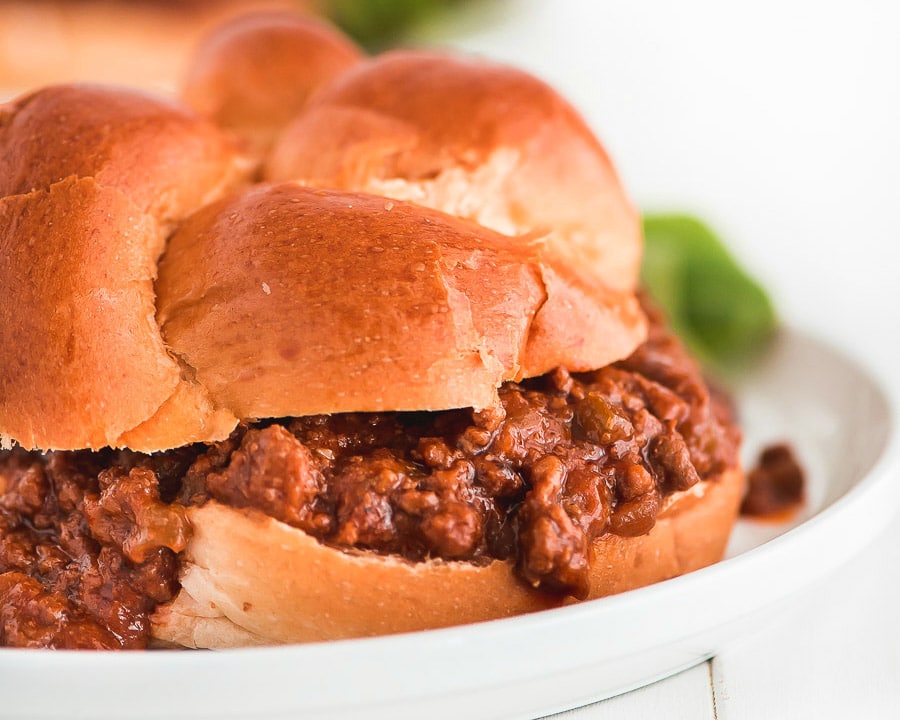 Sloppy Joes – Saucy and savory homemade Sloppy Joes are a delicious meat loaded sandwich. They are quick and easy, perfect for feeding a crowd!
Ultimate Grilled Cheese – Thick slices of artisan bread oozing with three different cheeses make up this Ultimate Grilled Cheese sandwich—inspired by Disneyland's Toy Story Land Grilled Cheese!
Cheesy Baked Ravioli -Easy Cheesy Baked Ravioli – a quick, simple and delicious dinner recipe that the whole family loves! It's so cheesy and so tasty!
Popcorn Chicken – Crispy, delicious Popcorn Chicken is a family favorite!! Not only is it easy to make but it's a hit with the entire family making dinner a cinch!
Easy Fettuccine Alfredo – Easy and Quick Fettuccine Alfredo that takes just 15 minutes to make! This family favorite recipe includes fettuccine, garlic, parmesan, and whipping cream and is sure to become a go-to dinner idea!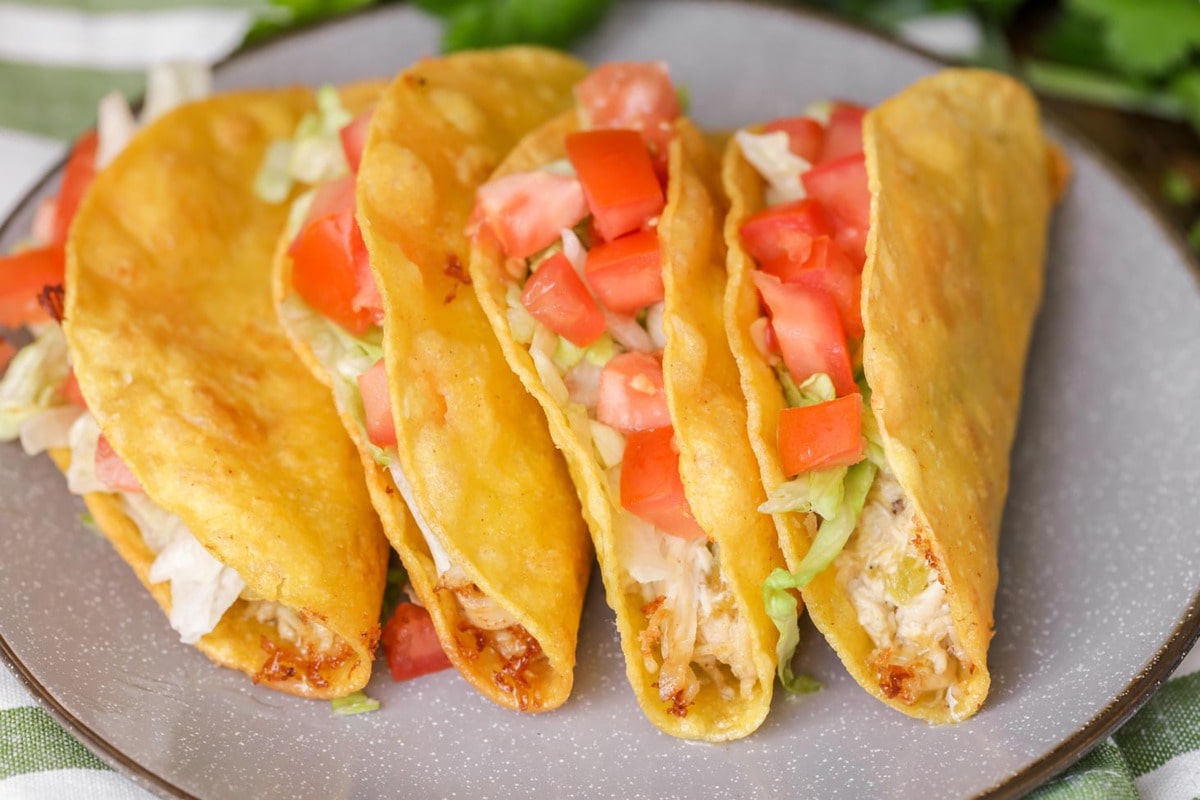 Chicken Tacos – Restaurant-style Chicken Tacos are filled with ingredients like shredded chicken, cheese, lettuce, and tomatoes, all inside a fried corn tortilla.
Chicken Noodle Casserole – Chicken noodle casserole for the dinner win! It's filled with chicken, noodles, broccoli, carrots, and more, and topped with a butter-y cracker crust making it a flavorful family favorite.
Bean Chimichangas – Easy and delicious Bean Chimichangas are filled with beans, cheese and ROTEL and they taste just like the ones at the restaurants!
Chicken Penne Pasta – A delicious and simple Chicken Penne Pasta that is the perfect family dinner. The entire family loves it!
BBQ Chicken Pizza – With barbecue sauce, mozzarella cheese, chicken, bacon, and cilantro, this Barbecue Chicken Pizza will be a new family favorite. Best of all, it's made in less than 20 minutes!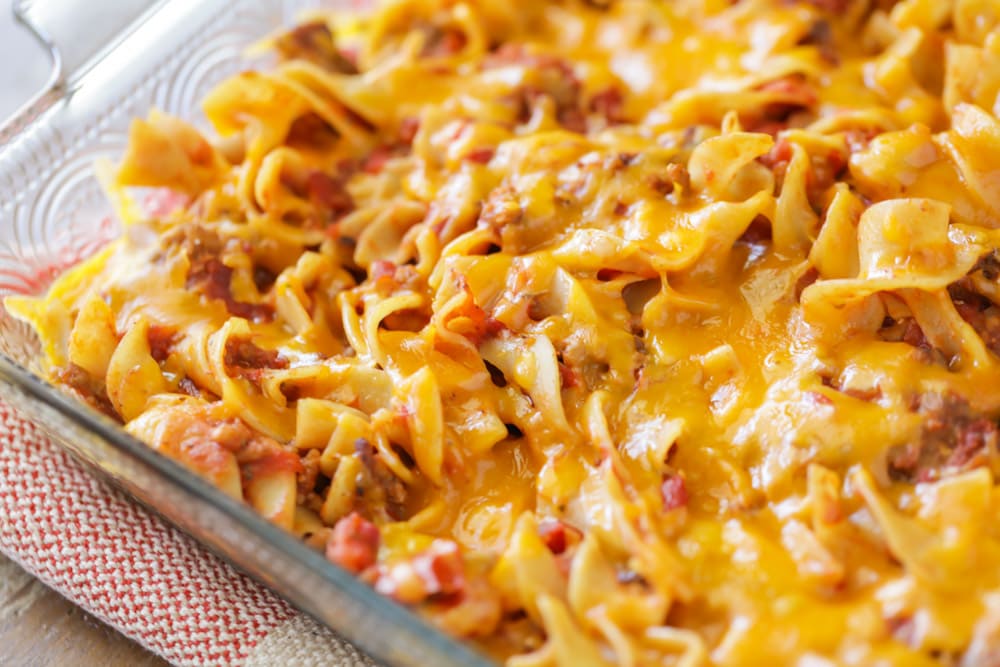 Cheeseburger Casserole – Hearty cheeseburger casserole is filled with ground beef and pasta, and oozing with cheese! It really is everything but the bun.
Chicken Alfredo Pizza – This Delicious Chicken Alfredo Pizza is made with a homemade pizza crust, homemade white sauce and is topped with chicken and spinach.
Beef Stroganoff – This Easy Beef Stroganoff recipe is simple and flavorful. Served with egg noodles, this creamy stroganoff is a classic Sunday dinner recipe Made in the slow cooker and is perfect to enjoy any night of the week.
Baked Ziti – Baked Ziti is an easy baked pasta recipe filled with a cream cheese and tomato sauce and topped with cheese! It's great for feeding a crowd.
Tostadas – Open face tostadas topped with all of your favorite Mexican ingredients! These tasty tostadas are a frequent meal in this house!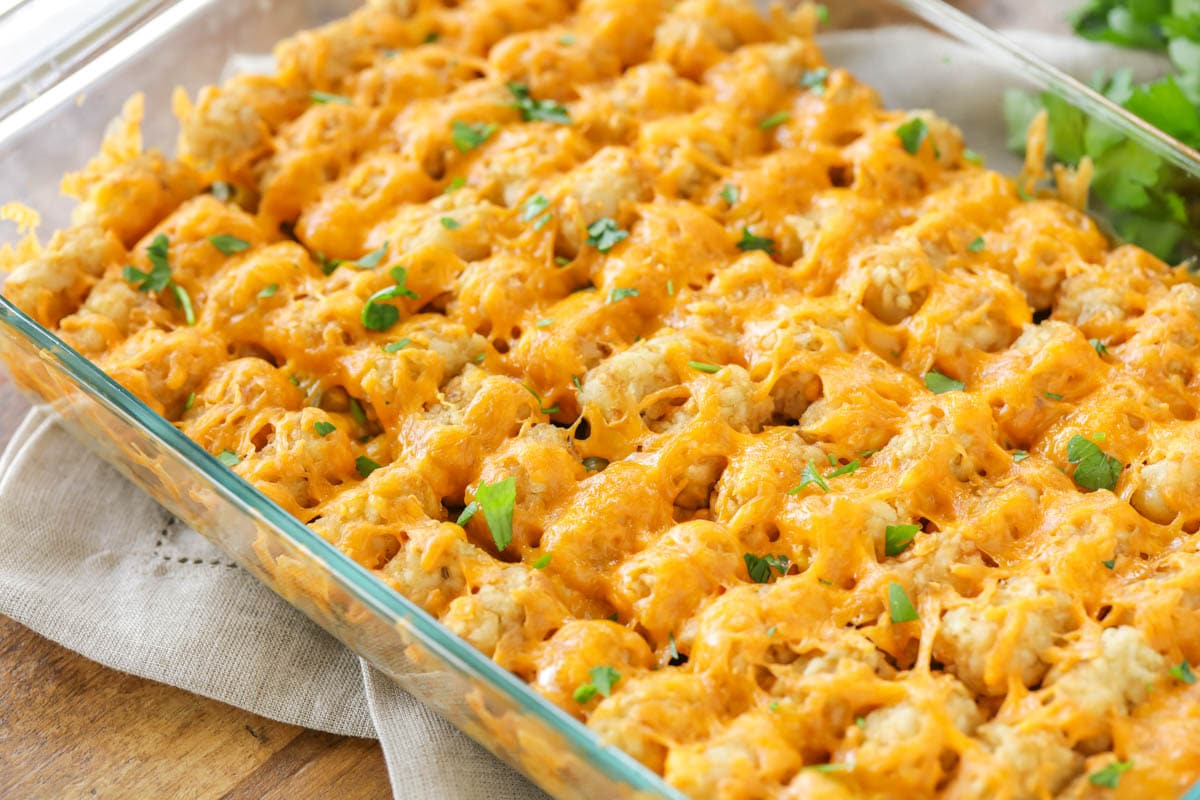 Hamburger Tater Tot Casserole – Homey & delicious hamburger tater tot casserole is layered with flavors everyone will love! It is kid friendly, easy, and freezes perfectly!
Cream Cheese And Chicken Taquitos – You will love these Cream Cheese and Chicken Taquitos filled with cream cheese, salsa, cheese, sour cream and spinach.
Mini Pizzas – Mini Pizzas are bite-sized pizzas topped with cheese, tomatoes, fresh basil and more. They're perfect for lunch, dinner, or even as an appetizer at parties!
Dorito Casserole – Everyone loves this crunchy and flavorful Dorito casserole. It's layered with lots of meat, cheese and (of course!) nacho cheese flavored Doritos!
Spaghetti Pie – Spaghetti Pie makes a hearty and delicious twist for a dinner time win! It's a perfect recipe for busy weeknights and family-friendly dinners.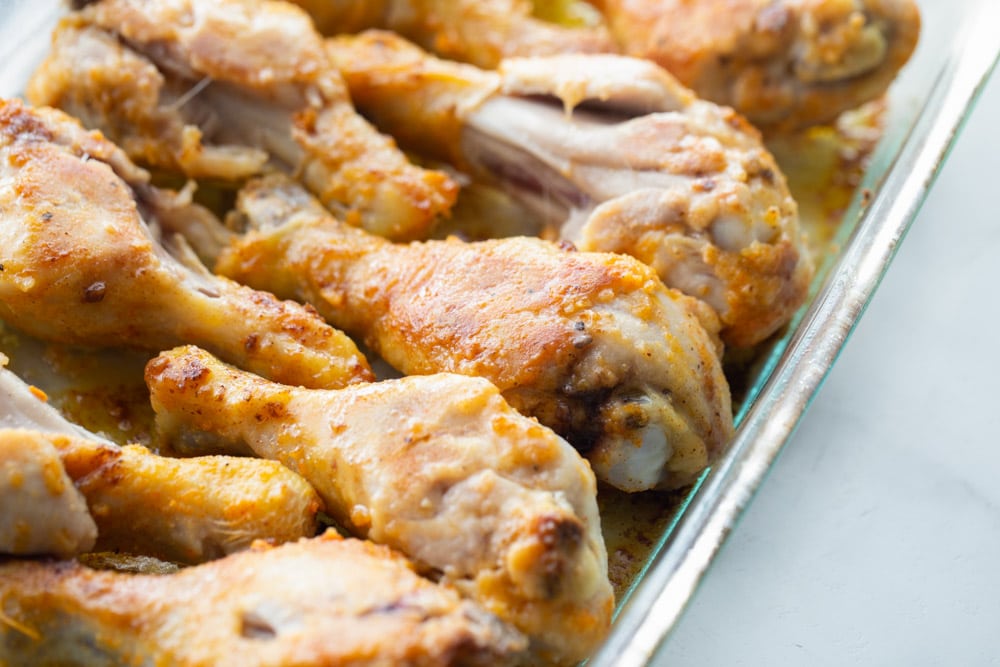 Healthy Dinner Ideas for Kids
There are a lot of ways to make a meal a bit healthier. One of my recents favorites is to use my air fryer instead of pan frying in oil. You can also choose to bake a dish instead of fry it.
Another way is to sneak in some veggies.
Zucchini has become more popular. You can make zucchini noodles or shred it and put it into your baked goods.
Cauliflower is a great rice substitute.
Shredded carrots hide well in red sauces
Baked Chicken Drumsticks – Oven baked chicken drumsticks are a healthy alternative for fried chicken lovers! They are seasoned to perfection and baked, not fried!
Homemade Chicken Noodle Soup – This recipe for Homemade Chicken Noodle soup is one of the easiest, tastiest recipes full of chicken breast chunks, celery, carrots, and home-style egg noodles.
Baked Chicken Fingers – A healthy way to eat chicken that kids absolutely love – Baked Chicken Fingers! Chicken dipped in flour, egg, and panko, then baked to a crispy perfection! Not to mention they're SO easy to make!
Baked Chicken Nuggets – Homemade chicken nuggets are easy to make and packed with flavor! Much tastier than the frozen or fast-food options, these nuggets are healthy and delicious.
English Muffin Pizzas – English muffin pizzas are a quick and easy meal the kids will love. They are savory, delish, and sized just right!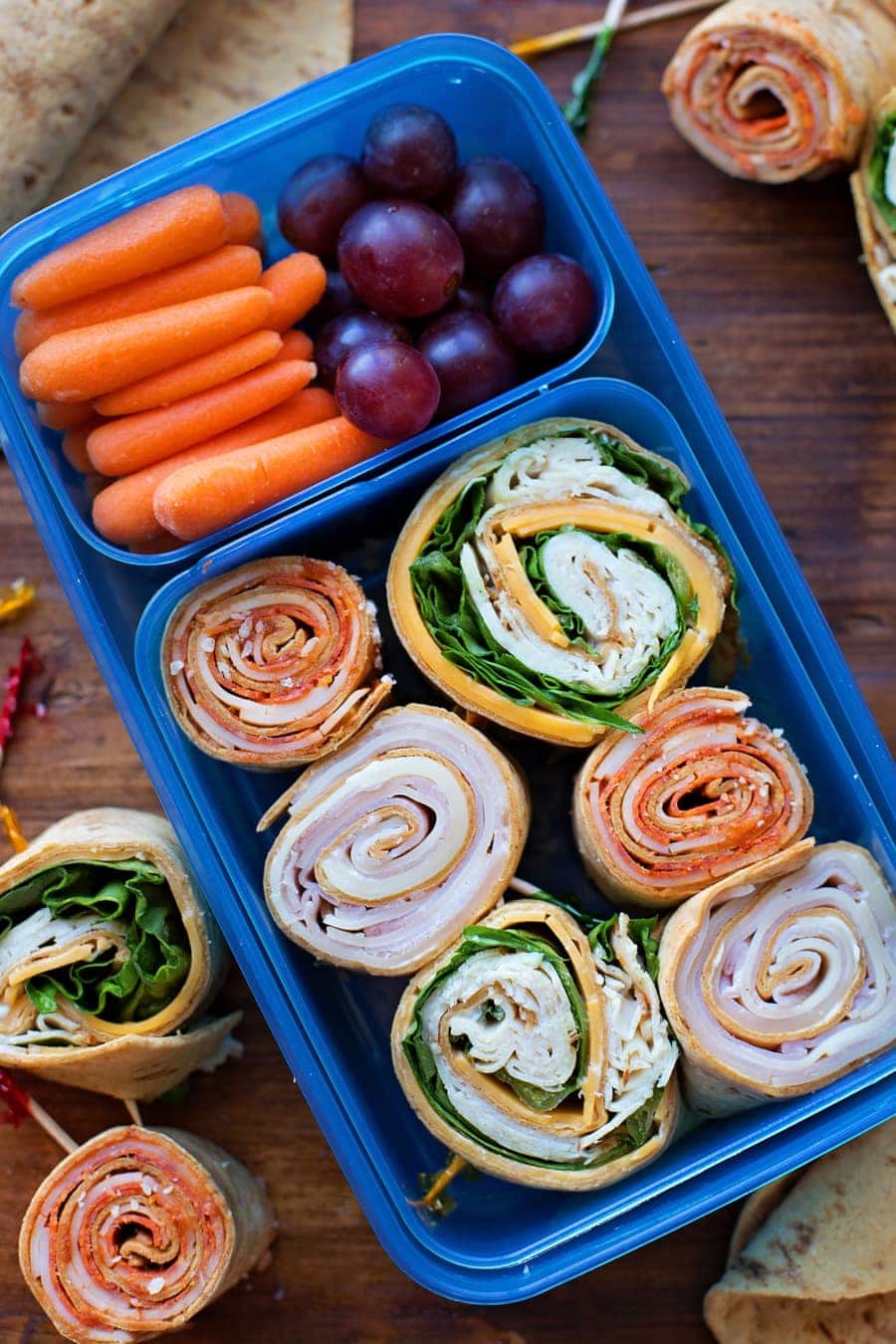 Flatbread Pinwheels – Three variations of delicious flatbread pinwheels are easy to assemble and make the best school lunches, or shareable appetizers!
Zucchini Chicken Alfredo Roll Ups – Zucchini Chicken Alfredo Roll Ups are cheesy & comforting. This easy dish only needs six ingredients & takes only 30 minutes to make!
Flatout Monster Sandwiches – Fun and delicious Flatout Monster sandwiches filled with your favorite meats, cheese and veggies are a hit with the entire family!!
Turkey Chili – Warm up on a chilly fall day with this spicy and flavorful turkey chili. It's packed with veggies, beans, and topped with a little cheese. You'll love every delicious bite!
Baked BBQ Chicken – Easy and healthy Baked BBQ Chicken – You can whip up the sauce, pour it over some chicken breasts, pop it in the oven and you're done!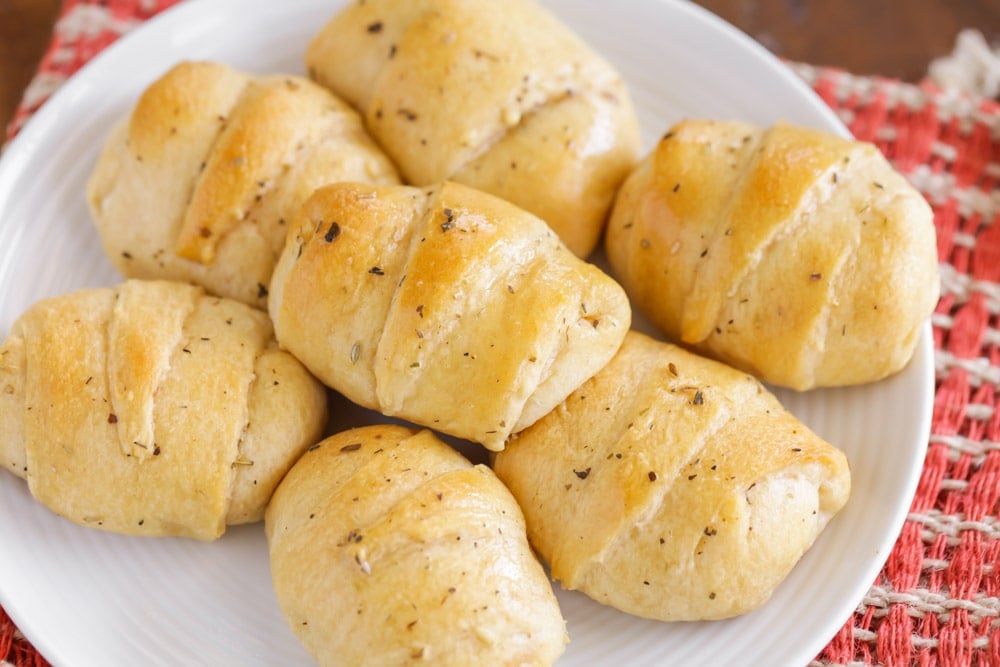 Easy Dinner Recipes for Kids to Make
Kids can be taught how to safely use the stove and oven to make simple meals. You will need to be there to help teach them and will often feel it would be faster to just do it yourself, but in the long run you will be so glad you invested in their cooking skills.
(You know your children best so use your best judgment to determine when they are ready to be making meals on their own.)
Many soups are dump and simmer. Kids just need to learn how to use a can opener, chop simple vegetables and how to simmer on the stove.
Waffles and pancakes are easy for kids to master and who doesn't like breakfast for dinner!
Pasta is easy to cook and can be combined with many different pre-made sauces.
Pizza is fun and simple especially when using refrigerated pizza dough.
Sandwiches and Sliders are tasty and simple to make.   
Salads are easy to prepare and customizable to everyone's preference.  
Ground beef is easy to cook for dishes like tacos and sloppy joes. 
An air fryer is a great alternative and safer than deep frying.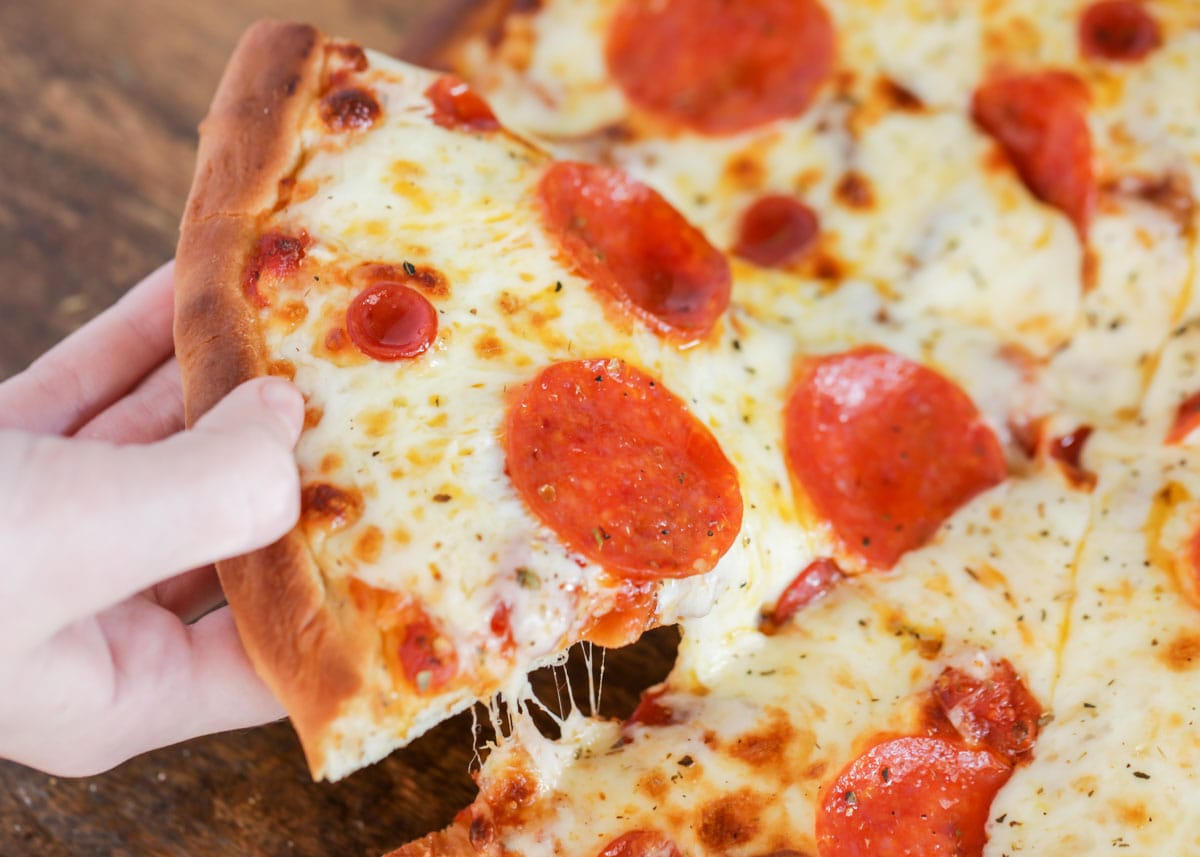 Our Kids' Favorites
These tasty dishes are not only kid-friendly dinners, but easy dinner ideas that the kids can be involved with the cooking process!
Pizza Roll Ups – Crazy fast and easy to make, these pizza roll ups are oozing with cheese and pepperoni. They are tiny pockets of big flavor!
Mini Deep Dish Pizzas – Mini Deep Dish Pizzas are our new favorite dinner recipe. They're easy, quick and can be made custom for each person with their favorite toppings!
Heart Shaped Pepperoni Pizza – Adorable homemade heart shaped pizza is deliciously simple. This tasty dish is ready to enjoy in only 30 minutes!
Hot Dog Nuggets – Hot Dog Nuggets only require TWO ingredients and make a perfect for lunch, dinner or even a party appetizer! Kids and adults alike will love these little bites.
Walking Tacos – Walking tacos are an easy grab and go meal that is full of flavor! They are no mess, easy to make, and perfect for large gatherings!!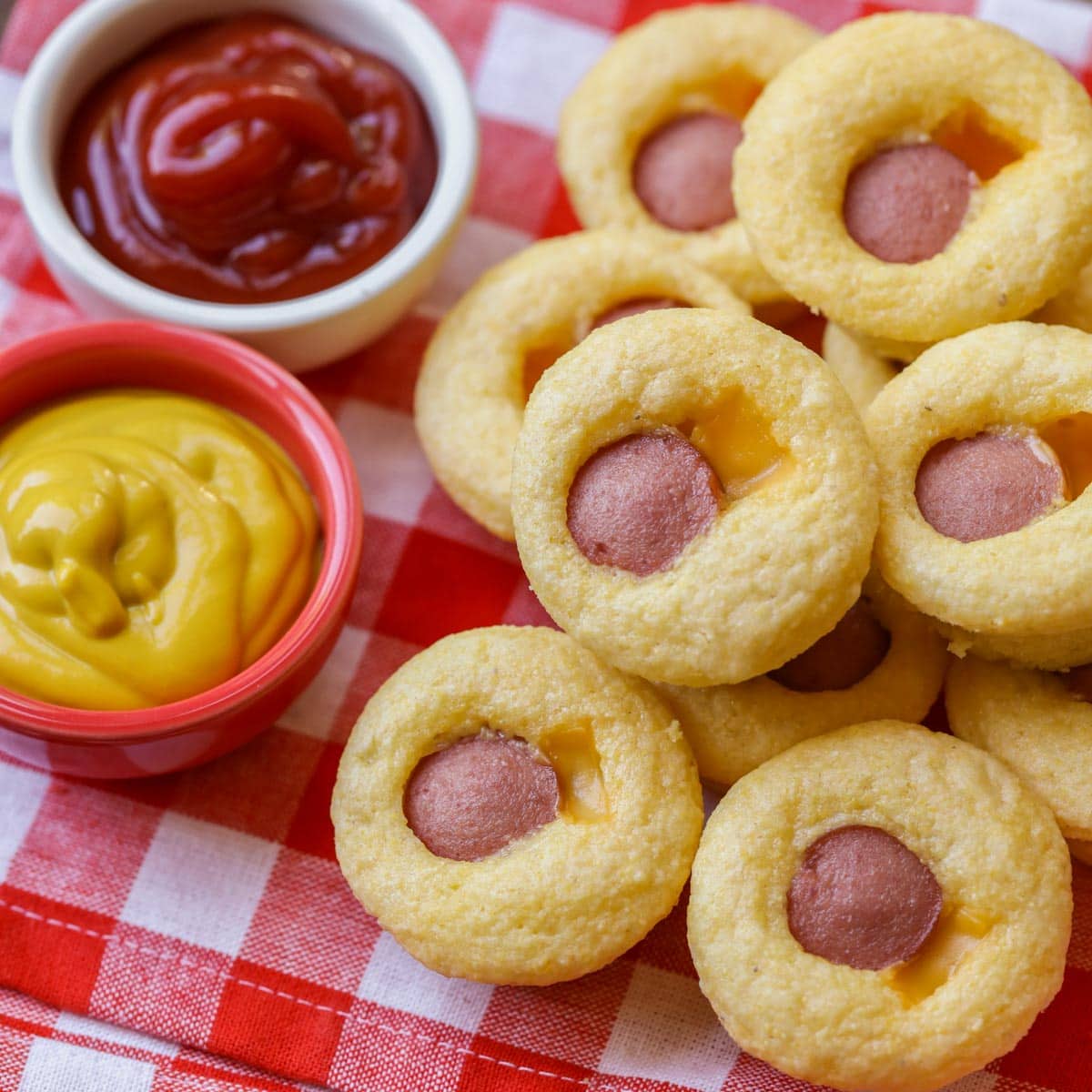 Corn Dog Muffins – Mini corn dog muffins are yummy and kid friendly. These tasty bite-size snacks are ready in under 20 minutes!
Easy Pizza Casserole – A quick, easy and delicious dinner idea that the whole family will love. Prepped in 5 minutes and made in under 30 minutes!Pizza Casserole
Hot Ham and Cheese Roll Ups – Crazy quick and easy hot ham and cheese roll ups require only 3 ingredients and are ready in minutes. Just be sure you make extras!
Pigs In A Blanket – A yummy lunch, dinner, or snack idea for the whole family! Homemade pigs in a blanket with delicious crescent dough and a sprinkling of sesame seeds on top!
Grilled Cheese – Grilled Cheese Sandwiches are a classic in our family. Not only are they easy to make and loved by everyone but are easily changed up by the bread, cheese, fillings and spices used to make them!
---
The COmplete List
Here are the picture cards for ALL of the tasty Dinner Ideas For Kids listed above.
With so many amazing choices you're sure to find some new kid friendly favorites the whole family will love!
---
More Collections: Healthy Dinner Ideas, Pantry Staple Recipes, Beef Dinner Ideas