This Easy Beef Stroganoff recipe is simple and flavorful. Served with egg noodles, this creamy stroganoff is a classic Sunday dinner recipe Made in the slow cooker and is perfect to enjoy any night of the week.
Whether it's for Sunday dinner or during the week, this classic pasta dish is a family-favorite. Serve it up with some garlic bread or mashed potatoes and you're set!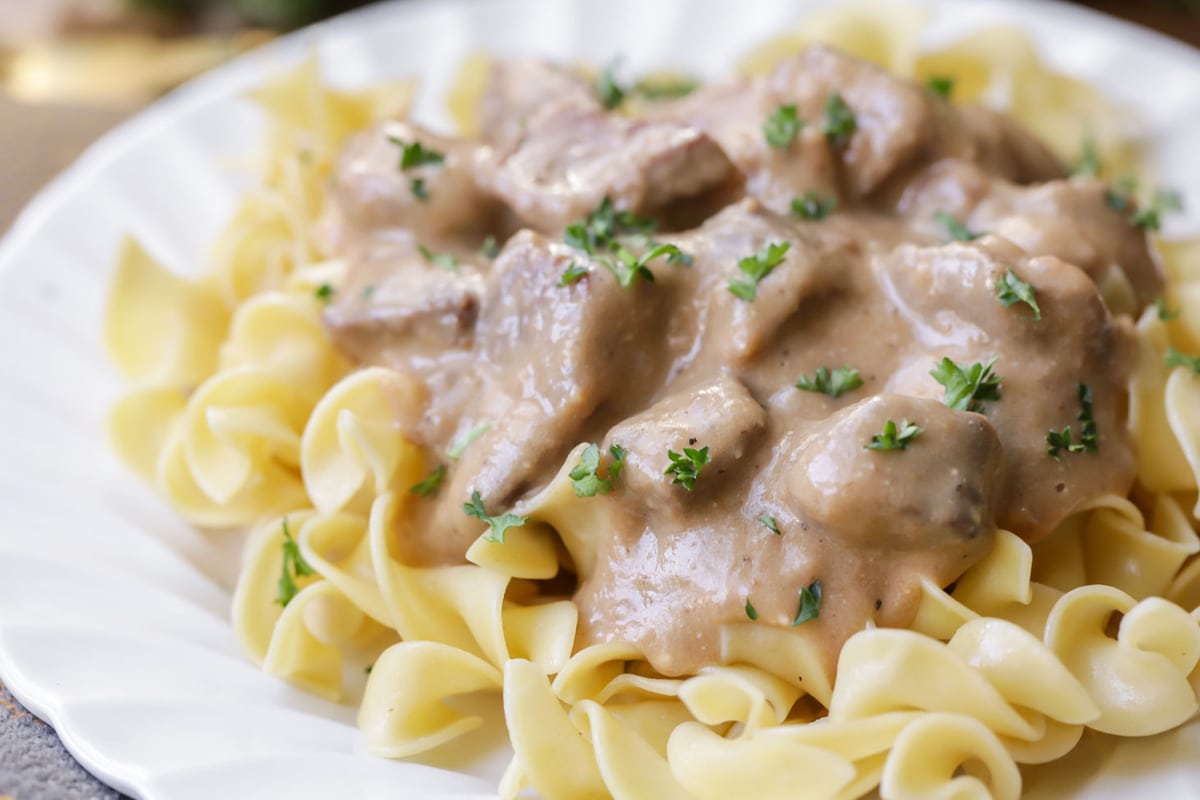 quick & easy dinner
There are several recipes that I remember having ALL.THE.TIME as a kid. One of those happens to be this Beef Stroganoff recipe pictured above.
It's a dinner recipe that we had all the time as a family and was changed up depending on the meat my mom used. Sometimes she used chuck roast, hamburger or steak. It varied every time, but every time we loved it!
It's a very kid-friendly recipe that was well accepted since it was basically a yummy sauce, meat and pasta… and we all know that you can't go wrong with those ingredients. 😉 Am I right?!
If you're like me, always looking for simple but tasty recipes the whole family loves, then I suggest trying out this stroganoff recipe. It's so flavorful and is sure to become a new go-to recipe for the fam!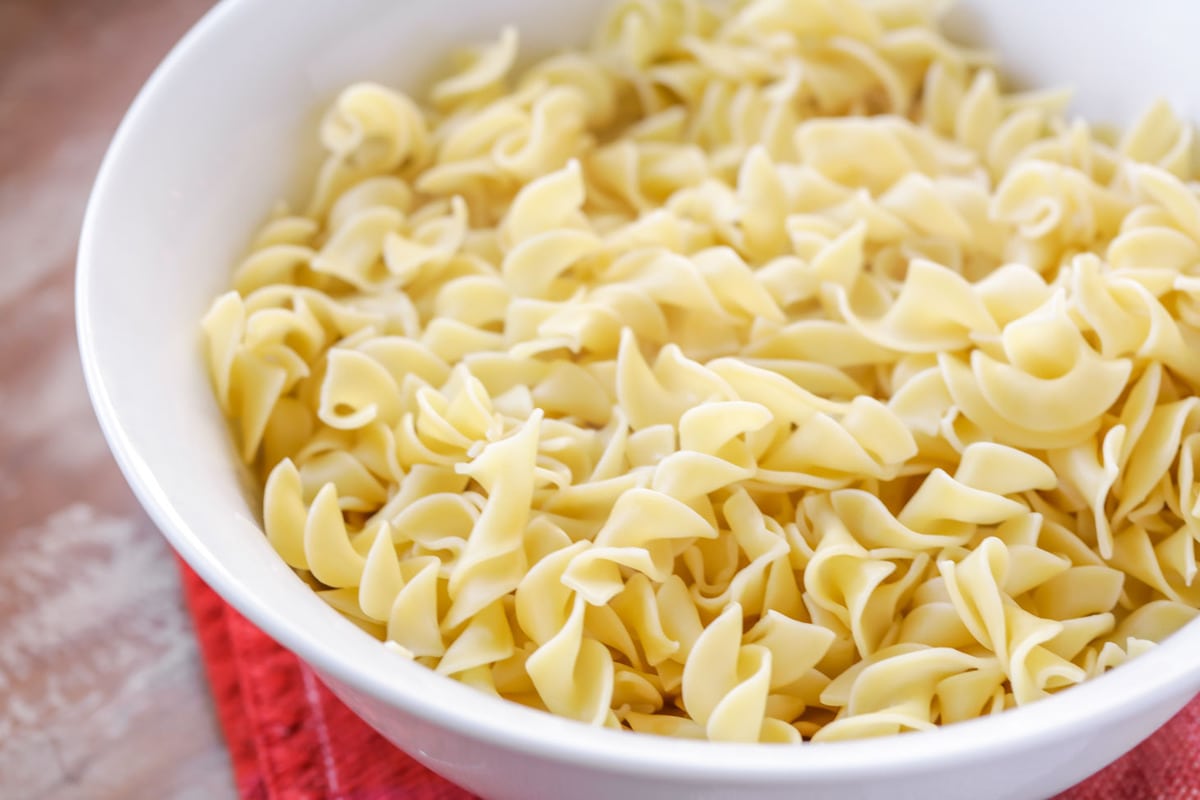 How to Make Beef Stroganoff:
We love that this recipe is beyond simple and can simmer in the crock pot. Yes, you will need to make the noodles right before serving, but it's so easy that anyone can make it. Here are the ingredients you'll need…
INGREDIENTS:
canola oil
meat – roast, sirloin, hamburger (your meat of choice)
flour
beef broth
sour cream
egg noodles (We like to use the egg noodles since those are standard stroganoff noodles, but any work).
salt and pepper
Once ingredients are gathered, just follow these easy steps to make this slow cooker stroganoff…
BROWN MEAT. Add oil to a skillet on medium high heat. Toss meat with flour and salt and pepper to taste. Brown meat in hot oil, about 2 minutes per side.
Add meat and beef broth to crock pot and and let cook on LOW for 3-4 hours, stirring occasionally.
NOODLES. Cook egg noodles according to package directions.
SAUCE. Add sour cream to meat mixture and combine right before serving. Add noodles to mixture and combine or serve gravy meat over a bed of noodles. Garnish with parsley if desired.
We love the stroganoff sauce recipe these ingredients make. It's creamy, flavorful and so delicious!
Can this stroganoff be made on the stove? Of course – just cook the meat and broth in a large pot for 30 minutes. Add sour cream and cooked noodles right before serving.
Why do you add the sour cream last? Sour cream contains natural acids which, when heated, causes the dairy proteins to curdle at a faster rate. You can keep this from happening by adding the sour cream at the end.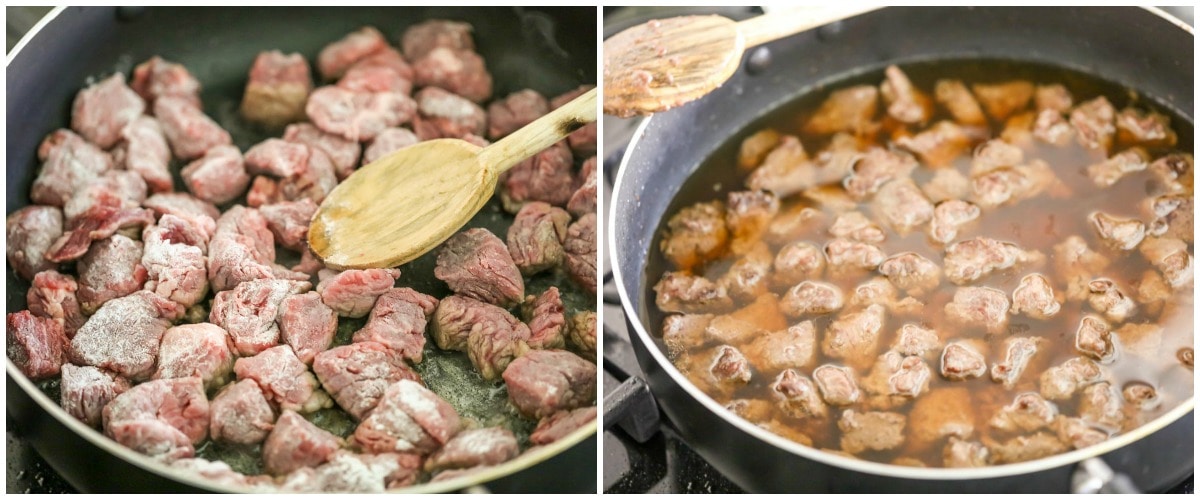 Variations and STORING TIPS
While this dish is delicious as it is sometimes it's nice to change things up a little. Try some of these ideas:
Sautee mushrooms and onions with the meat before adding it to the crockpot

Serve over rice or mashed potatoes

Garnish with chives and parsley
As mentioned above, we also change out the meat we use for the dish – sometimes it's hamburger, sometimes it's roast. We also like to make our Chicken Stroganoff recipe, which is delicious too!
How to store and reheat stroganoff leftovers:
Fridge: store in an airtight container in the fridge for 3–4 days.

Freezer: store in an airtight freezer safe container for up to 3 months.

Reheat: If frozen, then thaw overnight. Reheat in a crockpot, stove top or in the microwave.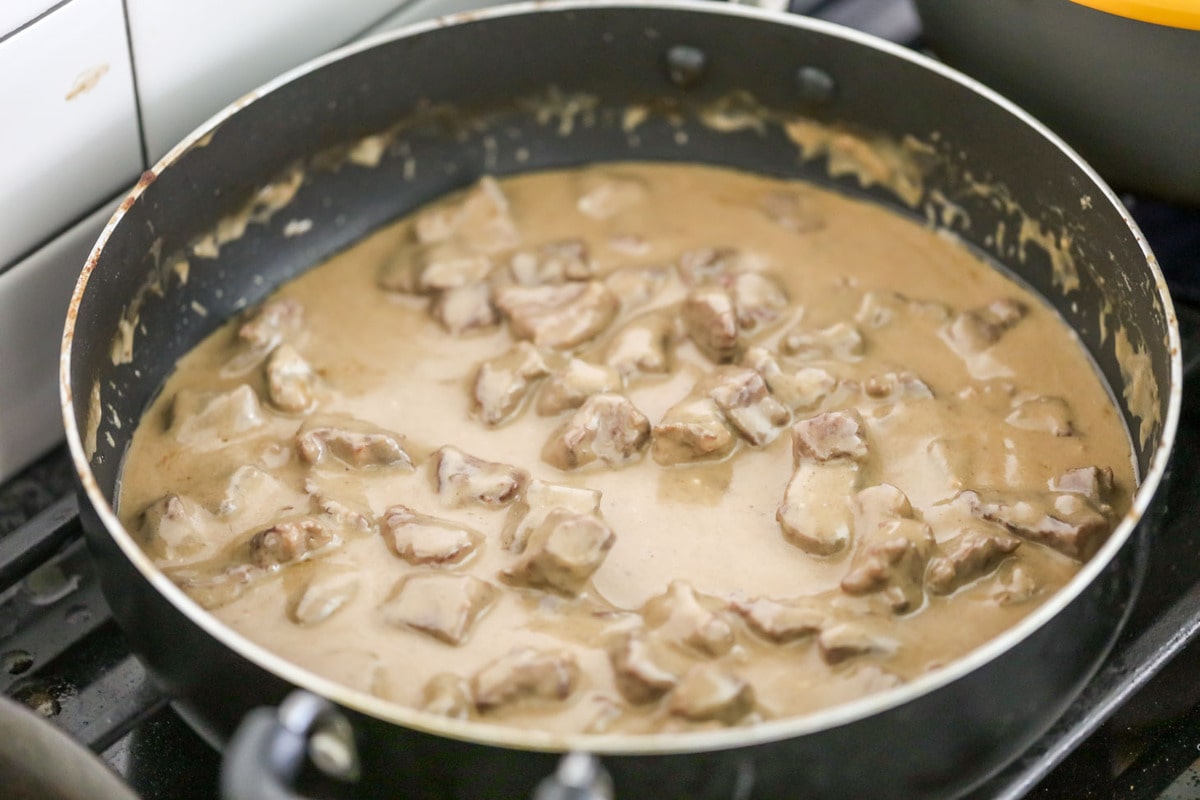 BEST SIDES TO SERVE
Because this is one of our go-to dinner recipes, we love to change out the sides we serve with. Here are some of the dishes we love to make with this stroganoff:
Be sure to check out all our side dishes to decide what to pair with this dish.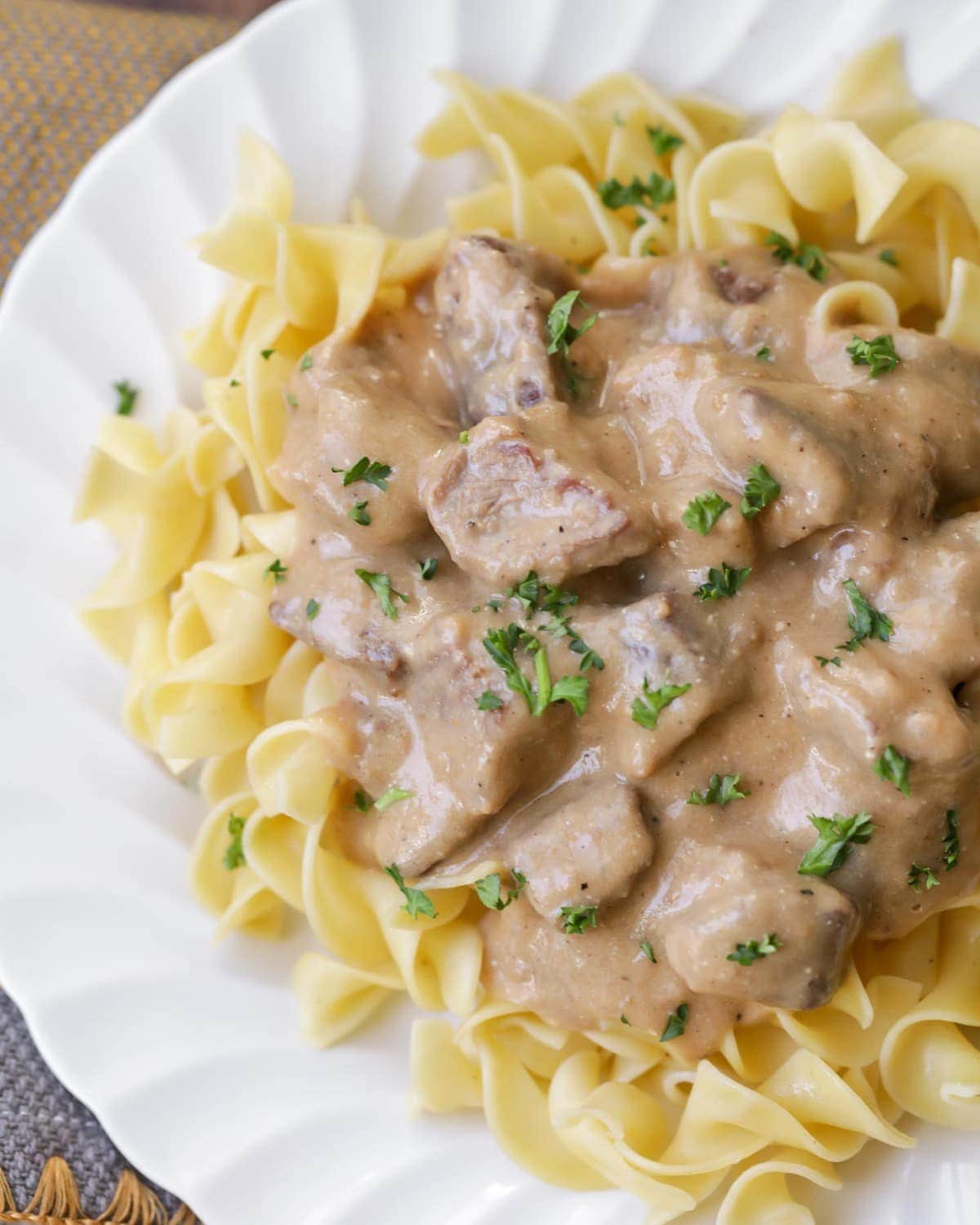 Again – we love that this recipe is so simple and delicious. We've tried many versions over the years and this one is our favorite! It's beyond easy and made in the slow cooker too. – what's not to love.
If you're more a chicken fan, you can also try our Chicken Stroganoff version, which is also amazing! Whichever version you try, we have a feeling this recipe will be a hit with the whole family so let us know what you think if you try it. 😉
For more pasta and meat dishes, check out:
Beef Stroganoff Recipe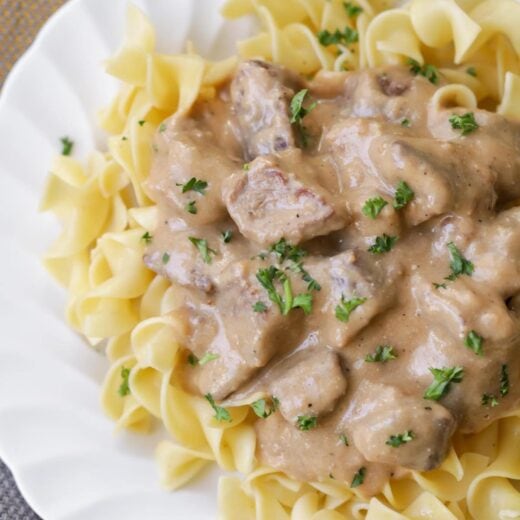 This Easy Beef Stroganoff recipe is simple and flavorful. Served with egg noodles, this creamy stroganoff made in the slow cooker is a classic Sunday dinner recipe and is perfect to enjoy any night of the week.
Ingredients
2

tbsp

canola oil

1 1/2

lbs

chuck roast or sirloin steak, sliced into bite size strips

1/4

cup

flour

2

cups

beef broth

1

cup

sour cream

1

package

egg noodles

salt and pepper
Instructions
Add oil to a skillet on medium high heat. Toss meat with flour and salt and pepper to taste. Brown meat in hot oil, about 2 minutes per side.

Add meat and beef broth to crock pot and and let cook on LOW for 4 hours, stirring occasionally.

Cook egg noodles according to package directions.

Add sour cream to crock pot right before serving and stir. Pour over noodles and serve. ENJOY1