This Homemade Chicken Stroganoff is perfect for dinner any night of the week. Its full of flavor and is made start to finish in under 40 minutes!
We've always loved Beef Stroganoff, but chicken and mushrooms gives this dish a different (and still delicious!) flavor profile. It's perfect for a quick and easy dinner.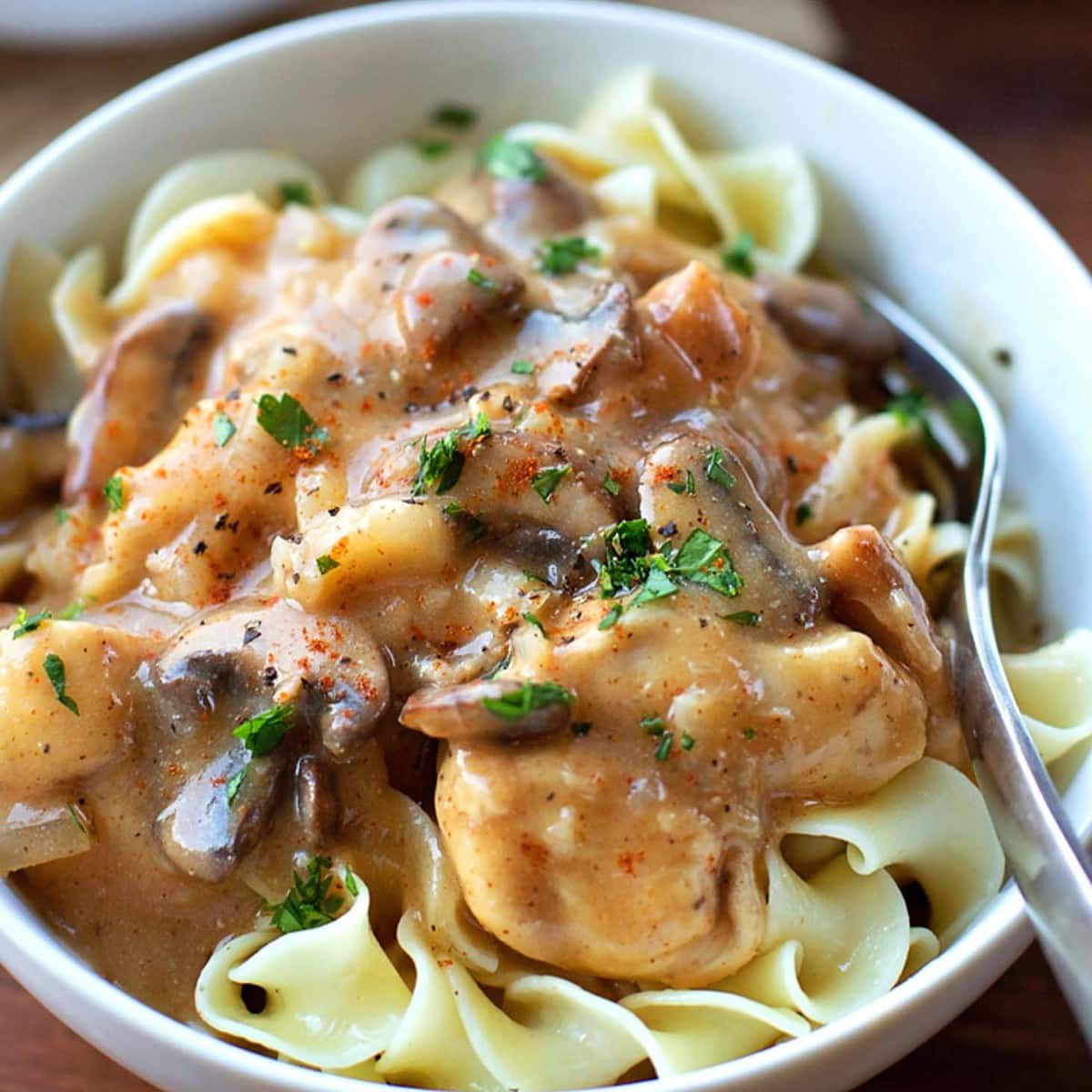 Easy Chicken Stroganoff
Hi there! Natalie from Life Made Simple here today!
I always struggle with what to make for dinner during the week, how about you? That's where this chicken stroganoff comes in.
It only takes 40 minutes start-to-finish and it's so filling and delicious, you'll want to lick your plate clean – our 2 year old did!
We've realized our kids love anything with pasta and a good sauce, and that's what this recipe has. Add some chicken and you make it even more healthy and get some protein in too – WIN!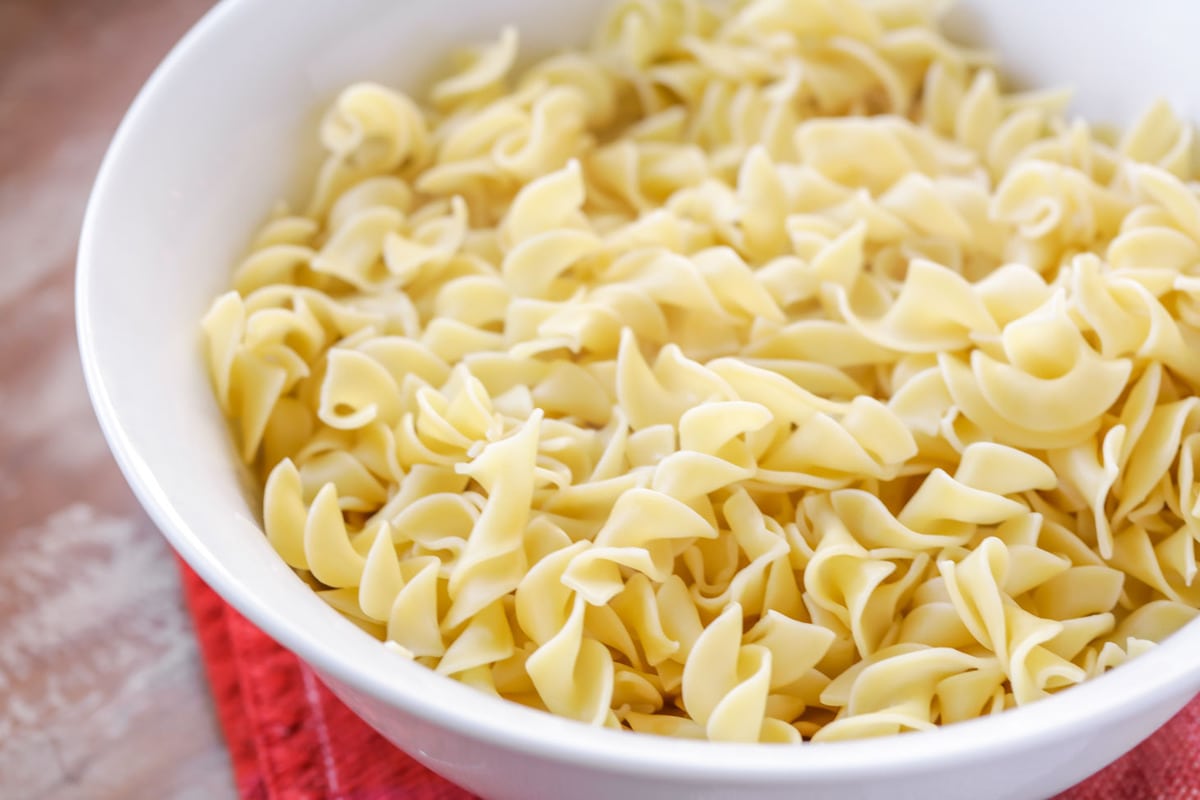 How to Make Chicken Stroganoff
Begin by gathering your ingredients and then follow these directions to make this hearty pasta.
CHICKEN. To start you'll want to cut and season about a pound of chicken breasts. Once you brown the chicken, transfer it to a plate and make the sauce.
SAUCE. I like to start by browning my mushrooms. I get them nice and dark, then I add the shallot, onion and garlic. For added flavor you can pour in a few tablespoons of white wine but it's totally optional (it does cook off).
Next comes the butter and flour. Cook it for a minute or two then whisk in your chicken broth until a smooth sauce forms. Add the worcestershire sauce, thyme, salt and pepper and simmer until it thickens.
COMBINE. Toss in the chicken and cook for about 5 minutes so that it gets thoroughly cooked throughout. Pour in the egg noodles and sour cream and cook until everything is combined.
*Note: Once you add the egg noodles, they will begin to absorb the moisture in the sauce. If you like your stroganoff to be extra saucy, I suggest either reducing the amount of added noodles, or serving the sauce and noodles separatelyto pour on right before eating.
GARNISH & SERVE. Garnish with some freshly chopped parsley and enjoy immediately!
Additions and substitutions
:
This dish is super delicious and easy to customize to your specific tastes. Some ideas include:
You can use different chicken cuts or even turkey.

Add some of your family's favorite veggies. Saute firmer veggies like carrots and broccoli along with the mushrooms. Softer vegetables like peas and corn can be added toward the end.

Feel free to omit mushrooms.

Not just for noodles! You can also pour this stroganoff over rice

,

cauliflower rice

, or

mashed potatoes

.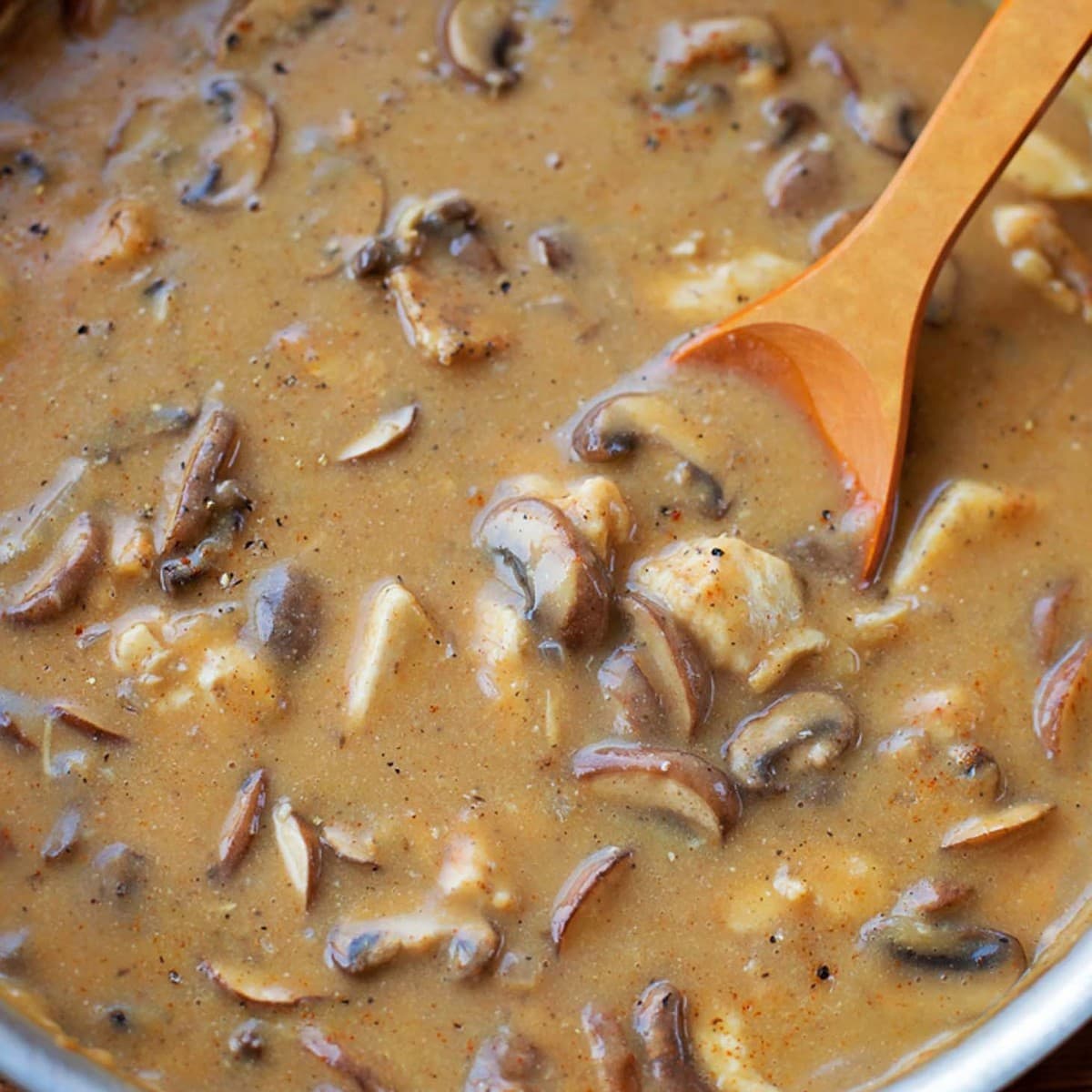 Storage Tips
You can make the gravy ahead of time and put it in the freezer to use on a busy day. I would even suggest doubling the recipe so you've got two meals on hand. Complete steps 1-4, add the chicken to the gravy and place the mix in an airtight container. Label and freeze for up to 3 months.
When you're ready to use just thaw in the fridge. While your noodles are being cooked slowly heat the gravy in a separate pan and finish Step 5.
Leftovers can be STORED in an airtight container in the fridge for 3-4 days. Be aware that the noodles may continue to soak up the gravy, but it will still taste delicious. REHEAT in the microwave or in a saucepan on the stove.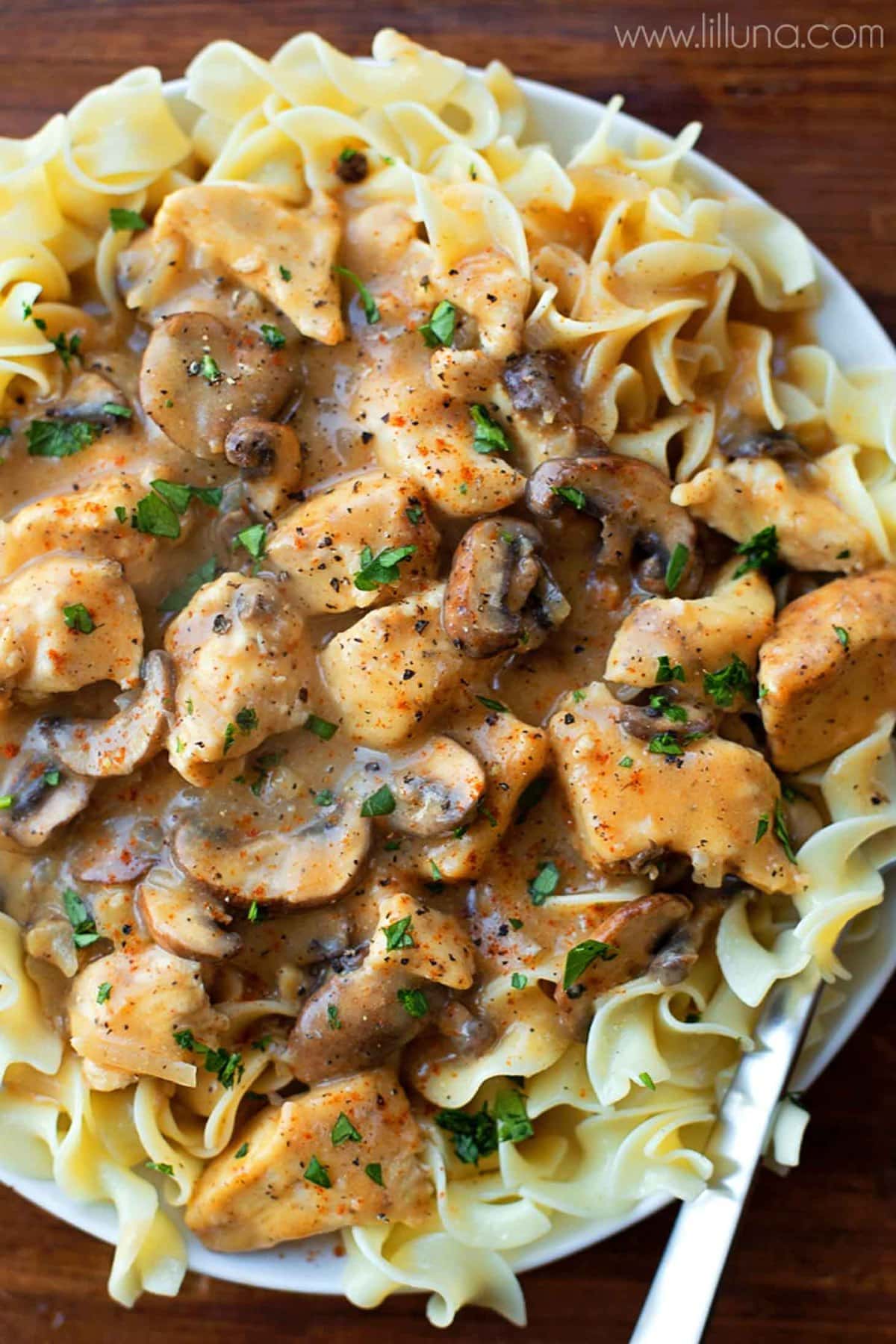 Our family loved this easy, flavorful, and filling meal. It's definitely something we'll be making over & over again. I hope you'll enjoy this chicken stroganoff too!
For more stroganoff/noodle recipes, check out:
Chicken Stroganoff Recipe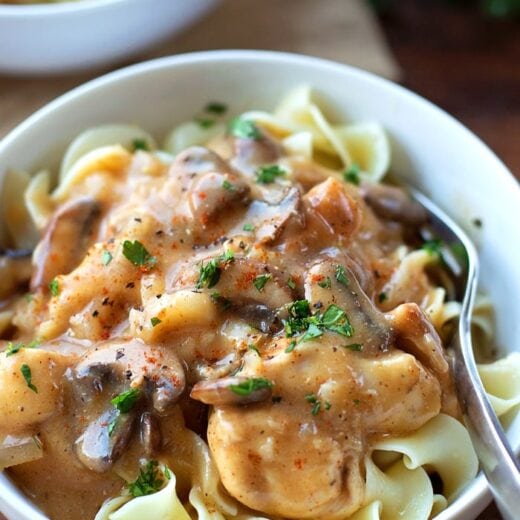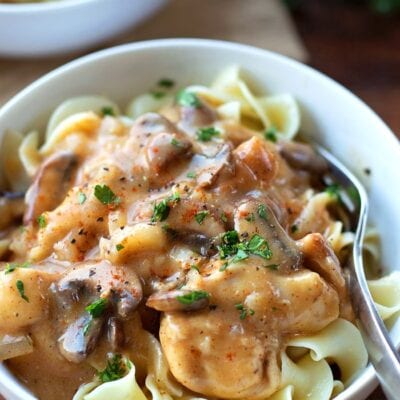 This Homemade Chicken Stroganoff is perfect for dinner any night of the week. Its full of flavor and is made start to finish in under 40 minutes!
Ingredients
Chicken
2

tbsp

olive oil

divided

1

lb

chicken breasts

cut into 1 inch chunks

1

tsp

garlic powder

1

tsp

onion powder

1/2

tsp

paprika

1/4

tsp

cayenne pepper

1

tsp

salt

divided

1

tsp

ground black pepper

divided
Stroganoff
2

cup

cremini mushrooms

sliced

1

shallot

minced

1

small

onion

chopped

3

cloves

minced garlic

chopped

2

tbsp

white wine

(optional)

4

tbsp

butter

4

tbsp

all-purpose flour

2

cup

low-sodium chicken broth

1

tbsp

worcestershire sauce

1/2

tsp

fresh thyme leaves

1

lb

egg noodles

(whole wheat or regular) cooked and drained

1/3

cup

sour cream

plus more for garnishing

fresh parsley

chopped (optional)
Instructions
In a large skillet set over medium-high heat, add 1 tablespoon of olive oil.

Meanwhile, place the cut chicken into a bowl. Season with garlic powder, onion powder, paprika, cayenne pepper, and ½ teaspoon each of salt and pepper; toss to combine.

Place the chicken in the hot pan (taking care not to overcrowd- you may need to do two batches) and brown, about 2-5 minutes on each side. The chicken does not need to be cooked throughout. Remove from the pan and transfer to a plate (continue with remaining chicken if needed).

Add the the remaining tablespoon of oil to the skillet, and then add the mushroom and cook until brown, about 4 minutes. Then, add the shallot, onion and garlic and stir occasionally until they are soft and translucent. Pour in the wine and cook for 1 minute, then add the butter and flour. Whisk continuously taking care not to burn. SLOWLY add the chicken stock, whisking to create a smooth sauce. Add the worcestershire, thyme, and the remaining salt and pepper. Bring to a simmer and allow the sauce to thicken.

Toss in the chicken, turn the heat down to medium-low and continue to cook for 5-8 minutes. Add the egg noodles and the sour cream and stir until combined. Cook for 2 more minutes, add salt and pepper to taste, then remove from the heat and garnish with parsley, if desired.