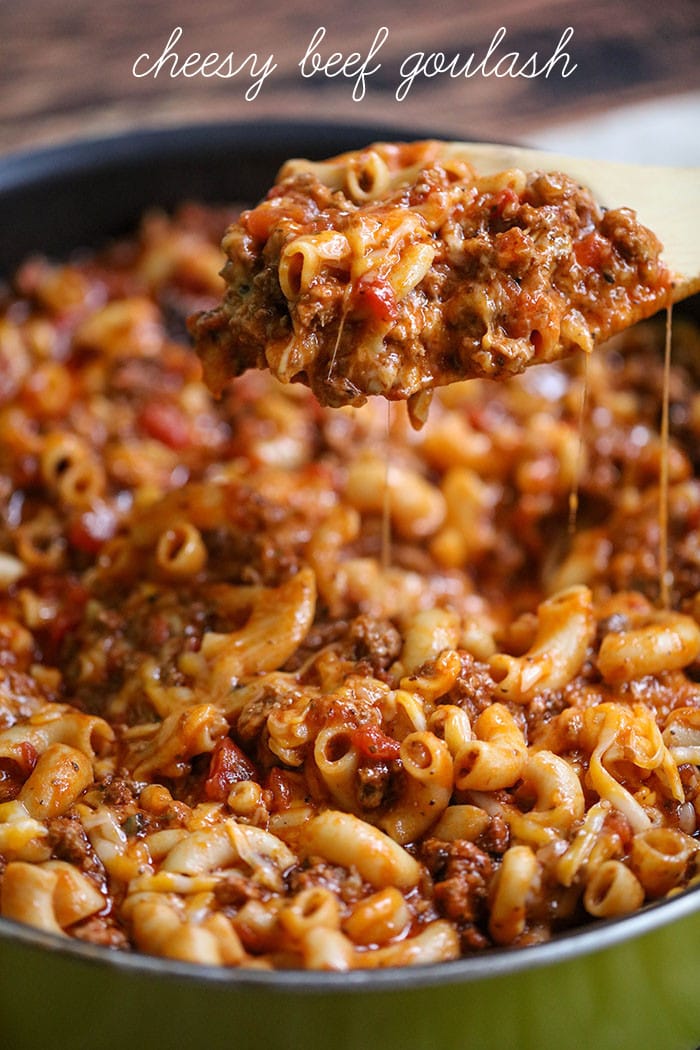 Gou-lash: A mixture of many different elements; a hodgepodge. Sometimes, I feel like my brain is Goulash! Do you ever feel that way? Too many things to think about and worry about, and sometimes it can feel like one big hodgepodge! And my life is pretty average compared to most. I guess we all have our different versions and levels of goulash in our lives. Having said all that, we are excited to be sharing this Cheesy Beef Goulash recipe with you today, which is a good kind of goulash. 🙂 It is filled with noodles, hamburger, tomatoes and cheese!!
I'm all about simple these days and this recipe is just that! Although it has a number of different seasonings, it is just simple enough to please all ages. The kids loved it, the husband loved it, Grandma and Papa loved it! EVERYONE loves it!! Try it out and tell us how much you and your family loved it too.
Look at that CHEESE!!
Such a cheesy, delicious dinner idea that everyone will enjoy!! We hope you enjoy this goulash as much as we do. 🙂
How To Make Goulash Video:
Check Out My Other Recipes
Here is the printable Hamburger Goulash recipe:

Cheesy Beef Goulash
This Cheesy Beef Goulash Recipe is a family favorite that is simple, delicious and perfect for dinner any day of the week. It's also a hit with the kids making it a hit with the whole family.
Ingredients
2 lbs ground beef
3 tsp minced garlic
3 cups water
2 (15-ounce) cans tomato sauce
2 (15-ounce) cans diced tomatoes
3 bay leaves
3 TB soy sauce
1 TB seasoned salt
2 TB Italian seasoning
2 cups elbow macaroni, uncooked
1 cup shredded cheddar cheese
Instructions
Saute ground beef in skillet over medium-high heat until cooked. Drain. Add garlic and saute for about 5 minutes. Add water, tomato sauce, diced tomatoes, italian seasoning, bay leaves, soy sauce, and seasoned salt. Stir well. Cover and allow to cook for 15-20 minutes.
Add the uncooked elbow macaroni to skillet, stir well, return the lid and simmer for about 30 minutes. Turn off heat, remove the bay leaves, and add 1 cup of cheddar cheese right before serving.
TRIED & TRUE RATINGS:
DIFFICULTY: Simple
HOW MANY DOES IT FEED: 7ish, more if you're feeding little mouths.
ANY CHANGES MADE: We did not add any onions to this recipe. We typically use minced garlic and we omitted Paula Deans seasoning. We also added one cup of cheese.
ANY SUGGESTIONS FOR NEXT TIME: Next time, I would love to try egg noodles, for more of a stroganoff feel.
Check out this delicious pasta recipe that is another favorite: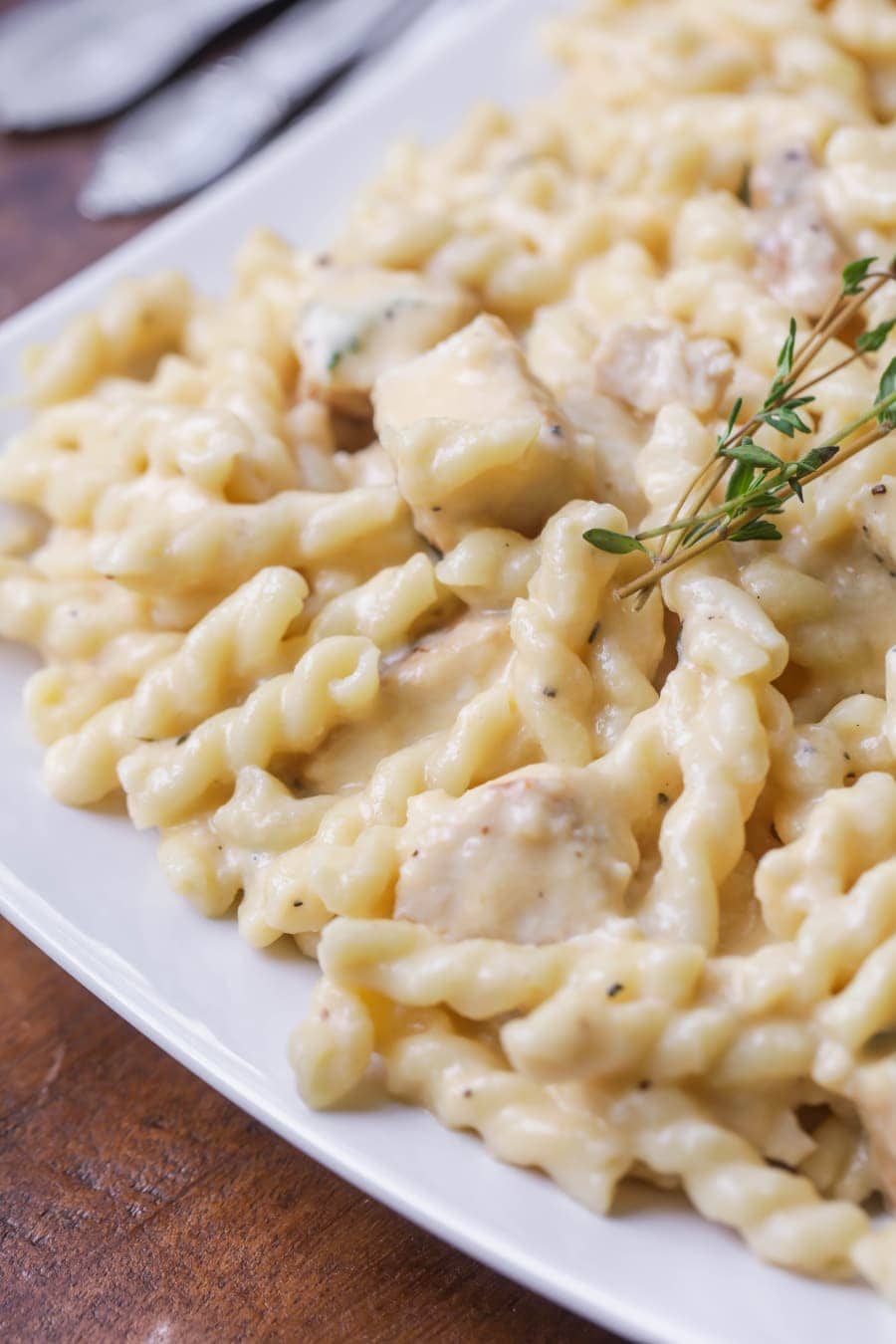 For more great, cheesy dinner ideas, check out:
ENJOY!
Need more recipes and creative ideas? Sign up and get a FREE copy of my latest ebook!