This collection of Pantry Staple Recipes features treats, dinners, pastas, and sides that are all made from basic pantry ingredients—ideal for when the budget is tight, or in cases of emergency.
More Collections: 3 Ingredient Recipes, 5 Ingredient Recipes, Easy Dinner Ideas
make dinner with pantry staples
Pantry staple recipes really come in handy during weeks where the budget is tight, or in cases of emergency where you can't get to a grocery store (or there isn't much at the store).
Also, it's is the best way to make sure you are going through all of your groceries rather than just acquiring more than you need and letting stuff expire.
Not sure about you, but I hate wasting food and it happens more than I like to admit.
Using pantry staples also gives you the chance to be creative with your meal planning!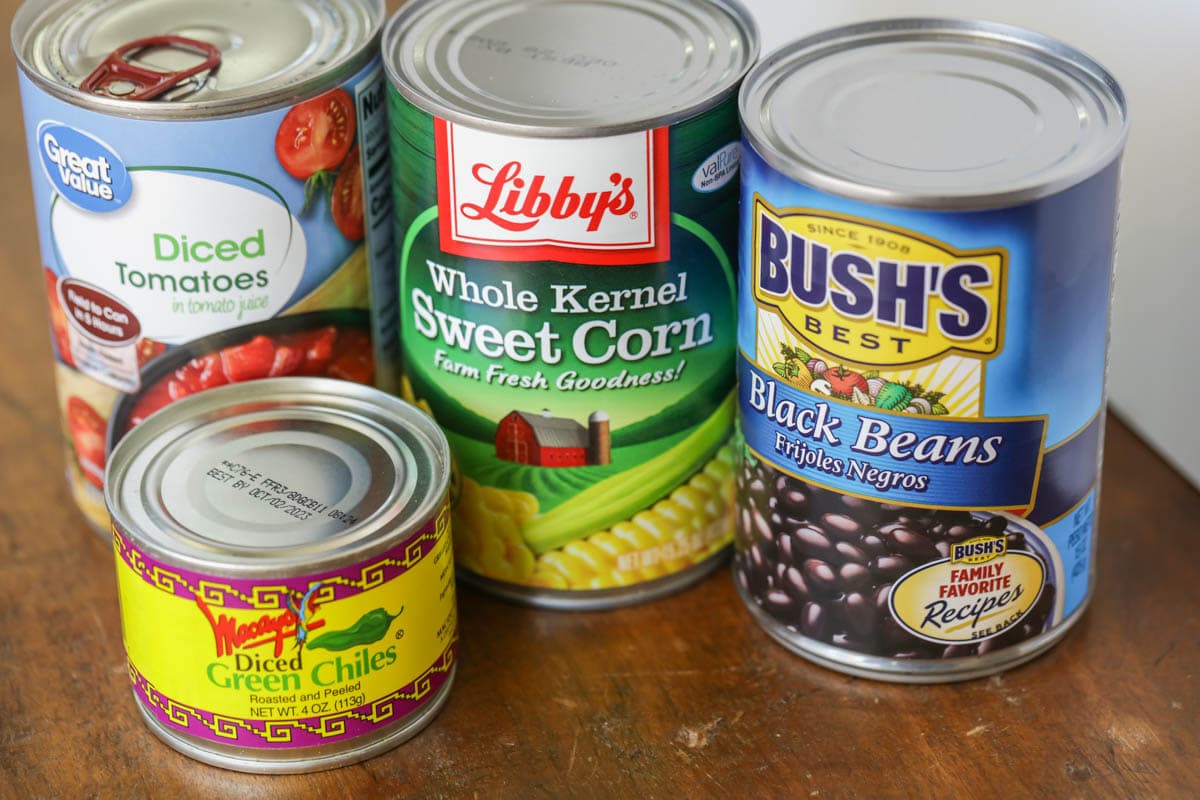 What kinds of food to keep in the pantry?
"Pantry" refers to a food storage area in the home that is at room-temperature such as a kitchen pantry, a closet, or a cupboard. Any items that do not need to be refrigerated or frozen can be stored in the pantry.
This includes, but isn't limited to items like:
Dried herbs and spices
Dried, dehydrated, and freeze-dried food
Unopened canned goods like fruits, vegetables, soups, beans, or meats.
Oils, shortening, vinegar
Unopened condiments, sauces, and jams
Nuts, nut butters, and peanut butter
Unopened bottles of water, juice, and even some milks
Cereal, oats, crackers, cookies, pasta
Dried beans, lentils, rice, grains
THIS POST has a more comprehensive printable list of pantry staples! Be sure to check it out!!
pantry staple recipe tips
You might associate "pantry staples" with boxed and canned items, which initially sounds "unhealthy". But that doesn't have to be the case! You can still make meals that are full of nutrition using packaged and canned items. Here are some tips:
Grains.

Start storing whole-grain pasta, brown rice, quinoa, or whole-wheat flour to increase the vitamins and minerals you get from those ingredients.

Frozen veggies.

Use lots of frozen or canned veggies if you don't have money or access to fresh veggies. Frozen veggies have the same nutritional content as fresh veggies since most are frozen at the peak of freshness.

Incorporate fresh veggies or fruit wherever possible.
Everyday dishes.

For example, use canned beans or corn on the side of your main dish, or incorporate them in a casserole or pasta dish.
Buy pantry essentials at any grocery store or even bulk stores like Costco. Make sure to buy appropriately for your family size. This means that it might be helpful to buy bulk pasta, beans, or rice.
Now if you are interested in long-term food storage, I would look to brands like Thrive Life, Augason Farms, Wise Company, and Legacy Food Storage.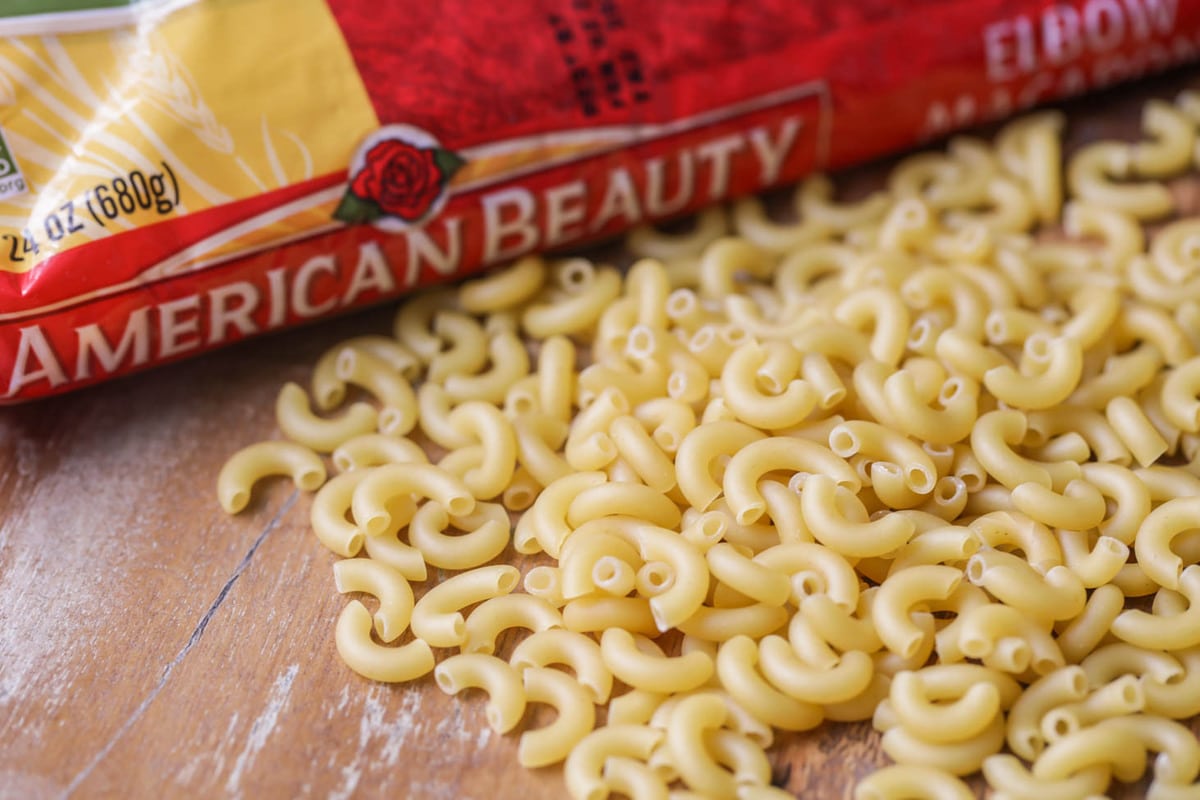 A Good Process to Follow
Always use stuff on hand.
Include leftovers (cut-up veggies etc).

Use items that will expire or go bad first (raw meat, eggs).
Look at the fridge first…
Take note of perishable items like meat, cheese, fresh fruit, and veggies.
…Then the pantry…
Think of dry goods you can pair with the perishables like pasta, rice, bread, or other grains.
…Then the freezer.
Make it simple, but use your spices to make it fun and flavorful!
Jalapeños or chili powder are great for spice

.

Chopped garlic or dried onion can create classic flavors

.

Don't underestimate the power of delicious sauces like enchilada sauce or marinara!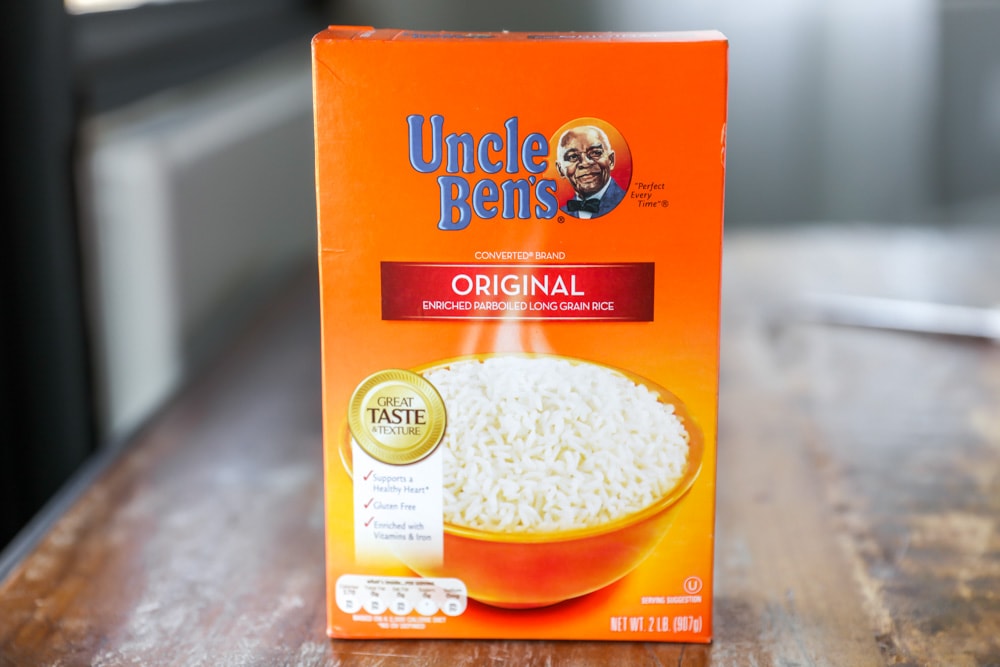 Which foods last the longest in the pantry?
To maximize shelf life, all pantry foods need to be stored properly sealed and away from moisture and airflow. Some items already come properly prepared like canned, jarred, and bottled food.
Even crackers and cereal come in a sealed plastic bag inside the box. Other items can be transported to packaging better suited for food preservation.
Food Storage containers aren't just great for organization, but they help food last longer. I use them for any pantry food that I have opened and particularly for foods that come in a container that isn't sealed, like boxed pasta or bagged flour.
LONG Term Storage
For LONG term storage, I recommend using Food Grade Plastic Buckets , Mylar Food Bags, PETE bottles, or even #10 cans, but you would need access to a can sealer.
In any case, fill the container with the dry food item, add oxygen absorbers (use 300-500cc oxygen absorbers for every gallon in the container), then quickly seal it closed. Label the contents and note the seal date.
Do NOT just add an oxygen absorber to any airtight container, it needs to be a food-grade long-term storage container and the food must be completely dry.
Indefinitely. Some items, when properly stored, can last indefinitely: raw honey, unopened syrup, granulated sugar, popcorn kernels, non-iodized salt, vinegar, corn starch, pure vanilla extract, and corn syrup.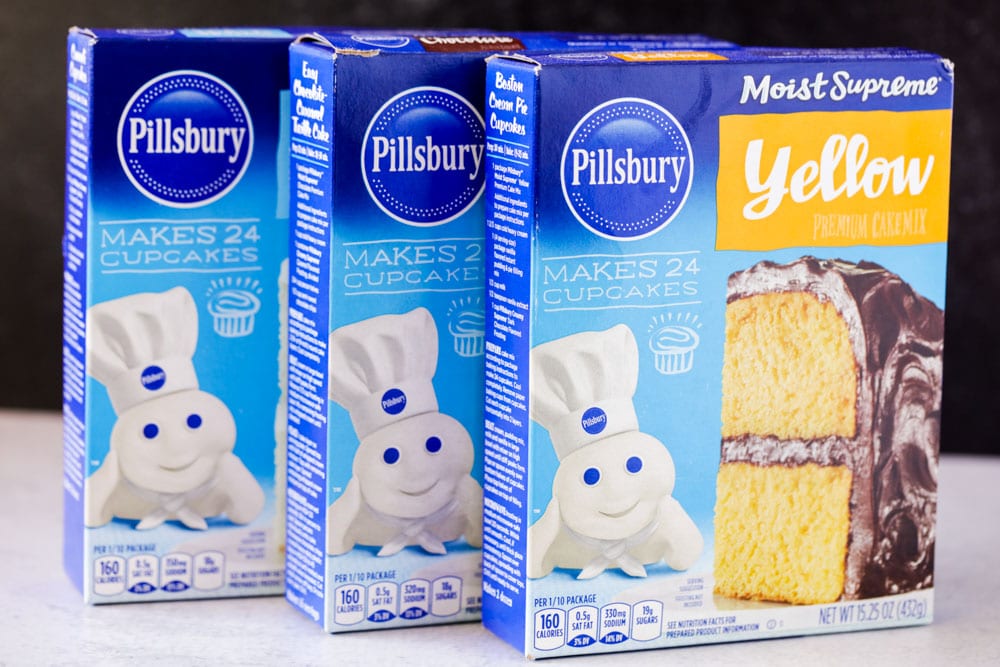 Shelf Life Cheat Sheet
Here's a list of common pantry items and how long they last in the pantry!
Unopened canned goods can last for quite some time. If you find a can that is past its "Best By" date don't toss it. Inspect the can for dents or swelling. If you don't find any, open it up. Does it still look and smell good? Most canned goods are safe to eat 6 months or longer after the best-by date.
Flour can last for about 6 months in its original paper bag and about 10 months if placed in an airtight container. Sealed, LONG term all-purpose white flour can last for 4-5 years.
Dried beans, in airtight containers, can last for up to 3 years without losing nutritional value, but not more than 5 years. Sealed LONG term the following beans can last for up to 30 years: kidney, pinto, split pea, navy, lima, pink, garbanzo, and black beans.
Dried pasta can last for 3 years in an airtight container and sealed LONG term for 30 years.
Oats can last up to 2 years when kept in an airtight container. Stored LONG term rolled oats can last for up to 30 years.
White rice can last for up to 8 years. Whole grain/brown rice will only last for 6-12 months. Quinoa can last for 2-3 years. Stored LONG term white rice can last for up to 30 years. Quinoa can last for 8+ years.
Jam and Jelly can last for about 2 years in the pantry. Once opened, store in the fridge for up to 6 months.
Unopened or tightly wrapped dark chocolate can last for at least two years.
Nuts store best in glass jars and can easily last on the shelf for 3-6 months. Whole nuts last even longer.
Dried herbs and spices are at their best for 2-3 years. Whole spices can last for 4 years. However, they can still safely be used for many more years.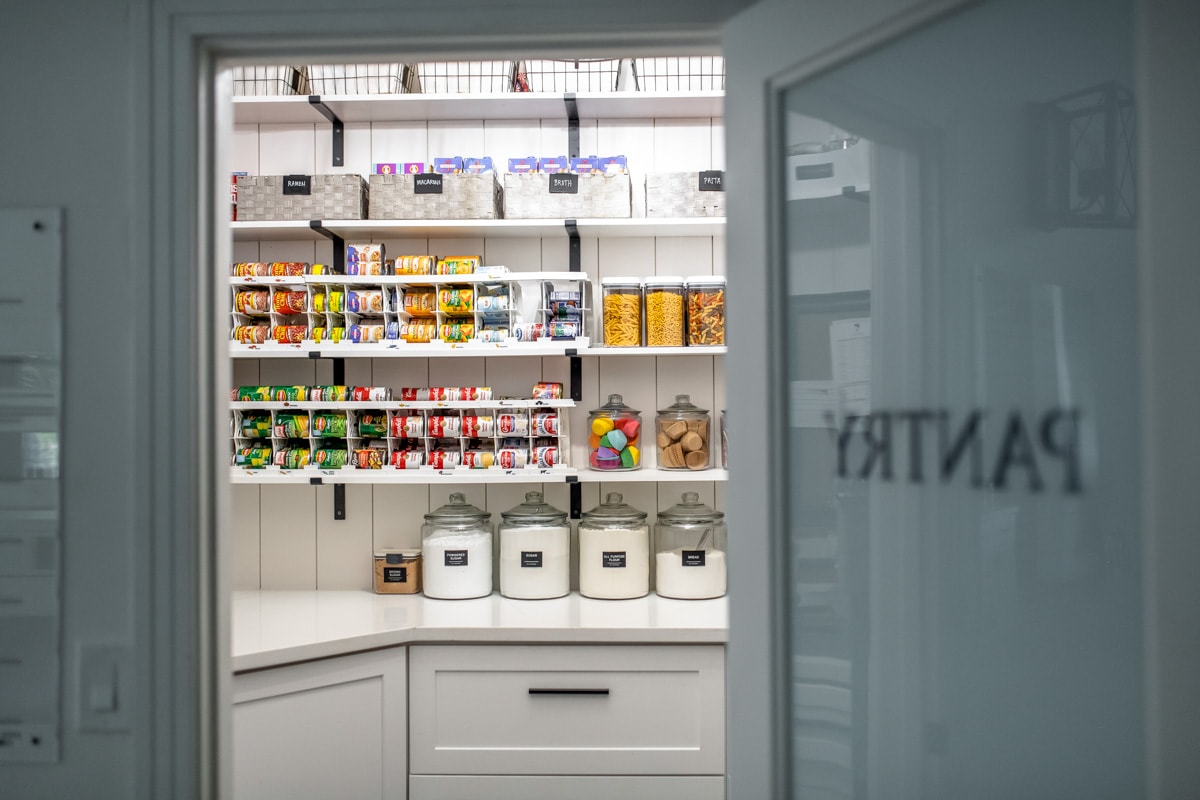 How to store meats in the pantry
Having some meat stored in the pantry is a good idea. They are really useful because they are already cooked and can last without electricity.
Dried/dehydrated: A prime example of this is beef jerky.
Freeze-dried: having freeze-dried meat is really useful. Add a little water to revive it and use it in any recipe requiring cooked meat.
Canned: Tuna and chicken are often on my grocery list, but you can also buy canned beef, SPAM, crab meat, chunk ham, sardines, salmon, or Vienna sausage. Canned meat can last for 2-5 years before losing nutritional value. It is often safe to eat for longer but use caution.
Bottled: I like bottled chicken and beef best. They are easy to use in stews, casseroles, and even for pulled BBQ sandwiches. I once tried to bottle ground beef but didn't care for the texture. Home-bottled meat can safely last for 1-2 years. Use caution when consuming after.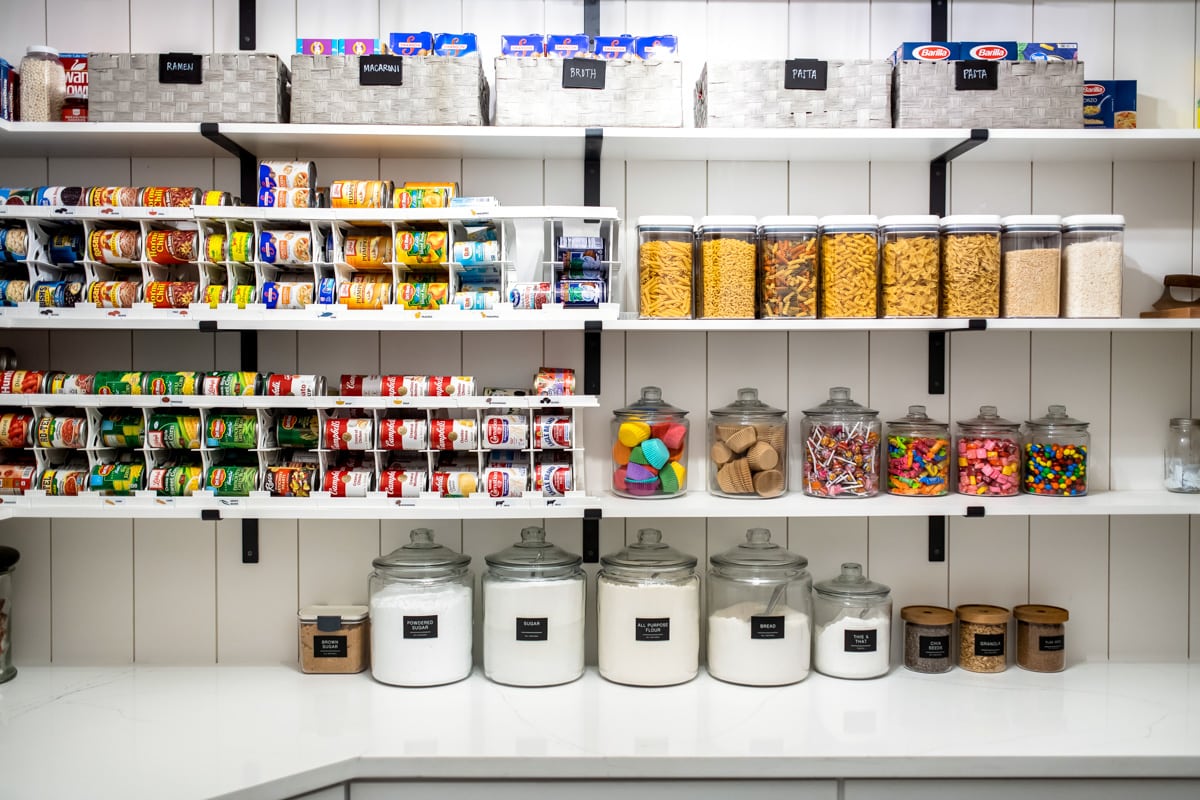 Tips for Rotating food in the pantry
There are a lot of great methods to rotate your food. It's important to implement something so that you know what you have, what you need, and so items don't get forgotten in the back corners and then go bad.
Here are a few ideas that may help:
DON'T STORE FOOD YOU ARE NOT GOING TO EAT! If you don't ever eat it, then it will never be rotated.
How much of each item? Make a list of pantry staples that you use in a 2-week period, then multiply it depending on how much you want to have stored. I try to have a 3 month supply on hand of daily pantry staples.
Build up your supply slowly. Not only is this easier on the pocketbook, but it helps naturally rotate the food. For example: If you buy 100 cans of corn chances are all 100 cans will need to be used by the same date. If you spread out purchases, the use-by dates will also be spread out.
Have a master list of what you have and where it is kept. When you use or open an item add it to your next grocery trip so it can quickly be replaced and your list is kept up to date.
Label. Use a permanent marker and write the expiration/"best by" date in a visible place. This will make it easier to identify which items need to be used first.
Implement a rotation tool like a Can Tracker or even by hand by placing recently purchased food items behind similar older items.
Store LONG Term food buckets in the back of the pantry and place food items you will be rotating through regularly in the front. LONG term food storage can also be stored in other areas of the house while day-to-day food storage can be kept in the kitchen area.
---
bread recipes with Few Ingredients
Can't forget all the easy bread recipes with few ingredients, most of which are pantry staples!
Some are a little more extensive or require more time, but all use pantry staples most have on hand for baking. Check them out!
1. White Bread
This simple White Bread is perfect for both the bread novice and pro baker. It's tender, delicious, and SO easy!
2. Yeast Dinner Rolls
Homemade Dinner Rolls Recipe that are delicious and perfect for any meal. They're soft, delicious and a hit at every meal!
3. Indian Fry Bread
Delicious Homemade Fry Bread – aka "Navajo Tacos" or "Indian Bread" – one of the best recipes you'll ever try! Pillows of dough fried until it's a little crispy on the outside, but soft on the inside. Make it sweet or savor
4. Homemade Dinner Rolls
These are our ALL-TIME FAVORITE Dinner Rolls! They are soft, butter-y, and always the hit for any dinner or holiday get together. It's so hard to eat just one!
5. Homemade Bread Recipe
This BEST Homemade Bread Recipe makes the most deliciously fluffy loaf of white bread. It tastes so much better than store-bought!
6. Easy Yeast Rolls
These easy yeast rolls can be made in under an hour with just 4 ingredients! With how quick and simple they are, they will become your new go-to dinner rolls.
7. French Bread
The BEST Homemade French Bread recipe – so soft and tasty!! Serve with butter or turn it into a delicious appetizer. Everyone loves this recipe!
8. No Knead Bread
This no-knead bread has only four ingredients, and could not be simpler to make! It's the perfect bread recipe for beginning bread makers, and so delicious that even experienced bread makers will love it.
9. Cinnamon Bread
The BEST Cinnamon Bread recipe ever! So soft! This will be gone in minutes and will become a family favorite in no time.
10. Sourdough Bread
Easy rustic sourdough bread with a mild tang, crisp crust, and soft interior.
11. Bisquick Banana Bread
Have extra ripe bananas lying around? Bake a loaf of this Bisquick banana bread! Moist, sweet, and delicious.
12. Focaccia Bread
Crisp yet fluffy bread topped with delicious herbs and seasonings. This flavorful focaccia bread is so easy to make, and is perfect for sandwiches, dipping in soups, or enjoying on its own!
---
side recipes with few ingredients
Dry goods like rice and other grains make for great side dishes, and can easily be dressed up with some seasonings or citrus juices. Same with canned vegetables – pair them with a few other ingredients for an easy side.
13. Crock Pot Creamed Corn
A big holiday dinner wouldn't be complete without rich flavorful creamed corn! It's creamy, buttery, and cheesy. Everyone's favorite holiday side dish!
14. Pasta Salad with Italian Dressing
Easy and delicious Italian Pasta Salad recipe that includes Rotini pasta, olives, tomatoes, & cheese in Italian dressing! It takes minutes to make and is perfect for any get together including BBQs and holidays.
15. Cilantro Lime Rice
This recipe tastes just like Cafe Rio and Chipotle Cilantro Lime Rice! If you've ever been to either of these restaurants, you know how delicious cilantro rice is inside a salad, burrito, or taco. Now you can make this delicious lime rice from home!
16. Homemade Flour Tortillas
Homemade Flour Tortillas made from 5 Ingredients. They're so soft, easy to make, and can be used for burritos, tacos, quesadillas, however you like!!
17. Homemade Fried Rice
Homemade Fried Rice recipe – tastes just like the restaurant! This rice is flavored with sesame oil, garlic, and soy sauce mixed with peas, carrots, and eggs.
18. Lemon Rice
This bright Lemon Rice is the perfect addition to any meal. It's quick and delicious and always a crowd pleaser.
19. Easy Green Bean Casserole
Green Bean Casserole is a classic side dish, especially at holiday meals! This savory casserole is simple, delicious and requires only 4 ingredients, which makes it the perfect addition to your holiday menu!
20. Homemade Spanish Rice Recipe
Restaurant-Style Spanish Rice (aka Mexican Rice), that is easy to make and tastes like it came straight from the restaurant, and is the best side dish to any Mexican entree.
21. Crock Pot Pinto Beans
Nutrient rich pinto beans cooked to perfection. These make a great meal or a tasty side dish to any of your Mexican dishes.
22. Jiffy Corn Pudding
Real comfort food at it's finest! Corn pudding is creamy, buttery, and sweet! It's the perfect side dish to any dinner or holiday meal.
---
Chicken Recipes with Few Ingredients
You would never know that these meals are pantry staple recipes! Unite canned meats and vegetables, dry goods, freezer items, and a few common perishables for filling and flavorful dishes the family will love.
Soup is probably one of the easiest pantry staple recipes to make from canned goods! All you really need is a liquid base (chicken or vegetable broth is pretty common for this), canned vegetables or beans, and possibly some meat.
23. Chicken Rice Bake
EASY Cheesy Chicken and Rice Bake is a simple, deliciously homey dinner that is perfect for freezing and sharing!
24. Salsa Verde Chicken
Juicy salsa verde chicken is moist and delicious. It is simple with the perfect level of spice, for a quick and tasty dinner option!
25. French Onion Chicken Casserole
Just 10 minutes of prep time and you have a delicious creamy concoction of chicken, celery, and cheese topped with crispy fried onions!
26. Slow Cooker Creamy Fiesta Chicken
Slow Cooker Creamy Fiesta Chicken is such a simple, flavorful crock pot recipe! It is a tasty crock pot meal made with pantry staples!
27. Salsa Chicken
Salsa chicken is your ticket to a 30-minute meal that the whole family will love! And it's all baked in one pan for easy clean up!
28. Mexican Casserole
This Mexican casserole is an easy weekday dinner idea that is full of Spanish rice, chicken, and melty cheese. It's flavorful and everyone will love it!
29. Cheesy Chicken Broccoli Casserole
One of the BEST broccoli casserole recipes! This Cheesy Chicken Broccoli Casserole is a simple, quick and delicious dinner filled with chicken, broccoli and cheese and topped with buttered bread crumbs! The whole family loves this easy chicken broccoli and cheese casserole.
30. Green Chili Smothered Burritos
Pull together canned items in your pantry to make super easy green chili smothered burritos. This flavorful meal comes together in a pinch!
31. Crock Pot Chicken Stew
A simple, convenient, and TASTY stew recipe made in the crock pot! Made with chicken, potatoes, carrots, cream of chicken soup, sour cream, ranch dressing mix and more, this Slow Cooker Chicken Stew recipe is BURSTING with flavor!!
32. Homemade Chicken Noodle Soup
This recipe for Homemade Chicken Noodle soup is one of the easiest, tastiest recipes full of chicken breast chunks, celery, carrots, and home-style egg noodles.
33. White Chicken Chili
If you're looking for a hearty soup recipe, look no further than this delicious White Chicken Chili Recipe! Loaded with chicken, beans, cheese, and lots of spices, this white chili has become a new favorite!! Best of all, it's ready in 30 minutes or less!
34. Mexican Soup
Filling and Flavorful Mexican soup is packed with chicken, beans, and veggies with just a little bit of heat!!
---
BEEF RECIPES WITH FEW INGREDIENTS
Similar to the chicken recipes, soups with beef are the most common dishes to make with pantry staples, but we have a few other go-to's that are delicious!
35. Taco Soup
One of the EASIEST dinner recipes of all time! This super easy Taco Soup is made from canned chili, beans, corn, tomatoes, and green chiles, plus ranch dressing mix and taco seasoning. All you have to do is dump everything in a pan and simmer. It's ready in under 20 minutes!
36. Beef Empanadas
Beef Empanadas are one of our favorite Mexican dishes. They are a crispy, airy taco made from dough, filled with shredded beef, red chile sauce, and olives.
37. Goulash
Old-fashioned Goulash is an easy cheesy family favorite! It's the perfect go-to dinner recipe for any night of the week.
38. Beef Stroganoff
This Easy Beef Stroganoff recipe is simple and flavorful. Served with egg noodles, this creamy stroganoff made in the slow cooker is a classic Sunday dinner recipe and is perfect to enjoy any night of the week.
39. Best Chili
You're going to fall hard for this spicy, hearty homemade beef chili. This Best Chili Recipe is not only simple, but delicious!!
---
pasta recipes with few ingredients
Pasta dishes are so common for our family, especially when I need to make a quick meal, so I ALWAYS have several boxes of pasta in the pantry. Plus, there are so many ways to prepare pasta.
These recipes specifically don't use a lot of other ingredients, and they're all very common.
40. Easy Fettuccine Alfredo
Easy and Quick Fettuccine Alfredo that takes just 15 minutes to make! This family favorite recipe includes fettuccine, garlic, parmesan, and whipping cream and is sure to become a go-to dinner idea!
41. Baked Spaghetti
Cheesy Baked Spaghetti – a simple, delicious, dinner recipe filled with hamburger, sausage, cheese and more! Everyone will love this dinner recipe!
42. Pasta Carbonara
A creamy, delicious and flavorful pasta dish filled with cream cheese, parmesan, garlic and bacon. For only having a few ingredients, this Pasta Carbonara has big flavor!
43. Easy Spaghetti
This easy spaghetti recipe is kid-friendly and is made with a delicious homemade spaghetti sauce making it the perfect family dinner recipe!
44. Creamy Garlic Penne Pasta
Super simple and delicious Creamy Garlic Penne Pasta recipe packed with flavor. This dish is perfect by itself or you can add chicken too!
---
cookie recipes with few ingredients
Don't forget the sweets! With a few baking staples kept on hand, you can easily whip up a sweet treat.
45. Peanut Butter No Bake Cookies
Peanut Butter No Bake Cookies combine two cookie classics – No Bake Cookies + Peanut Butter Cookies. The combo of the two make a delicious, simple cookie recipe that is perfect for anyone who loves peanut butter treats.
46. Fried Oreos
Deep Fried Oreos is our favorite recipe for 'milk's favorite cookie'. Learning how to fry Oreos is so easy and super yummy.
47. Eggless Cookie Dough
Grab a Spoon! This Eggless Cookie Dough recipe is for all the cookie dough lovers out there! With NO eggs included in this recipe, you can use this edible cookie dough in shakes, fudge, brownies, or eat it all by itself!!
48. No Bake Cookies
Super quick, simple and yummy NO-BAKE Cookies – one of our favorite recipes! Made with cocoa powder, peanut butter, vanilla, and quick oats!!
49. Oatmeal Coconut Cookies
Oatmeal Coconut Cookies are a deliciously tropical twist on the classic oatmeal cookie. They are so tasty, it's impossible to only eat one!
50. Peanut Butter Oatmeal Cookies
Two of everyone's favorite cookies in one – these Peanut Butter Oatmeal cookies are soft, chewy and so delicious!
51. Amish Sugar Cookies
Amish Sugar Cookies are uncomplicated, simple and elegant. This quick cookie is deliciously soft and thick!
52. Oatmeal Cookies
Easy irresistible Oatmeal Cookies are a family favorite because they are chewy, soft and always gone in minutes!!
53. Brownie Cookies
Fudgy brownie cookies combine the best of dessert worlds to make one delicious "brookie" filled with loads of chocolate chips AND flavor!
54. Butterscotch Cornflake Cookies
The kids LOVE making these No Bake Butterscotch Cookies – they're simple, quick and yummy! Cornflakes mixed with melted peanut butter, chocolate chips, and butterscotch chips.
55. Cookie Bars
Chocolate Chip Cookie Bars (aka Pan Chewies) – our family's go-to Sunday Night Dessert! It's your favorite cookie in bar-form served hot and perfect with ice cream.
---
dessert recipes with few ingredients
Each of these recipes uses almost exclusively baking ingredients from this list, with the exception of some eggs, milk, and butter.
56. Easy Rice Pudding
Creamy and sweet rice pudding is an easy dessert that can be served hot or cold. Topped with a dash of cinnamon, it's the ultimate comfort food that brings back nostalgic memories!
57. Snickerdoodle Blondies
Snickerdoodle Blondies are delicious bar versions of the famous cookie! Soft and sweet and covered in cinnamon and sugar, they're hard NOT to love!
58. Energy Bites
These delicious energy bites are filled with healthy ingredients that give you a little boost—including peanut butter, oats, coconut flakes, and flaxseed.
59. Easy Coffee Cake
The BEST and EASIEST Coffee Cake Recipe! It's moist, delicious and perfect for showers, breakfast and holiday celebrations!
60. Arroz Con Leche
Classic Arroz Con Leche – a variation of rice pudding that is sweet and cooked with milk, evaporated milk and sweetened condensed milk and topped with cinnamon.
61. Cherry Dump Cake
Everyone loves a good Dump Cake recipe! This one is filled with cherry pie filling, crushed pineapples and is topped with cake mix, walnuts and butter!
62. Mini Applesauce Muffins
These Mini Applesauce Muffins are the perfect snack for the whole family! Deliciously moist muffins filled with applesauce, and dipped in an irresistible cinnamon sugar topping.
63. Easy Lemon Bars
These classic Lemon Bars are simple, delicious, and sweet, with just the right amount of tart! Add a bit of powdered sugar, and these easy lemon bars are irresistible!
64. Easy Peach Cobbler
Our FAVORITE peach dessert! This homemade Peach Cobbler recipe takes just a few minutes to prep and is beyond easy! Add some ice cream and cool whip to this delicious cobbler and you're set!
65. Flourless Chocolate Cake
The BEST Flourless Chocolate Cake recipe. This simple, smooth and fudgy cake is sure to get rave reviews and is a great cake to add to your favorite go-to desserts.
---
Recipes you Have on Hand!
You will be amazed at the tasty, easy dishes you will be able to whip up with ingredients that you already have on hand. This is sure to be a list that you will come back to again and again!
More Collections: Healthy Dinner Ideas, Crock Pot Dinner Ideas, Dinner Ideas for Kids