This collection of Pantry Staple Recipes features treats, dinners, pastas, and sides that are all made from basic ingredients that you probably already have on hand! These recipes are ideal for when the budget is tight, or in cases of emergency.
More Collections: 3 Ingredient Recipes, 5 Ingredient Recipes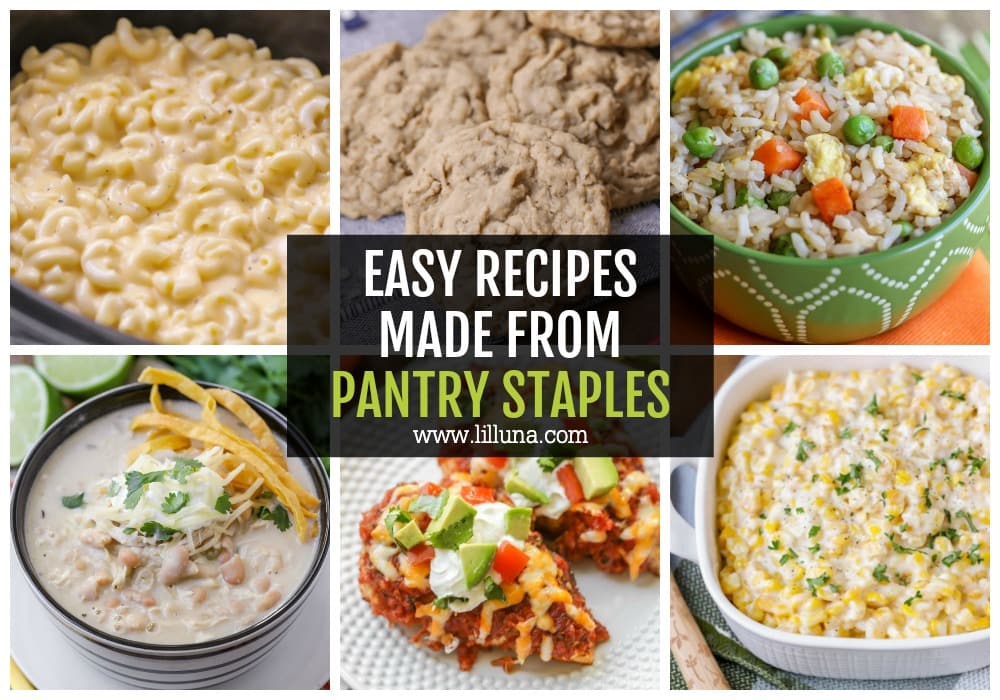 make recipes with pantry ingredients
Pantry staple recipes really come in handy during weeks where the budget is tight, or in cases of emergency where you can't get to a grocery store (or there isn't much at the store). 
Also, it's is the best way to make sure you are going through all of your groceries rather than just acquiring more than you need and letting stuff expire. And not sure about you, but I hate wasting food and it happens more than I like to admit.
It also gives you the chance to be creative with your meal planning!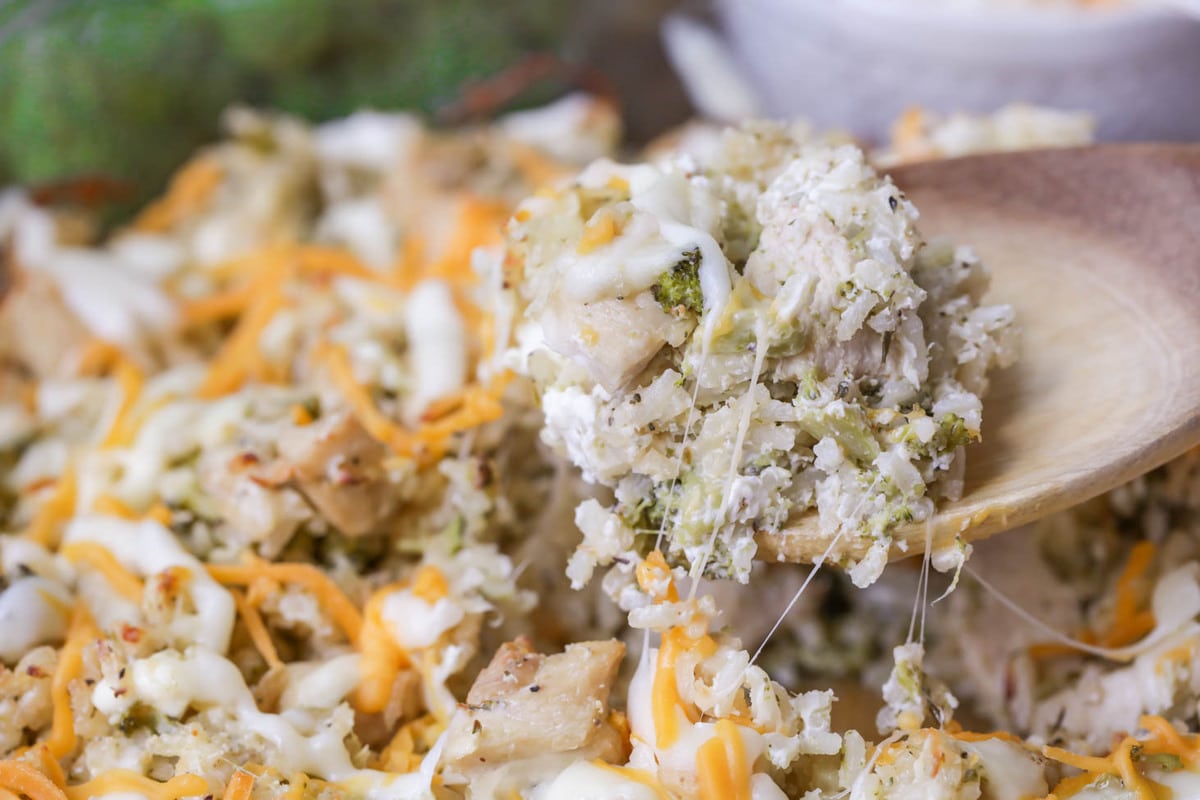 Tips for Pantry Staple Recipes:
You might associate "pantry staples" with boxed and canned items, which at first sounds "unhealthy". But that doesn't have to be the case! You can still make meals that are full of nutrition using packaged and canned items. Here are some tips:
You can start storing whole grain pasta, brown rice, quinoa or whole wheat flour to increase the vitamins and minerals you get from those ingredients.

You can use lots of frozen veggies or canned veggies if you don't have money or access to fresh veggies. Frozen veggies have the same nutritional content as fresh veggies since most are frozen at the peak of freshness.

Incorporate fresh veggies or fruit wherever possible. For example, use canned beans or corn on the side of your main dish, or incorporate them in a casserole or pasta dish. 
You can buy pantry essentials at any grocery store or even bulk stores like Costco. Make sure you buy appropriately for your family size. This means that it might be helpful to buy bulk pasta, beans, or rice.
Now if you are interested in long term food storage, I would look to brands like: Thrive Life, Augason Farms, Wise Company, and Legacy Food Storage.
making pantry staple Recipes:
Always use stuff on hand
Include leftovers (cut up veggies etc).

Use items that will expire or go bad first (raw meat, eggs).
Look at the fridge first
Take note of perishable items like meat, cheese, fresh fruit and veggies.
Then the pantry
Think of dry goods you can pair with the perishables like pasta, rice, bread, or other grains.
Then the freezer
Make it simple, but use your spices to make it fun and flavorful!
Jalapeños or chili powder are great for spice

Chopped garlic or dried onion can create classic flavors

Don't underestimate the power of delicious sauces like enchilada sauce or marinara!
Treats
There's a handful of baking ingredients that I always like to have on hand in the pantry. Most of them have a pretty long shelf life—we usually use them up before they go bad. Here's a list of what I typically have on hand:
Flour (

1 year at room temp)

Yeast

(2-4 months past expiration date if unopened, 4-6 months in fridge once opened)

Baking soda

(2 years unopened, 6 months opened)

Baking powder

(9-12 months)

Vanilla extract

(5 years)

Cream of tartar

(6 months)

Sugar

(2 years but technically forever)

Powdered sugar

(2 years but technically forever)

Brown sugar

(2 years)

Cocoa powder

(2-3 years)

Chocolate chips

(2 years)

Pancake mix

(opened for 1 year)

Honey

(2 years)

Maple or agave syrup

(2 years

Olive oil

(2 years)

Vegetable oil (6 months)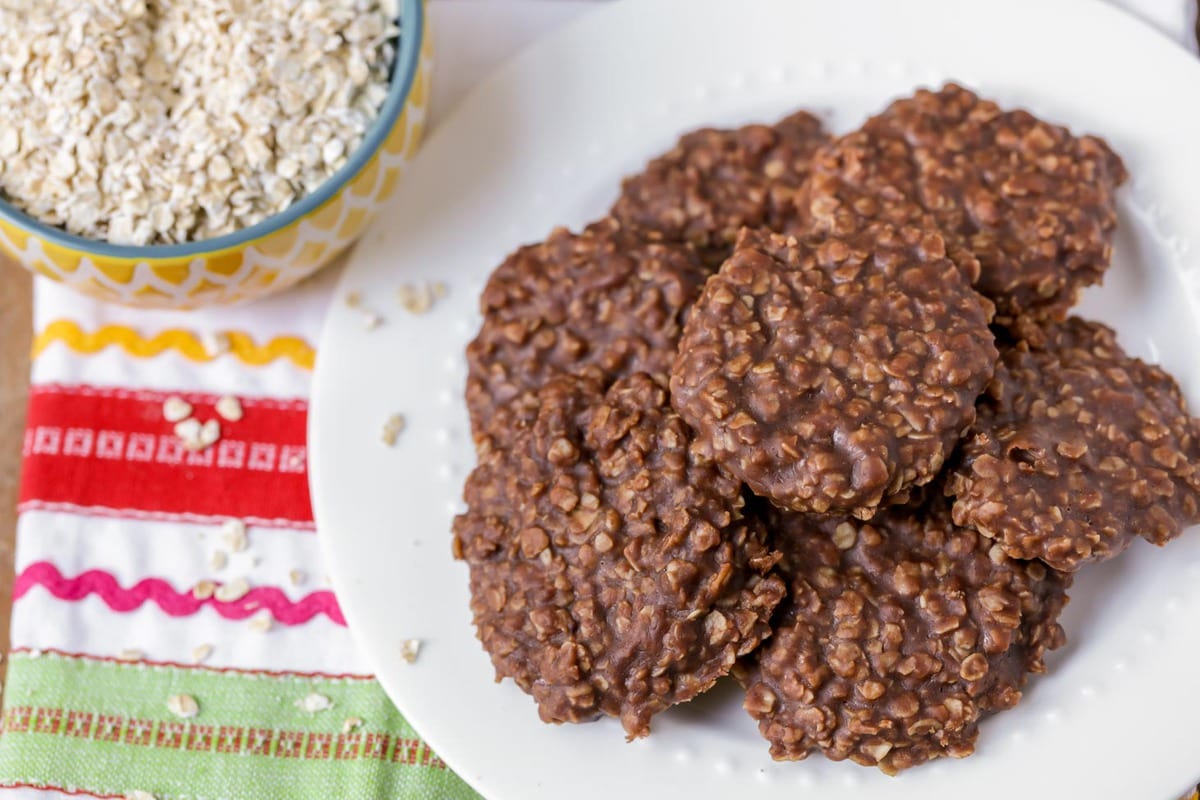 Each of these recipes use almost exclusively baking ingredients from this list, with the exception of some eggs, milk, and butter.
BREADS
Can't forget all the delicious bread recipes that can be made with pantry staples. Most of these require just a few ingredients. Some of them are a little more extensive or require a little more time, but all use pantry staples most have on hand for baking. 😉
Check them out!
Sides
Dry goods like rice and other grains make for great side dishes, and can easily be dressed up with some seasonings or citrus juices. Same with canned vegetables—pair them with a few other ingredients for an easy side.
Dinner
You would never know that these meals are pantry staple recipes! Unite canned meats and vegetables, dry goods, freezer items, and a few common perishable things for filling and flavorful dishes the family will love.
Pastas
Pasta dishes are so common for our family, especially when I need to make a quick meal, so I ALWAYS have several boxes of pasta in the pantry. Plus, there are so many ways to prepare pasta. These recipes specifically don't use a lot of other ingredients, and they're all very common.
Soups
Soup is probably one of the easiest pantry staple recipes to make from canned goods! All you really need is a liquid base (chicken or vegetable broth are pretty common for this), canned vegetables or beans, and possibly some meat. Most of these recipes are made with basic ingredients, with a few exceptions that use fresh veggies (which can always be subbed for frozen or canned).