Veggie loaded Meatball soup is filling and delicious. Your entire family will love and devour this kid-friendly dish!
Cheesy garlic bread or Sweet Cornbread is perfect for sopping up these tasty broth! This would also tasted delish served up in a Bread bowl.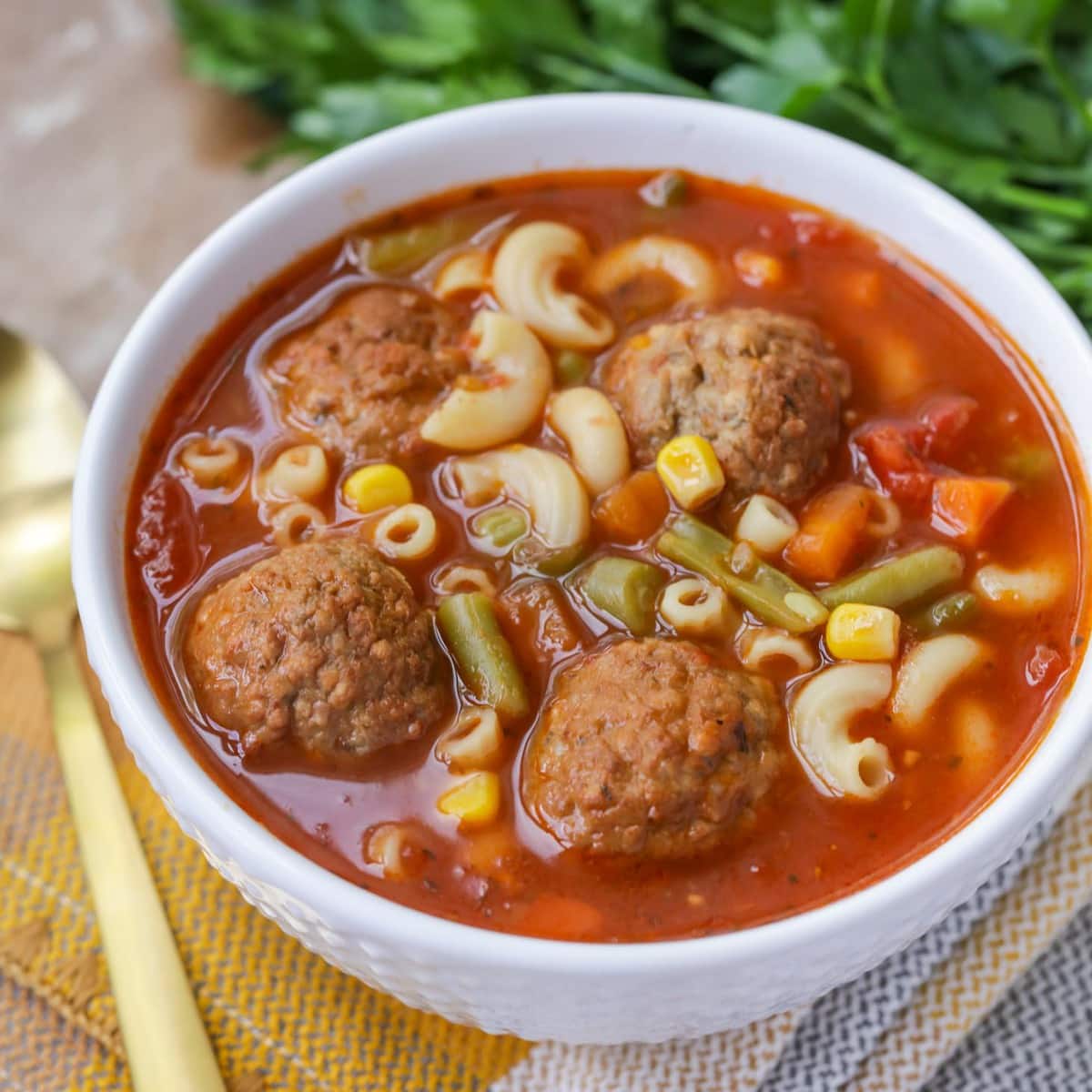 Favorite Italian Meatball Soup
I love a good meatball. Meatballs can be used in so many dishes and I really like them in this Italian flavored soup. The pasta, veggies, and meatballs make this a feel-good soup that everyone is really going to enjoy. It's a casual dinner idea that is simple to pull together and won't take all night to make. This recipe is semi-homemade because you use pre-made meatballs. Of course you can make your own meatballs from scratch but sometimes it's easier to use frozen ones if you're short on time (and sanity!) that day. Am I right??
This meatball soup is so satisfying! It feeds about 6 people but you can always double to recipe to make more and save for leftovers. Soup leftovers for lunch the next day are kind of the best. I love when the flavors get to sit and marinate for a little bit. It's almost like soups get better with time.
We must also note that we used a can of mixed veggies, but next time we will probably add some fresh veggies. We also think spinach cooked in the soup would be great along with some shredded cheese on top (you can never go wrong with cheese!) Go buy some frozen meatballs and make this soup tonight!!
How to Make Easy Meatball Soup
You're going to laugh at how EASY this meatball soup is to whip up. In literally less than 3o minutes you can have this soup ready to eat. Also you only need ONE pot (the pasta is cooked in the soup which is such a timesaver). Making this recipe is really just one step:
COOK. Combine the tomatoes, broth, veggies, uncooked pasta, and oregano in a large pot. Add in the meatballs and bring it all to a boil. Reduce the heat and bring to a simmer for about 15 minutes.
SERVE! When the pasta is cooked and tender, the soup is ready!
Tips, Variations + SToring Info
STORE meatballs in the fridge for 3-4 days after being cooked. So the same goes for the soup. Try to consume definitely within the week that you've made it.
Due to the change in texture I'm not sure I would intentionally make this ahead of time to FREEZE it, but you can definitely freeze leftovers. Note that the pasta may absorb extra liquid. The meat balls may as well. Which may cause them to "fall apart" a bit after being reheated. This should last from 4-6 months in the freezer. Let it sit in the fridge the day before you want to eat it so that it can thaw enough.
Additional Seasonings: Fresh onion and garlic are always solid options when it comes to seasoning. You could also add in celery and carrots and create a mirepoix.
Chicken Broth: Using chicken broth instead of beef broth. There isn't much of a difference between the two in terms of consistency and use in this type of recipe.
Use frozen veggies: Instead of using a can of veggies you just as easily use a bag of frozen veggies. They might even taste better!
Variations:
Peeled and chopped carrots
Chopped celery
Diced onion
Parmesan cheese
Potatoes
Cherry tomatoes
Bay leaves
Try following our homemade meatball recipes here
Type of pasta: Use macaroni, wheels, ditalini, or shells etc. Whatever you prefer and think your family will enjoy is the perfect option.
Healthy substitutions: To make this healthier you want to use meatballs made out of a leaner meat. You could also use a low sodium beef broth, or whole wheat pasta.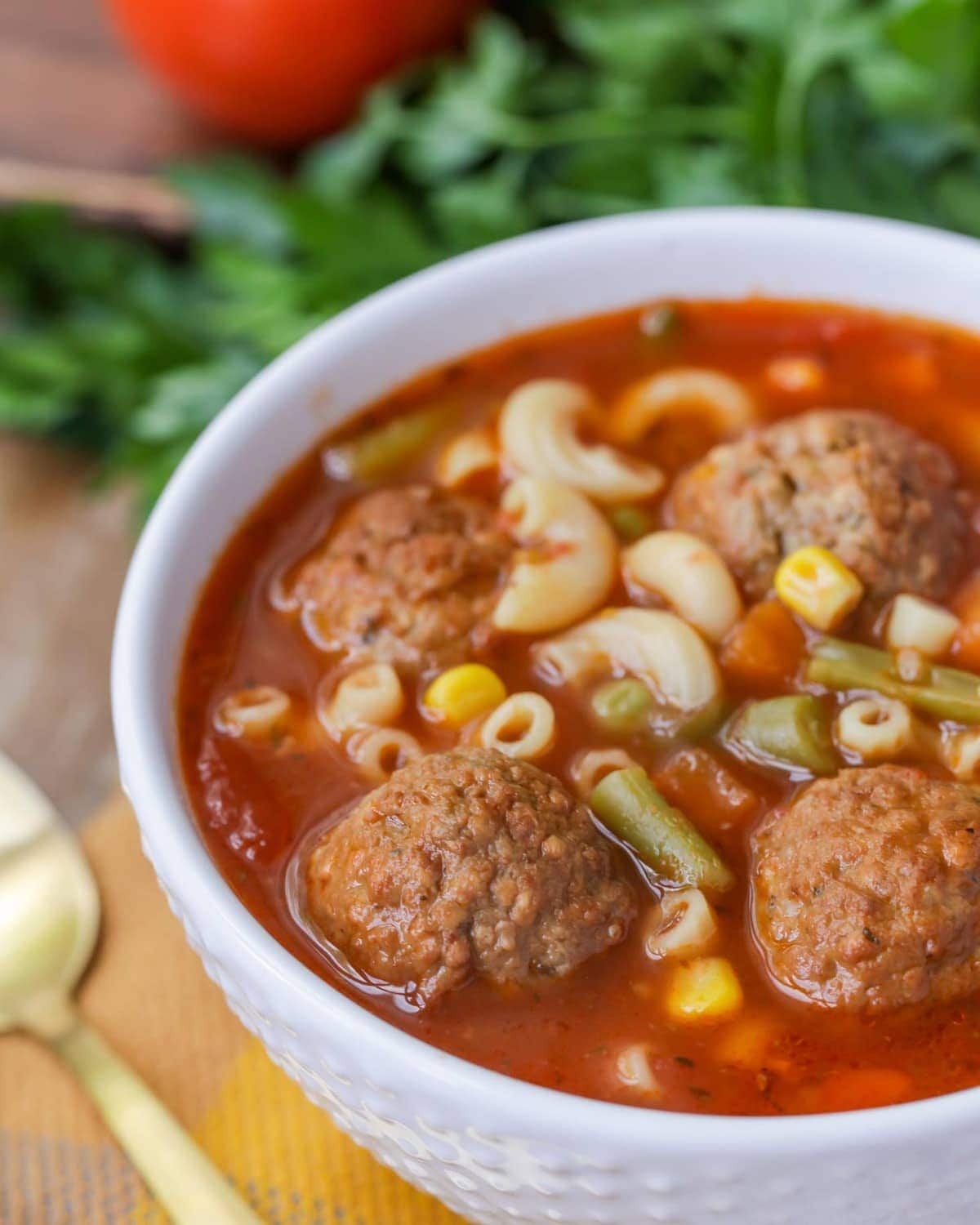 For more hearty soup recipes, check out:
Meatball Soup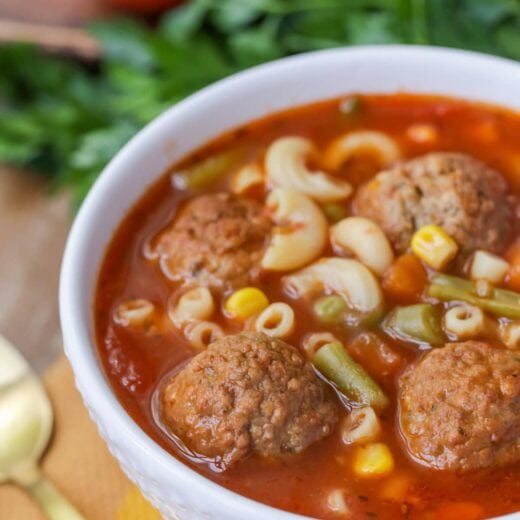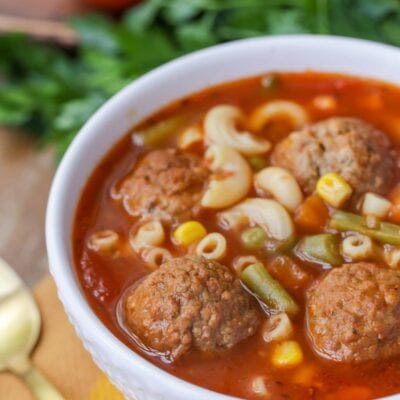 Veggie loaded Meatball soup is filling and delicious. Your entire family will love and devour this kid-friendly dish!
Ingredients
2

(14 oz) cans

Italian Style stewed tomatoes

2

(14 oz) cans

beef broth

1

(14 oz) can

mixed veggies

1/2

cup

pasta

uncooked

1/2

tsp

dried oregano

1

(15-18 oz) pkg

Italian sausage meatballs

frozen and thawed
Instructions
In a large pot, combine tomatoes, broth, veggies, pasta and oregano. Add in meatballs and bring to a boil. Reduce heat and simmer for 15 minutes, or until pasta is cooked and tender.

Notes
TRIED & TRUE FINDINGS:
DIFFICULTY: easy
HOW MANY DOES IT FEED: 6
ANY CHANGES MADE:  none
ANY SUGGESTIONS FOR NEXT TIME: 

i

nstead of mixed veggies, 

next time will just add 1 can of corn + 1 sliced carrot.