Soup, Soup, Soup! We've got soup on the brain, can you tell? Most of you can truly feel the need for a nice, warm bowl of scrumptious soup. Us Arizona folks are still baking in the 100 degree weather, but, I'm a believer that it's never too hot for a good soup. And so… I'm happy to present today's Tried and True recipe for Cheeseburger Soup. This has been my favorite one we've so far this year! Its creamy and cheesy and just simple enough to be YOUR new favorite too.
This Cheeseburger soup recipe has so much flavor and is so hearty! It's filled with hamburger meat, carrots, potatoes, Velveeta and so many delicious spices!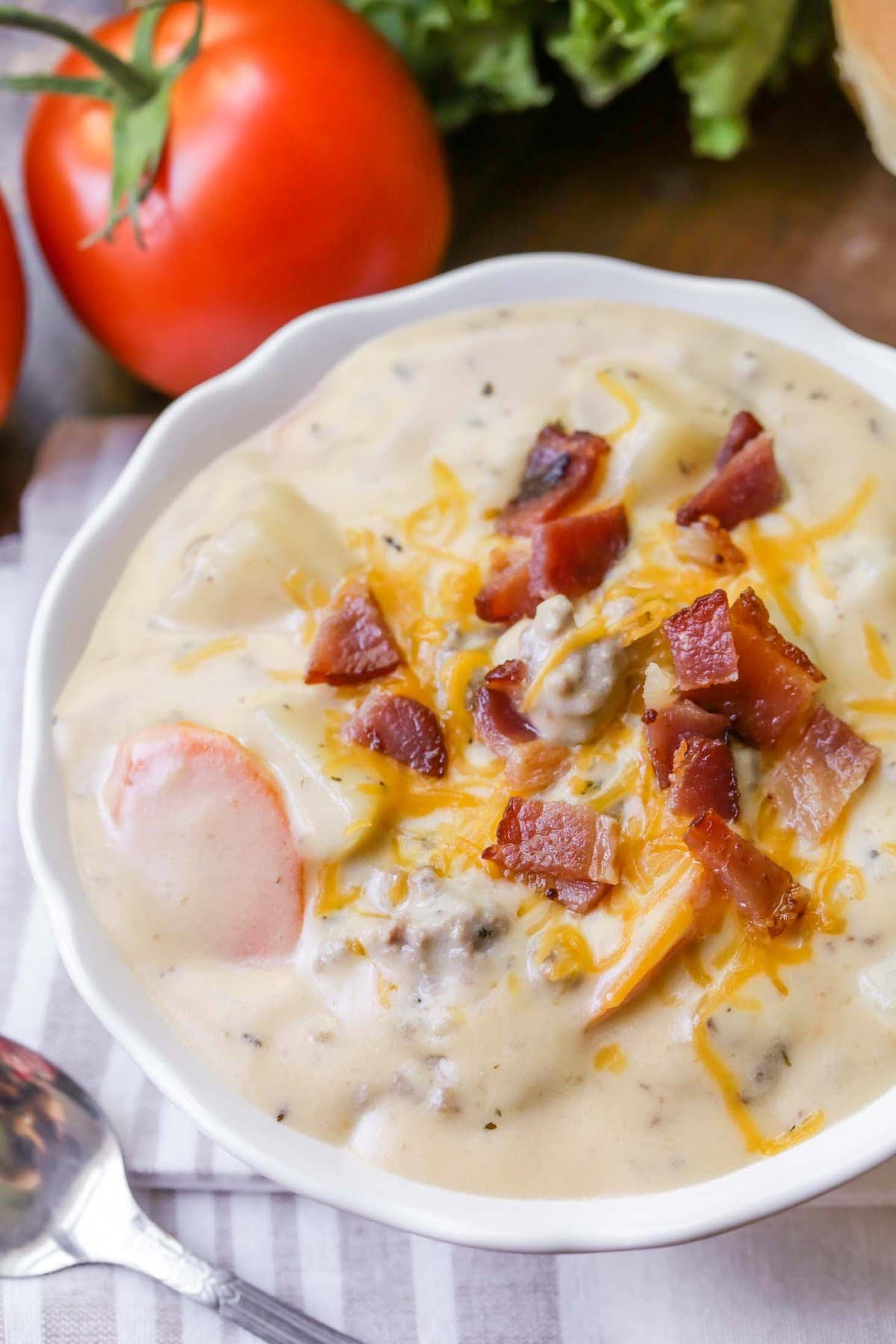 And did I forget to mention it's topped with bacon?! Perfect for you bacon lovers! I will say my hubby was surprised there were carrots in the soup since you really don't have carrots on cheeseburger, but somehow they worked out perfectly in the recipe! I hope you'll agree. 😉
Cheeseburger Soup:
Cheeseburger Soup
Cheeseburger Soup - a hearty, creamy and cheesy soup that the has chunks of meat and potatoes and one the whole family will love.
Ingredients
1-1½ lb ground beef, cooked and drained
1 TB onion flakes
½ cup butter, divided
1½ cups carrots
1 tsp basil
1 tsp thyme
6 medium potatoes (need 8 cups)
1 carton chicken broth
½ cup onedra (or flour)
2 cans evaporated milk
1 package sliced velveta
Bacon, optional
Instructions
Peel and chop your potatoes and carrots. Add both to a crock pot with broth. Cook on high for 3-4 hours, or until tender.
Meanwhile, over the stove, melt 6 TB of butter in a skillet then add that and the 2 cans of evaporated milk into your pot.
Cook your hamburger in the skillet with 2 TB of butter and add onion flakes. Once cooked, add to your crock pot along with seasonings and turn on low for at least an hour. Add velveta 30 minutes before serving. Top with bacon bits (optional). Enjoy!
Recipe adapted from mamaplusone.
Check Out My Other Recipes
TRIED & TRUE FINDINGS:
DIFFICULTY: Simple
HOW MANY DOES IT FEED: 8-10
ANY CHANGES MADE: We replaced the onions with onion flakes(If you didn't know by now, Kristyn and I are onion haters :-/), we replaced the flour with onedra (makes it more stew-like), and we used Velveeta slices instead of the block.
ANY SUGGESTIONS FOR NEXT TIME: We loved the changes we made and will probably stick with this recipe forever!
Here are some other soups you might like if you like meat-y soups…
And for more soups, check out:
ENJOY!
Need more recipes and creative ideas? Sign up and get a FREE copy of my latest ebook!