Panera Broccoli Cheddar Soup tastes just like the original, and is AMAZING! Filled with yummy ingredients, it's sure to be a hit!
Copycat Panera Broccoli Cheddar Soup is creamy and tastes like heaven in a Bread Bowl or served up with some fresh Dinner rolls. It's for soup season.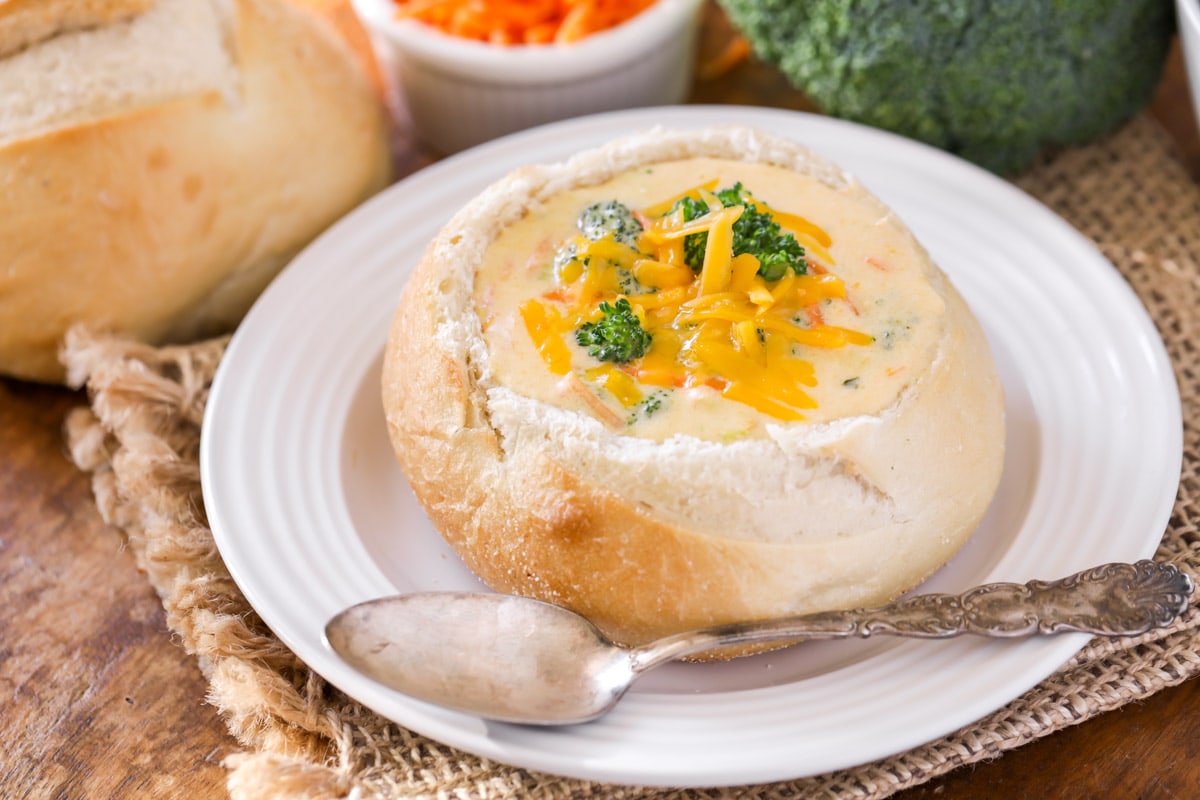 Copycat Broccoli Cheddar Soup
Who loves Panera?
The first time I had was years ago in Chicago, and I'm so glad it's made it's way to Arizona!
One of my favorite soups from there is their Broccoli & Cheese Soup – so good (different from our classic Broccoli Cheddar soup, but just as good)!! Yes, we'll still go and dine in, but now I can make the soup at home ANY TIME I want to because this recipe tastes JUST like it!! WOO HOO!
If you're obsessed with this soup like us, then I think you'll be just as excited as we are. 😀 I think I'll make some next week and serve it in sourdough bread bowls!! In fact, we'll probably stop by Panera and pick up a few of their bread bowls since I have a hard time finding them at the grocery store. 😉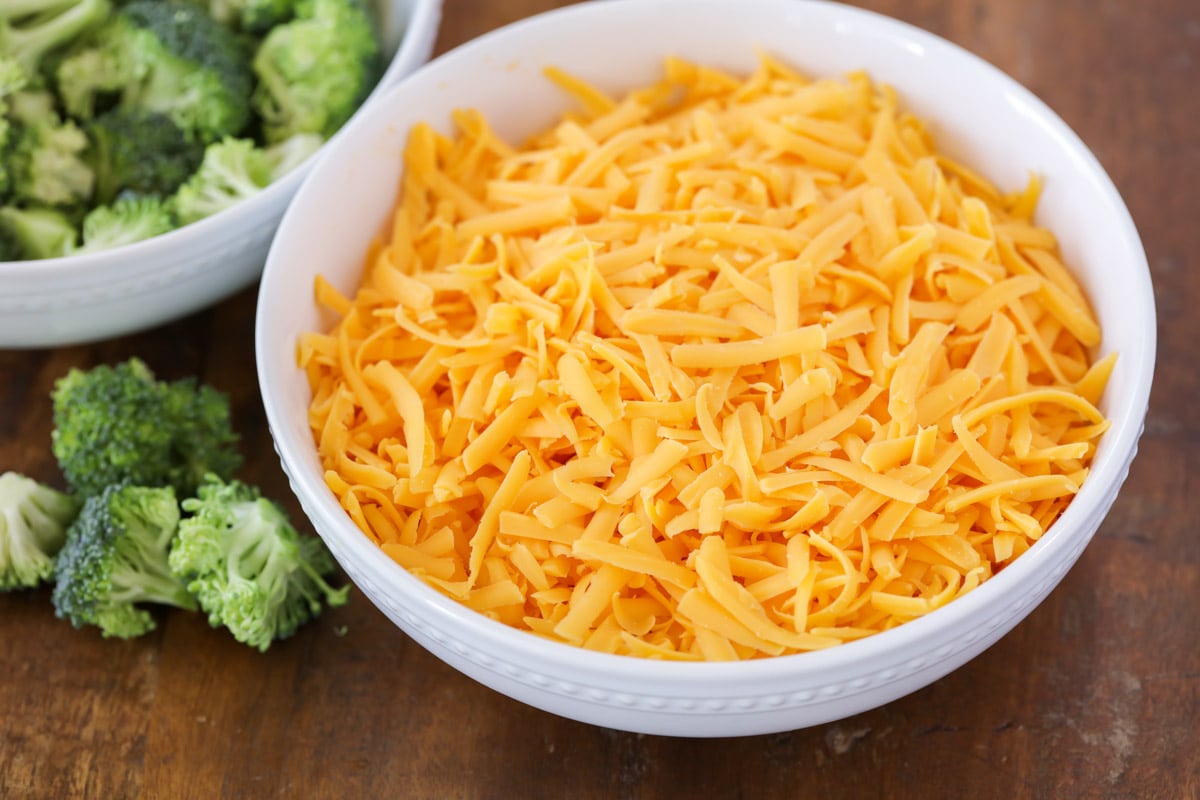 How to Make Panera Broccoli Cheddar Soup
The combination of chicken, cheese, broccoli and carrots make this soup irresistible!! Oh, and top it off with croutons – I promise you won't regret it. ;D
VEGGIES. Melt the butter in a large pot, add the chopped veggies and cook for a few more minutes.
BROTH. Add the seasonings, chicken broth, cream, mustard, and whisk until smooth. Simmer over medium-low heat. Whisk together cornstarch and remaining broth and add to the pot, stirring until smooth.
CHICKEN + CHEESE. Lastly, add chicken and cheese and cook until the cheese is melted. Simple as that! It only takes about 3o minutes to cook.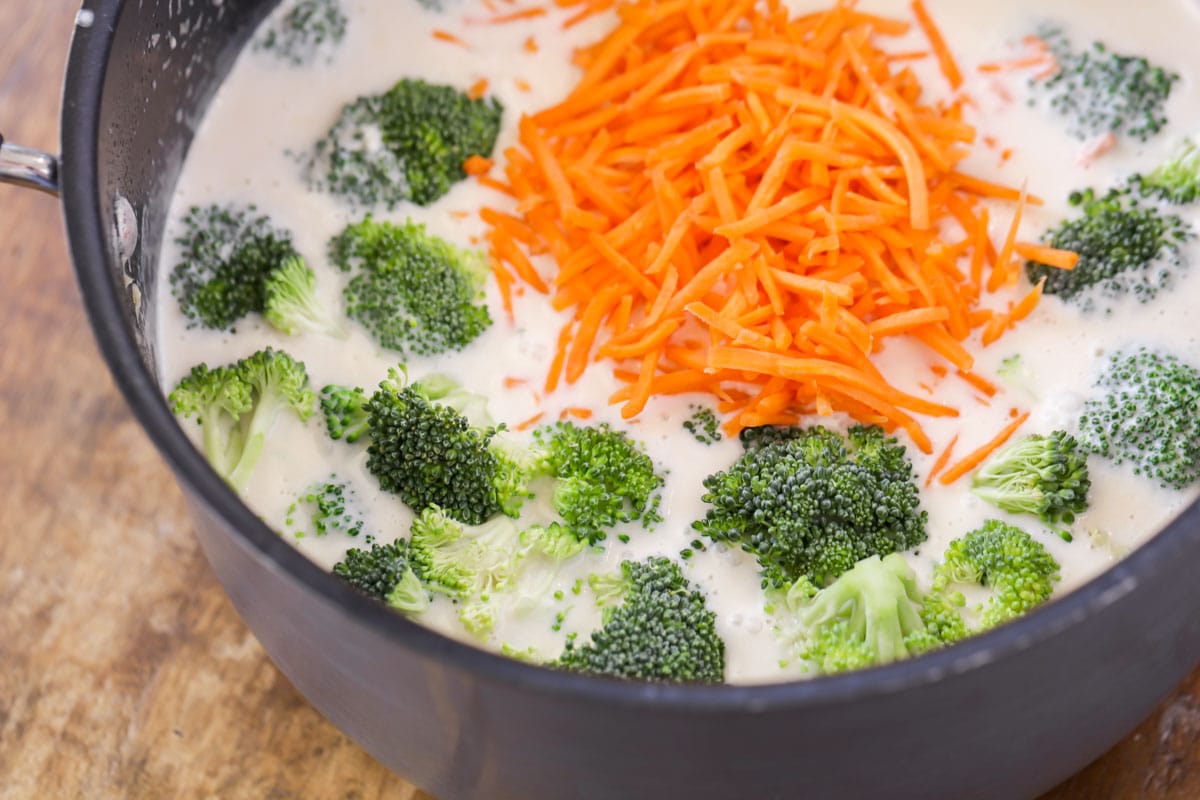 Tips + Storing Info
Crockpot: To make this soup in the crockpot, put melted butter, carrots, broccoli, chicken broth, and seasonings in the crockpot and cook on LOW for 4 hours. In a separate bowl mix the cornstarch with the heavy cream. Turn the temperature to HIGH heat. Slowly stir in the heavy cream mixture. Mix in the chicken and add the cheddar cheese. Cook until the cheese has melted.
To make this vegetarian leave out the chicken and be sure to use vegetable broth.
Chicken: To make this soup a little heartier I added cubed chicken. For a truer copycat go ahead and leave it out.
STORE leftovers in an airtight container in the fridge for 4-5 days. For best result reheat on the stove top but the microwave works well too.
The best technique to FREEZE soup is to let it cool completely and then fill freezer safe bags with soup. Lay it flat and freeze it that way. Let it thaw in the fridge. Reheat the soup on low heat on the stove. Stir occasionally to help all the ingredients reincorporate well.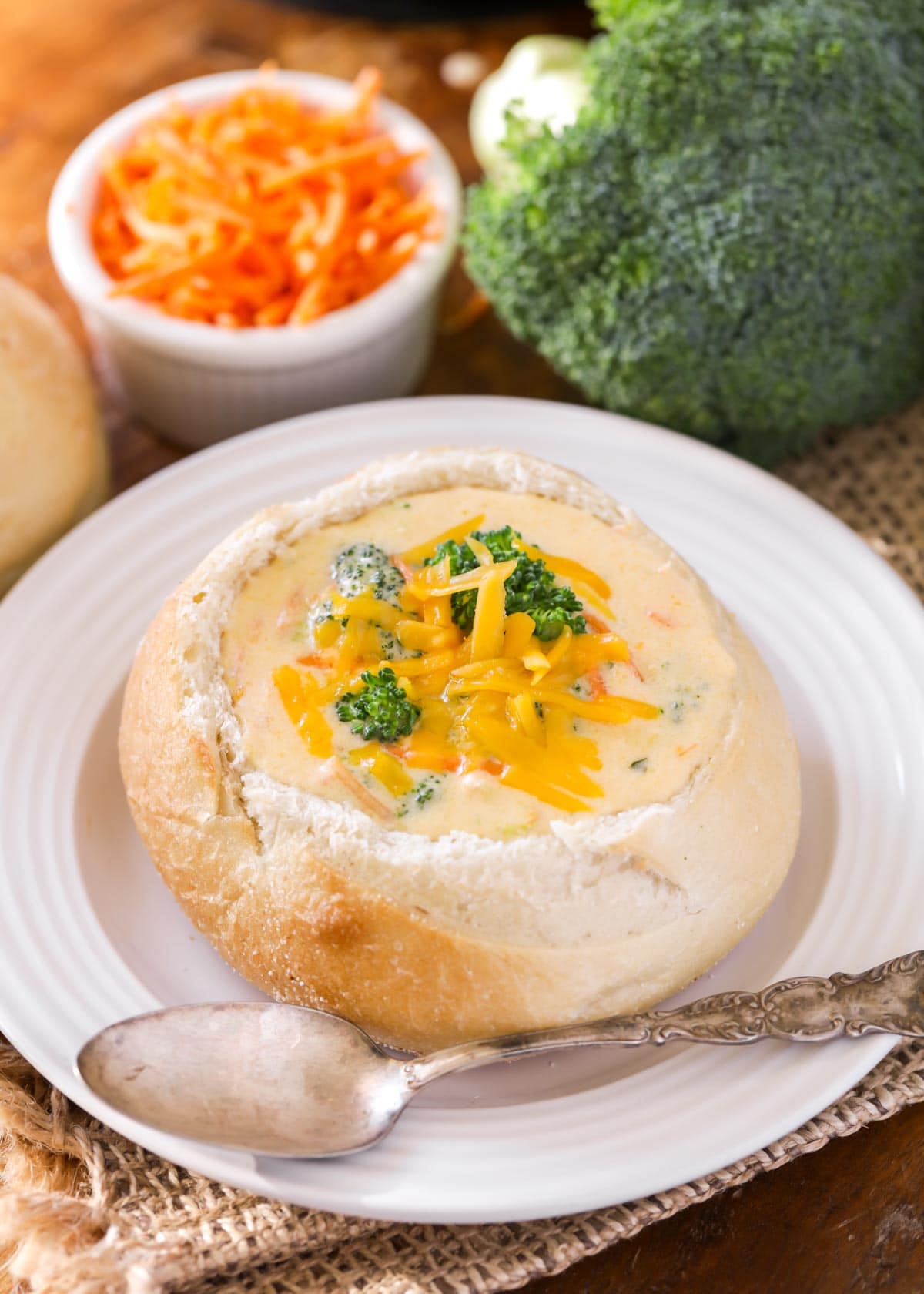 For more favorite soupS check out:
Panera Broccoli Cheddar Soup Recipe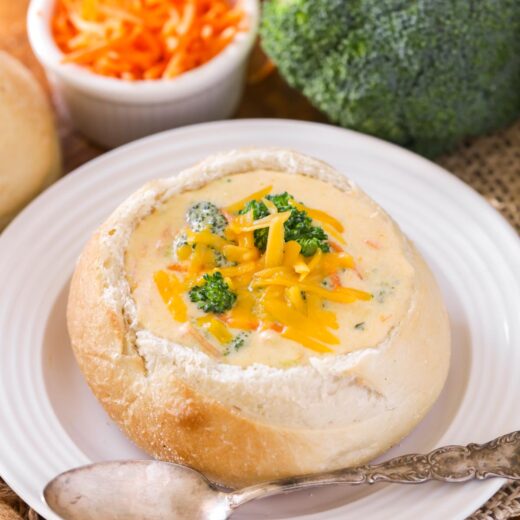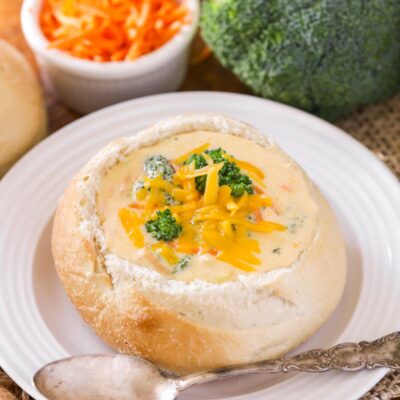 Panera Broccoli Cheddar Soup tastes just like the original, and is AMAZING! Filled with yummy ingredients, it's sure to be a hit!
Ingredients
1/3

cup

butter

1/3

cup

flour

3

cups

half and half

3

cups

chicken stock

(plus more if needed)

2 1/2

cups

broccoli florets,

chopped

1

cups

matchstick carrots

3-4

cups

sharp cheddar cheese.

shredded

garlic salt and pepper,

season to taste
Instructions
Whisk ⅓ cup butter in a large pot over medium heat, until melted.

Whisk in flour and cook for a few minutes to create a roux.

Pour half and half into the flour mixture gradually, making sure to whisk as you pour. Add chicken stock to the mixture. Bring to a simmer and cook for about 20 minutes, or until thickened.

Add broccoli and carrots and simmer until the vegetables are tender (which takes an additional 20 minutes or so).

Stir shredded cheddar cheese into the vegetable mixture and stir until the cheese melts.

Season with garlic salt and pepper to taste.