I may be living under a rock because it wasn't until just a few months ago that I tried Chicken and Dumplings Soup for the first time. Call me crazy, I know but it's just one of those recipes my mom never made growing up and one I wasn't familiar with. To be honest, the word "dumpling" never really sounded appetizing to me which may be one reason I never sought the recipe out. Rewind back to a few months ago when we gathered as women at church to share recipes, and that is the first time I ever tried it. I couldn't believe it because it was stinkin' delicious!! I got the recipe from my friend and did some searches for even more Chicken and Dumplings recipes and ended up making a few.
The recipe I am sharing today happens to be my favorite of the ones I tried. I loved the smaller chunks of dough and felt like it was INCREDIBLY simple. I made the recipe when my sister was over and I asked if she had ever tried it. She hadn't either and I could tell she was skeptical, but even she loved it. The funny thing? Her and I love the DUMPLINGS part the most. Here we were thinking we wouldn't like it, and we didn't only like it – we LOVED it!
This soup recipe can be easily modified to include the ingredients/veggies you love most. We love carrots and corn, but I'm thinking small cubes of red potatoes would be a great addition or even chopped green beans. 😉 In case you are already anxious for fall weather and soups, I highly recommend giving this recipe a try. It's quick, easy and so yummy!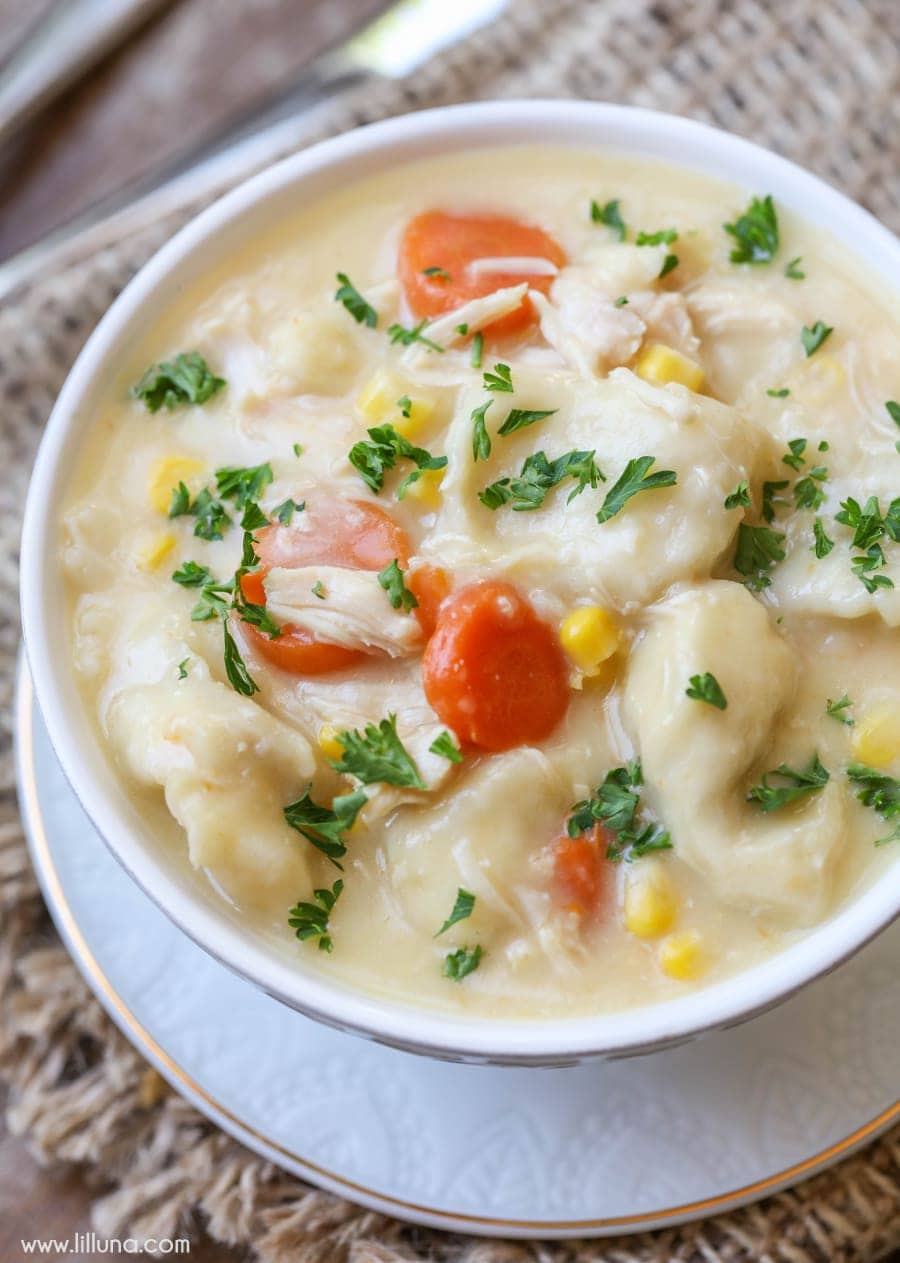 The family loved this recipe as well, which means we will be making it many more times, especially once the weather cools down.
You can find more favorite soups by checking out:
For video instructions on how to make Chicken & Dumplings soup, watch the video here:
How to make Chicken Dumpling Soup:
Chicken and Dumplings Soup
This Chicken and Dumplings Soup is simple, delicious and filled with chunks of chicken and biscuit pieces along with your favorite veggies!
Recipe type:
Soup/Main Dish
Ingredients
4 cups chicken broth
1 (10.75 oz.) can cream of chicken soup
2 (13 oz.) cans cooked and shredded chicken
1- 8.75 oz. can corn
1 - 14.5 oz. can sliced carrots
2 tubes - 7.5 oz refrigerated biscuits - cut into quarters.
fresh parsley
Instructions
In a large pot, heat broth, chicken and soup to a boil. Reduce heat to low. Cover and simmer for 5 minutes.
Add biscuit quarters and vegetables. Cover and simmer for 15-20 minutes. Stir occasionally to keep biscuits from sticking together.
Serve into bowls and topped with fresh parsley. ENJOY!