Crock Pot Green Chile Enchilada Soup – a new favorite soup recipe that is easy to make AND delicious! It's Packed with chicken, green chiles, corn, rice, and mixed with lots of spices and cheeses.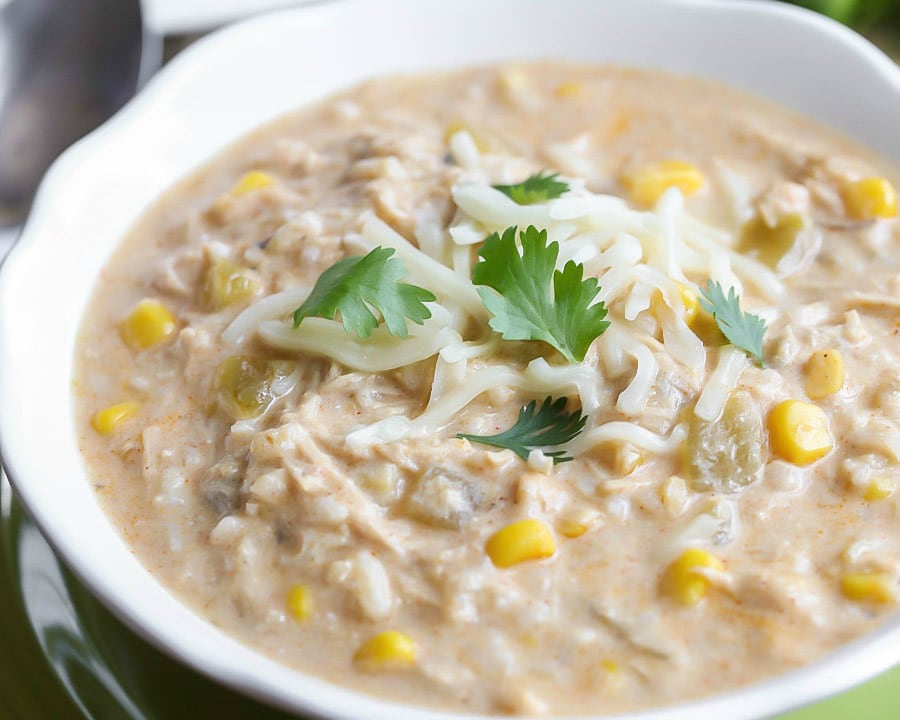 Crockpot Chicken Soup
I LOVE SOUPS!!! Seriously, there is something about warm, delicious soup recipes and the holidays that make me so incredibly giddy! I think more than anything soup reminds me of the cooler weather which usually means the holidays are close by and that truly brings a smile to my face. There are just so many wonderful traditions to celebrate this time of year, as well as so many delicious recipes to enjoy, like today's Chicken Enchilada Soup.
This recipe that I will be sharing with you today has to be a NEW favorite. It was SOO easy to make and turned out fabulous!! We've always been suckers for Green Chiles and Enchiladas so making a soup version of these things sounded wonderful. This Slow Cooker Enchilada Soup recipe comes from Scattered Thoughts of a Crafty Mom.
MY OTHER RECIPES
I ended up doing a simpler version of it and was very pleased with the outcome. I loved it so much I even insisted my mom make it for a church function last week. She said it was a hit! She agreed that it was very simple to make as well. The combination of the chicken, green chiles, spices, corn and cream cheese (and all in the slow cooker) make this recipe irresistible and so easy. You really can't beat throwing everything in the slow cooker and having a delicious meal within a few hours. Pretty amazing!
Once your chicken is cooked, it's all just a matter of putting everything into the slow cooker. Then, towards the end you add the corn, cream cheese and rice. After that, it's just a matter of trying not to devour 5 bowls for yourself. 😉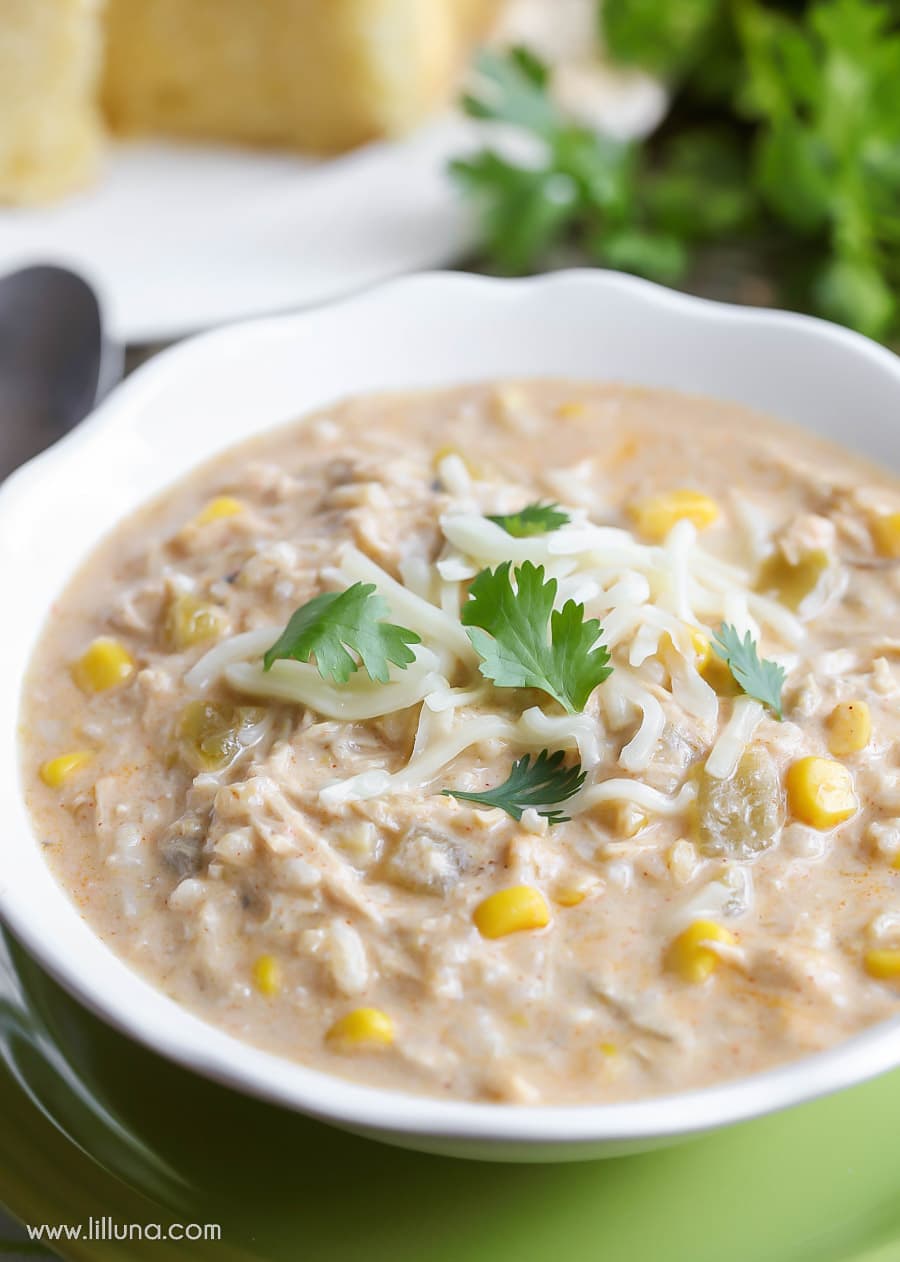 Green Chili Chicken Soup
The flavors of this soup really are phenomenal. It has all the ingredients similar to enchiladas but in a soup form, and looking at the list of key ingredients it's not hard to see why this Green Chili soup is so good!
chicken
chicken broth
green enchilada sauce (we prefer Las Palmas)
green chilis
cumin, chili powder, garlic powder and onion powder
corn
instant rice
cream cheese
cheese
SO GOOD! You can even add any other ingredients you'd like including peppers, beans and other types of cheese. We will definitely be making this recipe on a regular basis since it's so easy and so delicious!!
For more slow cooker soups, check out:
Slow Cooker Chicken Enchilada Soup VIDEO:
Crock Pot Chicken Enchilada Soup
Crock Pot Green Chile Chicken Enchilada Soup - a new favorite soup recipe packed with chicken, green chiles, corn, rice, and mixed with lots of spices and cheeses.
Ingredients
4 chicken breasts (cooked and shredded)
2 - 14.5 oz cans chicken broth
2 - 15 oz. cans mild green enchilada sauce
2 - 4 oz. cans diced green chiles
⅔ cup water
1½ TB cumin
1 TB chili powder
1 tsp. onion powder
1 tsp. garlic powder
⅔ cup corn (if frozen, thaw out)
⅔ cup instant rice
1 - 8 oz. bar cream cheese (cubed)
salt and pepper
Monterrey Jack Cheese
Instructions
Place chicken broth, enchilada sauce, green chiles, water, cumin, chili powder, onion powder, garlic powder and shredded chicken in crock pot on HIGH. Cook for 3.5 hours.
After cooking for 3.5 hours add corn, rice and cubed cream cheese. Stir and cook for half hour.
Add salt and pepper to taste and top with Monterrey Jack Cheese. Serves 4-6.
Recipe adapted Scattered Thoughts of a Crafty Mom.