Nothing says Fall more than a cold day with warm soup! Wouldn't you agree?! I couldn't be more excited that this glorious season has finally arrived! To celebrate I've been making soup a LOT!! No, it's not super cold just yet but temps have cooled down, which is always a good thing. 😉 Soup recipes are my favorite but Slow Cooker Soup recipes are even better!! Today, I want to share with you this recipe for Crock Pot Potato Soup. We've made it twice in the last month which means it was DELICIOUS!!
I found the recipe via AllRecipes and it's one I know you'll love… especially if you love potatoes, bacon and cheese (how could you not love those ingredients, right?!)
MY OTHER RECIPES
This recipe is super easy to make! All you have to do is throw everything but the Half n Half and cheese into your slow cooker. Cook for 4 hours and then add the last 2 ingredients. The result: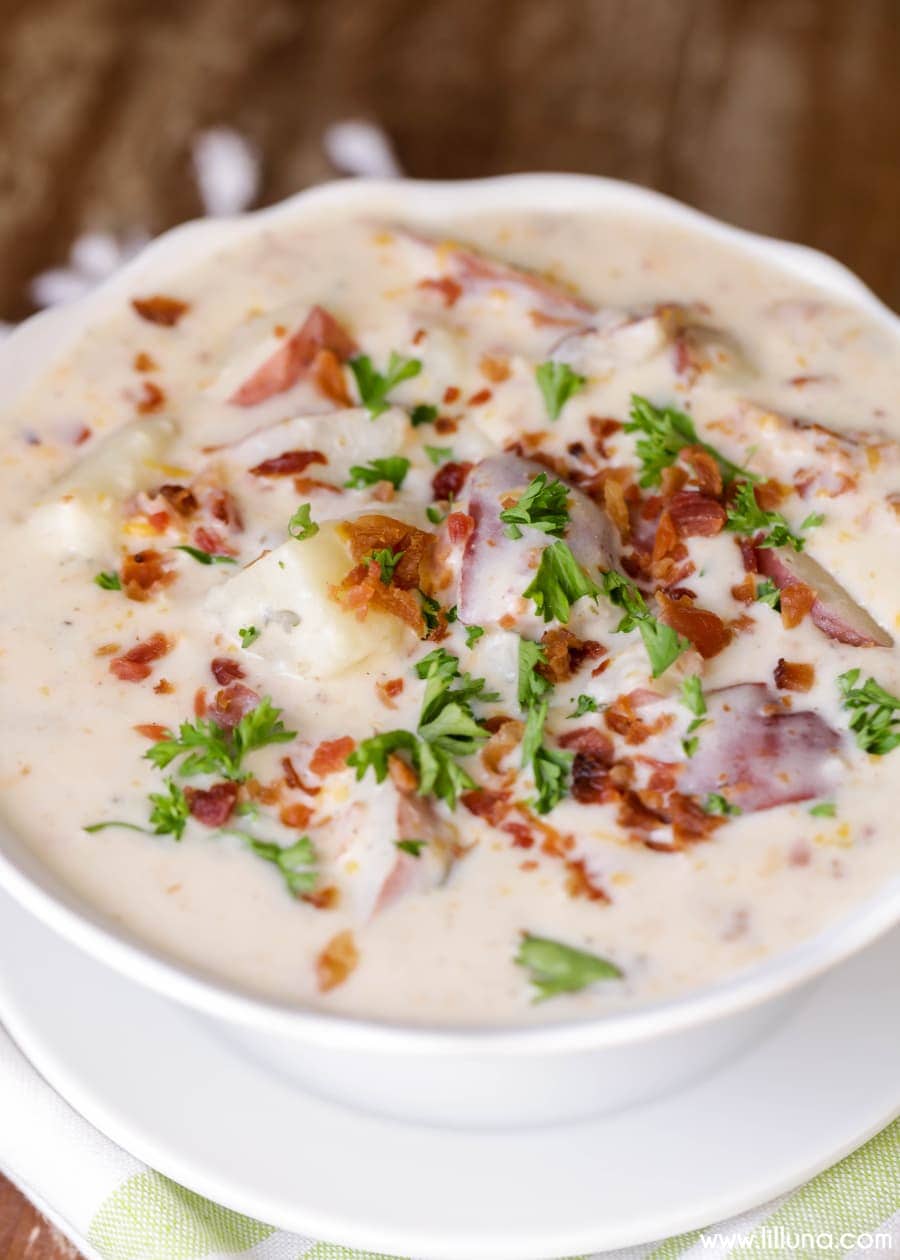 For more potato recipes, check out:
For video instructions on how to make Crock Pot Baked Potato Soup, check out the video below:
How to make Crock Pot Potato Soup:
Crock Pot Baked Potato Soup
Creamy and delicious Crock Pot Baked Potato Soup - so full of flavor, easy to make and filled with red potatoes, bacon, cheese and more.
Ingredients
10 red potatoes, cubed
3 TB flour
1 cup real bacon bits
1 tsp. onion powder
2 tsp. garlic
1 chicken bouillon cube
1 TB ranch dressing mix
2 tsp. dried parsley
1 tsp. salt
½ tsp. pepper
3 cups water
1 cup half n half
1 cup cheddar cheese
Instructions
Add potatoes to crock pot. Sprinkle flour over potatoes and then add the rest of the ingredients through to the water. Bake on HIGH for 4 hours.
Add half n half, and cheese and mix well. Cook an additional 15 minutes. Mix well.
Serve warm.
Recipe adapted from AllRecipes.
To celebrate the start of fall, I picked up a few Better Homes and Gardens Fall products from Walmart. Check 'em out:
I'm completely obsessed with this Pumpkin Tureen and Ladle!! Isn't it adorable?!
When I saw it, I knew I had to have it to serve my soups in. It's a beautiful piece and I know I'll be using it a TON this season. And for under $16 you can't pass it up!! 😀
I also picked up these square bowls and spoons. I've never had square dinnerware before, but I LOVE these bowls. They are so big and pretty and will be perfect for all the soup we'll be enjoying. 🙂 I also picked up a Burlap Table Runner and Placemats. They add the perfect natural color to our bright Turquoise table.
And I HAD to pick up the Whipped Pumpkin Cream candle. It's one of my favorite scents!! Have you smelled it before? It is the best FALL scent ever!! Light this candle and get this soup going, and I promise you'll be in Fall heaven!! 😉
For a complete list of the products I used I've put them all in one spot for you. 🙂
BHG PRODUCTS:
I also wanted to make sure you guys knew about Better Homes and Gardens LIVE! – an event that I'll be at in New York City in a few weeks. It will be a one-hour show that will stream LIVE on BHG.com, and will inform, inspire and help you get guest-ready for the holidays using BHG at Walmart products. I'll be sharing more info as it gets closer but mark your calendars for
For more information about BHG Products be sure to follow them here –  Instagram, Facebook, Twitter, and Pinterest.

ENJOY!
I received compensation from  BHG at Walmart for my time and participation in the BHG Live Better Network. As always, all opinions are my own.