When the weather cools down, our favorite fall dinner ideas come out! From crockpot dishes to casseroles, this collection will have something you're sure to love.
More Collections: Fall Soups, Fall Salads, Fall Desserts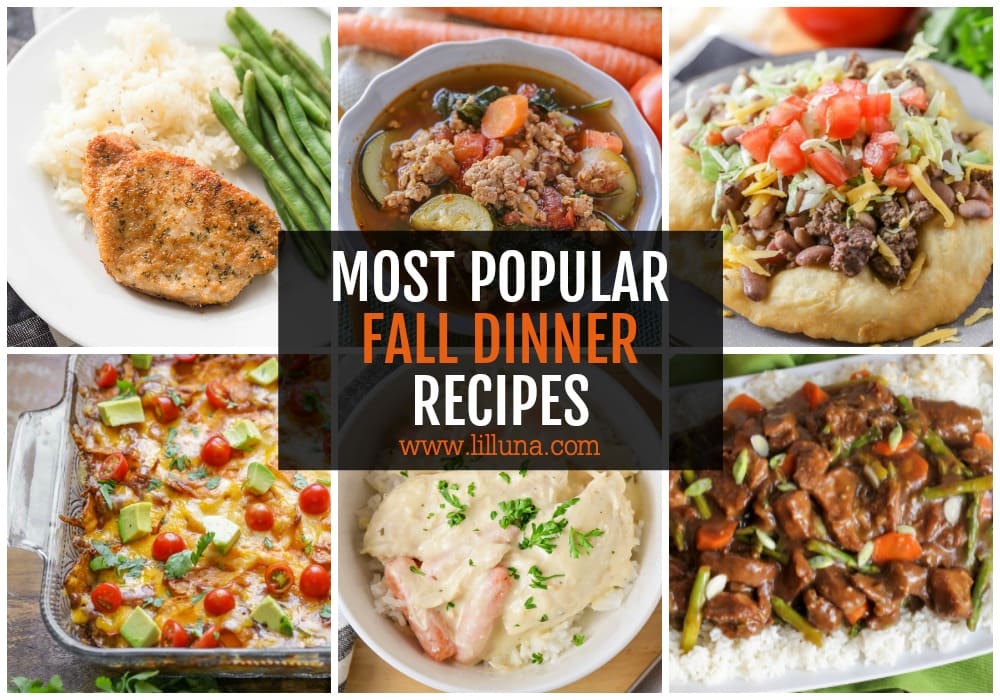 Dinner Dishes Perfect for Fall
Arizona doesn't necessarily have fall weather, but that doesn't stop me from busting out my sweaters and bringing out my warm Autumn recipes. Over the years I've noticed that cooking in the fall changes just a bit from cooking in the summer. 
Some of my favorite produce appears in the fall, such as apples, pumpkins, mushrooms, kale, squash, pears, carrots, and beets.

Outdoor grilling ends for the season and oven roasting begins.

Crock pots are also utilized, slowly filling the house with delicious aromas that make my mouth water in anticipation.
Soups! Not only are they easy to whip up, but they're filling and warm you right up on a chilly autumn day.
All of the fall dinner recipes below have been made, tasted, and tested for my site. I love knowing I'm providing recipes for your family that I love myself.
Along with the recipes, you'll find tips and tricks such as make-ahead information, variations, cooking tips, and storage info. Happy Cooking!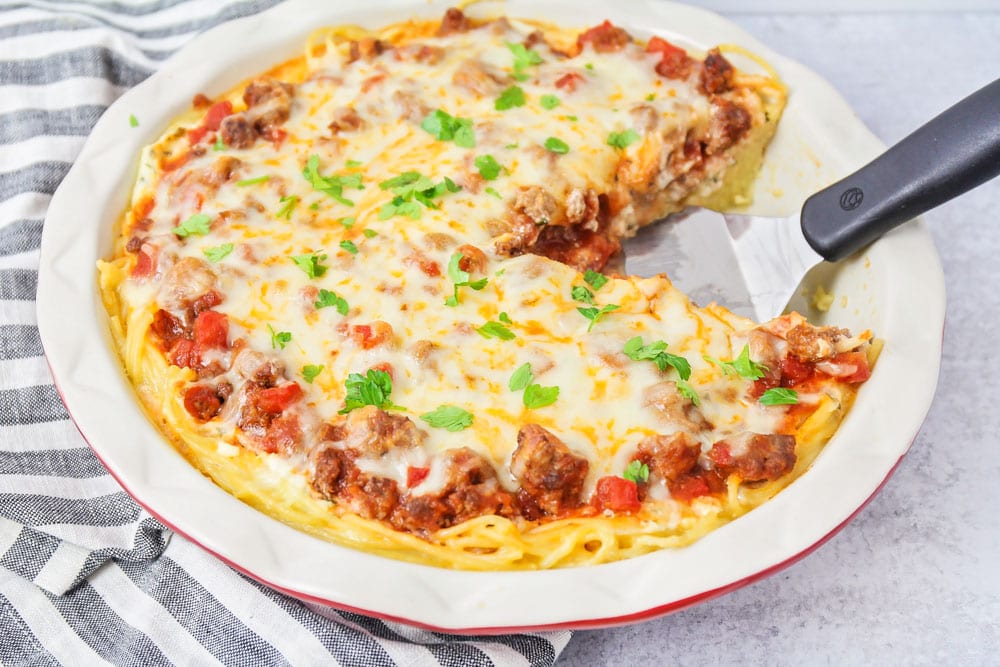 how Much is Enough?
If you plan to host a fall dinner party it can be helpful to know about how much dinner to make. Casseroles, soups, and meats are all warm, hearty, and popular to serve in the fall.
Soup. If you serve soup as an appetizer or side dish, then plan for ¾-1 cup per person. If it is the main dish, then provide 1½ cups per person.
Casserole. Casseroles served as a main dish are usually hearty, filling, and contain protein. Plan to serve 8 ounces per person if you will also have side dishes. If the casserole is the only dish, then plan to serve 12 ounces per person. Casseroles containing a base of rice, pasta, or potatoes are usually served as a side dish and you can plan to serve about 4 ounces per person. 
Meat. When meat such as steak, pork chops & chicken breast, are the main dish then plan to serve 6-8 ounces per person. If the meat is breaded or covered in gravy or sauce, reduce the amount to 4-5 ounces per person. When purchasing meat remember that you will lose about 25% of its weight during the cooking process. Fattier pieces of meat will lose more mass so be sure to account for the loss.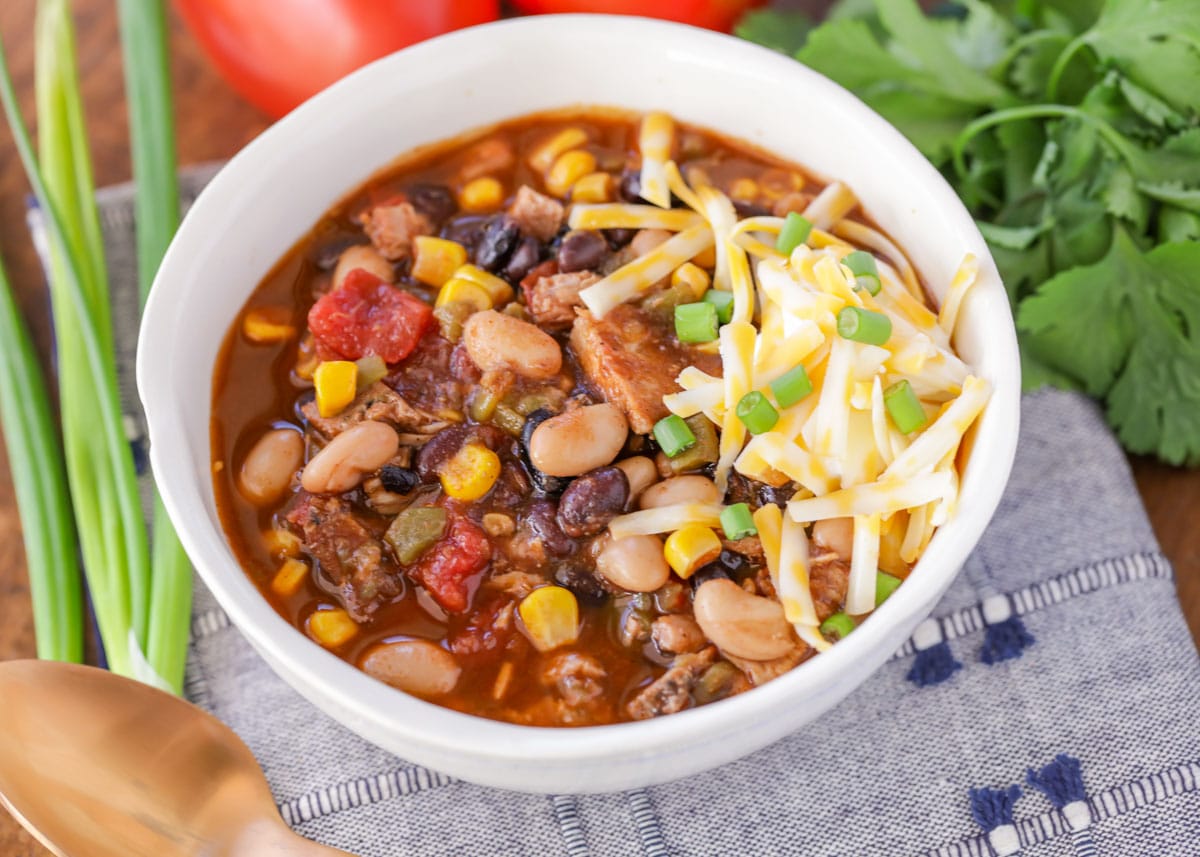 Fall Vegetables
Whether you are serving them as a side or incorporating them into the main dish some popular fall herbs and vegetables include:
Greens. arugula, cabbage, or leafy greens
Squash. butternut squash, or zucchini
Other vegetables. beets, broccoli, brussels sprouts, carrots, cauliflower, celery, eggplant, green beans, onions, parsnips, peas, peppers, potatoes, pumpkin, radish, turnips, sweet potatoes, or wild mushrooms
Herbs. garlic, rosemary, or sage
One of the easiest ways to prepare these seasonal produce items is this recipe for Oven Roasted Vegetables!
---
favorite fall dinner recipes
The following fall dinner recipes include pasta, soups and other yummy dishes that I'm sure you'll love. These are some of our best-loved fall meals!
Cabbage Soup
Cabbage soup is an easy healthy soup loaded with fresh veggies. Warm up with a cup of this low calorie and low carb delicious soup!
Smothered Pork Chops
This creamy lemon & thyme smothered pork chops recipe always gets rave reviews. It's flavorful and ready in 35 minutes or less.
Pork Stuffed Sweet Potatoes
Savory pork stuffed sweet potatoes are simple and quick and perfect for dinner any night or as a side dish.
Parmesan Crusted Pork Chops
Fry up the most delicious parmesan crusted pork chops with less than 10 minutes of prep work!! They are perfectly juicy.
Spaghetti Pie
Spaghetti pie makes a hearty and delicious twist for a dinner time win! It's a perfect recipe for busy weeknights and family-friendly dinners.
Easy Swedish Meatballs
Swedish meatballs made from both pork and beef, cooked to perfection, and smothered in a creamy gravy.
Italian Sausage Soup
Hearty and delicious Italian sausage soup filled with tomatoes, carrots, zucchini, spinach and more. The recipe made on the stove is simple and great to enjoy all year long!
Carne Asada
Carne asada is the perfect Mexican flavored meat to add to tacos, burritos, salads, or quesadillas. It's tender, flavorful, and juicy.
Indian Fry Bread
Delicious homemade fry bread—aka "Navajo tacos" or "Indian bread"—pillows of dough, fried until crispy on the outside and soft on the inside. Make it a meal by adding sweet or savory toppings!
Vegetable Soup
Loaded with potatoes, carrots, corn, green beans, and tomatoes, this vegetable soup is healthy, hearty, and super good.
Chicken Lasagna
Everyone loves lasagna! This chicken version is just as delicious and is filled with spinach, cheese and delicious homemade white sauce.
Buffalo Chicken Egg Rolls
Buffalo chicken egg rolls are two of our favorite appetizer recipes in all wrapped up into one dippable delight.
Chicken Pot Pie
Easy chicken pot pie is the definition of comfort food! It's warm, rich with flavor, full of veggies, and has the best flaky crust.
Buttermilk Fried Chicken
You can't go wrong with delicious fried chicken!! It's great for picnics, barbecues, holidays and more. Plus – it's easier to make than you think!!
Mayo Parmesan Chicken Bake
A delicious parmesan chicken bake that is simple, yet full of flavor, and takes little prep time.
Skillet Lasagna
Skillet lasagna is a comforting and cheesy one pot meal. It takes just 30 minutes and is perfect for dinner any night of the week!
Spinach Artichoke Stuffed Chicken
Cheesy spinach artichoke stuffed chicken is delicious and tender. It is stuffed and baked to perfection in under 30 minutes!
Chicken Bacon Ranch Pasta
Easy chicken bacon ranch pasta – a creamy and delicious pasta dish filled with cheese, chicken and bacon all made in one pot! This pasta can't be beat!
Ritz Cracker Chicken
Crispy cheddar chicken is coated in sour cream, cheddar cheese, and Ritz cracker crumbs and baked to crispy perfection. Top it with a creamy sauce, and it's to die for!
Parmesan Chicken Manicotti
These manicotti shells are stuffed with a cheesy chicken mixture, and topped with tasty marinara!
Pumpkin Chili
Healthy and delicious pumpkin chili is filled with meat and veggies. It's a perfect fall soup recipe that the whole family will love!
---
fall crockpot meals
Crock pots are the best friend of any busy family. You can throw ingredients in the morning and return home to a warm ready-made meal. Soups are definitely great to make in the crockpot, but you can make other great dishes in it as well.
Chicken Florentine Soup
With a combination of chicken, potato, white beans, carrots, spinach and more, this chicken Florentine soup is hearty and absolutely delicious. It tastes similar to Olive Garden's recipe, but it's made in the slow cooker!
Crock Pot Ribs
Juicy BBQ crock pot ribs is the best and easiest dinner idea! Great for a small family, big family, or cooking for a crowd!
Crockpot Orange Chicken
This crockpot orange chicken is simple, and tastes even better than takeout. With breaded chicken pieces covered in a phenomenal orange sauce and cooked to perfection in a slow cooker, it's a recipe the whole family loves!
Crockpot Lasagna
Classic lasagna made in the slow cooker! This delicious crock pot recipe has all the layers of noodles, cheese, sauce and meat that everyone loves but made more simply.
Cheesy Potato Soup
Creamy cheesy potato soup is the easiest soup you'll ever make. You only need a handful of ingredients and a crockpot!!
Slow Cooker Roast Chicken
Juicy and flavorful roasted chicken made in the slow cooker! So simple to make an entire chicken with the help of your crock pot.
Crock Pot Chicken Stew
A simple, convenient, and TASTY stew recipe made in the crock pot! Made with chicken, potatoes, carrots, cream of chicken soup, sour cream, ranch dressing mix and more, this slow cooker chicken stew recipe is BURSTING with flavor!!
Crock Pot Mongolian Beef
Delicious crock pot Mongolian beef loaded with carrots and asparagus is SO simple to make. Your crock pot does all the work!!
Crockpot Ranch Chicken
You'll love how simple, yet flavorful, this delicious chicken is. Made entirely in the crockpot, creamy ranch chicken is perfect on its own or served over rice.
Crock Pot Spinach Tortellini Soup
Easy crock pot tortellini and spinach soup is a hearty soup filled with cheese tortellini, spinach, tomatoes, and lots of spices!!
Slow Cooker Beef Stew
Delicious slow cooker beef stew filled with chunks of beef, potatoes and carrots – a family favorite that is hearty, simple and great for fall.
---
easy fall dinner recipes
Not only are casseroles easy to whip up, but they can often be made ahead of time and used as a freezer meal. You can still provide a warm home-cooked meal at the end of a busy Autumn day.
Chicken Cordon Bleu Casserole
A casserole version of the classic chicken cordon bleu recipe. With layers of chicken, cheese, ham, sauce and Panko crumbs, it's sure to become a family favorite.
Dorito Casserole
Everyone loves this crunchy and flavorful Dorito casserole. It's layered with lots of meat, cheese and (of course!) nacho cheese flavored Doritos!
Thanksgiving Leftover Casserole
Stuffing, turkey, and mashed potatoes come together to make this hearty Thanksgiving leftover casserole. It's the best way to enjoy turkey day leftovers!
Spaghetti Casserole
Spaghetti casserole is the definition of comfort food! Hearty, delicious, and an easy way to make and eat spaghetti.
Chicken Bacon Ranch Casserole
Creamy and hearty chicken bacon ranch casserole is the best way to beat the weeknight rush! It's easy to make, and filled with pasta, chicken, bacon, and creamy alfredo sauce.
French Onion Chicken Casserole
Just 10 minutes of prep time and you have a delicious creamy concoction of chicken, celery, and cheese topped with crispy fried onions!
Chicken Noodle Casserole
Chicken noodle casserole for the dinner win! It's filled with chicken, noodles, broccoli, carrots, and more, and topped with a butter-y cracker crust making it a flavorful family favorite.
King Ranch Chicken Casserole
King ranch chicken casserole is creamy, cheesy, and bursting with spicy flavors. This delicious casserole is basically a Texan lasagna and is favorite family dinner recipe.
Cheesy Chicken And Rice Bake
Easy cheesy chicken and rice bake is a simple, deliciously homey dinner that is perfect for freezing and sharing!
Taco Casserole
This delicious taco casserole is like a taco salad in casserole form! With a ground beef and biscuit base, plus layers of sour cream, lettuce, tomatoes, cheese, and olives, this casserole is the perfect way to switch up your dinner routine.
---
Easy Fall Dinners
Serving up a warm, delicious meal on a fall evening couldn't be easier with these recipes that are sure to get rave reviews. Let us know which ones you try!
More Collections: Crockpot Dinner Ideas, Fall Appetizers, Easy Soup Recipes