When the weather cools down, our favorite Fall Dinner Recipes come out! From crockpot dishes to casseroles, this collection will have something you're sure to love.
More Collections: Fall Soups, Fall Salads, Fall Desserts, Best Fall Recipes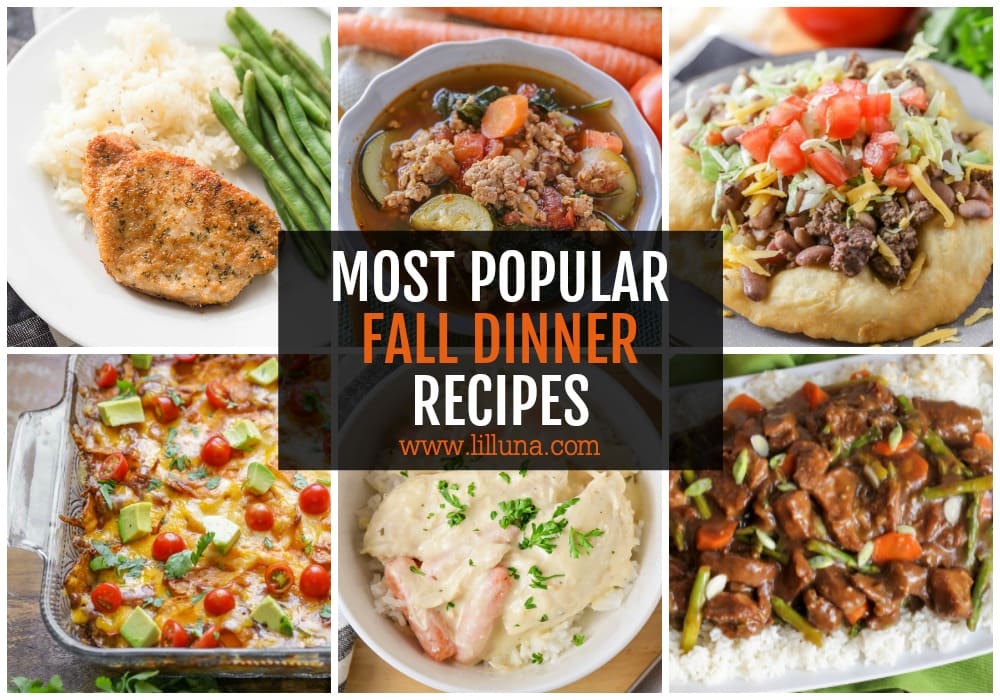 Dinner Dishes Perfect for Fall
Arizona doesn't necessarily have fall weather, but that doesn't stop me from busting out my sweaters and bringing out my warm Autumn recipes. Over the years I've noticed that cooking in the fall changes just a bit from cooking in the summer. 
Some of my favorite produce appears in the fall such as apples, pumpkins, mushroom, kale, squash, pears, carrots and beets. 

Outdoor grilling ends for the season and oven roasting begins.

Crock pots are also utilized slowly filling the house with delicious aromas making my mouth water in anticipation. 

Soup! Not only are they easy to whip up, but they're filling and warm you right up on a chilly autumn day.
All of the recipes above have been made, tasted and tested for my site. I love knowing I'm providing recipes for your family that I love myself. Along with the recipes you'll find tips and tricks such as make ahead information, variations, cooking tips and storage info. Happy Cooking!
Delicious Fall Dinners
The following fall dinner recipes include pastas, soups and other yummy dishes that I'm sure you'll love.
Fall Chicken recipes
Chicken is so versatile it tastes great baked with a simple marinade, sauteed with veggies, served in creamy pasta dishes and so much more. I provided some of my favorite chicken dishes. Some of these recipes are easy and quick others take a little more attention, but all make a delicious warm dinner.
Crock Pot Dinners – so easy!
Crock Pots are the best friend to any busy family. You can throw ingredients in the morning and return home to a warm ready made meal. Soups are definitely great to make in the crockpot, but you can make other great dishes in it as well.
fall Dinner Casseroles
Not only are casseroles easy to whip up, but they can often be made ahead of time and used as a freezer meal. You can still provide a warm home cooked meal at the end of a busy Autumn day.
More Collections: Fall Soups, Fall Salads, Fall Desserts, Best Fall Recipes