Classic Lasagna made in the slow cooker! This delicious crock pot recipe has all the layers of noodles, cheese, sauce and meat that everyone loves but made more simply.
We've been long-time fans of lasagna but wanted to have a slow cooker option great for busy days. If you also love lasagna, you'll love these: lasagna soup, skillet lasagna and lasagna rolls.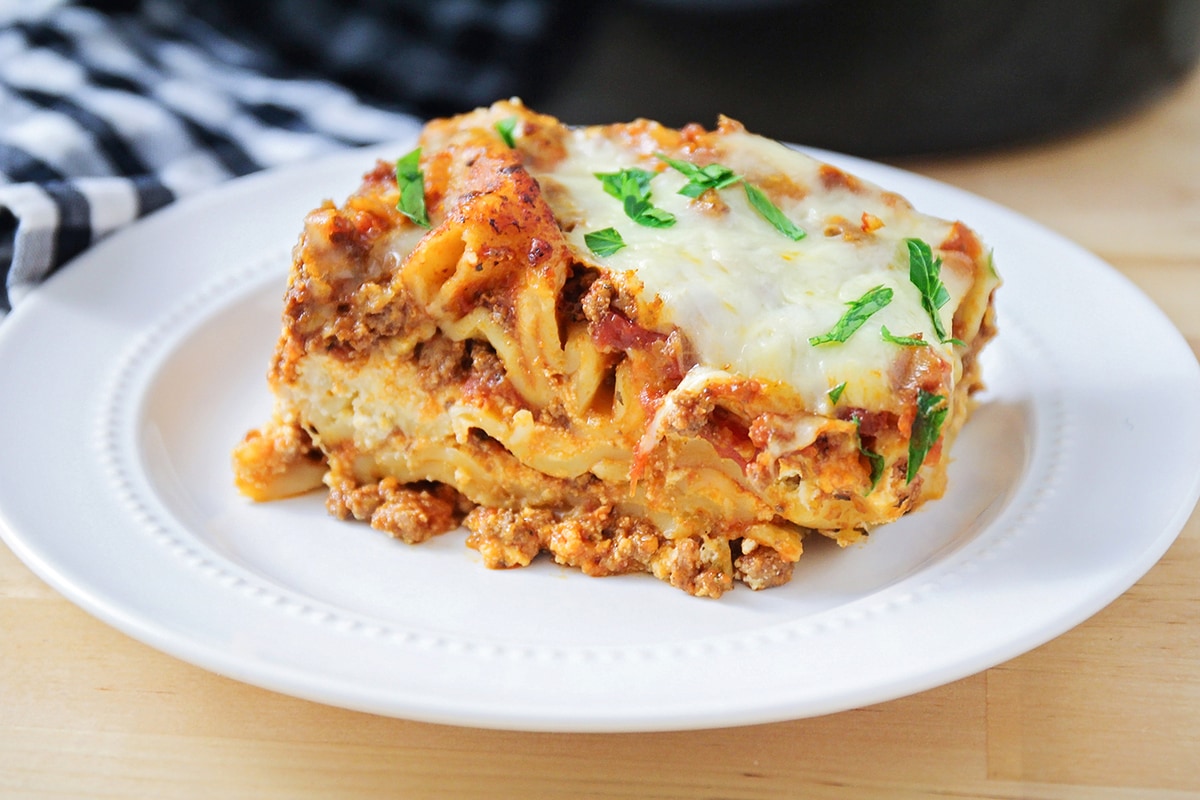 Slow Cooker Lasagna
Hello again! It's Alicia from The Baker Upstairs, and I'm excited to share one of my family's favorite dinner recipes with you!
This slow cooker lasagna is so easy to make, but tastes like you spent all day making it. It's easy and delicious like classic lasagna, but made in the crockpot!
I am definitely a girl who loves her lasagna, but when I'm feeling lazy, I love to make this slow cooker version. You don't have to cook the noodles in advance, and there are way fewer layers than most of the traditional lasagna recipes I've seen. It only takes about twenty minutes to prep, and then you have a delicious meal waiting for you later in the day with almost no effort on your part!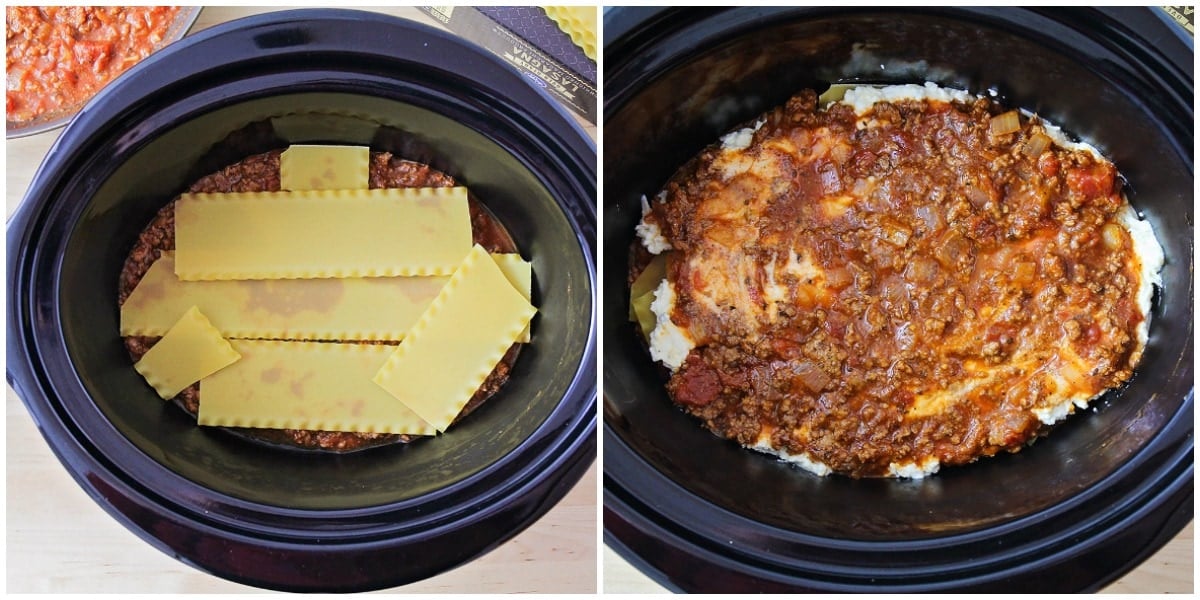 How to Make Crock Pot Lasagna
NOODLES. You can use either regular lasagna noodles or no-boil lasagna noodles in this recipe. I've made it with both types of noodles and they both turn out great. Depending on the size and shape of your slow cooker, you will most likely need to break the noodles to get them to fit in a more or less even layer. It definitely doesn't have to be perfect!
LAYERS. Add a layer of sauce, followed by a layer of noodles, then a mixture of ricotta and mozzarella cheese. Repeat the layers (sauce, noodles, ricotta) once more, then top with an additional layer of noodles and sauce. Cook it on low for about 4 hours, or until the noodles are tender. The lasagna won't turn out well if you turn the heat to high, so just cook it low and slow for the best result.
CHEESE. When the noodles are tender, add a layer of cheese on top and then let it cook a little longer to get that cheese nice and melty. Let the lasagna sit for 10-15 minutes before serving, and it will hold together much better.
This crock pot lasagna has all the delicious flavors of traditional lasagna, but it's so much easier to make! It's perfect for dinner, with a green salad and some crusty bread on the side. This lasagna is always a favorite!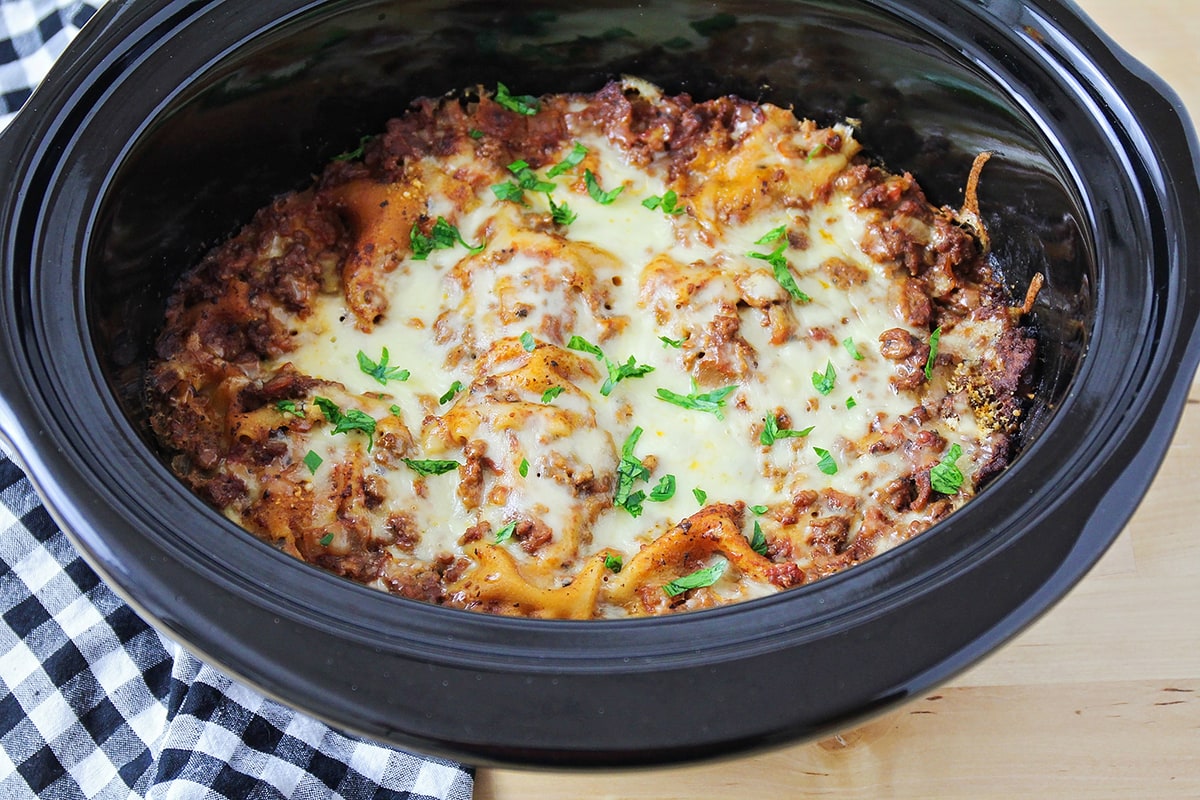 Meats, STORING + Side OPTIONS
Which meat is best for lasagna? You can use whichever meat you love most for lasagna. This recipe calls for beef, but we also like to do a mixture of half beef and half pork sausage. You can also use turkey sausage or if vegetarian, you can omit the meat completely.
How to store/reheat crock pot lasagna? We recommend placing any leftovers in an air-tight container in the fridge for up to 3 days. To reheat, use the microwave or place in a baking dish and cook on low heat in the oven until heated through.
What to serve with slow cooker lasagna? So many great recipes go with this dish, but here are some of our favorites: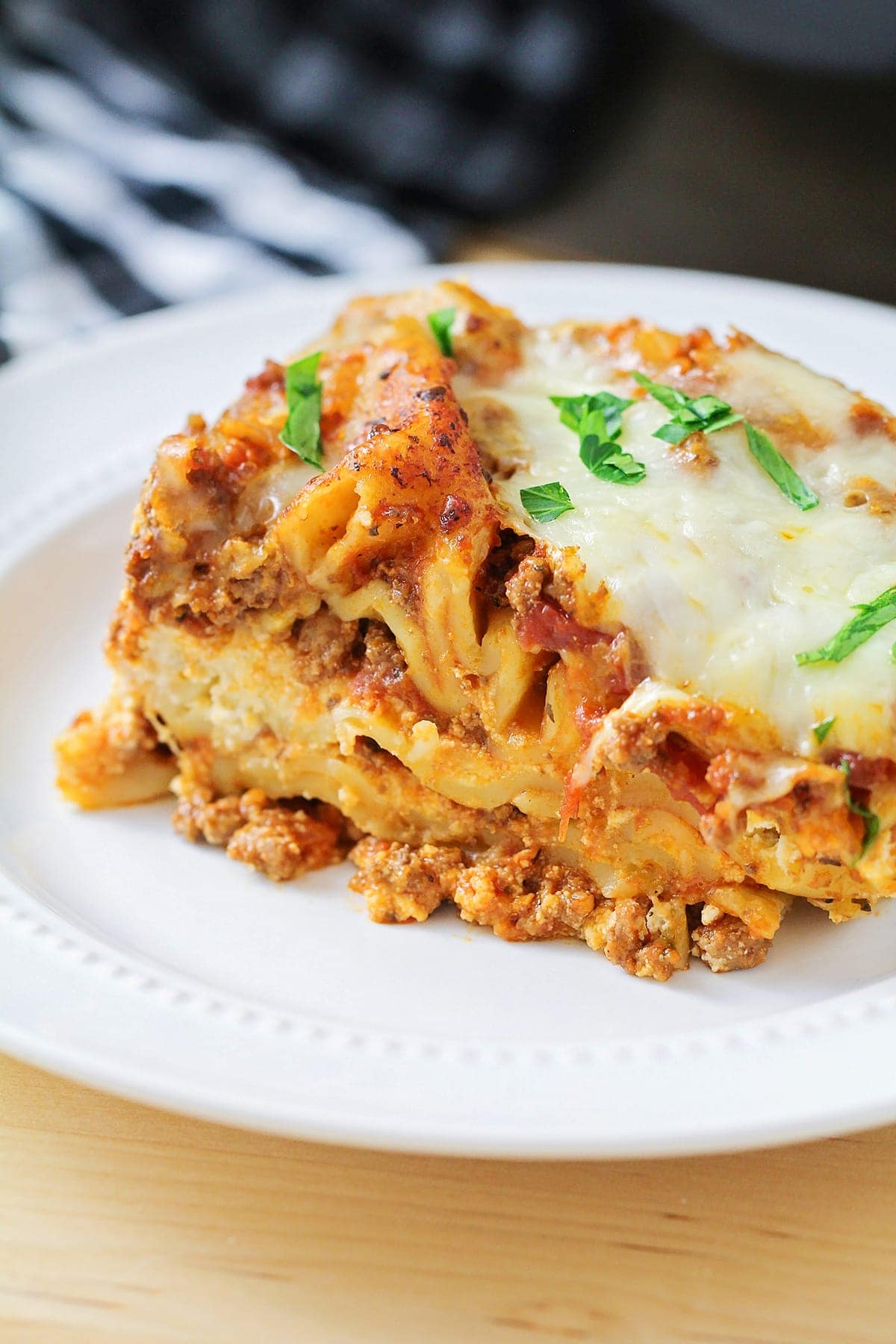 It's hard not to love a delicious slow cooker recipe! And you really can't be one of America's favorite dinner ideas – lasagna. We hope you love this recipe as much as we do.
For more lasagna recipes, check out:
Crockpot Lasagna Recipe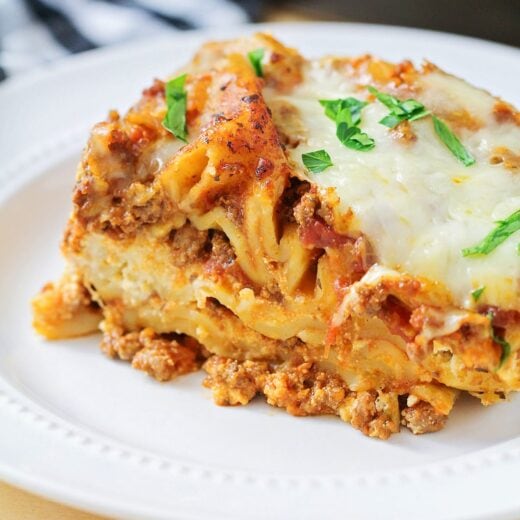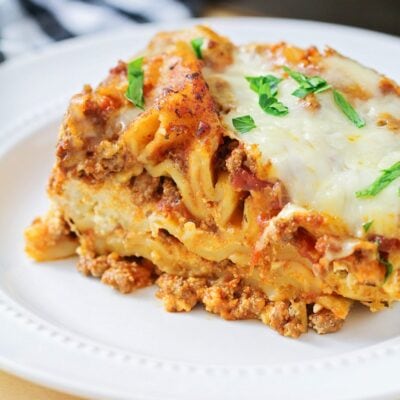 Classic Lasagna made in the slow cooker! This delicious crock pot recipe has all the layers of noodles, cheese, sauce and meat that everyone loves but made more simply.
Ingredients
1

pound

ground beef

1/2

medium onion

chopped

1

24 ounce jar

spaghetti sauce

1/2

cup

water

15

ounces

ricotta cheese

2

cups

shredded mozzarella cheese

divided

1/4

cup

grated parmesan cheese

1

egg

2

teaspoons

dried parsley

9

lasagna noodles

uncooked
Instructions
In a large skillet, cook the ground beef, breaking it into small chunks. Drain the fat, then add the onion to the skillet and cook until softened. Add the spaghetti sauce and water to the skillet and bring it to a simmer. Simmer 5 minutes, then remove from heat.

In a medium bowl, mix together the ricotta, 1 ½ cups of the mozzarella cheese, the parmesan cheese, the egg, and the parsley.

Spread 1 cup of the tomato sauce in the bottom of the slow cooker. Add 3 lasagna noodles, breaking them into pieces as needed to cover the bottom loosely. Spread half of the ricotta mixture evenly over the noodles, followed by 1 cup of the tomato sauce. Add another layer of noodles, followed by the other half of the ricotta mixture. Add the final layer of noodles, then spread the remaining tomato sauce over the top.

Cook the lasagna on low for 4 hours, or until the noodles are soft. Sprinkle with the remaining ½ cup of mozzarella cheese and cover. Cook 10-15 minutes, or until the mozzarella is melted. Turn off the heat, uncover, and let sit 15 minutes before serving.