Keep the kitchen cool and save time by using these delicious and easy slow cooker recipes. Crockpot recipes are simple and SO delicious.
More Collections: Crock Pot Appetizers, Crockpot Dinner Ideas, Easy Dinner Ideas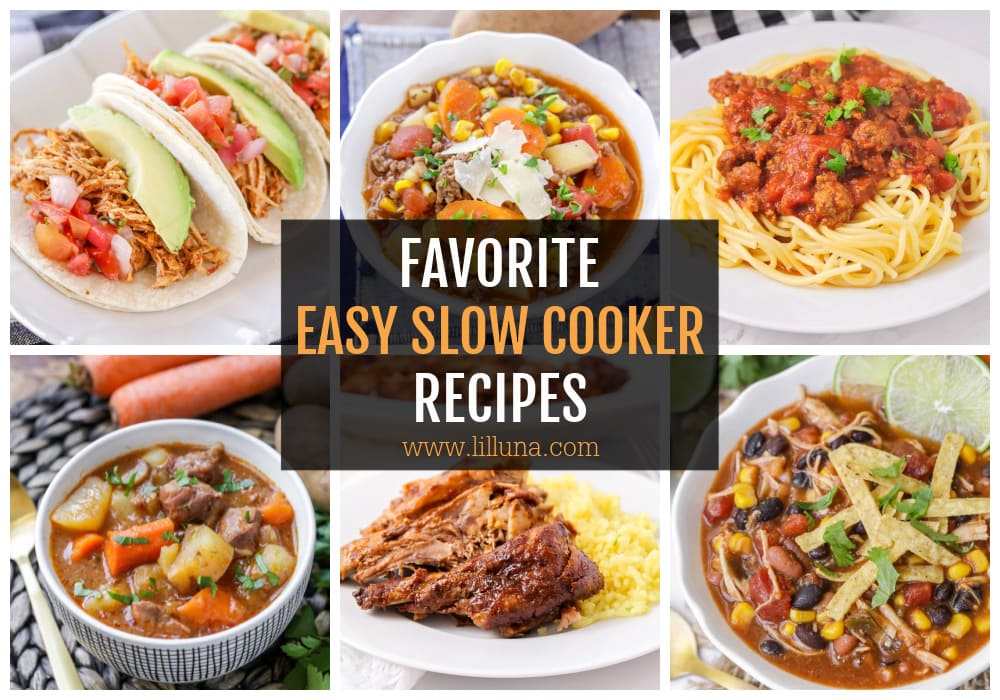 Time-Saving Meals
Slow cooker meals are a great way to save time when you have a busy day. And I think we can all agree they've saved us a few times when life gets crazy.
What I love about these comfort food meals most is they can be prepped the morning of, so whenever you are ready to eat your meal is ready too!
The following easy slow cooker recipes are "dump and go" meals, have few ingredients, or require little prep time. Whether you're looking for an easy main dish or soup, there's an easy crock pot recipe here for you!
Honestly, I feel like everything made in a crock pot is super easy. Even so, I've divided some of our favorite recipes into two categories:
easy crockpot meals
easy crockpot soup recipes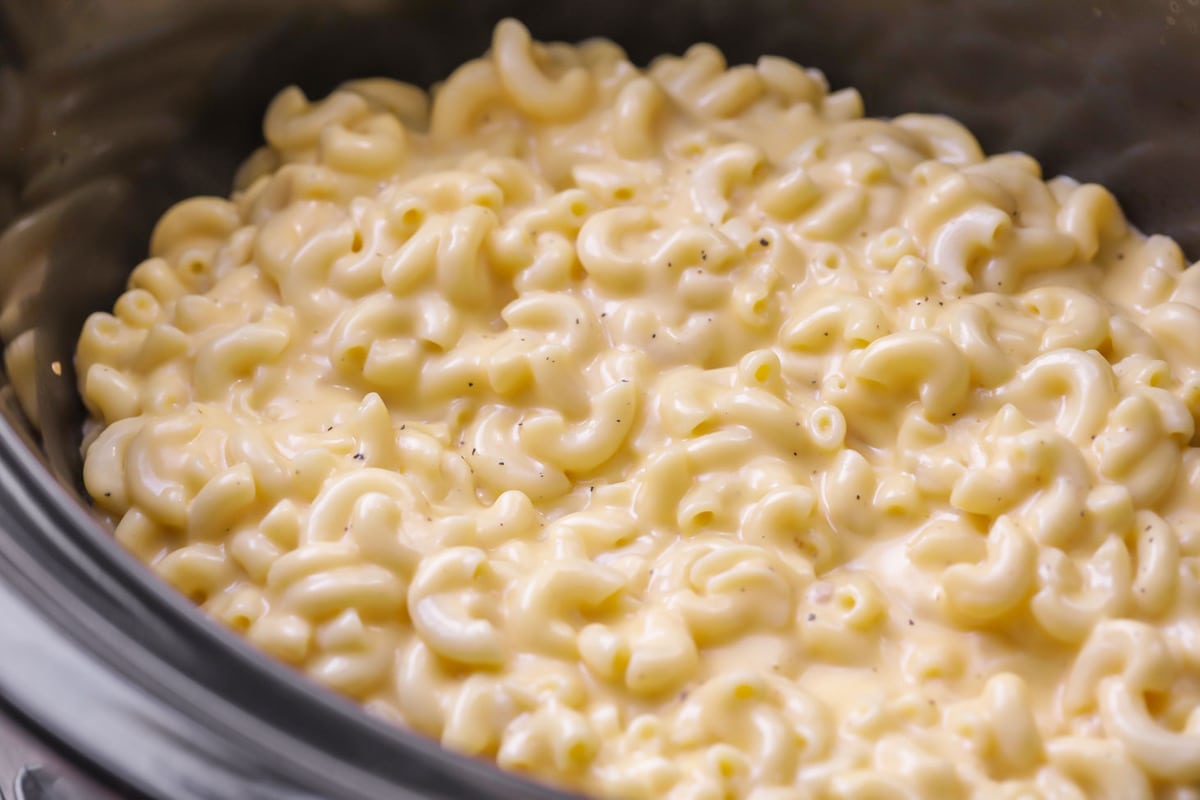 Crock Pot Cooking Tips
Make your easy crockpot recipes perfect every time whether you are a novice or a seasoned chef.
What you need to know about crock pot cooking:
Slow cooker. On my site, I use crock pot and slow cooker interchangeably. In either case, I am referring to the classic crock pot which has a ceramic pot that is heated on all sides. 
Temperature setting. The LOW setting generally takes twice as long to cook a dish than using the HIGH setting. Most dishes can cook for 6-8 hours making them a perfect dish to come home to after a long day of work.
Filling. Aside from a few appetizers, most recipes are designed to be cooked in a 5-6 qt appliance. For a proper cook, food should take up at least ½, but not more than ¾ of the pot.
Clean up. Use a crock pot liner for easier clean up.
Lid tips. Avoid removing the lid because a significant amount of heat escapes and you'll need to add up to 20 minutes to get the pot back to the right temperature.
Set a reminder! Be sure you don't completely forget about your cooking food as it can overcook in the pot.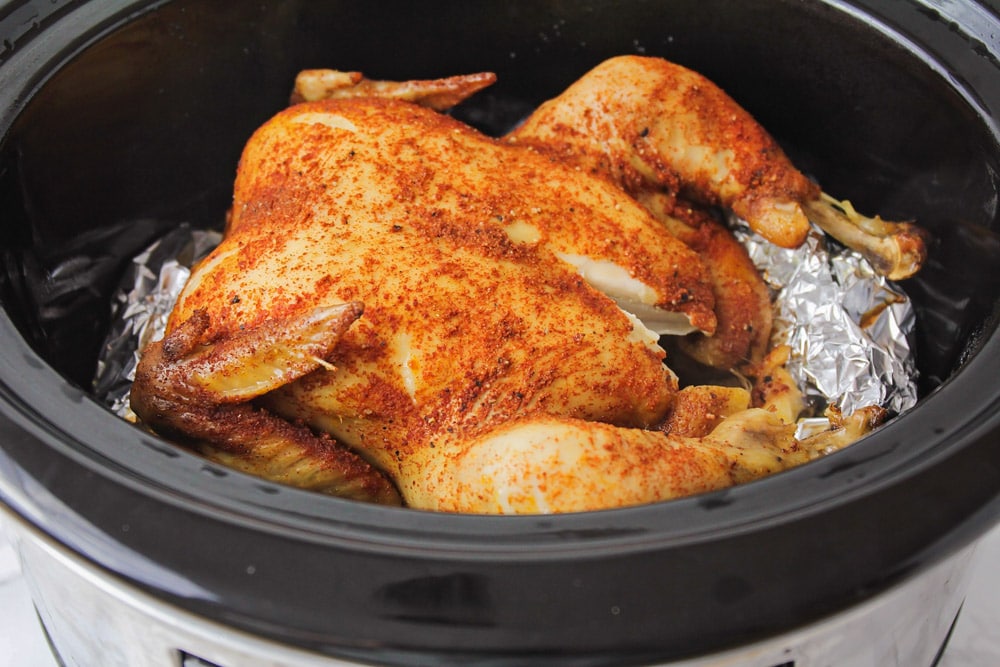 ingredient Tips
The best recipes start with the best ingredients! Use these tips to get the best cook.
Dairy. Add dairy products like milk, cream, and cheeses during the last 30 minutes of cook time.
Vegetables. Cut larger root vegetables about the same size. These include beets, potatoes, onions, sweet potatoes, turnips, and carrots and can cook for several hours. Don't add tender vegetables like baby spinach, peas, sautéed mushrooms, corn, and artichoke hearts until the last 5-10 minutes of cooking time.
Pasta and rice are tricky to cook in the crock pot. Follow what the recipe instructs you to do. If they have you add it dry, then the recipe is designed to accommodate it. If the recipe says to precook it and add it at the end of the cooking time, then follow that instruction otherwise it will overcook and become mushy.
Aromatics. Onion, bell pepper, celery, garlic are some commonly used aromatics and should be activated before using. They are typically sautéed in a pan to get their flavor going, then added to the crock pot.
Broth. Using vegetable, chicken or beef broth instead of water adds a lot of extra flavor to the dish.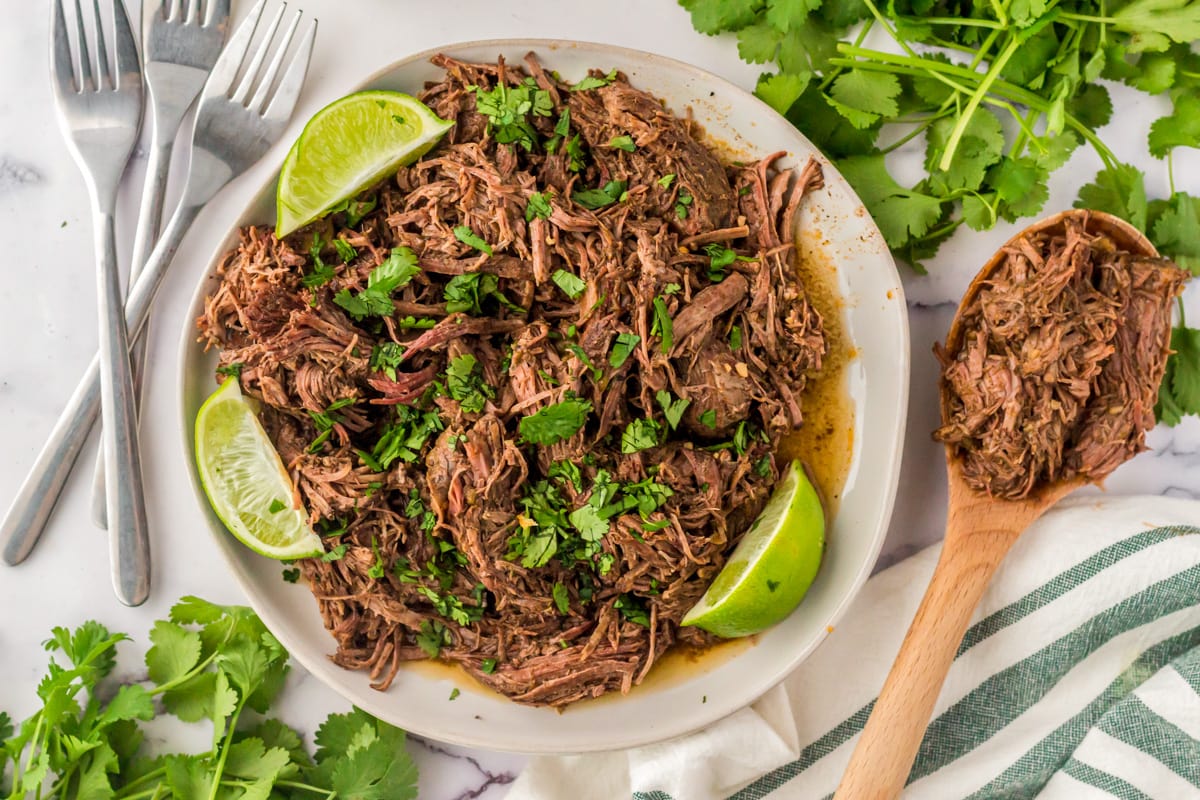 All Things Meat
Frozen meat. Frozen raw meat is not recommended for crock pots. Be sure to put your meat in the fridge the night before so it's ready to be used.
Browning beef. Many recipes call for browning beef before adding it to the pot. I will always make sure to brown ground beef for the best flavor and texture and so that the oil and fat can be removed. Other meats don't have to be browned. It just depends on what your preference is.
Meat. Beef cuts that work really well, including chuck roast, rump roast, eye of round, shank, and brisket. Pork shoulder and loin also cook well in a slow cooker. You can't go wrong with chicken as long as you don't overcook it – dark meat and chicken breasts are all great choices.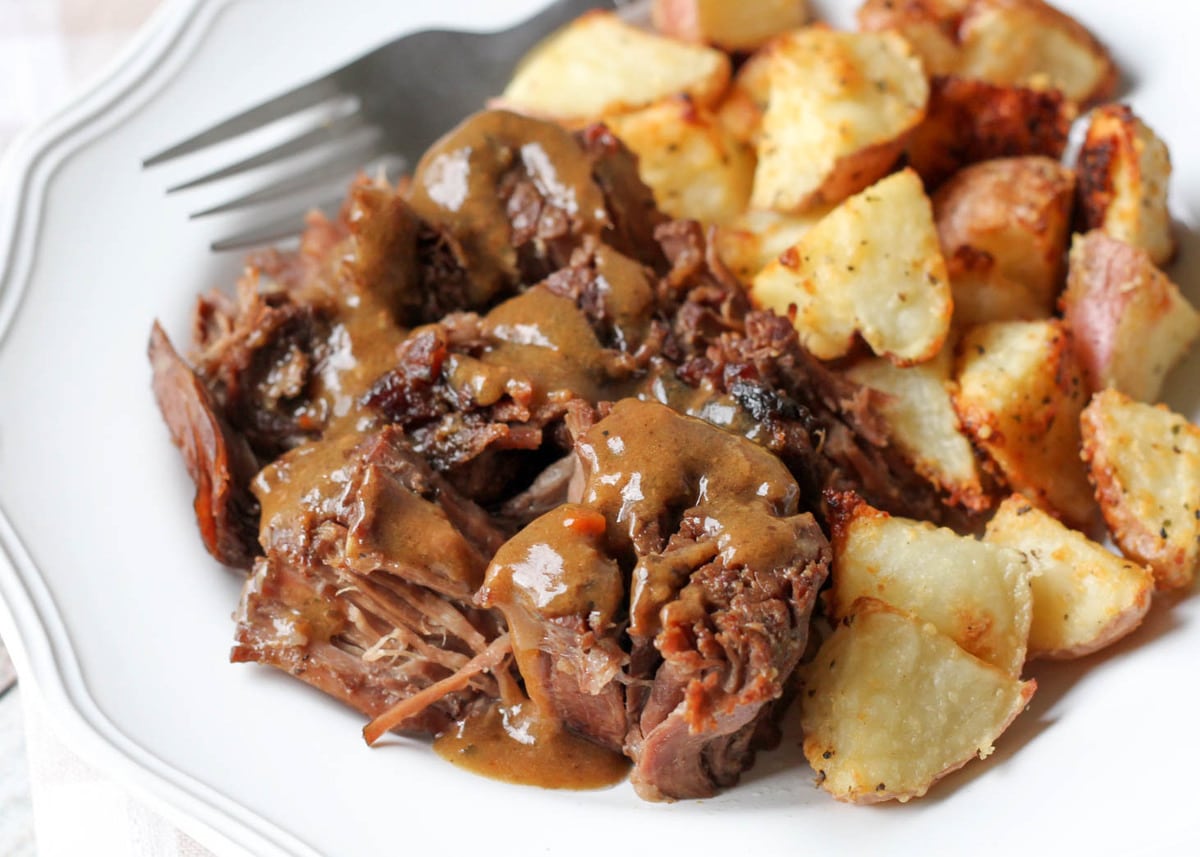 Prep ahead of time
The night before. Thaw any meats overnight so they're ready to go into the pot. Chop any vegetables and keep them in the fridge. (Potatoes can be kept in water in the fridge so they don't brown. Drain before adding to the pot). Set out the spices or canned goods on the counter so they're ready for you to use.
Freeze it. There are several slow cooker meals that can be prepared ahead and kept in the freezer until you want to use them. See the individual posts for more info about freezing them ahead of time.
---
Easy Crockpot Meals
Most of these best slow cooker recipes have 3-8 ingredients. Some of them are dump and go, others only take a little bit of preparation. It doesn't get any easier than that!!
How To Make Beef Stroganoff
This easy beef stroganoff recipe is simple and flavorful. Served with egg noodles, this creamy stroganoff made in the slow cooker is a classic Sunday dinner recipe and is perfect to enjoy any night of the week.
Pot Roast
This crock pot roast recipe is one of our favorite Sunday dinners. It takes only 3 minutes of prep time and then the slow cooker does the rest! The chuck roast ends up being SO tender and full of flavor from the brown gravy, Italian, and ranch dressing mix!
Slow Cooker Pork Chops
These simple and delicious slow cooker pork chops are sure to become a family favorite. They are so tender and juicy and are topped with an amazing gravy that we love to serve over the chops and mashed potatoes!
Crockpot Brown Sugar Ham
This crock pot ham is made entirely in the slow cooker, which makes for quick prep time and minimal effort. With a deliciously sweet brown sugar glaze, it's our favorite way to make a holiday ham!
Crock Pot Pork Roast
Prepare to be amazed by this ultra tender, fall off the bone crock pot pork roast. It only takes a handful of ingredients to make, including the complimentary gravy.
Crock Pot Mac and Cheese
Everyone loves a good slow cooker recipe, and this crock pot mac and cheese is so simple, cheesy, and delicious!
Crock Pot Spaghetti
We make this yummy crock pot spaghetti all the time! Buttery noodles topped with a flavorful meaty sauce—DELISH!
Slow Cooker Chicken Enchiladas
Hot and cheesy slow cooker chicken enchiladas to feed your family any day of the week! So easy to throw all the ingredients in and let the crock pot do the work for you.
Slow Cooker Barbacoa
With only 5 minutes of prep, this beef slow cooker barbacoa is tender, savory, and perfect for filling tacos or burritos!
Crock Pot Mongolian Beef
Delicious crock pot mongolian beef loaded with carrots and asparagus is SO simple to make. Your crock pot does all the work!!
Slow Cooker Chicken Tacos
We love this slow cooker version which involves salsa, taco seasoning, cilantro and more. You'll never find an easier way to enjoy chicken tacos!
Crock Pot Ribs
Juicy crock pot ribs with barbecue sauce is the best and easiest dinner idea! Great for a small family, big family, or cooking for a crowd!
Crockpot Ranch Chicken
You'll love how simple, yet flavorful, this delicious chicken is. Made entirely in the crockpot, creamy ranch chicken is perfect on its own or served over rice.
French Dip Sandwich
These low maintenance french dip sandwiches are made with hearty beef and melted provolone cheese on a buttery toasted bun, and dipped in au jus!
Crock Pot Roast With Potatoes And Carrots
Tender, savory slow-cooker pot roast with veggies takes 15 minutes to prep and tastes absolutely amazing. It all cooks together in the crock pot for an easy and impressive dish.
Slow Cooker Roast Chicken
Juicy and flavorful roasted chicken made in the slow cooker! So simple to make an entire chicken with the help of your crock pot.
Crock Pot Chicken Alfredo
Creamy and delicious crock pot chicken alfredo is an easy make ahead meal. It is filling and flavorful, perfect for busy weeknights!
Pulled Pork
This delicious and easy pulled pork recipe is one that is made in the slow cooker and takes just minutes to prep!
Crock Pot Teriyaki Chicken
Make this super easy crock pot teriyaki chicken in your slow cooker, and serve over warm white rice for a delicious teriyaki bowl!
Crockpot Lasagna
Classic lasagna made in the slow cooker! This delicious crock pot recipe has all the layers of noodles, cheese, sauce and meat that everyone loves but made more simply.
Crockpot Orange Chicken
This crockpot orange chicken is simple, and tastes even better than takeout. With breaded chicken pieces covered in a phenomenal orange sauce and cooked to perfection in a slow cooker, it's a recipe the whole family loves!
---
easy Slow Cooker Soups
A lot of these soups are also "dump and go". I much prefer making soup in the crockpot over the stovetop because it tends to involve much less babysitting on my part!
Be sure to check out even more recipes on this collection: Crock Pot Soup Recipes.
Chicken Taco Soup
Perfectly spiced chicken taco soup can be enjoyed all year long. It's hearty, delicious, and packed with flavor!
Chicken Florentine Soup
With a combination of chicken, potato, white beans, carrots, spinach and more, this Chicken florentine soup is hearty and absolutely delicious. It tastes similar to Olive Garden's recipe, but it's made in the slow cooker!
Crockpot Taco Soup
Creamy & delicious crockpot taco soup is SO easy to make! It's packed with flavor and takes just 5 minutes of prep time!
Slow Cooker Beef Stew
DELICIOUS slow cooker beef stew filled with chunks of beef, potatoes and carrots – a family favorite that is hearty, simple and great for fall.
Slow Cooker Turkey Chili
Homemade slow cooker turkey chili is hearty and packed with flavor. It is loaded with beans, ground or chopped turkey, and spices!
Crock Pot Chicken Stew
A simple, convenient, and TASTY stew recipe made in the crock pot! Made with chicken, potatoes, carrots, cream of chicken soup, sour cream, ranch dressing mix and more, this slow cooker chicken stew recipe is BURSTING with flavor!!
Crock Pot Spinach Tortellini Soup
Easy crock pot tortellini and spinach soup is a hearty soup filled with cheese tortellini, spinach, tomatoes, and lots of spices!!
Crock Pot Cheeseburger Soup
Thick and cheesy crockpot cheeseburger soup is rich and creamy with plenty of chunks for a stick-to-your-ribs kind of soup!
Crock Pot Chicken Enchilada Soup
Crock pot green chile enchilada soup is a new favorite soup packed with chicken, green chiles, corn, rice, and mixed with lots of spices and cheeses.
Hamburger Soup
Hearty and delicious hamburger soup is filled with corn, carrots, potatoes, cheese and more! Best of all, it's made in the slow cooker with minimal effort.
Green Chili Chicken Soup
Perfectly spiced green chili chicken soup is like an enchilada in soup form! It's hearty, delicious, and is always a crowd pleaser.
Chili Spaghetti
Flavorful chili spaghetti is a midwestern twist on a classic bowl of chili. It is hearty with just the right amount of spice!!
Cheesy Potato Soup
Creamy cheesy potato soup is the easiest soup you'll ever make. You only need a handful of ingredients and a crockpot!!
Crock Pot Baked Potato Soup
Creamy and delicious crockpot baked potato soup is so full of flavor and EASY too! This delicious potato soup recipe is a hearty family favorite.
Chicken Tortilla Soup
The BEST slow cooker chicken tortilla soup is filled with chunks of chicken, black beans & corn. It is easy to make and full of flavor!
---
Effortlessly Delicious Meals
Nothing beats using your slow cooker to make an effortlessly delicious meal without having to heat up your kitchen! With such a variety of recipes to choose from on this list of easy crockpot recipes – you'll definitely find some new favorites!
Make sure to check out all of our Crock Pot Recipes!
More Collections: Crockpot Side Dishes, Crockpot Chicken Recipes, Crock Pot Soup Recipes