The slow cooker is a busy mom's best friend! Crockpot Chicken Recipes offer a variety of cuisine styles and flavors, so dinner is never boring!
More Collections: Crockpot Dinner Ideas, Summer Crock Pot Recipes, Pantry Staple Recipes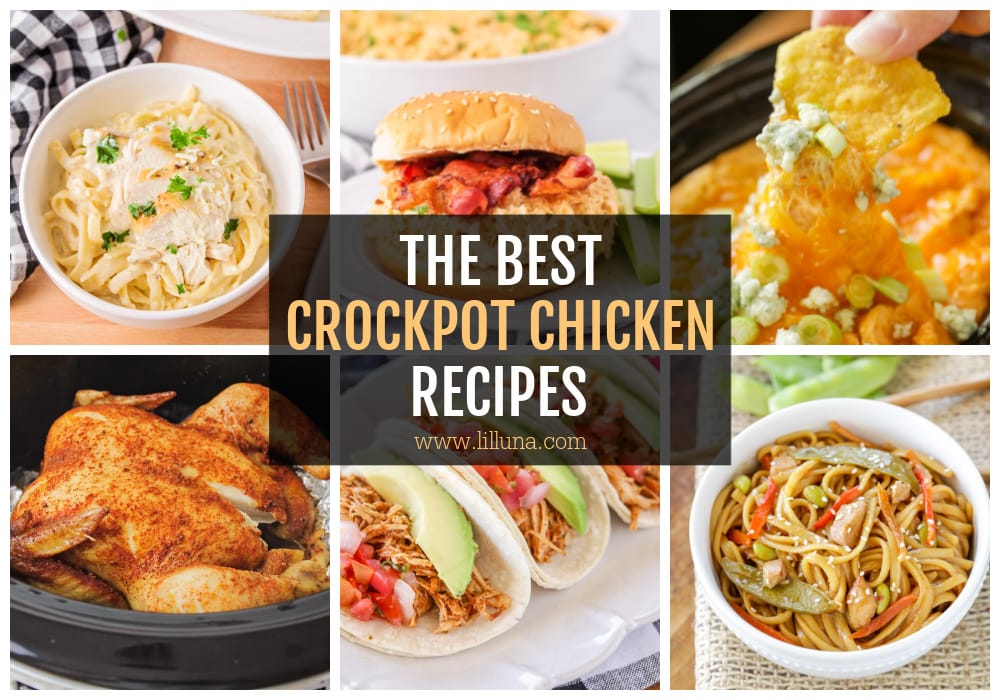 Slow cooker to the rescue!
Dinner time never looked so good, or was so easy!
Between the crock pot and Instant pot you have a personal sous chef at your side, making life much more do-able.
Slow Cooker Recipes range from breakfast to dinner, don't heat the kitchen, and offer a variety that is un-matched.
One of our favorite dishes to prepare in the crock pot is chicken, and this collection is full of crockpot chicken recipes. From soups, to pastas, to tacos, there is sure to be a slow cooker chicken recipe for you!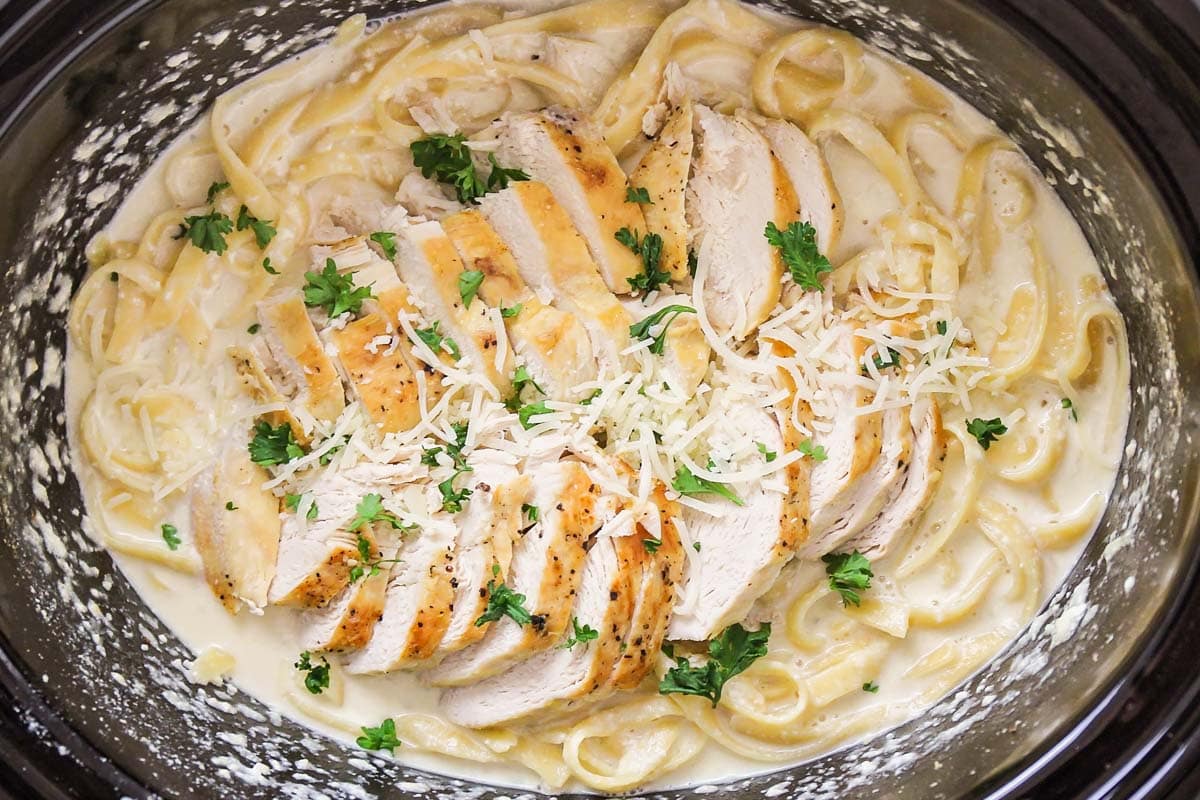 chicken tips
Since all of these fabulous recipes utilize chicken as the star ingredient, I thought I'd include some chicken musts!
What kind of Chicken to use:
Boneless skinless chicken breasts or chicken thighs are my favorite to use.
Thighs do particularly well because the added fat basically melts off and makes the chicken so very moist and tender.
Use bone in chicken as the meat cooks so tenderly that it falls right off the bone. However, I would recommend removing the skin as it will not crisp us like it does in the oven.
How to thaw chicken quickly:
Use precooked chicken in the slow cooker as well as raw chicken. However, do not use frozen chicken. It's best to place frozen chicken in the fridge to thaw overnight. If you forgot, quickly thaw the chicken in a bowl of water:
Place the chicken pieces in a plastic bag and then put it in the bowl of cold water.
Change the water every 30 minutes until the chicken is thawed.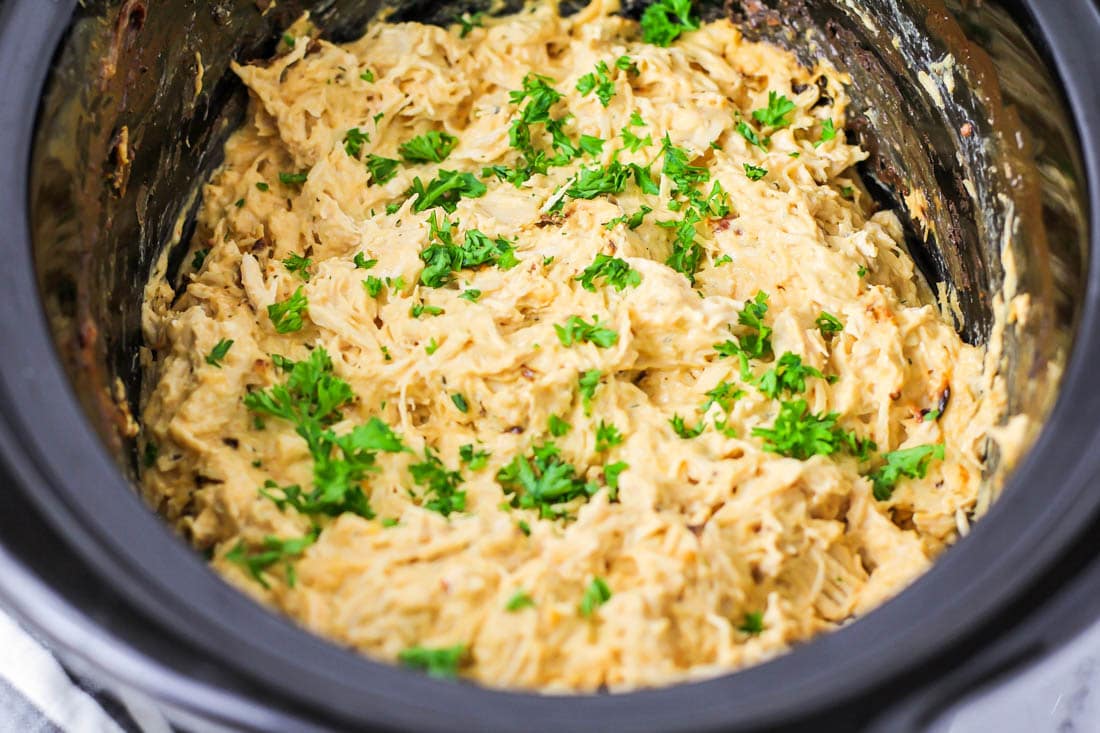 heating + cooking
Preheat your slow cooker: Though this isn't necessary it does allow the pot to immediately start heating the food as opposed to letting the food sit in a cold pot waiting for it to heat up. Just turn to the setting you want to use, add the lid and let it heat for about 20 minutes before adding the food.
Cook Times: I've noticed that, in general, cooking on LOW heat takes about twice as long as HIGH heat. The LOW setting is about 200°F and the HIGH setting is about 300°F. One is not better than the other, it just depends on how much time you have. If you remove the lid to peek, taste or stir, you will lose heat and need to add about 20 minutes to the cooking time.
When cooking on LOW heat:
Chicken Breast- 2-3 hours
Thigh filets need 3-4 hours
Wings need 4 hours
Bone in Pieces need 4-5 hours
Whole Chicken will need 6 hours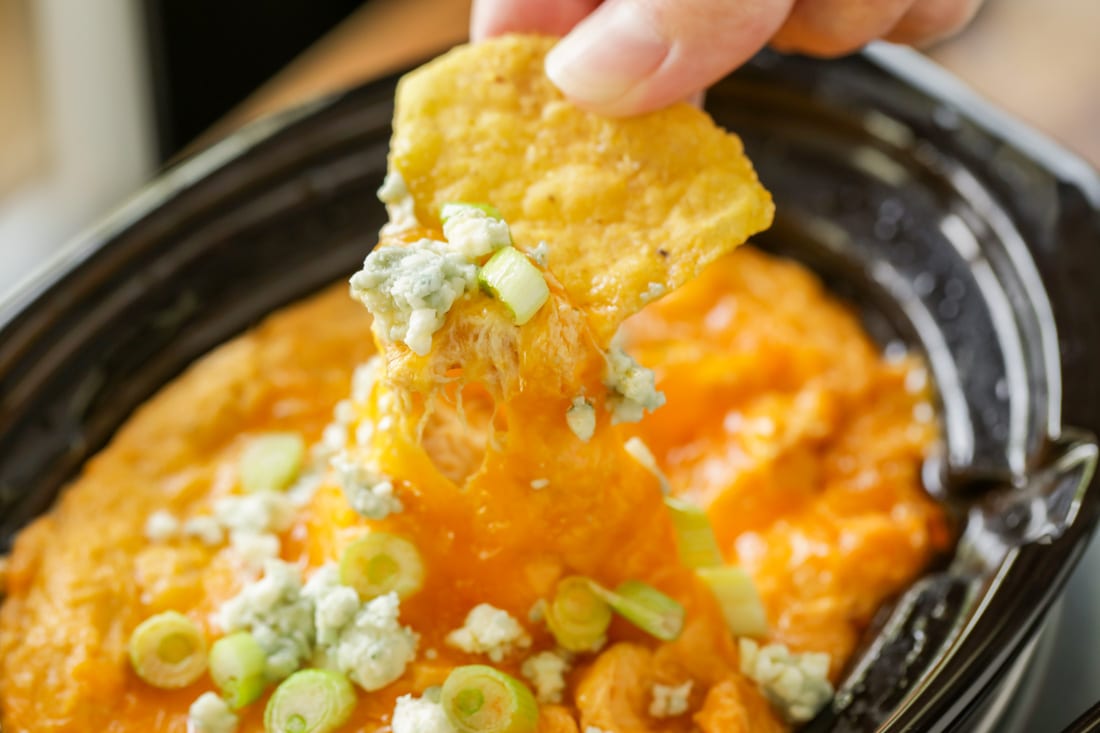 Crock pot Recipe Tips
End of cook-time ingredients. Be sure to take note if there's any ingredients that should be saved to add at the end. This often included dairy based ingredients, tender vegetables, precooked pasta or rice, and fresh herbs.
Fresh Herbs add a lot of bright flavor to the soup. Keep in mind that 1 tablespoon of fresh herbs = 1 teaspoon of dried herbs. Also, don't add the fresh herbs until the last 30 minutes of the crock pot cooking time.
Prep ingredients the night before and keep them in the fridge. All you have to do the next day is toss them in the cooker and go.
Freezer dinners are great for crockpots. Be sure that you place it in the fridge to thaw overnight. Otherwise it may take too long for them to thaw properly and heat up in the pot within a safe amount of time.
Don't overfill. Most crockpot meals are designed to be cooked in a 5-6 qt pot. For the best cook it should be about ½ full, but not more than ¾ full.
Adding Veggies. Normally you want to keep raw chicken and vegetables separate. However, it is completely ok to add raw chicken and vegetables to the same crock pot to cook. Be sure to cut all the larger vegetables, such as beets, potatoes, broccoli, onions, turnips, and carrots, about the same size. Don't add tender vegetables like baby spinach, peas, mushrooms, corn until the last 5-10 minutes of cooking time.
Activate the Aromatics. Onion, bell peppers, celery, garlic, ginger are some commonly used aromatics and should be activated before using. They are typically sautéed in a pan to get their flavor going, then added to the crock pot. Once the dish is done you can season it with salt and pepper to taste.
---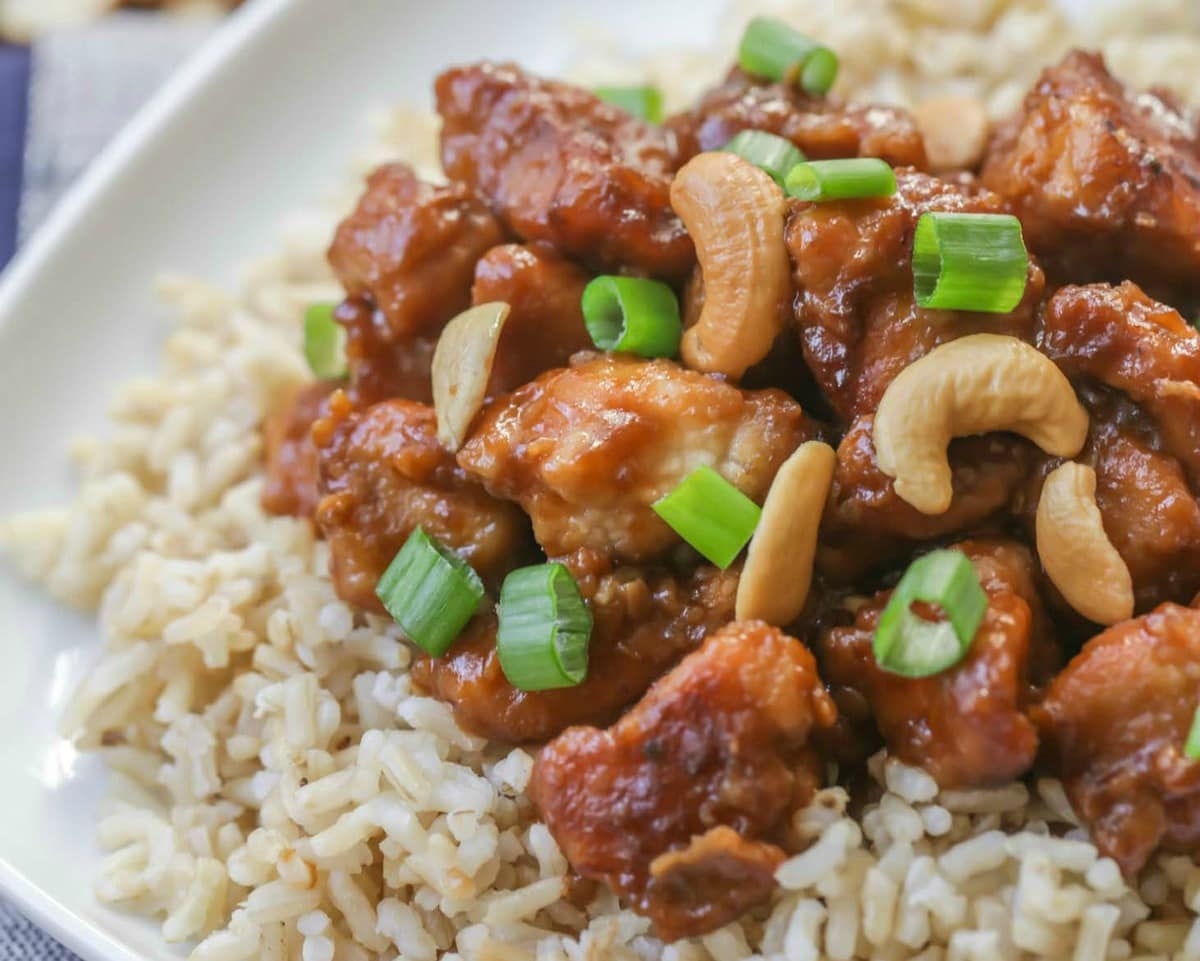 BEST SLOW COOKER CHICKEN RECIPES
Whenever I decide a Crockpot Chicken Recipe is on the docket for the night, these recipes tend to be some of my top picks! There's plenty of variety from pasta, to sandwiches, and even Asian dishes!
Crock Pot Cashew Chicken – Crock Pot Cashew Chicken is an easy and delicious dinner that takes little time to prep and has a delicious sauce!
Crock Pot Lo Mein – Deliciously saucy Crock Pot Chicken Lo Mein is filled with edamame, snow peas making it an easy favorite dinner recipe.
Crack Chicken – Crack chicken in a crock pot is simple and tasty. Everyone is sure to love this creamy, cheesy chicken dish, especially served on a bun with crispy bacon.
Slow Cooker Pulled Chicken – This Slow Cooker Shredded Chicken is juicy and flavorful. It is Beyond simple and is great for holidays, parties and potlucks!
Crock Pot Chicken Alfredo – Creamy and delicious crock pot chicken Alfredo is an easy make ahead meal. It is filling and flavorful, perfect for busy weeknights!
Crock Pot Orange Chicken – This Crockpot Orange Chicken is simple, and tastes even better than takeout. With breaded chicken pieces covered in a phenomenal orange sauce and cooked to perfection in a slow cooker, it's a recipe the whole family loves!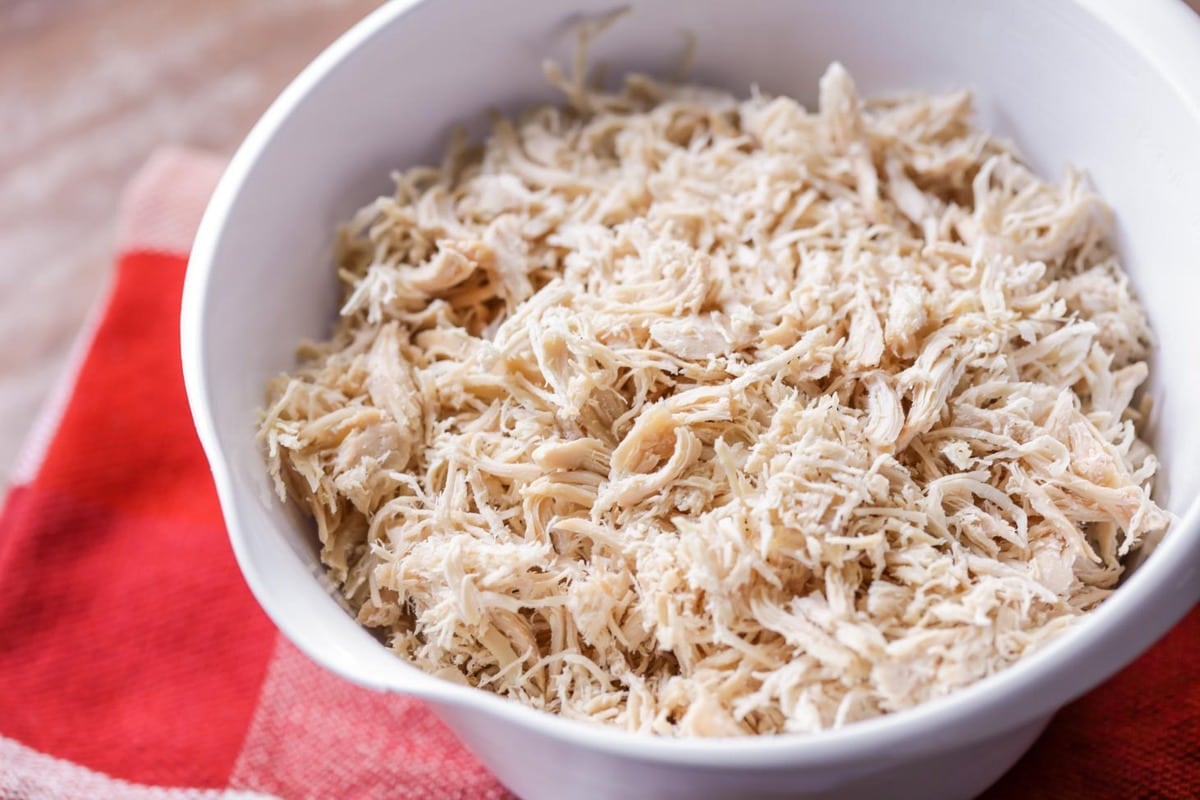 easy chicken crockpot recipes
As though crockpot recipes couldn't get any easier! These recipes are some of the simplest "dump and go" Chicken Crockpot Recipes.
Shredded Chicken – Tender, moist, shredded chicken cooked in the crockpot. This shredded chicken can be used in soups, salads, casseroles, and even appetizers!
Crock Pot Teriyaki Chicken – Make this super easy crock pot teriyaki chicken in your slow cooker, and serve over warm white rice for a delicious teriyaki bowl!
Crock Pot Ranch Chicken – You'll love how simple, yet flavorful, this delicious chicken is. Made entirely in the crockpot, creamy ranch chicken is perfect on its own or served over rice.
Slow Cooker Chicken Enchiladas – Hot and cheesy Slow Cooker Chicken Enchiladas to feed your family any day of the week! So easy to throw all the ingredients in and let the crock pot do the work for you.
Slow Cooker Roast Chicken – Juicy and flavorful roasted chicken made in the slow cooker! So simple to make an entire chicken with the help of your crock pot.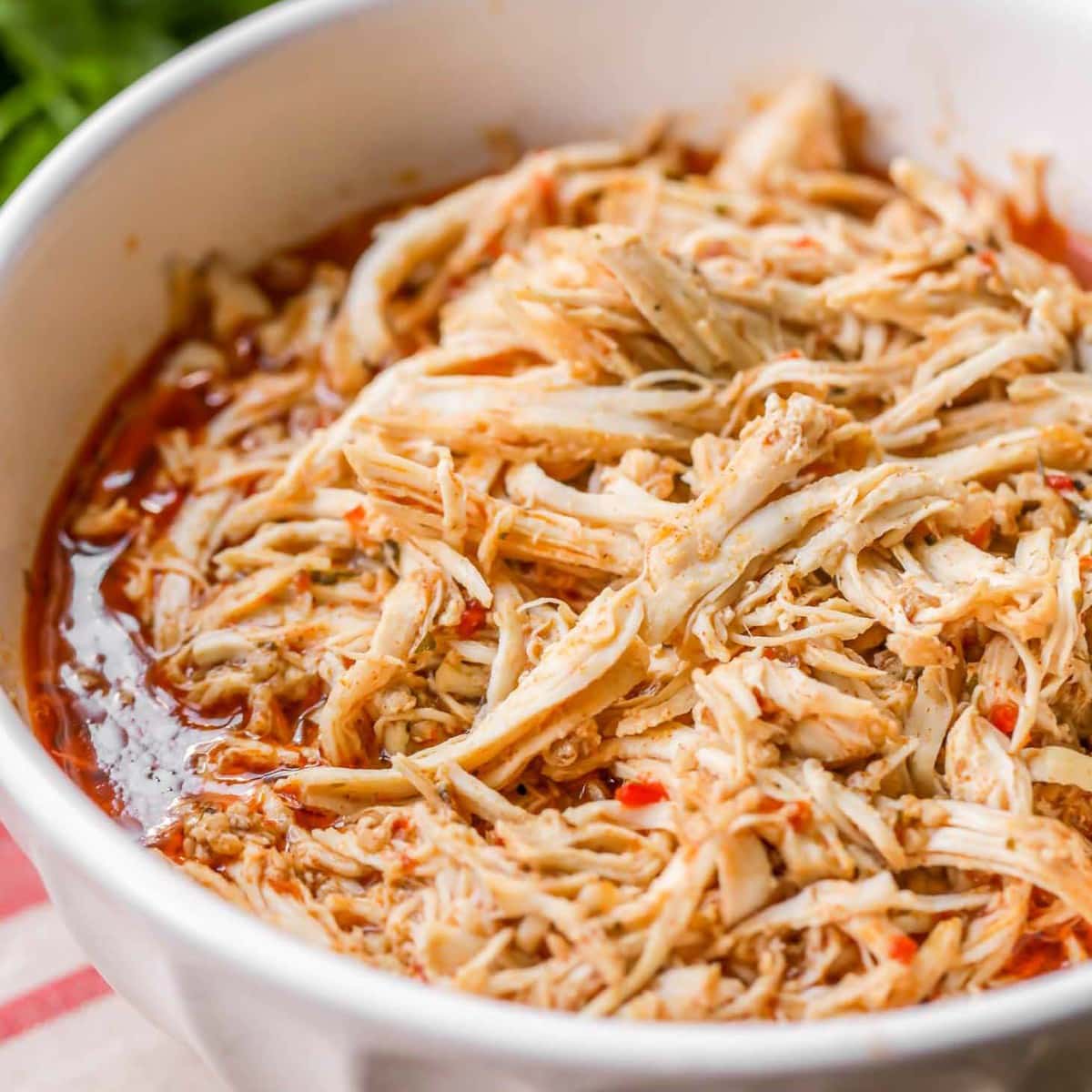 Cafe Rio Shredded Chicken – Copycat Cafe Rio Shredded Chicken – a simple and delicious chicken recipe that is perfect for salads, burritos, quesadillas and tacos!
Slow Cooker Creamy Fiesta Chicken – Slow Cooker Creamy Fiesta Chicken is such a simple, flavorful crock pot recipe! It is a tasty crock pot meal made with pantry staples!
Crock Pot Buffalo Dip – Cheesy, spicy Crockpot Buffalo Chicken dip is a flavorful party dip that can be easily made in the slow cooker! It's great for game days and get togethers.
Hawaiian Haystacks – A pile of fluffy rice stacked with chicken, gravy, and all your favorite toppings! Totally customizable, and great for feeding a crowd!
Slow Cooker Chicken Tacos – We love this slow cooker version which involves salsa, taco seasoning, cilantro and more. You'll never find an easier way to enjoy chicken tacos!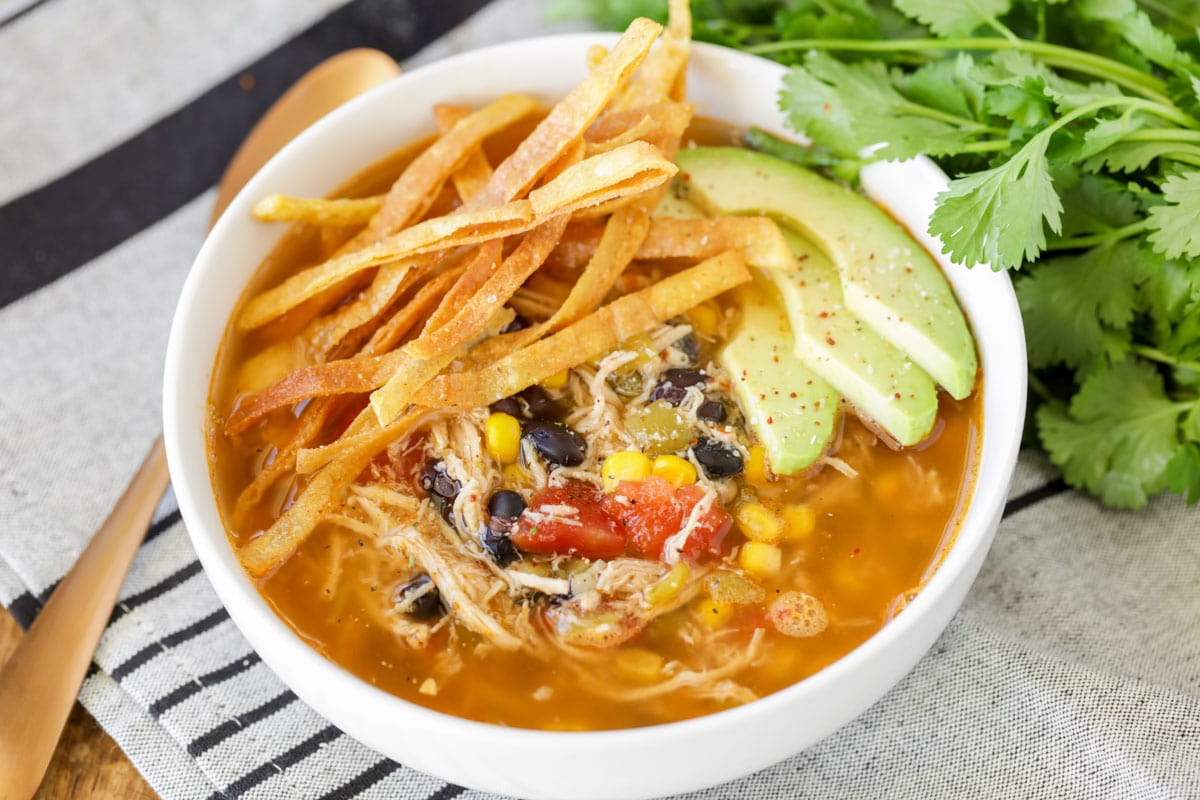 crockpot chicken soup Recipes
Most of these soups are made strictly in the crock pot, while a few are stovetop soups with crockpot instructions in the post!
Chicken Tortilla Soup – The BEST slow cooker chicken tortilla soup is filled with chunks of chicken, beans & corn. It is easy to make and full of flavor!
Crock Pot Chicken Stew – A simple, convenient, and TASTY stew recipe made in the crock pot! Made with chicken, potatoes, carrots, cream of chicken soup, sour cream, ranch dressing mix and more, this Slow Cooker Chicken Stew recipe is BURSTING with flavor!!
Green Chili Chicken Soup – Perfectly spiced Green Chili Chicken Soup is like an enchilada in soup form! It's hearty, delicious, and is always a crowd pleaser.
Chicken Florentine Soup – With a combination of chicken, potato, white beans, carrots, spinach and more, this Chicken Florentine soup is hearty and absolutely delicious. It tastes similar to Olive Garden's recipe, but it's made in the slow cooker!
Chicken Taco Soup – Perfectly spiced Chicken Taco Soup can be enjoyed all year long. It's hearty, delicious, and packed with flavor!
Chicken Pot Pie Soup – This creamy, delicious Chicken Pot Pie Soup can be made on the stovetop or in a crock pot! It has all your favorite vegetables, big chunks of chicken, and even a delicious heart-shaped pie piece on top.
Crockpot Chicken Enchilada Soup – Crock Pot Green Chile Enchilada Soup is a new favorite soup packed with chicken, green chiles, corn, rice, and mixed with lots of spices and cheeses.
Chili's Chicken Enchilada Soup – This copycat of Chili's Chicken Enchilada Soup tastes just like the restaurant's version. It's a new favorite dinner meal!
Healthy Chicken Tortilla Soup – Nothing like a warm bowl of tortilla soup on a chilly winter day! This lighter version of chicken tortilla soup is healthy, flavorful, and packed with delicious ingredients.
---
the complete list
Here are the picture cards for all of the fantastic Crock Pot Chicken Recipes listed above.
Cooking chicken in the slow cooker is one of the easiest ways to make a tender, delicious meal with minimal effort. These recipes will help you do just that and are sure to become new family favorites!
Be sure to check out all of our Crock Pot Recipes!
For more collections: Crockpot Side Dishes, Crock Pot Appetizers, Easy Slow Cooker Recipes