The slow cooker is a busy mom's best friend! Crockpot chicken recipes offer a variety of cuisine styles and flavors, so dinner is never boring!
More Collections: Crockpot Dinner Ideas, Summer Crock Pot Recipes, Pantry Staple Recipes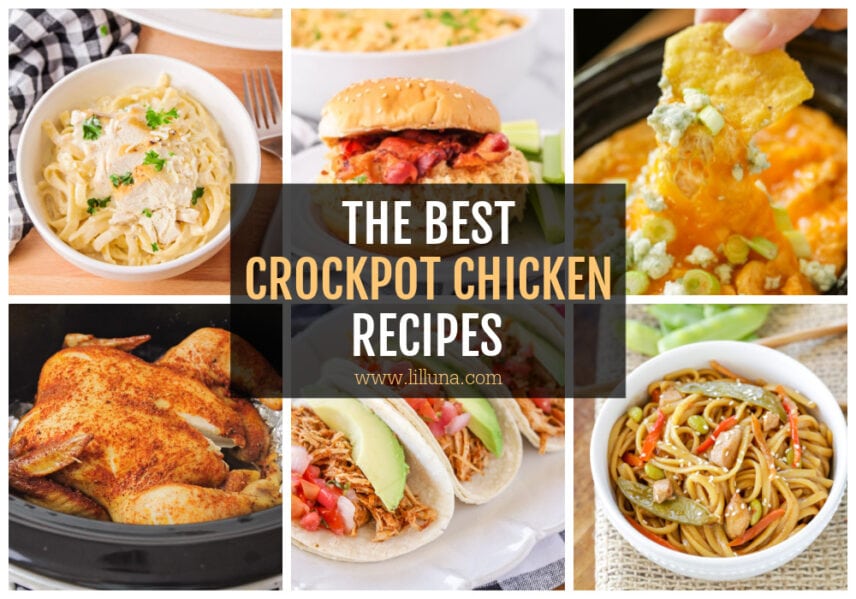 Slow cooker to the rescue!
Dinner time never looked so good or was so easy!
Between the crock pot and Instapot you have a personal sous chef at your side, making life much more do-able.
Slow cooker recipes range from breakfast to dinner, don't heat the kitchen, and offer a variety that is un-matched. From soups, to pastas, to tacos, there is sure to be a slow cooker chicken recipe for you!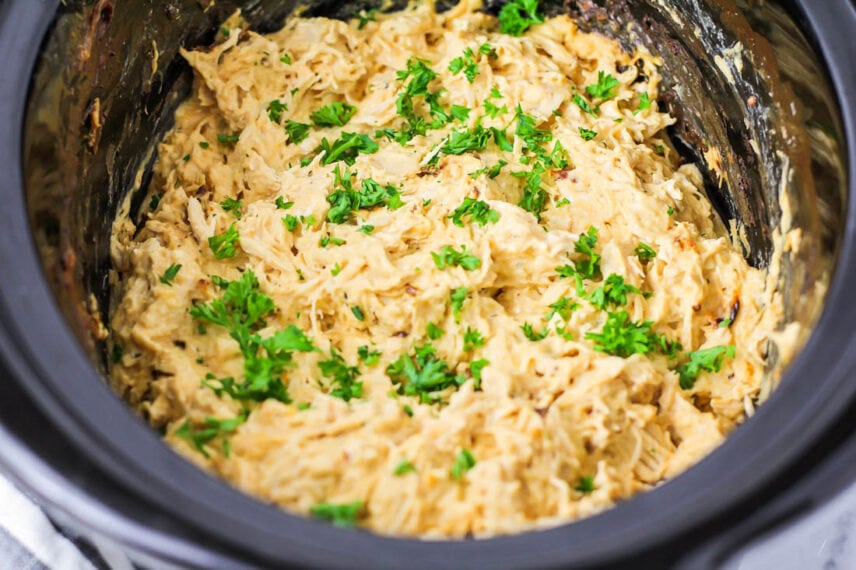 Preheat your slow cooker
Did you know you can preheat your slow cooker? Though this isn't necessary it does allow the pot to immediately start heating the food as opposed to letting the food sit in a cold pot waiting for it to heat up. Just turn to the setting you want to use, add the lid and let it heat for about 20 minutes before adding the food.
Cook Times: I've noticed that in general cooking on LOW heat takes about twice as long as HIGH heat. One is not better than the other, it just depends on how much time you have. If you remove the lid to peek, taste or stir, you will lose heat and need to add about 20 minutes to the cooking time.
Crock pot Recipe Tips
Be sure to take note if there's any ingredients that should be saved to add at the end. This often included dairy based ingredients, tender vegetables, precooked pasta or rice, and fresh herbs.
Prep ingredients the night before and keep them in the fridge. All you have to do the next day is toss them in the cooker and go.
Freezer dinners are great for crockpots. Be sure that you place it in the fridge to thaw overnight. Otherwise it may take too long for them to thaw properly and heat up in the pot within a safe amount of time.
Most crockpot meals are designed to be cooked in a 5-6 qt pot. For the best cook it should be about ½ full, but not more than ¾ full.
You can use precooked chicken in the slow cooker as well as raw chicken. However, do not use frozen chicken. Do not use frozen chicken. The best chicken to use are thighs because the added fat basically melts off and makes the chicken so very moist and tender.
---
BEST SLOW COOKER CHICKEN RECIPES
Whenever I decide a crockpot chicken recipe is on the docket for the night, these recipes tend to be some of my top picks! There's plenty of variety from pasta, to sandwiches, and even Asian dishes!
---
Easy Chicken Crockpot Recipes
As though crockpot recipes couldn't get any easier! These recipes are some of the simplest "dump and go" chicken crockpot recipes.
---
CROCKPOT CHICKEN SOUP RECIPES
Most of these soups are made strictly in the crock pot, while a few are stovetop soups with crockpot instructions in the post!
Be sure to check out all of our Crock Pot Recipes!
For more collections: Crockpot Dinner Ideas, Crockpot Side Dishes, Crock Pot Appetizers