These set it and forget it side dishes won't heat the kitchen, and can be made the morning of for a less stressful evening. Crockpot Side Dishes are delicious and easy. Win-win!
More Collections: Crock Pot Appetizers, Easy Slow Cooker Recipes, Crockpot Dinner Ideas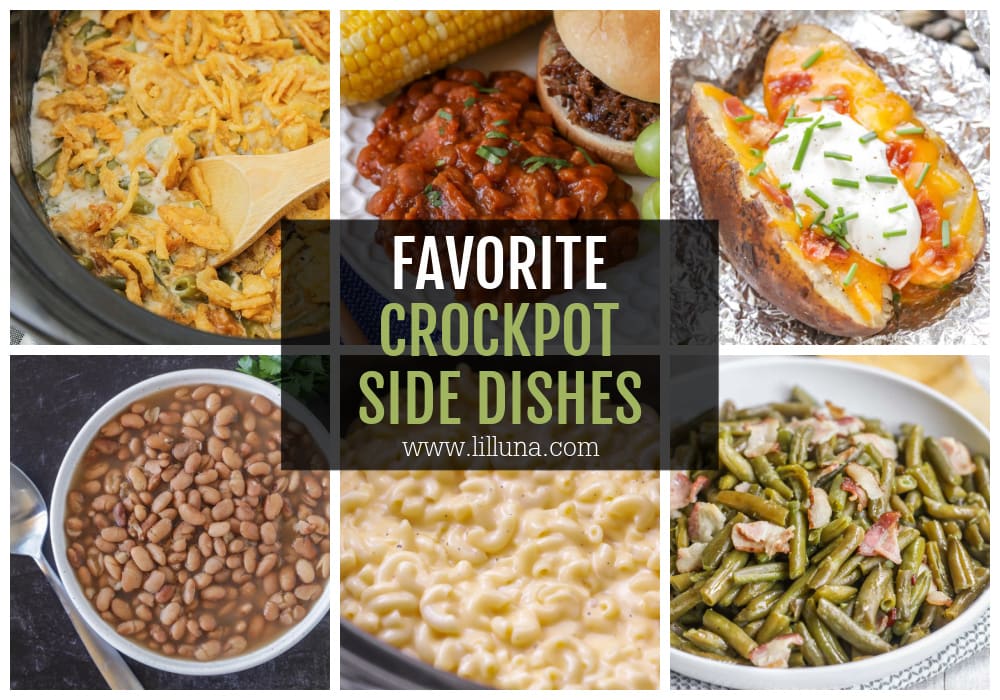 Not Just for Main Dishes!
Crock Pots are not just for Main Dishes.
Soup and salad make great sides, but sometimes you want something a bit more warm, cozy, and filling. From Green Beans to Mac and Cheese, you can make a variety of side dishes in the slow cooker.
This can be very helpful since it allows you to free up oven space yet still get warm, savory sides. This is perfect when roasting a turkey or chicken, and you need the oven space!
I have an entire list of crockpot recipes that I love to make, but before I lay them all out, I have some tips!
They include general crockpot tips as well as tips for transporting your crock pot side dishes to family dinners or potlucks.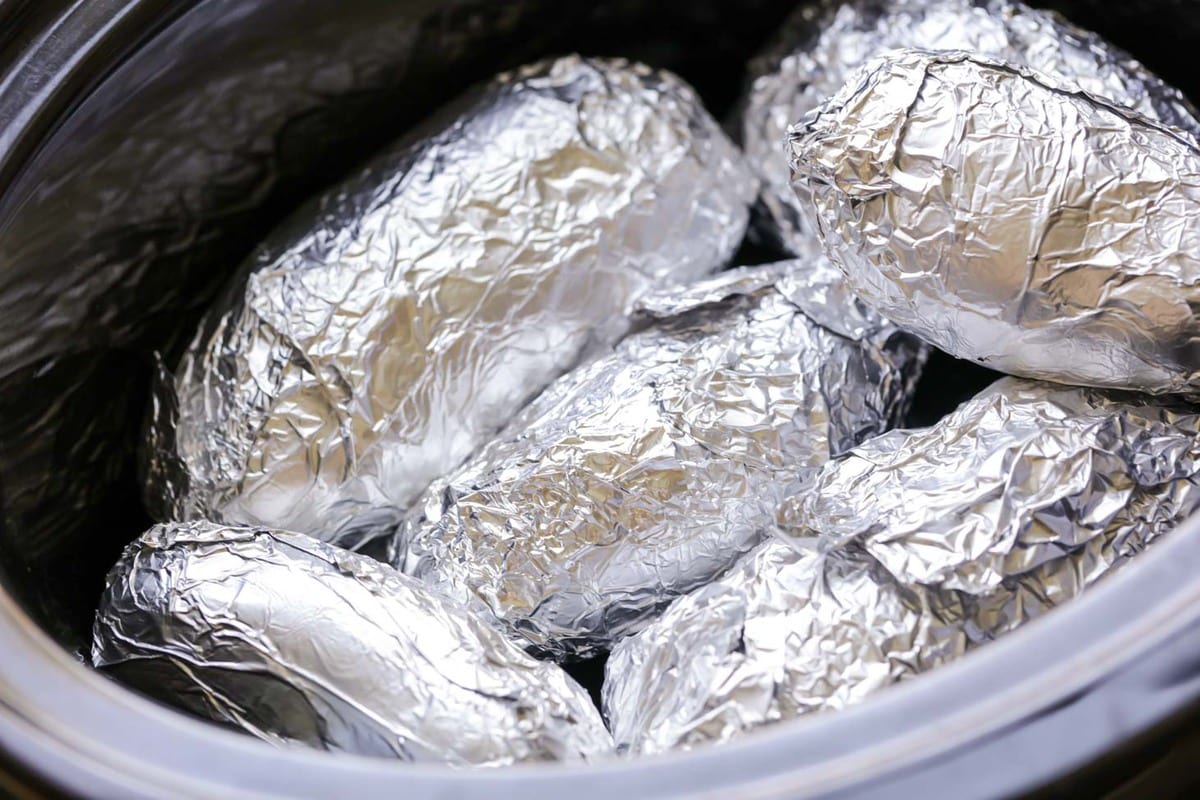 Crockpots are used for ease
Just add the ingredients, and forget about it for hours. To make everything even easier, prepare the slow cooker recipe ingredients ahead of time, and store them in separate containers until you're ready to add them to the crockpot.
Crock pots also offer an alternative way to cook, which is especially useful when you're making main dishes that also require being heated in the oven and stove.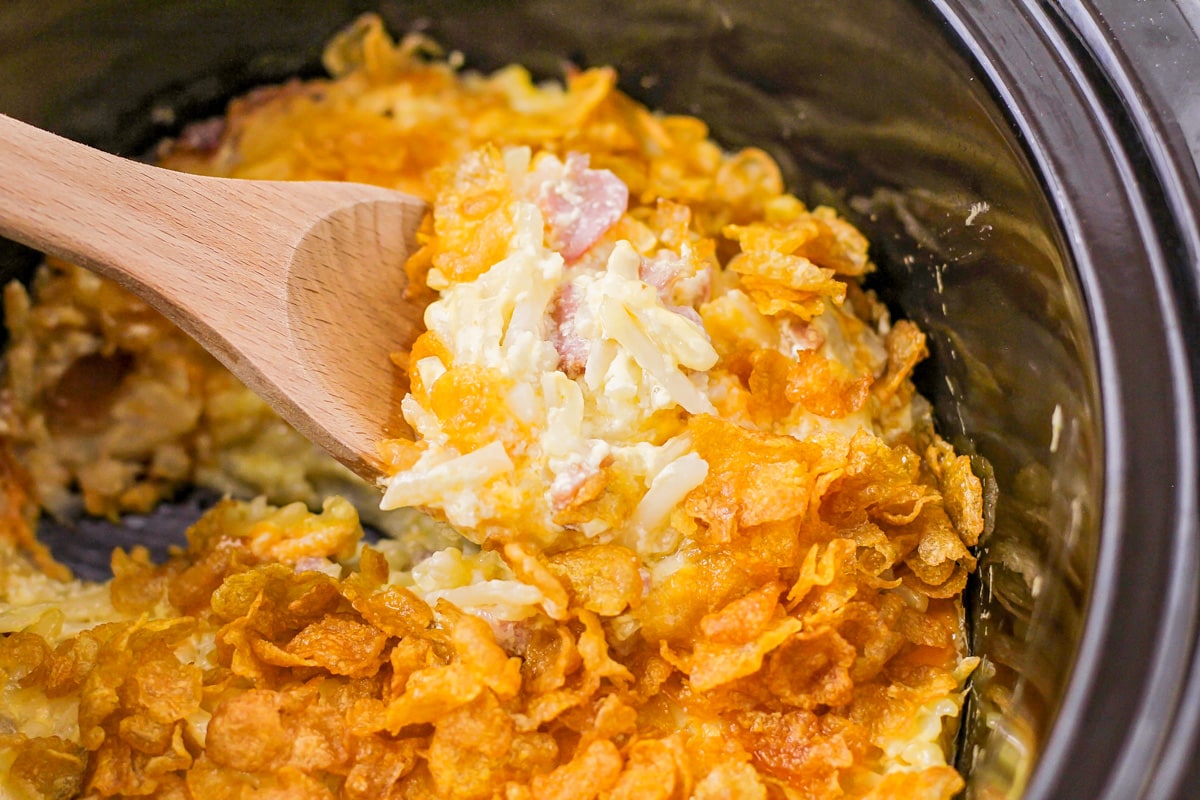 Crock pot Tips
Keep these tips in mine when working with your slow cooker.
HIGH heat takes about half as long as LOW heat, so time accordingly.
Activate aromatics: onions, bell pepper, celery, garlic are some commonly used aromatics. They are typically sautéed in a pan to get their flavor going, then added to the pot.
Avoid peeking under the lid, unless noted in the slow cooker recipe. When the lid is lifted it will take up to 20 minutes for the pot to return to the correct cooking temperature.
Foods don't cook properly if there is too little or too much for the size of the pot. For the most even cook, the amount of food should fill your pot ½ to ⅔ full. Note that most recipes are designed for a 5-6 quart pot.
Don't overcook: Some crockpots have a timer that will automatically switch to the warm mode. If yours doesn't, remember to do it manually.
Crockpot liners are great for easy clean up.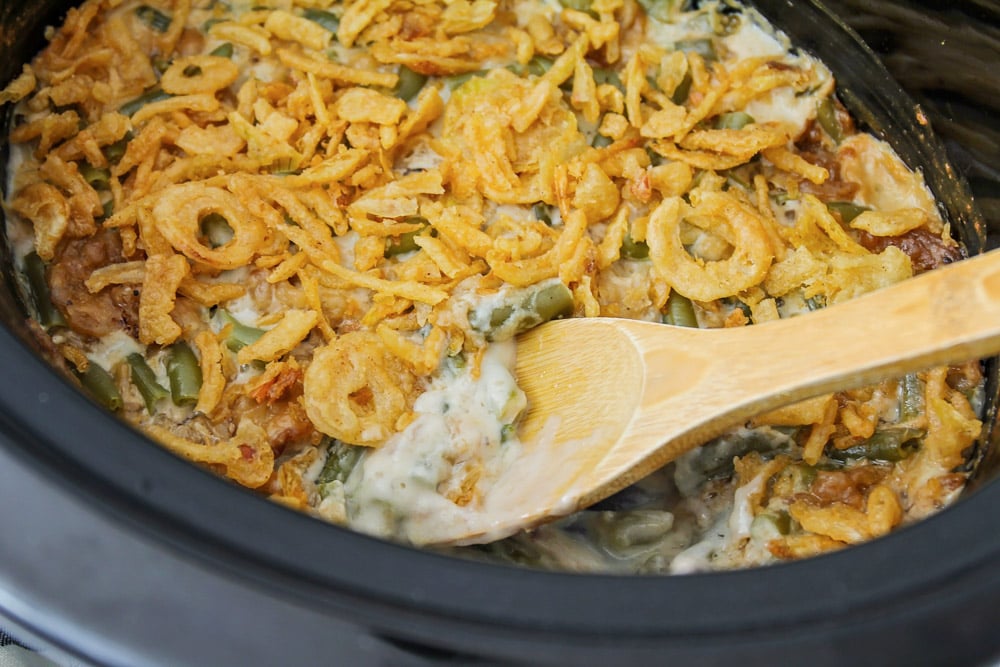 How much to make
The crock pot is most often used when cooking for a crowd. One rule of party hosting is don't run out of food! The following information can help guide you in how much to make.
For a party of 10 guests, plan to serve 4 different types of sides.
For every 8-10 more people, add another side dish.
Remember, every guest does not need a full serving of every side dish. For example, if serving 2 types of potatoes, make enough for each guest to have a total of 6 oz, not 6 oz of each dish.
Potato dish: 6 oz per person
Vegetable dish: 4 oz per person
Dips: ⅓ cup per person
Pasta: 4 oz per person
Beans: ¼ cup per person
Cocktail meats: 4-6 pieces
Transporting slow cooker dishes
Whether you made the dish in the crock pot, or you are using a crockpot to keep a dish warm, transporting is pretty easy:
Use the built in locking lid.
No locking lid: use heavy duty rubber bands. String around the handles and over the lid, to hold it in place.
To keep the pot from sliding around, place in a sturdy laundry basket or box, then make it snug with a towel.
Or buy a carrier – we have two favorites: the Hamilton Beach Travel Case and the Homest Slow Cooker Bag. Both make transport so easy!
---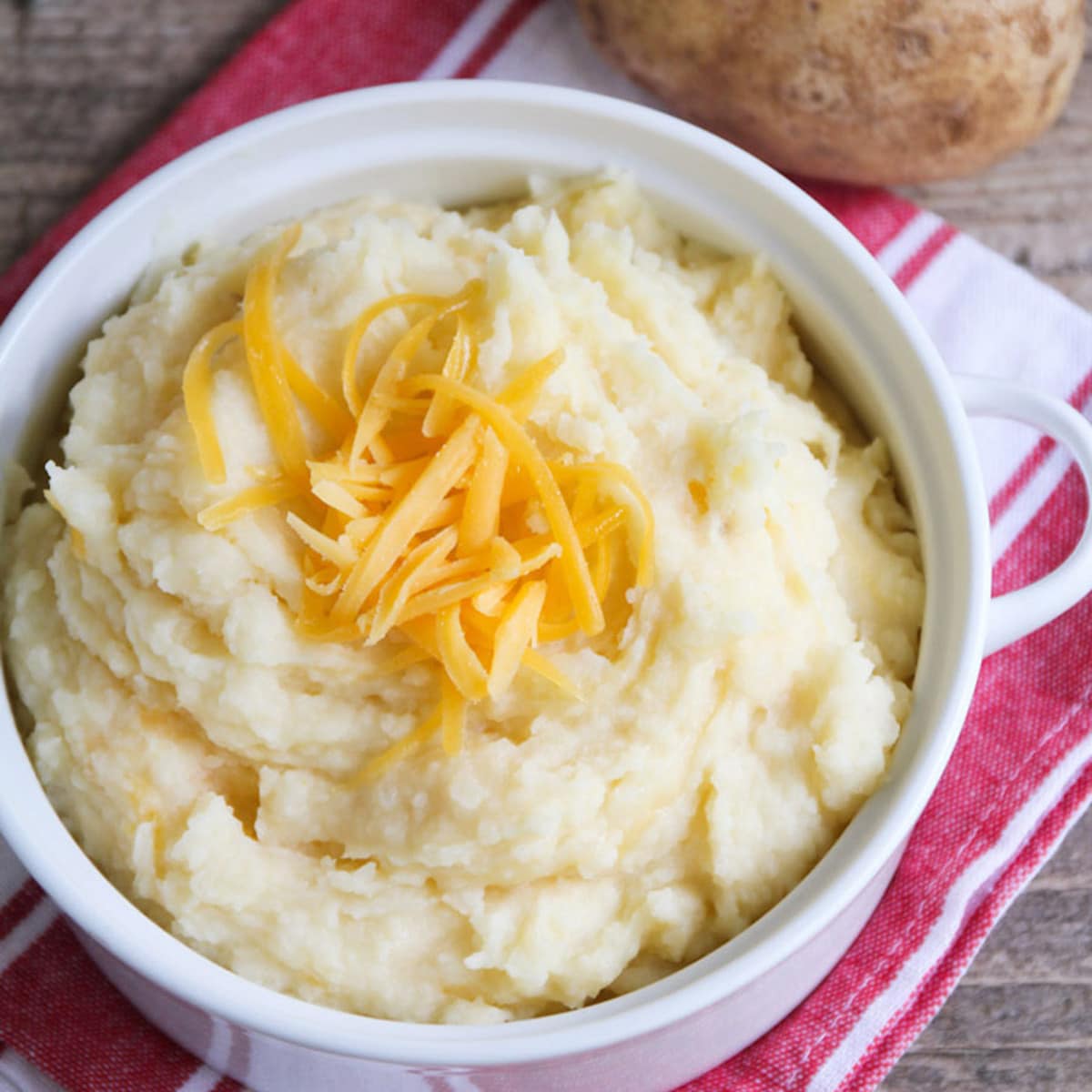 Favorite slow cooker Side Dishes
There are so many easy Crockpot Side Dishes that we love to make for dinner and the holidays – especially Thanksgiving and Christmas. We've rounded up several of our favorites!
Slow Cooker Mashed Potatoes – These cheesy garlic Crock Pot Mashed Potatoes are the perfect accompaniment to any meal, and so incredibly easy to make. They're creamy, smooth and savory, and the cheese adds so much delicious flavor.
Crockpot Green Beans With Bacon – Crock Pot Green Beans – just a few ingredients make the yummiest green beans ever! We love this delicious side dish recipe.
Crockpot Scalloped Potatoes – Slow Cooker Scalloped Potatoes – these creamy potatoes are a perfect side dish to just about any meal! You only need a few simple ingredients, and your crock pot does all the work.
Crock Pot Baked Potatoes – The crock pot takes all the guess work out of baked potatoes. Simply prep and wrap your potatoes, throw them in the crock pot, and they come out perfectly ready to be topped with all your favorite fixings!
Crockpot Meatballs – Sweet + savory Crockpot Meatballs are packed with flavor, and perfect for parties. They are SO easy, yet SO tasty!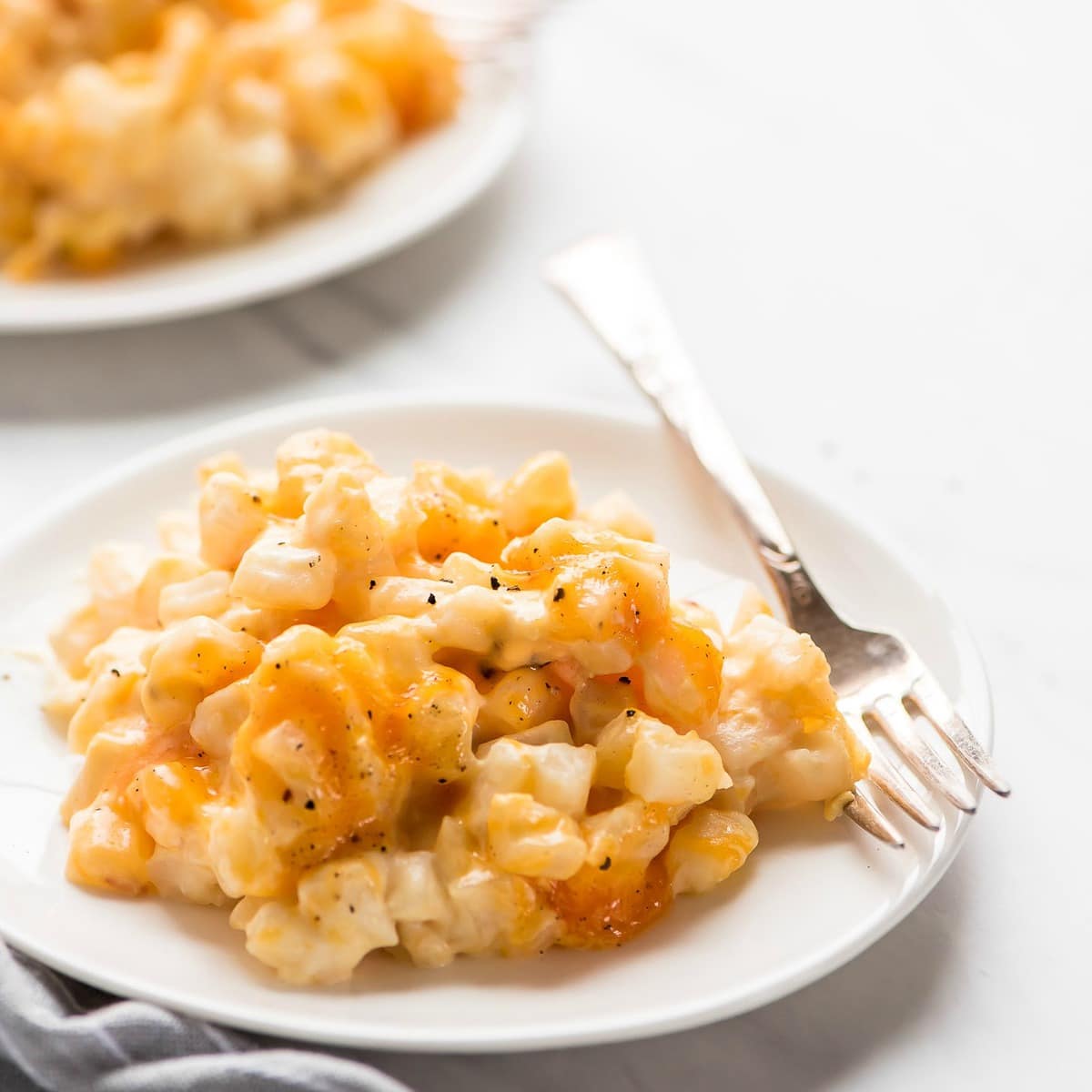 Crockpot Cheesy Potatoes – Crockpot Cheesy Potatoes are the perfect easy side dish to your next family dinner. Just dump, cook, and enjoy some cheesy tender potatoes for your next meal or holiday gathering.
Baked Beans – Easy Homemade Baked Beans is a must-have at all of our BBQ's. Everyone who tries it agrees it's the best baked beans recipe!
Crock Pot Creamed Corn – A big holiday dinner wouldn't be complete without rich flavorful creamed corn! It's creamy, buttery, and cheesy. Everyone's favorite holiday side dish!
Crock Pot Mac And Cheese – Everyone loves a good slow cooker recipe, and this Crock Pot Mac and Cheese is so simple, cheesy and delicious. With loads of cheddar cheese, butter, and sour cream it's hard not to love this creamy macaroni and cheese recipe.
Crock Pot Bean Dip – This cheesy and delicious crock pot bean dip is made with hardly any effort! SO easy, convenient, and perfect for holiday parties! Grab those chips and get dippin'.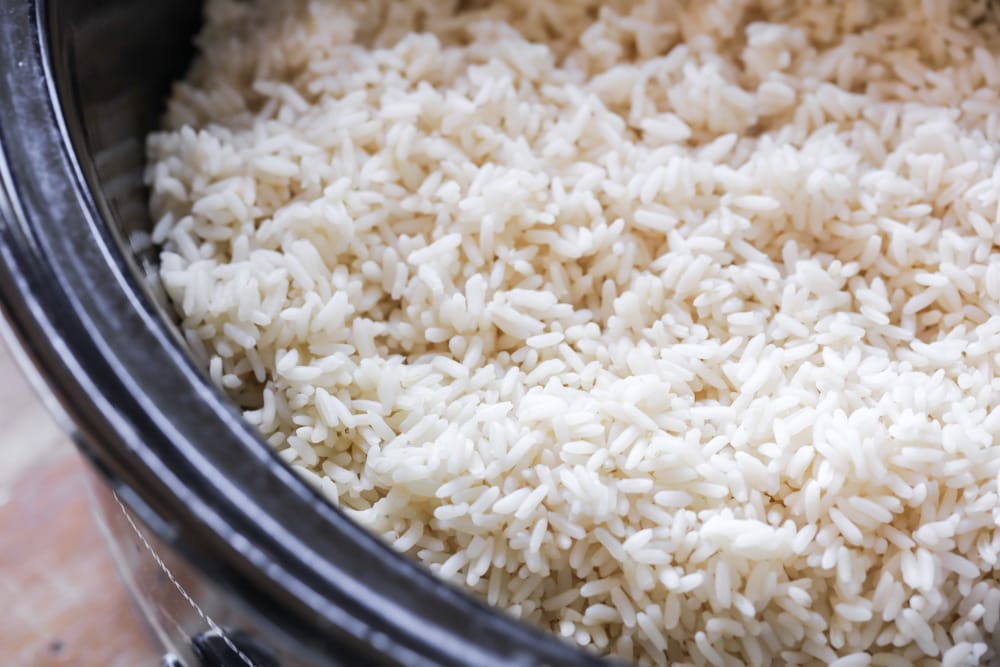 Crock Pot Rice – No need for a rice cooker when you have a crock pot in your cupboard! Follow our recipe for crock pot rice—it's the easiest method!
Slow Cooker Hashbrown Casserole – Potluck, Easter brunch or just your typical Sunday Breakfast, this Slow Cooker Hash Brown Casserole is easy, delicious and a family favorite!
Crock Pot Green Bean Casserole – Crispy, creamy slow-cooker green bean casserole is beyond easy and delish. It's just as tasty as the original oven-baked classic.
Crock Pot Pinto Beans – Nutrient rich pinto beans cooked to perfection. These make a great meal or a tasty side dish to any of your Mexican dishes.
BBQ Meatballs – Sweet + savory BBQ Meatballs are saucy and delicious with a bit of tanginess. With only 5 minutes of prep they are a breeze to make!
---
The complete list
Here are the picture cards for all of the amazing Crock Pot Side Dishes listed above.
Using your slow cooker not only frees up oven space, it's also a great way to make delicious side dishes that will stay nice and warm. We're sure you'll find some new favorites on this list!
Be sure to check out all of our Side Dish Recipes.
For more collections: Vegetable Side Dishes, Potato Side Dishes, Easy Side Dishes