Enjoy a collection of the best Crockpot Soup Recipes—chicken soups, beef soups, and even potato soups! They are all simple "dump and go" recipes that come in handy on the busiest days.
MORE COLLECTIONS: Soups, Easy Soups, Healthy Soups, Chicken Soups
Crockpots are a busy mom's best friend!
I've shared my favorite Chicken Soup Recipes, but these are all of my favorite soups made in the crock pot/slow cooker. I don't have time to slave over the stove all day making soup, which is why I love these recipes so much—the crock pot does all the work!
Really anyone who is busy needs to build a relationship with their crock pot. You can throw ingredients together in the morning and come home to a warm home cooked meal.
There's nothing like coming home on a cold winter day to a warm bowl of soup ready and waiting. You're definitely going to want to try out these soups this season!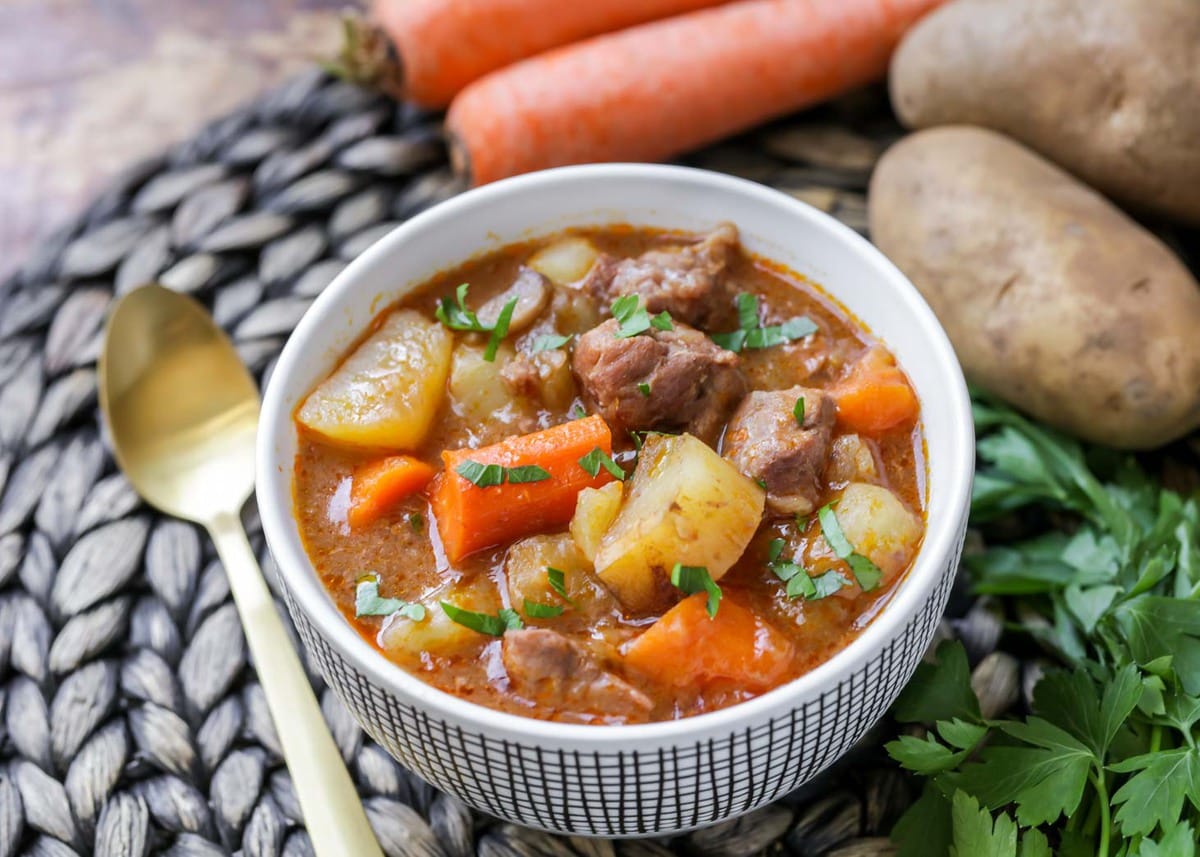 General Soup Tips
Bite-size ingredients. Cut all the ingredient the same size. For example the chunks of meat and pieces of potatoes should be similar in size.
Browned meat. If you have time, brown the meat to help bring out a more rich flavor.
Activate the aromatics. This includes ingredients like onion, bell pepper, celery, garlic. They are typically sautéed in a pan to get their flavor going, then added to the crock pot.
Don't overfill the pot. A properly filled pot should be between 1/2-¾ of the way full.
Thaw food, especially meats, before cooking.
Adjust for high altitude. At high altitudes you may need to increase the amount of liquid you add if you are also using cornstarch or flour as a thickening agent. Add an additional 30 minutes for each hour of time specified in the recipe for anyone cooking at a high altitude. Also, turn the crock pot to the HIGH setting after you have added any "save until the end" ingredients. Cook on high for 5-10 minutes.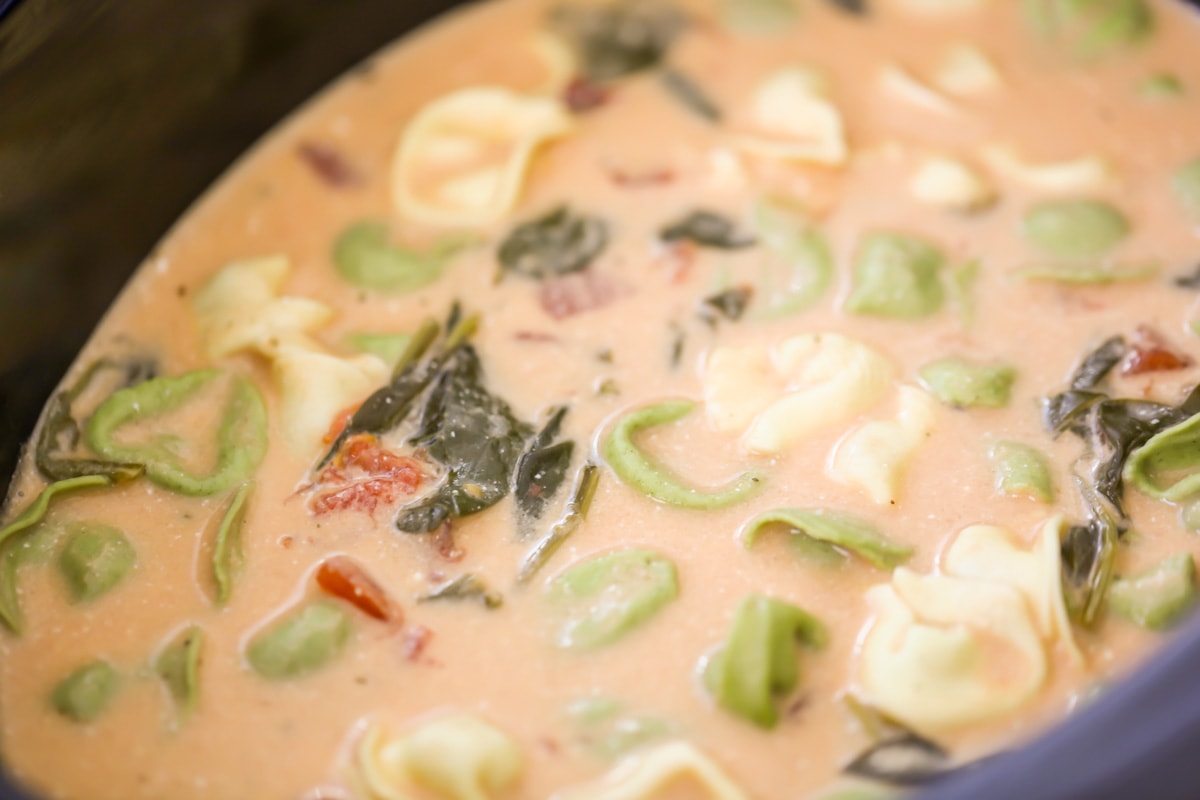 Seasoning crockpot Soups
The best way to create flavorful slow cooker soup recipes is to make sure each added ingredient will do its part. Using bland ingredients will create a bland soup. Taste as you go and adjust accordingly.
Broth vs Stock. The foundation of a good soup starts with a great tasting broth or stock. They both come with a base of beef, chicken or vegetable. You can also find versions to be organic, gluten free and vegan. So what makes them different?
Broth is thinner, has fewer calories and less fat, than stock.
Stock (aka bone broth) has slightly more calories, fat and protein, but also has significantly higher vitamins and minerals.
They can be used interchangeably so pick the one that best fits your dietary needs.
Add acid. Brighten a soup with a splash of vinegar or lemon or lime juice.
Remove spice. If the soup is too spicy or sour, add coconut cream or a bit of brown sugar. It will cut through the harsh flavor and add a bit of sweeteners to the soup.
Fresh Herbs add a lot of bright flavor to the dish. Keep in mind that 1 tablespoon of fresh herbs = 1 teaspoon of dried herbs and don't add the fresh herbs until the end of the crock pot cooking time.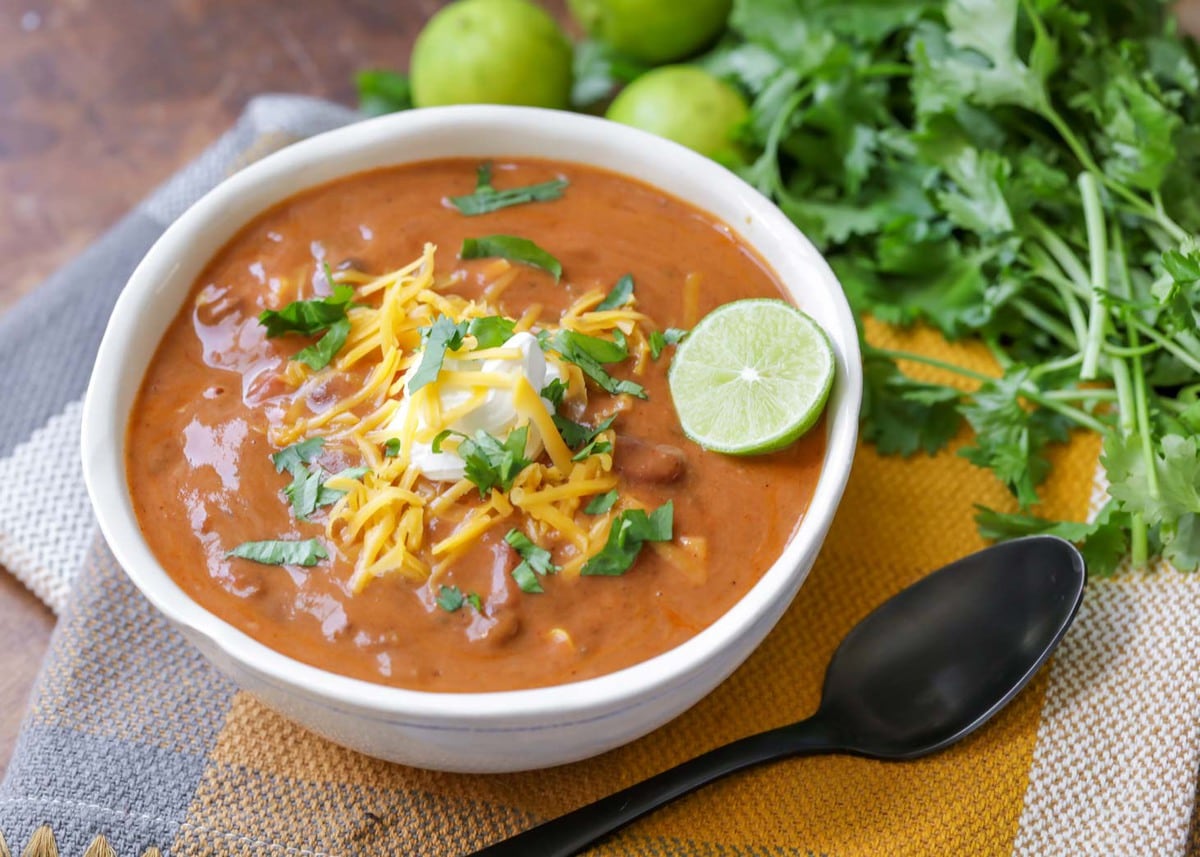 Converting Stove Top Soup to Slow Cooker Soup
If you have a soup recipe that isn't already tailored to the slow cooker, don't worry! Almost all soups can be slowly simmered in the crock pot.
I collected a few tips that will help you convert your stove top recipe into an easy slow cooked meal!
Crock pot cook time
In general, the high setting of a crock pot is about 280°F. The low setting is about 170°F.
You usually cook soup for 3-4 hours on high heat or 6-8 hours on low heat. (Always refer to your particular crock pot manual to find more specific cook times and guidelines)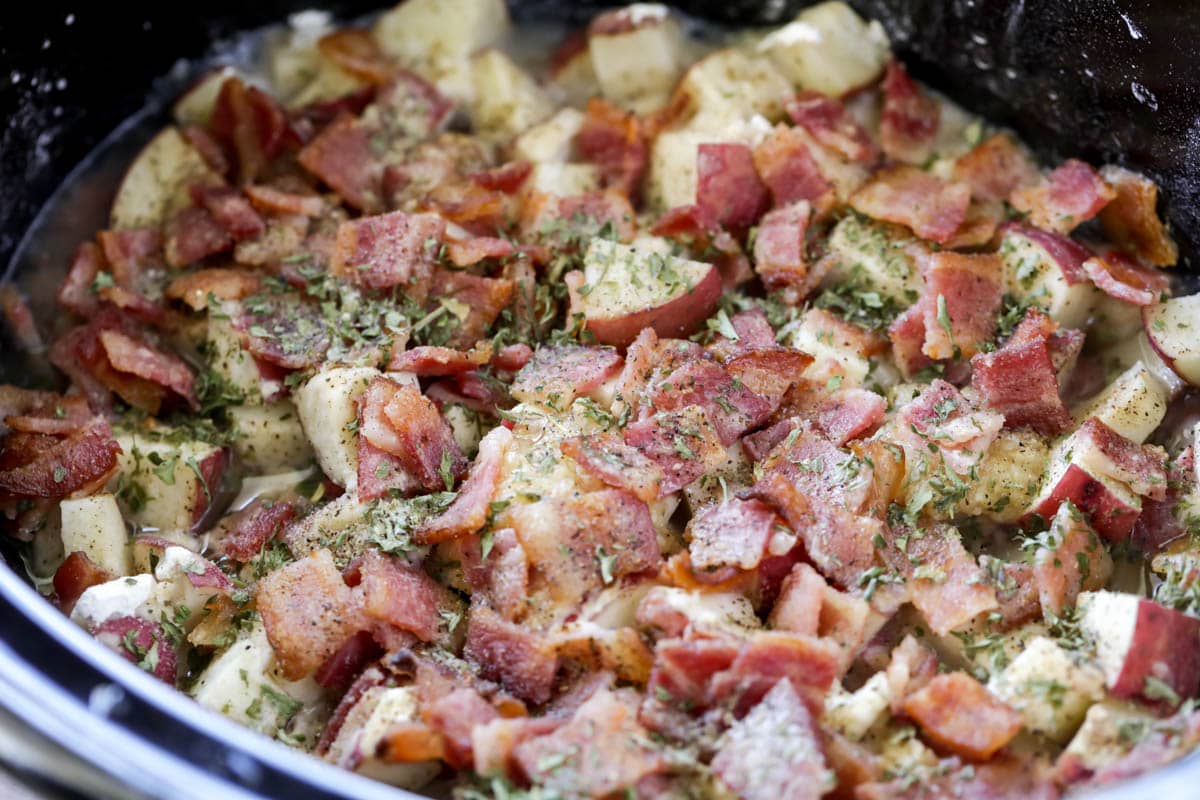 Save some ingredients until the end to add
"The End" could be literally right before serving, or as much as the last half hour of cooking.
Smaller softer vegetables, like peas and corn, should not be simmered for hours or they'll become mushy.
Dairy like milk, sour cream, yogurts, cheese shouldn't be added until the end otherwise it may curdle after being cooked for such a long time.
Precook pasta, rice, seafood before adding in at the end.
Use dried herbs and add them at the beginning. If you want to use fresh herbs, then add them toward the end.
Let's Talk Evaporation
There is hardly any evaporation when using a slow cooker so you'll notice that these recipe don't call for as much liquid that other soup recipes do.
Once you have the initial ingredients placed in the pot pour the liquid over them until they're covered by ½ inch. You can always add more liquid later.
If you find you have too much liquid remove the lid during the last hour of cooking to let some of it evaporate. You can also stir in a roux to thicken it up.
Don't include any wine. Simmering on the stove top allows for the alcohol to evaporate leaving a subtle layer of flavor. However, the crock pot does not allow for evaporation and the liquor can quickly take over the recipe.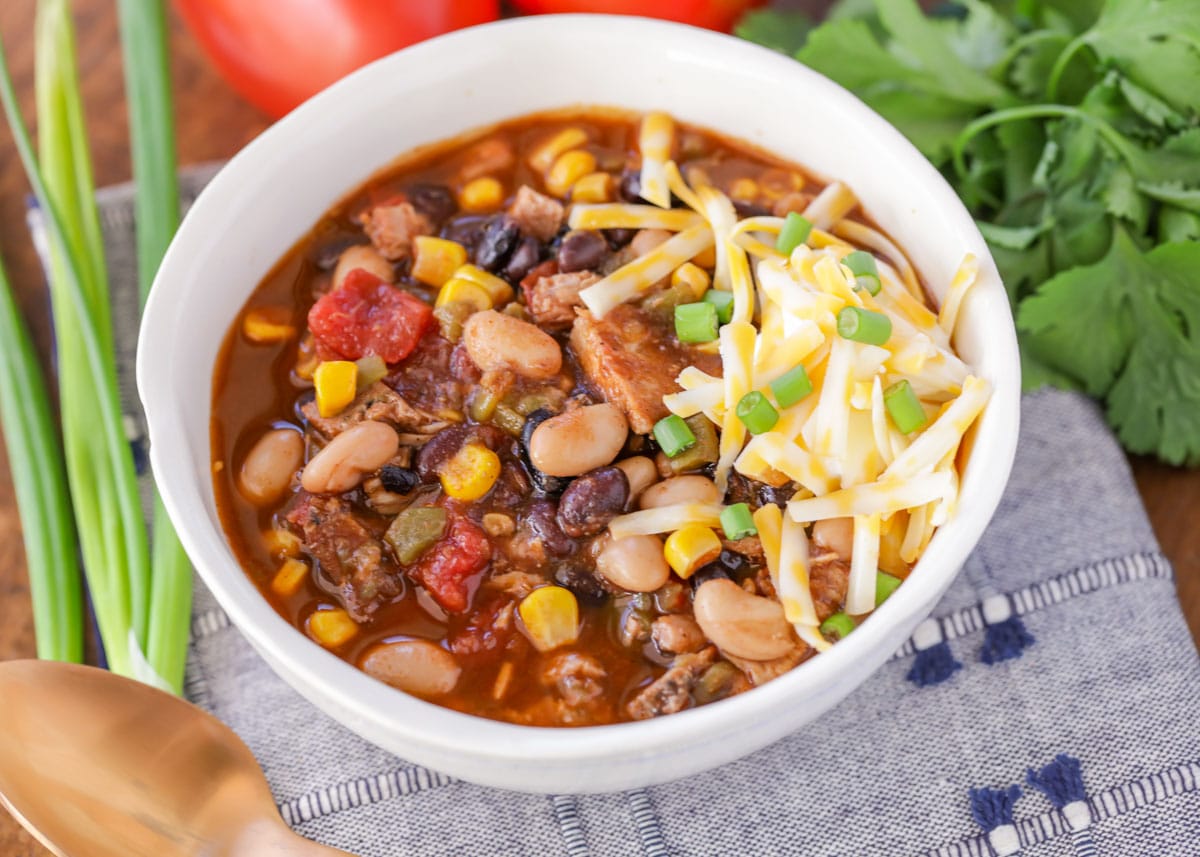 Soup storing tips
Keep soup warm. Once the soup has finished cooking, you'll want to turn the knob to the warm setting. Soup can be kept warm for 2-3 hours.
FREEZE. Most all soups can be prepared ahead of time and kept in the freezer. Remember to leave out the "add at the end" ingredients when making a freezer meal. Thaw the soup overnight in the fridge and throw it in the crock pot.
---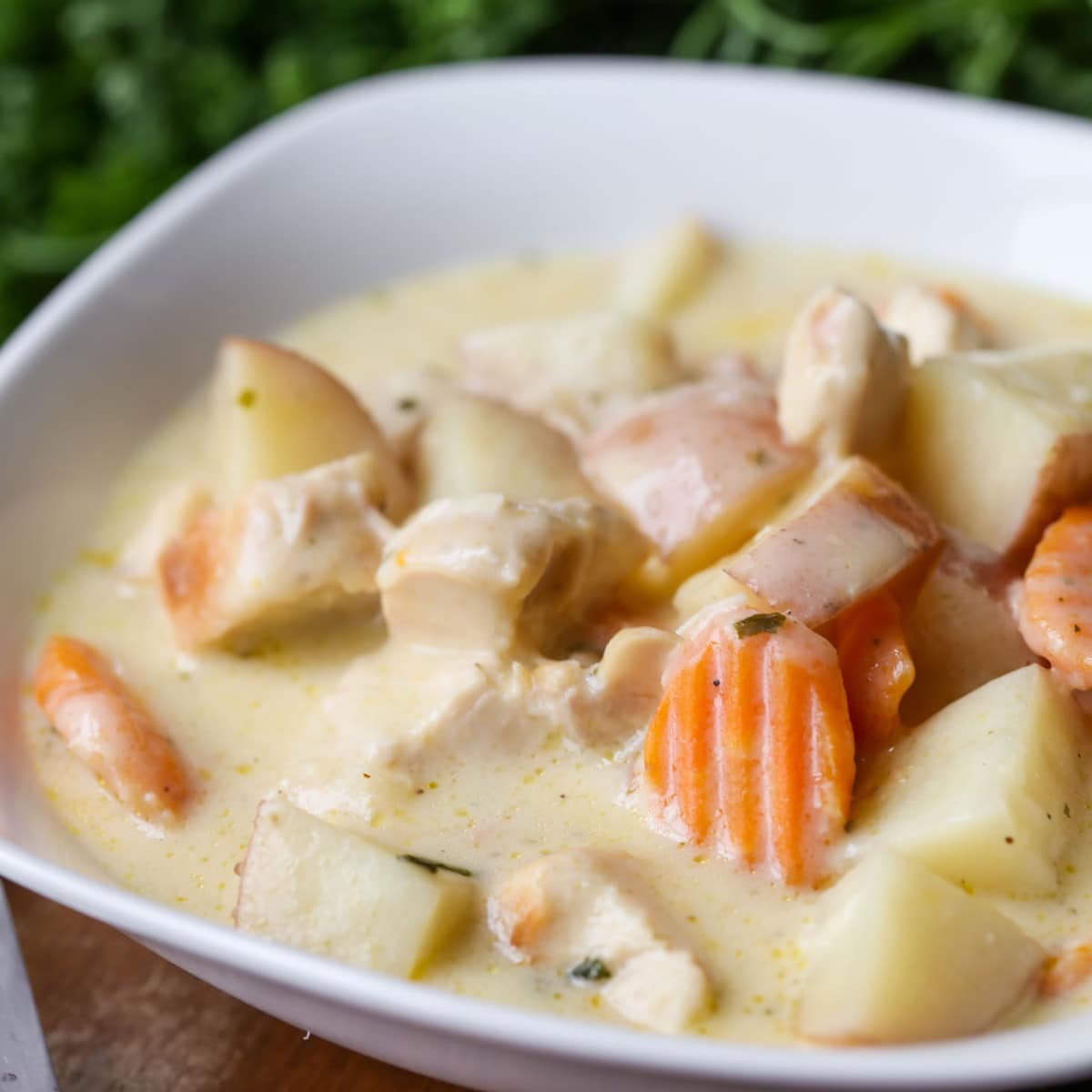 best crockpot soup recipes
Crock Pot recipes are notoriously easy so I'm always up for a throw and go meal. During the fall I love to start a hearty soup in the morning.
It fills the house with delicious smells, and there is no shortage of tasty soups! I've gathered some of my favorites, so enjoy!
Crock Pot Chicken Stew – A simple, convenient, and TASTY stew recipe made in the crock pot! Made with chicken, potatoes, carrots, cream of chicken soup, sour cream, ranch dressing mix and more, this Slow Cooker Chicken Stew recipe is BURSTING with flavor!!
Crock Pot Spinach Tortellini Soup – Easy Crock Pot Tortellini and Spinach Soup is a creamy soup filled with cheese tortellini, spinach, tomatoes, and lots of spices!!
Cheeseburger Soup – Filled with hamburger meat, carrots, potatoes, Velveeta, delicious spices, and BACON, this Crockpot Cheeseburger Soup is the perfect recipe for a cold day!
Crock Pot Baked Potato Soup – Creamy and delicious Crockpot Baked Potato Soup is so full of flavor and EASY too! This delicious potato soup recipe is a hearty family favorite.
Crock Pot Taco Soup – Creamy & delicious Crockpot Taco Soup is SO easy to make! It's packed with flavor and takes just 5 minutes of prep time!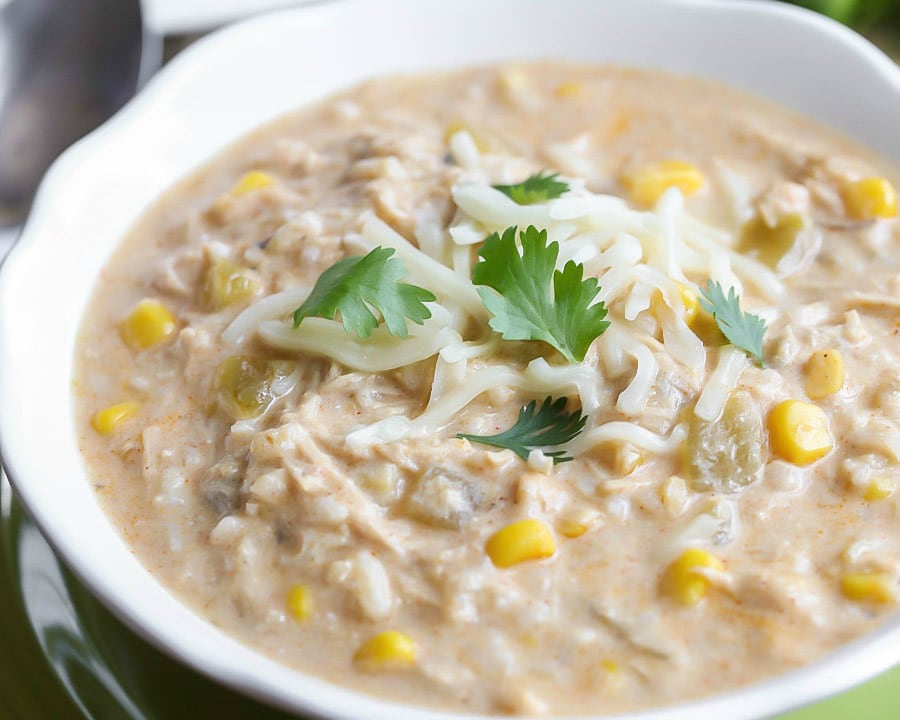 Easy crockpot soup recipes
Pretty much all crock pot soups are easy. They require some prep, but then you just let it simmer all day until you're ready to fill your belly!
Crock Pot Chicken Enchilada Soup – Crock Pot Green Chile Enchilada Soup is a new favorite soup packed with chicken, green chiles, corn, rice, and mixed with lots of spices and cheeses.
Cheesy Potato Soup – Creamy Cheesy Potato Soup is the easiest soup you'll ever make. You only need a handful of ingredients and a crockpot!!
Chicken Tortilla Soup – The BEST slow cooker chicken tortilla soup is filled with chunks of chicken, beans & corn. It is easy to make and full of flavor! Top it off with cheddar cheese, cilantro, and avocado!
Slow Cooker Beef Stew – DELICIOUS Slow Cooker Beef Stew filled with chunks of beef, potatoes and carrots – a family favorite that is hearty, simple and great for fall.
Hamburger Soup – Hearty and delicious Hamburger Soup is filled with corn, carrots, potatoes, cheese and more! Best of all, it's made in the slow cooker with minimal effort.
Slow Cooker Turkey Chili – Homemade slow cooker turkey chili is hearty and packed with flavor. It is loaded with beans, ground or chopped turkey, and spices!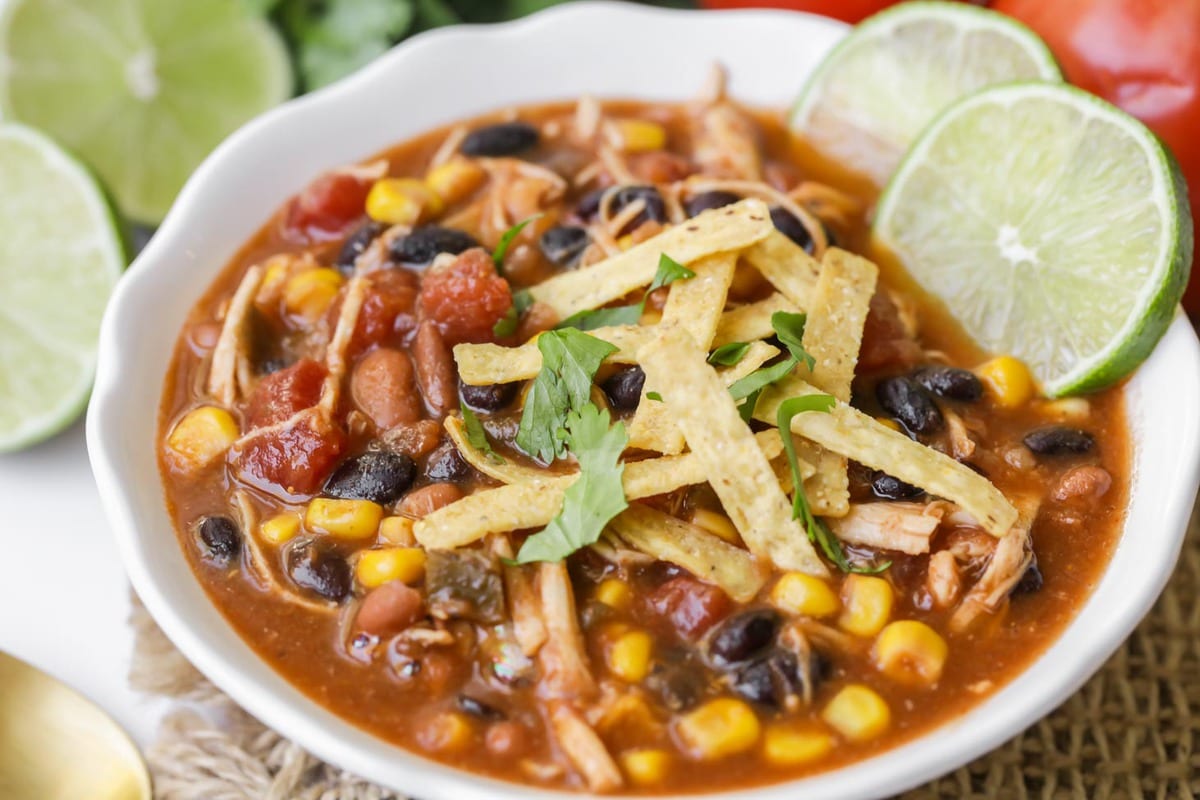 crockpot chicken soup recipes
Chicken is so versatile, and it's an easy protein for adding into crockpot recipes. These chicken-filled soups are some of our best loved. They are packed with flavor, and of course are so simple!
Chicken Taco Soup – Perfectly spiced Chicken Taco Soup can be enjoyed all year long. It's hearty, delicious, and packed with flavor!
Chicken Florentine Soup – With a combination of chicken, potato, white beans, carrots, spinach and more, this Chicken Florentine Soup is hearty and absolutely delicious. It tastes similar to Olive Garden's recipe, but it's made in the slow cooker!
Chili's Chicken Enchilada Soup – This copycat of Chili's Chicken Enchilada Soup tastes just like the restaurant's version. It's a new favorite dinner meal!
Green Chili Chicken Soup – Perfectly spiced Green Chili Chicken Soup is like an enchilada in soup form! It's hearty, delicious, and is always a crowd pleaser.
Healthy Chicken Tortilla Soup – Nothing like a warm bowl of tortilla soup on a chilly winter day! This lighter version of chicken tortilla soup is healthy, flavorful, and packed with delicious ingredients.
Chicken Pot Pie Soup – This creamy, delicious Chicken Pot Pie Soup can be made on the stovetop or in a crock pot! It has all your favorite vegetables, big chunks of chicken, and even a delicious heart-shaped pie piece on top.
---
the complete list
Here are the picture cards for all of the fantastic Crock Pot Soup Recipes listed above.
I hope you enjoy these crock pot soup recipes as much as we do!! They're major time savors, and most of them are soups that the entire family will enjoy, so you really can't go wrong!
---
MORE COLLECTIONS: Winter Soups, Summer Soups, Crock Pot Dinner Ideas