These Mexican Soup Recipes are filled with the classic spices, flavors, and ingredients you love about Mexican dishes. Included are taco soups, enchilada soups, and other traditional soups the whole family will love!
More collections: Mexican Desserts, Mexican Beef Recipes, Mexican Appetizers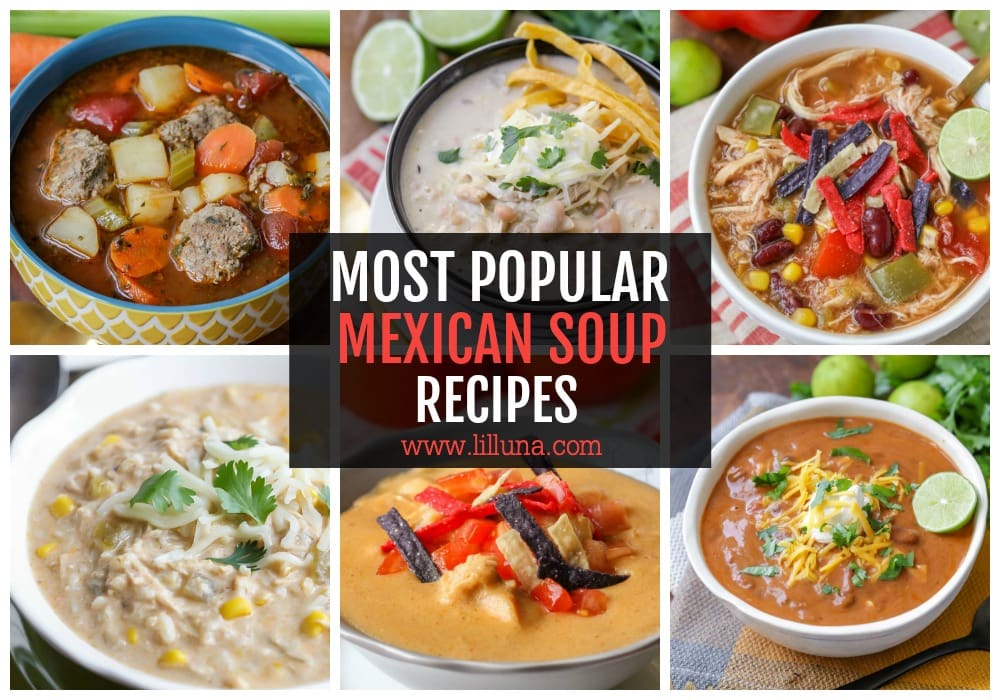 Soups full of spice!
Soup is generally an easy recipe to throw together, and is especially yummy in the fall. And when you add the delicious Mexican flavors and spices, soup is even more yummy!
Cumin, chili powder, garlic salt, oregano and cilantro are just some of the few spices commonly used in Mexican soups.
Just like other soups, many of the Mexican Soup Recipes can be adjusted to be cooked on the stove top, crock pot, or instant pot. They can also be made ahead of time, and frozen for later (see the individual posts for more recipe tips and tricks). And like most other soup recipes, the soup recipes below are very simple.
To make these recipes even easier, I like to have precooked shredded chicken breast and beef in the freezer. That way I can grab a portion, and just toss it in the pot!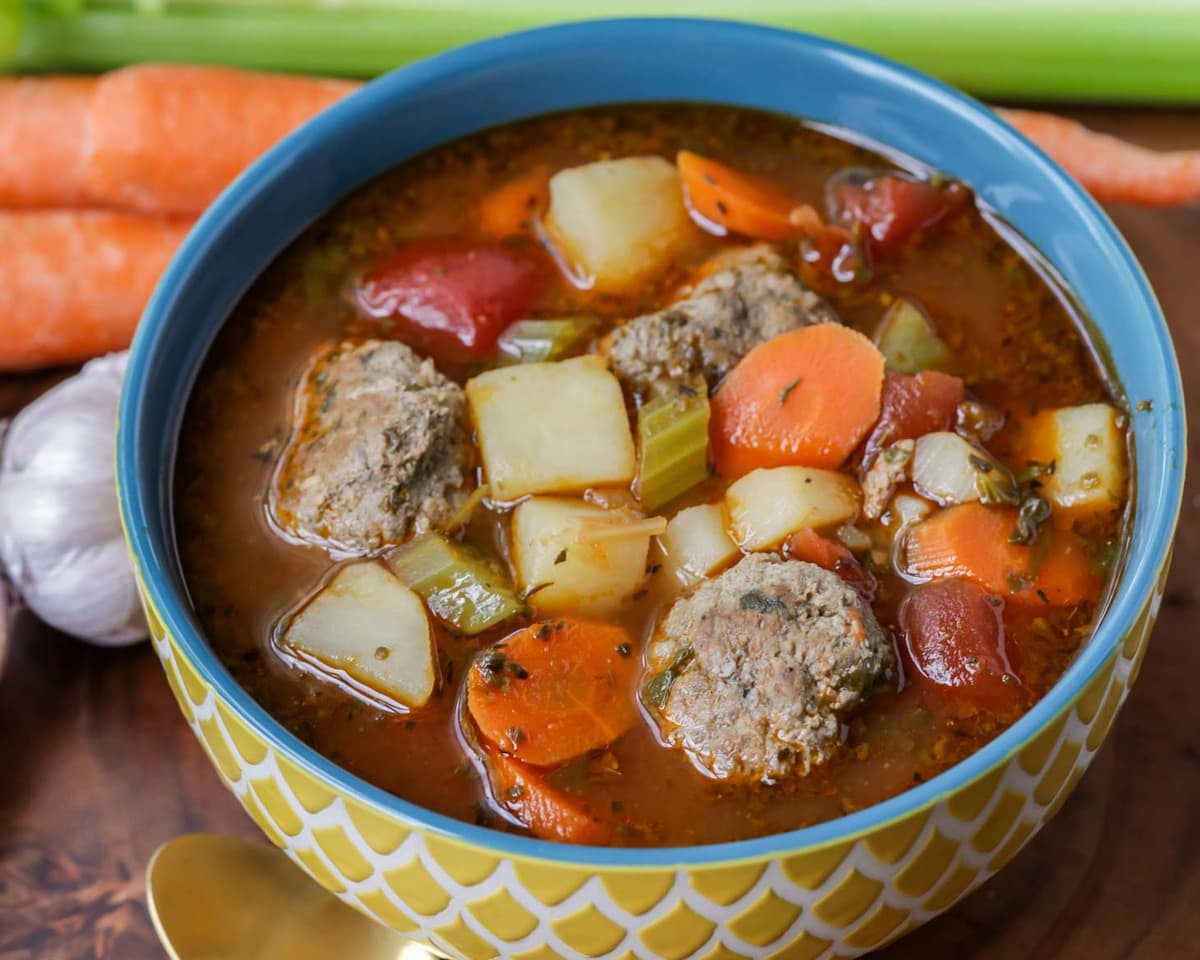 TIPS FOR MEXICAN SOUP
Spice. One of the best things about soup is how easy it is to adjust to your taste.
Like other Mexican food, the heat is often more than many people are used to. If you find your soup is too spicy, simply:
Add dairy such as milk, sour cream or yogurt

.

Increase the other ingredients in the recipe to balance the hot flavor

.

Sweeten it with honey or brown sugar

.

Add a starch like rice or potatoes

.
If your soup is not spicy enough, or you wish for guests to be able to add their own spice: have cayenne pepper, black pepper, chili powder/flakes or hot sauce on the side.
Broth vs stock. Broth and stock are considered to be a basic building block for soup. They both come with a base of beef, chicken, or vegetable. You can also find versions to be organic, gluten free and vegan.
Broth: thinner, with fewer calories and less fat than stock.
Stock (also called bone broth): thicker, more flavorful, and contains higher amounts of vitamins and minerals.
Activate aromatics. Onion, bell pepper, celery, and garlic are some commonly used aromatics. They are typically sautéed in a pan to get their flavor going, then added to the pot of soup.
Soup protein. Often the protein in soup can be eliminated, added, or replaced. Some common protein used in soup include: beef, chicken, turkey, pork, and beans.
Using fresh herbs. Many recipes call for dried herbs, but using fresh herbs can add a bright layer of flavor to the soup. Keep in mind that 1 tsp of dried herbs is equal to 1 tablespoon of fresh herbs.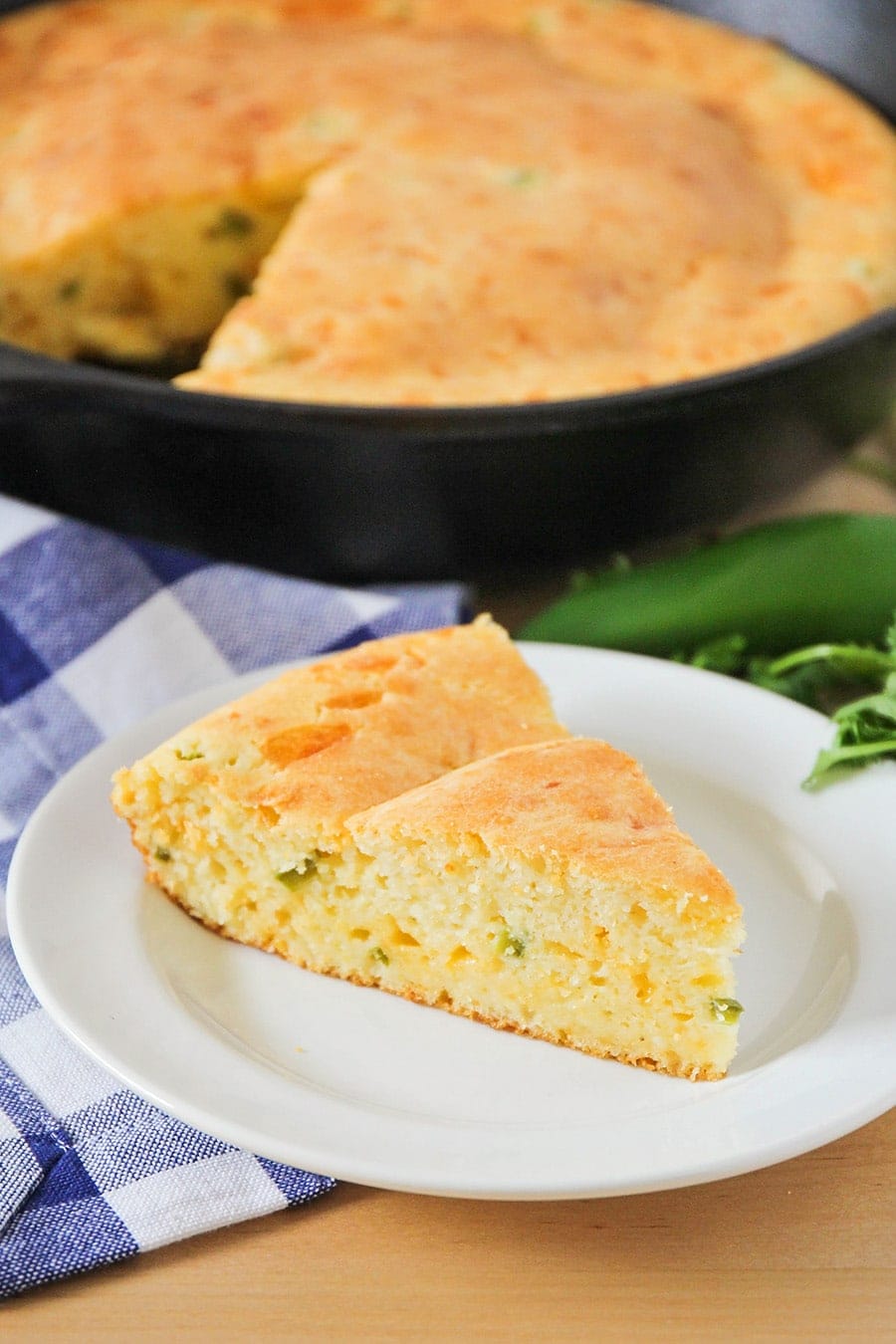 Soup Toppings and Sides
Basically any topping you would use with your favorite Mexican dish can be used on these tasty Mexican Soups. I'll share just a few of our favorites, including some of our go-to Mexican sides!
Top with: tortilla strips, shredded cheese, fresh cilantro, green onions, sour cream, lime wedge, or sliced avocado.
Serve with these sides: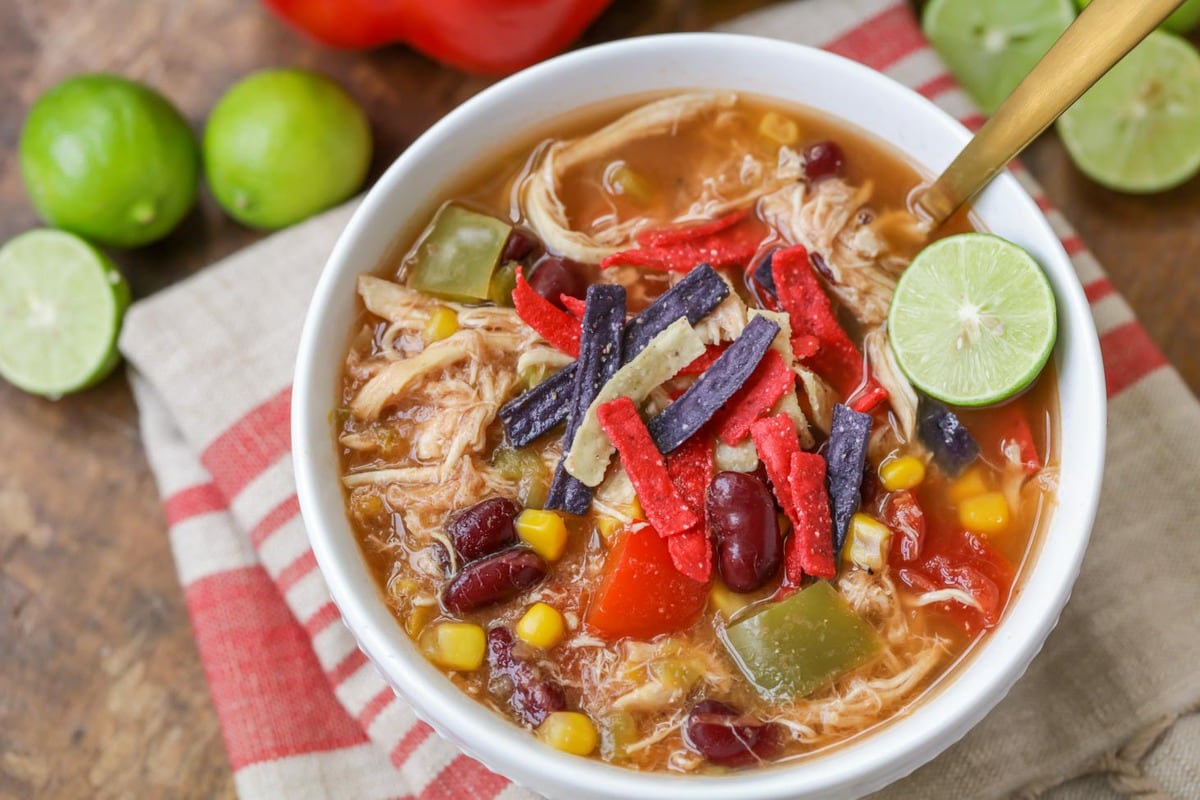 Serving tips
Soup is a versatile dish. It can be served as a sit down appetizer before a meal, a side dish, or featured as the main dish.
When served as a side or appetizer, plan for guests to eat 6-8 oz.
When served as the main dish, plan for guests to have about 12 oz. of soup.
One serving is between 8-12 oz. A soup cup can usually hold 8 oz., where a soup bowl can hold 12 oz.
Keeping soup warm. Easily keep soup warm at dinner parties, by using a crock pot or a chafing dish.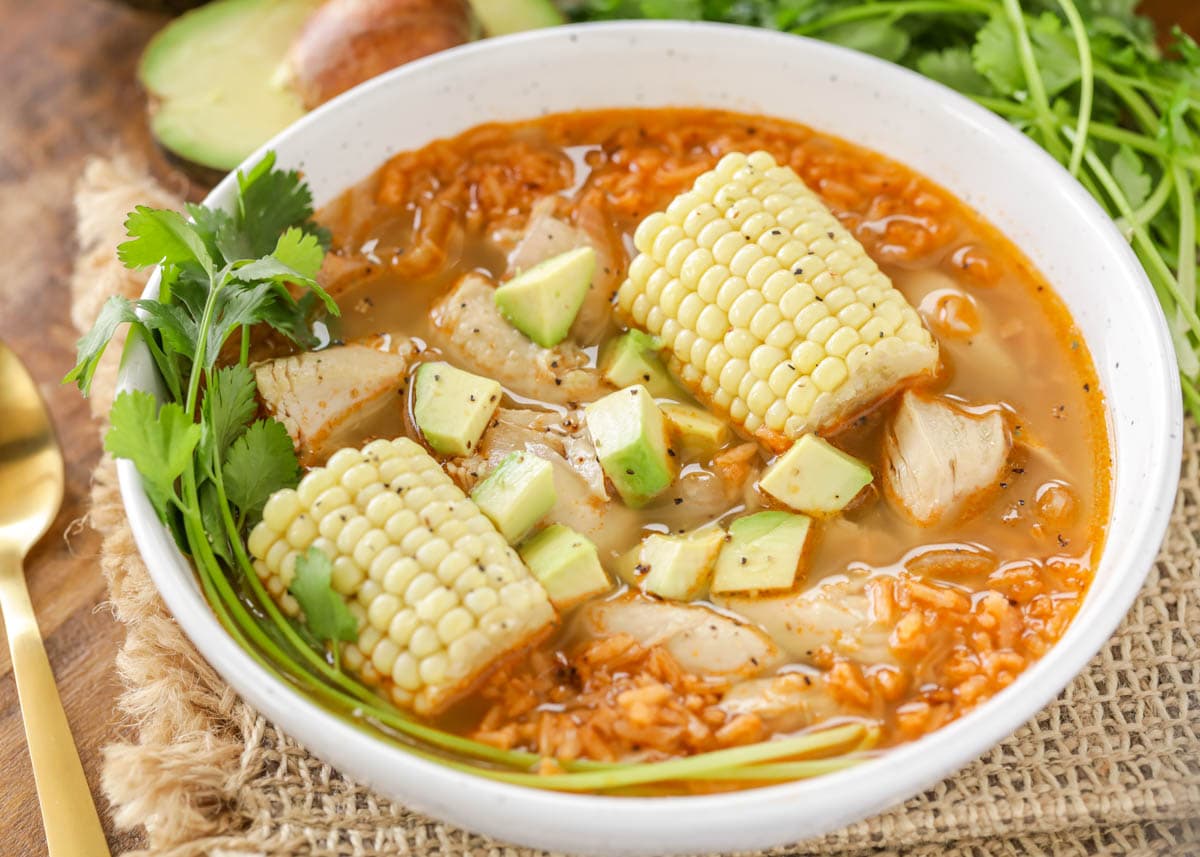 Thickening Soup
There are several methods used to thicken soup. One of the easiest is to simply mash up some of the ingredients already in the soup, such as beans or potatoes. You can also try:
Cornstarch Slurry: In a separate bowl, add 1 tablespoon of cold water and 1 tablespoon of cornstarch. Mix until smooth, then pour it into the soup. Stir and simmer.
Flour Roux: Scoop out ½ cup of the hot soup, place it into a bowl. Add 2-3 tablespoons of flour, stir until smooth. Pour it into the soup, and simmer.
Creamy Texture: A creamy soup can be made even creamier by adding more: cream, cheese, pureed vegetables, a scoop of nut butter, or cream cheese.
---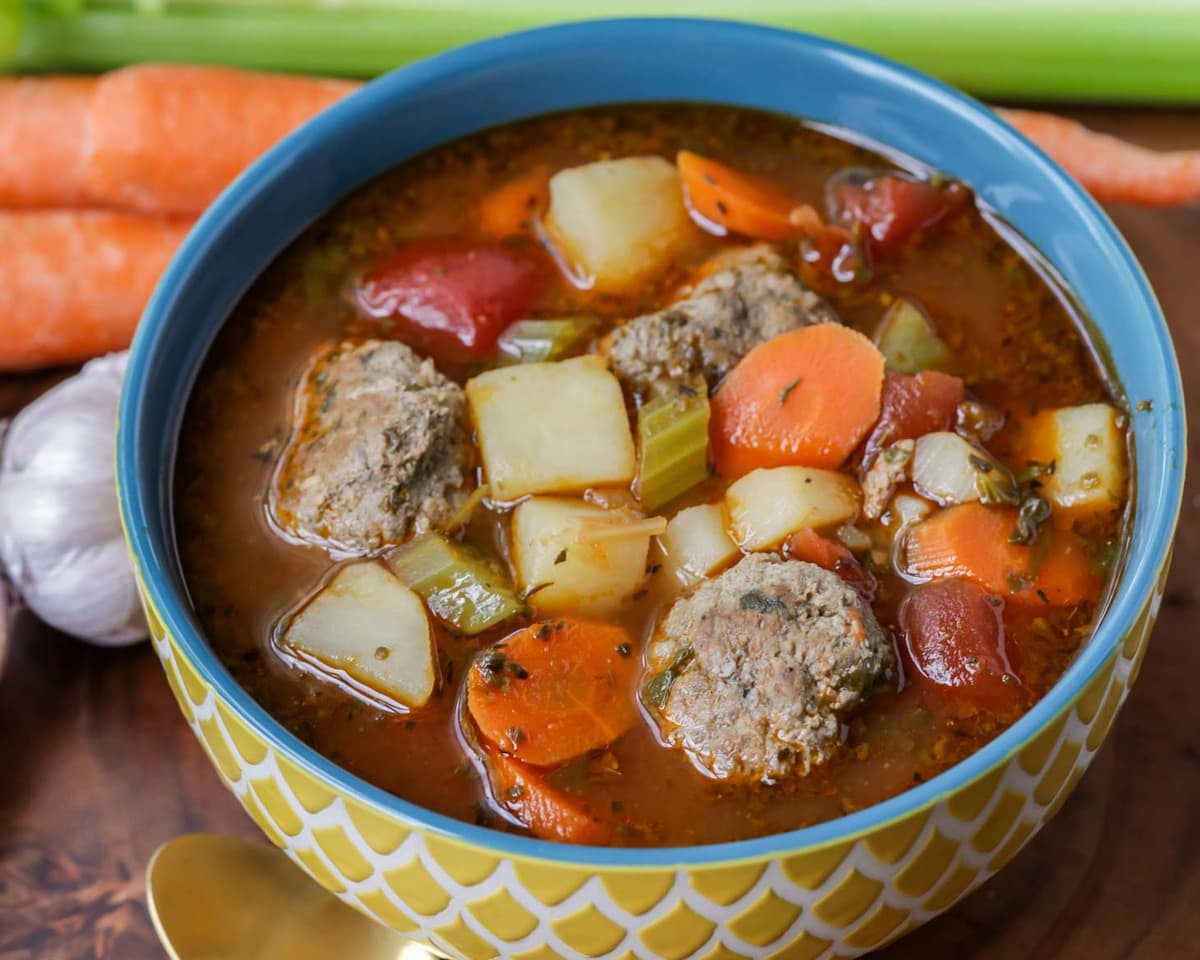 Favorite MEXICAN SOUPS
These delicious Mexican Soup Recipes are filled with the spices and flavors from best-loved Mexican dishes. They are hearty, tasty, and easily made!
Mexican Soups are perfect any time of the year, but soup is especially delicious in the fall.
Albondigas Soup – Albondigas soup is a delicious Mexican recipe filled with meatballs, vegetables and spices! Packed full of flavor, this simple Albondigas soup is sure to become a favorite.
White Chicken Chili – White Chicken Chili is hearty, creamy, and has become a new favorite!! Best of all, it's ready in 30 minutes or less!
Mexican Soup – Filling and Flavorful Mexican soup is packed with chicken, beans, and veggies with just a little bit of heat!!
Caldo De Pollo – Hearty and delicious caldo de pollo is a homey chicken soup filled with Mexican spices and flavors. It is warm, comforting, and SO yummy!!
Mexican Beef Stew – Hearty Mexican Beef Stew that's filled with vegetables and tender beef. It's a flavorful twist on a classic!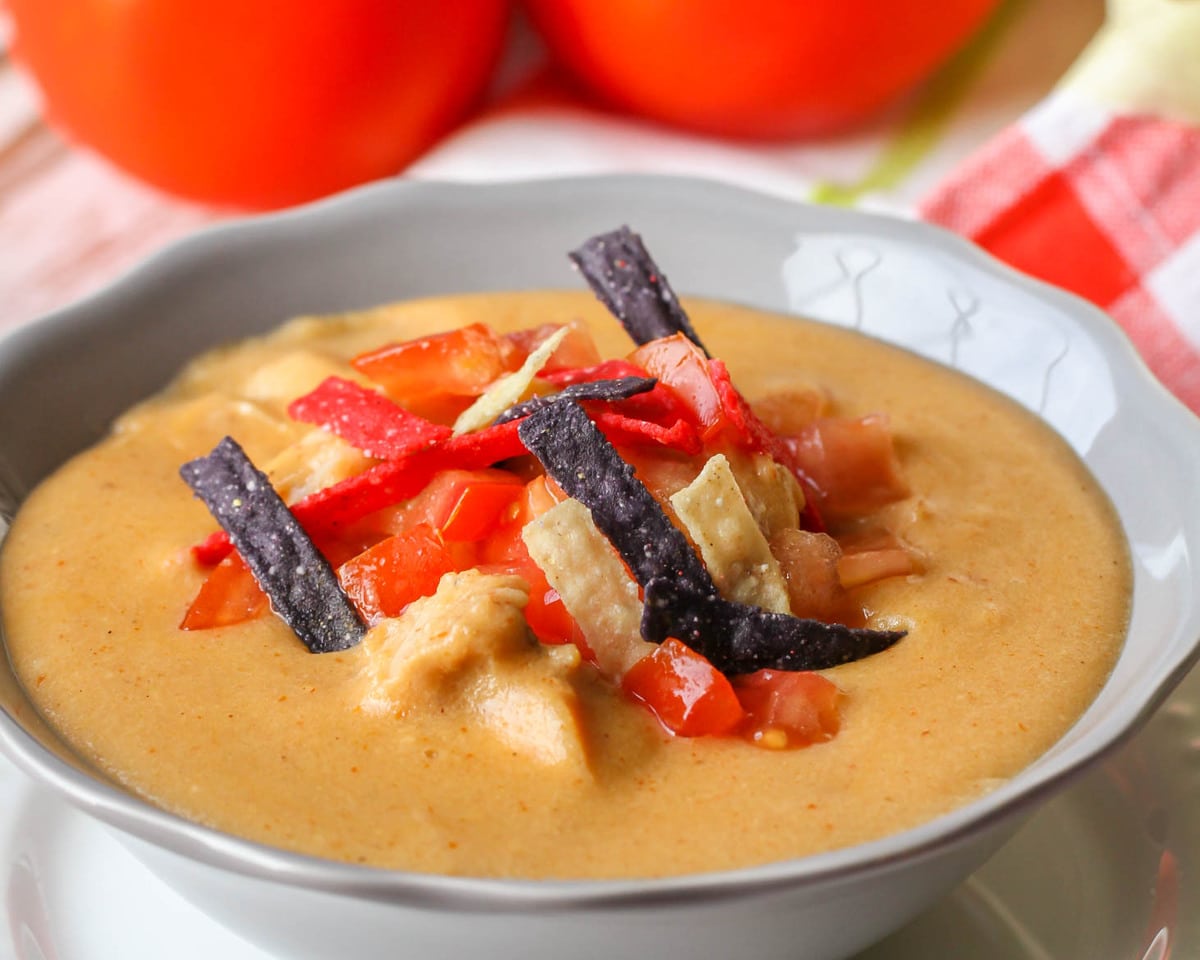 Chili's Chicken Enchilada Soup – This copycat of Chili's Chicken Enchilada Soup tastes just like the restaurant's version. It's a new favorite dinner meal!
Crockpot Chicken Enchilada Soup – Crock Pot Green Chile Enchilada Soup is a new favorite soup packed with chicken, green chiles, corn, rice, and mixed with lots of spices and cheeses.
Fajita Chili – With just 8 ingredients and 30 minutes, you can whip up this bold & flavorful Fajita Chili. It's simple and delicious!!
Crockpot Taco Soup – Creamy & delicious Crockpot Taco Soup is SO easy to make! It's packed with flavor and takes just 5 minutes of prep time!
Chicken Tortilla Soup – The BEST slow cooker chicken tortilla soup is filled with chunks of chicken, beans & corn. It is easy to make and full of flavor!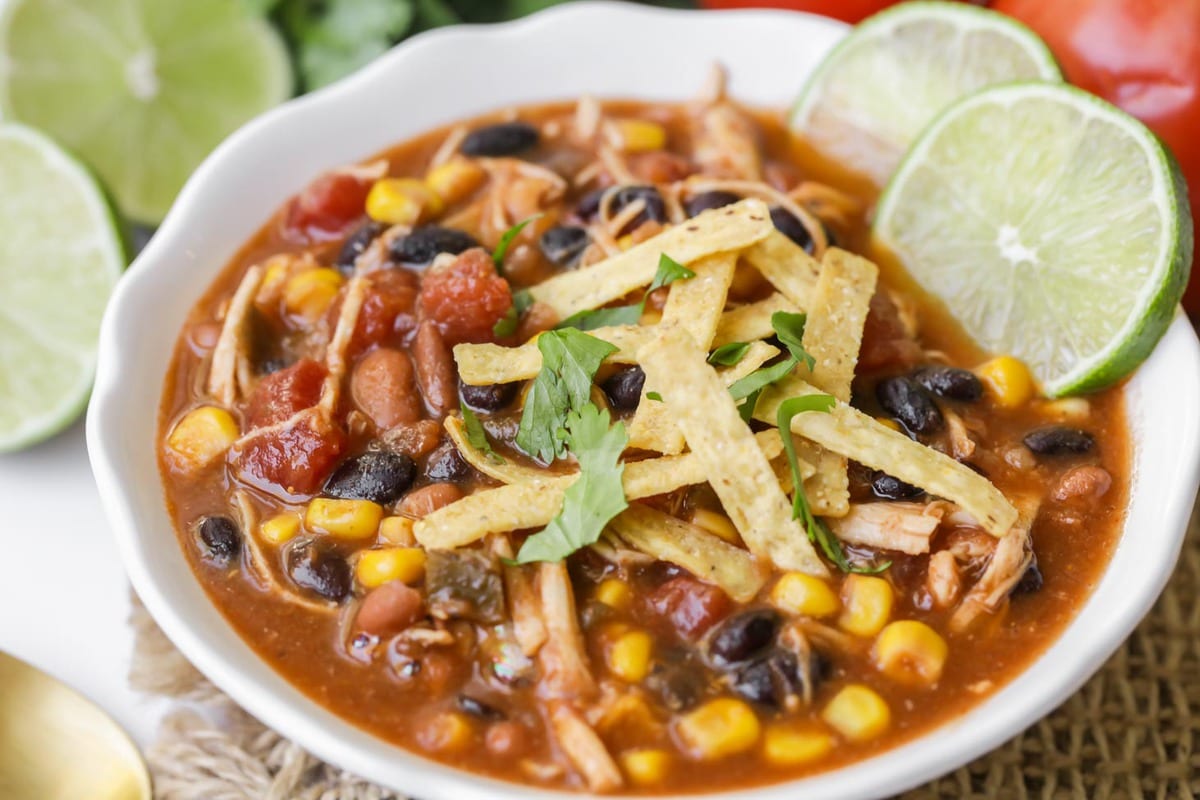 Chicken Taco Soup – Perfectly spiced Chicken Taco Soup can be enjoyed all year long. It's hearty, delicious, and packed with flavor!
Mexican Chicken Corn Soup – This Delicious Mexican Soup is filled with chicken, corn, tomatoes, cheese, & lots of seasonings! It's full of Flavor and Made in 20 Minutes!
Taco Soup – One of the EASIEST dinner recipes of all time! This super easy Taco Soup is made from beans, corn, tomatoes, and green chiles, plus Ranch dressing mix and taco seasoning. All you have to do is dump everything in a pan and simmer. It's ready in under 20 minutes!
Green Chili Chicken Soup – Perfectly spiced Green Chili Chicken Soup is like an enchilada in soup form! It's hearty, delicious, and is always a crowd pleaser.
Healthy Chicken Tortilla Soup – Nothing like a warm bowl of tortilla soup on a chilly winter day! This lighter version of chicken tortilla soup is healthy, flavorful, and packed with delicious ingredients.
Sopa de Fideo – This quick, simple and delicious Sopa (soup) de Fideo is a family favorite. It's also cheesy and flavorful! Just 5 Ingredients and you'll have dinner in no time.
---
the complete list
Here are the picture cards for all of the scrumptious Mexican Soup Recipes listed above.
You're going to love each and every one of these hearty and savory soups – they're sure to become new family favorites!
---
More Collections: Mexican Dinner Ideas, Easy Soup Recipes, Crock Pot Soup Recipes