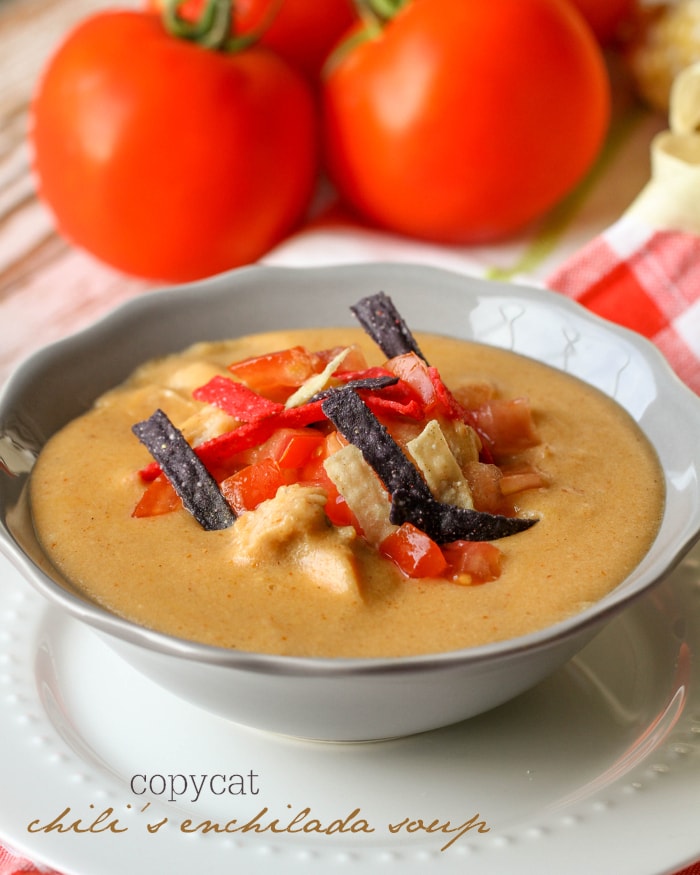 I think I have a NEW favorite soup recipe!!
Today's recipe is a Copycat Chili's Enchilada Soup is AMAZING!! I should begin by saying that Chili's is one of our favorite restaurants. We love the food and it's inexpensive enough that we can take the whole family there without feeling like we're breaking the bank. It also used to be one of the favorite places I would eat at with my co-workers back when I just graduated from college. One of the meals I loved to get was the half sandwich and soup. My favorite soup was their Enchilada Soup and although I don't go there as often, I still think about how delicious the soup was. A few months ago I realized I had never done a copycat version of this recipe, so I gave it a go and the result was amazing!! It was SO full of flavor and tasted just like the real thing! The masa harina (corn tortilla mix) gives is that enchilada flavor that is addicting and delicious.
If you've ever tried the recipe and loved it, you'll definitely want to try this. In fact, if you love Enchiladas and Soup, you should try this because it's a new keeper recipe. 😀

Chili's Copycat Enchilada Soup
Ingredients
3 chicken breast (cooked and cubed)
1-2 tsp. minced garlic
2 - 14.5 oz. cans chicken broth
1 cup masa harina (corn tortilla mix - found near flour/corn muffin mix)
3 cups water (divided)
1 cup mild red enchilada sauce
16 oz. Velveeta cheese (cubed)
1 tsp. salt
1 tsp. onion powder
½ tsp. chili powder
½ tsp. cumin
tomatoes (garnish)
corn tortilla strips (garnish)
Instructions
Add garlic to a large pot and saute for 1-2 minutes. Add chicken broth.
In a medium bowl, whisk together masa harina and 2 cups water until well blended. Add masa mixture to the pot.
Add remaining water, enchilada sauce, cubed Velveeta cheese, salt, onion, powder, chili powder and cumin. Bring to a boil.
Add cubed chicken, reduce heat and simmer for 30 minutes.
Garnish with tomatoes and tortilla strips.
Recipe adapted from Food.com.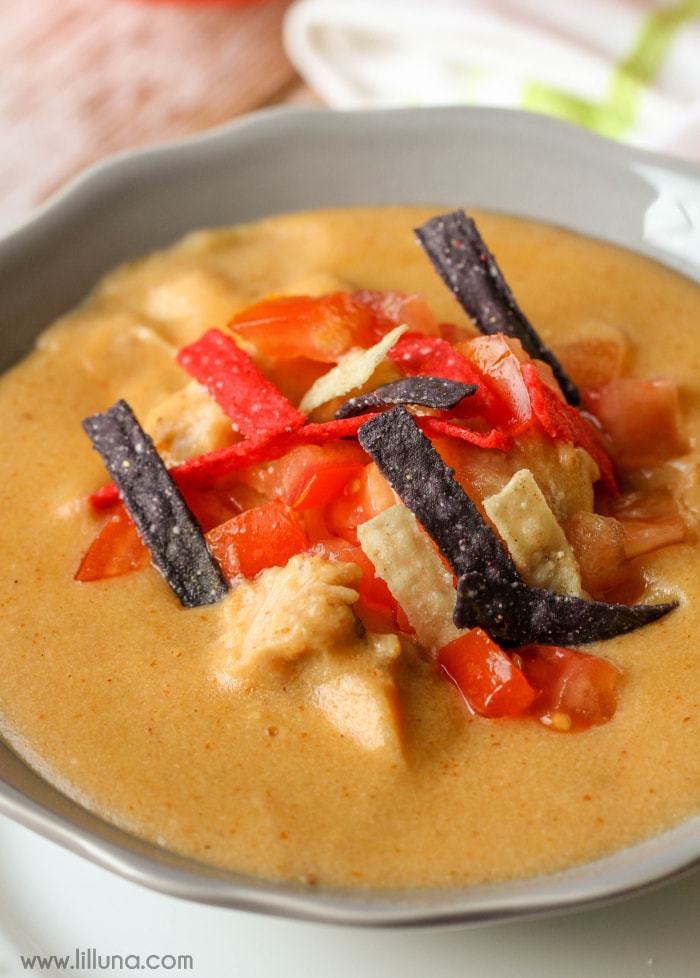 I found the colored tortilla strips at my local HEB, but you should be able to find them at most grocery stores. I also think cilantro or green onions would be a great addition on top… oh yeah, and maybe sour cream too!!
Seriously – SO delicious!!! I LOVED this recipe, and so did most the family (I admit I have a few picky eater children who opted for the quesadillas only that we served with this.) 😉
Check Out My Other Recipes
For more great Mexican Soups I think you'll enjoy, check out: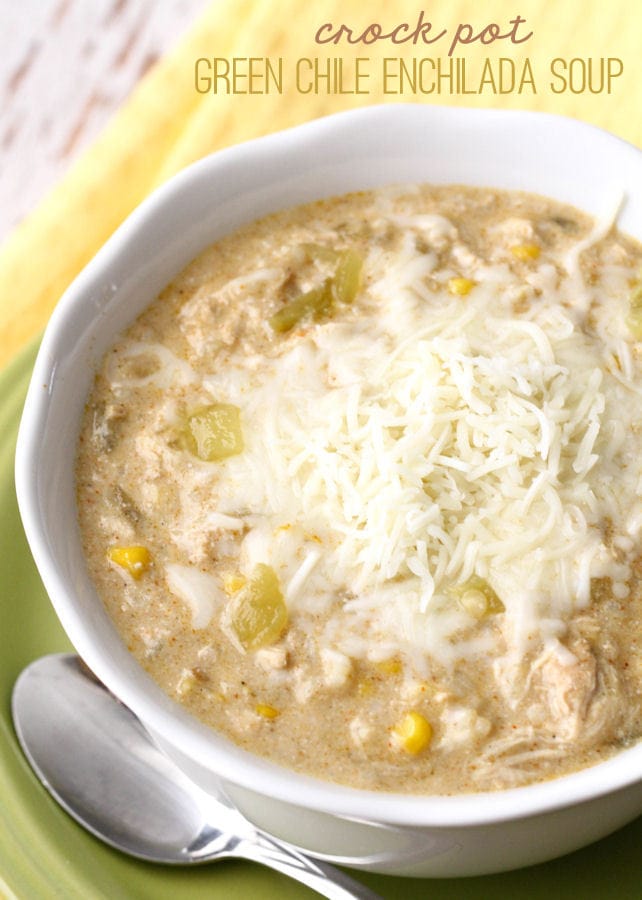 Crock Pot Green Chile Enchilada Soup
Creamy Southwest Chicken Chowder
For all Soup recipes go HERE.
For all recipes go HERE.
For even more great ideas follow me on Facebook – Pinterest – Instagram – Twitter – Periscope.
And get weekly emails with monthly freebies by signing up for the Lil' Luna newsletter. 🙂
ENJOY!
Need more recipes and creative ideas? Sign up and get a FREE copy of my latest ebook!