A collection of recipes to help you make the best Mexican Dinner! From main dishes to sides, to appetizers, drinks and desserts – every recipe is here to help you have the perfect fiesta!
For more collections: Mexican Sides, Mexican Desserts, Mexican Soups, Mexican Beef Recipes, Mexican Appetizers
Cinco de Mayo, Fiestas + More
Who loves Mexican food?! WE DO!
Yes, many celebrate Cinco de Mayo with their favorite Mexican restaurants, but we have it almost weekly at our house. That may be because we are Hispanic or just because we love it so much!
So, whether it's for a holiday, a fiesta, or a weeknight dinner, we wanted to make sure you had all the Mexican dinner ideas you needed.
On my site, the top 10 most loved Mexican dishes (main and side) include: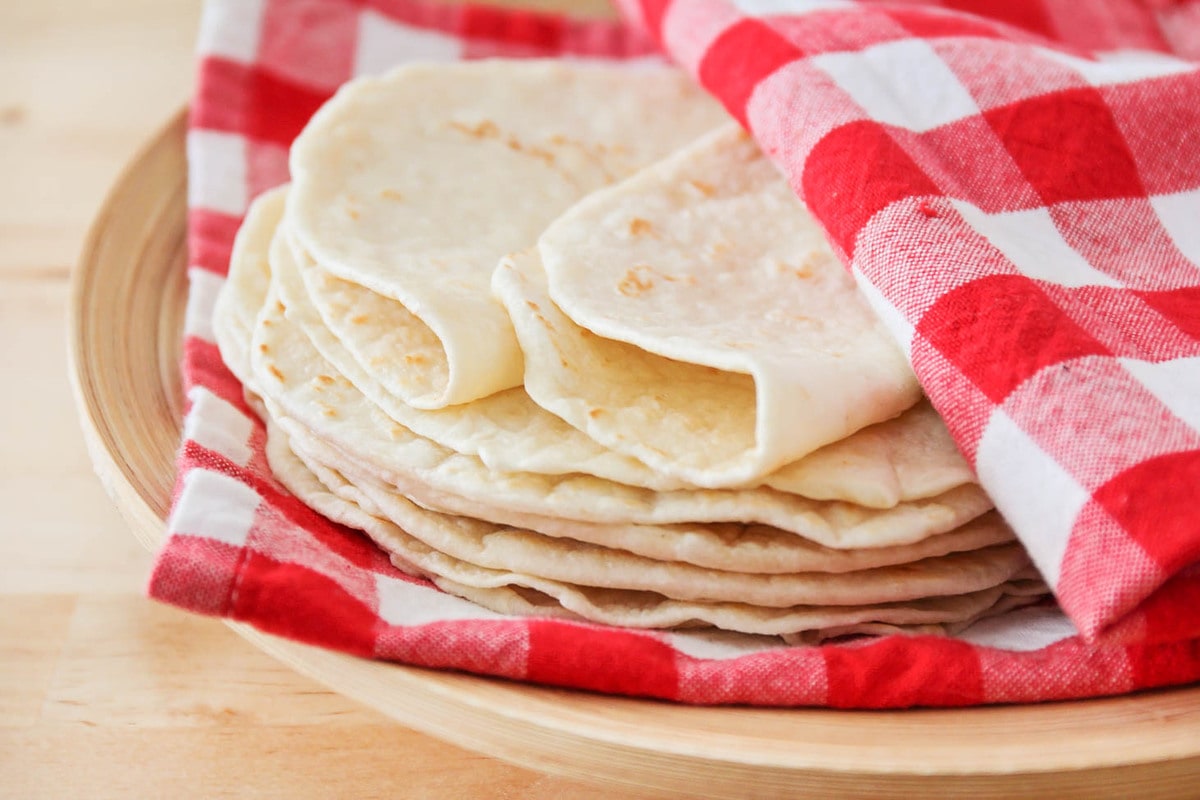 common Ingredients in Mexican recipes
A lot of Mexican dinner recipes require the same or similar ingredients, but prepared in various ways. Here are some of those common ingredients!
Corn: From corn tortillas to elote, corn is a widely used ingredient in Mexican meals.
Cheese: Whether added on top or combined into the recipe, cheese is another common ingredient.
Seasonings: Common herbs and spices include cumin, chili powder, cilantro, garlic, onion, oregano, chipotle, cocoa, cinnamon, cloves and more.
Peppers: Peppers in many varieties are used. Chili peppers and jalapenos are both quite common.
Avocados: Avocados are served sliced or used to make Guacamole.
Tortillas: Corn tortillas and flour tortillas are often used in the recipe or served on the side.
Beans: Beans like black beans are commonly found in dishes or on the side. Refried beans are also widely used.
Toppings: Some common toppings to add to Mexican dishes include sour cream, pico de gallo, sour cream, onions, lettuce, tomatoes, and cilantro.
Planning your mexican dinner
Typically, for a meal with guests we like to have the following:
APPETIZERS – 1-2 (Salsas + Dips can be made ahead of time.)
SIDES – 1 (Rice is a great one that can be made ahead and kept WARM in the slow cooker or chafing dish)
MAIN DISHES – 1-2 (That can be made ahead of time). Anything Fried is usually made right before serving.
DESSERTS – 1 (Usually made ahead of time and extended with ice cream) 😉
Like any dinner party, you'll want to plan your Mexican dinnner menu beforehand.
Decide which dishes you want to make fresh and which dishes can be made ahead of time. (See the individual recipes for more storage and reheating information.)

Mix in traditional favorites with a couple new dishes. Be sure to try out the new dishes beforehand to work out any recipe kinks.

Use dishes with different flavors and textures.

Be mindful that while some people love spicy hot Mexican food, others prefer a more mild dish. I suggest labeling which dishes are spicy and which ones are more mild. A great way around this is to prepare more mild dishes, but have hot sauce set out for those who want to give their plates a bit more kick

.
Sit down or buffet style: The amount of guests may determine whether or not you host a sit down or a buffet style dinner. Sit down dinners work best with a smaller gathering whereas buffet style can work with 5 guests or 50.
Mexican food, especially, makes a nice buffet spread. Also, I employ the use of Chafing dishes and crock pots in keeping the dishes warm.
Favorite Fiesta Decorations
When I think of Mexican decorations I think of bold, bright, contrasting colors. I always use red, green, and white (yes, some yellows, reds, pinks, blues and more!) since those are the colors of the flag, from there choose 3 more colors that can be repeated throughout the decor.
Paper Picado Banners strung from above and around tables.

Large Tissue Paper Flowers are beautiful and easy to make. Children especially enjoy helping make these.

Sombreros are fun to have both for decor and for picture opportunities.

Piñata, in my opinion, is a must for any Mexican party. Fill with candies or small toys.

Salsa cans are great for holding decor, flowers and succulents
Candles – You can usually find these for cheap at the dollar store and they go great with the decor.
So much decor can be found online and on Amazon, so be sure to check those out and then store for future uses. 😉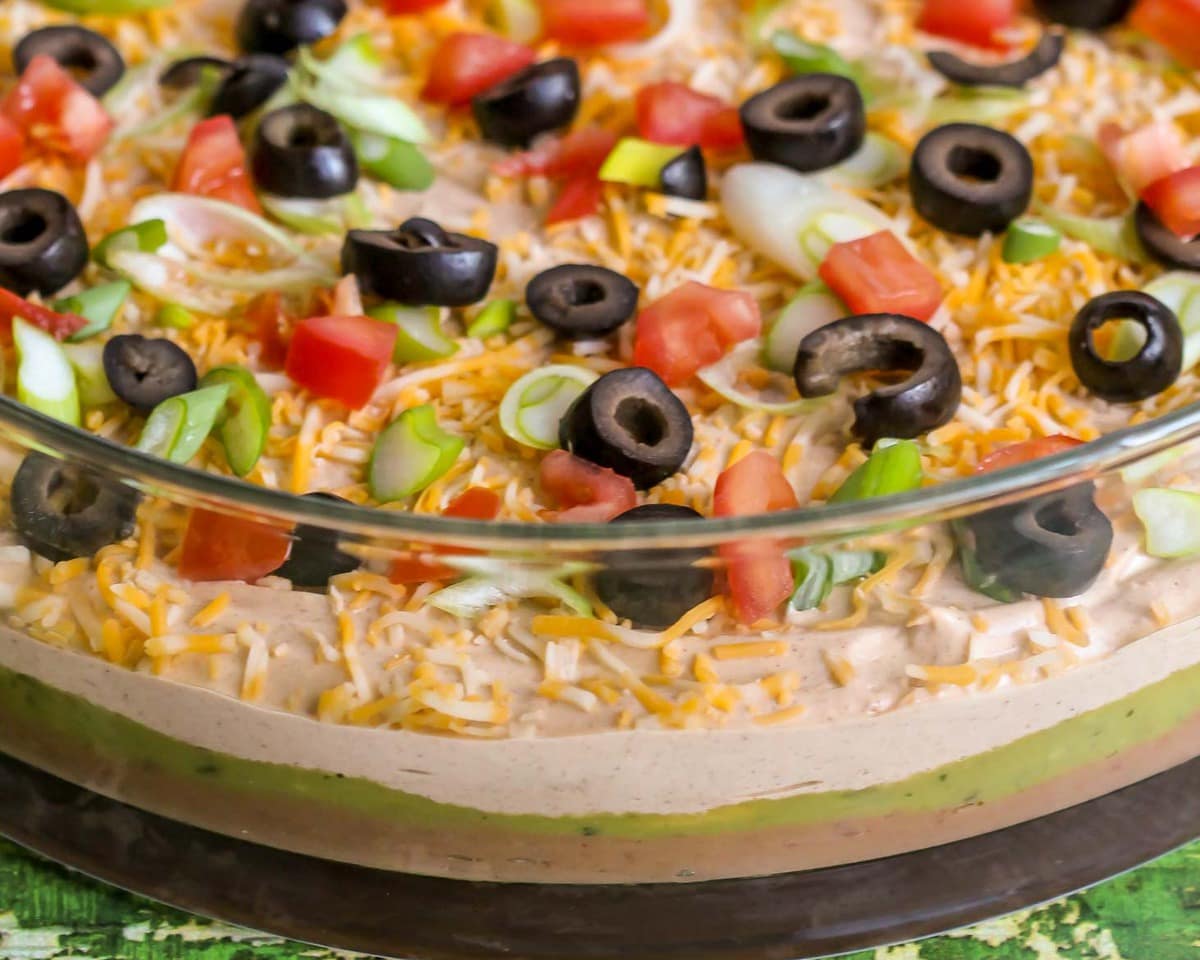 Easy Appetizers
Chips and Salsa are a MUST to serve! You can go the traditional route with red salsa or include other fun versions of salsa. And don't forget the Homemade Tortilla Chips!!
Dips are another classic appetizer. You can also serve some simple finger food appetizers.
Plan for people to eat 3-5 appetizers per person. If you only have 5-10 people coming plan to serve 1-2 different appetizer dishes. Add another appetizer dish for every 5-8 people in attendance.
For even more ideas, check out our Mexican Appetizers collection.
7 Layer Bean Dip – This 7 Layer Bean Dip recipe is a must-have at every function! It has loads of flavor and all your favorite dip ingredients including avocados, olives, tomatoes, cheese, guacamole and more!
Salsa Verde – Sweet Salsa Verde – a delicious salsa recipe that is sweet and takes just minutes to make. Ingredients include tomatillos, jalapenos, sugar, & cilantro.
Jalapeno Poppers – Spicy fried jalapeño poppers are a classic appetizer that everyone wants! Bite into these cheesy poppers for a flavor explosion!
Homemade Salsa – This is such an EASY homemade salsa recipe! All you have to do is throw all the ingredients into your blender, and blend!
Chili Cheese Dip – Just four ingredients make for the BEST and yummiest chili cheese dip! Melty cheese and hearty chili are so tasty together! It's the perfect appetizer for any party.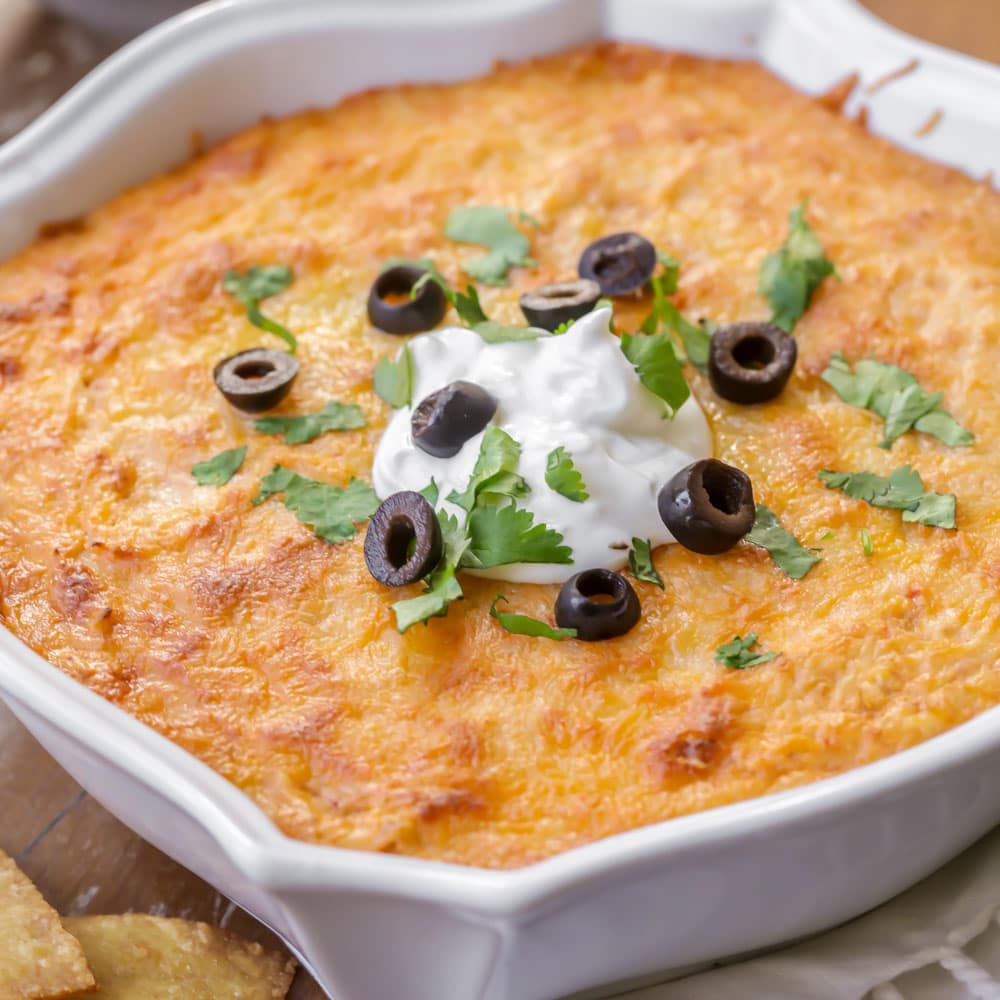 Tamale Dip – Tamale Pie Dip – this cheesy dip is going to be a new favorite at any gathering! Filled with shredded chicken, creamed corn, cream cheese, Mexican cheese, and sour cream!
Chicken Quesadillas – These easy, cheesy Chicken Quesadillas are not only filled with cheese and chicken, but a delicious homemade sauce that makes these hand-held goodies irresistible!
Loaded Nachos – Piled high Loaded Nachos are the perfect game day food and appetizer. They're easy to make and customize with your favorite nacho toppings!
Baked Taquitos – Simple and tasty baked Chicken Taquitos. These rolled tortillas are filled with chicken, cheese, salsa and so many delicious spices!
Simple Guacamole – Spicy, chunky simple guacamole is so easy and addicting, it's sure to be a crowd pleaser! You won't be able to stop eating it.
Pico de Gallo – Everyone Loves A Good Pico Recipe! This Versional Calls For Tomatoes, Green Chilis, Onion, Cilantro, Lime Juice And Salt And Is SO Addicting!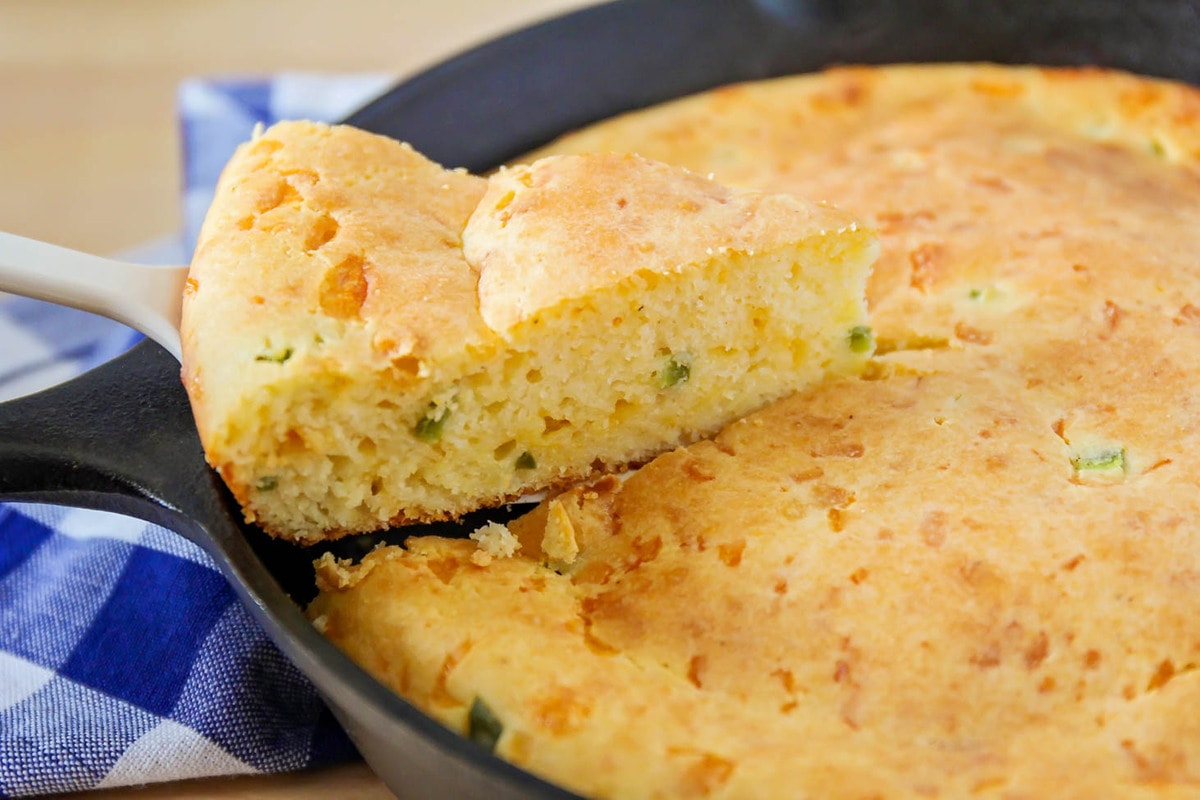 Side Dishes
Sides are a must with your Mexican meal. Plan to serve 2-3 sides for 5-10 people. Add another side dish for every 5-8 people after that.
We've put together a post all about our favorite Mexican Side Dishes so be sure to check that out (as well as a list of Mexican Soups too!)
Mexican Cornbread – This Mexican Cornbread (AKA jalapeño cornbread) is light and fluffy and is filled with cheddar cheese and jalapeño. It has a bit of a nip and a lot of flavor.
Easy Refried Beans – Get perfectly creamy restaurant style refried beans by adding just THREE extra ingredients to your canned beans! These refried beans are perfect served as a dip, side, or filling for burritos and tacos!
Esquites – Esquites is a tasty corn salad topped with chili and cotija cheese. It's incredibly delicious and easy to whip up!
Homemade Flour Tortillas – Homemade Flour Tortillas made from 5 Ingredients. They're so soft, easy to make, and can be used for burritos, tacos, quesadillas, however you like!!
Homemade Spanish Rice Recipe – Restaurant-Style Spanish Rice (aka Mexican Rice), that is easy to make and tastes like it came straight from the restaurant, and is the best side dish to any Mexican entrée.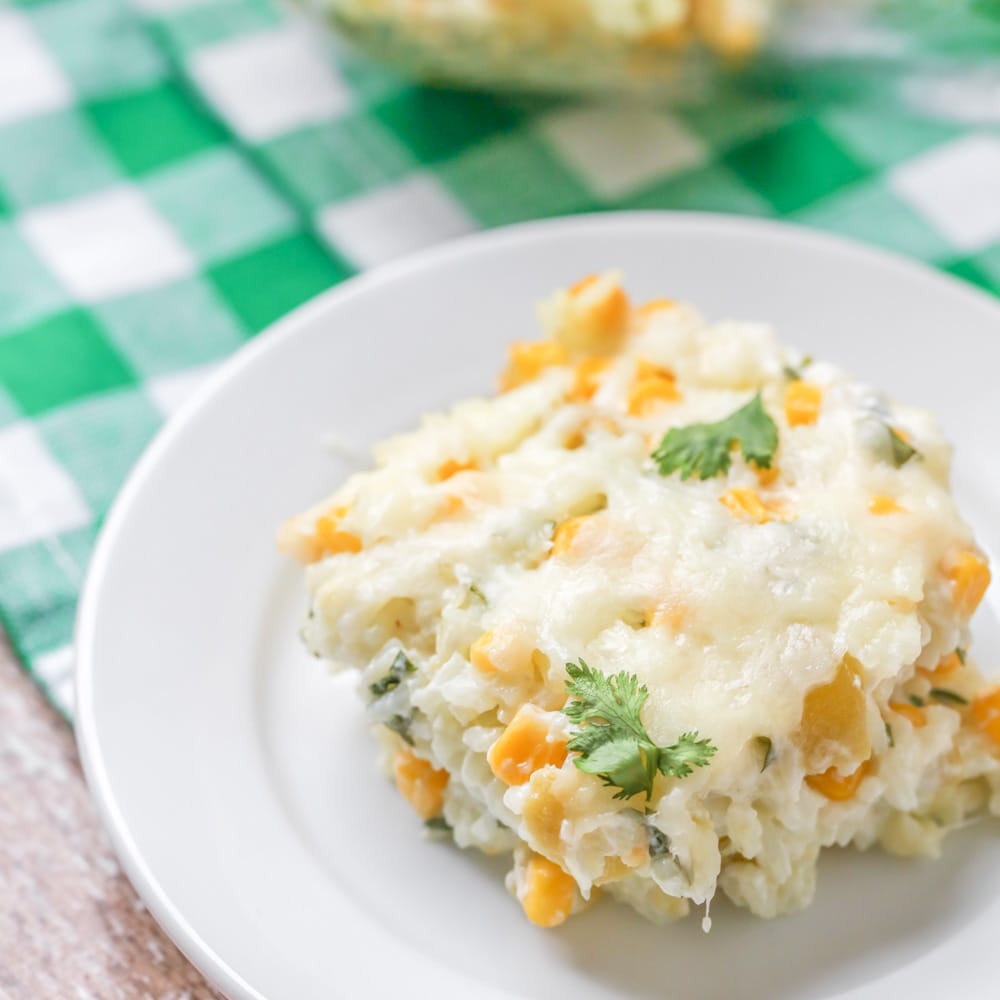 Sour Cream Rice – Mexican Sour Cream Rice filled with cheese, corn, green chiles, sour cream and cilantro. This delicious side dish is simple and great with any meal!
Taco Soup – One of the EASIEST dinner recipes of all time! This super easy Taco Soup is made from canned chili, beans, corn, tomatoes, and green chiles, plus ranch dressing mix and taco seasoning. All you have to do is dump everything in a pan and simmer. It's ready in under 20 minutes!
Cilantro Lime Rice – This recipe tastes just like Cafe Rio and Chipotle Cilantro Lime Rice! If you've ever been to either of these restaurants, you know how delicious cilantro rice is inside a salad, burrito, or taco. Now you can make this delicious lime rice from home!
Green Chili Chicken Soup – Perfectly spiced Green Chili Chicken Soup is like an enchilada in soup form! It's hearty, delicious, and is always a crowd pleaser.
Albondigas Soup – Albondigas soup is a delicious Mexican recipe filled with meatballs, vegetables and spices! Packed full of flavor, this simple Albondigas soup is sure to become a favorite.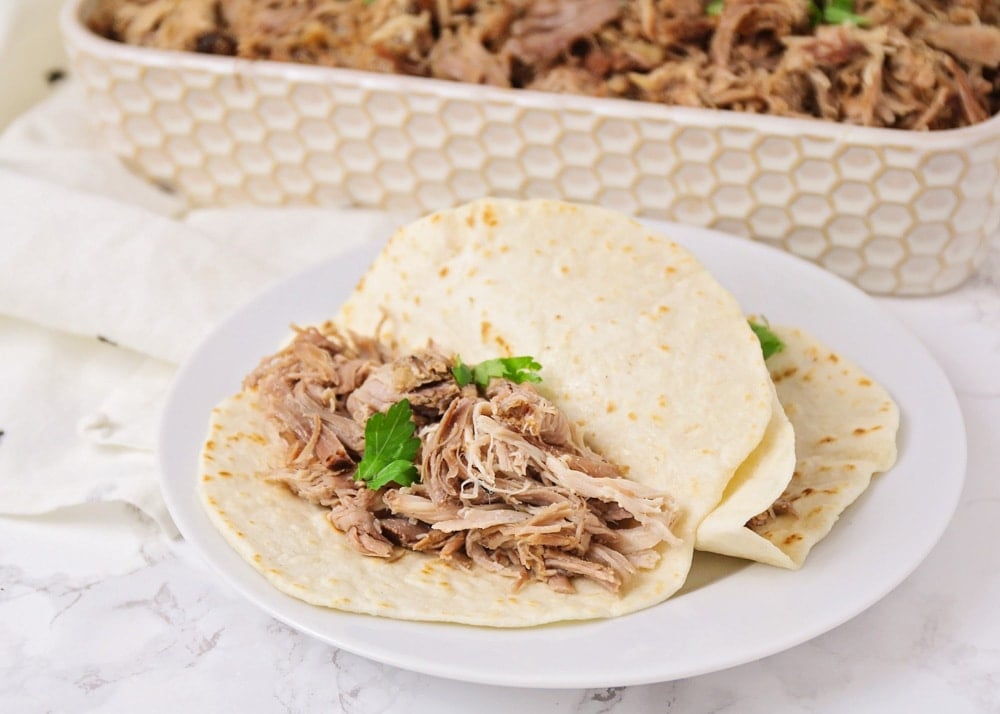 MEXICAN MAIN DISHES
I like to have at least 2 main dishes to choose from when there are 5-10 people. Add another main dish for every 5-8 people after.
For even more of a breakdown, check out: Mexican Beef Recipes and Mexican Chicken Recipes.
Carnitas Tacos – Tender pulled pork makes up these delicious carnitas tacos! These tacos are super flavorful and really easy to make for dinner with the help of a crock pot.
Chicken Tacos – Restaurant-style Chicken Tacos are filled with ingredients like shredded chicken, cheese, lettuce, and tomatoes, all inside a fried corn tortilla.
Pork Tacos – Pork tacos made simple using slow cooker pork and all of your favorite taco toppings! These tacos are flavorful, easy to make, and a big crowd pleaser.
Carne Asada Tacos – Juicy grilled carne asada loaded in tortillas with all of your favorite toppings! This recipe makes perfectly seasoned steak tacos that everyone is going to enjoy.
Taco Casserole – This delicious Taco Casserole is like a taco salad in casserole form! With a ground beef and biscuit base, plus layers of sour cream, lettuce, tomatoes, cheese, and olives, this casserole is the perfect way to switch up your dinner routine.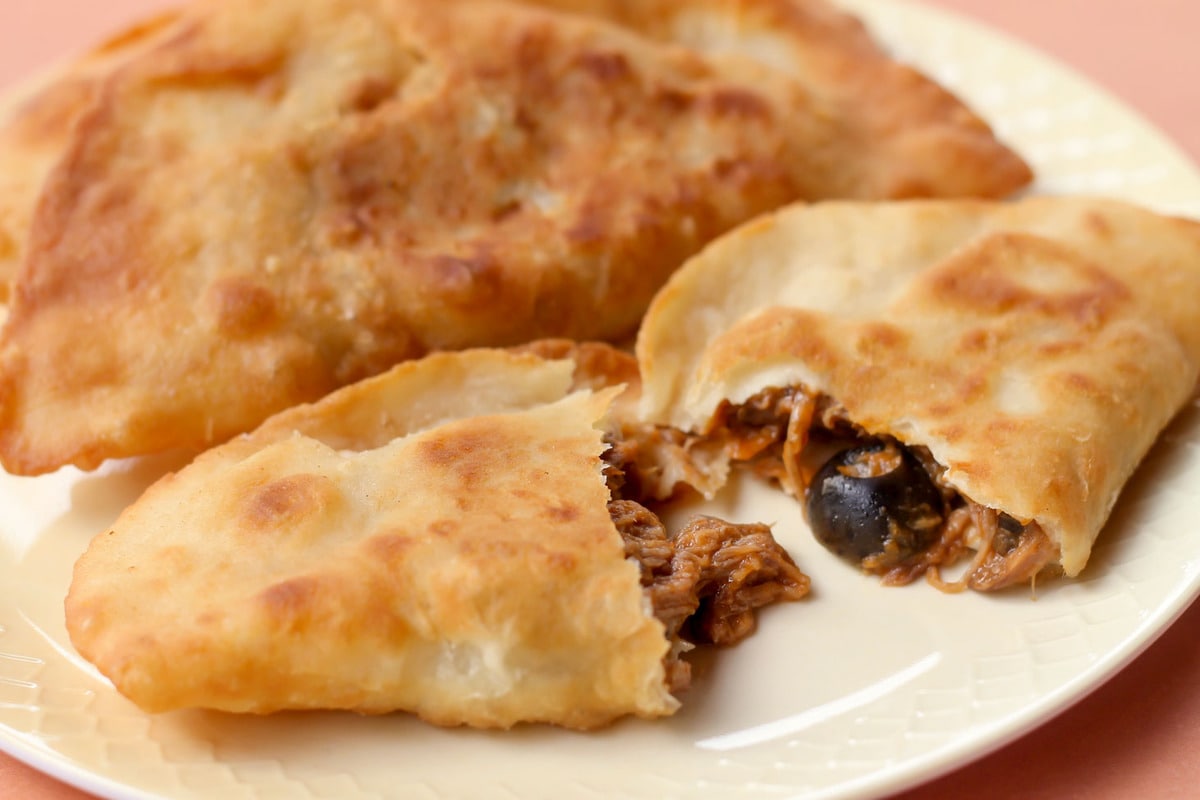 Beef Empanadas – Beef Empanadas are one of our favorite Mexican dishes. They are a crispy, airy taco made from dough, filled with shredded beef, red chile sauce, and olives.
Mexican Lasagna – Flour tortillas layered with tons of cheese, shredded chicken, las palmas green chile enchilada sauce, black beans, corn, and lots of seasonings!!
Sweet Pork Barbacoa – Sweet Pork Barbacoa is the best slow cooker pulled pork recipe you will ever try. Better than Cafe Rio—you better make a double batch!
Mexican Casserole – This Mexican casserole is an easy weekday dinner idea that is full of Spanish rice, chicken, and melty cheese. It's flavorful and everyone will love it!
Easy Ground Beef Tacos – One of our favorite versions of tacos – ground beef tacos!! They're filled with meat and cheese, fried until golden and topped with lettuce and tomatoes.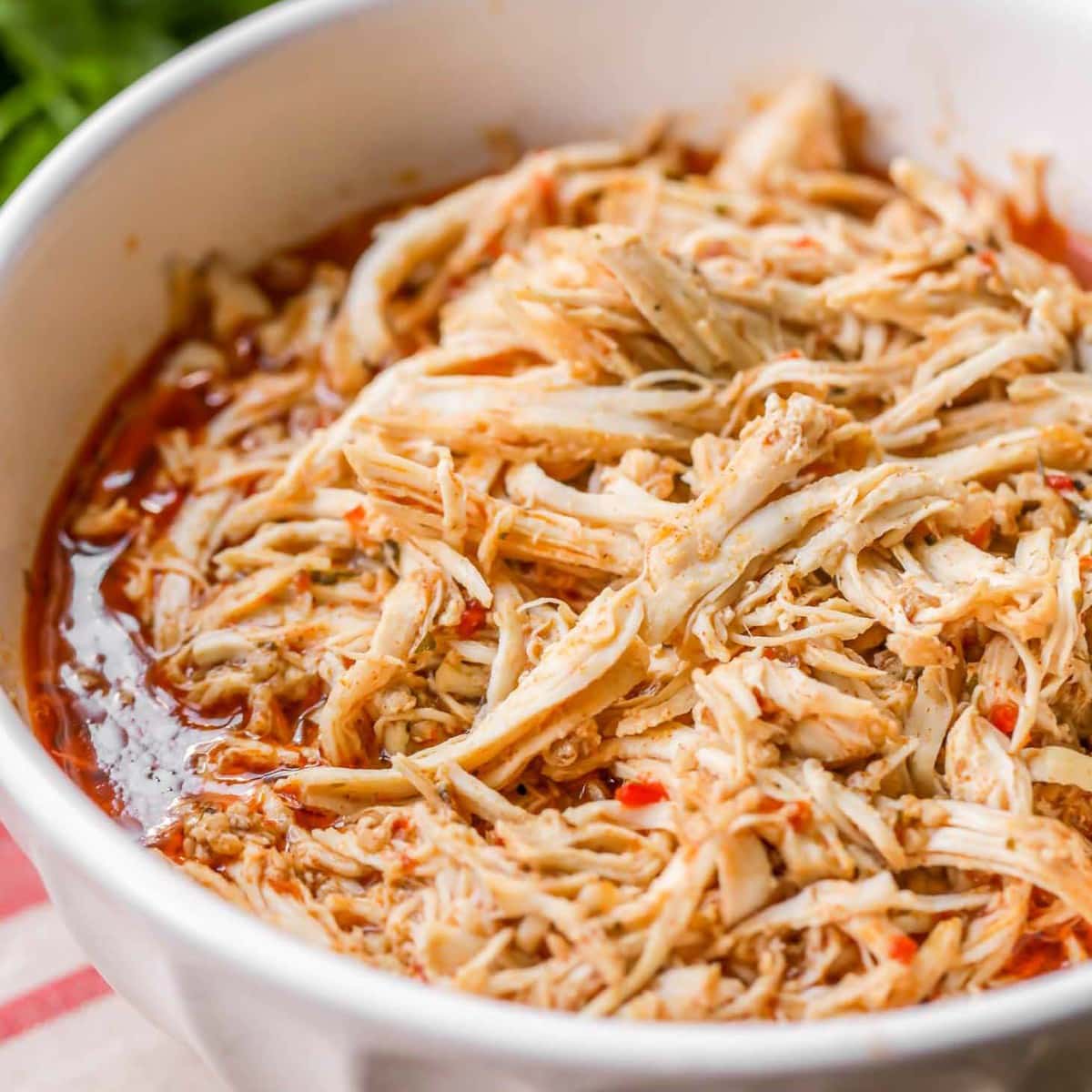 Cafe Rio Shredded Chicken – Copycat Cafe Rio Shredded Chicken – a simple and delicious chicken recipe that is perfect for salads, burritos, quesadillas and tacos!
Dorito Casserole – Everyone loves this crunchy and flavorful Dorito casserole. It's layered with lots of meat, cheese and (of course!) nacho cheese flavored Doritos!
Slow Cooker Chicken Enchiladas – Hot and cheesy Slow Cooker Chicken Enchiladas to feed your family any day of the week! So easy to throw all the ingredients in and let the crock pot do the work for you.
Green Chile Chicken Enchiladas – One of our favorite Mexican dishes – Green Chile Chicken Enchiladas recipe!! Corn tortillas stuffed with chicken, cheese, las palmas green chile enchilada sauce, sour cream, and green chiles, topped with more sauce and cheese!
Carne Asada – Carne Asada is the perfect Mexican flavored meat to add to tacos, burritos, salads, or quesadillas. It's tender, flavorful, and juicy.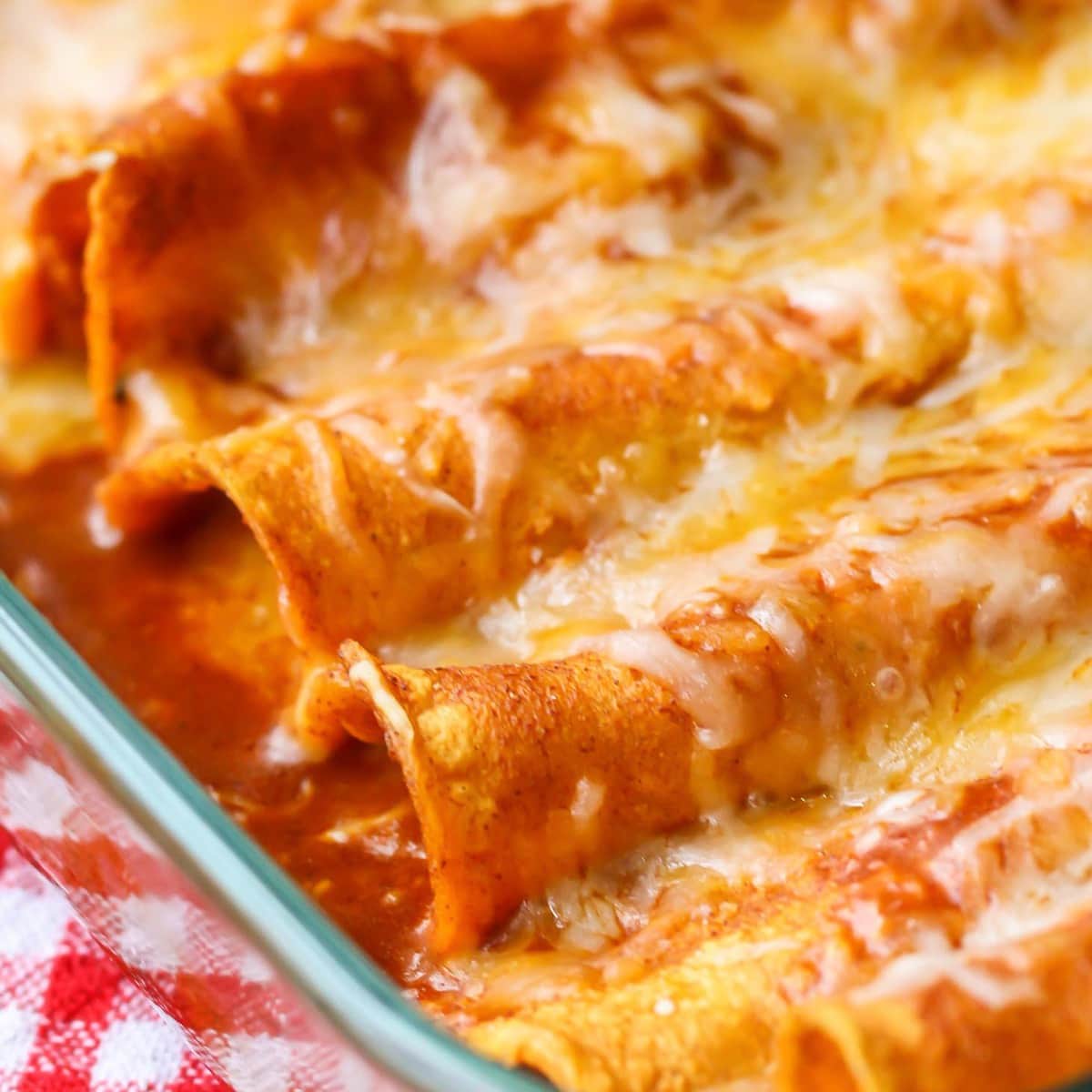 Red Cheese Enchiladas – Restaurant-Style Red Cheese Enchiladas are an old family favorite recipe that is simply the best!! They are cheesy, saucy, and so yummy.
Creamy Chicken Enchiladas – Green chile chicken enchiladas made from chicken, sour cream, cream cheese and more stuffed into a soft flour tortilla. These are the creamiest chicken enchiladas you will ever find!
Enchilada Casserole – Enchilada Casserole is a comforting family favorite meal, perfect for weeknights. The layers of tortillas, ground beef, beans, corn, and cheese, all smothered in red enchilada sauce will have you coming back for seconds!
Chicken Enchilada Casserole – Everything you love about chicken enchiladas and casseroles combined into one tasty dinner dish. This simple recipe is a crowd pleaser and will become one of your weekly dinner rotations.
Honey Lime Chicken Enchiladas – Honey Lime Chicken Enchiladas are bright and flavorful, with the perfect amount of spice. This tasty dinner takes only 15 minutes to prep!
Beef Enchiladas – Shredded Beef Enchiladas Made with Just 6 ingredients! This easy dinner idea is a crowd pleaser and is filled with corn, beef, green chiles, cheese and covered in red sauce.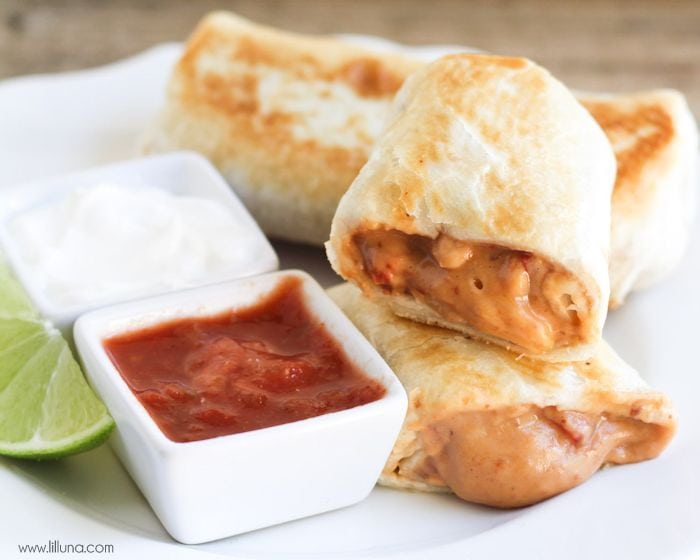 Bean Chimichangas – Easy and delicious Bean Chimichangas are filled with beans, cheese and ROTEL and they taste just like the ones at the restaurants!
Baked Chicken Chimichangas – Baked Chicken Chimichangas – stuffed with rice, chicken, cheese and more. Such a simple dinner recipe that everyone will love.
Tostadas – Open face tostadas topped with all of your favorite Mexican ingredients! These tasty tostadas are a frequent meal in this house!
Bean Burritos – Cheesy bean burritos are so easy to whip up for dinner! These are perfect for making ahead of time, or freezing for later.
Green Chili Smothered Burritos – Pull together canned items in your pantry to make super easy green chili smothered burritos. This flavorful meal comes together in a pinch!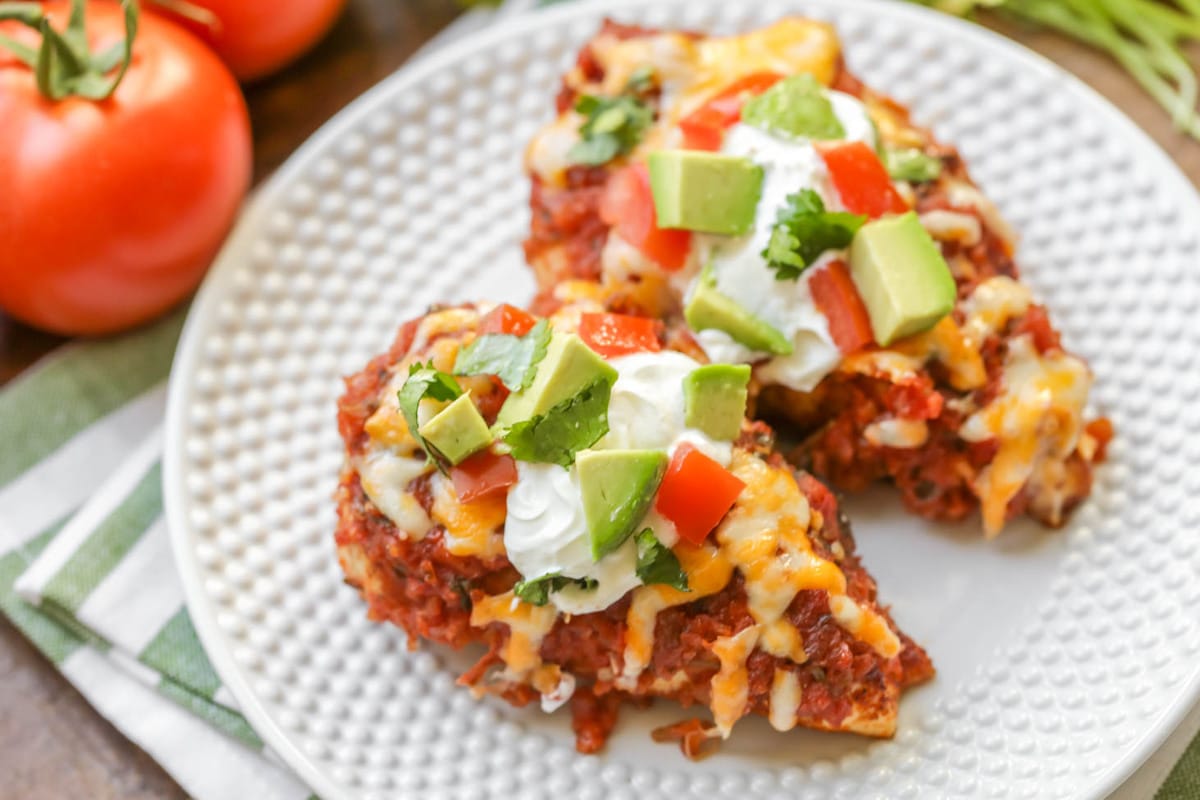 Salsa Chicken – Salsa chicken is your ticket to a 30-minute meal that the whole family will love! And it's all baked in one pan for easy clean up!
Tamale Pie – Tamale Pie is bursting with spice and hearty meat with a fabulous crust of tamale goodness and filled with beef, chiles, cheese and more. It is a delicious one pan meal and easy to make!
Steak Tacos – These steak tacos are marinated to perfection and bursting with fresh flavor! Tacos are quick and easy for a perfect weeknight dinner in under 30 minutes.
Chicken Flautas – Delicious, crunchy chicken flautas filled with shredded chicken, salsa, cheese, and more! They can be fried, air fried or even baked into a delicious and easy dinner or appetizer.
Green Chili Chicken – Green chili chicken is easy and delicious. Topped with cheese and green chili sauce guarantees it will become a new favorite in no time!!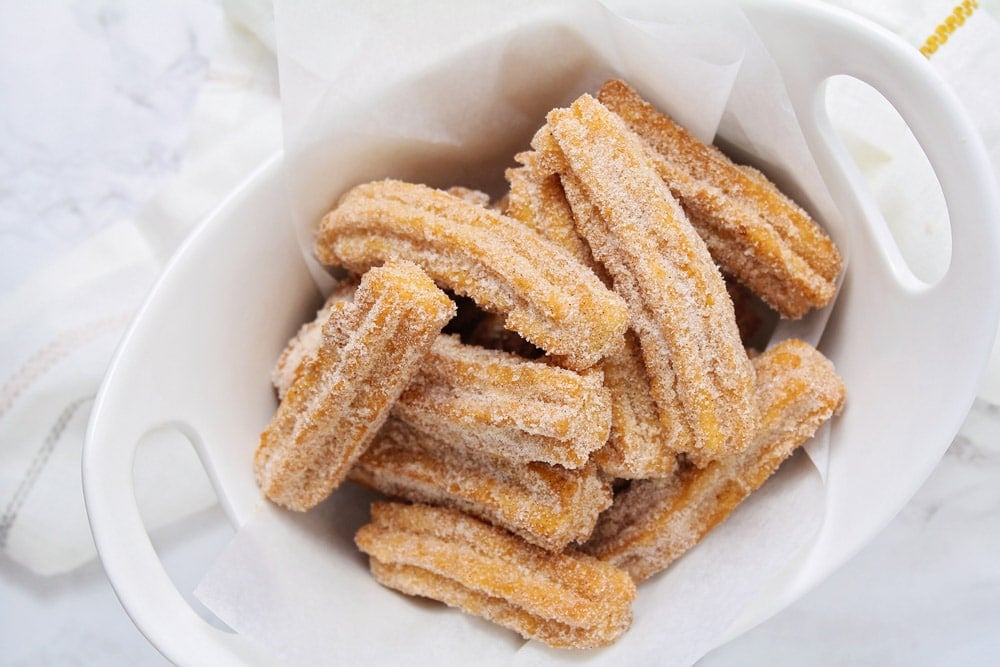 Drinks + Desserts
Plan for people to be able to have 1-2 servings of dessert. I like to provide a different dessert for every 5-8 people. If you want less work, keep it to 1 dessert and then serve ice cream to go with it. 😉
Note that we have many more Mexican Desserts, so be sure to check those out. These ones are just our go-to's.
Churros Recipe – Delicious, homemade, covered in cinnamon and sugar churros are a family favorite! It's hard NOT to love this delicious treat when it reminds you of the Happiest Place on Earth!
Tres Leches Cake – This easy Tres Leches Cake recipe is a cool, sweet treat made from a tasty sponge cake, a creamy mixture of three different milks, and homemade whipped topping. Serve Tres Leches Cake with fresh fruit for an extra refreshing dessert!
Sopapillas – Puffy and pillowy Sopapillas are fried to perfection and topped with honey for a simple and delicious Mexican dessert.
Horchata – A creamy, refreshing, cinnamon flavored drink that will knock your socks off with flavor! It's festive and perfect for any occasion.
Cinnamon Chips – The perfect baked snack to dip in sweet desserts, frosting, salsas and more! Super easy to make a bunch and serve with your favorite dessert dip!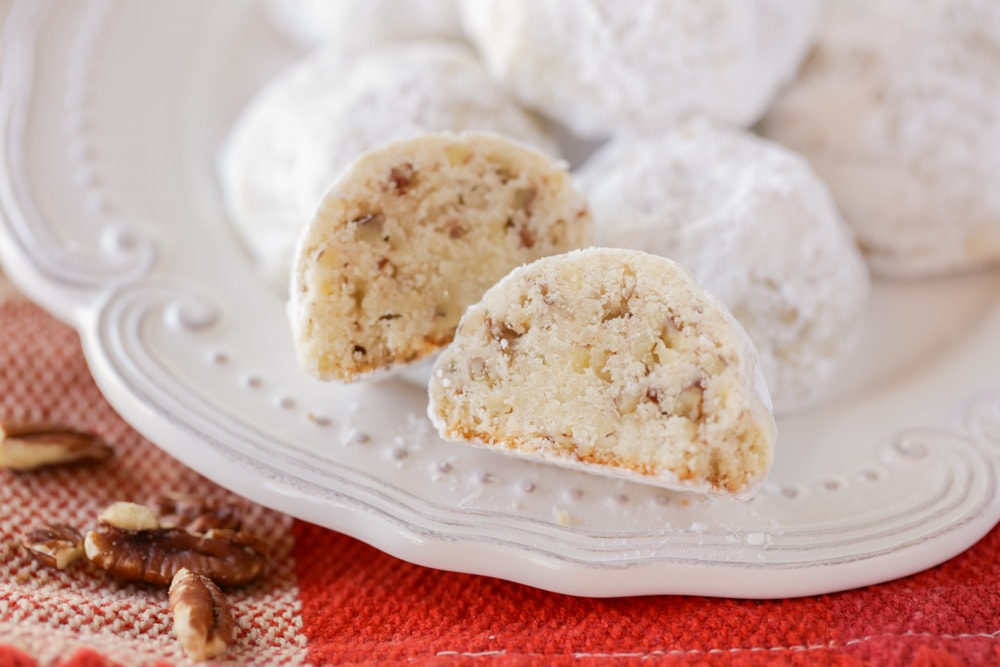 Mexican Wedding Cookies – Super easy Mexican Wedding Cookies are soft and buttery with almonds in every bite! These powdered sugar covered cookies are your new favorite.
Churro Cheesecake Bars – Flaky & delicious Churro Cheesecake bars are covered in cinnamon and sugar filled with a sweet cream cheese layer.
Mexican Hot Chocolate – Curl up with a good book, blanket, and this Mexican hot chocolate. One cozy cup of this hot chocolate and you'll be hooked with its yummy spices and delicious cinnamon cocoa flavor!
Arroz Con Leche – Classic Arroz Con Leche – a variation of rice pudding that is sweet and cooked with milk, evaporated milk and sweetened condensed milk and topped with cinnamon.
Fried Ice Cream – Crunchy on the outside, and smooth and creamy on the inside—fried ice cream is the BEST dessert! It's a flavor bomb in your mouth and such a fun and unique treat idea.
---
the complete list
Here are the picture cards for ALL of the delicious Mexican Dinner Ideas listed above.
We hope these recipes help you in creating the perfect Mexican meal. Just pick one from each category, and we guarantee you'll get rave reviews and everyone will be asking for the recipes. They're simple, delicious and perfect your next FIESTA!
---
So many great Mexican Dinner Ideas!!
More Collections: Mexican Casseroles, Mexican Chicken Recipes, Beef Dinner Ideas