Everything you love about chicken enchiladas and casseroles combined into one tasty dinner dish. This simple recipe is a crowd pleaser and will become one of your weekly dinner rotations.
Classic chicken enchiladas in casserole form! This dinner recipe is simple, full of flavor and loved by all. Change it up with your favorite toppings, or try our red beef version.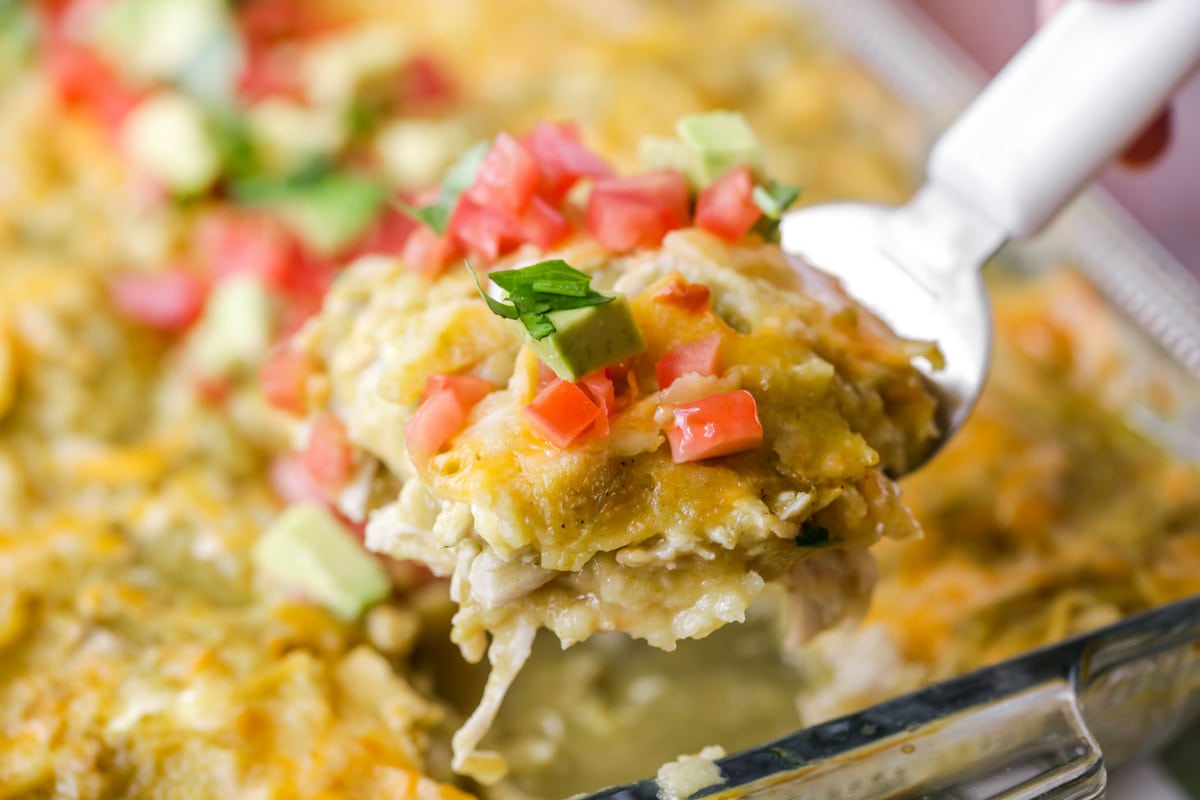 Easy Chicken Enchilada Casserole
At our house, we love our green chile chicken enchiladas. We never get tired of having those for dinner. Another dinner we really enjoy is casseroles! So we decided to combine the two for a simple and tasty enchilada casserole.
This recipe is a home run. It has every flavor from enchiladas baked into casserole form. It is perfect for making ahead, bringing over to a friends house, making as a freezer meal, or just eating right out of the oven.
This recipe calls for green enchilada sauce. You should definitely check out our homemade version. It's so easy to make and tastes amazing! My favorite store bought brand of green enchilada sauce is Las Palmas—super tasty if you decide to grab some at the store.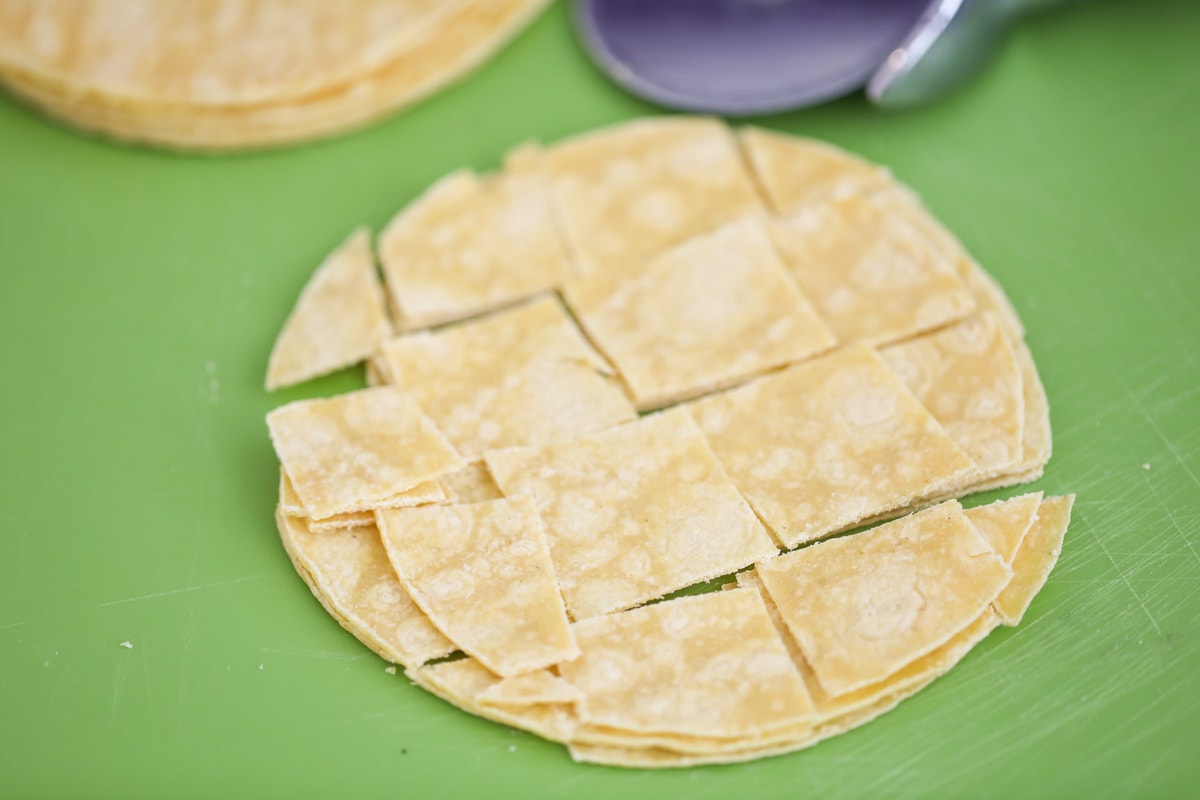 How to Make Chicken Enchilada Casserole
Before you dive into this recipe, prepare 4 ½ cups of shredded chicken and cut up the tortillas in 1-2 inch squares (see picture above).
Make sure your oven is preheated to 375 degrees. Grease a 9×13 inch casserole dish and layer in half of the chicken, tortilla squares, cheese, sour cream, and sauce. Repeat the layers again and cover the dish with tin foil. Bake for 40 minutes.
After 40 minutes, take off the tin foil and bake for another 10 minutes. Take it out of the oven and let it rest for about 15 minutes before cutting into it to serve and eat. Top it with your favorite Mexican toppings: cilantro, pico de gallo, avocados, tomatoes, etc.
How to layer enchilada casserole
However you layer this casserole it will taste delicious but I do layer it in a certain order.
The chicken is always first, followed by a layer of sauce. Then I put sour cream on top of those two layers (using the sour cream in the squeeze tube makes it so much easier).
The last two layers are cheese and the cubed tortillas. Sprinkle a little more cheese on top if you want. You can never have too much cheese, right??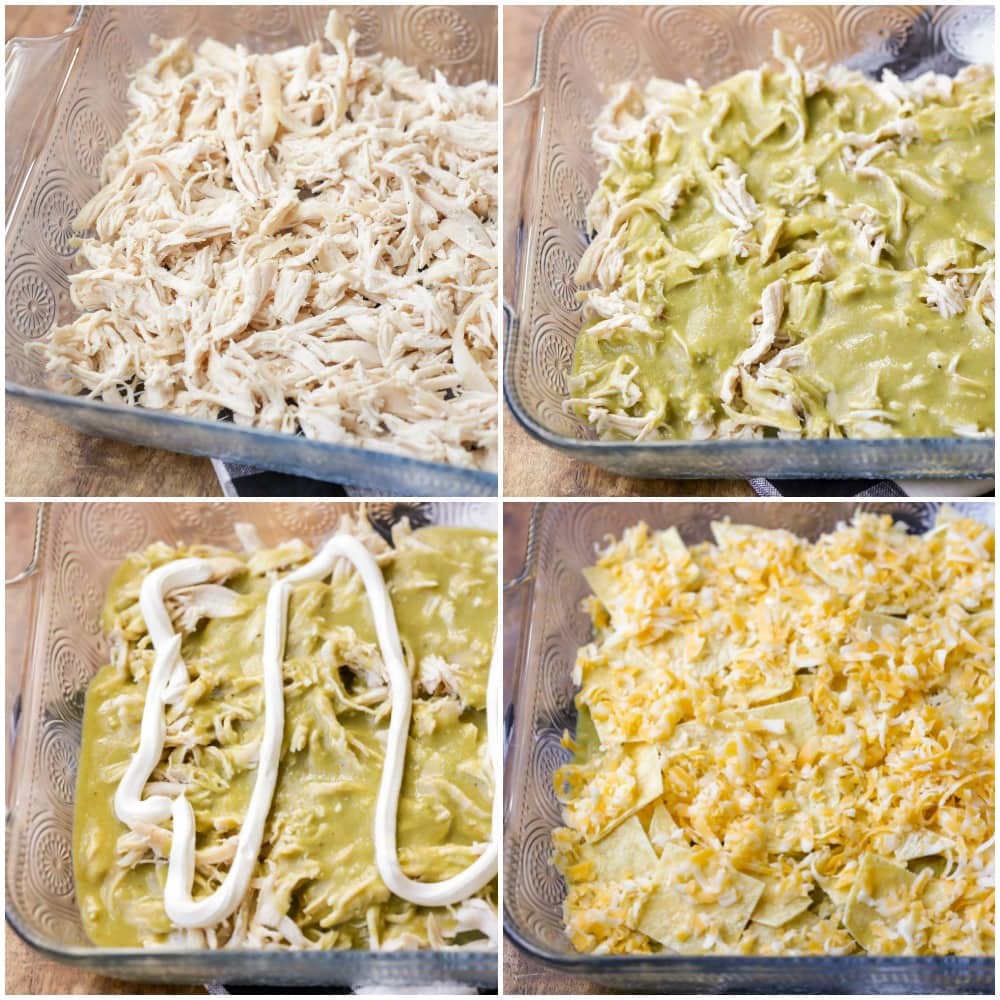 More Tips
Wondering if you CAN MAKE AHEAD OF TIME? Yes you definitely can! Prepare everything up to cooking time. Instead of putting it into the oven, cover it with plastic wrap and tinfoil. Either freeze or put into the fridge until you're ready to bake it.
And if you're thinking of FREEZING, just cover and freeze unbaked casserole. To use, partially thaw in refrigerator overnight. Remove from refrigerator 30 minutes before baking. Preheat oven to 375°. Bake casserole as directed, increasing time as necessary to heat through and for a thermometer inserted in center to read 165°.
If you have any leftover enchilada casserole, keep it in the fridge for up to 3 days. When you want to REHEAT it, put it in a 350 degree oven for 20-30 minutes. Keep it covered with tinfoil while reheating in the oven.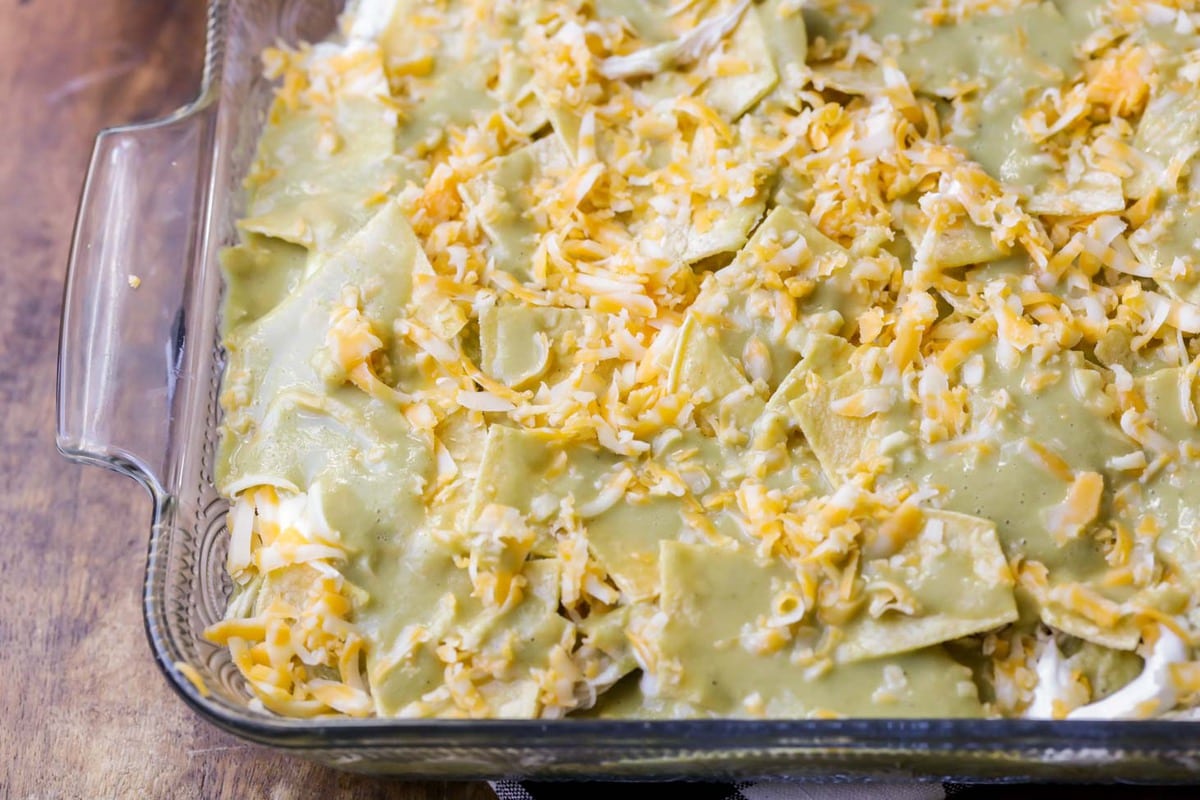 SIDES + VARIATIONS
This chicken enchilada casserole is incredibly tasty all on it's own. But you can definitely serve it with different Mexican SIDE DISHES. White rice, homemade Spanish rice, or cilantro lime rice are great options.
Want to switch up the recipe a little? Try our red sauce enchilada casserole! It's just as delicious, but with red sauce instead of green sauce. Try changing the ingredients in the dish for different flavor varieties. Here are some examples.
Instead of chicken you could use:
Other toppings you could try: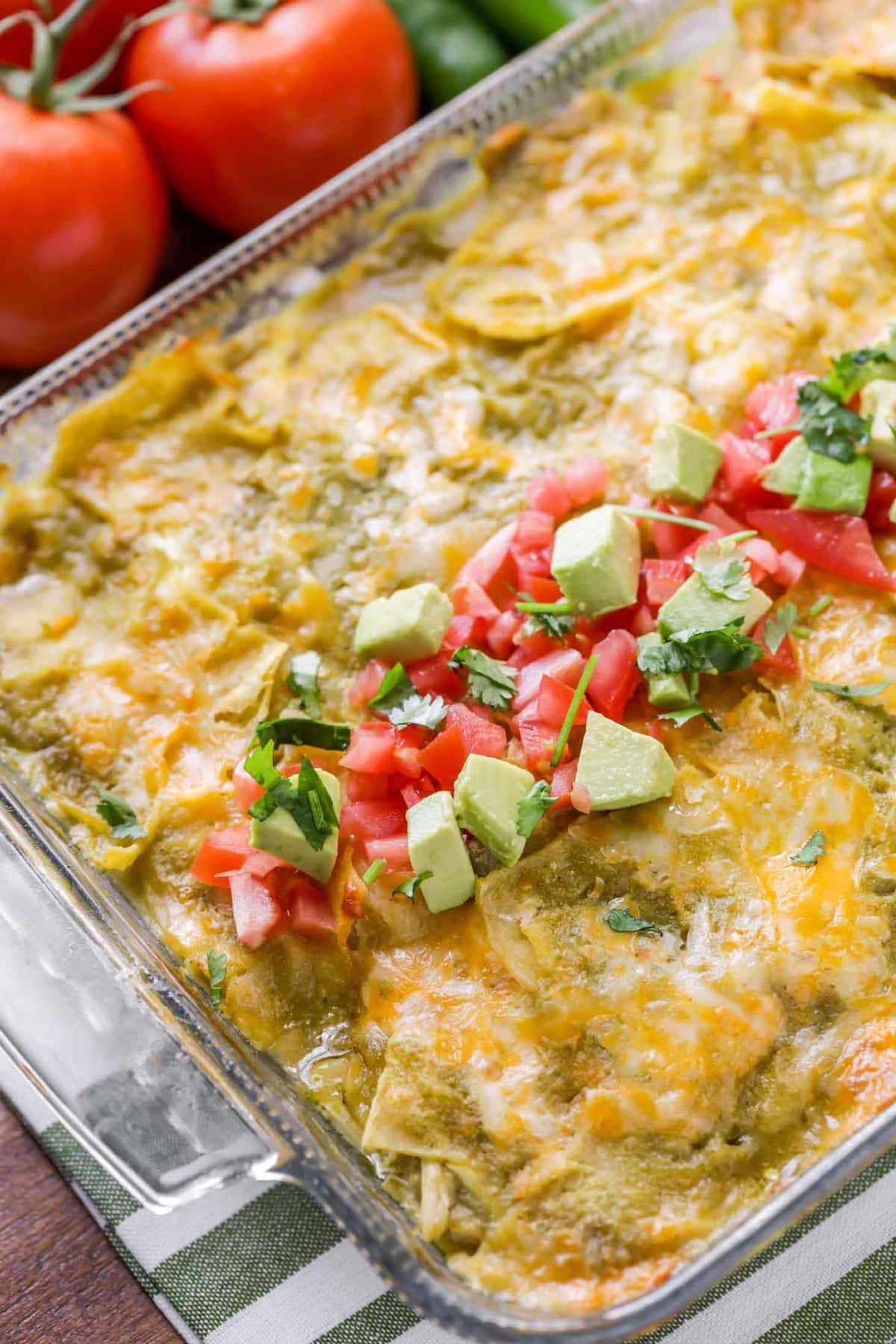 We hope you love this enchilada casserole. If you'd like to try our Beef version with Red enchilada sauce go HERE. It's also just as delicious!!
For more enchilada recipes, check out:
Chicken Enchilada Casserole Recipe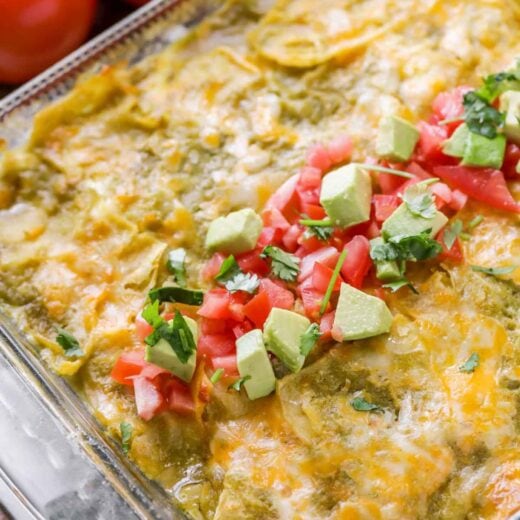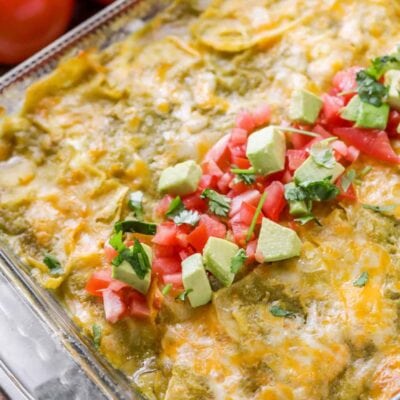 Everything you love about chicken enchiladas and casseroles combined into one tasty dinner dish. This simple recipe is a crowd pleaser and will become one of your weekly dinner rotations.
Ingredients
4 1/2

cups

shredded chicken

1

28 oz. can

green enchilada sauce

1

cup

sour cream

9-10

corn tortillas

cut into 1-2 inch squared

4

cups

shredded Monterey Jack cheese

toppings: cilantro, avocados, tomatoes

optional
Instructions
Grease a 9x13 casserole dish and layer half of the: chicken, sour cream, tortilla cubes, sauce, and cheese. Repeat these layers once more and bake, covered, for 40 minutes.

Uncover and bake an additional 10 minutes making sure to let it rest for about 15 minutes before serving.

Top with an additional ingredients including: cilantro, avocados and tomatoes.