Homemade green enchilada sauce is perfect for pouring over cheesy enchiladas. Filled with just a little spice and plenty of cilantro flavor.
The flavor of green enchilada sauce is undeniably delicious. It melts perfectly into the cheese, chicken, and tortillas. Try pouring it over Creamy Chicken Enchiladas, Smothered Burritos, and Green Chili Enchiladas.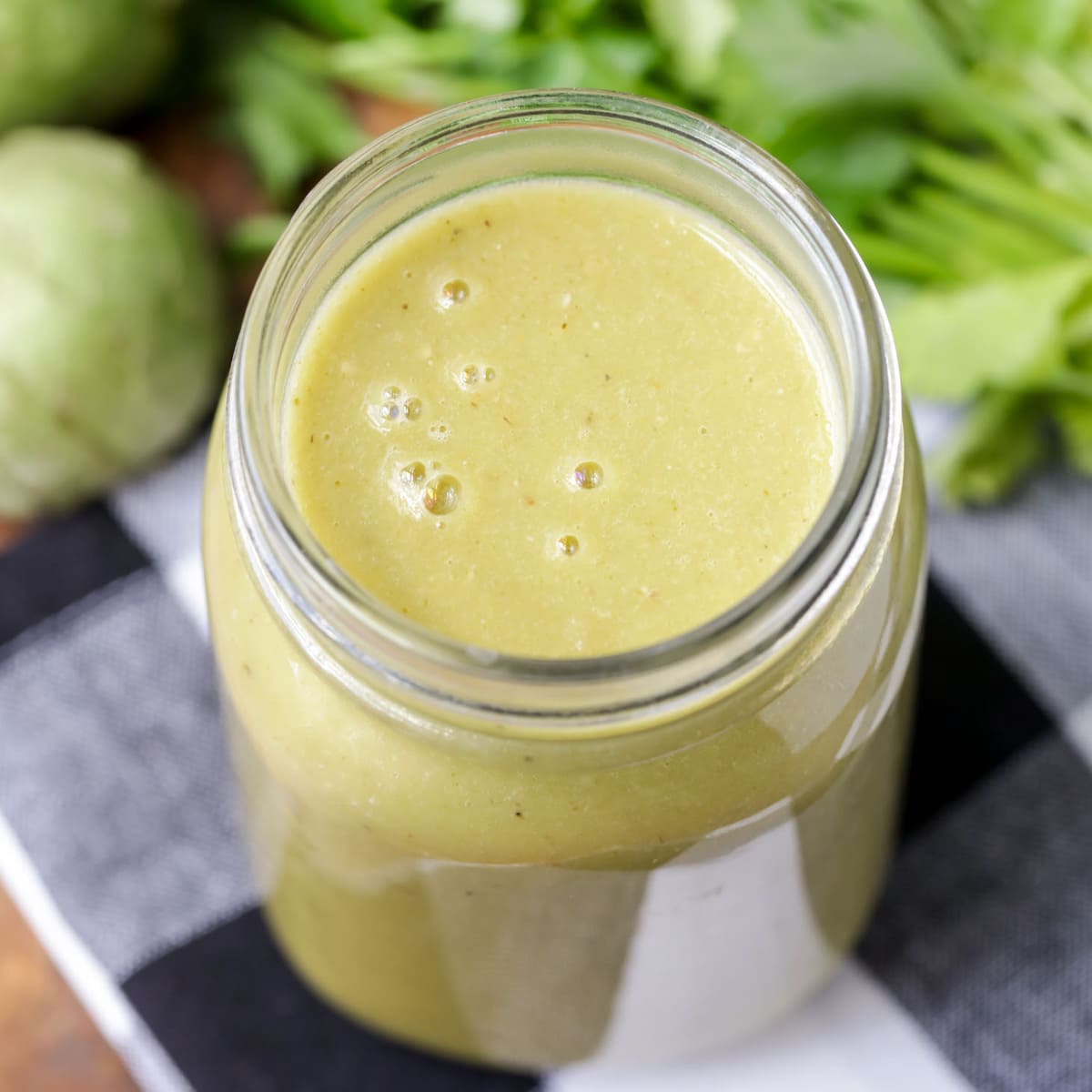 Homemade Green Enchilada Sauce
Homemade sauces are always better than store-bought. It's just a fact. This homemade green enchilada sauce is so good it's almost drinkable… almost
.
Enchiladas are one of my go to meals. They are great for family dinners or for bringing dinner to friends in need. And even though I love red enchiladas, my favorite kind of enchiladas are recipes that call for the green sauce.
Have you ever made homemade green enchilada sauce? If you haven't, I want you to try this recipe! I promise that it is SO easy and you will never want to buy enchilada sauce in the store ever again. Your enchiladas will taste 100% better with a homemade sauce.
Red vs Green Enchilada Sauce
The type of chili used makes the difference in color and flavor. Red sauce relies on red chilis or red chili powder. This green enchilada sauce uses a combination of a Mexican green tomatoes called tomatillo, green bell peppers and jalapeños.
We have a recipe for homemade Red Enchilada Sauce as well, so be sure to check it out too! It's perfect for Red Cheese Enchiladas and Beef Empanadas.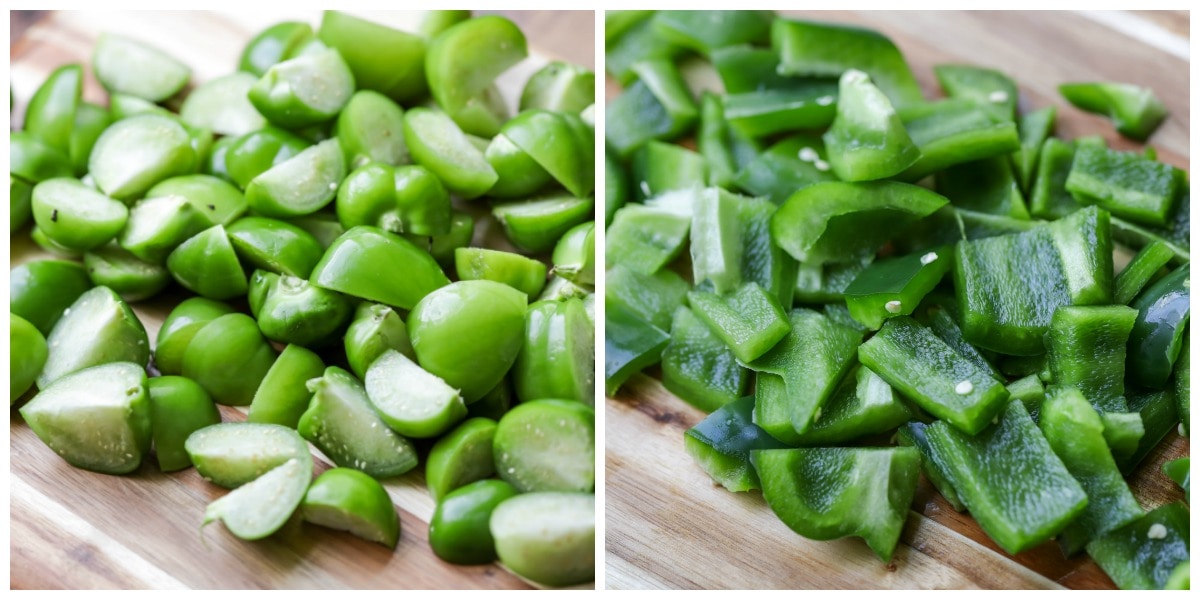 How to Make Green Enchilada Sauce
SAUTE. After you've cut up the tomatillos, onion, bell pepper, and jalapeño, set them aside. Heat up the olive oil over the stove in a large pot or pan. Throw in the onions and garlic and sauté them until they are tender.
BLEND. Add the tomatillos to a blender or food processor and blend until smooth. Add the green peppers, jalapeños, and cilantro and blend until the clumps are smooth. Then add in the sautéed onions and garlic and blend everything together until smooth.
SEASON & SIMMER. After it's all blended together, pour the tomatillo mixture into a big pot. Add in the chicken broth, salt, pepper, cumin, oregano and sugar. Simmer over medium high heat for 30 minutes.
If there are still clumps you can add it back into your blender or food processor to make it smoother.
Make in a slow cooker:
The sauce can also be simmered in a slow cooker on LOW for 3-4 hours or on HIGH for 2 hours.
This is a great option if you need to leave the house or need to do other things while the sauce cooks itself. What would we do without our slow cookers??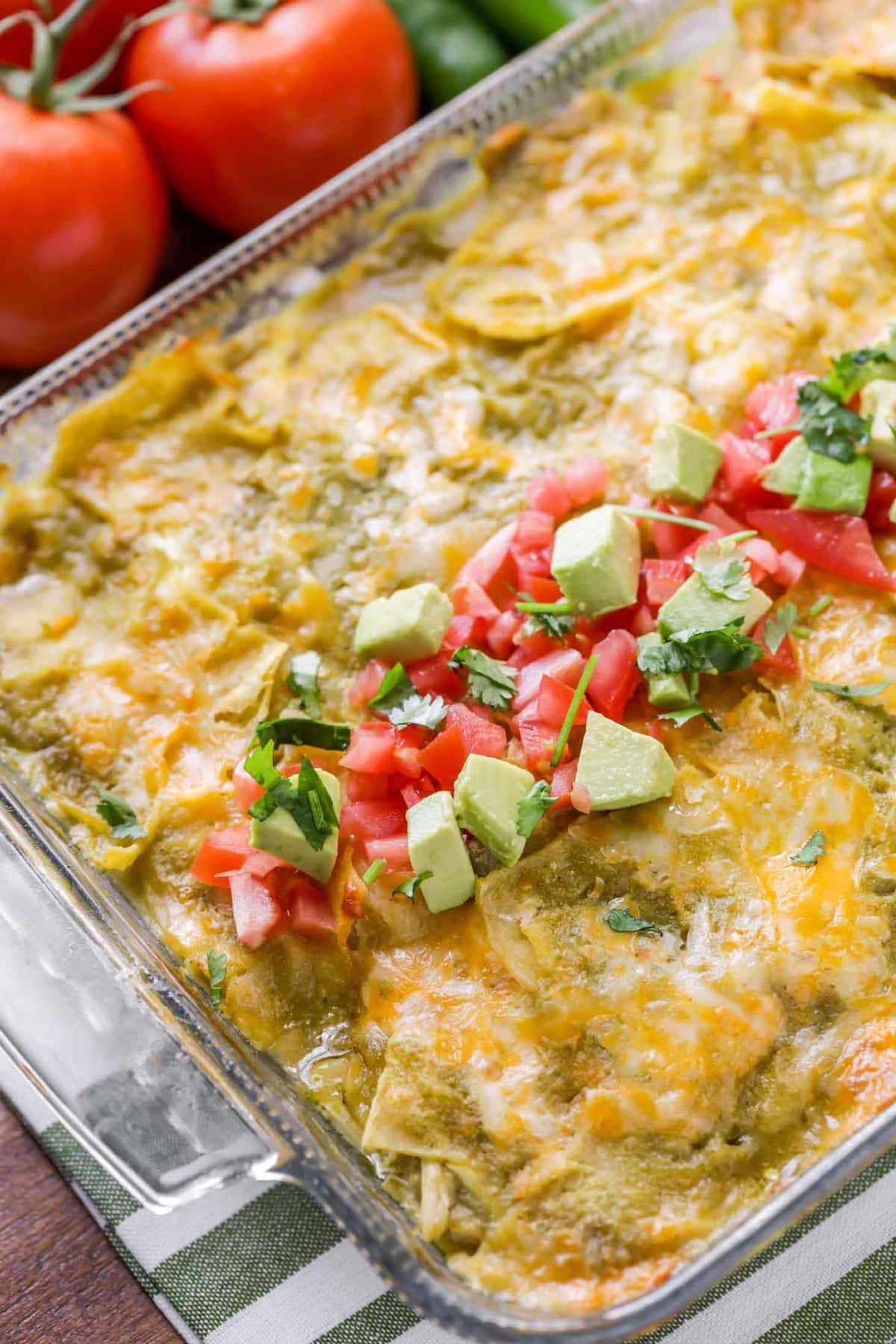 Serving suggestions
Use this enchilada sauce to add extra flavor for chilaquiles, nachos, migas, Mexican soups, casseroles and more. We obviously love green enchilada sauce so we have a ton of recipes on the site that use them. Here are some of our favorite green enchilada recipes: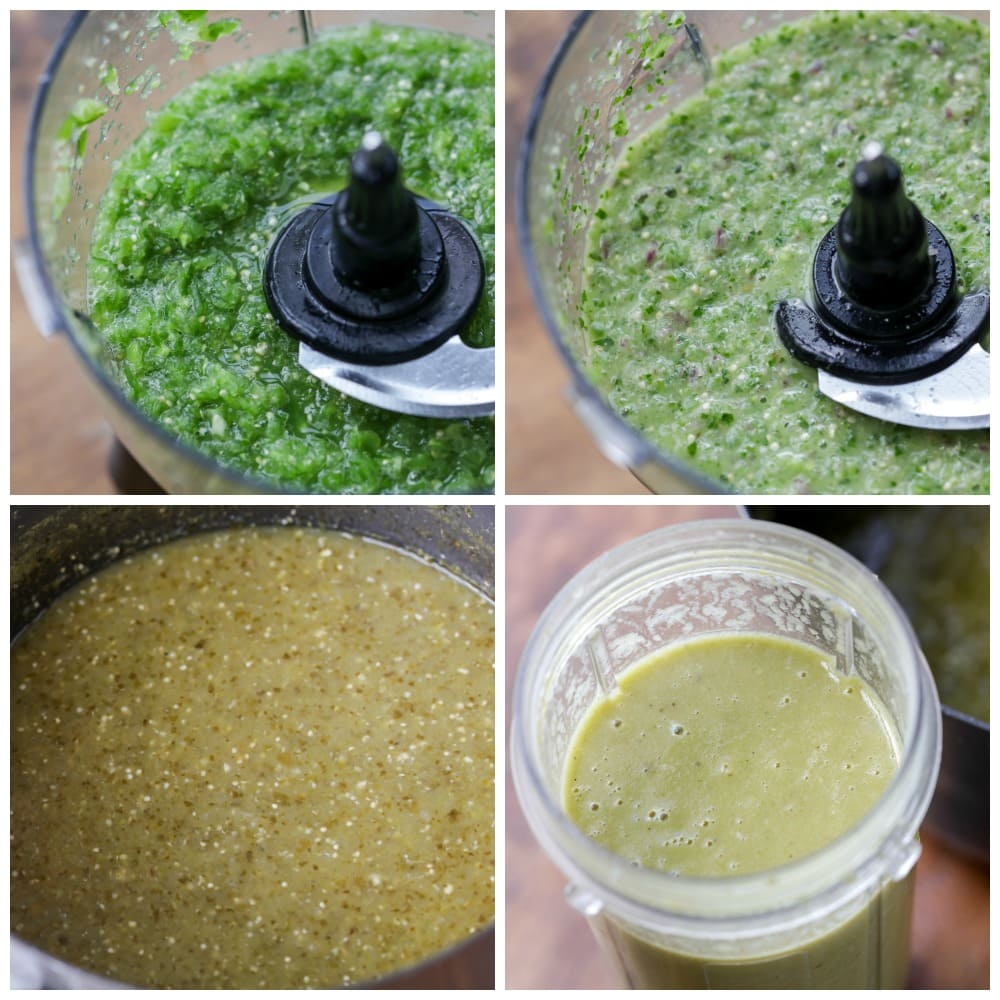 REcipe tips + SToring info
Spicier Sauce: You can use the jalapeños to adjust the level of heat in this sauce. For a spicier sauce add in the jalapeños seeds. For amore mild sauce be sure that you remove the seeds as well as the membrane found inside the jalapeños.
Vegan: This is an easy recipe to adjust, simply replace the chicken broth with vegetable broth. It's also gluten-free, dairy free and nut free.
To STORE. Pour the green enchilada sauce in airtight containers and keep them in the fridge. Tupperware or mason jars with lids are both great options! Just make sure to use the sauce within one week.
FREEZING green enchilada sauce is a great idea. Sometimes I make a double batch of this recipe and freeze whatever I don't use for enchiladas.
Then whenever I need it, I just take it out of the freezer and let it THAW overnight in the fridge. Then, you just reheat it back in the pot for making enchiladas.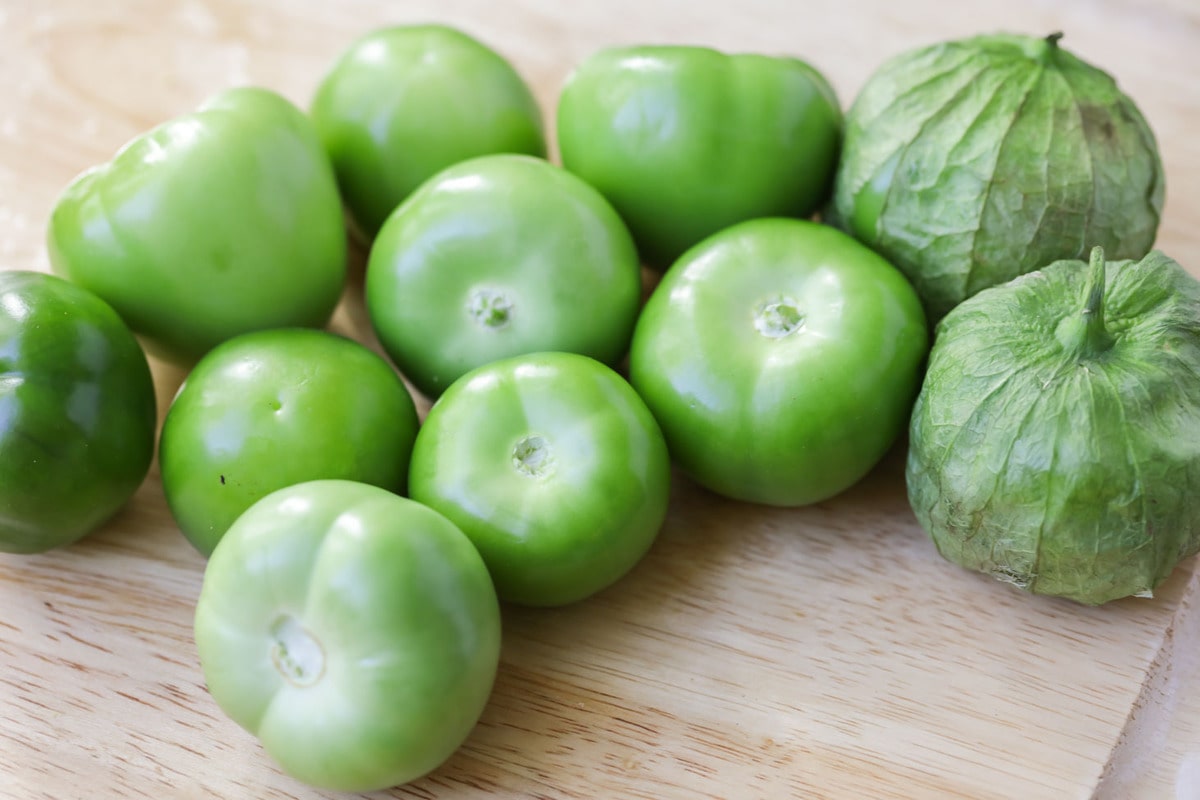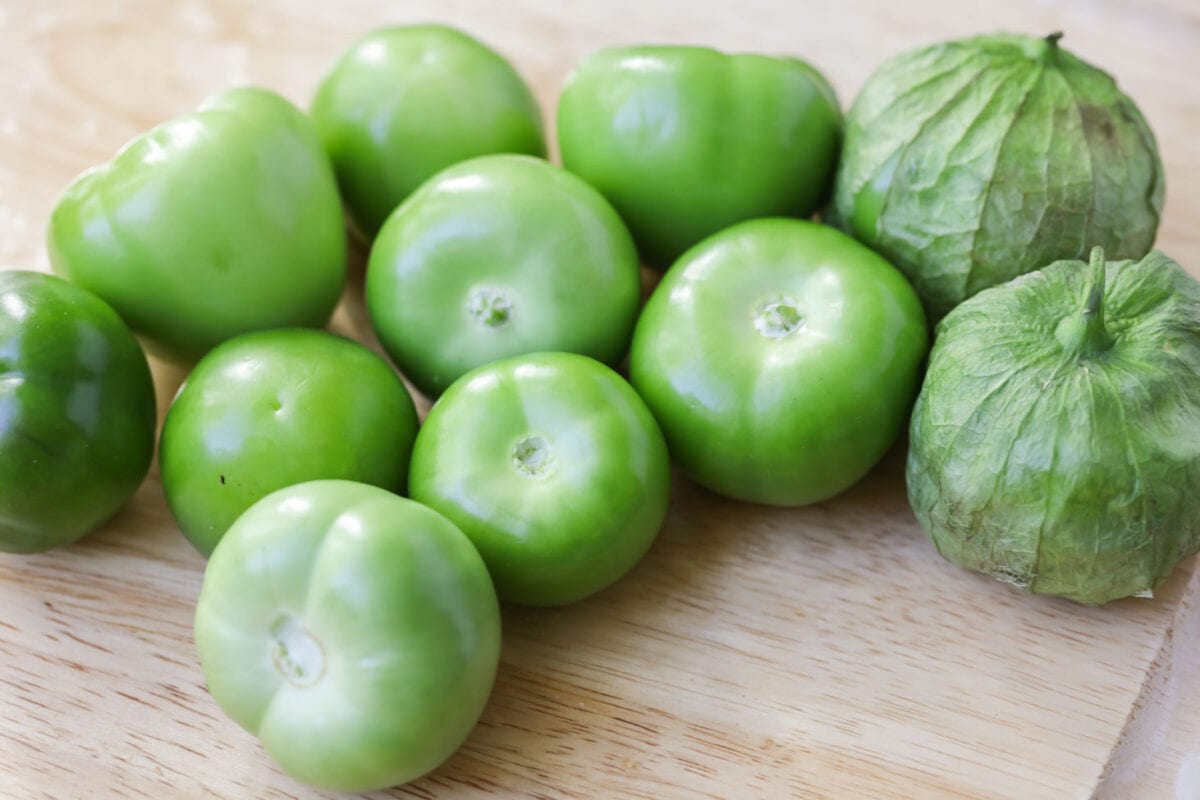 Tomatillo Tips:
This recipe calls for 1.5 lbs of tomatillos. That is about 14-15 tomatillos and they can be found in the produce section at the grocery store. If you've never cooked with a tomatillo, here are some tips!
Make sure to peel the outer skin off of the tomatillos before you cut them in quarters. They can be a little sticky and sometimes dirty inside the outer skin. I always rinse them off after I have peeled them.
Then cut them into quarters before you throw them into the blender or food processor.
Try canned whole tomatillos. One 28 oz can has about 20 already peeled tomatillos. Drain the liquid, and set aside 14-15 to use in the recipe. Another option is to buy a can of crushed tomatillos. You will need about 1 ½ cups.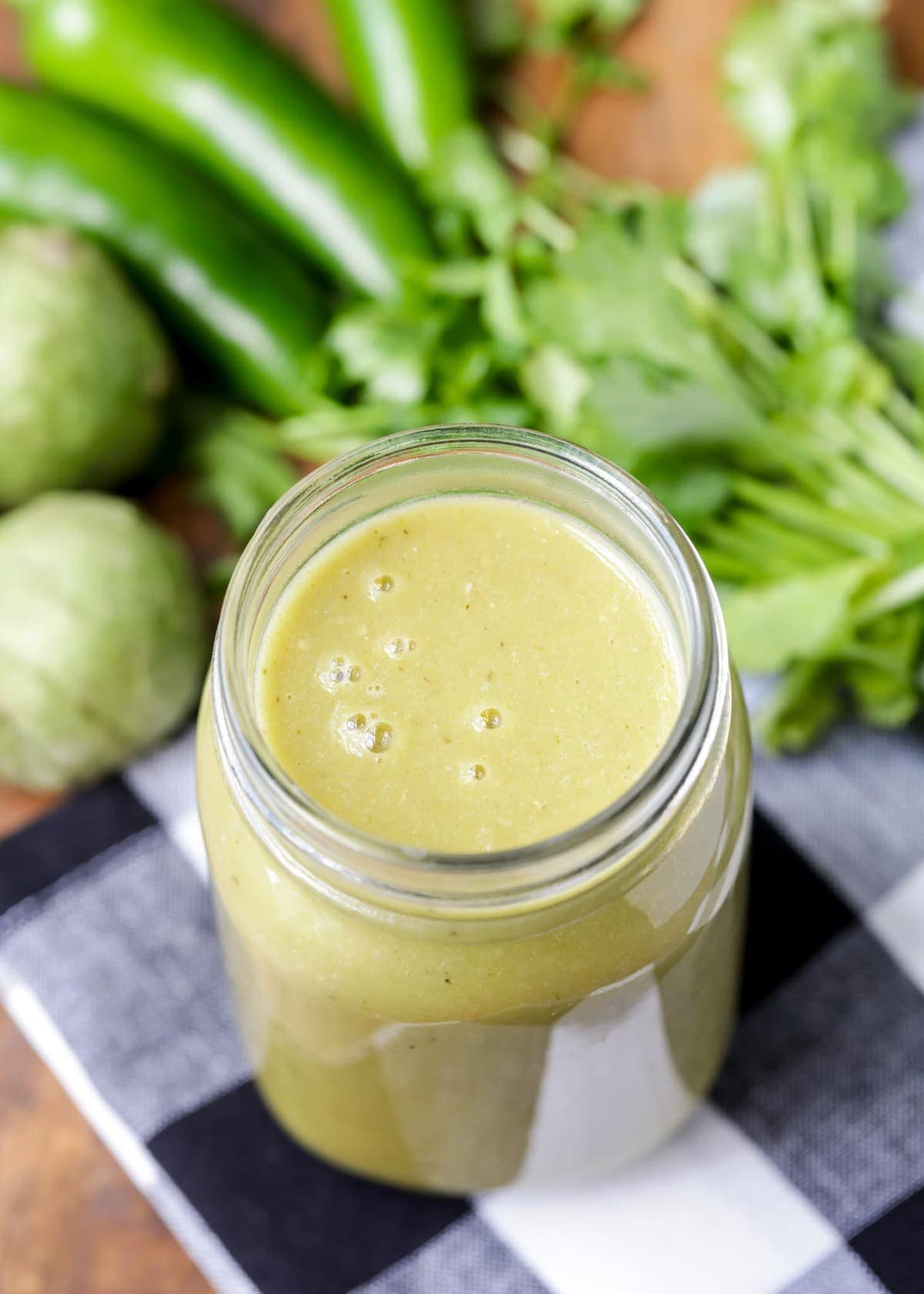 We really are so glad we finally mastered our homemade green enchilada sauce. It's taken us awhile, but this recipe is perfection. Be sure to also check out our red enchilada sauce which is amazing!
For more Mexican recipes, check out:
Green Enchilada Sauce Recipe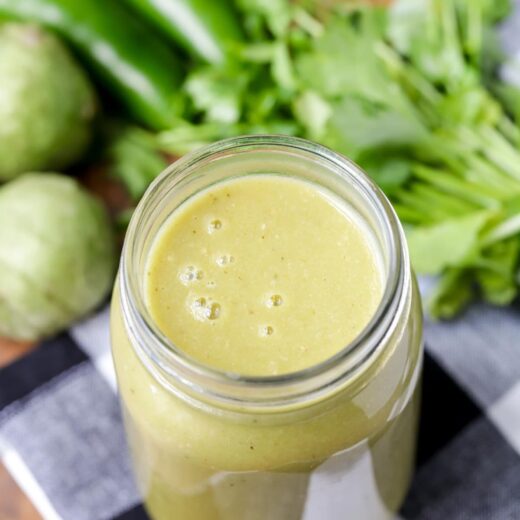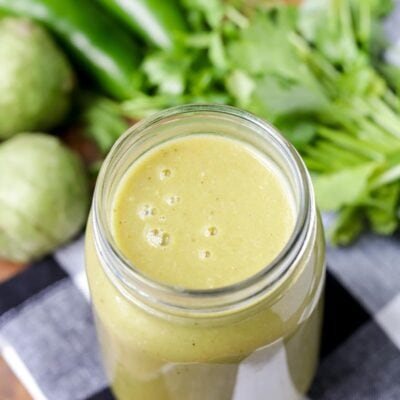 Homemade green enchilada sauce is perfect for pouring over cheesy enchiladas. Filled with just a little spice and plenty of cilantro flavor.
Ingredients
2

tbsp

olive oil

extra-virgin

1/2

red onion

minced

5

tsp

minced garlic

2

green bell peppers

chopped

1-2

jalapeños

seeded (or 1 tsp. canned chopped jalapenos)

1 1/2

lb

tomatillos

husked and quartered (about 14 tomatillos)

1/2

bunch

cilantro

4

cups

chicken broth

1 1/2

tsp

kosher salt

1/4

tsp

pepper

2

tsp

cumin

1

tbsp

oregano

2-3

tbsp

sugar
Instructions
Heat olive oil in a large pot or pan and saute onions and garlic until tender.

While onions are sauteeing, add tomatillos to the blender and blend. Add green peppers, jalapeno peppers and cilantro the blender and process until most clumps are out. Add the sauteed onions and garlic and process until mostly smooth.

Pout the tomatillo mixture into a large pot. Add chicken broth, salt, pepper, cumin, oregano and sugar. Simmer for about 30 minutes.

At this point, there will still be some clumps, so add this back to your food processor or blender and puree in batches until smooth.

The sauce can also be simmered in a slow cooker on LOW for 3-4 hours or on HIGH for 2 hours.