Shredded Beef Enchiladas Made with Just 6 ingredients! This easy dinner idea is a crowd pleaser and is filled with corn, beef, green chiles, cheese and covered in red sauce.
This is a great lazy day dinner to make if you have any leftover pot roast! If we don't use leftover roast for these enchiladas, we use it to make Green Chile Burritos. Both are delicious!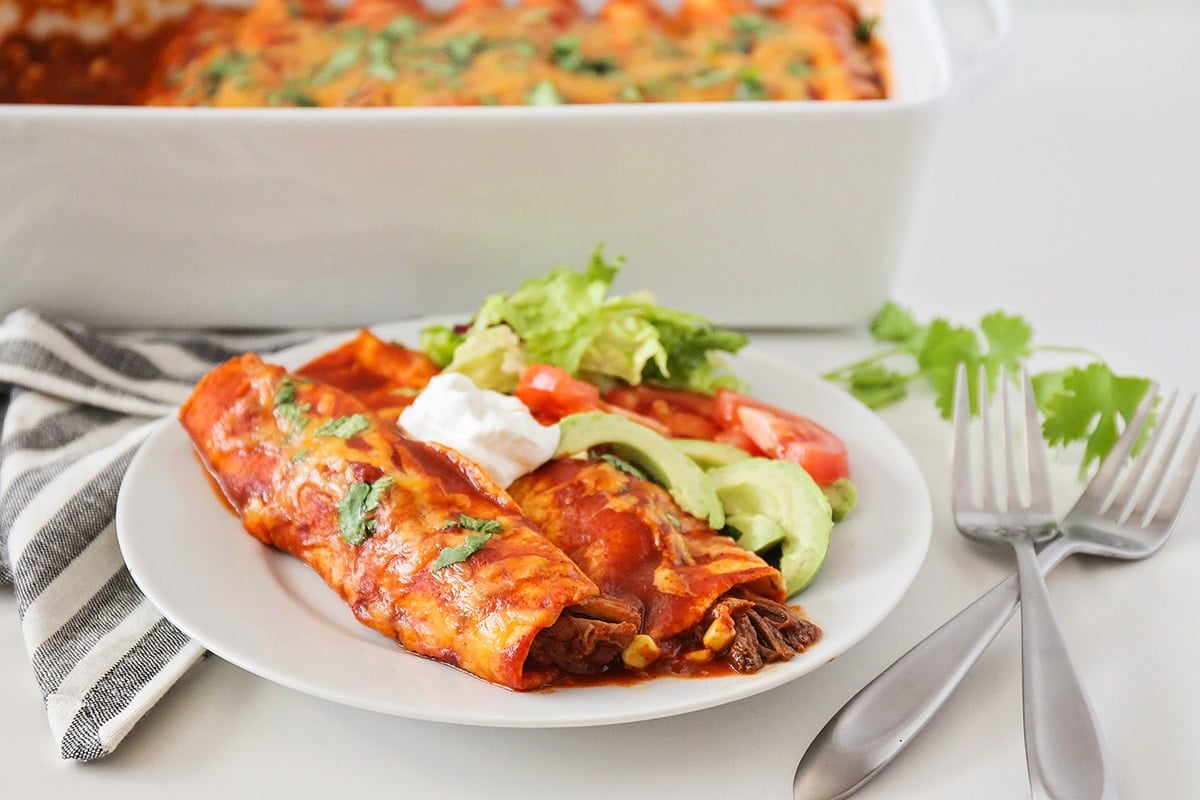 Easy shredded Beef Enchiladas
Who else loves enchiladas?
I think that if my husband had to choose one food that I make to eat for the rest of his life, he would definitely choose enchiladas (have you tried our Chicken Enchiladas or Red Cheese Enchiladas?). I think we can all agree that they're delicious and so fun to change up!
I make enchiladas for dinner frequently, with a variety of fillings, and they are always delicious, but these shredded beef enchiladas are some of our favorites.
They're the perfect way to use up all of that leftover meat after a Sunday roast, and they taste amazing! We use a canned red sauce to make these beef enchiladas super easy, but you can always try our homemade red sauce too!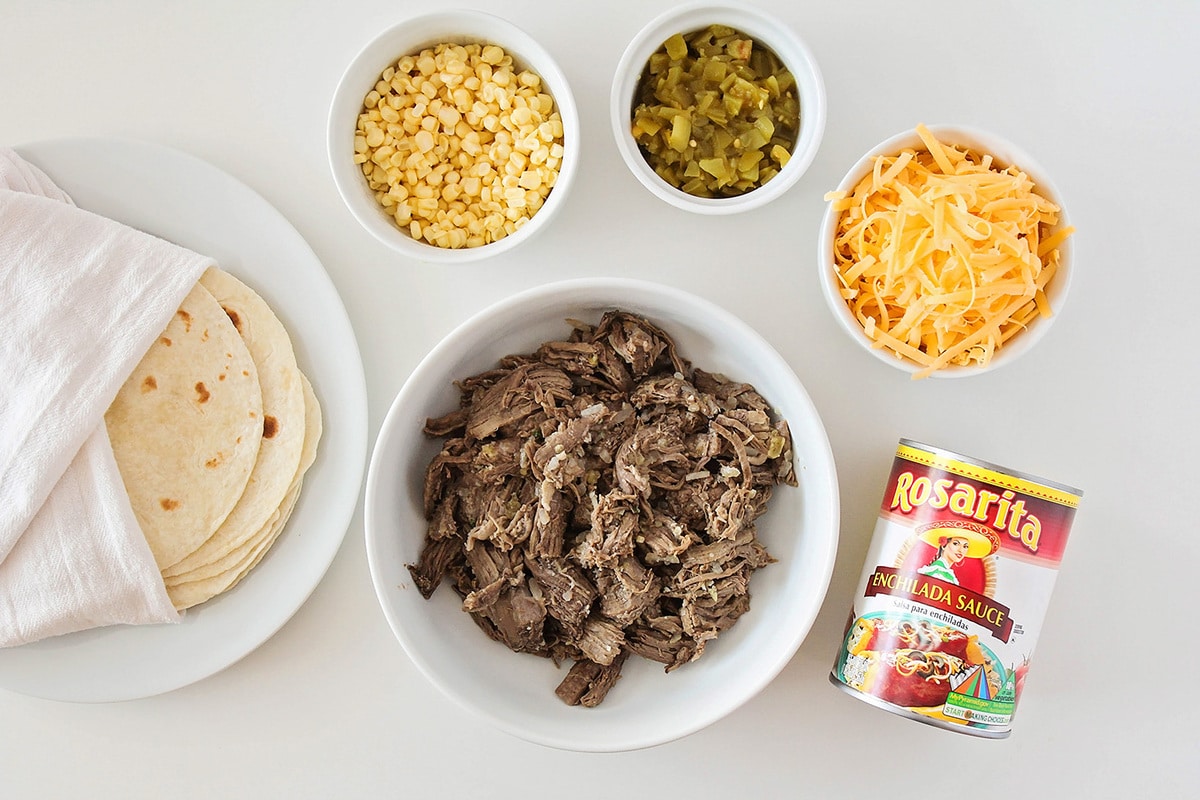 How to Make Beef Enchiladas
These enchiladas have only six ingredients, most of which I nearly always have on hand (for enchilada-related emergencies, obviously!).
beef
green chiles
cheese
flour tortillas
corn
red enchilada sauce (we love our homemade red sauce)
I made mine with fresh corn from the farmer's market, but you could easily use canned corn or frozen corn instead. As far as the roast beef goes, this recipe for barbacoa beef is my favorite to use for this recipe, but really any roast recipe will work.
I'm generally a corn tortilla girl, but I kind of like to use flour tortillas for these enchiladas. They will turn out a little different depending on which type of tortillas you use, but they are delicious both ways!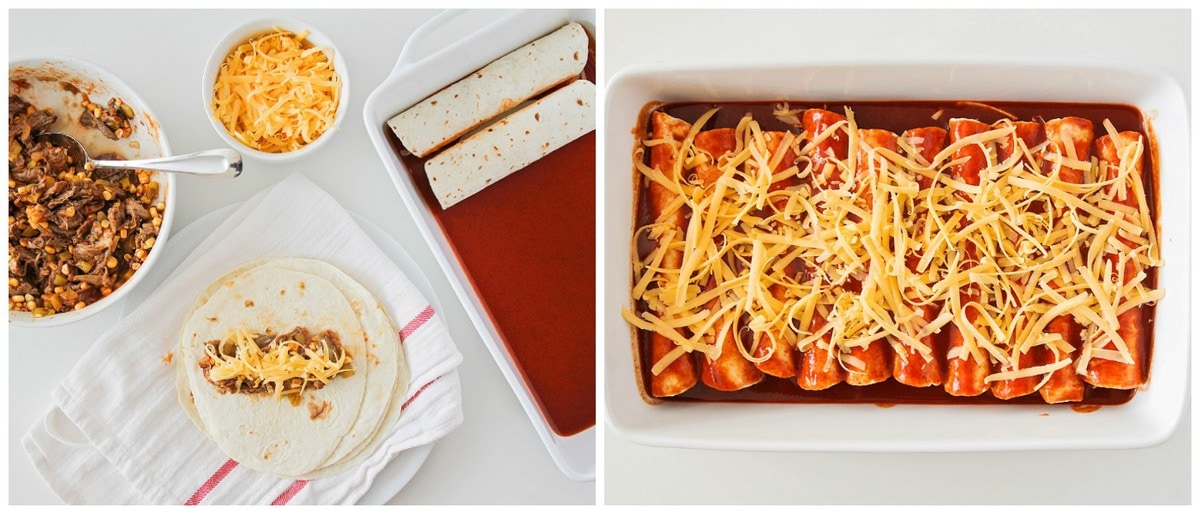 Fill, Bake, & Serve
FILL. The recipe makes enough for twelve enchiladas, which will serve six adults. I like to use the fajita-size flour tortillas (or regular sized corn tortillas). It can be a little messy filling all of the enchiladas, but once you get going, they go fast. Make sure to leave enough cheese to sprinkle on top, since that's the best part!
BAKE. Bake the enchiladas just long enough to melt the cheese and heat the filling through, and then you're all set!
SERVE. I like to serve them with sour cream, fresh tomatoes, avocado, and shredded lettuce on the side, and they are so, so good!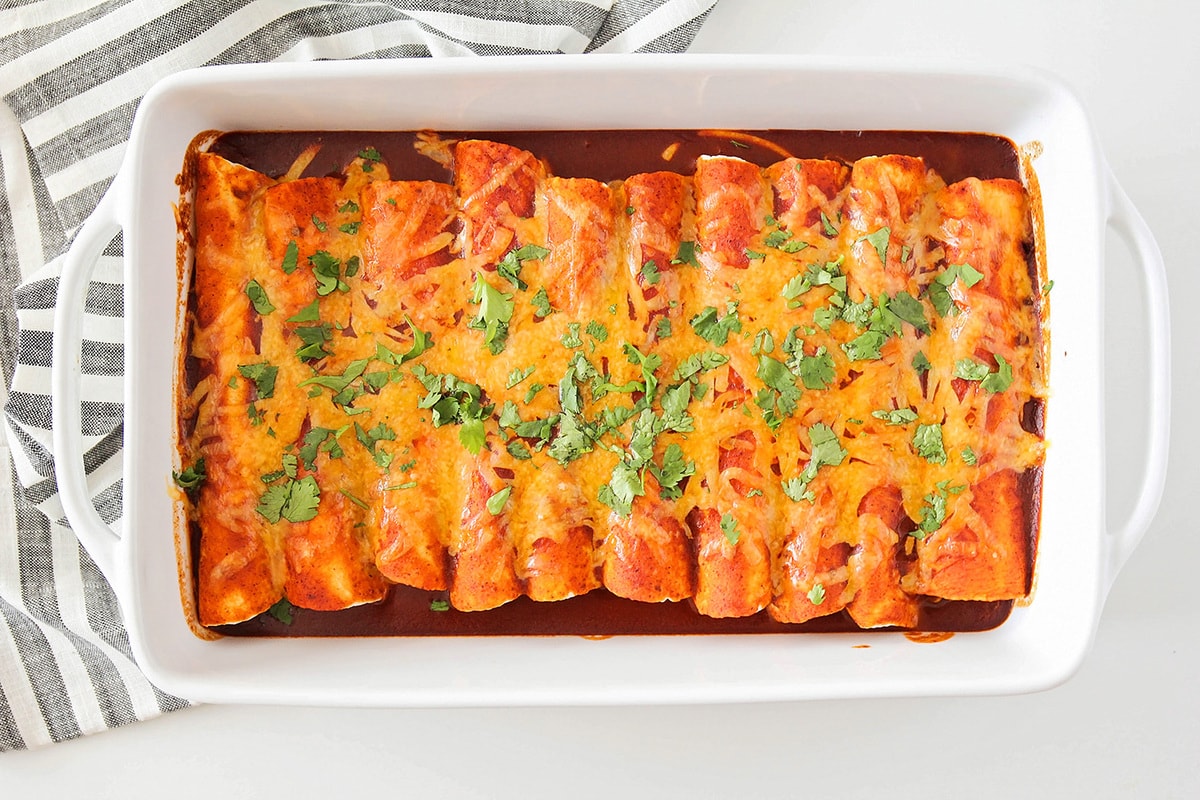 Making Ahead & Storing
This recipe is super easy to double or even triple the recipe and keep extra meals in the freezer. I have been so grateful on days that I've been busy, or not feeling well to be able to thaw a pan of enchiladas and still have a warm and yummy meal for the family.
To FREEZE, just place in an airtight container or covered with plastic wrap and then aluminum foil for up to 2 months. Let thaw in fridge overnight before baking.
STORE leftovers in the fridge in an airtight container for 2-3 days. YOu can also divide the leftovers into individual serving air tight containers and freeze them. Reheat in the microwave.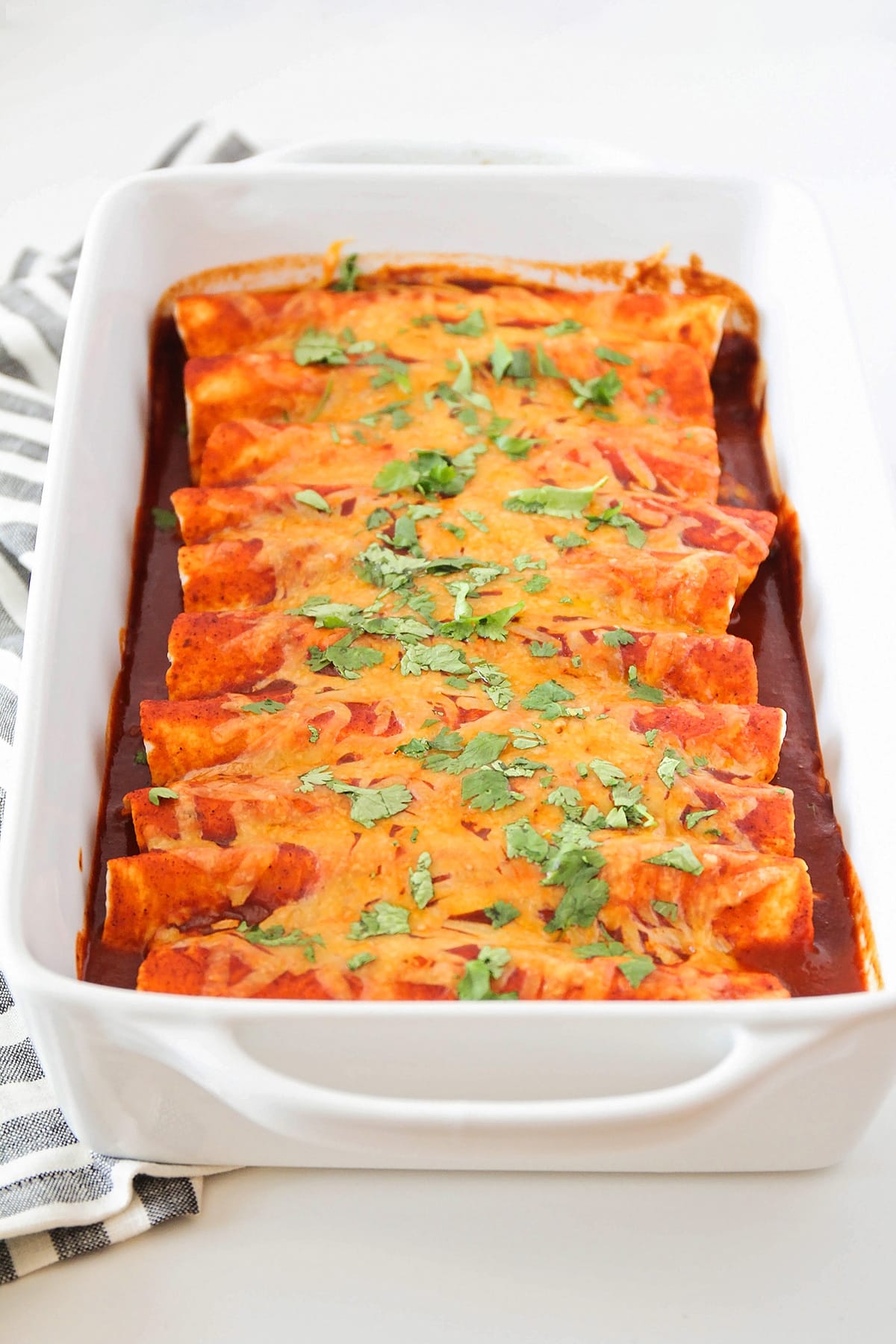 We hope you enjoy these enchiladas as much as we do!
Complete the meal by also making:
For more enchilada recipes, be sure to check out:
Beef Enchilada Recipe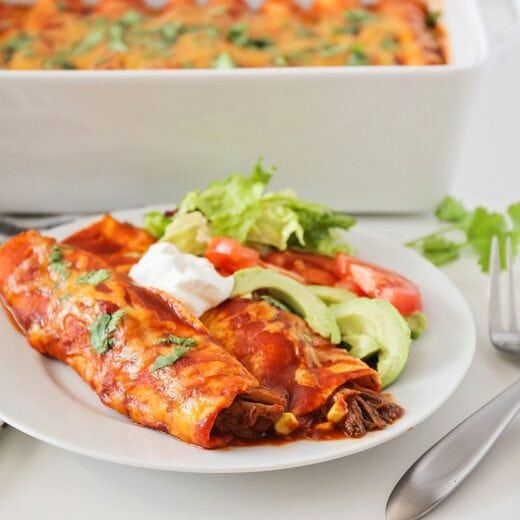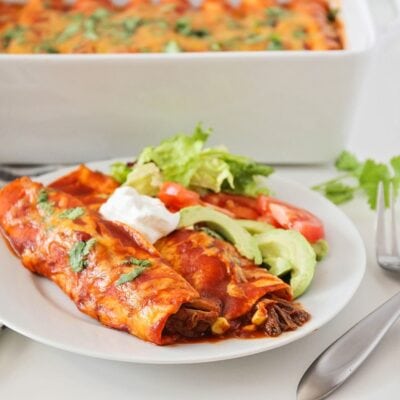 Shredded Beef Enchiladas Made with Just 6 ingredients! This easy dinner idea is a crowd pleaser and is filled with corn, beef, green chiles, cheese and covered in red sauce.
Ingredients
3

cups

roast beef

shredded, cooked

1

4 oz. can

green chilies

diced

1

cup

corn

1

20 oz. can

red enchilada sauce

(we love our homemade red sauce)

2 1/2

cups

shredded cheese

divided

12

small flour or corn tortillas

warmed
Instructions
Preheat the oven to 350.

In a medium bowl, mix together the shredded beef, green chilies, corn, and ½ cup enchilada sauce. Spread ½ cup of enchilada sauce into the bottom of a 9 x 13 baking dish.

Scoop about ⅓ cup of filling into the middle of each of the tortillas, and sprinkle with cheese (reserving about 1 cup of cheese for the top of the enchiladas). Roll each tortilla up and place seam side down in the prepared baking dish.

Pour the remaining enchilada sauce over the top of the rolled up tortillas, spreading to cover the tortillas completely. Sprinkle with the remaining shredded cheese.

Bake 20-25 minutes, or until the cheese is melted and the sauce is bubbling. Serve hot.