There's nothing more comforting on a chilly fall evening than a warm bowl of soup! This collection features all the best fall soups to warm you up during the autumn months.
More collections: Fall Recipes, Fall Salads, Fall Desserts, Fall Dinner Recipes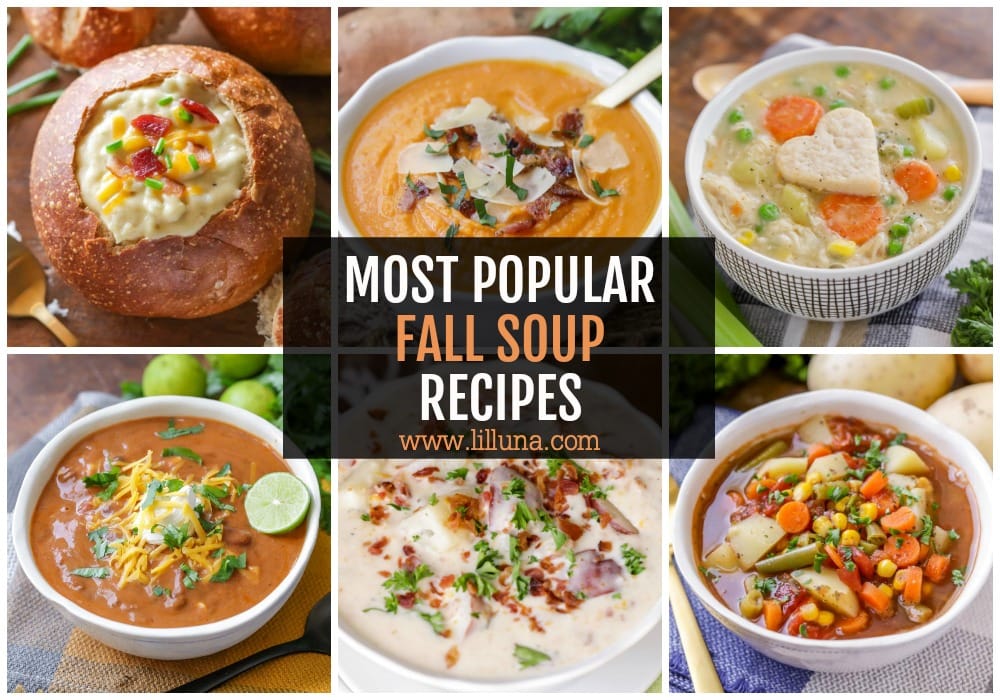 A Fall Staple
When I think about things that I love about fall, the first things that come to mind are sweaters, pumpkin recipes, and SOUP! Once the weather finally starts cooling down here in AZ, I find myself craving soup all the time. It's warm, comforting, and there's infinite types of soup to enjoy.
Soup is a great way to use those seasonal garden herbs and veggies such as pumpkin, cabbage, carrots, potatoes, broccoli, squash, garlic, parsley, sage, thyme, oregano, and chives. Whether simmering on the stove or enjoying the increasing aroma from the crock pot these meals will fill your senses and your stomachs.
General Soup Tips
All of our recipes contain information that will help you create the best dish. Here are a few of the most common soup tips.
Soup is already known for being a pretty simple dish to make, but to make it even easier I like to have

shredded cooked chicken

and cooked beef in the freezer. 

To help the ingredients cook evenly be sure to cut the ingredients the same size. For example the chucks of meat and pieces of potatoes should be similar in size. Also, I like to be able to have 2-3 different elements in each spoonful so I cut accordingly.

To thicken a soup you can either use flour or cornstarch. You can also use cheese or cream if it fits the recipe. 

Flour: Scoop ½ c of the soup into a separate bowl stir in 1 tbsp flour. Stir until smooth and return back to the soup

Cornstarch. Mix 1 tbsp cold water and 1 tbsp cornstarch in a separate bowl. Pour into the soup and stir. 
To thin out a soup, simply add more water or broth. 

Soups typically make a great freezer meal. There are some ingredients that are best to leave out and add toward the end, like cheese, cream and pasta. Thaw the soup overnight in the fridge before heating.
best Fall Soup recipes
What's not to love about soup?! It's our favorite time of year to start serving soups, and these are some of our favorites we enjoy all fall long!
Slow Cooker fall Soups
And what's better than soups made in the slow cooker? These guys are all simple and made in the crock pot making them perfect for busy days.
Pair With
Soups are great because they can be a stand alone one pot meal. They also go really well with sandwiches. Bread is also a delicious side and is perfect to use to soak up extra soup. Here are a few of our favorites to serve with fall soup recipes:
More collections: Fall Recipes, Fall Salads, Fall Desserts, Fall Dinner Recipes