There's nothing more comforting on a chilly fall evening than a warm bowl of soup! This collection features all the best fall soup recipes to warm you up during the autumn months.
More Collections: Fall Salads, Fall Desserts, Fall Dinner Recipes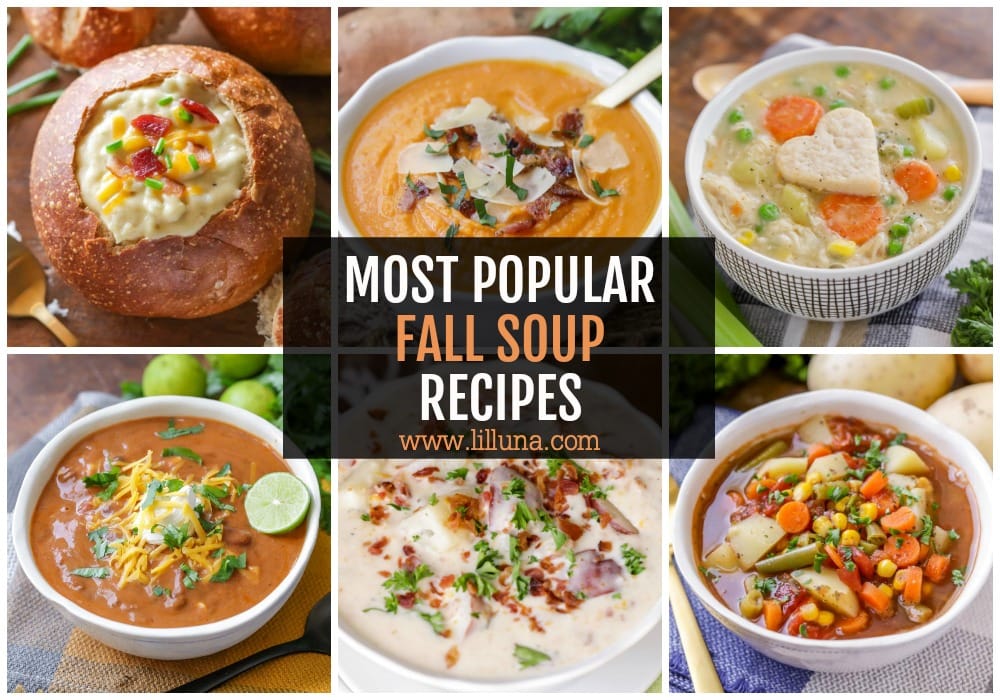 A Fall Staple
When I think about things that I love about fall, the first things that come to mind are sweaters, pumpkin recipes, and SOUP!
Once the weather finally starts cooling down here in AZ, I find myself craving soup all the time. It's warm, comforting, and there are infinite types of soup to enjoy.
Fall Vegetables for Soup
Using vegetables that are in season not only ensures you're using the freshest ingredients, but it's also easier on the pocketbook.
Some favorite fall vegetables include broccoli, cabbage, carrots, cauliflower, celery, garlic, green beans, leeks, onions, parsnips, peas, peppers, potatoes, pumpkin & squash, and sweet potatoes.
Garden veggies whip up some of our favorites like French Onion Soup, Broccoli Soup, Pumpkin Chili, Cauliflower Soup, red pepper soup, and potato leek soup. Whether simmering on the stove or enjoying the increasing aroma from the crock pot, these meals will fill your senses and your stomach.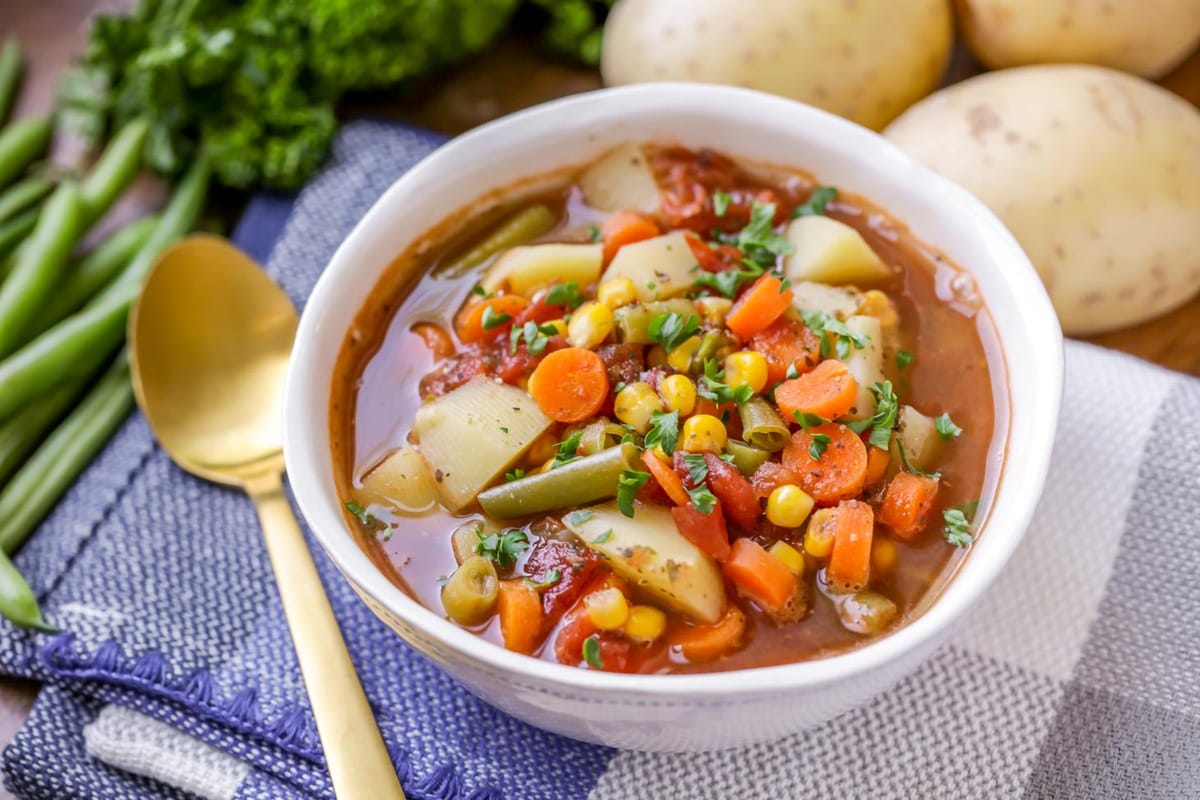 General Soup Tips
All of our recipes contain information that will help you create the best dish. Here are a few of the most common soup tips.
Shredded meat. Soup is already known for being a pretty simple dish to make, but to make it even easier I like to have shredded cooked chicken and cooked beef in the freezer.
Bite-size ingredients. To help the ingredients cook evenly be sure to cut the ingredients the same size. For example, the chunks of meat and pieces of potatoes should be similar in size. Also, I like to be able to have 2-3 different elements in each spoonful so I cut the sizes accordingly.
To thicken a soup you can either use flour or cornstarch. You can also use cheese or cream if it fits the recipe.
Flour: Scoop ½ cup of the soup into a separate bowl and stir in 1 tablespoon flour. Stir until smooth and return back to the soup.
Cornstarch: Mix 1 tablespoon cold water and 1 tablespoon cornstarch in a separate bowl. Pour into the soup and stir. 
To thin out a soup, simply add more water or broth.
Freezer meal. Soups typically make a great freezer meal. There are some ingredients that are best to leave out and add toward the end, like cheese, cream, and pasta. Thaw the soup overnight in the fridge before heating.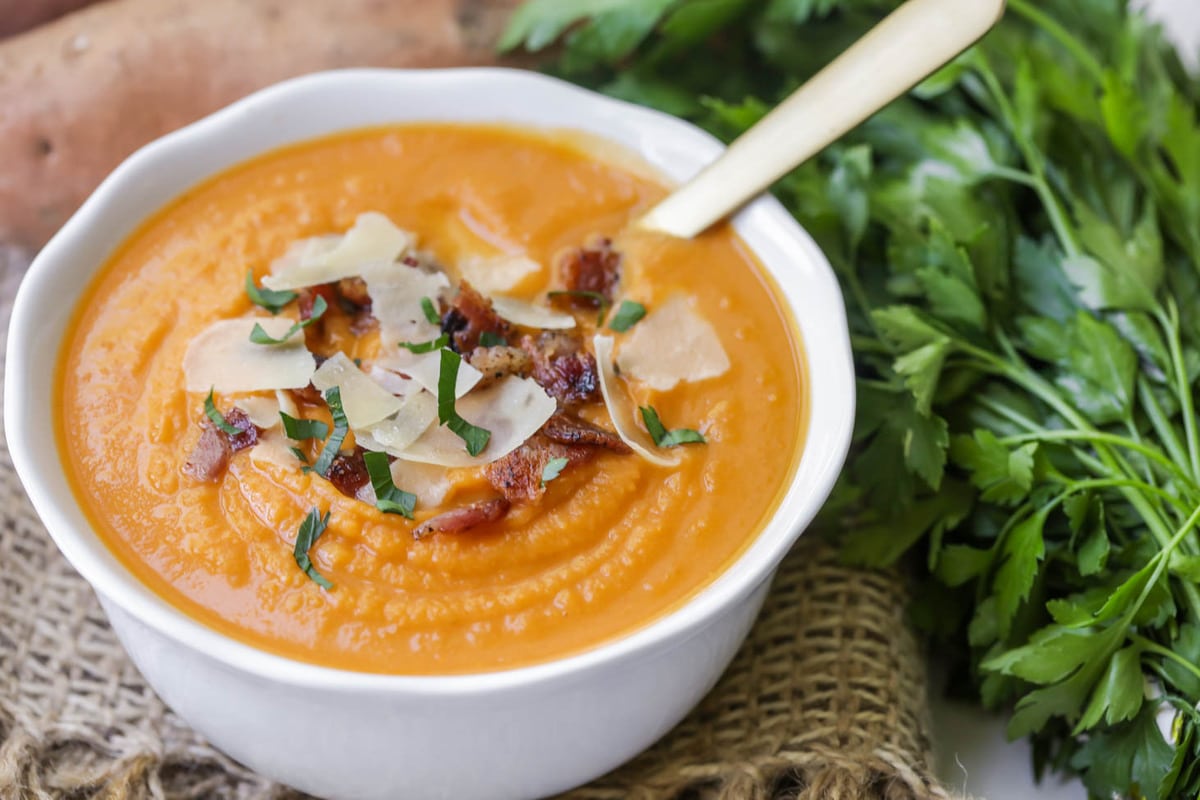 Season Your Soup
Broth vs stock. The foundation of a good soup starts with a great-tasting broth or stock. They both come with a base of beef, chicken, or vegetable. You can also find versions to be organic, gluten-free, and vegan. So what makes them different?
Broth is thinner, has fewer calories, and has less fat than stock.
Stock (aka bone broth) has slightly more calories, fat, and protein, but also has significantly higher vitamins and minerals.
They can be used interchangeably so pick the one that best fits your dietary needs.
Spice. If the soup is too spicy or sour, add coconut milk or a bit of brown sugar. It will cut through the harsh flavor and add a bit of sweetness to the soup.
Fresh herbs add a lot of flavor to the soup. Keep in mind that 1 tablespoon of fresh herbs = 1 teaspoon of dried herbs. Don't add the fresh herbs until the end of the crock pot cooking time. You can also brighten the flavor of soup with a splash of vinegar or lemon or lime juice.
Aromatics. Onion, bell pepper, celery, and garlic are some commonly used aromatics and should be activated before use. They are typically sautéed in a pan to get their flavor going, then added to the pot of soup.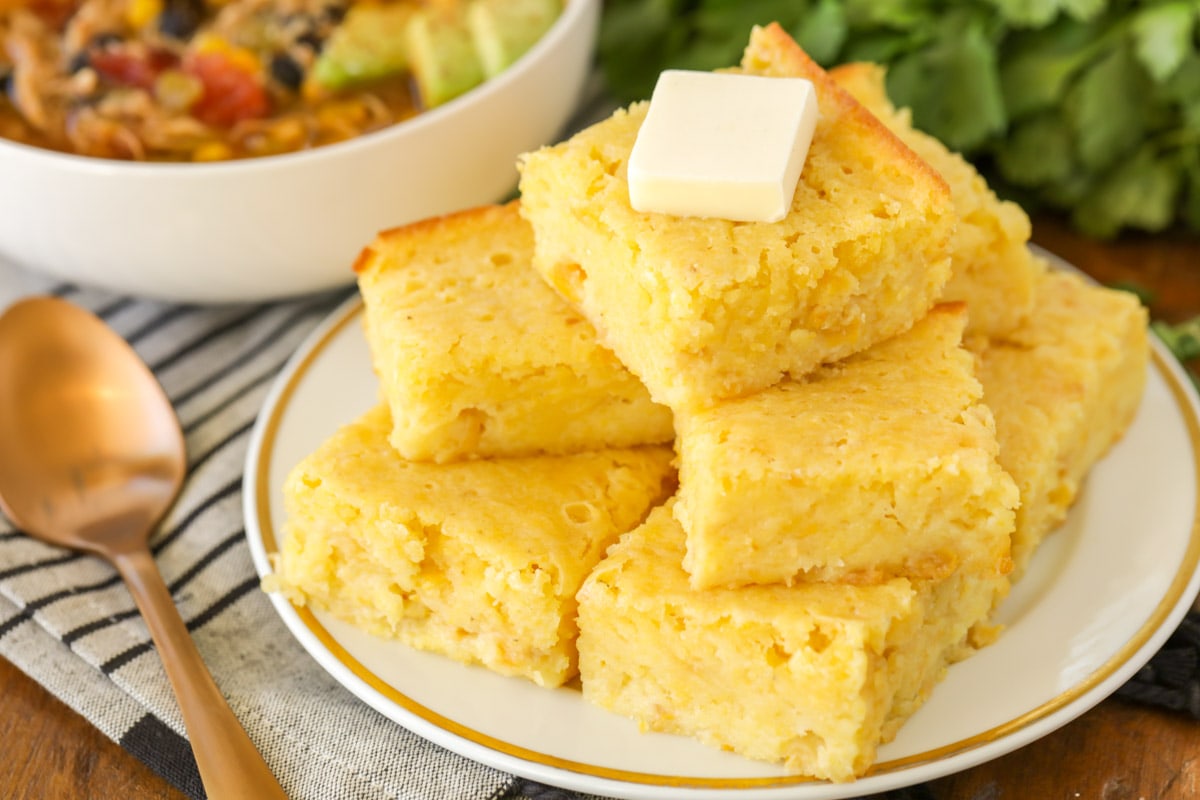 Good Sides for Soup
There are many reasons to love soup and one of them is that it's often hearty and nutritious enough that it can stand alone without any sides.
With that said some side dishes that go well with soup include an easy salad like this Wedge Salad or Caesar Salad.
Sandwiches are another great side dish. Try a classic Grilled Cheese Sandwich or Monte Cristo Sandwich.
There are also a variety of delicious bread and rolls you can serve, such as:
---
best Fall Soups
What's not to love about soup?! It's our favorite time of year to start serving soups, and these are some of our favorites we enjoy all fall long!
Italian Sausage Soup
Hearty and delicious Italian sausage soup filled with tomatoes, carrots, zucchini, spinach and more. The recipe made on the stove is simple and great to enjoy all year long!
Homemade Chicken Noodle Soup
This recipe for homemade chicken noodle soup is one of the easiest, tastiest recipes full of chicken breast chunks, celery, carrots, and home-style egg noodles.
Bacon Potato Corn Chowder
This thick and creamy chowder is filled with bacon, corn, potatoes, and big flavor! The whole family will love bacon potato corn chowder.
Sweet Potato Soup
Velvety smooth sweet potato soup has a bit of nip and is the perfect soup recipe for anyone who loves sweet potatoes.
Chicken Pot Pie Soup
This creamy, delicious chicken pot pie soup can be made on the stovetop or in a crock pot! It has all your favorite vegetables, big chunks of chicken, and even a delicious heart-shaped pie piece on top.
Turkey Noodle Soup
This hearty turkey soup recipe is flavorful and filled with rotini pasta, celery, carrots and turkey. It's perfect for fall!
Wendy's Chili
Low in carbs and high in protein, Wendy's chili is famously delicious! Now you can create this hearty bowl-full at home!!
Chicken and Wild Rice Soup
Such a tasty and simple recipe – this chicken wild rice soup is filled with long grain and wild rice, chicken, carrots, almonds and more!
White Chicken Chili
If you're looking for a hearty soup recipe, look no further than this delicious white chicken chili recipe! Loaded with chicken, beans, cheese, and lots of spices, this white chili has become a new favorite!! Best of all, it's ready in 30 minutes or less!
Tomato Soup
The Jolly Holiday combo is a favorite meal at the happiest place on earth. It's a tasty, grilled cheese sandwich served with creamy tomato basil soup – comfort food at it's finest at Disneyland!
---
healthy Fall Soups
Fall soups can be a healthy and filling meal, especially those that are clear broth and veggie based. Warm up to a cozy bowl of these delicious healthier soups.
Albondigas Soup
Albondigas soup is a delicious Mexican recipe filled with meatballs, vegetables and spices! Packed full of flavor, this simple albondigas soup is sure to become a favorite.
Cabbage Soup
Cabbage soup is an easy healthy soup loaded with fresh veggies. Warm up with a cup of this low calorie and low carb delicious soup!
Butternut Squash Soup
Buttery smooth butternut squash soup with just a hint of cinnamon and nutmeg makes for one delicious cozy bowl of soup!
Vegetable Soup
Loaded with potatoes, carrots, corn, green beans, and tomatoes, this vegetable soup is healthy, hearty, and super good.
Lentil Soup
Homemade lentil soup is light, hearty and healthy. Loaded with chunks of carrots, celery, lentils and spices, you can also add your favorite protein to this already delicious recipe.
---
fall Crockpot Soups
And what's better than soups made in the slow cooker? These guys are all simple and made in the crock pot making them perfect for busy days.
Cheesy Potato Soup
Creamy cheesy potato soup is the easiest soup you'll ever make. You only need a handful of ingredients and a crockpot!!
Chicken Florentine Soup
With a combination of chicken, potato, white beans, carrots, spinach and more, this chicken florentine soup is hearty and absolutely delicious. It tastes similar to Olive Garden's recipe, but it's made in the slow cooker!
Cheeseburger Soup
Filled with hamburger meat, carrots, potatoes, Velveeta, delicious spices, and BACON, this crockpot cheeseburger soup is the perfect recipe for a cold day!
Crockpot Taco Soup
Creamy & delicious crockpot taco soup is SO easy to make! It's packed with flavor and takes just 5 minutes of prep time!
Crockpot Baked Potato Soup
Creamy and delicious crockpot baked potato soup is so full of flavor and EASY too! This delicious potato soup recipe is a hearty family favorite.
Crockpot Chicken Enchilada Soup
Crock pot green chile enchilada soup is a new favorite soup packed with chicken, green chiles, corn, rice, and mixed with lots of spices and cheeses.
Crock Pot Chicken Stew
A simple, convenient, and TASTY stew recipe made in the crock pot! Made with chicken, potatoes, carrots, cream of chicken soup, sour cream, ranch dressing mix and more, this slow cooker chicken stew recipe is BURSTING with flavor!!
Crock Pot Spinach Tortellini Soup
Easy crock pot tortellini and spinach soup is a hearty and creamy soup filled with cheese tortellini, spinach, tomatoes, and lots of spices!!
Slow Cooker Beef Stew
DELICIOUS slow cooker beef stew filled with chunks of beef, potatoes and carrots – a family favorite that is hearty, simple and great for fall.
Chicken Tortilla Soup
The BEST slow cooker chicken tortilla soup is filled with chunks of chicken, beans & corn. It is easy to make and full of flavor!
---
Go-To Fall Soups
Nothing is better on a chilly fall day than a warm bowl of soup, and these delicious recipes couldn't be easier! You're sure to find some new go-to soups to serve this season!
More Collections: Easy Soup Recipes, Chicken Soup Recipes, Winter Soups