Warm up on a chilly fall day with this spicy and flavorful turkey chili. It's packed with veggies, beans, and topped with a little cheese. You'll love every delicious bite!
My classic chili recipe is a crowd favorite at every cook-off I bring it to, but every once in a while I like to do something a little more unique. This turkey chili, sweet potato chili, and green enchilada pork chili are all perfect for switching it up!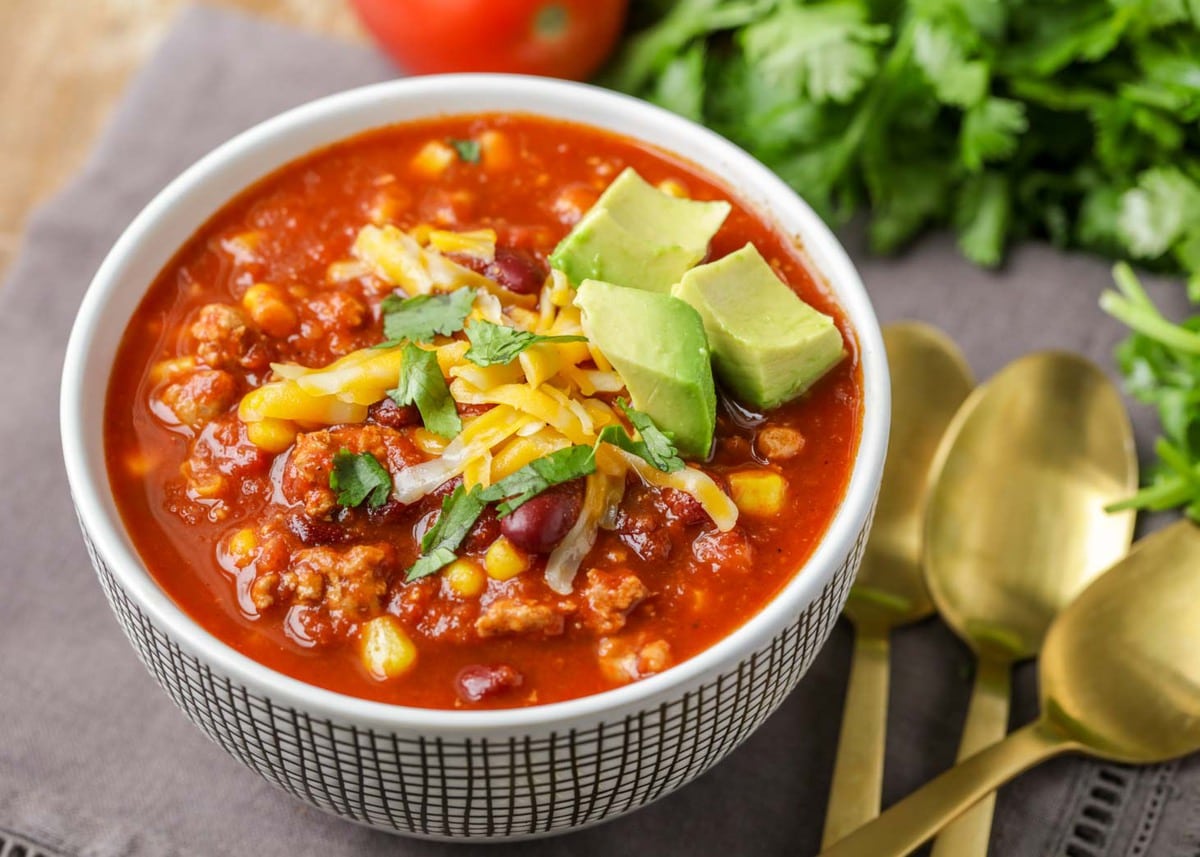 Turkey + Beans
Have you ever tried ground turkey in your chili? It's my favorite! You can't even tell the difference from ground beef. It's just a little bit leaner and healthier, but still equally tasty. You could also throw in some leftover shredded turkey from your Thanksgiving dinner.
And don't forget about the beans! This recipe calls for kidney beans but you could substitute for any kind of beans you like. Or a mixture of a few different types. Either way- this turkey chili recipe is SO good and definitely worth making.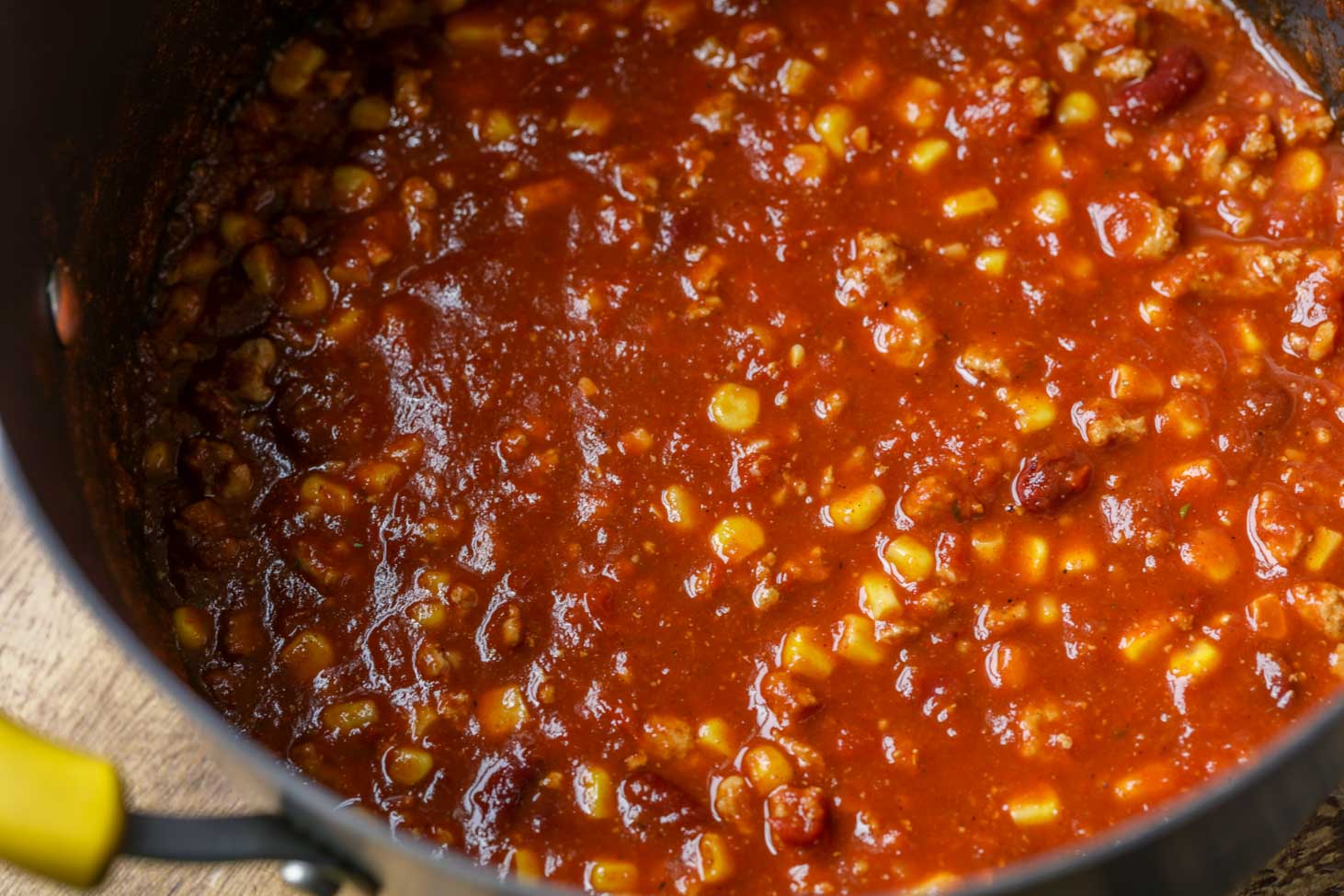 How to Make it
BROWN TURKEY. Grab a large pot and heat it up over medium heat. Add in the olive oil and let that heat up too. Throw in the ground turkey and cook it for a few minutes until it's browned a bit.
ADD + SIMMER. After the turkey has cooked through, pour in the water, tomatoes, beans, corn, garlic, and spices into the pot. Bring everything to a boil and then reduce heat to low. Cover the pot and simmer for 25-30 minutes.
Your house will fill with yummy chili spices and your family will come running to see what's for dinner!
Serve your turkey chili with all of your favorite toppings like avocado, tortilla strips, tortilla chips, grated cheese, cilantro, etc.! We like to serve ours with cornbread on the side. Always a good idea!!
Variations + Additions. There are lots of variations and additions you can make to this recipe. Feel free to add in different beans, veggies, cheeses, or spices. You can also use ground beef instead of ground turkey if that's what your prefer. Make it your own and enjoy!
awesome leftovers
Sometimes I think turkey chili tastes even better over the next couple days when the flavors really blend together.
Store any leftover chili in airtight containers in the fridge. It should keep for up to 6 days in the fridge. Perfect for lunches and leftovers!
You can also freeze this chili to have at a later date. It will last for about 6 months in the freezer. Pour it into freezer safe gallon bags, label and date it, and pop it in the freezer. When you're ready to eat it, just thaw it over the stove.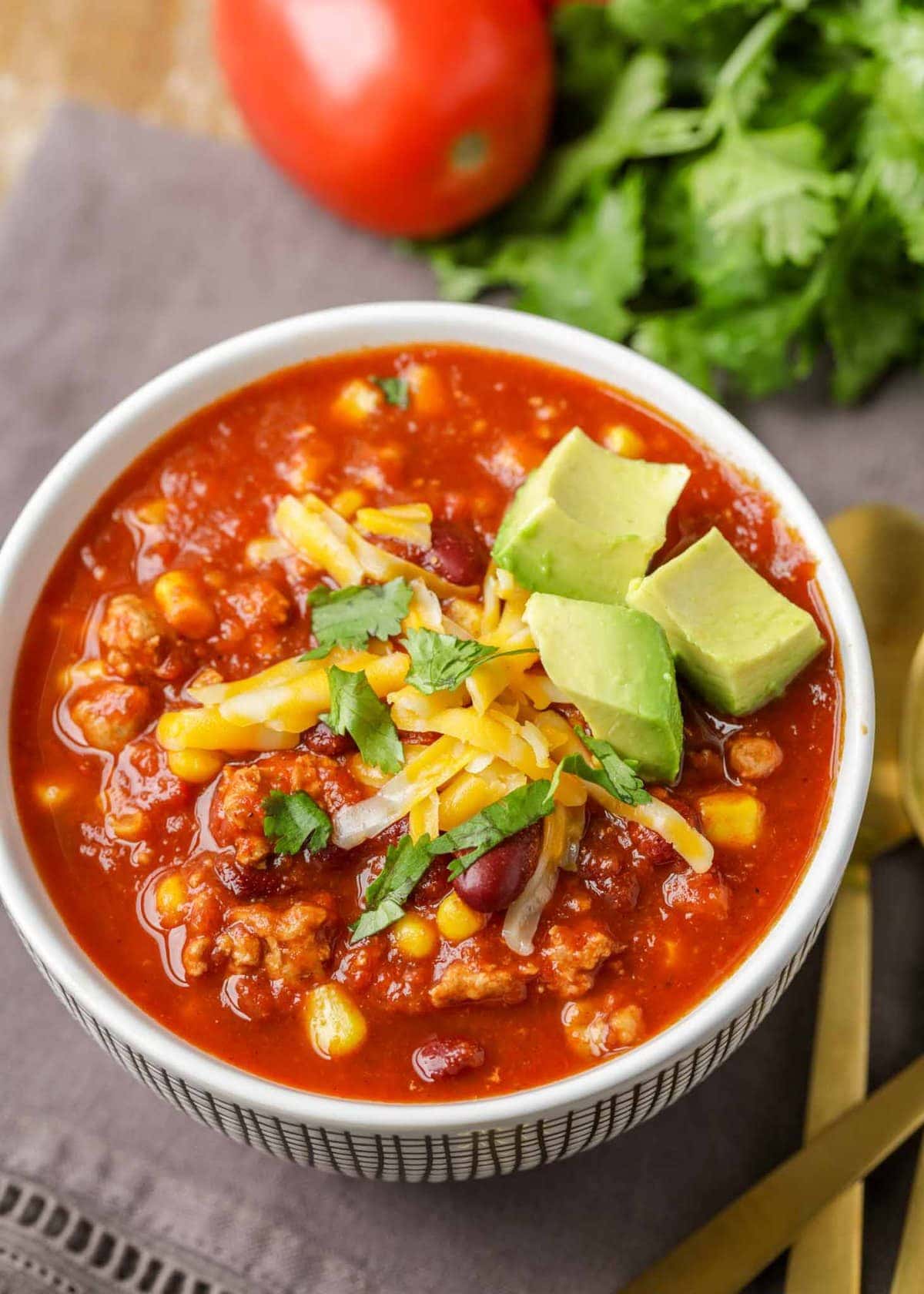 Turkey chili is perfect to make on nights when you have company coming over, because this recipe makes a lot. We always love making chili on Halloween night—might have to try this turkey version this year!
For more chili recipes, try:
Turkey Chili Recipe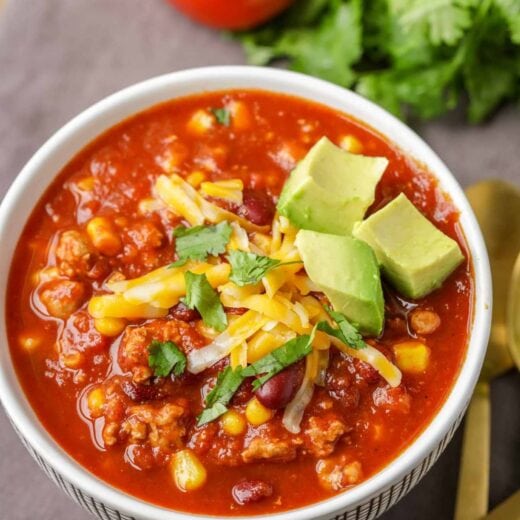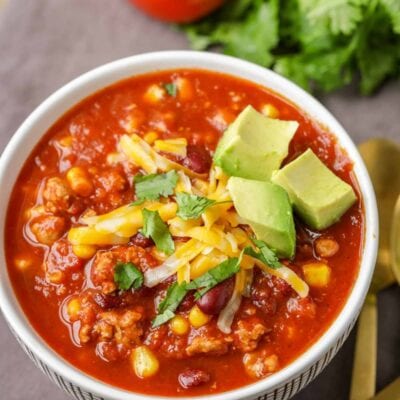 Warm up on a chilly fall day with this spicy and flavorful turkey chili. It's packed with veggies and beans for a tasty bite!
Ingredients
2

teaspoons

olive oil

1

lb

ground turkey

(or shredded turkey)

2

cups

water

1

28 oz. can

crushed tomatoes

1

16 oz. can

kidney beans

drained and rinsed

1

15 oz. can

corn

1

tablespoon

minced garlic

2

tablespoon

chili powder

1/2

teaspoon

oregano

1

teaspoon

cumin

1/2

teaspoon

paprika

1

teaspoon

garlic salt (with parsley flakes)

1/2

teaspoon

pepper
Instructions
Cook turkey in a large pot over medium heat with olive oil.

Pour water, tomatoes, beans, corn, garlic, and spices into the pot. Bring to a boil, then reduce heat to low, cover, and simmer for 25-30 minutes.