This savory clam chowder is so flavorful and delicious, and super easy to make. It's the perfect warm soup for a cozy night!
Chowders are the ultimate comfort food on a cold day, and this clam chowder is the most classic of them all. We also love Chicken Corn Chowder and Cheesy Ham Chowder!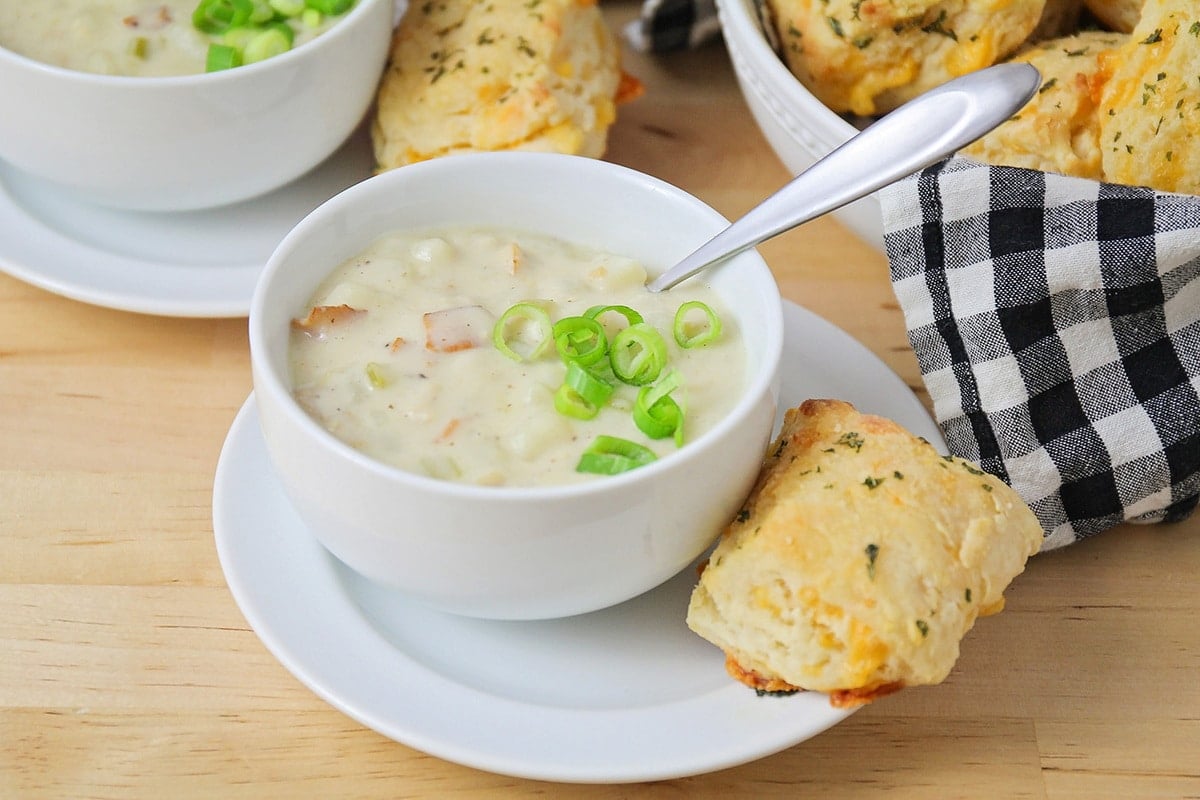 Ready in 45 minutes or less
Hello again! It's Alicia from The Baker Upstairs, and I'm excited to share one of my favorite soup recipes with you!
We are huge soup fans at my house, and enjoy eating it all year round, but I always look forward to the colder months, when I can make soup without making my kitchen unbearably hot.
When it's cold outside, a thick and hearty soup like this delicious New England clam chowder is a must! It's loaded with tender chunks of potatoes, crisp bacon, savory clams, and a creamy and flavorful soup base. It's incredibly delicious, totally filling, and my kids always gobble it up without complaining. Oh yeah – and it's all made in 45 minutes or less!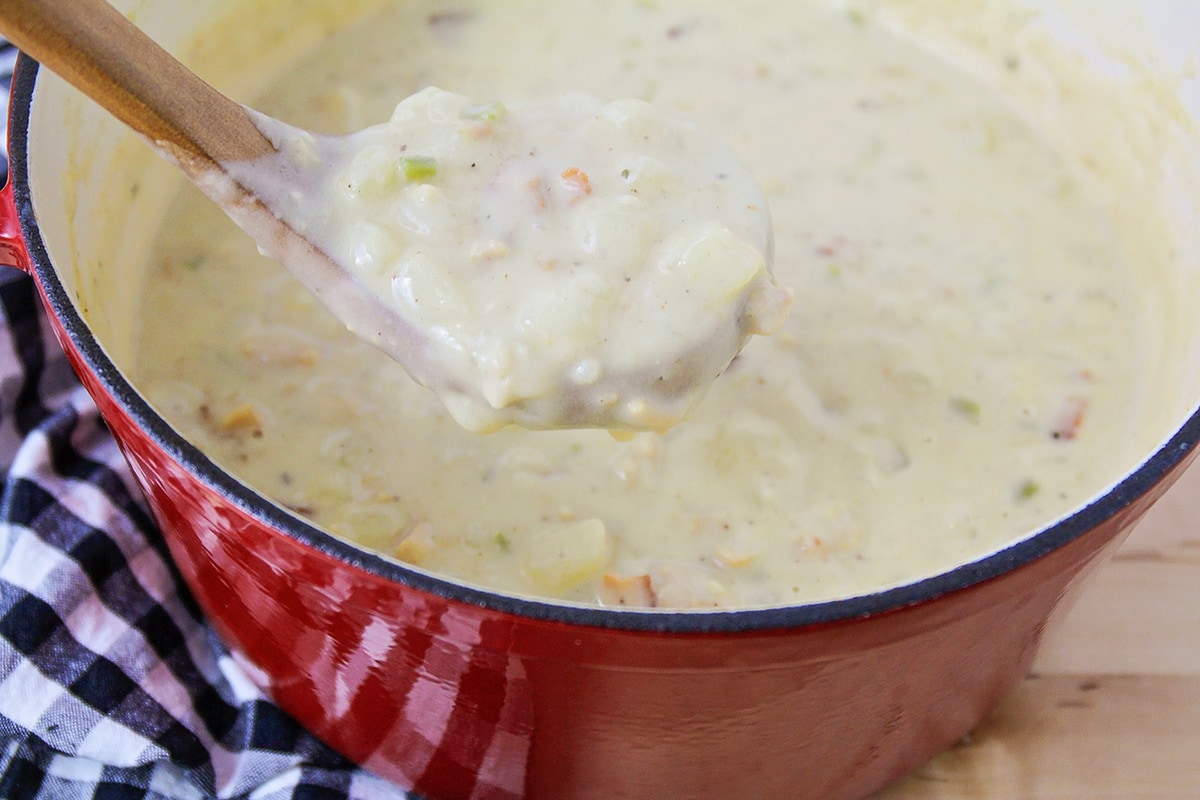 How to make clam chowder
This soup is surprisingly effortless to make, considering how hearty and delicious it is! The most time consuming part is probably preparing/chopping all the ingredients.
SAUTÉ & SIMMER. You'll start by cooking the chopped bacon, and then sautéing the onions and celery in that same pot. Everything else (besides the flour, milk, and half and half) is added and simmered for about 10-15 minutes until the potatoes are fully cooked.
THICKEN. Mix together the flour and dairy, and add it to thicken your chowder. Simmer for another 10 minutes, and voila!
I've tried a lot of varieties of clam chowder, and I love that this one isn't very fishy tasting. The clams and clam juice make it delicious and flavorful without being too salty. The bacon adds another little boost of flavor, and is the perfect complement to the clams. This chowder is so good!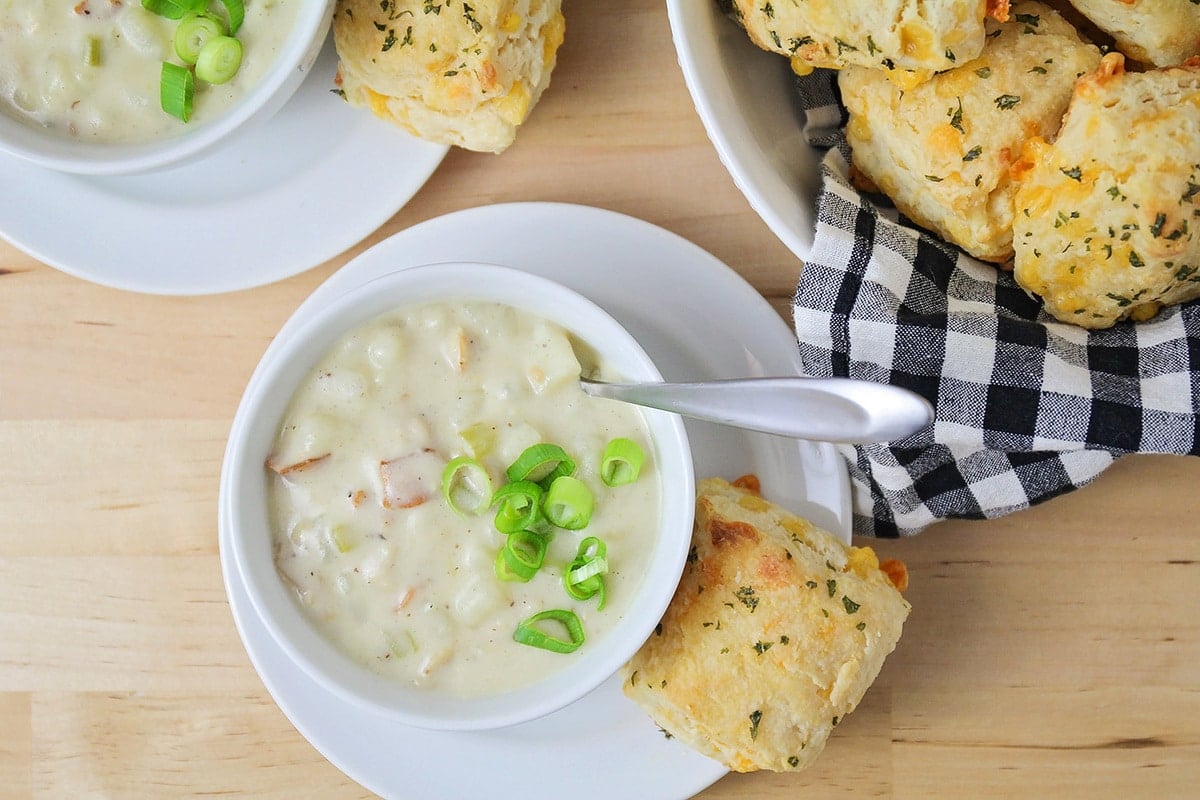 SERVING & VARIATIONS
Sides: I like to serve this chowder with some warm crusty bread or cheese biscuits on the side, and a green salad to balance things out a little. It's one of our favorite cold weather meals!
Toppings: We like to top ours with sliced green onions and oyster crackers, with maybe a little crumbled bacon thrown in there too. Yum!
Potatoes: I've made it with both russet potatoes and red potatoes, and it's delicious either way.
Thicker/Thinner: If you want to lighten the chowder up a little, you can replace some of the half and half with milk, and it will still be quite tasty, but I love the richness that the half and half gives the soup.
Storing. If you have leftovers, be sure to place in an air-tight container and refrigerate for up to 3 days.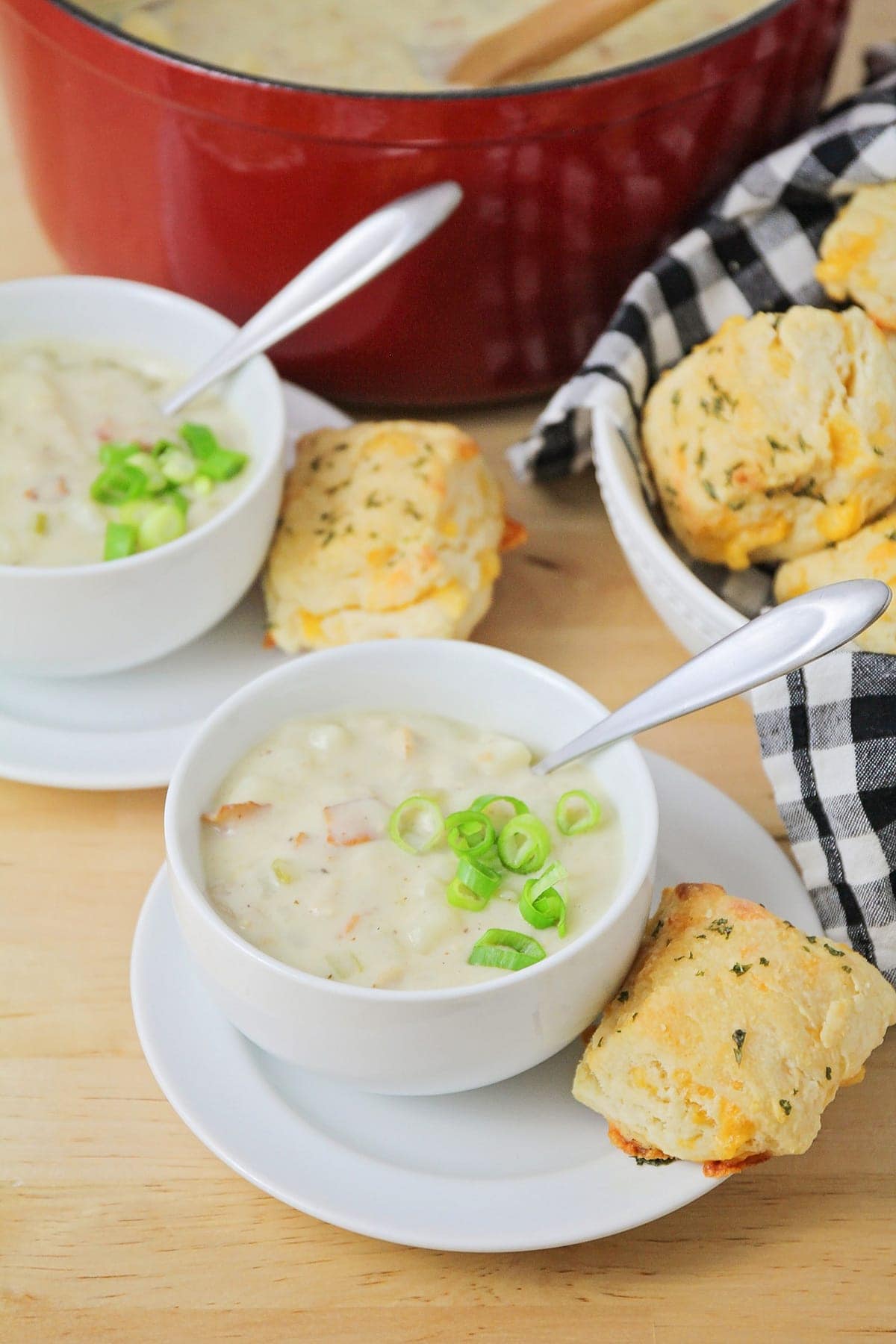 This Boston clam chowder is every bit as flavorful and delicious as the chowder from my favorite restaurant at the coast, but I love that I can make it at home. Give it a try and you'll love it as much as I do!
For more of our favorite creamy soups, try:
Clam Chowder Recipe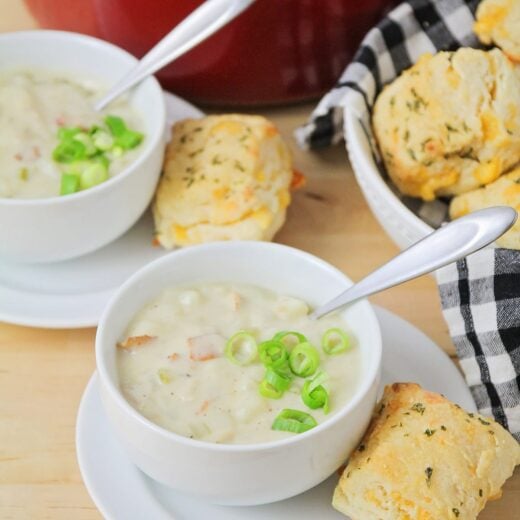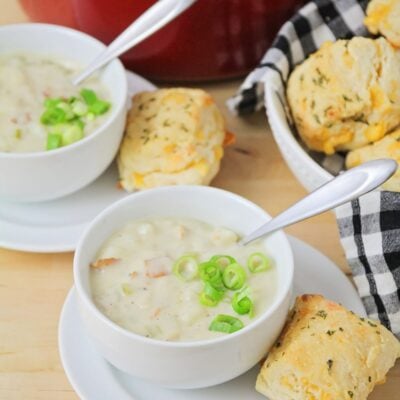 This savory clam chowder is so flavorful and delicious, and super easy to make. It's the perfect warm soup for a cozy night!
Ingredients
5

slices

bacon

chopped

1

tablespoon

butter

1/2

cup

celery

chopped

1

medium onion

chopped

2

teaspoons

minced garlic

4-5

medium potatoes

peeled and cut into ½ inch cubes

3

6.5 ounce cans

clams

drained and juice reserved

1

cup

chicken broth

1/2

teaspoon

pepper

1 1/2

teaspoons

salt

1

teaspoon

Old Bay seasoning

1/3

cup

all-purpose flour

1

cup

half and half

1

cup

milk
Instructions
Add the bacon to a large pot over medium heat, and cook until crisp and browned. Remove the bacon from the pot and place on paper towels to drain.

Add the butter, celery, onion, and garlic to the pot, and cook 3-4 minutes, until the onions and celery are softened.

Add the potatoes, chicken broth, clam juice, pepper, salt, and Old Bay seasoning to the pot. Simmer 10-15 minutes, or until the potatoes are cooked through and easily pierced with a fork.

In a small bowl, whisk together the flour, half and half, and milk. Pour the flour mixture into the pot and cook 10 minutes, or until thickened.