Velvety homemade cream of broccoli soup is healthy, rich and so simple. It's filled with flavor creamy goodness and so much flavor!!
Pour this delicious cream of broccoli soup into bowls (or bread bowls) and enjoy! Ham and Cheese Sliders and Grilled Cheese are perfect if you need something more filling.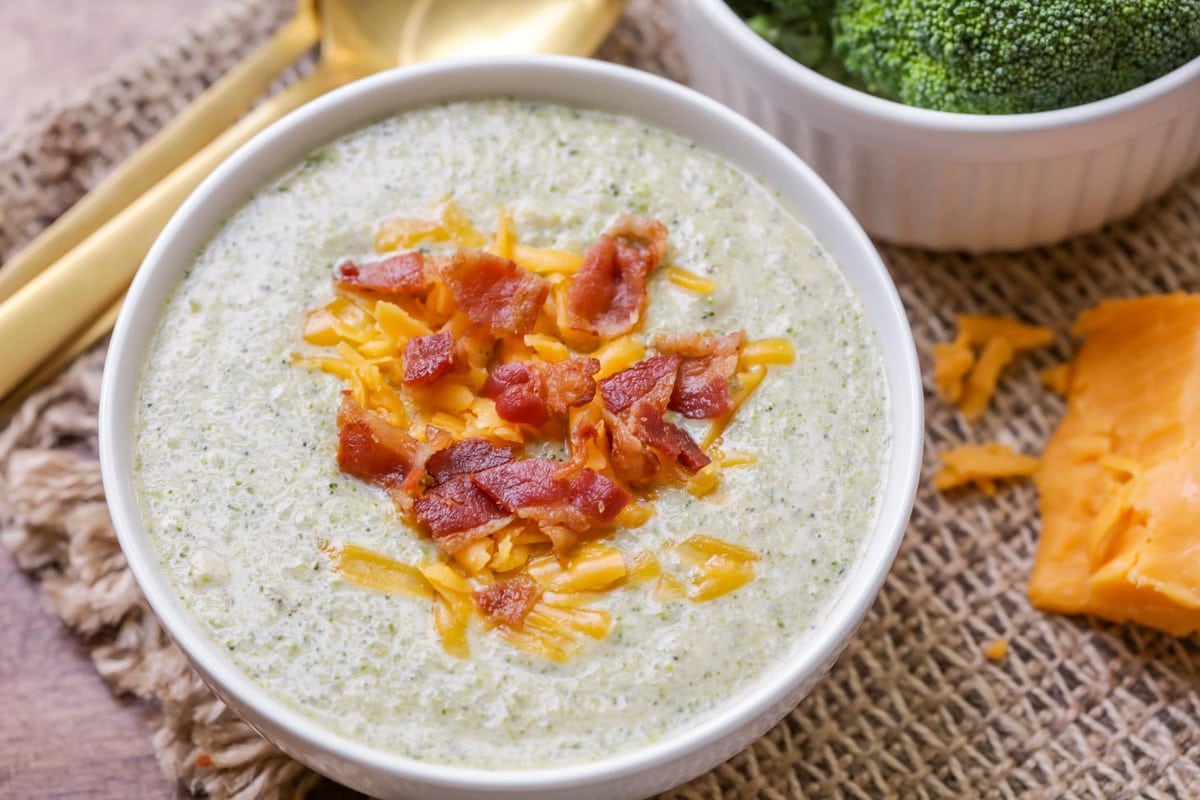 Cream of Broccoli Cheese Soup
After a busy day, the last thing I want to do is think about what's for dinner. I try to meal plan to make things easier, but sometimes even then, I just want to do something simple like soup. We have been long-time fans of Broccoli Cheese Soup and have been wanting to try a cream of broccoli cheese soup.
This broccoli soup is loaded with healthy green broccoli but also has a creamy texture that your family will devour. Did I mention it can be made in under 30 minutes? That's my kind of recipe.
This soup is delicious just in a bowl and eaten on it's own, but you could take it to the next level but serving it in bread bowls. Are bread bowls the best invention ever? I think so. I promise this soup will be on rotation all fall/winter long!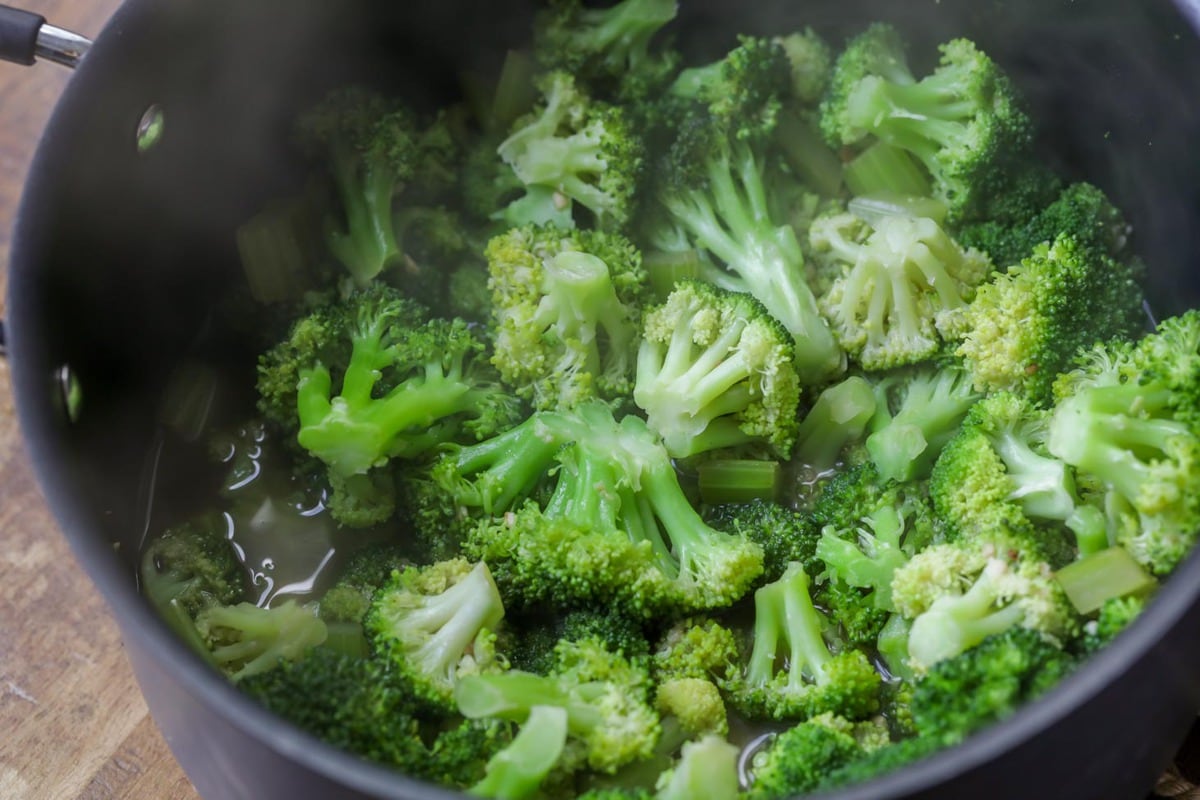 How to Puree Broccoli for Soup
Pureeing broccoli for soup is easier than it looks.
SAUTE. Begin by sautéing the garlic and celery in butter on a stovetop until tender. Add 8 cups of broccoli florets and the broth.
SIMMER. Cover this mixture and let simmer for 15 minutes. While the broccoli is simmering, melt 3 tablespoons of butter on low heat in a small saucepan. Stir in the flour, add the milk, and stir until thick and bubbly.
PUREE. Take the broccoli/broth mixture and pour into a blender in batches. Pulse for a few seconds and then blend until smooth. You can use any kind of blender, a food processor, or an immersion blender. Any of those will work perfectly for blending this soup to perfection.
SERVE. Once you have blended the soup, combine it with the flour mixture. Season with garlic salt and pepper. Then stir in some grated cheddar cheese (yum!!).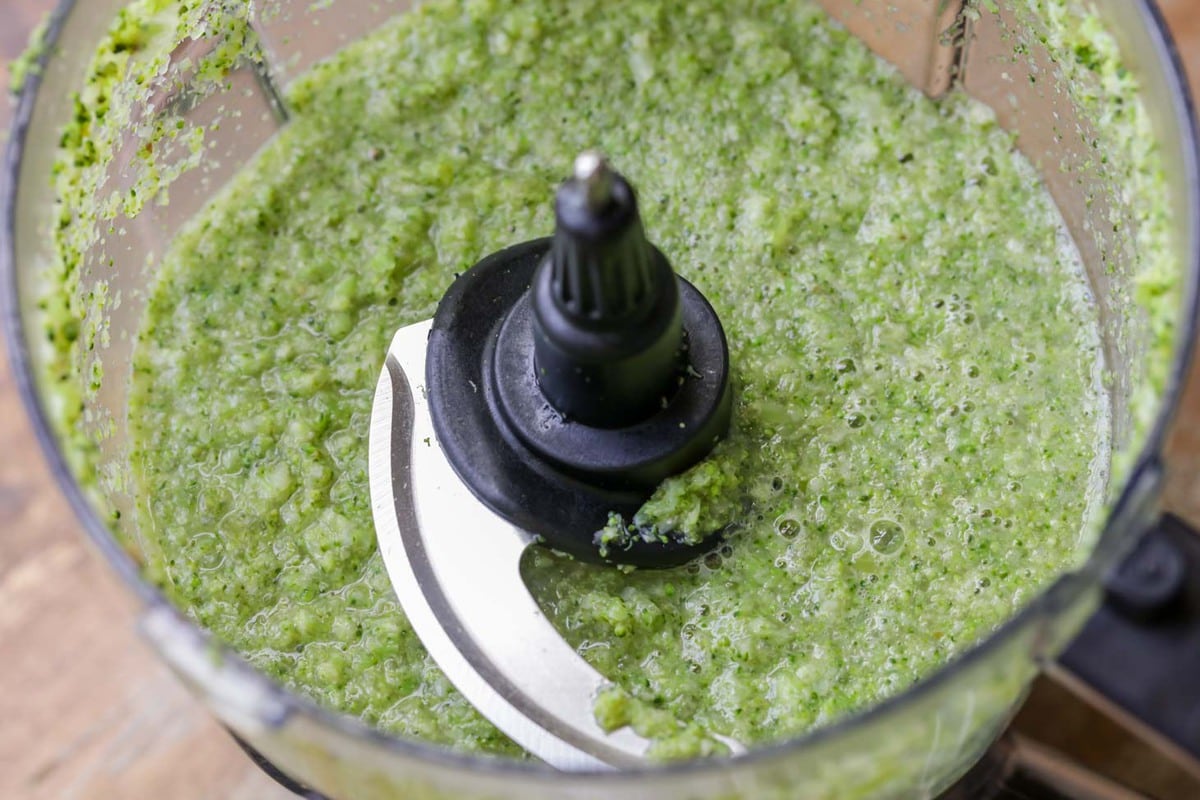 Tips, Variations + Storing Info
We recommend fresh broccoli, but you will most likely need another cup of chicken broth AND a longer time to cook the frozen broccoli before pureeing.
Best loved toppings:
cheese
bacon
sour cream
croutons
Crockpot: Cut up your broccoli florets and place in the blender with everything else except the half and half/heavy cream. Cook it on low for 6 hours or on high for 4 hours. If it isn't your desired texture you can take an immersion blender and blend it to be smoother. About 30 minutes before serving add in the cream.
Instant pot: use the sauté function on the instant pot to sauté your garlic and celery. Then add in the broccoli, chicken broth, and any other vegetables. Cook on high for 1 minute. Let it sit for about 5 minutes before you switch the valve to venting. Add in your cheese and half and half at this point and blend if desired.
Immersion blender: If you are making the soup in a large stockpot then using an immersion blender is a great option, because you don't have to try to pour the soup into a blender and risk spilling it everywhere. 
Thicken: Thicken this soup by adding more half and half or using a cornstarch slurry. If you want to thin it out you can add more chicken broth or what.
Cornstarch slurry

:

In a separate bowl add 1 tbsp cold water and 1 tbsp cornstarch. Mix and pour into the soup. Repeat if desired. 
Make ahead: If you want you can make this soup ahead of time to store in the fridge for a couple days or in the freezer until you want to serve it. I suggest following the recipe, except for adding the half and half. Wait to stir in the dairy until you have heated up the soup.
STORE leftovers in an airtight container in the fridge for up to 4 days. Reheat on the stove over medium-low heat you can also use the microwave.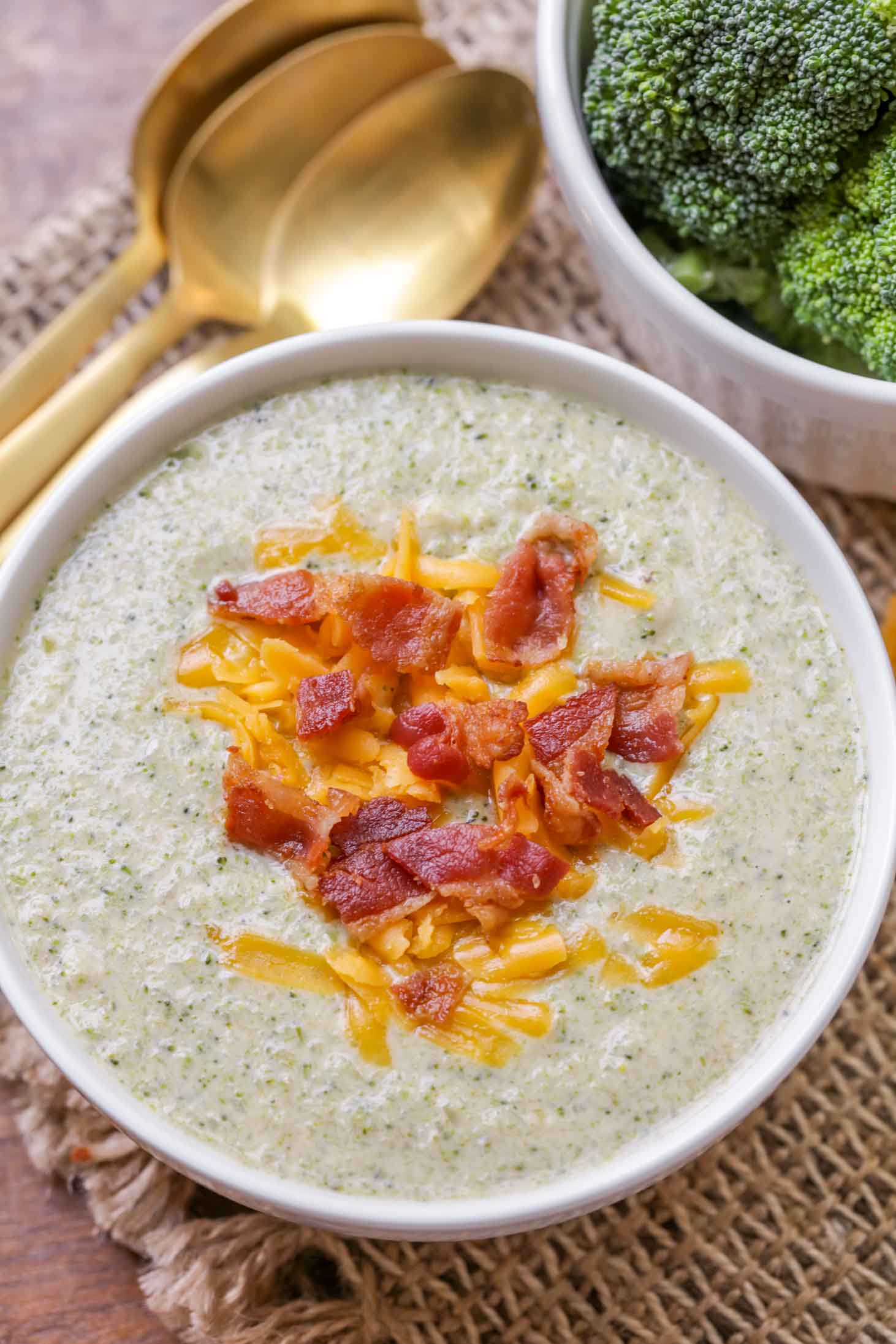 For more soups with broccoli, be sure to check out:
Cream of Broccoli Soup Recipe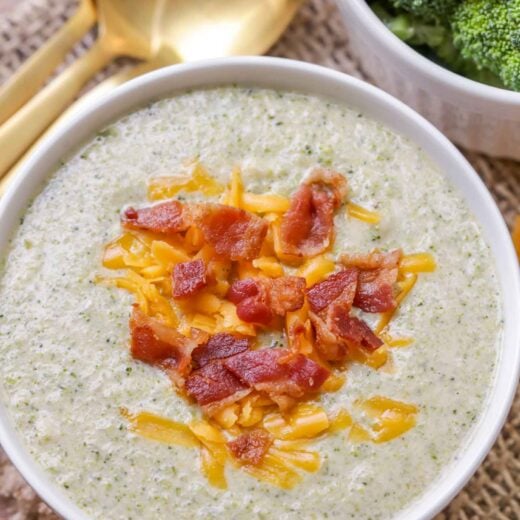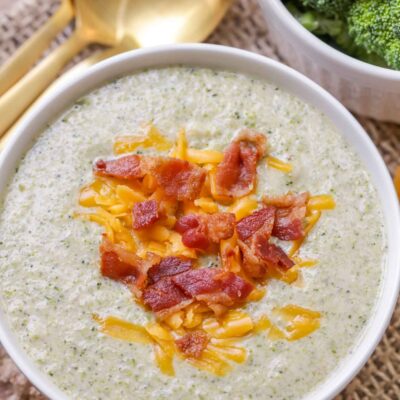 Velvety homemade cream of broccoli soup is healthy, rich and so simple. It's filled with flavor creamy goodness and so much flavor!!
Ingredients
2

TB

butter

1

tsp

minced garlic

2

sticks

celery

chopped

3

cups

chicken broth

8

cups

broccoli florets

3

TB

butter

3

TB

all purpose flour

2

cups

Half and Half

1-2

tsp

garlic salt (with parsley flakes)

1 1/2

cups

cheddar cheese

shredded

pepper to taste

bacon and shredded cheese for garnish
Instructions
In a medium stock pot, melt 2 tablespoons butter and saute garlic and celery until tender. Add broccoli and broth, cover and simmer for 15 minutes.

Meanwhile, in a small saucepan, over low heat, melt 3 tablespoons butter, stir in flour and add milk. Stir until thick and bubbly.

In batches, pour the soup into a blender and pulse for a few seconds, then puree until smooth.

Add soup to flour mixture. Season with garlic salt and pepper and stir in cheddar cheese.

If desired, garnish with more cheese and bacon.