Such a tasty and simple recipe – this Chicken Wild Rice Soup is filled with long grain and wild rice, chicken, carrots, almonds and more!
Chicken and rice is one combination that is perfect for cold days, or when you're feeling under the weather. We have another soup recipe with chicken and regular rice, and a cheesy chicken and rice bake that are both just as comforting as this soup!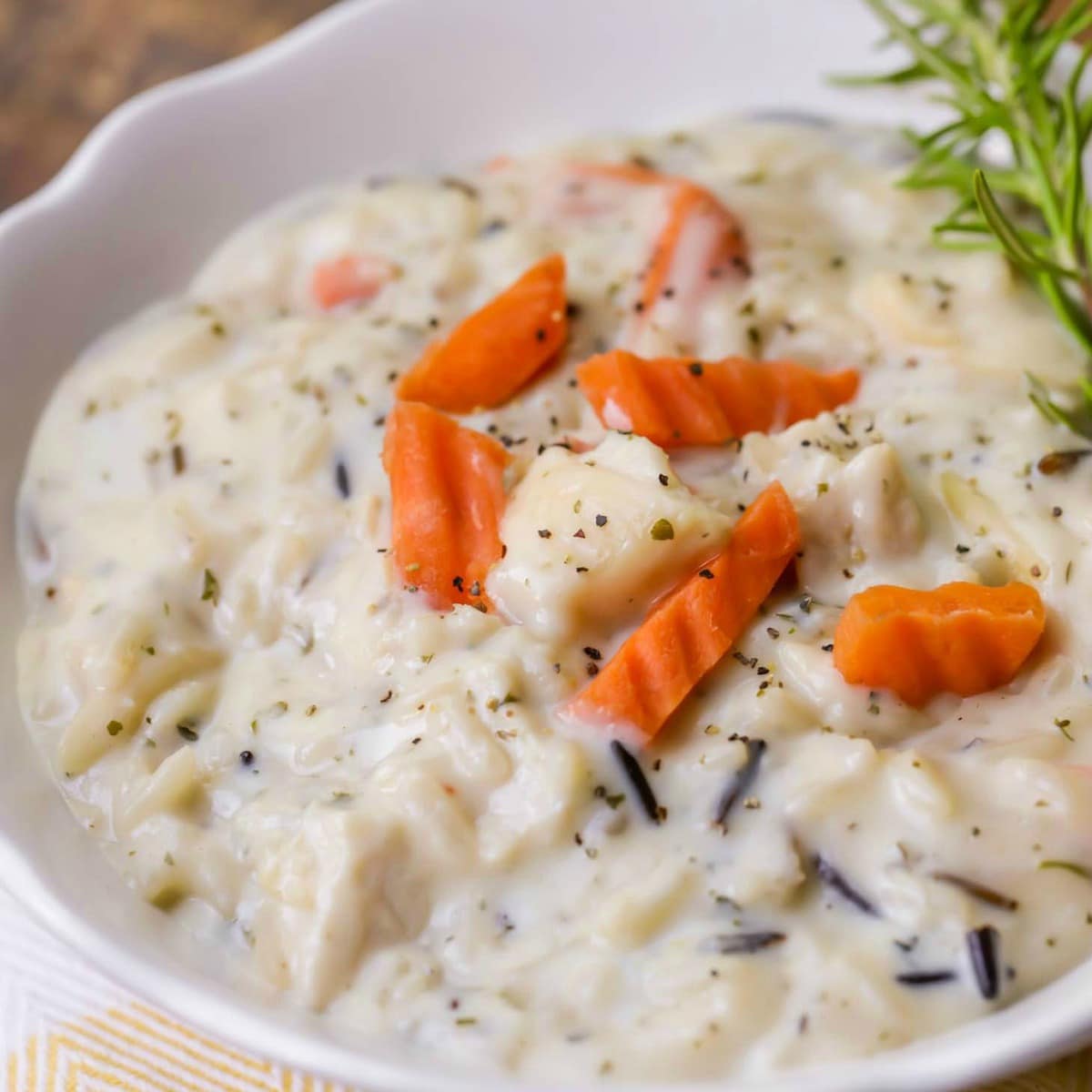 Simple wild rice soup
I had seen a recipe for Wild Rice Soup and thought it sounded heavenly and was excited to try it out, especially since I've never had a similar recipe. Looking at the ingredients, I knew it would be great soup, and I'm glad we tried it because it was delicious!
This particular recipe has chicken broth, long grain and wild rice, chicken, carrots, almonds and half and half. How can you go wrong with a soup recipe that has all of those yummy ingredients? What we loved most about it (other than the flavor) was it's simplicity. You pretty much throw things in the pot and let them cook and you're done. Like I said – simple!!
How is wild rice different than white/brown rice? The biggest difference is that wild rice in not rice at all. It is actually a species of grass. It also has about 30% fewer calories than brown rice and 40% more protein so it's a pretty healthy alternative.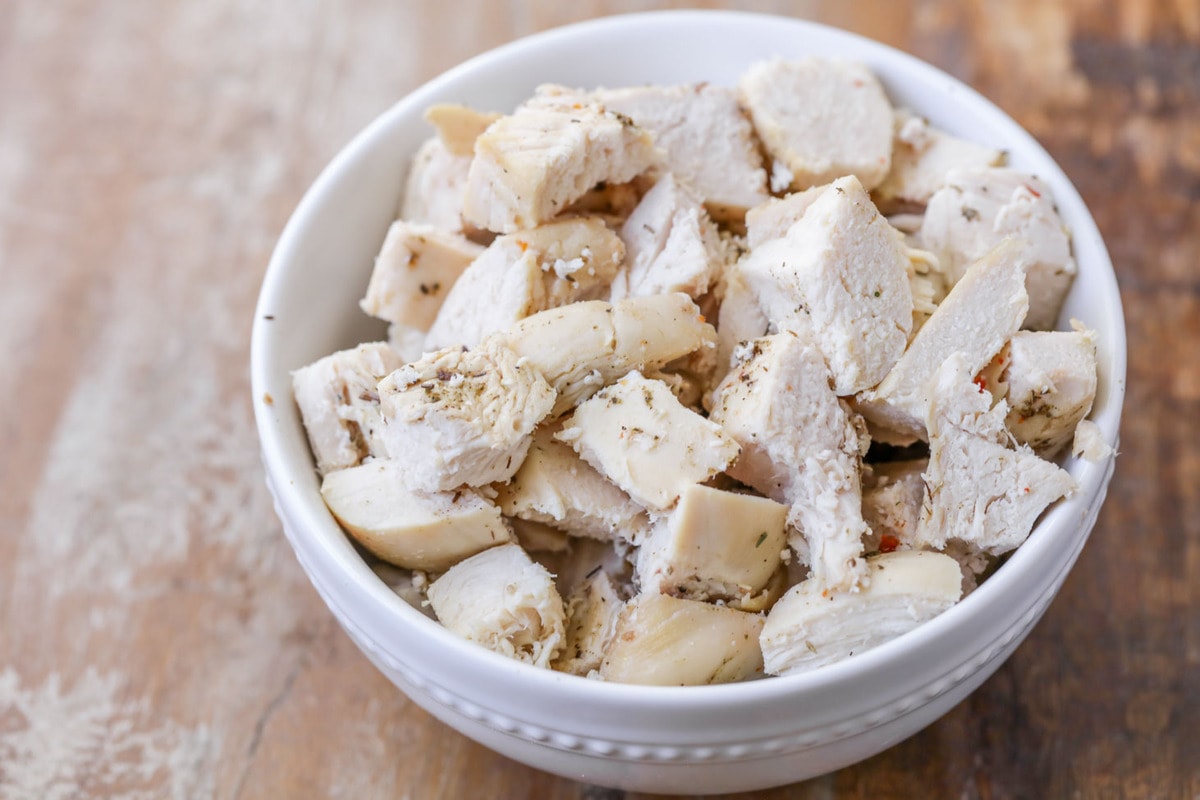 TIPS AND TROUBLESHOOTING
How can I make this soup gluten free? Instead of adding flour in step one you could use a gluten free cornstarch. In a separate bowl add ¼ c cornstarch with ¼ c cold water. Mix until smooth. Melt butter in a saucepan stir in the cornstarch mix, then add chicken broth. Stir constantly while heating. Add remaining ingredients per recipe directions.
What do I do If the soup is too thin/thick? If your soup is too thick just add a bit more chicken broth until you reach the desired consistency. To thicken, try any of the following options:
Add 1-2 tablespoons of half and half. Stir and allow the cream to thicken soup. Repeat as needed.

Add more flour: in a separate bowl mix 1 tablespoon of flour with 1 cup of soup. Stir until flour is smoothly blended, then return to the soup. Repeat as needed.

Add cornstarch: in a separate bowl add 1 tablespoon cornstarch with 1 tablespoon cold water. Mix until smooth, then slowly pour it into the soup, stirring constantly. Repeat as needed. 
Slow cooker instructions
You will still want to complete the first two steps as written 1. Melt butter in a pot, add flour. 2. Add chicken broth and bring to a boil. Then, pour it into the slow cooker. Next, add the remaining ingredients except for the cream.
Because the chicken and rice are already cooked, you will only need a few hours in the crock pot. Cook on high for 1.5 – 2.5 hours or low for 3-4 hours. Add the cream toward the end of the cook time. Pour slowly and stir.
Allow the soup to cook for 15-20 more minutes. Serve!
Storing & Freezing
Wild rice soup makes a delicious freezer meal. Allow soup to cool and pour into an airtight freezer safe container. Label and freeze for months. Thaw overnight in the fridge and reheat on the stove or in a crockpot. Here are a few freezing tips to keep in mind:
Leave out the cream add it in once the soup has been thawed and reheated. Be sure the soup is not boiling and slowly pour in the cream stirring constantly.

Undercook the vegetables. Cooked frozen vegetables tend to get a little soggy. Undercooked vegetables will stay more firm while frozen and will finish cooking as the soup is reheated.

Store the soup in individual portion size containers.
How to store leftover soup:
Refrigerate: Cover and store in the fridge for 3-4 days.

Freezer: Though you can freeze leftover soup the cream in it may separate and become a little grainy. Reheating the frozen soup very very slowly over low heat can help the cream incorporate back into the soup. You can also add a bit more fresh cream to help with the texture. To freeze allow the soup to cool and store it in freezer safe airtight containers. Freeze for 4-6 months. Thaw overnight in the fridge. Reheat

Reheat leftovers in the microwave or on the stove top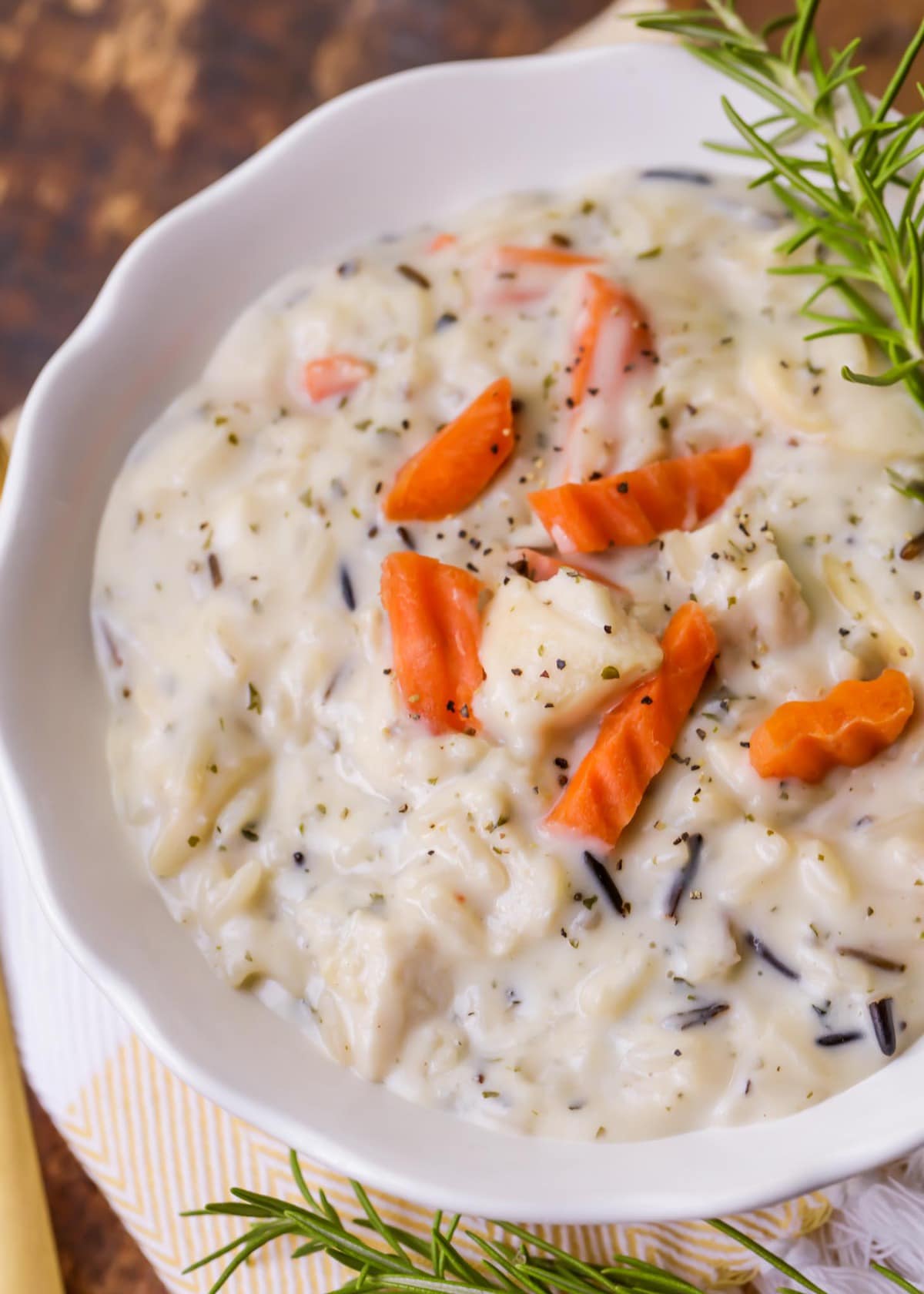 If you've been looking to try a creamy chicken wild rice soup, I suggest this one. You can add or omit any ingredients you'd like (add or minus celery, mushrooms, etc). We loved it as is and are excited to add it to the menu for this fall.
What goes well with wild rice soup
?
This recipe calls for carrots, but you can easily add other veggies such as cauliflower, butternut squash, bell peppers, mushrooms, celery, and/or parsnips. You can top your soup with oyster crackers or bacon bits. Serve with crusty bread and a side salad. Round off the meal with a delicious piece of pecan or pumpkin pie.
For more chicken soup recipes, check out:
Chicken Wild Rice Soup Recipe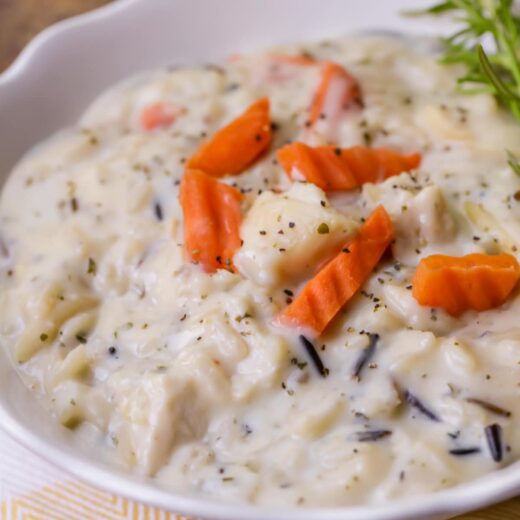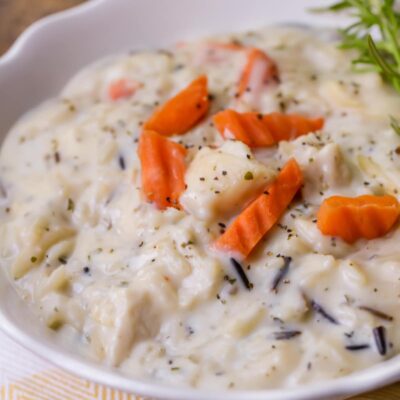 Such a tasty and simple recipe - this Chicken Wild Rice Soup is filled with long grain and wild rice, chicken, carrots, almonds and more!

Ingredients
6

tbsp

butter

1/2

cup

all-purpose flour

4

cups

chicken broth

6

oz

Uncle Ben's Original Recipe Long Grain & Wild Rice

(cooked)

2

cups

chicken

cooked and chopped

1/2

cup

sliced carrots

3

tbsp

slivered almonds

1/2

tsp

salt

1

cup

half and half
Instructions
Melt butter in a pot, and add flour. Stir until combined creating a roux.

Add chicken broth and bring to a boil.

Add cooked rice and bring to a simmer. Cook for 5 minutes.

Add remaining ingredients and heat through. ENJOY!