We love chicken. We love rice. We love broccoli. And we love casseroles.
When I spotted this recipe on Kraft, I knew it would be delicious because it has all the ingredients I listed above. Oh yeah, and it has cheese AND cream cheese – you definitely can't go wrong when multiple versions of cheese are involved!
Today's recipe for Cheesy Chicken Rice Bake is filled with so much flavor and is very simple to make. I'm not going to lie, but not all my kids love broccoli so a few were picking it out. Fortunately, the dish was so flavorful that most of them didn't even realize it was in there (win)!! My husband likes the cheese on top of anything a little more cooked so we broiled it for the last minute or two. This is another dinner recipe to add to the rotation. It is hearty, simple and delicious.
Here is the recipe:

Cheesy Chicken Rice Bake
Ingredients
1 TB oil
1 lb. boneless, skinless chicken breast, cut into bite-sized pieces
2 cups small broccoli florets
1 cup chicken broth
1¼ cups instant white rice, uncooked
1 - 8 oz. bar cream cheese
2 TB milk
1 teaspoon Italian seasoning
garlic salt (to taste)
pepper
1 cup shredded Italian 5 cheese
Instructions
Preheat oven to 350.
Heat oil in large skillet and cook chicken and broccoli. Cook until chicken is no longer pink.
Stir in broth and bring to a boil. Add rice, cream cheese, milk, Italian seasoning, garlic salt and pepper. Mix well.
Spoon into greased 8x8 baking dish.
Top with shredded cheese. Cover and bake for 22-26 minutes. ENJOY!
Recipe adapted from Kraft Foods.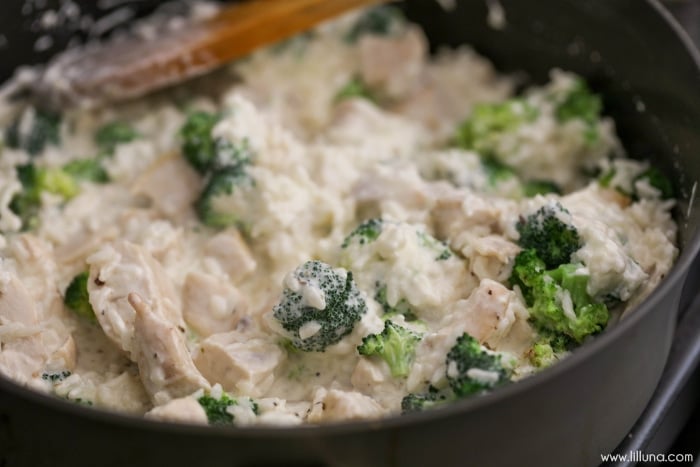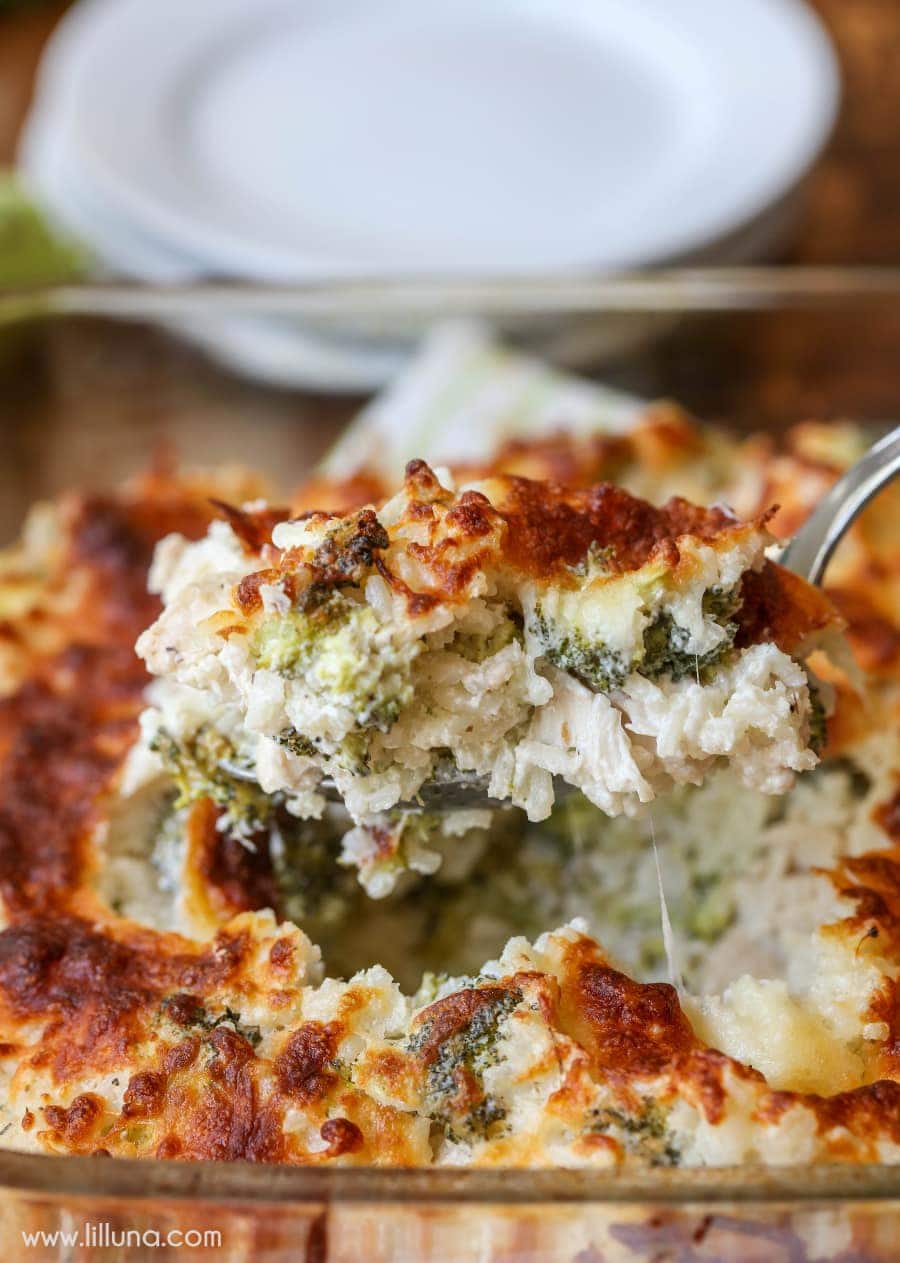 For more delicious chicken dishes, check these out: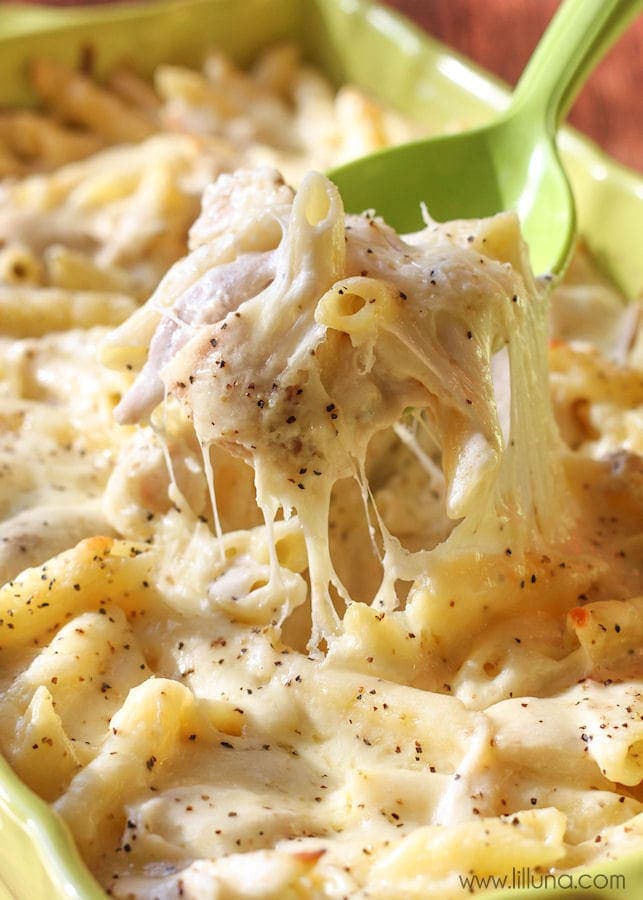 Check Out My Other Recipes
Cheesy Chicken Alfredo Casserole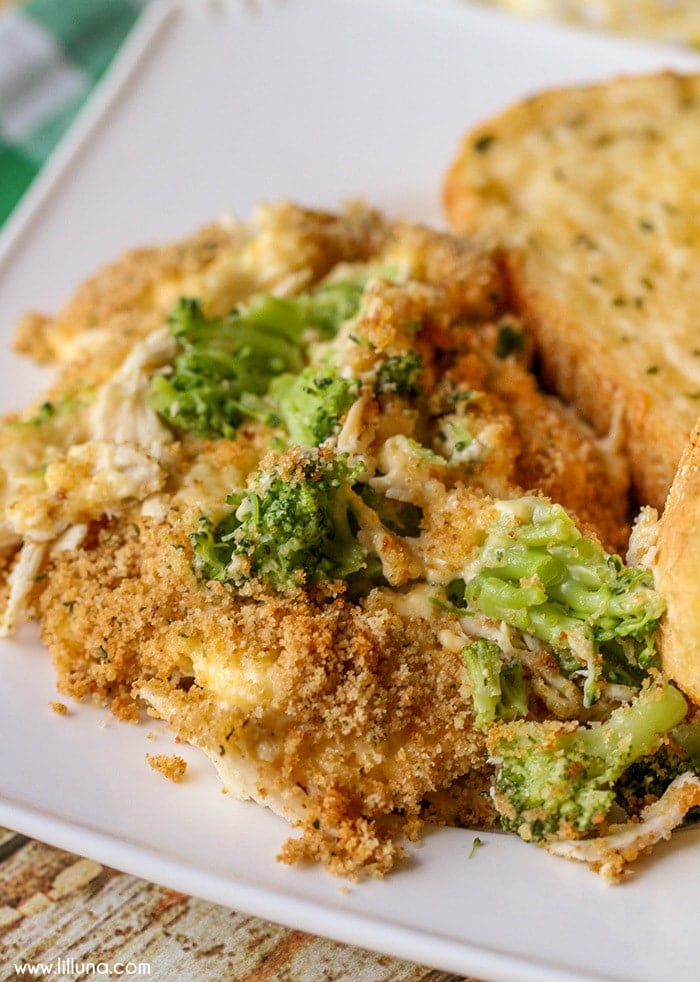 For all dinner ideas on the site go HERE.
For all recipes go HERE.
For even more great ideas follow me on Facebook – Pinterest – Instagram – Twitter – Periscope –Snapchat.
ENJOY!
Need more recipes and creative ideas? Sign up and get a FREE copy of my latest ebook!