One of the BEST broccoli casserole recipes! This Cheesy Chicken Broccoli Casserole is a simple, quick and delicious dinner filled with chicken, broccoli and cheese and topped with buttered bread crumbs! The whole family loves this easy chicken broccoli and cheese casserole.
Casseroles don't get enough credit for being one of the easiest and most satisfying dinner items! This Chicken and Broccoli casserole is one of the most common casseroles we make, but we also love Chicken Cordon Bleu Casserole, and Chicken Noodle Casserole.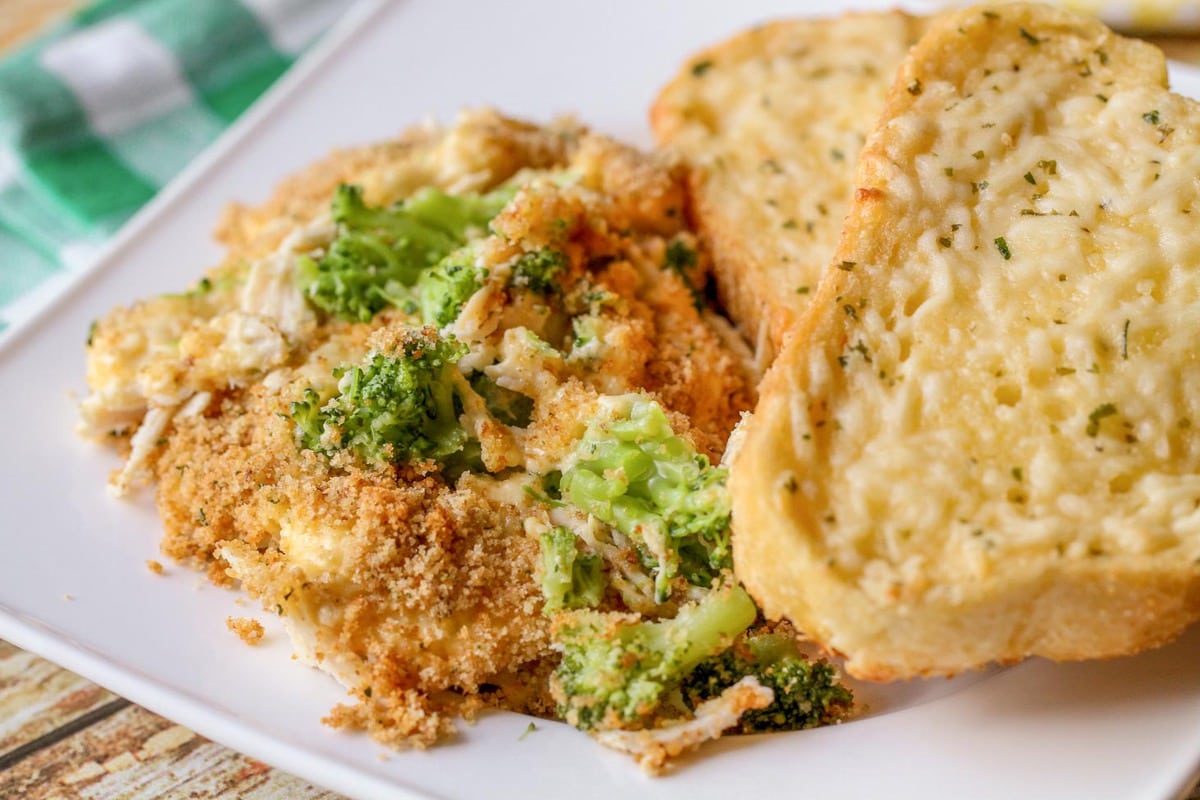 Chicken, broccoli, and cheese!
Are there any dinner recipes that you can think of that you hated as a child, but love now?? Today's recipe happens to be one of those…
My mom has been making this Cheesy Chicken Broccoli Casserole for as long as I can remember. It was one of those dinner recipes I cringed about because it was full of BROCCOLI!! Yes, I'd eat the chicken and everything else, but would try to spread the remaining broccoli pieces all over my plate to make it look like I had eaten more than I had.
Now, I can't get enough of this recipe!! Fortunately, I grew up and love broccoli. I'm still trying to convince my kids they love it too, but in the meantime they can do what I did and just eat around the big, green chunks. 😉 At least the hubby and I and a few of the kids love this recipe, which means I try to add it to the menu plan as much as possible. 😀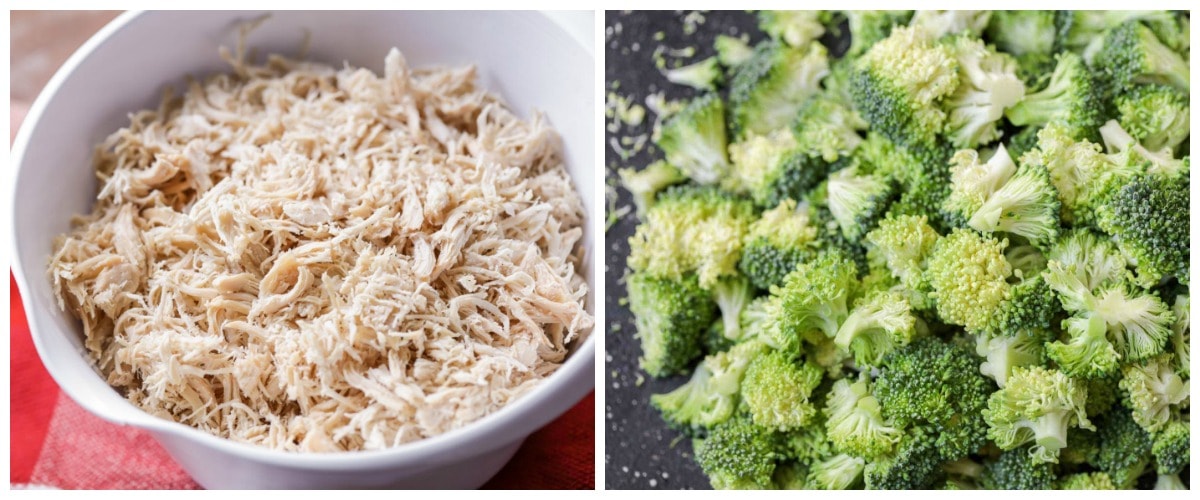 How to make Chicken Broccoli Casserole:
The beauty of casseroles is that you just throw everything together in a casserole dish and pop it in the oven. This cheesy broccoli casserole is no different! It's SO simple. All you have to do is follow these steps:
Begin by cooking your broccoli, draining it and placing it in a 9×13 pan. Then layer the shredded chicken on top (for a post all about the best ways to shred chicken GO HERE).
In a bowl, mix together the soup, mayo, lemon juice and cheese and then spread over the chicken.
Put melted butter and bread crumbs in a Ziploc bag and shake to mix. Then pour over the soup mixture and bake at 350 for 35 minutes or until heated through.
Switch it up
There are a lot of ways to change up the favors in this dish. Try one of these ideas:
Replace the cheddar cheese with something different such as a Mexican cheese blend.

Shred a store bought rotisserie chicken or replace the chicken with shredded beef.

Exchange broccoli for cauliflower or asparagus.

Add some spice using tabasco or red chili flakes.

Add a can of black beans.

Replace a can of cream of chicken with a can of cream of mushroom.

Replace the bread crumbs with french fried onions.
Storage & Freezer meal tips
Store. Just place in an air-tight container in the fridge for up to 3 days.
Reheat. To reheat quickly you can use the microwave. Place the leftover casserole in a microwave safe dish, and heat for 1 minute. Stir and heat in 30 second increments until you've reached your desired temperature.
You can also reheat in the oven. It takes longer, but the quality of the dish is better than the microwave. Place in an oven safe dish. Heat the oven to 350 degrees and bake for 20 minutes or until it reaches the desired temperature.
Freezer Meal. Broccoli casserole makes a great freezer meal. Follow the directions as written. Except for adding the bread crumbs. Make sure it is in a freezer safe dish and wrap tightly. Freeze for 2-3 months. When you're ready to use remove from the freezer, thaw, add bread crumbs and bake at 350 for 35-40 minutes.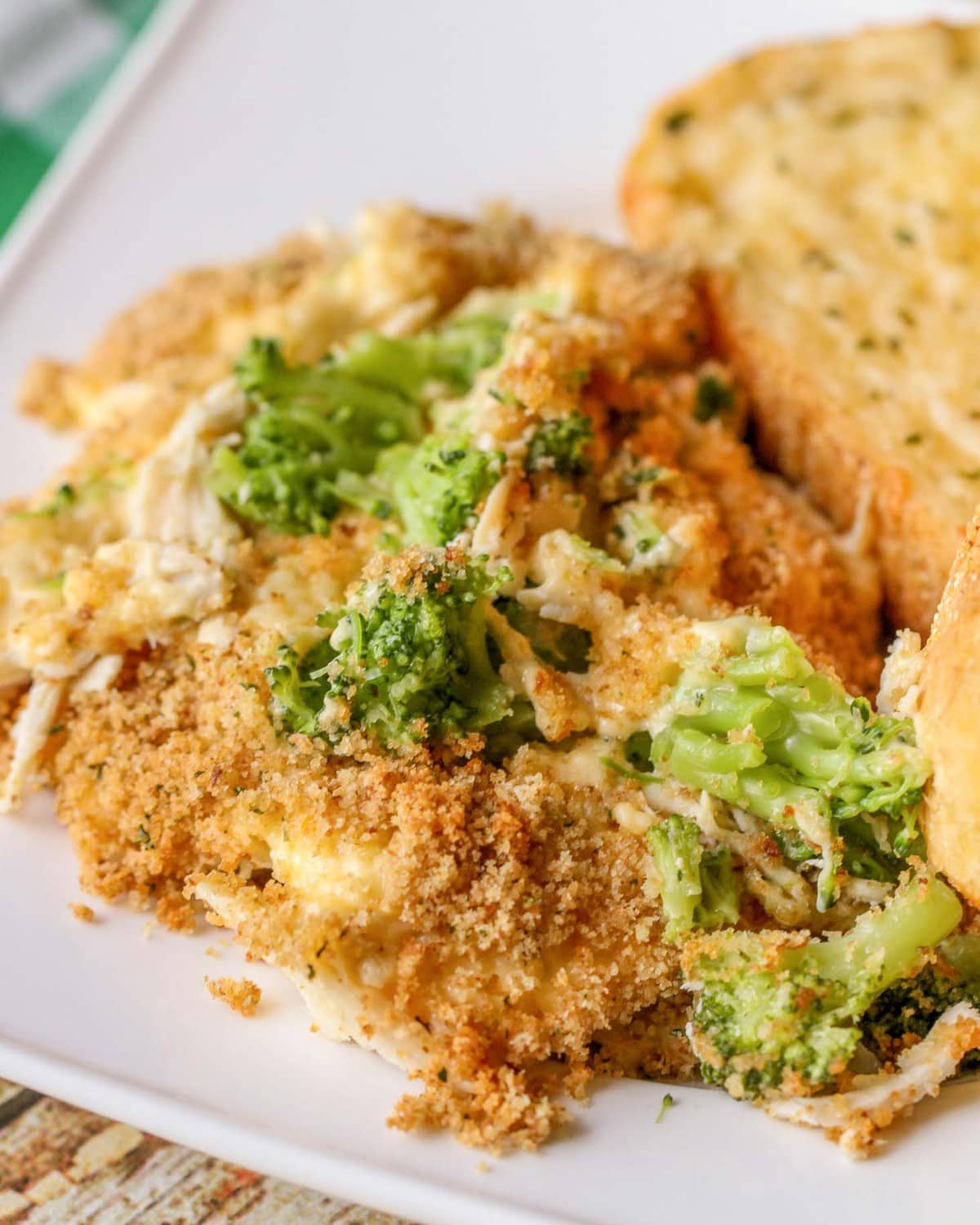 We are all about simple, delicious casserole dishes at our house so we are glad to have this chicken broccoli casserole back in the rotation. It's a Sunday dinner favorite!
For more chicken casserole recipes, check out:
Chicken Broccoli Casserole Recipe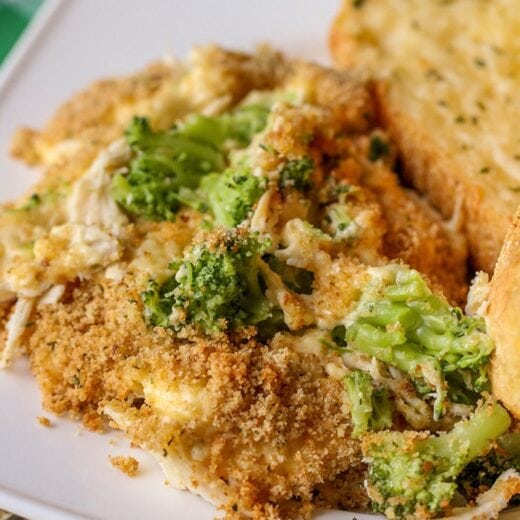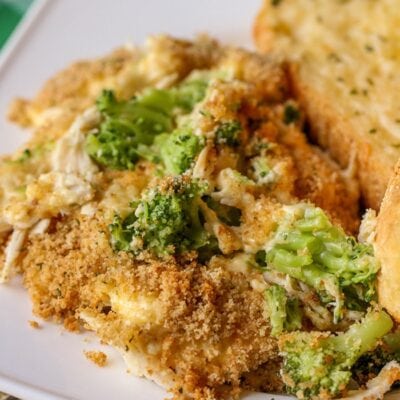 Cheesy Chicken Broccoli Casserole is a simple and delicious dinner recipe - a family favorite for generations!
Ingredients
4

chicken breasts

cooked and diced, or shredded

1

package

frozen broccoli

2

cans

cream of chicken soup

1

cup

mayonnaise

1

teaspoon

lemon juice

1/2

cup

grated Cheddar Cheese

1/3

cup

bread crumbs

2

tablespoon

butter

melted
Instructions
Cook and drain broccoli and put it in the bottom of a 9x13 pan.

Layer chicken pieces on top of the broccoli.

In a medium bowl combine soup, mayonnaise, lemon juice, and cheese and mix well. Spread over the chicken.

Add melted butter and bread crumbs to a Ziploc bag and mix well. Pour over the soup mixture.

Bake for 35 minutes or until heated through.