Are there any recipes that you can think of that you hated as a child, but love now?? Today's recipe happens to be one of those… My mom has been making this Cheesy Chicken Broccoli Casserole for as long as I can remember. It was one of those dinner recipes I cringed about because it was full of BROCCOLI!! Yes, I'd eat the chicken and everything else, but would try to spread the remaining broccoli pieces all over my plate to make it look like I had eaten more than I had. And don't pretend you don't know what I'm talking about because I'm sure you did the same thing as a child with at least ONE of the recipes your mom made. 😉
Now, I can't get enough of this recipe!! Fortunately, I grew up and love broccoli. I'm still trying to convince my kids they love it too, but in the meantime they can do what I did and just eat around the big, green chunks. 😉 At least the hubby and I and a few of the kids love this recipe, which means I try to add it to the menu plan as much as possible. 😀
MY OTHER RECIPES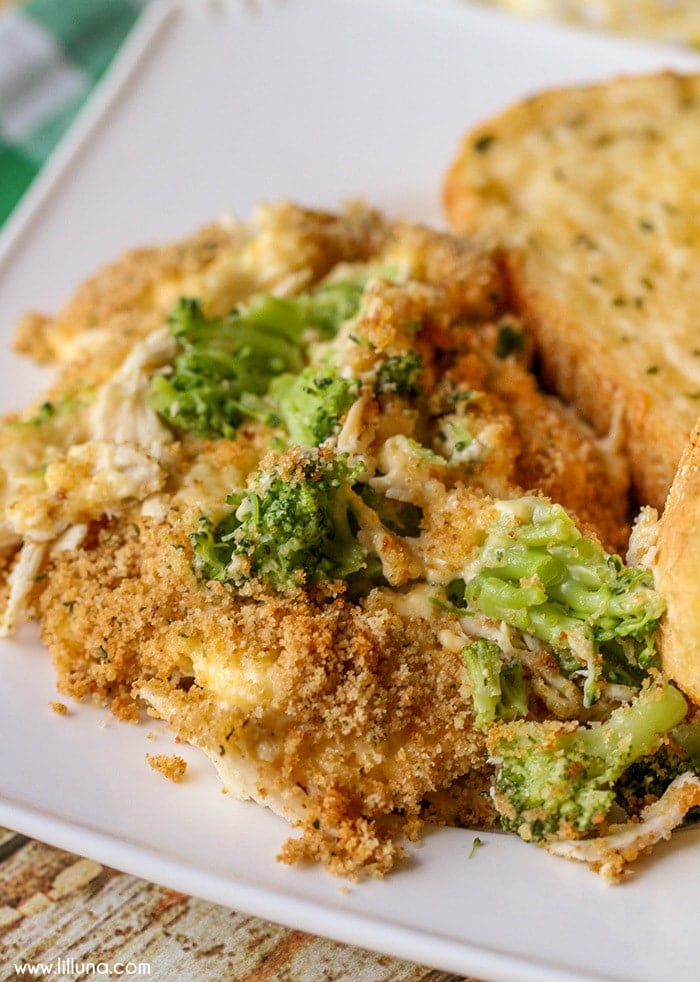 We are all about simple, delicious casserole dishes at our house so we are glad to have this chicken broccoli casserole back in the rotation. It's a Sunday dinner favorite!
For more chicken casserole recipes, check out:
How to make Chicken Broccoli Casserole:
Cheesy Chicken and Broccoli Casserole
Ingredients
4 medium chicken breasts, cooked and diced (or shredded)
2 cans cream of chicken soup
1 cup mayonnaise
1 teaspoon lemon juice
1 package frozen broccoli
½ cup grated Cheddar Cheese
⅓ cup bread crumbs
2 TB butter, melted
Instructions
Preheat oven to 350.
Cook and drain broccoli and put in the bottom of a 9x13 pan.
Layer chicken pieces on top of the broccoli.
In a medium bowl combine soup, mayonnaise, lemon juice and cheese and mix well. Spread over the chicken.
Add melted butter and bread crumbs to a Ziploc bag and mix well. Pour over soup mixture.
Bake for 35 minutes or until heated through.