This delicious collection of Fall Salad Recipes features both green and pasta salad dishes filled with tasty and crisp autumn produce.
More Collections: Fall Recipes, Fall Soups, Fall Dinner, Fall Desserts
Seasonal Fall Salads
Salads are my go-to when I eat out. I love the freshness, and of course the variety of flavors! They make a filling and delicious main dish.
While salads are a popular summer staple, we really love to eat salads all year long. By utilizing seasonal produce, you can switch up the elements of a salad and make them perfect for any season.
This collection of Fall Salad Recipes does just that! Filled with seasonal produce, and topped with the flavors of fall, these salads are fabulous!
Filling enough to be a main dish, or a tasty accompaniment, you will love them all!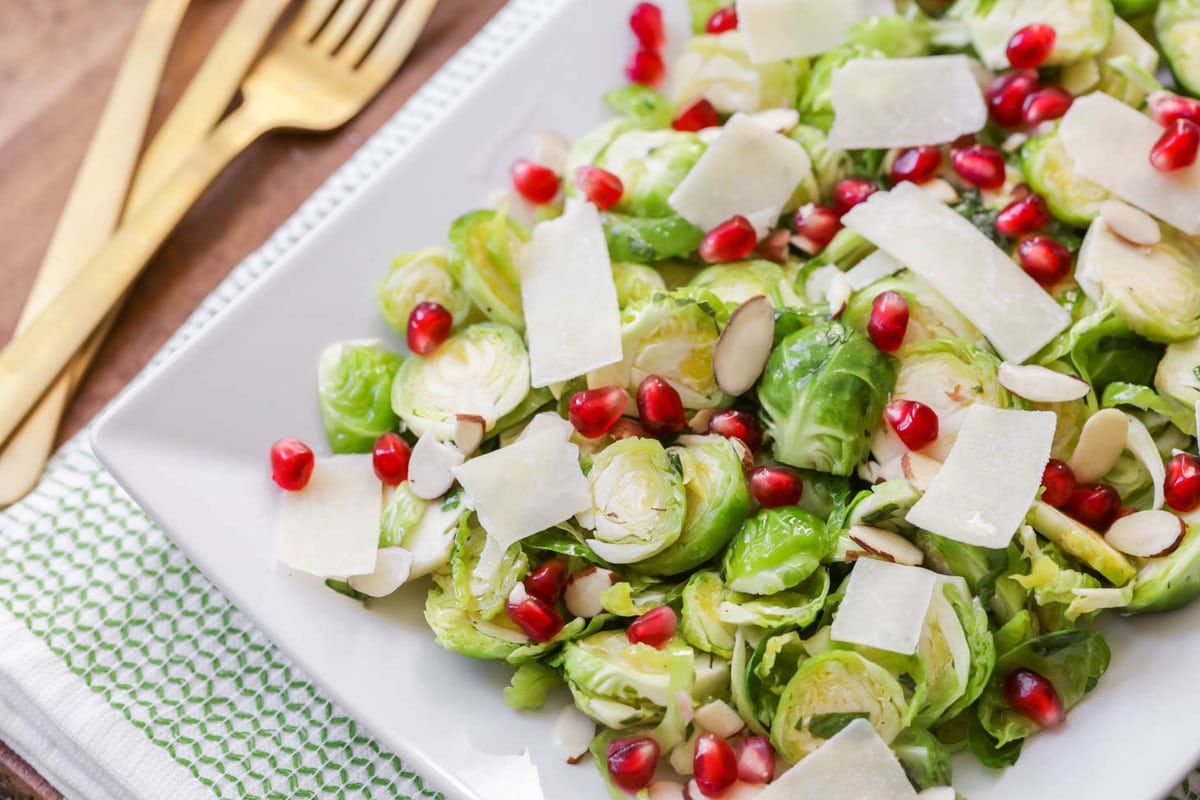 Elements of a Great Salad
When layering a salad I divide it into 4 elements The Base, The Body, The Toppings, and The Dressing.
The Base
The Base of a salad is most often a mixture of leafy greens such as iceberg lettuce, romaine lettuce, cabbage, spinach, arugula, kale etc. You can also use pasta as a base for salad. Generally, I use smaller noodles that you can spear with a fork such as shells, bow tie, penne, wagon wheel, rigatoni.
The Body
The Body includes a layer of produce and proteins.
Favorite produce include Cabbage, Carrots, Broccoli, Fig, Grape, Pear, Pomegranate, Brussel sprout, Cauliflower, Beets, Butternut Squash, Cranberry, Apples, Sweet potato.

The list could go on and you can really use whatever you think tastes great whether it's in season or not. I would say when creating your salad, take advantage of all the different colors and textures there are and give your eyes a feat before your mouth.

Favorite Proteins. I love adding grilled steak or chicken breasts, cubed ham, boiled eggs, bacon. This is a really easy way to increase a salads nutritional value and make them more hearty and filling.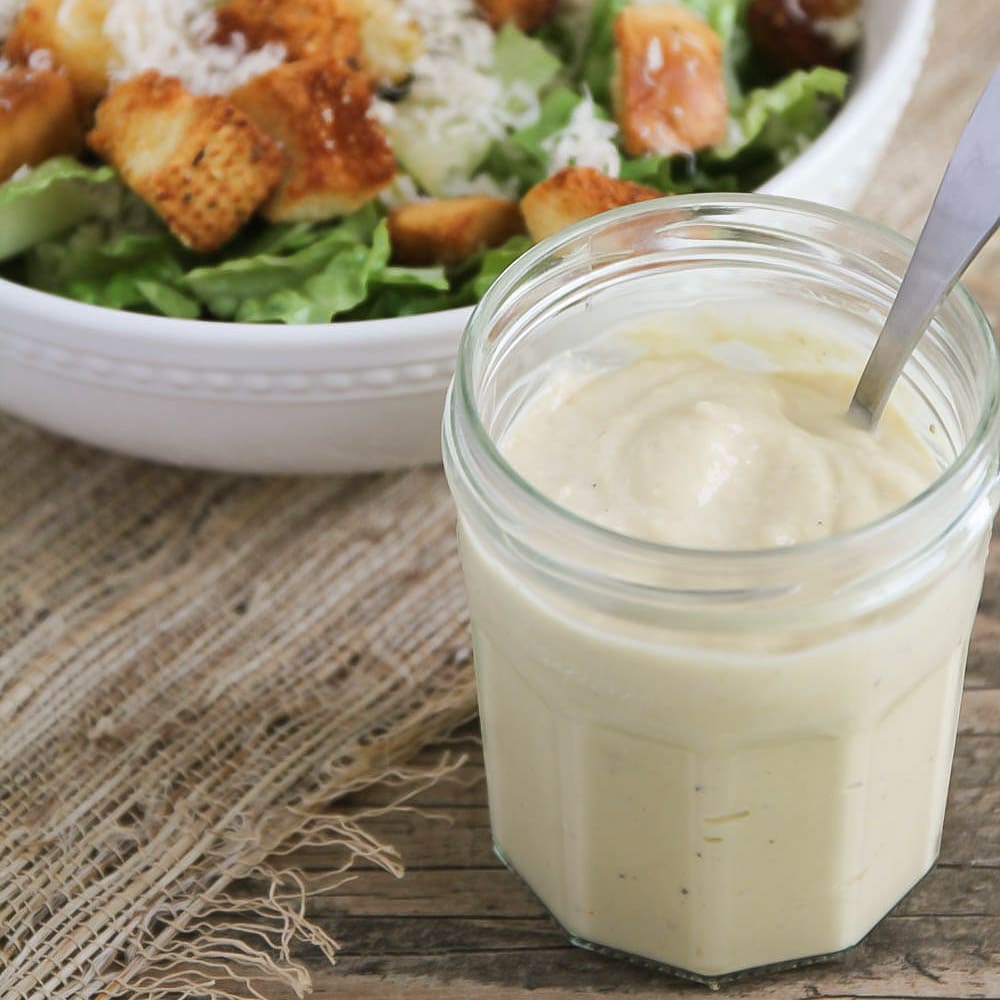 The Toppings
Includes everything else to add flavor, color and lettuce to the salad.
Cheese. Cheese is an easy ingredient to use that will add an extra layer of flavor to pasta salads or veggie salads. It can be cubed, shredded or crumbled. Some favorite cheeses include feta cheese, goat's cheese, parmesan cheese, blue cheese and cheddar cheese.
Nuts and Seeds. Almonds, walnuts and pecans are the most used nuts, but any type can be used.Try them candied: Candied Pecans, Candied Walnuts and Candied Almonds. You can also toss in some poppyseeds, chia seeds, pumpkin seeds or sunflower seeds.
Fresh Herbs. When adding herbs use a very light touch. You don't want their flavor to overwhelm the rest of the dish. Some favorite Autumn Herbs include: parsley, sage, rosemary, thyme, chives, lavender, cilantro, mint. You can also use salt and black pepper to season your salad.
The Dressing
In my opinion, the dressing you put on your salad is just as important as the produce used. Most recipe posts will give you dressing suggestions, but here are some individual dressing recipes you may like to have:
serving + storing info
How much to serve. Another reason salads are great during the fall is because they help balance out heavier, warmer dishes like casseroles and soups. When serving as a side dish plan to serve ½-1 cup (4-6 oz) pasta salad per guest. For green/vegetable salads plan to serve 1-2 c (2 ½ -5 oz) per person.
Make ahead of time. Most salads can be assembled 24 hours in advance and kept covered in the fridge. However, do not add the dressing until right before serving.
Prepare the different elements and keep them in separate containers until you're ready to toss them together and serve. Make dressing up to a week ahead of time and store it in a mason jar in the fridge. Give it a good shake before pouring.
STORE. Leftovers can be stored in the refrigerator for 2-3 days. Note that green salads that already have dressing will only last 1-2 days. Pasta salads tend to get a bit dry when stored, so just add extra dressing before eating the leftovers.
---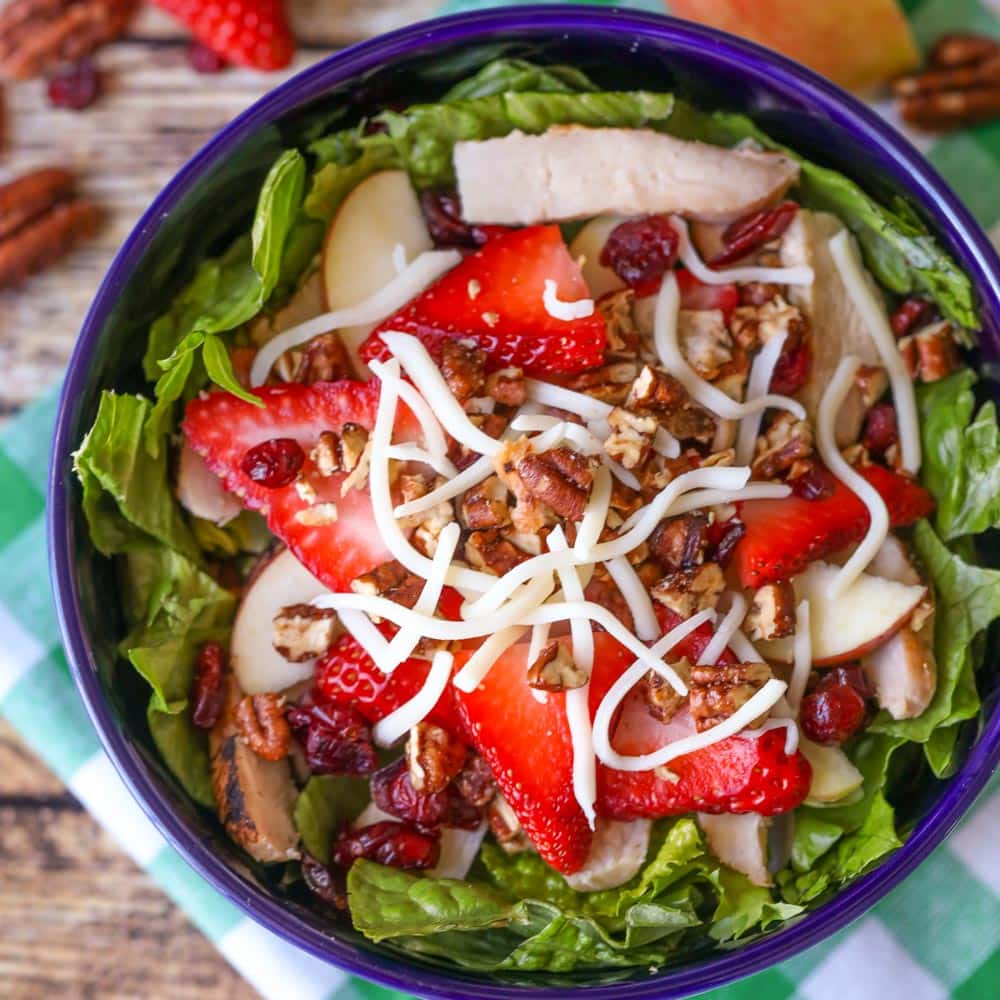 best Fall Salads
So many great veggies are in season this time of year that make salads heartier and more delicious in the fall. We've rounded up some of our favorite Fall Salad Recipes!
Strawberry Harvest Salad – Strawberry Harvest Salad tastes just like the salad at Zupa's! It's topped with a homemade Strawberry Vinaigrette dressing.
Favorite Broccoli Salad – This Sunny Broccoli Salad is a simple, tasty and hearty broccoli salad served with bacon, cranberries, sunflower seeds, and mixed with a delicious, homemade mayonnaise-vinegar based dressing that is perfect for BBQs and get togethers.
Chicken Caesar Salad – This Chicken Caesar Salad is jam packed with grilled chicken, croutons, tomatoes, bacon, hard-boiled eggs, parmesan cheese and tomatoes. It's so flavorful, you won't believe how simple it is to make!
Brussel Sprouts Salad – Full of shredded Brussel sprouts, pomegranate seeds, sliced almonds, and a little bit of shaved parmesan, this colorful salad has the perfect amount of crunch!
Antipasto Salad – Antipasto Salad Is the perfect summer salad! It's filled with tomatoes, cheeses, cured meats, veggies and more and can be topped with your favorite dressing.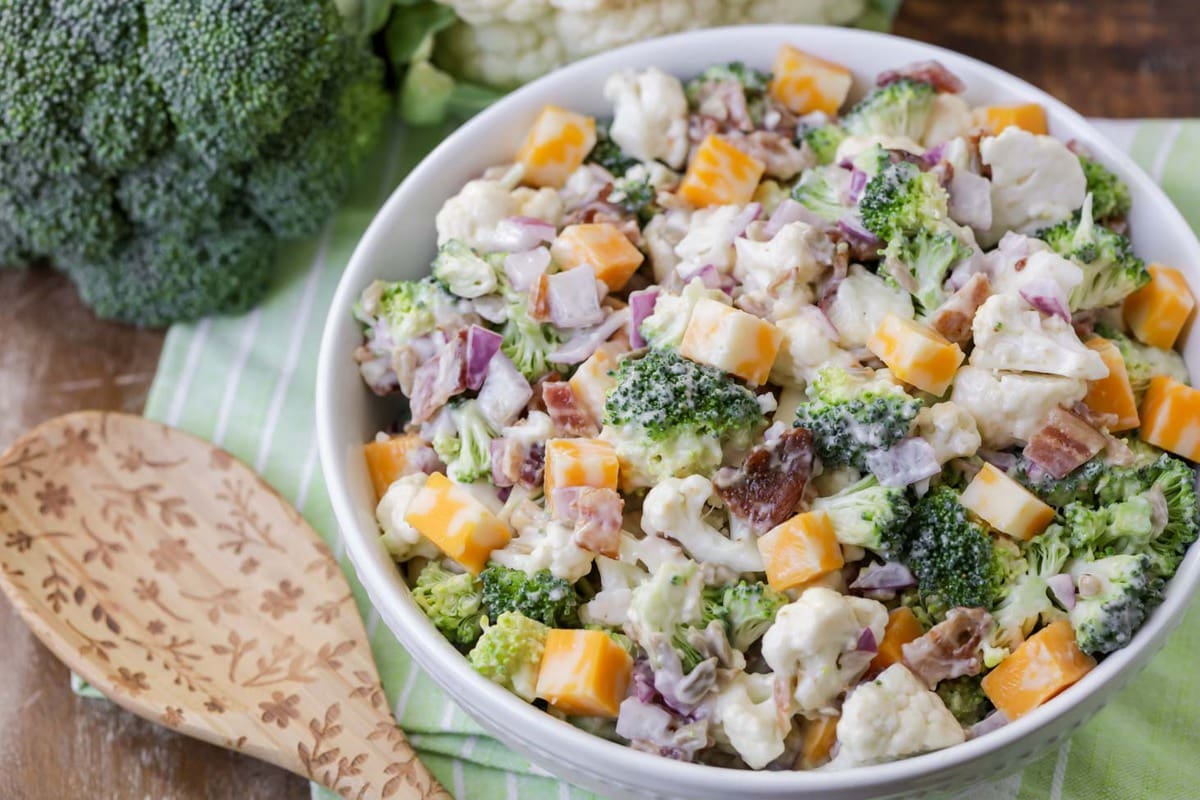 Broccoli Cauliflower Salad – Flavorful and simple cauliflower salad with a creamy crunch! Filled with veggies, onions, bacon, sunflower seeds and cheese, this salad is sure to be a hit at any BBQ or get together.
7 Layer Salad – 7 Layers of Goodness in this delicious layered Salad. This recipe isn't only delicious, but is easy to customize and is great to make ahead of time too!
Pizza Salad – Delish Pizza Salad is hearty & refreshing. All of the flavors of pizza on a bed of greens, topped with a homemade herb dressing!
Kale Salad – Sweet Kale Salad is topped with chunks of apple, candied pecans, dried cranberries, and bacon, served with a homemade sweet dijon vinaigrette!
Fall Fruit Salad – Fall fruit salad is full of seasonal fruit and dressed in a bright honey, orange, and poppy seed dressing!
Waldorf Salad – Waldorf Salad is filled with texture and flavor. Tossed in a homemade poppyseed dressing, it's perfect for any lunch, dinner or appetizer.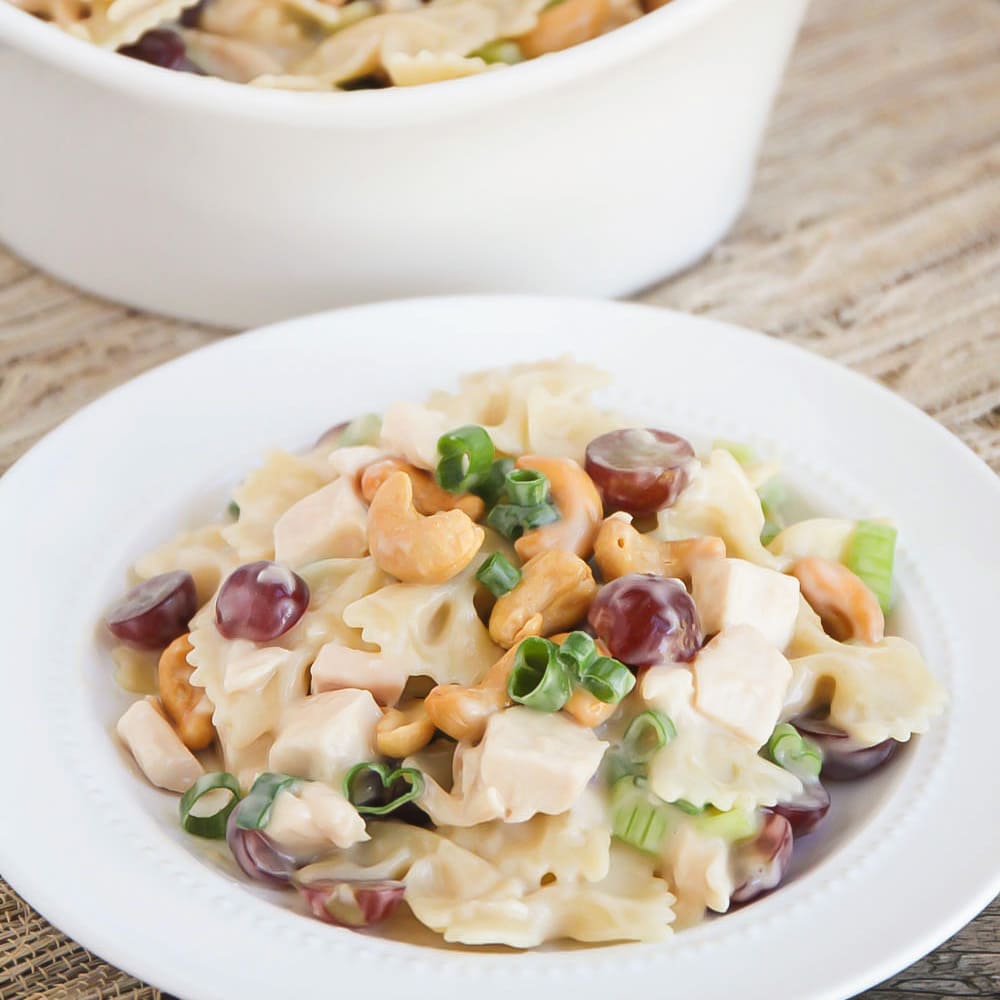 fall pasta salads
Don't forget about the pasta salads! These are also perfectly simple to make and enjoy in the fall months.
Cashew Chicken Salad – Cashew Chicken Salad – A creamy chicken salad with pasta, grapes, cashews and more tossed in a delicious homemade dressing. It's a great alternative to classic chicken salad.
Buffalo Chicken Pasta Salad – Buffalo Chicken Pasta Salad is filled with spicy buffalo wings and topped with a tangy blue cheese dressing. It is easy and delish!
Layered Pasta Salad – A dish that is appealing to both your taste buds and your eyes! This beautiful Layered Pasta Salad is filled with your favorite ingredients including pasta, chicken, peas, lettuce, celery, and more.
Asian Noodle Salad – Asian Noodle Salad – coleslaw, linguine, chicken, and fried wonton strips covered in a delicious homemade Asian dressing!
Asian Pasta Salad – Easy & Delicious Asian Pasta Salad topped with a sweet and tangy dressing is packed with veggies and flavor!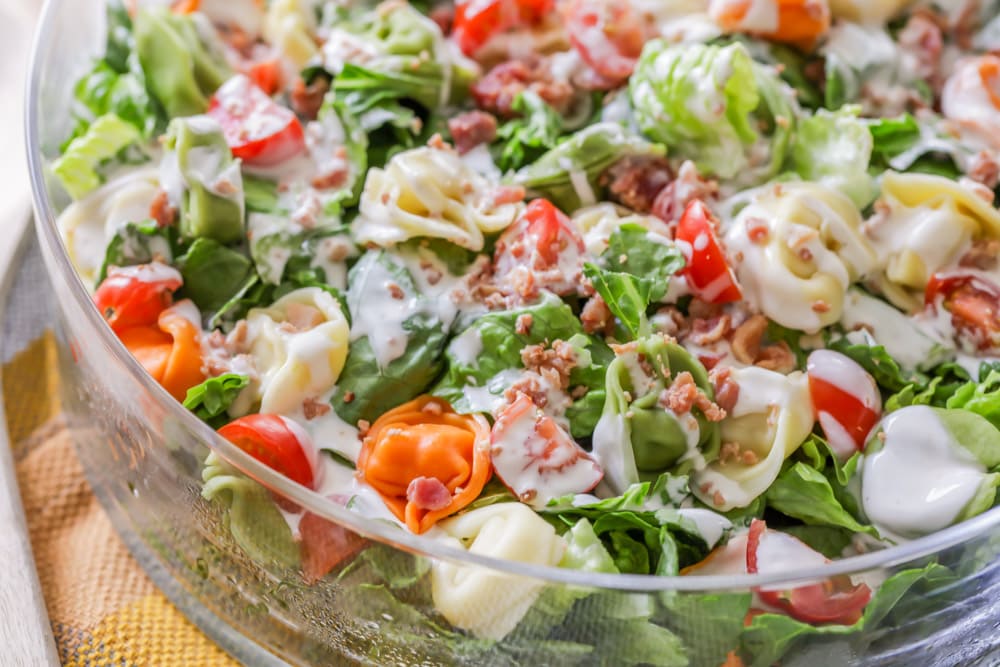 Easy Tortellini Salad – Super YUMMY and easy Tortellini Salad filled with tortellini, salad, ranch, tomatoes and bacon bits – perfect for summer time!
Taco Pasta Salad – Delicious Taco Pasta Salad filled with beans, corn, tomatoes, avocado and more!!
Greek Pasta Salad – This delicious Greek Pasta Salad is filled with rotini pasta, tomatoes, cucumber, olives, and feta cheese and is covered in a tasty Greek dressing! It's our new go-to pasta salad and is perfectly light and refreshing.
Chinese Pasta Salad – Chinese Pasta Salad is filled with lettuce, pasta noodles, chicken, fried wontons, and more, all tossed in a delicious homemade dressing.
Spinach And Tortellini Salad – This cold tortellini salad is the ultimate side dish for bbq and potlucks! With tortellini, spinach, tomatoes, olives, and parmesan tossed in Italian dressing, this Tortellini Spinach Salad is packed with all the best flavors!
---
the complete list
Here are the picture cards for all of the tasty Fall Salad Recipes listed above.
Whether you are looking for a great side dish or the star of the show there are so many delicious and easy salads to choose from on this list!
---
More Collections: Easy Soup Recipes, Fall Appetizers, Summer Salads