This delicious Greek Pasta Salad is filled with rotini pasta, tomatoes, cucumber, olives, and feta cheese and is covered in a tasty greek dressing! It's perfectly light and refreshing.
Refreshing pasta salads are a must in the summer time. The Greek flavors in this recipe are so unique, similar to the asian flavors in asian noodle salad, or the mexican flavors in taco pasta salad!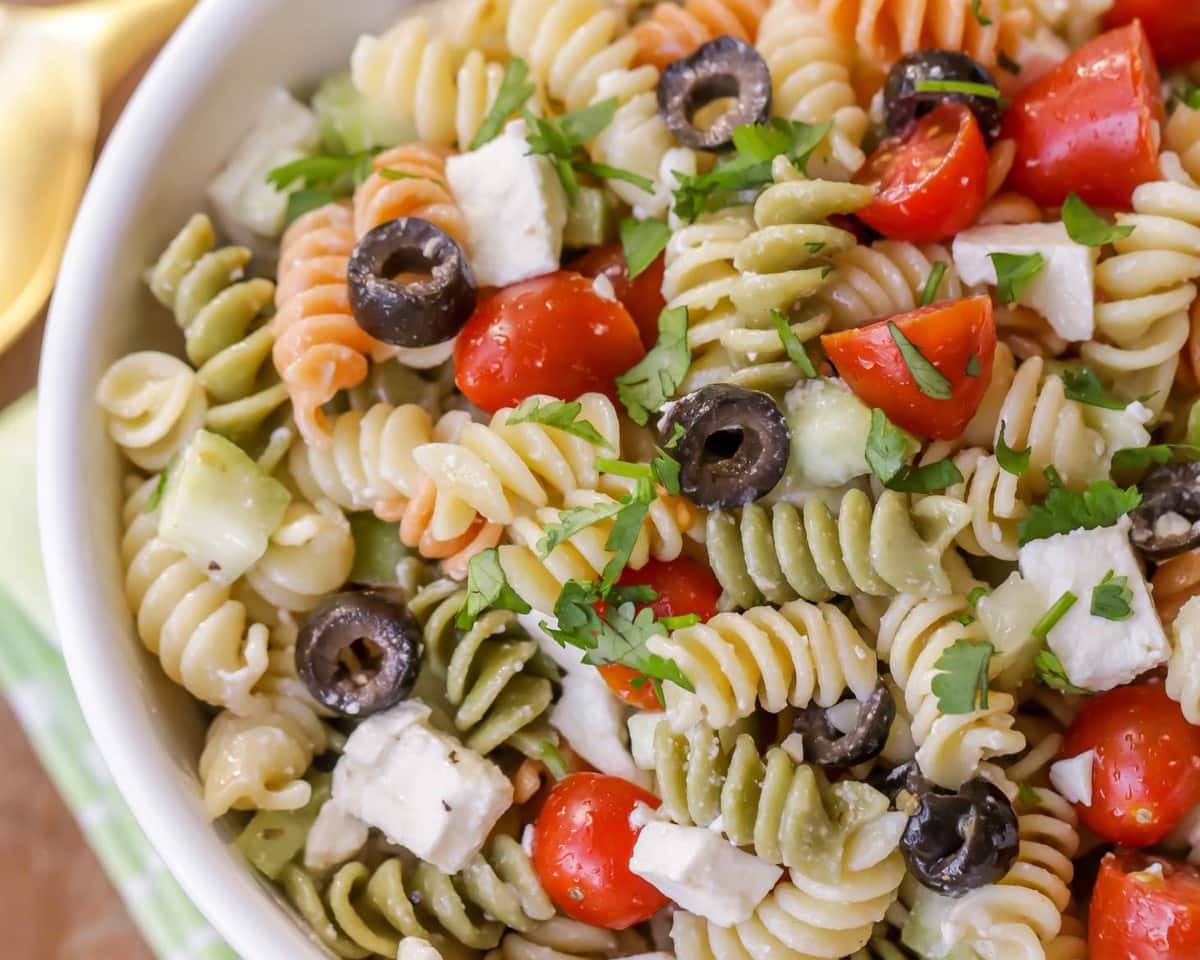 Pasta Salad with Feta
I have always enjoyed pasta salad and salad recipes but find myself craving them more in the Spring and Summer months. We have the go-to salads and pasta dishes we've made for years but being on a Greek-food kick, I wanted to try a Greek Pasta Salad version.
Many of the ingredients that you can typically find in Greek food includes:
olives
herbs
feta (my favorite!!)
tomatoes
I wanted to make sure all of these and more were in the recipe to give it all the Greek flavor I love so much! We added some cilantro, cucumbers, our favorite tri-color rotini and a delicious Greek dressing.
The result was amazing and had so much flavor that we knew others would love it too.
Dressing is key
Using the perfect dressing is key for this Greek Pasta. You can find loads of different options at the store, but my current favorite is this Light Greek Vinaigrette from Cardini's. It's not too heavy but has all the delicious flavor that comes in a Greek dressing.
Having said that, I'd love to hear what your current favorite Greek dressings are. Whether it's more of a dressing or vinaigrette, it should enhance all of the flavors already found in this pasta dish, and we hope you like it as much as we did. 😉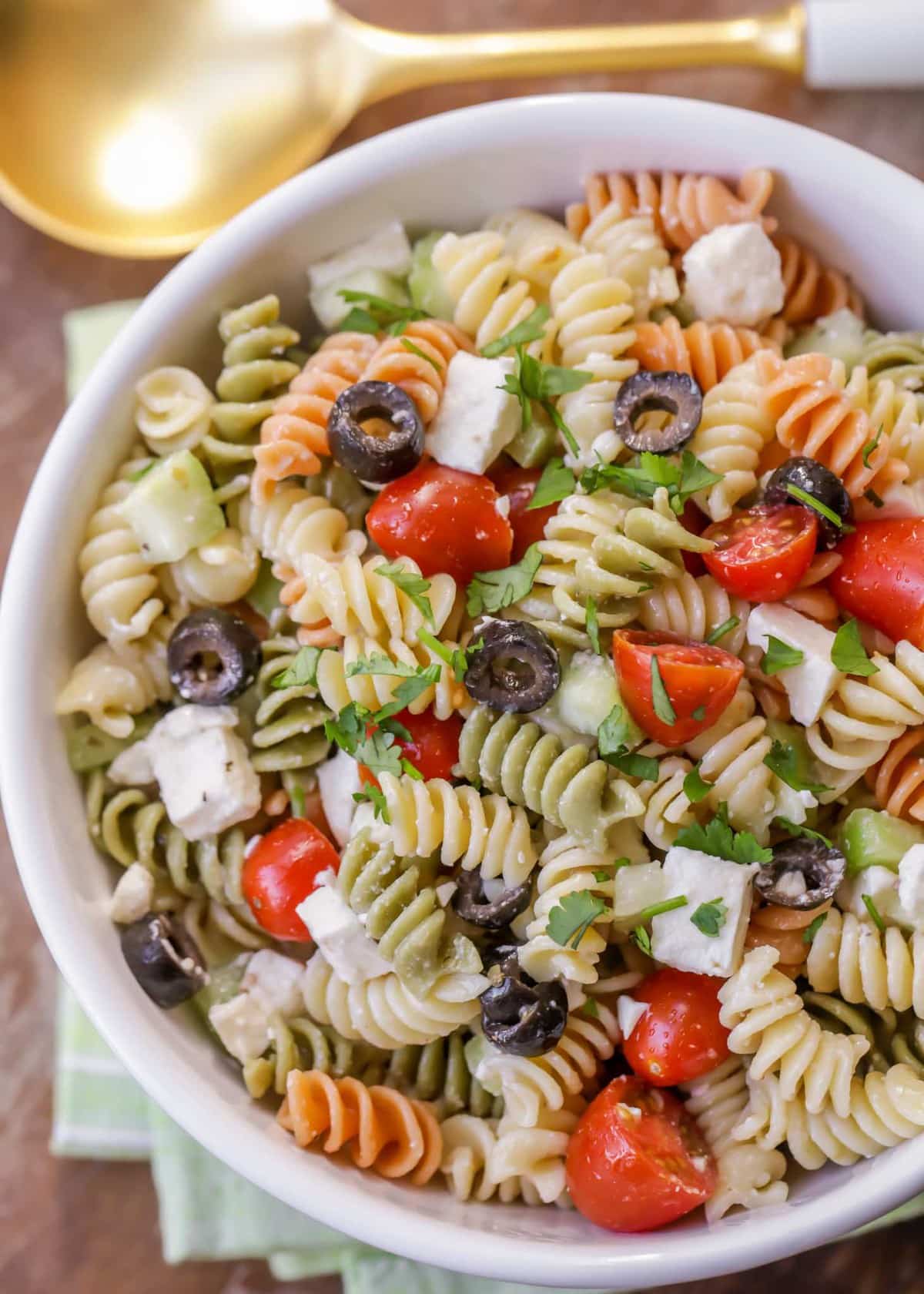 Additions and substitutions
:
This recipe is my favorite version of Greek Pasta Salad, but you can easily add, subtract or substitute some of your favorite ingredients. Here are a few suggestions:
Add: grilled chicken, shrimp

Add: red onion, sun dried tomatoes, green/red peppers, chickpeas, pepperchinis

Feta substitute: other greek cheeses include:

Graviera, Mizithra, Anthotiro, Manour,

Ricotta, Halloumi, Goat Cheese

Rotini substitute: use other bite sized pasta such as penne, elbow, shell, ziti

,
One of the reasons I love this salad is you can make it ahead of time and store it covered in the fridge. I'd also recommend saving a portion of the dressing to add just before serving. If you have any leftovers store them in the fridge in an airtight container for 3-5 days.
For more pasta salad recipes, check out:
Greek Pasta Salad Recipe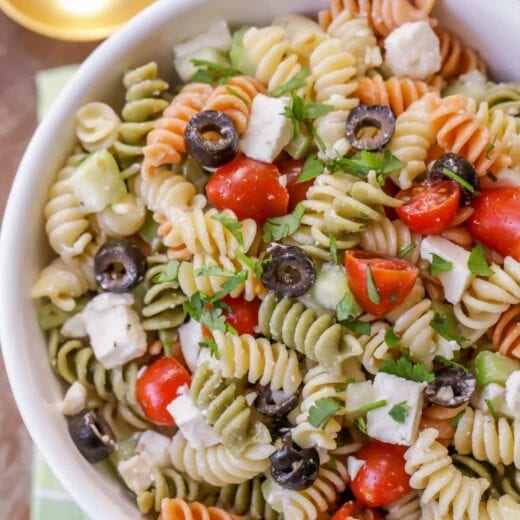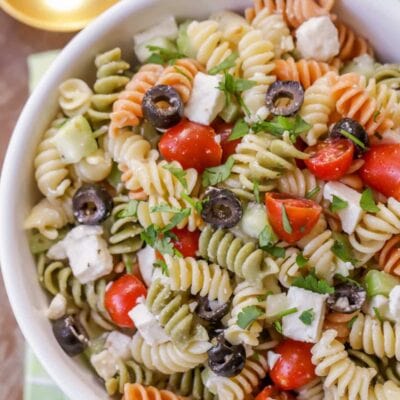 Greek pasta salad is packed with traditional Greek flavors and covered in a tasty dressing! It's perfectly light and refreshing.
Ingredients
3

cups

tri-colored rotini pasta

uncooked

1

cup

Crumbled Feta cheese

1

cup

cherry tomatoes

halved

1

cup

cucumbers

chopped

1/2

cup

black olives

sliced

1

cup

Greek dressing

cilantro
Instructions
Cook rotini according to the package directions. Let cool.

Add pasta and remaining ingredients to a bowl and toss. Refrigerate for 1 hour before serving. ENJOY!
Adapted from Kraft Recipes.