This cold tortellini salad is the ultimate side dish for bbq and potlucks! With tortellini, spinach, tomatoes, olives, and parmesan tossed in Italian dressing, this Tortellini Spinach Salad is packed with all the best flavors!
It's so simple and so delicious, which means you can't go wrong with it. This salad is also easy to customize and is great for any BBQ along with potato salad and baked beans!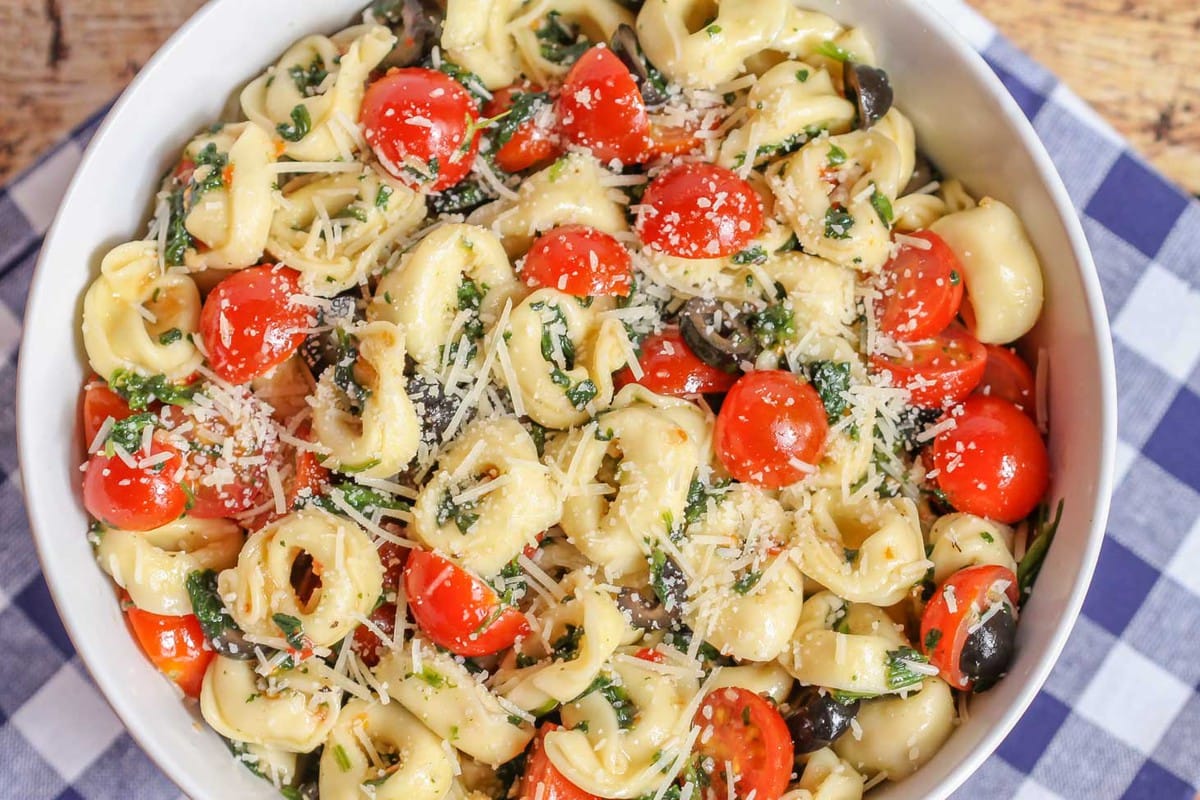 Tortellini salad with spinach + MORE
Our family is constantly looking for yummy salads that we can add to our meals. Today, I'm sharing one of my personal favorites.
This tortellini pasta salad is especially perfect for summer barbecues and potlucks because it is PACKED with amazing flavor, yet the ingredients are so simple.
In addition to the tortellini, this recipe calls for chopped spinach, olives, parmesan cheese, and cherry tomatoes. It's all topped off with some Italian dressing—the perfect compliment to these fresh ingredients—and served cold. It's definitely a crowd pleaser!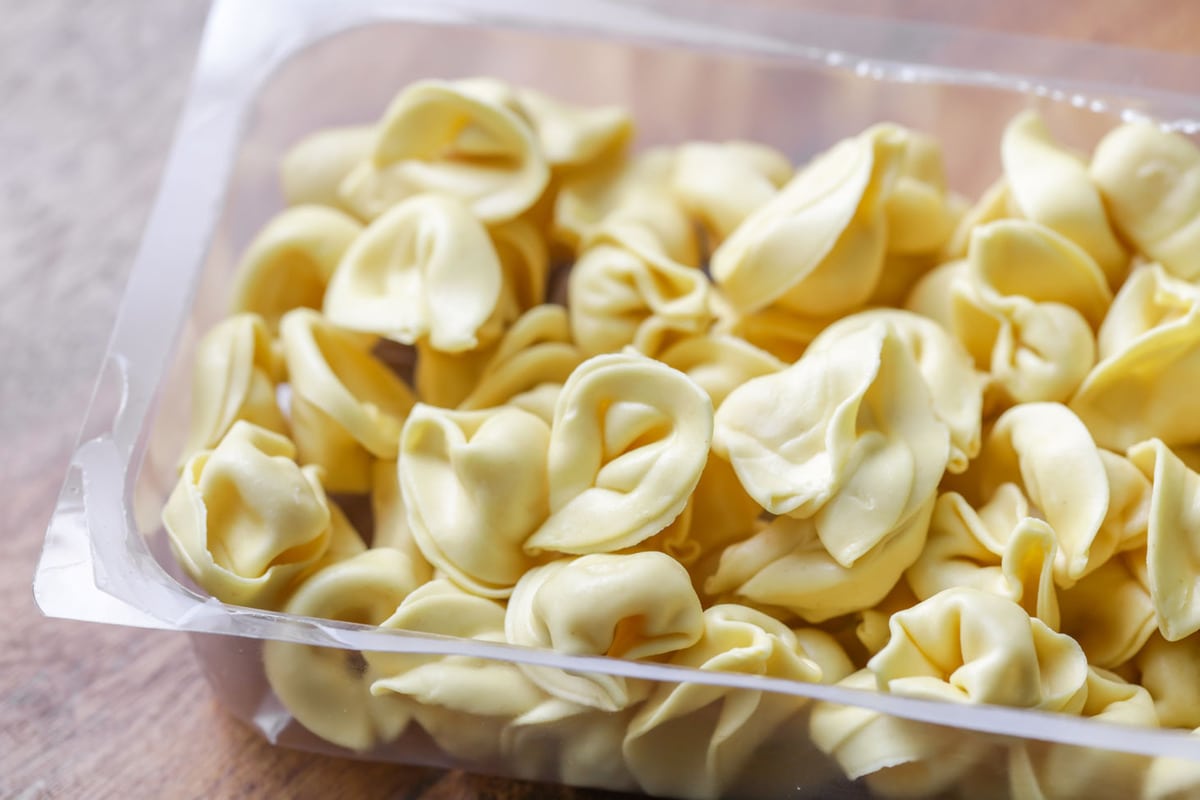 how to make spinach tortellini salad
TORTELLINI. Start by cooking your tortellini according to the instructions on the package. Once it's cooked, rinse with cold water and drain. If the cold water doesn't completely cool the pasta down, you can stick it in the fridge until it's cold enough to mix with the other ingredients.
MIX. Add the remaining ingredients (spinach, tomatoes, olives, cheese, and whatever else you decide to include), and toss with the dressing.
CHILL. Refrigerate until you're ready to serve or chill for at least one hour.
Additional ingredients:
We love the flavors of this recipe as it is, but like to change it up occasionally by adding:
mini pepperonis
Feta cheese (instead of Parmesan)
cucumbers
peppers or pepperoncinis
Greek dressing (instead of Italian)
If we go the Greek route, we often add fresh basil too. Completely changes the flavor but still so good!
Can I use fresh spinach? Yes! Of course. The equivalent will be about a cup (or one large handful) of fresh spinach. Make sure you chop it up extra fine before mixing it with all the other ingredients.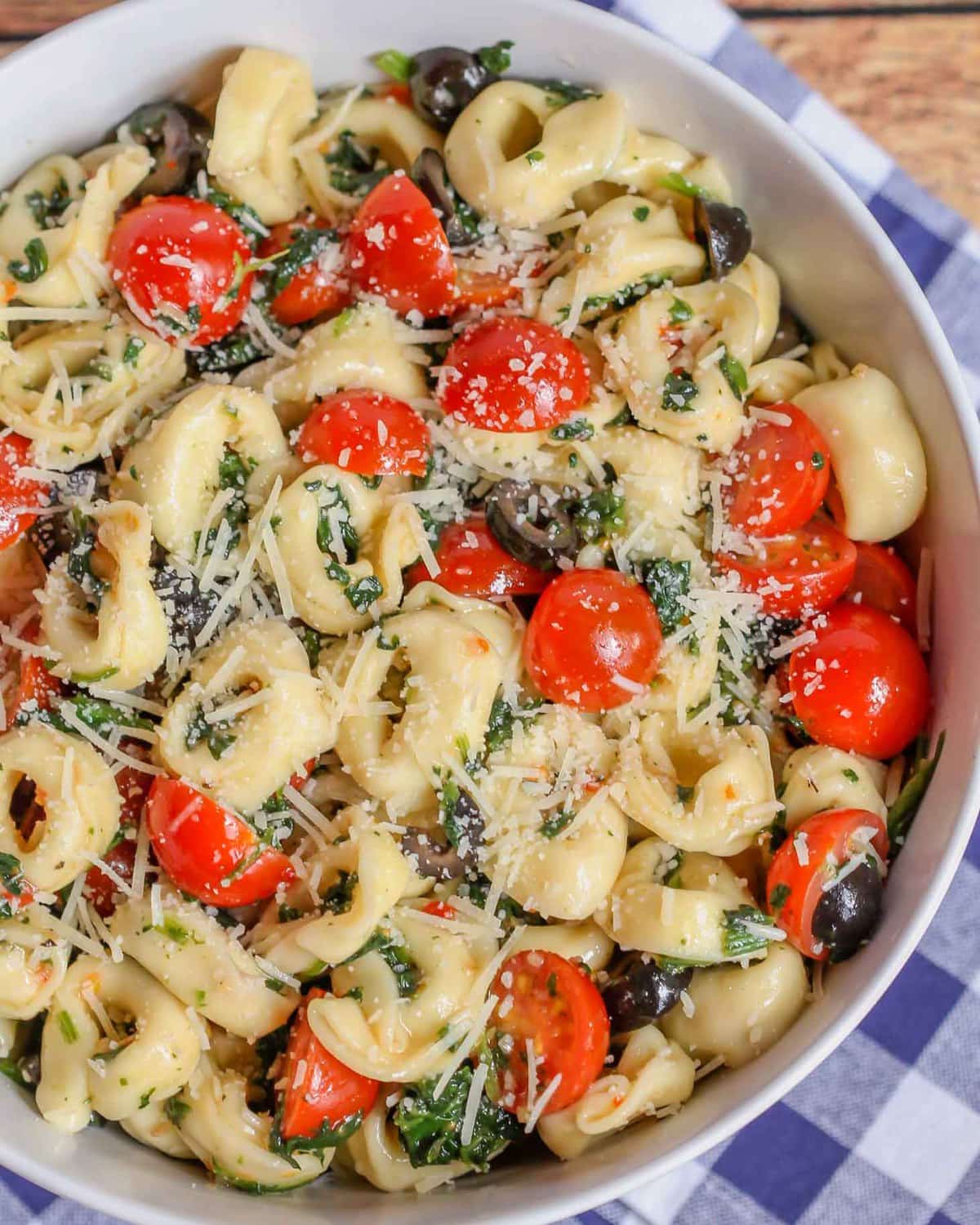 How to Make Ahead + Store
Can it be made ahead of time? You can combine the tortellini, spinach, cheese, tomatoes, olives, and any other ingredients you're including up to a day before you plan on serving.
Make sure you don't add the dressing until right before serving to ensure the ingredients don't get soggy.
How to store leftovers? To store leftovers, cover the dish with plastic wrap or put the leftover salad in an airtight container. Keep in the fridge for up to 3-4 days. The veggies may get soggy sooner than that, so try to use up quickly.
Can you freeze this salad? This specific tortellini salad should not be frozen. Some of the ingredients, like tomatoes, do not freeze well and when thawed out they become very watery and mushy.
What goes with tortellini salad? We love to serve this side dish with…
For more pasta salad recipes, check out:
Spinach Tortellini Salad Recipe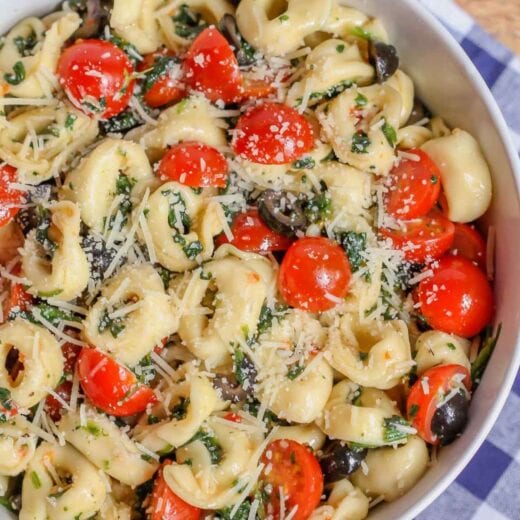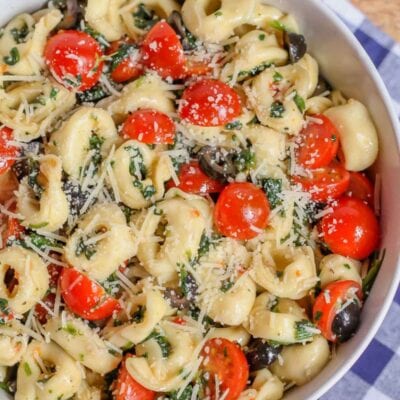 Cold spinach tortellini salad is the ultimate side dish for BBQ and potlucks. It's packed with all the best flavors!
Ingredients
1

9 oz. package

cheese-filled tortellini

1

10 oz. package

frozen, chopped spinach

thawed and drained

1/2

cup

grated Parmesan cheese

2

cups

cherry tomatoes

halved

1

2 oz. can

sliced black olives

1

cup

Italian dressing

salt and pepper to taste
Instructions
Cook tortellini pasta according to package directions. Rinse under cold water and drain.

In a large bowl, combine the tortellini, spinach, cheese, tomatoes, and olives. Toss with Italian dressing and season with salt and pepper. Refrigerate until ready to serve.
Notes
TRIED & TRUE FINDINGS:
DIFFICULTY: Crazy Simple
HOW MANY DOES IT FEED: 8
ANY CHANGES MADE: used ½ of suggested spinach amount and Italian dressing
ANY SUGGESTIONS FOR NEXT TIME: We liked the Italian dressing, but you can change it up if you'd like.
 Adapted from: allrecipes.com